Q&A with 3HL of 104.5 The Zone
Some sports talk shows act like you stepped inside the octagon with them as they seek surrender via hot-take submission. Other shows like "3HL" on 104.5 The Zone in Nashville, Tennessee take a different approach. One of the goals Brent Dougherty, Mickey Ryan, and Dawn Davenport have is to talk with the people, not at them. It's a refreshing approach that helps the show continuously thrive.
Southern hospitality is a phrase that isn't always applied correctly. The expression is absolutely valid though when describing "3HL." I could feel it when I sat down with the cast. You can hear it when listening to their show. It doesn't mean the trio has a shortage of strong opinions. They just present their views in a way that invites a conversation while keeping the vibe positive and welcoming.
It wouldn't make sense to root against this approach. It's nice when the good guys (and girl) win, and when a show that "gets it" happens to be cranking out monster ratings in the process. Check out more on their philosophies and unique career paths below. Find out which host interned for another, the early days of speeding in a Ford Escort station wagon, and doing a show with a meat salesman.
Brian Noe: How long have you had this new trio?
Dawn: August 15th, I think. So not very long. It's been like six months.
Brent: We broke ground on this version of "3HL" in August.
Dawn: It is just at our six-month mark. We should've partied. We made it. We haven't killed each other.
Noe: What do you think has been the biggest improvement during those six months?
Brent: I don't know? Have we gotten better?
Dawn: Oh, from day one of me joining? Oh yeah!
Brent: Better?
Dawn: I hope so.
Mickey: I think it's just more learning each other's personalities. Brent and I have known each other for over 20 years. He was my intern when I was a television anchor in the '90's in Kentucky. He knows there are certain things he can say and exactly how I'll react. We're kind of learning what's a hot-button topic for Dawn that you can say something and you know what kind of reaction — and she's learning the same thing about us. To me that's the biggest thing is just getting to know each other's personalities.
Brent: But like a week ago, we finished each other's sentences a couple of times.
Dawn: And it was completely random to where during the break at one point I looked at him and I go, "How the hell did you know I was going to say that?" You like pulled it out of nowhere.
Brent: It's been fun and Dawn brings a lot to the table too from a female perspective. That's rare in this country. It's awesome because we've known her for a long time and she's got that TV background. We watched her on television [WKRN]. We already knew each other when we hit the ground and Dawn joined "3HL." I feel like we hit the ground running because of that and because I watched everyday, so I already knew kind of what your mannerisms were. I think that helped.
Noe: How would you explain the differences between having a guy and a girl in that chair?
Brent: Man, that's a good question. I don't even view it that way. Honestly, she was a collegiate athlete and her entire background in this business is in sports outside of — well, you did the one show.
Dawn: Outside of slummin' it in morning show news.
Brent: But even the way that y'all did that morning show — it was kind of the way that we do this show. Even though that was news and this was sports. In terms of entertainment, to me it was basically the same.
Dawn: It was less scripted and personality-driven.
Brent: But in terms of having a different vibe of having a woman in the chair in the room — there really isn't one to me because she's such a big sports fan and entertainment fan. She's a really good communicator — that's what you need — and a good entertainer. That's the other thing to me.
Mickey: It does give our show perspective though if there's a case where there's a sexual assault. If there's something that involves a female point of view. Instead of us saying, "Well, here's what we think" or "This is what I read that somebody said," you actually can get the female point of view, which to me is huge for us because she can break down any sport, but at the same time she can also say, "Hey, as a woman" — like we were talking about the US Olympic hockey team. They had no benefits, were making no money, and when we talked about them winning a gold medal for the first time in 20 years you said, "No no, they're champions for women's rights." You went through all the things that they had done to make things better for the future generation of women's hockey players. I think that gives us really an opportunity to offer a viewpoint on things that how many shows in the country even have? Very few.
Noe: Dawn, sometimes I'll hear a female host, and it's like they're just trying so hard to prove they know their stuff. Others feel very comfortable and you come across that way — not going over the top. Where does that come from?
Dawn: I think it comes from being around sports for so long. The minute I graduated college I was doing local TV sports. In local TV sports, you do everything on your own. There's nobody there to help you or hold your hand so you have to know your stuff because you are your producer. You're your writer. You're your shooter.
I've been around sports doing it for so long. I think that's where that comfort comes from. Also, because I've been in this town for so long, and I started as a weekend sports anchor, so I'm fortunate that I know the history of the teams here. I can pull from, "Oh, hey do you remember back in 2008 this team did that," so I think from that standpoint I'm comfortable because I do know what we're talking about so well. Then, when I work with SEC Network I'm very knowledgeable about it because that's what I do.
I'm also fortunate that the people in this town from the minute I got here welcomed me in and accepted me. I've never felt the need to prove that, "Hey, I know what I'm talking about. I can talk sports. I promise." I feel like this town was very open to having a female in the sports world and that's helped me because I haven't had to go overboard to try and prove myself because people have accepted it.
Noe: What type of role does Program Director, Brad Willis play in your show's maturation? Is he very hands on or does he let you guys work things out?
Brent: His goal with us always has been — 'cause we've made changes with this show before — he's more into letting things grow and develop. With the three of us, have it grow organically, and that's kind of where we are with it.
Dawn: Which I think has been great. Instead of him pushing, "Hey, you need to talk more, you need to do this."
Brent: Yeah, he treats us like professionals. I've been doing this for 21 years. We've all been doing this so long that you just take some time to know and learn and understand where he can go, where she can go, where I can go. It just kind of organically happens. He's been completely hands off. Now, if we have questions about something that we're doing or trying, he's always available.
Mickey: I think the key for him is he's there for a resource, but he wants the show to happen organically. It's like, "Look, if you have something unique, come to me and let's work it out," but on a day-to-day basis it's, "You guys are all three professionals. I hired you to be professionals. Do what you do."
That was when I joined the show, which is a little over three years ago, after a couple of weeks he pulled me in an said, "I brought you in to talk. So talk. Just give your opinion on things. You don't have to work your way in." It was the same thing with Dawn. We told her, "Hey, just give your opinion. You don't have to be tentative or anything like that. You just jump in. We're all here to be equal. To have equal time to have equal opinions, so you just jump right in. Don't feel like you have to warm up to us. Just jump in."
Noe: How much have you had to deal with comparisons to previous hosts like Clay Travis and Blaine Bishop? Does that happen a lot?
Mickey: When you follow a personality like Clay, obviously there are going to be people who compare things. I've gotten to know Clay since I've moved to town and we get along great. Anytime I see him we always catch up and kind of talk about how things are going. He's been great to get to know and it's been a lot of fun to see all the stuff that he's accomplishing on a national level.
There were some people who were really unkind in the beginning especially. There's still a handful of people out there who are hanging onto it. My thing was I just had to be myself. If you like that, you like it. Maybe the nicest thing that people have said to me over the last 3+ years is, "I wanted to hate you, but once I listened to you, I realized I liked you. I thought when the show changed I would hate the show, and hey, I don't hate you. Matter of fact I kinda like you."
Literally people have said things like that to me, so I'm winning that way. But I know the dynamic of the show changed. It did. I think it's okay to like him and like what he does. I think it's okay to like me and like the current version of the show. That's all I would ask anybody for the chance to.
Noe: Has there been anything that gets under your skin or you just go home and are like, "Man, I would've been better off not receiving that message"?
Dawn: Well, if you work in broadcasting, especially sports broadcasting, you're always going to get a message where you're like, "Yeah, well." (sarcastic laugh)
Mickey: Well, and you [Dawn] were on TV — and women to other women who were on TV — you wouldn't believe the things about your dress or your hair.
Dawn: Let me tell you, morning news viewer complaints are the worst thing I've ever endured in my life. Nothing that any sports person can ever say to me will ever upset me as much as some of the females and Facebook messages I got during morning news.
Brent: Social media is a wild place.
Dawn: It's a different world nowadays — even from when I first started in the business. If somebody didn't like you, you got a phone call or a hand-written letter. Now, it's different because people immediately can facelessly tell you that they don't like you, but this town is pretty good honestly. You're always going to have people that don't agree with what you say.
Mickey: But the feedback is overwhelmingly more positive than negative. But you can say, "I like donuts," and you have some overwhelmingly negative responses to that. That's just the world that we live in.
Brent: We live in a world where people just love to hate things. You see that on social media, but doing what we do as she said, we all have a thick skin. You have to or you won't have success in this business anyway aside from some hater on social media. We don't pay attention to it necessarily. To get to where we are, you've got to be confident in yourself. Sure, we try new things and sometimes we make mistakes and we're harder on ourselves than anybody could be that listens. I think some mean guy on Twitter or whatever, I think that's more about him than it is me.
Noe: How much does your role differ from a three-person to a two-person show just in terms of driving it? Not repeating one of their takes or sacrificing your own opinion to just move it forward. Does it differ greatly between the two?
Brent: I look at my job as a facilitator — almost like a scoring point guard. I'm trying to set him up with stuff and her up with stuff, but also trying to take my shot. The way I kind of visualize it in the moment — because I'm watching break time and how long is the break coming up? When do we need to hit that break? Who's got a live spot coming? What caller needs to go next? I'm trying to balance all of those things while also throwing topics and throwing opinions. To me it's a fun challenge. The way I visualize that is I'm going down a river with currents and I'm just trying to keep the boat as straight as possible. That doesn't change whether it's two or three people.
Noe: Is there anything specific to Nashville regarding topics that surprisingly work? Where you feel like, "Really? That's what you guys are interested in?"
Brent: It's kind of meat and potatoes honestly.
Dawn: Daily, there's something that I'm like, "Wow, people really want to talk about that."
Brent: Has it been a surprise to you? So, we get out of football and now it's crazy topics that you can bring up. The response to some of those crazy topics I think surprises you sometimes.
Dawn: Yeah, it really surprises me and when we first started to go on kind of like tangents that had to do with sports but weren't maybe necessarily specific SEC football talk, I would get nervous over there in the chair. I'm like, "Why are we not talking sports? We gotta go back to talking sports." They're like, "Relax. We've got a long show. It's okay. It's how it works."
I think what surprised me the most — and I had been on the show with you guys before a couple of times, just sat in for an hour or two hours — what surprised me is some of the random topics that people want to talk about that maybe aren't necessarily completely sports.
Brent: Here's an example — yesterday we were talking about the Olympics and the US women had won the gold medal. I watched it. I stayed up and I thought it was the moment of the Olympics. I thought it was awesome. I thought that would get a little bit of traction. These guys started talking about the cross country race, which I didn't even see. The next thing we know, Mickey finds the audio. We play the play-by-play and it's one of the best sports calls ever. We go 45 minutes with people calling in about how awesome that was.
Mickey: The one guy said they were three wide like NASCAR and he was in the middle of the night watching it at his house. He felt like he raced the race with them. He felt like he sent them enough America to push them through. People get so emotionally invested in the Olympics 'cause that's your flag. That's your country. They're representing all of us. Your college football team represents your state or your region, but this is everybody. That was one of the most passionate phone calls we've ever had from anybody about anything.
Dawn: Talking about women's cross country skiing. Like who cares, you know?
Brent: 'Cause the basics are you've got to talk about the Titans every day in this market. You have to. When they suck, they get a 20 share on television. Over the last year and a half the Predators have risen to one of the better teams in the NHL so you need to spend a little time on them. Even though, as good as they are, their regular-season TV numbers are like a tenth of what the Titans are. We pay attention to those things. So it's Titans, NFL, SEC, college football, and then whatever crazy stories you can find.
Noe: How do you guys balance the local stuff that you know is going to hit, with something that might go beyond Nashville that you know is still going to matter to people?
Mickey: Honestly, you can just look and see at what people are talking about on social media. To me that's a huge metric because we all certainly follow people in this market and we have people that give us feedback — "Hey, did you guys see this? Do you guys know about that?"
Brent: That helps with what we do. Social media, that changed the game because now you can talk about things immediately as they happen. When I got into the business it was the mid-'90's. You didn't have any of this. We weren't monitoring these things.
You can get a tweet that pops up — I remember one show we were doing, and we were going to do some Preds guest or something and the Manti Te'o story came out on Deadspin. We sent one of our guys out of the studio to read it because it was so long. One segment went by and he was back in there and we were talking about it. That's how fast things go and we bailed on the guest. We try to be as current as possible and talk about what people are talking about.
Noe: In terms of things being current — topics move so fast and have a short shelf life — a Vols football game on Saturday, of course you're going to talk about it on Monday, but how do you have that sense of, "This is a little old. It's not what people are talking about now"?
Brent: 100% you think about that. You've got to figure out a different way to present it. Ask questions because people definitely still want to talk about that. SEC football season? You want to talk about that every day. Like every day.
Dawn: I feel like football transcends that thought. You can talk about a game that happened two weeks ago and people are still interested.
Brent: But you would present it differently in the afternoon than you would on Sunday morning where Jamal Lewis ran for 225 yards. Stuff like that. You're thinking about different ways to present it.
Mickey: By that time you'll have different ways where you may analyze it and look at it or maybe what it means more for what's going to happen ahead of time. This market is just so funny. It's such a football-centric market. Let's say we came on today and we talked about Ole Miss football. Vols fan – he's interested in that. Mississippi State fan — she's okay with that.
SEC fans, you can talk about any other school or program and they're okay with that 'cause they want to know what they're doing too, right? To me that's the most interesting thing maybe about living in an SEC-centric market is it doesn't matter what team or what program or what coach you talk about, there's just an unbelievable level of interest by every team and every program's fans about another team's fans and program.
Dawn: We also have so many alums from all of those schools.
Mickey: It used to be they all moved to Atlanta and Brent says they're coming here now.
Brent: This is the SEC melting pot. Just downtown condos — this is where the young people that are graduating college in this area are coming. They're not going to Atlanta. They're coming to Nashville. This city is growing and the vibe is different and awesome. It's really exciting.
Noe: When you have high ratings and Brad Willis comes to you with a major lineup change, how do you react to that?
Brent: The first question is who is going to be on the show with us, right? Then when you find out it's Dawn Davenport, I have zero concern whatsoever. I know that we're going to keep rockin' because I know how competitive she is and that's what I want. I want somebody that's going to win every day. She's got that track record. From my perspective I wasn't concerned at all. I was excited.
Noe: How about you, Dawn? When you're going into the mix and they're getting monstrous ratings, do you feel any extra pressure? 
Mickey: No pressure.
Dawn: Yeah, no pressure at all.
Brent: You can relate to that too Mickey.
Mickey: Yeah, no pressure.
Dawn: Radio ratings are different obviously than TV ratings. I got them every day on the morning show.
Brent: And we don't get them that often. She would ask and I'm like, "I don't know." (laughs)
Dawn: I'd ask, "How are we doing? Are we doing okay?" Brad would say, "Oh, we're doing great!" I'm like, "Okay, well can I see? Do you have numbers from last week or whatever?" I had to learn how it actually worked. I was definitely nervous stepping into a successful show and replacing a former athlete [Blaine Bishop] that people really valued his opinion. I was definitely worried about it, but I had listened to the show enough to know that I felt like it would be a good fit and that we would be okay.
Noe: Do you have a TV background at all, Brent?
Brent: No.
Mickey: You were my intern for one semester.
Brent: Yeah, I needed one class to graduate at UT, the University of Tennessee, and I needed to do an internship. Living here and I was hanging out in Bowling Green. I had some friends at Western Kentucky. I was like, "Well, if I'm going to do an internship, I might as well do TV. I might as well go to WBKO," which is in Bowling Green — the ABC affiliate there. So, I just knocked on the door and he can tell you more about it, but I just knocked on the door and got that internship.
We went all over South Central Kentucky on Friday nights covering high school football and it was awesome. There were a couple of things that happened along the way where I was like, "I don't want to do TV." (laughs) "I don't want to do TV." Because you work all day — there is a rush during the news when the stuff you've been working on all day is going, but things that you can't control happen.
Mickey: He saw a couple of times where we went out and shot seven games and brought the tapes back and the tapes got out of order and you didn't know what highlight you were doing. He saw things like that. Or the tape machine would fail or the teleprompter would go out. We don't have a tape machine or a teleprompter. They just turn on the microphones and we talk.
Dawn didn't really know the story — it was either a Saturday or a Sunday night. We had a 5 o'clock news — I was the weekend sports anchor at WBKO. The weatherman walks out. He comes back in and he goes, "There's some kid outside in the parking lot that wants to ask to be your intern." I go out and it was that kid right there.
So, it's been over 20 years ago in the fall of 1996. I come out and here's Brent Dougherty. He says, "Man, I wanna be your intern." He starts explaining things and I said, "Look, man, that's fine. You can just be my intern." We had great chemistry and we drove a Ford Escort station wagon for several thousand miles that fall covering games.
Brent: At 100 miles an hour.
Mickey: Years later, I wind up moving to Nashville to pursue music. I got out of TV. I just came here and wanted to play music.
Dawn: He's a heck of a bass player by the way.
Mickey: Well, I like to think so. (laughter) I've played 12th & Porter, 3rd and Lindsley. I've played in Europe and all over the US. I've got a couple albums on iTunes, but you know, no big deal. (laughter) I was driving down Interstate 65. This is a true story. I had my radio on scan. I was scanning FM stations after recently moving to town. I went to hit another button and I hit a bump, and I switched my radio to AM and he was on 1510 AM. It was him talking!
I don't think I even had a cell phone at this point. I drove to my apartment and called the radio station and left him a message. We had lost touch with each other. He was producing a show for a couple of heavy hitters in town. He said, "They're going to let me do a show on Saturday. You should come and do it with me." So for years, I managed a real estate office and played music and I would go on Saturday and do a radio show with Brent and another guy named Russ Berrie, who's a meat salesman. The three of us did a Saturday show for years and years before we both wound up coming over here to The Zone.
Brent: We used to joke about Russ, he was slingin' his meat all over the southeast. (laughs) He's a good dude, that guy.
Mickey: He sells ham. Yeah, great guy.
Brent: Man, you went into the long story like Noe's writing a book or something. The history of us. This is us and no one's crying.
Noe: Dawn, these two have known each other for 20 years — is it ever weird where two people know each other so well and you're trying to learn them as you go?
Dawn: I don't think so. I haven't felt that at all.
Mickey: And you don't get our Fletch references though. That's the one thing.
Brent: The whole key to knowing us is really simple: watch Fletch. It's the key to life and to understanding making a friend.
Dawn: The good thing, I knew them prior. Especially you [Brent], I've known you since I moved here and we'd run into each other at events and I've hopped on their radio show a million times. That's the good thing. We've hung out outside of work too. I'm on a daily text with your wife right now [Mickey]. (laughs) So, I feel like I kind of jumped right in. Obviously I haven't known them for 20 years, but from that standpoint, have really gotten to know them and I know their families.
Noe: Is there anything from the TV world that translates very well to sports radio and things that just don't fit whatsoever?
Dawn: Well, the don't fit is I panicked when I first started. In TV, this block is six minutes and 40 seconds, and you've got to hit six minutes and 40 seconds so you can hit clicks and do all of that, and everything is scripted. At least for the morning show, for what I did the last five years, everything is in there. It might not all be scripted — there's a lot of adlib, but for the most part it's super organized. You know exactly what you're talking about, and when, and you know exactly what's coming.
With sports talk radio? When I started I was like, "So, we're not going to script out every single segment and know exactly when we're going to talk about what?" And they're like, "No, because if somebody calls in and some subject gets going, we'll stick with that." I was like, "Okay?" It took me awhile to be okay with — not necessarily spontaneity, but kind of — like a lack of specific, everything is timed out.
Brent: And it's funny, in my course of doing this job I love the freedom to be spontaneous. I love that. It leads you down a creative space that really is unlike anything else that you could do in this business. I love that part of it. I knew from doing this — after having TV people come in and do an hour every so often, they always would say that, like, "Man, that's so much fun because I've got like two and a half minutes to do my sports and that's what it is. Here's the script. I never really have time to give my opinion. It's really not that kind of place to give your opinion."
Dawn: That's where I've had to grow because I wasn't allowed to give my opinion at all. Then as a sideline reporter you have 15-20 seconds to do your report. It's not an opinion-based job. That was something coming in I've really had to work on — learning that it's okay for me to give my opinion now because you can't in news.
I think the plus of doing news — especially that morning news show that I was part of — there was a lot of adlibbing. There was a lot of personality conversation and that has lent well to stepping into this job because it's basically what we did, especially in the 4am hour. It's what I did for five years really. This is just a different level.
Brent: Early on she would ask me during a break, "Did you know you were going to go into Tennessee-Vanderbilt basketball right there?" And I would say, "No, but that microphone is on, and I'm talking, and that's what came out." She's like, "Okay."
Dawn: In the beginning, it took me awhile to be okay with it.
Brent: Yeah, and I think that's part of the organic transition and I think we're there now. But I learned from her to be a little more structured in terms of what we do.
Noe: Did you do anything to try to draw out more opinions because they weren't used to it?
Brent: I didn't really have to necessarily, but she has this notebook of stuff that she keeps. She's got like, I don't know, eight-nine pages for today. She knows what the topics are because we kind of text during the day. There's going to be stuff that we all see that we haven't communicated to each other. It's almost better that way to me because then you get more into that spontaneous reaction from Mickey about women's curling or whatever.
There's a lot of that, but when I do that — I've jumped out of an airplane and I'm flying through the air. I'm going from topic to topic in my head and I go into something — I know that she has researched it and has some notes jotted down. I don't know if you've noticed this, but I'll talk long enough to let you flip through your papers to get to that topic. It's a growth process.
Noe: Do you find it more challenging in the heart of football season to hit on everything you want to get in there, or is it now where it's a lot slower? Which is more challenging?
Brent: Challenging might not be the word, it's just different. I have fun in — I love football, it's my favorite thing — but doing what we do, I actually think I have more fun in the non-football area because of the random things that we can talk about. We're a Nashville show. We love the city of Nashville. We're going to talk about things that happen in Nashville. It's not necessarily going to be sports-related.
If I walk over to the Tin Roof and sit down and talk with people, if there's 100 people in there, what percentage of people just want to talk about sports? That's all they're interested in. Four? We think of it in terms of, hopefully, entertaining people every day. We have no fear at all, in fact we love doing it — going off topic. That infuriates stick-to-sports guy, but I don't care.
Mickey: Four percent of the guys who want only sports. They get infuriated.
Brent: This time of year is really, really fun to me. For example today, we've got this college basketball corruption scandal and that's going to be a healthy part of the show, but we also have one of the top-20 tennis players in the world coming on. We've got one of the best hockey players in the world coming on. Guests kind of dictate topics with us.
Noe: In terms of the goals you have for the show, does anything change that mindset when you've gone thru lineup changes?
Brent: For me, no. My job is to help our clients grow their business. From there it's to entertain the guy that's at a job that he hates, is having an awful day, and is in his car for 45 minutes and wants to be entertained. He wants an escape from whatever it is he's dealing with and everybody's dealing with something. Those are the two things I think about. As long as it's a room full of creative people that like to have fun, I'm good.
Mickey: When we were driving around 21 years ago in that Escort station wagon, I used to tell him, "Look, here's my goal; I'm going to put as many people's kids on TV tonight as I can. We're going to spray the crowd. We're going to have the band. We'll have an establishing shot of the cheerleaders and I want to put as many people's kids and grandkids and neighbors and friends on TV as I can, to give more people a reason to watch."
Brent: I've always thought about that too. I remember him saying that and that really stuck out to me. I think about that all the time.
Mickey: When you go out and you're in the grocery store and you're the TV person and they go, "You had my nephew on the other night," and I say, "Oh, did he score a touchdown?" And she said, "No, you just said how cool he looked. He was the tuba player," and I'm like, "Oh, I remember him." But that meant the same thing to her as the kid who scored the touchdown that won the game. That's her nephew or friend or son or grandson or whatever. To me that was so powerful to do that.
When we go out and people tell us, "Life is going this way and there's some bad things happening, but I'll tell you what, I know when I'm in the car listening to you guys, I can forget about it." That's the greatest, to me, thing that anybody can say about what we do is you helped me forget my problems for an hour or for 30 minutes, or gosh there are some people who are going to listen to the whole show I guess on their computer at work.
Brent: God love 'em.
Mickey: Yeah, those are special people, but for somebody to say, "Man, I'm going through this terrible thing, but I know I've got a refuge for X amount of time with you guys every day." That's one of the main reasons that we do what we do. We love doing it, but we love the interaction with people and knowing that you can actually help somebody have a better day, forget something bad that's going on in their life.
Even if we come in and things aren't great for us, we still think, "Gosh, there's a whole lot of people listening — they have bigger problems, they have bigger things they're dealing with than we do, not that we're immune to dealing with things, but let's just get together. Let's entertain them. Let's enlighten them. Let's tell them what's going on in the sports world. Let's have a few laughs. Let's give them a little kind of place they can go for four hours a day."
Noe: Do you think hosts lose track of that where it's "I want to be a hot-take guy" and it gets too far away from wanting to entertain people?
Dawn: Yes.
Brent: Yeah, but everybody has to be themselves and this is who we are, and I love it. I'm so blessed to have been able to do this on this radio station. 104.5 The Zone is one of the best radio stations in the country. I am so blessed to have been able to work with four of the most talented radio people that I could ever be around. I'm so happy with the team we have here with Mickey and Dawn. I'm looking forward to the next however long y'all want to do this. 50 years? 60?
Dawn: Time to retire. (laughing) Seriously this guy, they were like, "Oh, you guys want Presidents' Day off?" I'm like, "Oh yeah, let's take it off." They're like, "Oh, well are you sure? Are you sure you don't want to work?" I'm like, "What is wrong with you? I love my job, but you guys are not normal."
Brent: I mean there's flame-thrower guy out there, that's not me. That's not what we do. That's not who we are.
Dawn: We don't have the hot-take, piss-you-off, be-mean-to-you-kind-of person really. Unless you really push our buttons.
Mickey: The angry Chihuahua. One of the first conversations we ever had was let's just pretend like we're in a sports bar talking to our friends. Let's talk to people. We've always tried to talk with people and not at people.
Brent: There are times when everybody gets riled up. It's an opinionated business. We're paid to have an opinion. That's the reality of the situation, but I think we're more into building people up.
Keeping Premier League Games Shouldn't Be A Hard Call For NBC
"Beyond its massive global fanbase, the Premier League offers NBC/Peacock a unique modern 21st-century sport for the short attention span of fans."
NBC Sports is facing some tough, costly decisions that will define its sports brand for the rest of this decade.  A chance to connect with viewers in a changing climate and grow Peacock's audience as well.  However, making the right choice is paramount to not losing to apps like Paramount+ (pun intended).
NBC is currently in the business of negotiating to continue airing the Premier League as their current deal ends after this 2021-2022 season. NASCAR is contracted to NBC (and FOX) through the 2024 season.
NBC's tentpole sports are the NFL and the Olympics.
Negotiations for the EPL are expected to go down to the wire. Rather than re-up with NBC, the league is meeting with other networks to drive up the price. NBC has to then make a decision if the rights go north of $2 billion.
Should NBC spend that much on a sport that is not played in the United States? It's not my money, but that sport continues to grow in the US.
If NBC re-ups with the Premier League, will that leave any coins in the cupboard to re-up with NASCAR? Comcast CEO Brian Roberts hinted that there might be some penny pinching as the prices continue to soar. This may have been one of the reasons that NBC did not fight to keep the National Hockey League, whose rights will be with Disney and WarnerMedia through ESPN and TNT, respectively.
"These are really hard calls," Roberts said. "You don't always want to prevail, and sometimes you're right and sometimes you're wrong, but I think the sustainability of sports is a critical part of what our company does well."
Roberts was speaking virtually at the recent Goldman Sachs 30th Annual Communacopia Conference. He told the audience that between NBC and European network Sky, that Comcast has allocated approximately $20 billion towards these sports properties.
Comcast CFO Michael Cavanagh spoke virtually at the Bank of America Securities 2021 Media, Communications and Entertainment Conference and echoed that the company is in a good position to make some strong choices in the sports realm.
"The bar is really high for us to pursue outright acquisitions of any material size," Cavanagh added. "We got a great hand to play with what we have."
While the European investments involve a partnership with American rival Viacom, the US market seems to have apparent limits.
Last Saturday's NASCAR Cup Series at Bristol Motor Speedway was seen by around 2.19 million people. It was the most-watched motorsports event of the weekend. That same week eight different Premier League matches saw over 1 million viewers. More than half of those matches were on subscription-based Peacock. 
Beyond its massive global fanbase, the Premier League offers NBC/Peacock a unique modern 21st-century sport for the short attention span of fans. A game of typical soccer fan is used to a sport that is less than two hours long. The investment in a team is one or two games a week. 
My connection to the Premier League began before the pandemic. When I cut the cord in late 2017, I purchase Apple TV. Setting it up, it asks you to name your favorite teams. After clicking on the Syracuse Orange and the New Jersey Devils, I recalled that my wife has family based in London, England. They are season ticket holders for Arsenal, and that family redefined the word "die-hard" fans.
I've long been a believer that sports allegiances are best when handed down by family. I love hearing stories of people loving the New York Giants because their parents liked them, and they pass it down to their children.
I've successfully given my allegiance to the Devils to my young daughters.
By telling Apple TV that I liked Arsenal, I get alerts from three different apps when the "Gunners" are playing. The $4.99 is totally worth it to see Arsenal.
Whenever I told this story, I was amazed to see how many other American sports fans had a Premier League team. Students of mine at Seton Hall University rooted for Tottenham Hotspurs, while an old colleague cheers on Chelsea.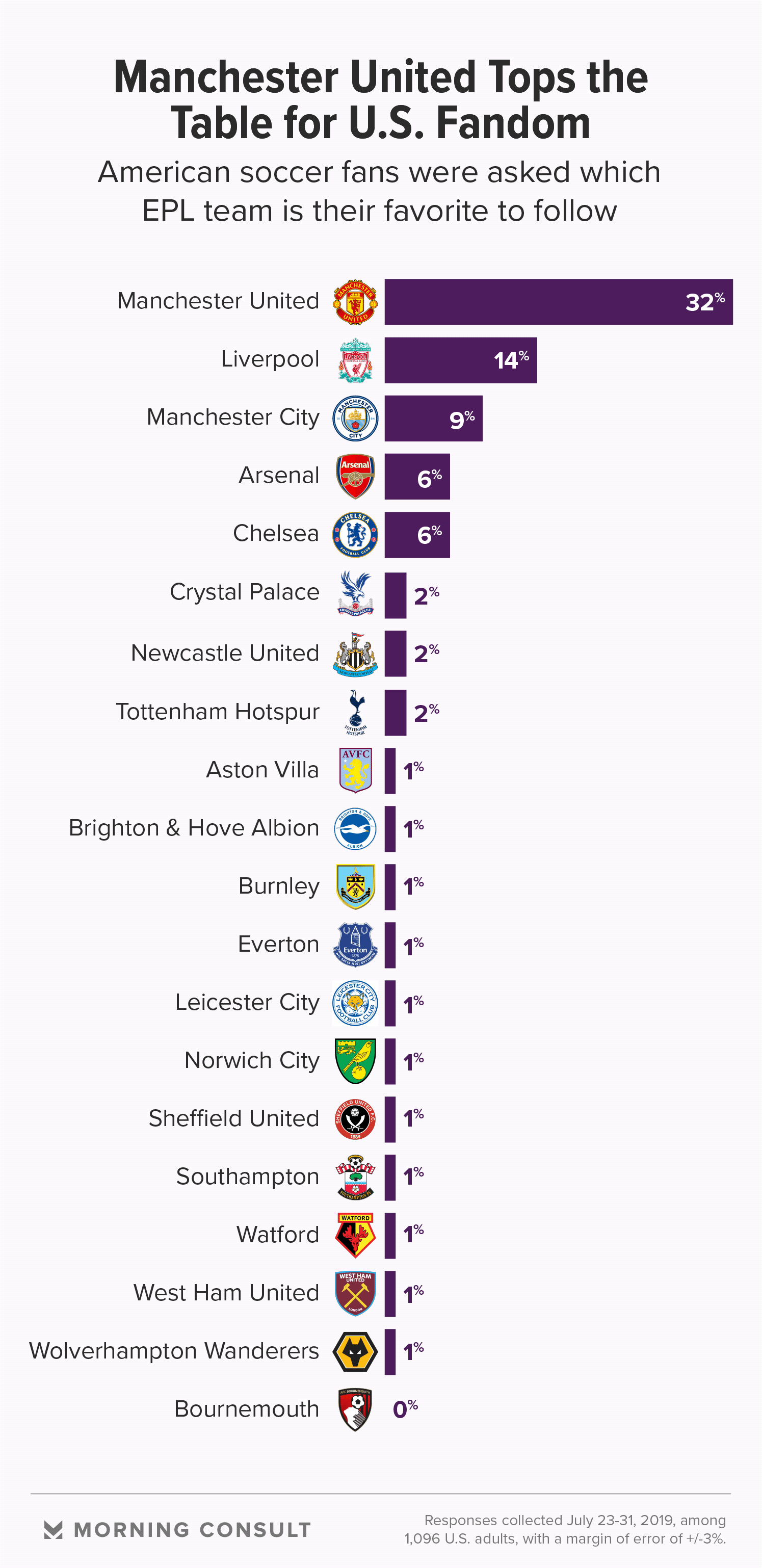 This is not meant to say that NBC should sign the EPL on my account. The key for any US-based soccer fan is that between Bundesliga, Serie A, and other leagues, there will be no shortage of soccer available on both linear television and streaming services.
Besides, Dani Rojas did say that "Football is life." NBC, originator of the Ted Lasso character, should make keeping its Premier League US connection a priority.
Today, Demetri is joined by Tyler McComas and Russ Heltman. Tyler pops on to talk about the big start to the college football season on TV. Russ talks about Barstool's upfront presentation and how the business community may not see any problems in working with the brand. Plus, Demetri is optimistic about FOX Sports Radio's new morning show.
Podcast: Play in new window | Download
Subscribe: RSS
6 Ad Categories Hotter Than Gambling For Sports Radio
"Using sports radio as a back page service for gambling will have a limited shelf life."
For years sports radio stations pushed sports gambling advertisers to early Saturday and Sunday morning. The 1-800 ads, shouting, and false claims were seedy, and some stations wouldn't even accept the business at 5 am on Sunday.
Now, with all but ten states ready to go all in on sports gambling, sports radio stations can't get enough of that green. Demetri Ravanos wrote about the money cannon that sports gambling has become for stations. Well, what if you are in one of those ten states where it isn't likely to ever be legal like California or Texas? Where is your pot of gold?
Or, let's face it, the more gambling ads you run, the more risk you take on that the ads will not all work as you cannibalize the audience and chase other listeners away who ARE NOT online gambling service users and never will be. So, what about you? Where is your pot of gold?
Well, let's go Digging for Gold. 
The RAB produces the MRI-Simmons Gold Digger PROSPECTING REPORT for several radio formats. In it, they index sports radio listeners' habits against an average of 18+ Adult. The Gold Digger report looks at areas where the index is higher than the norm – meaning the sports radio audience is more likely to use the product or service than an average 18+ Adult who doesn't listen to sports radio. The report, generated in 2020, indicates that sports radio listeners are 106% more likely to have used an online gambling site in the last thirty days. That's impressive because the report only lists 32 activities or purchases a sports radio listener indexes higher than an average adult. I looked at those 32 higher indexes, and I think we can start looking for some gold.
Using sports radio as a back page service for gambling will have a limited shelf life. The gambling companies who commit significant money to get results will continue advertising and chase the others away. So, the future of sports radio needs to include other cash cows.
If it is evident to online sports gambling services that sports radio stations are a must-buy, who else should feel that way?  I looked at the Top 32 and eliminated the media companies. ESPN, MLB/NHL/NFL networks, and others aren't spending cash on sports radio stations they don't own in general. But Joseph A Bank clothing, Fidelity, and Hotwire should! Here's your PICK-6 list I pulled together that's hotter than sports gambling:
Sportscard collectors, Dapper Labs, Open Sea- read about Sports NFT $.
Online brokerage firms-Fidelity, Charles Schwab, Robinhood, Webull, TD Ameritrade
Golf courses, resorts, equipment, etc.- we play golf at home and vacation
Hotwire.com, Booking.com, TripAdvisor, Airbnb, Carnival Corporation, and Priceline.com- we've used Hotwire in the last year.
FedEx, UPS, U.S. Postal Service, Venmo, PayPal, Zelle-we wired or overnighted $
Jos. A. Bank, shein.com, macys.com, nordstroms.com- we went to Jos. A. Bank in last three months
The sports card/NFT market is 32% hotter than the sports betting market for sports radio listeners. Everything on the PICK-6 is at least 100% more likely to purchase than an average 18+ Adult who doesn't listen to sports radio. All listed are at or above indexing strength compared to sports betting. The individual companies I added are industry leaders. Bet on it! Email me for details.