What motivates you?
It's a pretty standard interview question and one I've probably asked to 90% of the applicants I've talked to in my days (the other 10% I just forgot to ask). I prefer the person respond very quickly by shouting, "MONEY!" but any answer is OK with me, as long as money is included in it.
Family, faith, saving the world, overall happiness or any of the other answers people will generally give are good and all, but I want money hungry, competitive beasts who want to be financially successful more than anything in the world. Like the great Ric Flair himself, I want the stylin', profilin', limousine riding, jet flying, kiss-stealing, wheelin' n' dealin' son of a gun!
I've always believed good radio sellers need to have a bit of swagger. Swagger usually comes from confidence and nobody is more confident than someone who is doing well financially. On the flip side, we've all seen sellers who are down on their luck that have a look that doesn't exude a bit of confidence, which doesn't mix well with someone who may also be pressing to try and get something, anything sold. When the confidence level is high, the client or prospect is much more likely to feel the same way about what you're offering and be excited to do business with you.
I've written before about the competitive nature of what we do and that I see it trending in a direction where people really aren't concerned with where they rank. It's simply a world of "how am I doing," and that's it. Gone are the days of wanting to be the top biller, not just because of the money you made, but also because that meant you were better than everyone else.
When I identify someone who really fits the bill of the money-driven seller, I like to find out what they want the money for. Sure, everyone thinks of big salaries or commission checks, but most the time it relates to a desired purchase with that money. Is it a new, bigger house? A new car? A boat? Private school for the kids?
Visualization is a big thing in sports. Athletes are often taught to visualize the race, game or competition ahead and see themselves performing and winning. For the motivated media seller, it's about visualizing the future and what that "dangling carrot" is that's out there.
I worked with a guy once who constantly talked about wanting a Porsche 911. He had a picture of the one he wanted pinned up in his cube and everyone in the office knew how much he needed to make to be able to afford it. He talked about it, a lot. While it drove everyone else crazy, it drove him to bust his tail every day. As he got closer, you couldn't help but root for the guy and eventually, he got the car. Fortunately for the company we worked for at the time, he didn't stop when he got it, he simply picked the next thing he wanted and started all over again.
Not everyone needs to be as crazy as he was about it, but everyone should have something that is pushing them to do more. There are too many times you can get down or get in a rut and need the extra motivation to make the calls, to do the walk-ins, to go to the networking lunch or any of the other things you may have going on. Having more money will do the trick for most so motivate yourself with a financial goal and work hard to make it rain.
Sarah Spain Is Being The Woman She Needed
"I think I need to approach my own career in life, with the same view that I am seeing women's sports through which is to not cap my ambitions or limitations because of what I've seen before."
For anyone starting a new job, having to navigate a new position, management and workload can be somewhat challenging. In the case of Sarah Spain, an additional obstacle was being the only woman within her department.
In 2010, Spain started a new job as an update anchor at ESPN 1000 in Chicago. At the time, not only was she the only female voice on-air, she was the only female at the station in any sort of production role.
In an industry largely dominated by middle-age white men, Spain's small presence on-air at the beginning of her career was a large step for women entering the industry.
Her next leap came in January 2015, when ESPN announced that it was launching a new weekend radio show, Spain & Prim, with Spain and Prim Siripipat as co-hosts. It was ESPN's first national sports radio show hosted and produced by women.
In 2016, ESPN launched The Trifecta, featuring Spain and co-hosts Kate Fagan and Jane McManus, further cementing her as a prominent figure in sports talk.
A simple Google search would tell you all this information, but what it wouldn't openly tell you is that the sports radio industry was and still is dominated by men. Sure, you may be able to rattle off a list of 10-20 women's names that occupy on-air roles on top stations and shows, but in comparison to the hundreds of men in these same roles, that number is minuscule.
Sarah Spain might not have seen it this way at the time, but what she has been doing since her update-anchor days, is inserting herself in a space occupied by men, so that the next female that wants to work in sports radio will see that it's possible.
"There was a real pivot point at some point recently where I thought, 'I'm prioritizing going out and being the woman that I needed when I grew up, being the person that other women need to see to try to reach higher heights, over just being liked,'" said Spain. "A lot of people don't like ambitious women, a lot of people don't like people who are confident and go out and say, 'I'm good. I can do this. I'm qualified. I'm great. Hire me. See me.'"
This is an attitude that everyone – male or female – should have, but is it enough to erase the way an entire industry has operated for decades? Probably not.
So, what's the solution?
"Well, for instance the hiring practices on the business side need to be more diverse so that those people who are making decisions are looking for a more diverse set of candidates, and there needs to be more risks taken," said Spain. "It's also, in my opinion, a lot of times about not risking anything in case people don't like it, but then also never allowing for girls because they don't diversify in any way."
In March 2021, Spain quite literally put her money where her mouth is when she announced that she had become part of the new ownership group for the Chicago Red Stars of the National Women's Soccer League.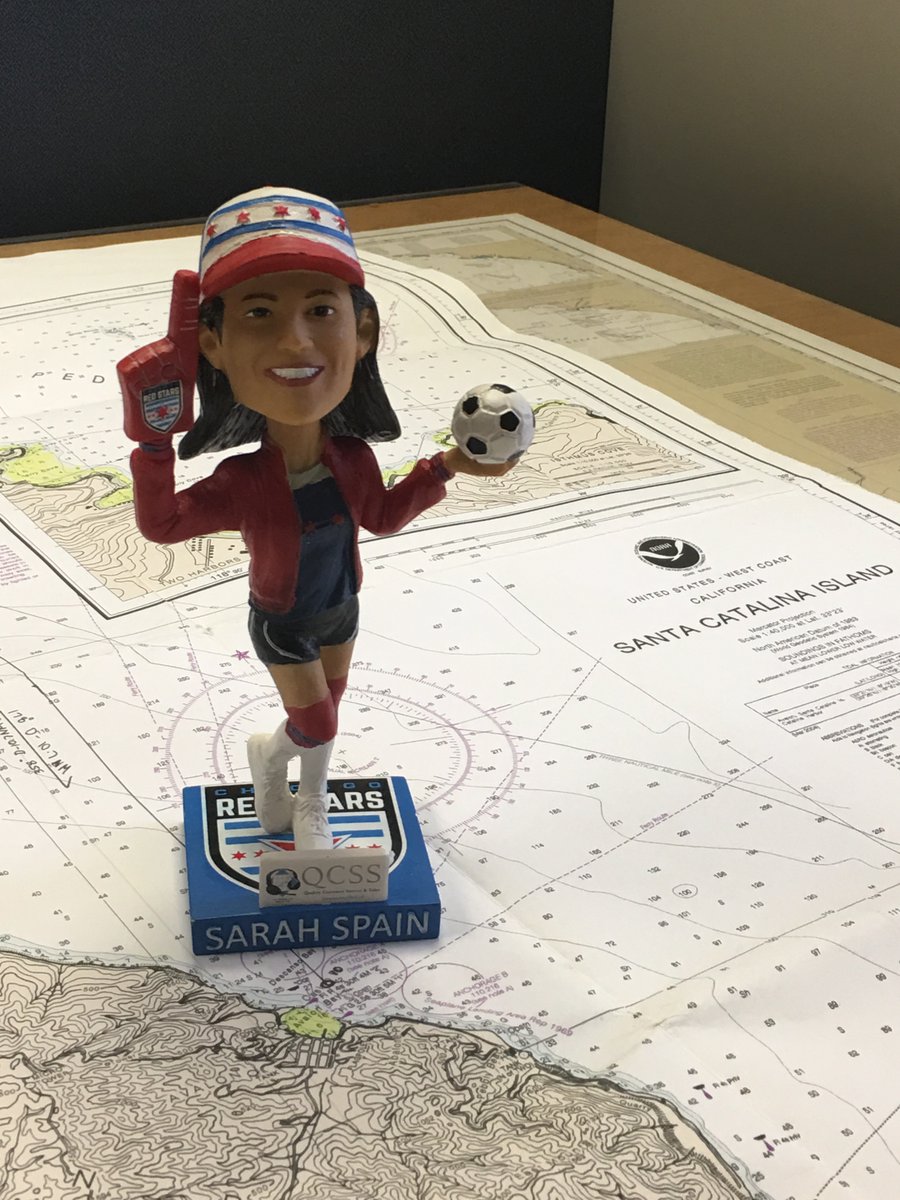 Spain is a Chicago native and has been a fan of the Red Stars for years, but those weren't the reasons she gave when asked why she decided to invest in the team.
"Changing the face of diversity across sports starts at the top, right?" said Spain. "If you have women making those decisions, then you might have women influencing hiring practices of coaches, assistant coaches, front office, etc,. Then you have them making decisions about what are the priorities and positions of the team in the league. Then it's, how are we running this this league to make sure that we're not falling into the same pitfalls that are affecting other sports leagues.
"So, it was really important to me when the opportunity came up to put my money where my mouth is and to say, 'yeah, this is a massive growth opportunity.'"
Unlike sports radio, where women of influence are few and far between, the NWSL is a space where women are securing leadership roles with the goal of using diversity as a means to help the league grow.
Among other league and team investors are Serena Williams and Alexis Ohanian, not to mention a long list of high-profile female businesswomen, celebrities, and athletes.
"They're saying this is a completely untapped market, that if just given the investment to grow will explode, and it's been just held back by literally people who don't believe in it," said Spain.
Sports talk may never diversify itself the same way Spain and company – no pun intended – plan to diversify the NWSL, but would it hurt to try? It's worked pretty well for Spain.
"I think I need to approach my own career in life, with the same view that I am seeing women's sports through which is to not cap my ambitions or limitations because of what I've seen before," said Spain.
According to Sarah, if you asked her when she started her career at ESPN 1000 if one day she would have her own national radio show with her name on it, or have won an Emmy and a Peabody, or become part owner of a professional sports team, she would have said no.
"It's a lesson to me to stop putting those limits on myself and instead keep pushing, and then allowing other people to see that and push it for themselves," said Spain.
Because of people like Spain, the idea of going from weekend update anchor to team owner doesn't seem so impossible.
Morning Radio In Chicago Is A Privilege For David Haugh
"Ultimately it came to the point where it was time to give radio my full attention and 100 percent commitment. That adjustment took a while but I think I'm used to it now."
There seems to be a happy tone on Chicago sports radio these days. That's purely an outsider's perspective, but it makes a lot of sense when you factor in that the White Sox are the most exciting team in baseball, the Cubs are arguably the most surprising and glass-half-empty-turned-half-full team at the moment, and to top it all off, the Bears drafted Justin Fields. 
David Haugh, co-host of Mully and Haugh at 670 The Score, is easily one of the most qualified media personalities to speak on the subject. He's been on the local beat since 2003, coming to the city as a writer working for the Chicago Tribune. During that time he's seen all the incredible ups and inconceivable downs that sports fans in the city have experienced.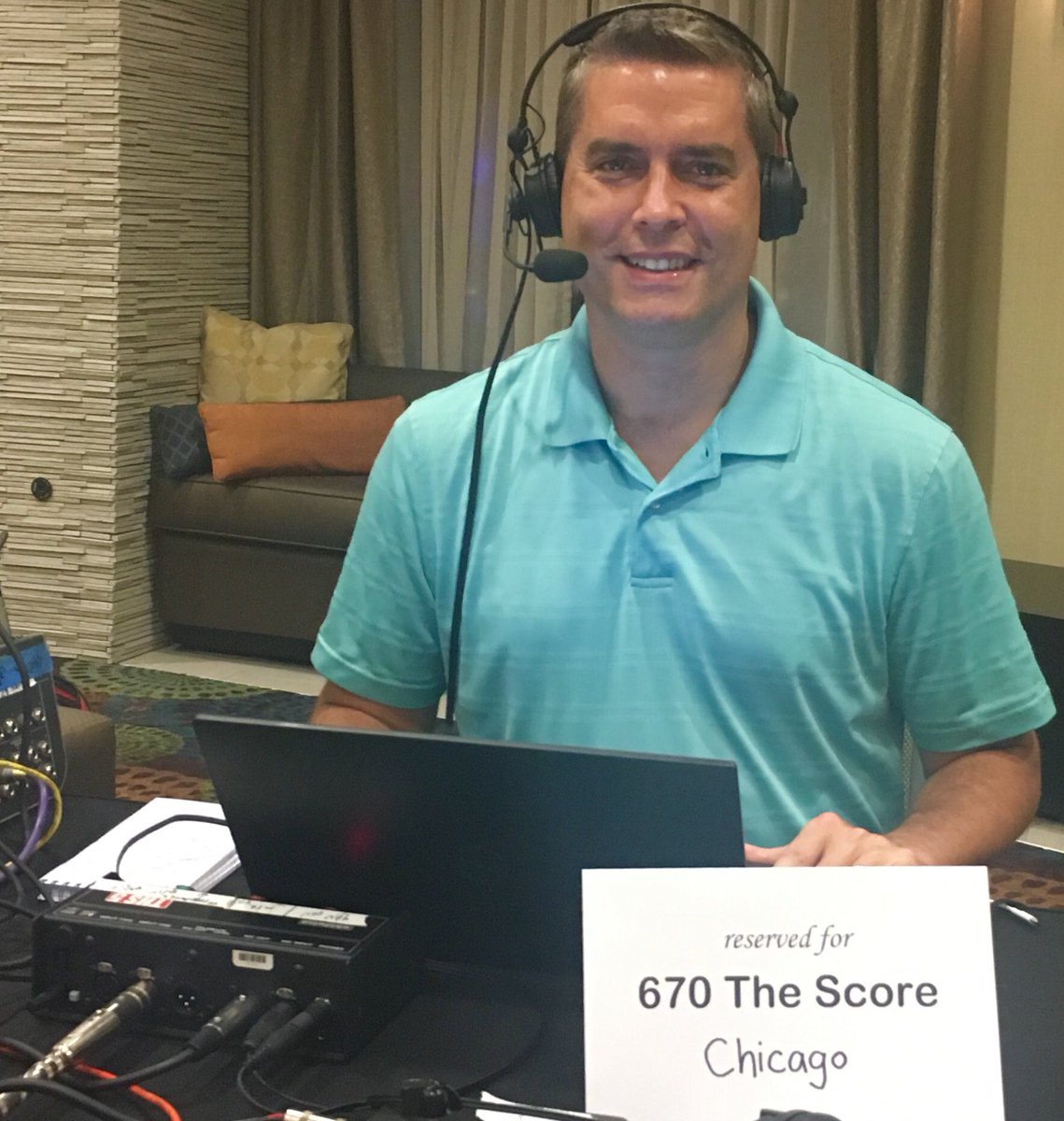 "It feels very resurgent," said Haugh. "When the Bears drafted Justin Fields they hit reset on their organization in a way they hadn't done in a long time. Justin Fields gives them hope and it coincides with the Cubs and White Sox both being good. The Bulls have new management, people have been waiting on that for a while, and the Blackhawks are young and interesting. We are blessed in Chicago to have a sports landscape that is full of possibilities. Everyone loves possibilities."
These days, Haugh is fully focused on his radio show. He left the Tribune in January of 2020 after trying his hand at both hosting a morning radio show and being a columnist for two years. As you can imagine, balancing both was incredibly difficult. But in the end he chose radio. It wasn't because he doesn't love to write. It was more of a decision of where the two industries were headed. 
"In 2018 when The Score came to me with an opportunity to do mornings, it was a combination of, one, I've done enough radio to know how to do it, and secondly, it was a good time given the newspaper industry realities," he said. "I just felt like the right move to make."
But the adjustment wasn't so easy in the beginning. By nature, many sportswriters are night owls, seeing as they're routinely at evening games and always rushing to meet late-night deadlines. David Haugh was in that group of writers walking from the ballpark to his car well after the 9 to 5'ers in the city had already gone to bed. Going from that lifestyle to waking up in the wee hours of the morning to do a radio show was a challenge. 
"The hours changing was a pretty dramatic lifestyle adjustment," he said. "I can't say that I initially embraced it, because if you do one job for so long you can become a night owl. So my body clock had to be totally readjusted. As far as responsibilities it was hard to write several times a week the first year or so. As a professional you think you're capable of so much you continue to try to do everything, at some point it just wasn't feasible. Ultimately it came to the point where it was time to give radio my full attention and 100 percent commitment. That adjustment took a while but I think I'm used to it now."
It took adjustment but it was something David Haugh could control. Replacing a 26-year veteran at the station, well, maybe not so much. Being hired to fill Brian Hanley's seat in morning drive was tough in more ways than one. For starters, the listeners had been accustomed to his voice for so many years. Secondly, the two were great friends. 
"I think the way I approached it was the way that I have always approached everything, which is I'm not trying to deny what he accomplished at The Score, it was tremendous," said Haugh. "He's a Score legend. In some ways I was replacing that and I respected all that he brought to the Chicago media scene, both on the air and in print. Brian was a friend and there are people that continue to be loyal to him to this day. And that's great. It just speaks to how much he connected with the audience and I was respectful of that.
"I didn't campaign for the job and I didn't do anything except take advantage of an opportunity. I always tried to be as respectful of Brian as possible and his place in Score history. He's as classy as they come."
Luckily, with all the challenges that came with the morning drive seat, one of the best program directors the industry has ever seen came along with it too. Mitch Rosen was exactly what Haugh needed to adjust to his new role. If not for Rosen, Haugh probably isn't doing sports radio today, but The Score PD saw and heard something he knew would work well in mornings next to Mike "Mully "Mulligan.
"The only reason I felt comfortable moving from the Chicago Tribune is because Mitch made me feel like it was doable and because we connected at a lot of different levels," Haugh said. "I've never had a boss more attentive to the needs, personally and professionally, like Mitch. What he's done is that he'll offer constructive criticism or points or tips since I'm not a radio guy. I'm not going to pretend that I'm trained in radio. He's been very good from a technical aspect and he's been tremendously supportive.
"But what I like most, I think, is that this is what's going on at The Score overall, Mitch is as positive of a person as you're ever going to work for or work with. This can be a toxic industry and a very soul sucking experience if you're in the wrong department or the wrong station. He works tirelessly to create an environment where positivity thrives. That's important."
Mully and Haugh came in this year as the No.9 Major Market Morning Show in the BSM rankings. A hat tip is deserved for several people involved. One goes to David Haugh for the commitment he's made to be great in radio. Another goes to Rosen for making the move to turn a former columnist into a successful drive-time radio host. And the last one goes to Mully, who hit the ground running with his new partner.
"Mully and I used to be competitors," Haugh said. "My first experience with Mully was probably going at it and trying to get the last question in at some Bears press conference. We would compete and we developed a respect for one another and then became friends. What I like about it is we tend to see the sports world the same way."
What a time to host in Chicago. The White Sox could win the pennant. The Cubs could win the pennant. God help the city if the North and South siders meet in a seven-game series to decide the World Series. It's going to be an incredible summer in Chicago. For a guy like Hough that's seen so many of them, it's cool to hear the giddiness in his voice about how special these next few months could be. 
He's already a Chicago legend for his written words. Soon, he'll be one because of his spoken words. 
"It's a privilege," David Haugh said. "It really is every day. I was asked this year to do a Saturday morning baseball show, which has been a Score staple for 25 years. I host with Bruce Levine on Saturday mornings. Nothing revealed how much passion there is in Chicago than on Friday during the re-opening of Wrigley Field. It was a re-opening of a ballpark and a city being re-invigorated by what happened during the Anthony Rizzo homer and the Cubs victory. This is one of those special types of seasons. We have two first place teams that engage you on a nightly basis."
Broadcasting Amidst Tragedy
"You are damned if you do and damned if you don't."
A player collapses on the field during your broadcast, what now? While you absolutely feel for the individual, you have to describe the activity and hope for the best. Nothing can prepare you for this eventuality. As we've talked about in previous columns, you can't play doctor and speculate on the injury; you just have to describe what you see. While thankfully these incidents are few and far between, you just can't possibly know if something like this could happen in one of your broadcasts. 
It all comes down to how you handle it. In this case, at the European Championship, Denmark midfielder Christian Eriksen collapsed on the field. He needed CPR in order to be resuscitated. Ericksen was given chest compressions as his teammates stood around him to create a type of "privacy wall". Eriksen was carried off the field to a loud ovation from the audience. This is when you start dealing in fact-based commentary only. What you see being done is what you talk about. Reaction shots from the crowd, teammates and officials can tell the story better than you. This is the time when your director, producer and camera operators are critical to the storytelling. 
The game was broadcast throughout the world. ESPN had the broadcast in the United States and as you can imagine, they took some heat for the way the medical incident was handled. Many complained that the telecast lingered too long on the scene before cutting away. ESPN said it didn't have its cameras at the match and was using a "world feed" supplied by the Union of European Football Associations.
"Once it was clear the world feed was going to take a more aggressive approach to covering the situation, we should have moved quicker to a static wide shot of the stadium or returned to the studio," ESPN said in a statement.
You are damned if you do and damned if you don't. If there was no focus on the injury, ESPN would have taken heat for that as well. In these cases, you just have to do the best you can under the circumstances.
The Eriksen situation, got me thinking about a situation I found myself in, while doing pregame for the Chicago Cubs in 2002. In fact, we're approaching the anniversary of this sad day. It was June 22, 2002 at Wrigley Field when the game was being delayed and nobody knew why. It was the day that Cardinals' pitcher Darryl Kile passed away in his hotel room in Chicago. He didn't report to the ballpark for batting practice, when he normally would. The team had hotel staff check Kile's room and that's when they found him in his bed. He passed away in his sleep. Just an awful day at Wrigley and a terrible day to be broadcasting. 
It was a beautiful Saturday afternoon in Chicago. I remember it was a strange start time (2:05pm Central) due to Fox televising the game. My pregame show started at 1:30 that afternoon. Before our show began, we were informed of Kile's death. However, we were not allowed to broadcast the information, since his family had not been notified yet. I remember thinking, ok, so how are we going to let people know that this game isn't happening, without giving up this tragic information. On one hand we have a responsibility to let fans know what's going on, but then there's the more important aspect, someone has died and the family didn't know. Even in a competitive world, the latter trumps the former. We started the show as normal and had some discussions on how to move forward during commercial breaks.
As I recall, we decided to mention that there was going to be a delay, without going into specifics. Keeping it vague at least let the audience that the game wouldn't start on time. But, at the same time it opened up a whole different set of issues. You have to remember that in June 2002, we were only nine months removed from the horrific terrorist attack on our country on 9/11/2001. I was sure that people's first thoughts would be that there was some kind of security risk to fans in the ballpark. In fact, later I learned that a rumor had been swirling around that an attack was imminent. Of course, that was just an unsubstantiated rumor.
After discussion with my sports director Dave Eanet and booth mates, Pat Hughes and Ron Santo, we decided to alleviate that thought. We had to. Knowing that in those days a lot of fans brought their radios to the ballpark, we felt the need to alleviate any concerns about security. Coming back from a break we decided to say, "we have been informed that there will be a delay before first pitch this afternoon. We have been assured by Cubs officials that the reason is not a security situation, we'll have more info as it becomes available."
I remember feeling very empty about that statement, seeing as I knew the real reason for the delay and that the game was not going to happen at all. We had the responsibility to keep going and continue to provide a pregame show as if nothing was happening. Santo and I started to fill, talking about general baseball things, standings, league leaders and the Cubs upcoming schedule. After extending the pregame show a bit, it was time to hand things off to Hughes for the start of what was supposed to be the broadcast of the game.
It was at that time, I decided to take our wireless microphone and head down to the field. It was very strange being on the field at that time of the day. I saw no activity in either dugout. People in the stands were asking me what was going on. I had to lie and say, "I have no idea, that's why I'm down here." It was just a few moments later that Cubs' catcher Joe Girardi came out of the dugout, surrounded by teammates, members of the Cardinals and the umpiring crew, to make an announcement to the crowd. It was 2:37pm and his message was carried live on our airwaves and on Fox.
"Excuse me. I thank you for your patience," he started, with his voice cracking with emotion. "We regret to inform you because of a tragedy in the Cardinal family that the commissioner has cancelled the game today. Thank you."
Fans were still confused after waiting for as long as they had. Some could be heard yelling "What happened?"
"Please be respectful," Girardi responded. "You will find out eventually what has happened, and…I ask that you say a prayer for the St. Louis Cardinal family." The fans politely applauded Girardi as a sign of thanks. Girardi would later say it was the hardest thing he ever had to do in the game. He said it was more difficult than taking his uniform off for the last time as a player. 
There are a few things I'll never forget after Girardi's address. Seeing Tony La Russa and Cubs manager Don Baylor shake hands and embrace, each was shaking his head in disbelief. Baylor knew Kile, having managed him in Colorado during the 1998 season. Listening to the fans clammer in that din we've all heard before during a baseball game. Watching them file out of the park was something to behold as well. Cubs' fans embracing and patting Cardinals' fans on the back. For a moment the rivalry was not important. The final thing I saw on that field before making my way back up to the pressbox, were several St. Louis players, including Jim Edmonds walking across the field. They were going to address the media in the only interview room at Wrigley Field, on the third base side of the field. The looks on their faces, I'll never forget. 
While some outlets decided to run with the news before the family was notified, there was no way we were going to reveal the news prematurely. I'm extremely proud of the way my station handled a very difficult and sensitive situation. It was one of the toughest, if not THE toughest pregame broadcast I've ever done. I'm grateful to my teammates in the booth that afternoon for understanding the gravity of the moment.
There is no guidebook for how to broadcast under these circumstances. You have to rely on common sense and decency to get it done when it comes to tragedy. As much as athletes have a bit of celebrity to them, at the end of the day, they're human beings with families, kids. When horrific injuries, or even death occur, remember that fact and treat the moment with the respect and dignity it deserves.