You Can Call Arnie Spanier a Stinkin' Genius
Arnie Spanier walked into a gymnasium where his little brother was playing a high school basketball game. He had just quit his job at an advertising firm in Los Angeles, where he was employed for one year and a day. The firm wanted Spanier to be a full-time employee, but there was just something about the 8-5 lifestyle that turned him off. He declined and walked into the gymnasium that night, jobless, in his 20's and still not far removed from college. 
The game that night was to be broadcasted on a local cable channel. However, the two guys doing the game never showed. In a mad panic, it sent the TV station into a frenzy trying to find someone who could broadcast that night's basketball game. Spanier calmly walked up and offered his services. Sure, he was wearing sweat pants, but he knew his brother's team really well. The only issue, besides the sweat pants, is that he didn't know the other team at all. With no previous experience in the broadcast world, Spanier called the game that night on TV. The bug started at the most unusual place and time of his life. Afterwards, he knew he needed to try to find a way on the radio.
When Spanier arrived at The University of Arizona, pursuing sports radio as a career was the furthest thing from his mind. The format was still in its very early stages and not nearly as prevalent as it would be a few years later. With little experience and no tape to show program directors, Spanier was literally starting from the bottom in his pursuit of a career he had just recently become interested in.  
One station Spanier was aware of, was the Sports Entertainment Network in Las Vegas. He listened to one of the shows on the network and thought he could do just as good of a job as the host he was listening to. So, Spanier headed to Vegas to try his luck on getting a shot with the station. Upon meeting with one of the big decision makers, Spanier expressed his desire to do some fill-in work. The man asked the question that anyone else in charge of a big station would ask, "How much experience do you have?" Unfortunately, Spanier had nothing to offer on that front and was honest about it.
 "Get the hell outta here! Go work some place like Little Rock for a couple of years and then give me a call," was the response Spanier heard. But instead of walking out the door and dealing with striking out, Spanier asked the guy to reconsider. Finally, he was told to call back in a couple of months to see what the station had. He loaded up and drove back home both hopeful and excited. 
All throughout that summer, Spanier's calls to the station went unreturned. Living in his parents' house didn't make the waiting any easier, but he had to, seeing as he had no money at the time. Finally, out of the blue, he got a call from the network and asked if he still wanted to do some shifts. Without hesitation, Spanier said yes. He was instructed to do the midnight to 6 a.m. shift on Christmas Eve, Christmas Day, New Year's Eve and New Year's Day. Probably the four-worst shifts he could have been asked to do, but he didn't care, his opportunity had finally arrived. 
More than anything, Spanier was excited he'd have some tape to show other stations that were potentially hiring. He didn't know what to expect, only that he would be leaving with cassette tapes in hand to mail across the country. When he walked into the studio, he had no idea what he was doing. Much like his career, his knowledge of a working radio studio was starting at the bottom. 
Regardless, Spanier made it work and did all four shifts he was asked to do. In his mind, it went well, so he approached the boss on the following Monday morning to thank him for the opportunity. But as he walked to his office, all he heard was yelling and a lot of four-letter words. Two men came storming out and left. Spanier casually walked in and was told, "Who are you?!" "Woah, woah,' Spanier said, "My name is Arnie and I just want to thank you for giving me the opportunity to let me host the four shows over the holidays."
The response that Spanier got was one he'll never forget. 
"If you want to thank me, you can start today from noon to 3 p.m."
Just like that, not only did Spanier have his first job in radio, he was now hosting a national show. Talk about fortunate. For a week he did the noon to 3 shift. After that, he was in drive time from 3 to 6 p.m. The soon to be 'Stinkin' Genius' was just getting started
Along with a ton of excitement, stops in several markets across the country would follow in Spanier's career, such as Atlanta, Dallas and Phoenix. Spanier and his wife Beth even appeared in an episode of The Newlywed Game. Today, you can hear him every weekday on 101.3 The Game in Burlington, Vermont from 3 p.m. to 6 p.m. along with Rich Haskell and Brady Farkas. Spanier is also still doing national radio. You can hear him every Sunday night on Fox Sports Radio alongside Chris Plank.  
TM: You're talking every day with your co-hosts on the show in Burlington. Mostly, face to face, I'm sure. But what about your Fox Sports Radio show on Sunday night? You're in Vermont and Chris Plank is in Oklahoma. Have you ever seen each other in person?
AS: We've never seen each other face to face in the 5 or 6 years we've been doing a show together. We've only spoken on the phone, like, less than a half dozen times. It's around once a year, we'll call each other maybe for the holidays or something. But we do text each other a bunch during the week. If there's something I see that we can use for our show, or even his local show, I send it.
TM: What are the challenges of doing a national show, compared to a local show? Is it harder?
AS: I don't think it's harder. It's different in a few ways, you've got to figure out the main topics and which games are the most relevant to talk about. Like on Sunday, you had the Saints playing the Rams, you had the Packers and Patriots, so you concentrate on those games.
You really don't know what's going to happen or take off nationally. I like both of them, because I've done a lot of local radio and I've done a lot of national. But I don't find national any harder, you just have to keep up with things a little more. The only thing that may be tougher is college basketball. Even though you're not going to talk about the smaller teams or even breakdown the games, keeping up with everything going on makes it tougher. 
TM: In that sense, is there any way that doing a national show makes you better as a host? Just because you have to broaden your horizons and talk more than just what's local?
AS: I think both ways. I think the fact that I'm up in Vermont and a small market for the first time in my life, we do a lot of Patriots and a lot of Giants. The stuff I talk about locally, I can definitely bring over to my national show, because we breakdown the Pats like no other. Then, I can bring stuff from my national show and let them know what the rest of the world is thinking about the Patriots, Giants, Knicks and the rest of the area teams. I think it's not just one way or the other, the local show helps the national show and the national helps the local.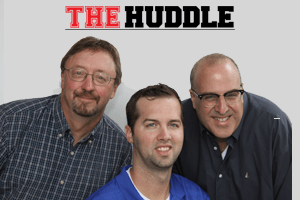 TM: Where did your nickname 'Stinkin' Genius' originate from? 
AS: Nebraska was playing Arizona State and they absolutely crushed them. Nebraska absolutely crushed them. If I remember correctly, gosh, it's been so long, Nebraska scored on a late touchdown and I think they won 77-28. Immediately, I said, "Ohhh, you're going to pay for that, big boy! Running up the score! I said, you watch and see if Arizona State doesn't sit on this one for a year and circle this one on the calendar! I wouldn't be surprised if they shut them out!"
The next year, Arizona State shutout Nebraska 19-0 and I think it was the biggest prediction. Nebraska hadn't been shutout in a long time. So, some people said, wow, you're just like a stinkin' genius! That kind of stuck and it's been going on for several years. 
TM: As fun and cool as it is to have that nickname, how much has it helped people identify you?
AS: I think it's definitely helped, especially early in my career. But I think other things also, just little things like the way I give out the phone number, or my style, just other things. But yeah, Stinkin' Genius, that really helped people identify me early in my career. 
TM: Even though you mentioned that you really didn't know what you were doing in the beginning stages of your career, was there something inside of you that thought you were pretty good?
AS: Yeah, of course in my mind. We were told to take a lot of phone calls, so I would churn out like 50 calls an hour. After 6 hours that would definitely take a toll on you, but that's what they wanted back then.
We used to get a lot of calls and have a lot of fun. I was like, damn, this is working out good. We have a good show with a lot of calls, the boss even likes me, I'm actually getting paid, living in Las Vegas, I got a mustache and a ponytail, what more could I want?
TM: You've done shows all over the country, but can you say that you enjoyed one market over any other?
AS: I would say Phoenix. I went to U of A so being in Phoenix was unbelievable. There was a lot of ASU and U of A, the Suns were good at the time, and I got to bring the morning show from the network along with me. I got John Cannon hired, and another guy hired, it was like my own station. We just completely captured the city and had big turnouts all over the place. Remember, I worked in some good markets. Dallas, Atlanta, but I would say Phoenix was the most influential one. 
Tyler McComas is a columnist for BSM and a sports radio talk show host in Norman, OK where he hosts afternoon drive for SportsTalk 1400. You can find him on Twitter @Tyler_McComas or you can email him at TylerMcComas08@yahoo.com.
As Media Changes, Bob Costas Hopes Standards Remain
"Some people are cynics, and they confuse cynicism alone with insight. That's not me."
Growing up in New York, Bob Costas frequently listened to broadcasters such as Red Barber, Mel Allen and Marv Albert call games on the radio. To him, their voices were inseparable from the players. Although he idolized Mickey Mantle, Costas knew the only way he would pass through the Yankee Stadium gates without charge would be by working in the press box. Recognizing that many national broadcasters began their careers by working in radio, he searched for an esteemed college program to accentuate his pursuit of a media career. Once Costas picked up a New York Knicks yearbook and learned that Glickman and Albert had both attended Syracuse University, his mind was, somewhat consequentially, made up.
"When I got there, I didn't know for sure if I wanted to be a writer or a broadcaster," Costas said. "Almost as soon as I got there as a freshman, I started getting airshifts doing sports reports and whatnot on the campus radio station. I felt like this was something that I enjoyed and I might have a knack for."
Costas on the Air
Costas was fond of a specific type of sports broadcasting early in his career, one promulgated by Jim McKay and Jack Whitaker wherein an announcer is more than just someone who documents the game. It led Costas to espouse a multifaceted approach with shades of humor, journalistic elements and some historical references.
"[They] were essayists and at times journalists," Costas said. "Not just announcers, but journalists with a respect for and a command of language with the occasional literate touch [and] I admired those people. I think I was influenced by them in that they showed me that was an avenue [and] that not every good broadcaster had to be generic."
When Costas graduated from college, he was hired at KMOX radio by general manager Rob Hyland. He was assigned to be the new play-by-play announcer for the American Basketball Association's (ABA) Spirit of St. Louis, and later called Missouri Tigers college basketball.
In 1976, Al Michaels was slated to be a regional football play-by-play announcer for CBS Sports, but ended up signing a contract with ABC less than one week before the regular season. It left the network with no one to call an opening week game between the San Francisco 49ers and Green Bay Packers from historic Lambeau Field, resulting in CBS Sports calling Hyland to inquire about a potential replacement.
"Mr. Hyland said, 'We've got a young guy here. We think he's pretty good. He's 24 and looks like he's 15,'" Costas recalled. "They said, 'Send him to Green Bay,' and I signed a one-game contract for $500 to go to Green Bay."
Costas continued calling regional games for CBS Sports while working at KMOX, being used every so often on football and basketball coverage. It gave him additional exposure in various marketplaces around the United States, and ultimately prepared him to join NBC Sports. By the end of 1981 though, Bryant Gumbel departed the sports division to join Jane Pauley and Chris Wallace as a co-host on TODAY. As a result, Costas was elevated to become a more visible part of NBC's football coverage. He eventually started hosting the pregame show for the NFL on NBC, and had to learn the mechanics of the studio and how to read from a teleprompter.
"For the first several years that I did it, I didn't use a teleprompter at all," Costas said. "I just had notes and ad-libbed around those notes, but then as the production became more sophisticated, they'd want a specific cue to roll in B-roll or whatever, and I began using the prompter for that. I still ad-libbed in and around it because I felt more comfortable doing that."
Costas on America's Pastime
Costas continued hosting studio coverage for football, but had also impressed network executives when hosting NBC's coverage of the 1983 Major League Baseball All-Star Game. Earlier that season, he had started broadcasting games with Tony Kubek on Game of the Week, a partner to which he credits accentuating his development. Kubek introduced Costas to key figures around the sport, such as players, general managers and scouts, implicitly communicating the trust he garnered in his abilities.
Throughout his career, the composition and expectations of the audience have altered, requiring Costas to adapt the way in which he calls a game. Research departments compile tedious amounts of information for broadcasters to consider, and it is in their purview to determine what deserves emphasis. When sabermetrics first began to pervade into the everyday vernacular of the sport, Costas had Bill James on KMOX to discuss his theories and baseball abstract, and he considers himself an early adopter of the metrics.
Costas is familiar with postseason baseball as a fan and broadcaster, appearing on World Series broadcasts five different times either as a host or play-by-play announcer. Through his lifetime, he has seen and embraced the evolution of the sport. Yet he is frequently labeled as a "traditionalist." That led to extensive criticism regarding how he called last year's American League Division Series between the New York Yankees and Cleveland Guardians on TBS.
"If it ever gets to the point in a broadcast where the statistician eclipses the storyteller, then some of the elements of romance and legend that are part of baseball are lost," Costas expressed. "What you're looking to do is strike a balance between those two things. They all have their purpose, but it's a matter of balance."
In addition to baseball, Costas also covered basketball with NBC, helping further cement the Association into the collective awareness of the viewing public. He was elevated to lead play-by-play announcer for the 1997-98 season and called three NBA Finals, including one of the most consequential shots in the history of the game. Costas, who announced games locally for the Bulls on WGN-TV during the 1979-80 season, punctuated Michael Jordan's championship-winning basket in Game 6 of the 1998 NBA Finals. Although he no longer calls basketball, Costas is a fan of the game and regularly tunes into the NBA Finals while staying aware of ratings.
"A good portion of it is on cable," Costas said of league broadcasts. "There are very large rights fees paid, so that explains the league's willingness to go in that direction, and the quality of the broadcasts are generally very, very high. There's no criticism of the way the games are presented, but it's less present in the minds of the casual fan than it was in the '80s or '90s."
Costas on Reporting
When Costas was at NBC, he was presented with a proposal from producer Dick Ebersol about starting his own late-night talk show, entering a space where sportscasters had not often frequented. While he looks back at that stage of his career with a sense of appreciation, he turned down the program multiple times. Once he reluctantly agreed to host the show, Costas welcomed guests including Paul McCartney, Don Rickles and Mel Brooks among others for longform, insightful interviews.
"It wasn't confined to five minutes or a quick soundbite," Costas said. "I think I was well-suited to that format, and once I got my footing after the first few months of doing it, I realized that even though I hadn't planned anything in that area, it was something that I was suited to do."
As a journalist, Costas affirms that it is his responsibility to address uncomfortable subjects with his audience in an objective manner. Through this approach, people feel empowered to formulate their own opinions and contribute to the discourse, especially since they do not have to start the entire conversation. In working as the prime-time host of the Olympic Games on NBC for 24 years, Costas had to balance highlighting the competition with bringing light to international affairs and global issues.
"Some people are cynics, and they confuse cynicism alone with insight. That's not me," Costas said. "But I hope that I've had a healthy skepticism, and I've never thought there was any contradiction between embracing the drama; the theater; the human interest [and] the occasionally and genuinely moving and touching things that can happen in sports… and then turning a journalistic eye towards what's happening within those same events or those same sports."
Before Costas took over the hosting role from Jim McKay in 1992, they had a lengthy conversation about the duty of the host and how integral the person is in the network's coverage. It requires being familiar with notable athletes while also having the dexterity to seamlessly pivot, take a briefing and discuss unexpected occurrences. For example, during Costas' second Summer Olympics in 1996, he had to cover the Centennial Park bombing. At the same time, he needed to know about the competitions and the significance of certain milestones the athletes achieved.
When Costas inked his final contract with NBC in 2012, he insisted that a stipulation be placed that the 2016 Olympic Games in Rio de Janeiro, Brazil would be the final time he would host the games on the network. At the time, Costas was also hosting Football Night in America on NBC, which led into Sunday Night Football broadcasts with Al Michaels and Cris Collinsworth. The network suggested he take on an emeritus role similar to what Tom Brokaw did as a newscaster, a proposal to which Costas obliged.
Costas has hosted two different nationally syndicated radio programs during his career – Costas Coast to Coast (1986-1996) and Costas on the Radio (2006-2009) it's a parallel path to the ones takes by some of the biggest names to follow in his footsteps in sports media.
Stephen A. Smith, for example, is a featured commentator on ESPN's First Take, broadcasts an alternate telecast for select NBA matchups, appears on NBA Countdown and hosts his own podcast titled The Stephen A. Smith Show. He does all of this while building his own production company, occasionally guest starring on television shows and ensuring he is well-positioned for the future. Smith has not been shy about his desire to expand beyond sports, pondering trying to host a late-night talk show of his own. Costas, it should be noted, is the only person to ever win Emmy awards in news, sports and entertainment. He has amassed a total of 28 throughout his illustrious career, the most wins in the history of sports media. Nonetheless, he believes discussing more than sports takes a specific archetype and is not a route all personalities are inclined to forge.
"You could name a lot of people that do one thing, but they do it extraordinarily well," Costas said. "They don't have to check every box…. I just had varied interests, and I guess people identified that I had varying abilities, and so I was able to do that."
Costas has been on MLB Network since its launch in 2009. This followed an eight-year run with HBO as the host of On the Record, which was later revamped into Costas NOW, but he departed the premium television network when they insisted he grant them "cable exclusivity." He desperately wanted to join MLB Network because of his passion and interest in the game – and ultimately ended up doing so – but not before making a monumental decision about his future.
"It was a really difficult choice because HBO was the gold standard when it came to sports journalism," Costas said. "But given my love of baseball and given the fact that NBC hadn't had it since 2000, I went with the baseball network."
Costas on the Gridiron
Costas' infatuation with baseball was contrasted with a perceived indignation towards football, although Costas affirms that was not the case. He had generally been allowed to express his opinions about different topics on radio programs or television shows, but there was a point where it became too much.
After he went on CNN to discuss the topic of chronic traumatic encephalopathy (CTE) following remarks he made at the University of Maryland about football having adverse mental effects, Costas was removed from the NBC's Super Bowl LII broadcast. The decision did not bother him, as he had been assigned to host the Super Bowl without any prior knowledge before it was publicly announced. In fact, he was somewhat apathetic towards the proceedings.
"What I did suggest was I could make a more significant contribution if, during the course of a six-hour Super Bowl pregame show, you carved out 15 to 20 minutes for a real journalistic interview with Roger Goodell," Costas shared. "That would be good programming, and it would be solid journalistically, but Goodell declined. So then that left me with no role that I was interested in for the Super Bowl."
The ambivalent feelings Costas had towards the sport precipitated his exit from the network, officially parting ways in January 2019 and moving to the next stage of his career. Upon his exit though, Costas knew his previous roles were in good hands with Mike Tirico at the helm. The plan from the beginning was to have Tirico assume the host role of both prime-time Olympics coverage and Football Night in America. Once Al Michaels left NBC Sports to join the incipient Thursday Night Football property at Amazon Prime Video, Tirico was duly named the new play-by-play announcer on Sunday Night Football. It was one transaction in a deluge of broadcast movement in the final offseason before the start of the NFL's new national media rights deal, reportedly worth over $110 billion over 11 years.
"The NFL doesn't just reign over sports TV; it reigns over all of television and over all of American entertainment," Costas said. "It's the only thing that consistently aggregates audiences of that size, and therefore it isn't just valuable to the networks; it's indispensable to the networks."
With these sizable media rights agreements comes substantial compensation for on-air talent. ESPN is reportedly paying Joe Buck and Troy Aikman a combined $33 million to serve as the Monday Night Football broadcast tandem, a figure some people would consider overpaying. Costas does not view it that way, instead perceiving broadcasters as harbingers of credibility.
"When you think about a company spending billions and billions of dollars for a property like they do with football, and then add on all the production costs, why should it surprise anybody that they're willing to pay a very high premium to get Joe Buck or to retain Jim Nantz or to retain Tony Romo?," Costas articulated. "Not doing so would be the equivalent of, 'You spend $5,000 on a suit, but now you're not going to splurge for the tie or the belt.' These are accessories to a larger investment, and they're important accessories."
ESPN announced it was signing Pat McAfee to a multiyear, multi-million dollar contract to bring his eponymous show to its linear and digital platforms. McAfee conducted the negotiations independently and will still retain full creative control over the show in its new phase. The move, however, received considerable backlash from those inside and outside of ESPN since it occurred amid Disney CEO Bob Iger's directive to lay off 7,000 employees across all divisions of the company. On several occasions, sports media pundits and personalities alike have expressed that ESPN concentrates its attention on a small sector of talent while neglecting everyone else. While FOX Corporation, Paramount Global and various other companies have engaged in layoffs this year, none made a hire with the star appeal, gravitas, and price tag of McAfee.
"Someone like McAfee; he moves the needle," Costas said. "He moves it, I guess, [on] various platforms – YouTube, as well as ESPN now, so he can make a difference so that's what they're paying for."
Costas on Modern Media
An existential question those in the media industry are grappling with is how to offset the effects felt by cord-cutting. In the first quarter of 2023, cable, satellite and internet providers experienced a loss of 2.3 million customers, and the latest Nielsen Media Research Total Audience Report says 34% of consumption derives from streaming services. With digital forms of media and over-the-top (OTT) platforms taking precedence in the marketplace, companies must establish alternate revenue streams while continuing to innovate.
CNN laid off employees last year, and its parent company, Warner Bros. Discovery, will reportedly be laying off additional employees during the summer months. Costas joined the company in 2020 as a correspondent for CNN. Earlier this week, Costas appeared on the network to talk about the merger between the PGA Tour, DP World Tour and LIV Golf, which marked a seminal moment in the history of the game.
Warner Bros. Discovery Chief Executive Officer David Zaslav recently relieved CNN chief executive officer Chris Licht of his duties as CEO following a pernicious feature in The Atlantic. It only worsened a dwindling company morale predicated by several controversial decisions regarding coverage, casting and the network's commitment to journalistic integrity.
While Costas expressed that he had a "cordial, but not deep relationship" with Licht and did not have shrewd insight into the decision to part ways with the embattled CEO, he does understand the shifts in news viewership and how its subject matter can penetrate into sports media.
For years, consumers regarded MSNBC as being biased to left-leaning politics, FOX News having bias towards right-leaning politics and CNN as nonpartisan, although that sentiment has somewhat changed.
"There's a battle for viewership, and there's some thought that people only want to go to the places that reinforce what they already believe," Costas said. "'Feed me the same meal every time over and over,' and now CNN is trying to chart a different course more down the middle. Maybe you have to be more partisan in order to attract a larger cable audience; I underline 'maybe' because my insight into this is not as valuable as a lot of other people who are closer to it."
The fractionalized media landscape, whether it be pertaining to news coverage, morning sports debate shows or afternoon drive programs, has, perhaps, engendered more disparate audiences than ever before. People tend to stick with outlets they know will provide them with information and coverage more favorable to their own points of view, and there is somewhat of an implicit chilling effect associated with channel surfing in certain scenarios. Viewers are obstinate towards programs that reinforce their points of view and hesitant to change, sometimes creating misinformation or, worse, disinformation.
"I think one of the most important courses that should be taught beginning fairly early – probably at the junior high school level and certainly continuing through college – is media literacy," Costas opined, "which is not telling you what to think, but helping you to navigate this crazy jigsaw puzzle that's out there."
There are many people following the business of sports media, but a smaller group of people who tend to break news and report on the beat itself. While there are reporters specialized in different niches of the industry, there are others who indolently parse stories and/or spin aspects of it to render it compatible with their platform.
Established reporters and outlets certainly engage in some level of repurposing; however, these entities safeguard what they are disseminating is true and take accountability for their mistakes. Conversely, there are perpetrators who transmogrify things into engrossing headlines designed to attract traffic. It is disheartening for journalists such as Costas.
"Many sites now, and this is true in sports perhaps especially, [are] just aggregators," Costas said. "They do no reporting; there doesn't appear to be any editor overseeing any of it. They just look for stuff wherever it might appear, and then they repurpose it, and almost always, the context, the tone [and] the nuance is lost. At best, it's reduced to primary colors. At worst, it's totally misrepresented for clicks."
In the past, Costas remembers genuine local programming which was exclusive to certain geographical areas. Because of the advent of the internet and social media though, nothing is truly local since people from around the world can consume content live or on demand. While this has brought many people together and improved cultural perceptions, ethnocentrism persists and has hindered accurate comprehension.
"If what you say is inevitably going to some extent be distorted where 'A' won't just become 'B,' but it might become 'X,' 'Y' or 'Z' by the time it's gone through all of its iterations, you sort of say to yourself, 'What's the point?,'" Costas elucidated. "Sports is not brain surgery – but you can make a more or less thoughtful point when asked a question, but if it's then going to be seen, heard or read by more people than heard it initially, and if it's going to be mangled in the process, it's almost like a fool's game to be part of that."
Costas on the Future
The term 'pretentious' is wholly inaccurate in describing Costas. He does not view himself as a visionary and knows that he will not be an "active participant" in the industry that much longer, but is reassured regarding the direction of sports broadcasting. He looks at revered announcers such as Jim Nantz and is able to effectively identify similarities with Curt Gowdy. Although the degree of information available to people has certainly shifted, play-by-play announcing, at its core, remains similar to the on-air product people first heard in 1929, although the lexicon and flow of a broadcast are somewhat different.
"The essentials of the craft remain the same," Costas said. "If you're talking about sports talk radio; if you're talking about the internet's coverage of sports, that in some cases bears no resemblance to the notions that people of my generation had about credibility and quality of presentation. No one's saying that sports coverage is masterpiece theater or something that should be taught at a Ph.D. class at Princeton [University], but it can be done more or less thoughtfully. It can be done more or less credibly, and we see wide variations now in how it's done."
Derek Futterman is a contributing editor and sports media reporter for Barrett Sports Media. Additionally, he has worked in a broad array of roles in multimedia production – including on live game broadcasts and audiovisual platforms – and in digital content development and management. He previously interned for Paramount within Showtime Networks, wrote for the Long Island Herald and served as lead sports producer at NY2C. To get in touch, find him on Twitter @derekfutterman.
There is Nothing Old School About a Human Touch in Radio Sales
"Digital buyers are different, and that's okay. They may not be the right buyer for you to sell to anyway."
We are not dumb or dumber when it comes to buying radio advertising. Being a radio ad sales rep is old school to some advertising buyers. To others, we write the book on how to get advertising done. Find those clients!
The digital automated ad buying platform AudioGo described selling radio ads as old school and wrote that automated buying is smarter. I am sure that is true for some buyers who have grown up with tech and automation, namely programmatic buying, and have changed their view of a radio salesperson. They don't see the unique value radio sales reps bring to the process.
Digital buyers are different, and that's okay. They may not be the right buyer for you to sell to anyway. Plenty of other local direct clients are not ready for algorithms to automate ad buys. They want a human touch, a helping hand, and the kind of expertise that no algorithm can replace. YOU. Radio salespeople add value to these types of clients. Here is why we do and how we are not the "dumb and dumber" of media of buying.
ONE-ON-ONE PERSONALIZED CONSULT
A radio salesperson offers specific solutions to meet a client's goals with the right target audience and within their budget. We allow real-time interaction to understand the client's business better, so we can match up the perfect advertising strategy. We are the ultimate live FAQs page. Building strong client relationships is critical. How can trust, collaboration, and a long-term partnership be created based on algorithms?
EXPERTISE AND INDUSTRY KNOWLEDGE
Most successful Radio salespeople have invaluable expertise and industry knowledge they picked up through years of experience. Twenty percent of the reps do eighty percent of the business. The vets know all about 6a-8a, 4p-6p, and live endorsement spots.
We get the nuances of radio advertising, like shifting audience demographics, programming trends, and effective messaging strategies. We can advise a client to make a much more informed (and time-saving) decision that can maximize the impact of their ad campaigns. No algorithm can see that.
CUSTOM SOLUTIONS
Automated programmatic buying may offer convenience, but it isn't too custom of a solution. We tailor advertising campaigns to meet the unique needs of each client. We take in specific target audience preferences, locations, and competitive market trends to produce effective strategies. We listen to real-time feedback and get results. Algorithms rely on predefined parameters and can't customize.
NAVIGATORS
Buying advertising can be complex, with regulations, industry standards, and market trends constantly changing. Radio salespeople have the experience to anticipate roadblocks and offer proactive solutions. Additionally, we can provide insight into budgeting, negotiation, and buying other media. Algorithms lack intuition and can't maneuver fast enough to handle the unknown.
While automation and algorithms have their place with certain buyers, remind yourself of the value you offer clients. You provide personalized consultation, industry expertise, customized solutions, and the ability to navigate. You are indispensable to the right buyers. Now find them!
Jeff Caves is a sales columnist for BSM working in radio, digital, hyper-local magazine, and sports sponsorship sales in DFW. He is credited with helping launch, build, and develop SPORTS RADIO The Ticket in Boise, Idaho, into the market's top sports radio station. During his 26 year stay at KTIK, Caves hosted drive time, programmed the station, and excelled as a top seller. You can reach him by email at jeffcaves54@gmail.com or find him on Twitter @jeffcaves.
Vic Lombardi Turns Nuggets Disrespect into Great Content
"I keep telling people they're going to go where the money is. The money is the Lakers and the big city teams. The Nuggets don't sell." 
There was a feeling of Denver vs. Everyone during the 10 days that separated the end of the Western Conference Finals and Game 1 of the NBA Finals. The word "boring" was being used to describe what it was going to be like watching the Nuggets play for an NBA title. It didn't sit well with Denver media and sports fans, as the unfair tag was being consistently referenced by certain members of the national sports media.
Vic Lombardi of Altitude Sports Radio in Denver, along with several of his co-workers, decided to fight against a narrative they found uneducated and unfair. In their eyes, all you had to do this season was to actually watch the Nuggets to find them interesting.
"We assume everyone else knows what we know," said Lombardi. "We assume that the rest of the country is watching. And all this has done, to be honest with you, has proven that a lot of national folks don't watch as carefully as they say they do. Because if they watched they wouldn't be as surprised as they are right now."
There was even an on-air spat with Chris Mannix of Sports Illustrated on the Altitude Sports Radio airwaves. During an appearance on the Rich Eisen Show, Mannix said there weren't any compelling or interesting storylines surrounding the Nuggets first-ever NBA Finals appearance.
Lombardi, along with other hosts at Altitude Sports Radio took exception to the comment and fired back with their thoughts. A few days later, Mannix appeared on the station to defend his position and stick up for what he thought was accurate. Though the tensions were high during the back-and-forth it was incredible content for the station.
But Lombardi says he doesn't take the spats, whether they're public or private, all that seriously when other fellow media members.
"The arguments, if they're anything, they're all in fun," said Lombardi. "I don't take this stuff personally. We had a little back and forth with Chris Mannix. That was fun. I actually saw him in Denver when he came out for media. I respect anyone who's willing to make their point on the air. It's not the media's job, it's not your job as a host or a writer to tell me what I find compelling or interesting. We're all from different parts with different needs and you can't tell me what I desire. Let me pick that. Chase a story because the public may learn something. We're curious by nature, that's why we got into this business. All I ask is be more curious."
The entire team at Altitude Sports Radio did an incredible job of sticking up for their own market and creating memorable content out of it. That should be celebrated inside the station's walls. None of the outrage was forced; it was all genuine. But what's the lesson to learn here from media folks, both local and national with this story?
"I think the takeaway is number one, it's a business," said Lombardi. "I keep telling people they're going to go where the money is. The money is the Lakers and the big city teams. The Nuggets don't sell.
"Well, you start selling when you start winning. They've got to sort of earn their way into that club. I think with what the Nuggets have done recently, and hopefully with what they're about to do, they're at the adult table. The media business is not unlike anything else. The biggest common denominator is what sells. I get that. I just don't understand why a team like this, with the most unique player most people have ever seen, why wouldn't that sell?"
Maybe it's still not selling nationally, but locally in Denver, Nuggets talk is on fire. For years, the Denver market has been seen as one where the Broncos and NFL rule. The Nuggets have not been close to the top of Denver sports fans' interests and have probably fallen routinely behind the Avalanche.
But there's been a real craving for Nuggets talk during this historic run. Granted, it didn't just start two weeks ago, there's been momentum building for the team ever since Nikola Jokic started asserting himself as one of the best players in the NBA. But there's more than just an appetite for the Broncos in the city and the past few years have shown it.
"I think it's just proven to people in the city that the town is much different than it was 10, 20, 30 years ago," said Lombardi. "The Broncos continue to rule this town and will do so because the NFL is the NFL. But I can tell you this. There are sports fans outside the NFL. I'm born and raised in Denver and I always believed, what's so wrong about being an ardent fan of every sport? If you're a fan, you're a fan. There's nothing I hate more than territorializing sports. Like, 'oh I'm just a football fan'. Or, 'oh I'm just a hockey fan'. Why? Sports crosses all borders and boundaries."
Lombardi and Altitude Sports Radio have settled into local coverage of the NBA Finals, rather than fighting with a national narrative. The payoff for the entire ride has been very rewarding for the station. It included what Lombardi called the "highest of highs" when the Nuggets beat the Lakers on their own floor. It even included one of the biggest events the city has seen in the last five years, when the Nuggets hosted its first-ever NBA Finals game last week.
The last few weeks could even be considered one of the most rewarding times in station history for Altitude Sports Radio.
"Our ratings have never been higher," said Lombardi. "It's a great display of, sometimes in the media, we think we know what the listener wants. We think we do and we try to force feed them. I think the national folks do that, but so do the local folks. You think they know, but if you give them a nice diet, they'll choose what they want. And that's what we've done."
Tyler McComas is a columnist for BSM and a sports radio talk show host in Norman, OK where he hosts afternoon drive for SportsTalk 1400. You can find him on Twitter @Tyler_McComas or you can email him at TylerMcComas08@yahoo.com.