CBS Sports Radio Wants Taz To Be Taz
"All Taz wants to do is be Taz and talk sports. That means you're going to hear about his kid's lacrosse career, and of course there will be some stories from his wrestling days too."
Nineteen years ago, the wrestler known as Taz made a decision that would change the life of the man named Peter Senercia. If you didn't know, Taz and Peter are the same guy. Also, if you didn't know, the change had nothing to do with wrestling.
Taz was already a star during his run in Extreme Championship Wrestling. His defection to the WWF (remember, this was pre-rebrand) was big news in the industry, and the way the WWF chose to introduce him to their fans was even bigger news.
He was the mystery opponent that would face Kurt Angle at the Royal Rumble in 2000. It was a perfect introduction. Taz made Angle submit, and ended the former Olympian's undefeated streak at Madison Square Garden.
So how did he go from that life to one that has him waking up well before dawn every morning to talk about Carson Wentz's health or whether or not Anthony Davis will join LeBron in Laker Land?
His journey to a nationally syndicated sports radio show began, naturally, in the professional wrestling world. Long before he and Marc Malusis were handling morning duties for CBS Sports Radio, Vince McMahon was tricking Taz into auditioning for a role at the broadcast table on Smackdown.
"I got a couple of injuries. I tore my bicep and I had this recurring neck injury," Taz told me as we sat in an empty office at CBS Sports Radio's Manhattan headquarters in September.
It was the middle of 2001. The writers had put him in a feud with Smackdown color commentator Jerry "the King" Lawler. Vince had an idea to have Taz show how little he respected Lawler by doing his job for one match.
"They wanted me to sit in for the opening match as a color commentator, mocking him and working with Michael Cole. Just one match, then Jerry was supposed to attack me from behind and take back his seat," Taz said.
"I was like 'Cool. Yeah. No problem.' And then I did the match and then I sat there. I was waiting for someone in my headset to tell me to leave, because Jerry Lawler never attacked me."
Taz wasn't the only one that was confused. As match after match started and ended he sat at the table with play-by-play man Michael Cole.
"I didn't get it. I looked at Michael Cole and he was like 'I don't know, man.'" You can sense some frustration in his voice as he tells the story. "Guys come out, they wrestle, and I'm like 'What's going on here? Why am I just calling all these matches?'".
Jerry Lawler eventually did attack him from behind, it just took longer than Taz was told it would. "I forgot he was coming. I mean, like, it really hurt."
When he got back to the locker room, Vince McMahon told Taz that he liked the way Taz sounded. The only response Taz could come up with was "What do you mean?"
That is when Vince explained his vision for the next phase of Taz's career. Injuries were mounting for him. Usually, wrestlers in that situation get released. They either retire or head back to the independent circuit working for a fraction of a fraction of what they got in the WWF. But that wasn't what Vince wanted for Taz.
The travel schedule was taking its toll on Lawler, who was handling analyst duties on both Smackdown and Monday Night Raw. The WWF needed someone to take over those duties on Smackdown, and Taz made his home in the suburbs of New York City. It would be no problem at all for him to make the hour trip to the company's Stamford, Connecticut headquarters to receive the training necessary to turn him into a star.
Taz would hold various broadcasting roles for the company until 2009. That didn't mean he was entirely done in the ring. He would win a tag team championship in 2002, and when his time at the WWE was over, he would join the TNA Wrestling brand.
But something else happened while he was calling matches for the WWE that got us from there to here with Taz's career.
Michael Cole, who had spent time working for CBS Radio as a reporter before finding his way to professional wrestling, had a connection at a radio station in Houston. This connection called Michael and said that Smackdown would be taping an episode at the Toyota Center while his morning show was on vacation for the holidays. Did Michael and Taz want to fill in on the show?
Cole pitched Taz on the idea. In his mind, it made total sense. The WWE was going to pay for their flight no matter when they got to Houston. Why not go a day or two early and have some fun on the radio?
Taz didn't see it that way. "I didn't want to do it, and he's like 'Taz, just do it. Come on. It'll be fun.' I said 'Radio's hard dude! I'm a TV guy and radio is very hard!' I knew that much."
Cole eventually won him over. They did the shows, and Taz was hooked. It wouldn't be the last shows the duo would do together on radio either. They would go on to host a week of shows on Howard Stern's Sirius channel and then periodically on New York's Free FM.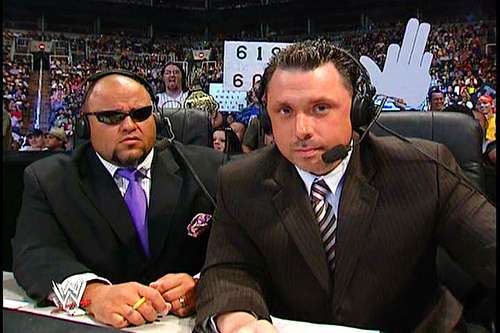 Taz says the fact that radio was so hard is why it appealed to him and made him want to be on the air more. Michael Cole told me in an email that it wasn't as hard for Taz as Taz thinks.
"Taz is a natural broadcaster. He has a very unique take on a wide variety of subjects and really connects with the audience."
Mark Chernoff must have seen that natural talent too. The Format Captain for sports radio at Entercom isn't putting just anyone in morning drive on any of his stations, let alone on the company's nationally syndicated network.
When I asked him if he could see skills from Taz's WWE days translating into his radio career Chernoff said, "Well, he's an entertainer and if you don't know how to entertain then being in the media and being on a daily radio show probably isn't for you.
"You can't teach entertainment. You know, people can pick up knowledge as they go, but personality and entertainment? Either you have it or you don't. He's got it. If you just talk to him off the air, he's entertaining. He's got a big personality."
That big personality is key to what Taz and Marc Malusis do every morning on CBS Sports Radio, because all Taz wants to do is be Taz and talk sports. That means you're going to hear about his kid's lacrosse career, and of course there will be some stories from his wrestling days too.
See, Taz may not make a living in the ring anymore, but he is still wrapped up in the business. He's never given up The Taz Show, his thrice-weekly podcast where he gives opinions and responds to listeners' opinions on the most recent developments in professional wrestling.
If you've ever looked at ESPN or Fox and noticed how much their websites devote to WWE coverage or how often WWE Superstars show up on those networks, you have seen the reach of Taz's influence. Radio.com, which hosts The Taz Show, was the first outlet that wasn't wrestling-specific to offer real time reaction to some of the sport's biggest events. That turned into the show streaming live on Radio.com everyday.
"I've been at every agent meeting and every production meeting in my history with ECW, the WWE, and TNA. I've sat with Hulk Hogan and in conference rooms with Eric Bischoff and Vince Russo and Vince McMahon and on and on and on," Taz says as if he needs to sell me that he knows what he is talking about.
When I ask what it is about his show though that created an opportunity for him that didn't materialize for other popular wrestlers-turned-podcasters like Steve Austin, Chris Jericho, and Jim Ross, his answer comes quick and is unwavering.
"Not only were we taking listener phone calls, but I was proud that (The Taz Show) wasn't guest driven. It was topic driven. Those two things are very different, as you know."
In that way, The Taz Show is structured way more like a sports radio show than any of iTunes' other most popular wrestling podcasts. It also forced Taz to drive the bus and learn how to develop topics and opinions instead of being a good listener and reacting to someone else's story.
Still though, a lot of what Taz & The Moose is is uncharted water for the pro wrestling icon. For one, he will admit that he is still learning to be a fan of everything. That's not easy to do when you grew up a New York sports fan and are doing sports radio in New York City.
When I ask Taz how often he has to remind himself that the show can't just be about the Yankees and Red Sox or what the Giants should do with Eli Manning in the offseason, he laughs. "Almost everyday," he says. "And our bosses remind us."
Chernoff says Taz doesn't give himself enough credit. He thinks Taz focuses so much on what he isn't supposed to do that he forgets how much he is doing right.
"Some of our meetings it's just 'remember that you're doing a national sports show,' and I give (Taz and Marc) lists of where they're on. You have to remember where you're on in national radio, and when you're on. On the West Coast, stations that are taking the show live are airing it in overnight."
Chernoff, who in addition to running CBS Sports Radio has run WFAN in New York since 1993, is very familiar with analyzing audiences and topics. He told me that what he wants Taz to remember is that it is okay to do local radio for the affiliates.
"On WXYT in Detroit or WJZ in Baltimore, if there's things going on there, those are pretty big cities! Even in some of the smaller markets. You know, they're on in a lot of Ohio. Ohio State football and all that is going on with Urban Meyer might be a local story for that audience, but there is huge national interest."
Taz will always be able to connect with an audience regardless of what he is talking about. So what if he has to remind himself that maybe a listener in Kansas City might not care about how Manny Machado would fit in the Yankees' lineup?
That listener probably isn't counting on Taz to deliver a nuanced take on what Dedric Lawson allows Kansas's offense to do when he is on the floor. They are coming to Taz to entertain them, because for so many guys in America, that is what Taz has been doing for nearly 20 years (25 if you're an old school ECW fan).
Sitting across from him it is easy to see how he connects with people. We spent the better part of an hour together and I walked away feeling like we were buddies. Why? Because he tells great stories, has a big, infectious laugh, and just exudes charm.
I never asked Taz if he would give up his radio success to be able to get back in the ring and compete at the highest level of pro wrestling night-in-and-night-out again. I didn't have to. It's clear Taz is where he thinks he is supposed to be.
"There's nothing like radio, and I am proud to say I'm a radio guy. I've become a radio guy, and that didn't happen overnight. I feel like my career has evolved over the years. I'm blessed, and I am happy about that.
"I can tell you it is my dream job, doing daily radio. It's tough, and yeah, it is a grind. There are some days you don't want to go on air, but once the mic goes on, you gotta bring the energy to get people awake. You gotta have fun."
Demetri Ravanos is the Assistant Content Director for Barrett Sports Media. He hosts the Chewing Clock and Media Noise podcasts. He occasionally fills in on stations across the Carolinas. Previous stops include WAVH and WZEW in Mobile, AL, WBPT in Birmingham, AL and WBBB, WPTK and WDNC in Raleigh, NC. You can find him on Twitter @DemetriRavanos and reach him by email at [email protected].
The SEC and CBS Had a Great Run, But it Was Time to Say Goodbye
"CBS created a valuable brand by investing in something that was small, but distinct and marketing it each week as an can't miss event. That just wasn't happening in the same way by 2023."
After 27 years, we have seen the last SEC football game on CBS. The network did a marvelous job Saturday night paying tribute to what the two entities did together, but as Brad Nessler said goodbye to the audience for himself, Gary Danielson, their colleagues and predecessors, I couldn't help but think that it was good for SEC fans that this chapter is over.
While both sides did their fair share on Saturday to acknowledge the other, nothing spoke louder than that crowd inside of Mercedes-Benz Stadium.
SEC Commissioner Greg Sankey took the mic from Jenny Dell, and before presenting the conference championship trophy to Nick Saban and the University of Alabama, said "Let me ask you first to join me in thanking CBS for 26 incredible years of presenting SEC football". The response was mixed, but the boos were audible.
Before we explore why though, let's talk about all that CBS did right. Perhaps what it did best was nothing at all. Verne Lundquist was a master of laying out and letting the pictures and the crowd tell the stories of moments like the Kick Six. A variety of directors, producers and other staffers worked in video of tailgates to give those thousands of miles away from I-22 a sense of what The Grove in Oxford was like or documented the excitement inside the stadium before kickoff so that people everywhere understood the effect that running through the Power T has on a crowd in Knoxville or how "Sandstorm" brings the Willy B to life in Columbia.
At it's very best, CBS made our Saturday culture in the South look cool as hell and Verne Lundquist didn't need to say more than "oh my gracious" to convey just how extraordinary the environment and moments really were.
Since the retirement of Lundquist at the end of the 2016 college football season however, there is very little about CBS's broadcast that feels authentically SEC. Brad Nessler is a fine broadcaster. Gary Danielson is polarizing for many fans, but he is as synonymous with that game as anyone. Overall though, vibe has felt flat.
The fact that Tim Brando bolted after the 2013 season has a little something to do with that too. It was the beginning of CBS replacing the college football diehards and legends on its studio show with a who's who of "who's available?". I mean, Rick Neuheisal previewing Alabama versus LSU? Why?
But the problem was never as simple as me wanting to hear more people that speak the way I do on the CBS broadcast. CBS's biggest problem is that as college football changes, the network's presentation doesn't.
There was a sequence Saturday in the first half of Alabama's win over Georgia that went commercial, one play, commercial, Bama lets the play clock run down before calling timeout, commercial. That kind of thing was not at all uncommon for CBS. In an era of shortened attention spans, the network's 3:30 game was running until 7:30 and later with regularity. It always felt openly disrespectful to the audience.
Those commercial breaks being stacked with ads for Survivor (Holy shit! Still?) and various NCIS destinations didn't help. They aren't convincing anyone under the age of 60 to watch those shows. They are annoying filler – literally in the way of you seeing what you are actually came here to watch.
It seems like somewhere along the way, CBS stopped seeing what it had as special. That isn't just a CBS problem. NBC just extended its deal with Notre Dame and regularly puts out a broadcast that looks and sounds like everyone involved just remembered they had to work today like 20 minutes ago. College football doesn't seem valuable to those two networks. The attitude seems to be "this is football, but it isn't the NFL, so the price tag is more important than the quality."
It is a surprise that it happened at CBS, because of what Danielson said as the broadcast signed off Saturday night.
"The concept by Sean McManus and his team [was] to take, in college football, a regional product and make it a national 3:30 game," he told Nessler. "His deal was to hire the best people he could find behind the camera, in the truck, producer, director, cameramen. And then start it at 3:30 with that music."
CBS created a valuable brand by investing in something that was small, but distinct and marketing it each week as an can't miss event. That just wasn't happening in the same way by 2023. There were still great games on, but it felt like the network approached it as somehow lesser than a 4:05 Week 8 kickoff between the Patriots and Jets.
Beginning with next football season, the SEC moves all of its games to ESPN and ABC. Will the networks offer something innovative? Will the broadcasts move faster and reflect the speed on the field? I don't know, but I do know it is time for a change.
As for CBS, its college football offerings will be regulated to the second or third best Big Ten game each week and whenever two of the service academies play each other. Honestly, that may be a better fit. CBS continues to do a great job with Army/Navy every year and the Big Ten's media strategy suggests that it is content to be treated as minor league NFL…and I don't know if you tried to watch Iowa and Michigan on Saturday night, but yeesh. If that's the best it has to offer, maybe it doesn't deserve to be treated much better.
The SEC is in my soul as a native of the geographic footprint and an alum of its current champion. I am not sad to see the CBS chapter of the conference come to a close. Watching the retrospective that closed out Saturday's broadcast was a good reminder of how many moments and stars I enjoyed thanks to the network's investment in the conference. It brought back great memories and filled me with true appreciation for what was, but the two sides have done all they can for each other. It's time to move on.
Demetri Ravanos is the Assistant Content Director for Barrett Sports Media. He hosts the Chewing Clock and Media Noise podcasts. He occasionally fills in on stations across the Carolinas. Previous stops include WAVH and WZEW in Mobile, AL, WBPT in Birmingham, AL and WBBB, WPTK and WDNC in Raleigh, NC. You can find him on Twitter @DemetriRavanos and reach him by email at [email protected].
BetQL's Nick Kostos Wants to Reach More Than Sports Bettors
"I've always wanted to feel like Cheers, a place where everyone can go to talk about sports where no one feels left out or like they don't have a seat at the table."
To say that sports gambling has become a huge part of the entire sports radio industry would be the understatement of the year. Not to say that sports betting wasn't discussed on talk shows before it became legal in many states, but the explosion in the last few years has been significant and, in the opinion of Nick Kostos, one of the major players in sports betting content, a long time coming.
"I'm surprised it didn't become bigger even sooner," said Kostos, the co-host of You Better You Bet on Audacy's BetQL Network. "I always felt like it was going to take off. I'm not surprised by how big it's gotten. My surprise is that it took as long as it did for things to kind of get rolling the way that it has."
You Better You Bet can be heard on BetQL Monday through Friday from 3 to 7 PM ET. Two hours of the show is now simulcast on the Stadium app while the entire show also airs on Sirius XM. Kostos also does a weekend version of the show on Sundays from 11 AM to 1 PM ET while also hosting a Sunday show on WFAN in New York from 8:30 AM to 9 AM.
Nick Kostos owes a huge debt of gratitude to former Audacy Sports President Mike Dee for initially giving a sports betting show and network a chance back in 2019. What started as just a weekend show and network and survived through the COVID-19 pandemic has now grown incredibly into an operation that has garnered credibility throughout the industry.
Last year, You Better You Bet made Barrett Sports Media's Top 20 list for national sports radio shows.
"Just to have the respect of our peers in that way is really great," said Kostos. "My vision when the show started — and I think my co-host Ken Barkley and have done a pretty good job of pulling this off — is the concept of 'Wagertainment' which the company has kind of branded the entire network around. Wagertainment, to me, is the combination of smart betting content but we're also going to make it entertaining and fun."
"I think that was a defining moment being recognized by their peers and by people in management jobs in sports media that they were a sports betting show recognized in the top 20," said Mitch Rosen, Vice-President of the BetQL Network and Operations Director/Brand Manager for 670 The Score in Chicago.
Kostos and Barkley design each show so that it's entertainment for ardent sports gamblers, novice sports gamblers who are looking for good information, and sports fans who will hear previews of the games they want to watch.
The brass tacks are that listeners will hear content that gets them ready for the game.
Who is going to win? How many points will they win by? Who is going to play and who is not going to play? How is my fantasy team going to do?
"I think that concept has helped us win a little bit in this space," said Kostos. "We have made a real emphasis this football season on the guests that we have on the show to try and reach a broader demographic by having studio analysts and play-by-play voices."
The guest list for You Better You Bet includes names like Rece Davis, Adam Lefkoe, Liam McGugh, Brad Nessler, and Tim Brando.
"We're really trying to reach basically every single segment of people who would be interested in sports betting content," said Kostos.
The show, the anchor of the BetQL network, has become the gold standard when it comes to sports betting content and Kostos, an alum of Fordham University's famous WFUV radio station as well as a former producer at Sirius XM, is a big reason why.
To steal a line from Dwayne "The Rock" Johnson, he likes to "just bring it" every single day and every single show.
"Nick, arguably, is one of the most energetic, knowledgeable, charismatic on-air personalities in the sports wagering betting entertainment business," said Rosen. "I've been in the business a long time and there are not many people who have that kind of passion and energy and knowledge that Nick has. When a show like that has 23 million downloads plus in a year, it shows you the interest that the fan base has around the world."
It takes a village for something to be successful and Nick Kostos is surrounded by some extremely talented people on You Better You Bet. Just like Kostos, co-host Ken Barkley comes from a producer background having worked for Scott Van Pelt at ESPN. Kostos views Barkley as a "godsend" and their partnership on the show has grown and nurtured to the point where the program has become the success that it is today.
"Those backgrounds that both of us have in producing have allowed us with our crew and our current producer Alex Fasano to really be able to craft a show that makes sense," said Kostos.  "There are a lot of good betting content creators and there are a lot of good betting analysts out there. I think that Ken Barkley is as good if not better than anybody else when it comes to breaking down sports betting. Without him, I don't think You Better You Bet and me are able to get to the point that we're at right now."
A big reason for the success of the show is that there is a community feel to it. Many sports radio shows have that office "water cooler" type of feel where two or more people can just enjoy a good sports conversation. You Better You Bet takes it a step further by bringing the discussion to a bigger venue…
Like the one where everybody knows your name.
"I've always wanted to feel like Cheers, a place where everyone can go to talk about sports where no one feels left out or like they don't have a seat at the table," said Kostos. "You don't have to show up to listen to You Better You Bet and have a PHD in sports betting. You don't have to have that knowledge in order to sit down at the bar and talk sports with us."
Sports betting has just added another layer to the enjoyment of being a sports fan. Some people bet on sports and some people don't but both groups share the same interests as the game is about to kick off, the puck is about to drop, the opening tip-off is about to take place and the first pitch is about to be thrown.
You root for your team to win, whether it's your favorite team or it's the team that you bet on.
"It becomes something that people can consume whether they bet or not because it's all talking about the games," said Nick Kostos. "Yes, we're trying to make money and win our bets but at the heart of it, it's a sports conversation. Who is going to win the game, by how many points, and what players are going to play well or poorly in the game? That's something that all sports fans think about on a daily basis."
Here's a safe bet: If you tune in to You Better You Bet on BetQL, you're going to be entertained and educated by Nick Kostos and company. Whether you took the favorite, the underdog, the over or the under or you're just a huge sports fan, it's a fun sports community that welcomes everyone who enjoys watching the games.
Peter Schwartz has been involved in New York sports media for over three decades. Along the way he has worked for notable brands such as WFAN, CBS Sports Radio, WCBS 880, ESPN New York, and FOX News Radio. He has also worked as a play by play announcer for the New Yok Riptide, New York Dragons, New York Hitmen, Varsity Media and the Long Island Sports Network. You can find him on Twitter @SchwartzSports or email him at [email protected].
Julian Edelman Has Been FOX's NFL Breakout Star
Edelman has an easy-going and free-wheeling nature about him. He's a joy to watch, and he seldom wastes airtime with cliches and empty comments.
He was a key member of the NFL's last true dynasty, a children's book author, a regular talking head on NFL Network's America's Game anthology, an actor in the film 80 for Brady, and a multimedia favorite. And oh yeah, he is third all-time in the NFL for postseason receptions and was the MVP of Super Bowl LIII. He is Julian Edelman.
These days he answers to a new calling – a rising star on FOX's excellent NFL commentator roster. Edelman, who retired in 2020 after 12 seasons as a wide receiver with the New England Patriots, has logged impressive recent stints on FS1's The Herd with Colin Cowherd.
Edelman has been an unexpected jewel in FOX's football crown, providing behind-the-scenes, players-only insight in a casual and humorous style. On a recent edition of The Herd, Edelman's talent was on full display.
In a discussion about Patriots' signal caller Mac Jones, Cowherd implied that it would have been easier for the Alabama QB if he had gone to a less intense environment with an offensive-minded head coach.
Edelman countered by referencing Josh Dobbs, who played great in his first start for the Vikings after being with the team for just a couple of days. Edelman stated, "If you're a guy, you're a guy," meaning that good players adapt to any situation. He added, "This is the National Football League. If you don't win, the quarterback and the head coach get the blame. This is a production business."
One of the refreshing aspects of Edelman's TV game is his candor. He was deeply rooted in the Patriot Way and benefitted from all it offered him, but he pulls no punches in talking about his former team.
He does not buy into the excuse that Mac Jones has had three different offensive coordinators in his three NFL seasons. Edelman stated that ex-Offensive Coordinator Josh McDaniels' and current OC Bill O'Brien's offensive schemes are essentially identical.  
Edelman has an easy-going and free-wheeling nature about him. He's a joy to watch, and he seldom wastes airtime with cliches and empty comments. He uses his strong connections to Tom Brady and other members of the NFL's glitterati to his advantage, but he is not violating these friendships with kiss-and-tell BS.
In his young broadcasting career, Edelman has also embraced a rare quality among media personalities, namely, the courage to admit when he is wrong. He recently stated that he thought Texans' quarterback CJ Stroud was going to be just another failed Ohio State quarterback joining the likes of Cardale Jones, Terrell Pryor, Troy Smith, and the late Dwayne Haskins.
Julian Edelman acknowledged his error and lauded Stroud for his performance and the Houston offensive staff for keeping it simple and allowing Stroud to flourish. He then made an accurate comparison between Stroud and Dak Prescott who had a similarly amazing rookie season in 2016. He also revealed that he and Tom Brady would sit and watch Prescott play during that season and marveled at his performance.
Such neat revelations have become commonplace for Edelman who also told Cowherd that Bill Belichick had different rules for different players. This goes against the accepted theory that Belichick coached all his players the same.
When asked about good and bad locker rooms, Edelman revealed that the 2009 Patriots had some "a-holes" on the team, "guys who had a lot of money and acted like they had a lot of money."
He also regaled Cowherd with a funny story about former teammate and current ESPN analyst Tedy Bruschi. During his rookie season, Edelman made repeated contact with Bruschi during a team drill. After the play, Bruschi got in Edelman's face and said, "If you ever touch me again, I'll cut your arm off, Rook!"
In a subsequent discussion, Edelman was asked about how NFL players view Thursday night games. He said that the goal for players is to just get through the game and try to get the win. He called having a Thursday night game a "baby bye week" because of the extra prep time gained for the next week. Baby bye week – new lingo from a new age analyst.
Speaking of language, Julian Edelman may have created another new football term. He called the NFL games after Thanksgiving "cream season," when the cream rises to the top and when football season truly starts. Edelman told Cowherd that this is when coaches raise the intensity in the building.
A week later, Edelman was a panelist on FOX's NFL Kickoff. It was clear that the show's producers and host Charissa Thompson were tuned into Edelman's Herd appearance as they made his cream season line a theme of discussion.
Edelman picked the Ravens and Niners as his current cream teams and entertained Thompson and his fellow panelists with a few dairy-related puns. He was funny, saying that both these teams could end up becoming butter teams – even better than cream.
Edelman is unafraid to ruffle feathers, even if those feathers reside in Foxboro, MA. In discussing last week's Patriots-Giants game, he boldly tweeted and stated on NFL Kickoff that the Patriots would be better off losing that game in order to get a better 2024 draft position.
If Julian Edelman has any flaws, it is that at times his analysis RPMs run into the red. In his discussion of last week's crucial Jaguars-Texans game, he was visibly pumped up and spoke far too quickly even stumbling on some commentary. He recovered well and simply needs to slow down, trust his knowledge, and calculate his pace.
Edelman has made such an immediate impact that NFL Kickoff has even given him his own segment. It is called "The Nest" and his based on his children's book Flying High, the story of Jules, a football-playing squirrel who is small in stature but big on heart and enthusiasm. Sound familiar?
Julian Edelman was joined in the nest by panelists Charles Woodson and Peter Schrager and provided a pretty cool analysis of current NFL wide receivers. He based his opinions on four attributes: sociability, aggressiveness, activity level, and boldness. Along the way, Edelman provide some unique commentary on the likes of Davante Adams, Travis Kelce, A.J. Brown and Stefon Diggs.
There is a rhythm to Edelman's conversation. He is comfortable with his career, comfortable with himself, and comfortable on air. As a player, Julian Edelman was an unexpected star, a guy who parlayed personality, hard work, and hustle into a fantastic career. He is doing the same in media dishing out knowledge his way – brash, all-out, and with total abandon.
John Molori is a weekly columnist for Barrett Sports Media. He has previously contributed to ESPNW, Patriots Football Weekly, Golf Content Network, Methuen Life Magazine, and wrote a syndicated Media Blitz column in the New England region, which was published by numerous outlets including The Boston Metro, Providence Journal, Lowell Sun, and the Eagle-Tribune. His career also includes fourteen years in television as a News and Sports Reporter, Host, Producer working for Continental Cablevision, MediaOne, and AT&T. He can be reached on Twitter @MoloriMedia.