Maggie Gray Didn't Know She'd Be Here
"The biggest challenge is the limited amount of time, because there is so much to cover and so much that we want say."
13 months ago, sports radio in New York underwent its biggest change in 30 years as Mike Francesa departed WFAN's afternoon drive.  Three voices were tabbed to take over, Chris Carlin, Bart Scott and Maggie Gray.
From WFAN's new trio, Gray was considered by many to be the most surprising selection.  While her credentials were strong, Gray's resume didn't contain Carlin's WFAN history or Bart's signature New York sports moment.  In an industry where not enough women have prominent weekday hosting positions, Gray is doing it at the top station in the biggest market.
It wasn't long before Francesa canceled his retirement and returned to WFAN, chopping CMB's show in half and squeezing them into the midday. After dealing with plenty of criticism and turmoil early, CMB is starting to hit its stride and the two-hour show leaves listeners wanting more.
As she continues to grow in the country's toughest media market, Maggie Gray's unfinished story is already an interesting one.
Brandon Contes: Sports Illustrated was your first full-time sports media job?
Maggie Gray: Yeah, it was, which is both funny and telling about the business that I basically got my very first sports internship when I was a senior in high school, but it took going through college and basically the next five years after college before I got a full-time job.
That's the nitty-gritty nature of the business, because if you start off as freelance – you're never sure what's going to happen, season-to-season you're just trying to make connections, get better and keep moving. I call them lily pads, you're trying to get across, navigate this lake and you're going from one lily pad to the next trying to get across. Now that I'm a little bit older and wiser, I realize you actually never make it across, the lily pads just hopefully keep getting bigger.
But getting SI was a huge deal for me because it was the first time I had a full-time gig and it was the first time where I thought, this is something that is a possibility to really grow, because they hired me for a position that I had never heard of, that a lot of people had never heard of, to be a digital anchor – What does that even mean?
It's not a job that was around when I was in college, I didn't even know I could aspire to a job like that, but to get it in a place that had the name recognition and prestige of SI, while also doing something that's cutting edge and totally new, and have the feeling like you created it from scratch, was one of the most unbelievable opportunities, and the people there were so incredible.
BC: That was a digital show and you were on camera, was it daily?
MG: It didn't start as a daily show, it started as just one-off videos. We would call SI writers and they would say, "Who are you, who is this, why are you calling, what is SI video?" [Laughs]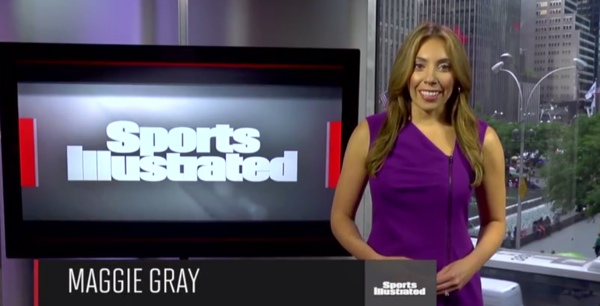 It was establishing relationships and we would do these one-off things that started to grow. It would become a live March Madness Selection Show and we had a relationship at CNN for the first couple of years where we would use their studios to shoot these sort of roundtable discussions. It started to grow and then finally I had some really smart people around me and they said, 'We think we can sell a daily variety show, that's digital.' The show was built as a half hour show that streamed and it was some news of the day, interviews, crazy stuff, serious stuff. It was just a fun show and it was sponsored from the first day to the very last day, and it's actually still going on now.
BC: Were you there with Robin Lundberg?
MG: That's an interesting story because the show started five years ago, I was the host and we had nobody to fill in for me. Even when I got married and went on my honeymoon it was a big deal. One time we were out in L.A. doing the show from Angel Stadium and I got horribly sick on the red-eye home, I went in and did the show the next day and then went home and died. For the next four days it was a mad scramble because there were no backup hosts. They didn't have a lot of video people at SI because it's a magazine company.
Years later, after ESPN had their big layoffs, I had been listening to Robin for a while and I sent him an email to see if he wanted to come help with the show and he's still there now. I'm grateful to him because it made us not so reliant on needing a guest for everything, Robin and I could just talk about it, have that banter and be a little more sports radio-like.
BC: Was radio the goal at that point or was it just to work in any sports media platform?
MG: My first ever sports internship, where I realized I was bit by the sports broadcasting bug, was my senior year in high school.  I grew up in Binghamton, there was a minor league hockey team and I asked if I could be an intern even though they only gave internships to college kids, but they said the radio broadcaster needs someone to help out with stats on home games.  I sat next to the radio play-by-play guy for an entire season helping him with whatever he needed. The last game of the season, he let me come on-air and read the out-of-town scoreboard, which was probably only a minute, but I got a huge adrenaline rush from it.  I don't know how many people were listening, it didn't matter, I loved that rush. So when I went to George Washington University, I walked into the radio station my first day on campus and said, 'Can I be a part of what you guys are doing?', so I was always interested in radio.
BC: When was the first time you were on WFAN? You did updates early on?
MG: I did do updates which is a small part of having a connection with FAN that goes back really far. I was still putting together a freelance life. I was working at MSG – Ironically – MSG was actually the first to put me on air in New York and I'm forever grateful for my opportunity to work for them. I was at MSG and MLB.com, but I wanted the FAN.
In Binghamton we didn't get FAN, so I didn't grow up with it, but when I got an internship at Westwood One in DC, I got to realize what a huge deal WFAN is. The other funny connection is one of my jobs as an intern in DC was to cut and edit this thing called Sports Time with Mike Francesa. It was almost like what the CBS Sports Minute is now and it went out to all the Westwood One radio stations throughout the country.
After college, I decided to come to New York and work behind the scenes for the NBA, but when I realized I wanted to be on camera and I wasn't going to let the dream die, I knew I had to get the Fan. How do you say you want to be a sports broadcaster in New York and not take a turn at WFAN?
I did an update audition when WFAN was still in Astoria. Actually, I did about five auditions. It wasn't an easy job to get, I didn't walk through the door and get a job, it took a while, but I finally got midnight – 6am working Thanksgiving, Christmas and New Year's eve, the trifecta.
BC: How was the transition of doing a half hour daily show with SI and jumping to four hours a day on radio?
MG: Well I had done radio shows before getting this job. CBS Sports Radio launched in 2013 and I auditioned for Dana Jacobson's role with Tiki and Tierney when they did the morning show. Dana got it, which she's amazing so I totally understood that, but then they had a Saturday morning spot open and the Moose and Maggie Show was born, me and Marc Malusis.
I didn't know Moose very well, we met maybe once or twice, but we had instant chemistry. I was still working at SI during the week where I was asking other people for their opinions and just facilitating conversations about sports with all these really smart people. But then on Saturday morning, it was people asking me what I thought about topics and that was the biggest thrill.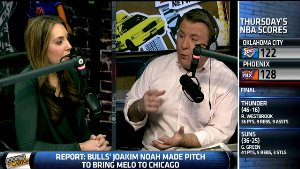 There's no way I could have this job if I didn't do that show with Moose for five years. He's so great at radio and he taught me that you need to bring strong opinions, formulate an argument and back it up. In the beginning, we would argue and I would sometimes back down, but I started to find my voice and realize as long as I'm prepared, have facts and can defend my argument, it's valid. I was so grateful to him for that. I also started to learn to get thick skin.
At SI, you wouldn't get huge amounts of criticism, it wasn't that kind of job. Radio is the intimate medium with callers, listeners and people on social media, so it helped me get thicker skin and realize there are some things you should ignore.
BC: This is obviously a very white male dominated industry, Suzyn Waldman was here hosting middays in the early 2000's, so there was precedent, but you look around the country and go from sports radio station to sports radio station – there are female reporters and update anchors, but there are very, very few women that are part of a daily radio show. Did you find those opportunities hard to come by?
MG: I don't know if I can say. I wasn't looking for the opportunity, the Moose and Maggie Show came to me and this opportunity came to me. I got an email from Mark Chernoff that said I need to talk to you today. My entire life changed within a couple of weeks and it's been unreal. I think there is a part of you when you're trying to break into a portion of the industry that you don't see a lot of people who look like you, there is one part about getting the job and then the other part about keeping the job.
Everyone says you got the dream job, but now what's the reality of that dream job, what's the work like and what does it really look like to have your dream job? And for me, it's better than I could have ever imagined.
Now, I just hope that, not just here, but all around the country the people who are doing the hiring are willing to step out and take the risk, take the risk of hiring someone who is bringing a different point of view because ultimately, there are great women out there doing this, they just need to get a chance, just like Mark Chernoff gave me a chance.
BC: Not only a chance, but you grew up in Binghamton, you didn't look at sports radio as a viable career option. I'm sure there are other women growing up that see the industry as male dominated and the thought of hosting a sports radio show never even crossed their mind. But now they see you with this prominent job in sports radio and maybe it will inspire others and they can now look at the industry as one that could have job opportunities for them.
MG: I know that seeing other women do it before me, inspired me and I do think it's really important because as soon as you see someone doing it, you can start to envision the path for yourself.
What I would say for anyone who is a young woman or even a young man and anyone trying to get into the business, this landscape is changing so much. Sports talk radio is this solid rock, it's going to be here through thick and thin, but think of how the industry is changing. There are just so many more outlets to break into sports broadcasting now, it's fantastic.
When I was coming out of college in 2005 – and this is 2005, I'm not talking about the 80s and 90s – the 6 o'clock SportsCenter and the 11 o'clock SportsCenter was still the ultimate goal for a lot of people. Now look at all of the outlets and other ways you can be around the sports industry, it's incredible.
You can start your own YouTube channel and have your own brand by the time you get out of college. It's really freeing and I think that will help get a lot more women, hopefully people of color and get more diversity into this industry.
BC: It's similar to the NFL right now where there are so few people of color with head coaching positions. It's white male dominated and a lot of that is because for the last 30 or 40 years, it was white males that had opportunities to make connections.
That's not to say Sean McVay was not qualified to be a head coach at the age of 30, but when for 30, 40 years, it was the same demographic working in the industry, he had more built-in connections to move through the ranks quickly. So even though those opportunities that are now available for anyone to break into sports media exist, you still need to create pipelines to help non-white males move up and climb within the industry at an equal pace.
MG: And that's why I'll go back to – It shouldn't be looked at as taking this massive risk to hire a woman, or to hire a person of color, it should be looked at as can the person do the job and especially in this particular industry is the person going to bring a different point of view, that maybe listeners haven't heard in a while. Is it going to be thought-provoking, is it going to stir conversation? And I'm not saying it has to be controversial, just saying it has to be a different point of view and I think it actually opens up the scope of listeners.
With the NFL, everyone is a fan. From an eight year old to an eighty year old, everyone has a fantasy team. Men, women, every race, and what are they always trying to do? Find new markets. This is why they play in Mexico City and London. You're always trying to find new audiences, I don't think you can ever be complacent, even if you're number one.
You're always trying to broaden your horizons and that's something, especially for our show that we have really tried to do. Be loyal and serve the listener of the FAN who has been there for 30 years, but also open up the door for someone who never thought FAN could be for them and welcome them into the conversation as well.
BC: You said early on with Moose, you would back down with your opinions at times, did you ever find yourself needing to have a stronger opinion about something to fit in and seem more credible, especially at WFAN with the local audience?
MG: No…

If it's not genuine, it's going to come through as not genuine. I can't fake that.

One of the big things I learned when I came over from SI, going from a national outlet to a local one is, with national, it's about the issues because you need someone who's in Baltimore, Arkansas, Las Vegas, L.A. to all be connected and have an opinion. Here, it's about the X's and O's, it's about the minutia. It's about the Adam Gase press conference. You can't get too specific or granular here and I found that I love that more than I ever thought I would.
But if I don't think that something is a big deal, or if I think that it's getting taken to a place that is absurd, I'll say that too. You have to be honest. Radio is the most honest of the mediums. One piece of advice that I got early on and something I've been really grateful for, was Mike Quick who was my boss at MSG and he said, 'We need more Maggie.' I thought, really? Are you sure you don't want more Andrea Kremer? But that was really freeing. You can bring your personality and this is such a subjective business, you're either someone's taste, or you're not. I think the more you let people in on who you actually are, the deeper the connection becomes, and I'm okay sharing a lot with our listeners because I like that having that connection with them.
BC: And that's how you end up on the floor eating an entire pizza…
MG: [Laughs] On the floor…puking in the Mike Francesa studios…
BC: [Laughs] I was locked into that show because I thought there was no chance you were finishing that pizza.
MG: So many people doubted me that day. I'll be honest, the doubters did put a big chip on my shoulder. There was a moment where Bart was showing me inspirational videos on his laptop and it was working – we actually crossed that threshold where he's showing me old Nike commercials, and it was helping me get the pizza down.
BC: Did you know Chris or Bart before getting paired up with them?
MG: Chris and I did a couple episodes of LoudMouths together on SNY, but we didn't know each other that well. I knew of him and what a great reputation he had, I didn't know Bart at all. I didn't really have a relationship with either of them, but now I feel like they're my best friends.
We just had the one year anniversary of the show this month. It doesn't feel like a long amount of time, but I feel closer to Bart and Chris than anybody. We've really developed a great bond over this last year.
BC: How was the pressure of stepping in for Mike? Obviously it's an incredible opportunity that couldn't be passed up, but was there ever that moment of, I'd rather replace the replacement of the icon than replace the icon himself?
MG: You'd be surprised how many people, unsolicited, said, 'Boy, you don't wanna be the person to follow the guy.' That was encouraging! [Laughs] The pressure is what you make of it. If you want to feel that pressure, that insane amount of pressure of following up someone, then it will destroy you.
It's almost like being mentally tough. You have to take it for what it is, but then realize what the main goal is – to build a new show from scratch and to find your audience. There's nothing I can do about who I'm following, or when I'm getting the opportunity. The opportunity is presenting itself and there was no way that I was going to pass it up just because of that. The fear of that, like many things, the fear and anticipation is much worse than the reality.
BC: It was interesting from the start because you have three very different personalities getting paired up and thrown into the fire and you guys didn't really do many practice shows.
MG: No, they didn't want to do a lot of practice shows and I agreed with that, there's something different about when it's for real and when it's taped so I understood why they wanted to do that.
BC: It almost would have been easier with the transition to just focus on being a call-oriented show, a similar sound to what listeners are used to, but you guys added a lot of creative segments as well.
MG: Yeah, we do still take a lot of calls. The calls are part of the FAN. The interaction with the listeners is one of the backbones of what makes this place go and there was never a thought that we didn't want to include them in the conversation. They're always welcome and we always want to know what they have to say because they're part of the radio station.
The creative segments are more of a natural thing. We thought, what kind of show do we want to do, what makes us, us? We were just figuring that out with trial and error and now I think we're maybe starting to find our grove a little bit in terms of how much of that creative style to do, the silly stuff, the BS translator and those things. It's about sensing what the audience really wants and balancing that with what we want to do.
BC: Is it hard now that the show is compressed to two hours that you have the three different personalities, three different opinions and you have those radio bits that you want to try, but you need to squeeze it into two hours and make it a cohesive sounding show?
MG: The biggest challenge is the limited amount of time, because there is so much to cover and so much that we want say. The show now is just a sprint from beginning to end, it's really fast moving and also the news cycle is so fast moving that if we don't get to something on Monday or Tuesday, by the time it's Wednesday, forget it because it might not make sense with what people are actually talking about anymore. It's been a challenge, but it's not insurmountable. I hate when athletes say this phrase – but it is what it is, so we just make the best of it.
BC: Cross talk segments are becoming very popular on radio stations around the country, you can do 12:30 to 1:00 with Benigno and Roberts and then 3:00 to 3:30 with Mike and now you have three hours.
MG: [Laughs] That would be something, pitch it to Chernoff.
BC: Do you ever go back and listen to old shows?
MG: Oh yeah, definitely, it's hard because self-evaluation is one of the toughest things to do.
It can be brutal especially when you make mistakes, or things don't come out the way that you want to, but it's also necessary. You have to go back and listen because you could be making the same small mistake over and over and over again when there's no reason to because things can get nipped in the bud so easily. But you have to go back and listen.
BC: I'm sure if you go back and listen to a year ago and then you hear what you're putting on the radio now –
MG: Oh I don't go back that far. [Laughs]
BC: But that comfort level between the three of you has increased significantly?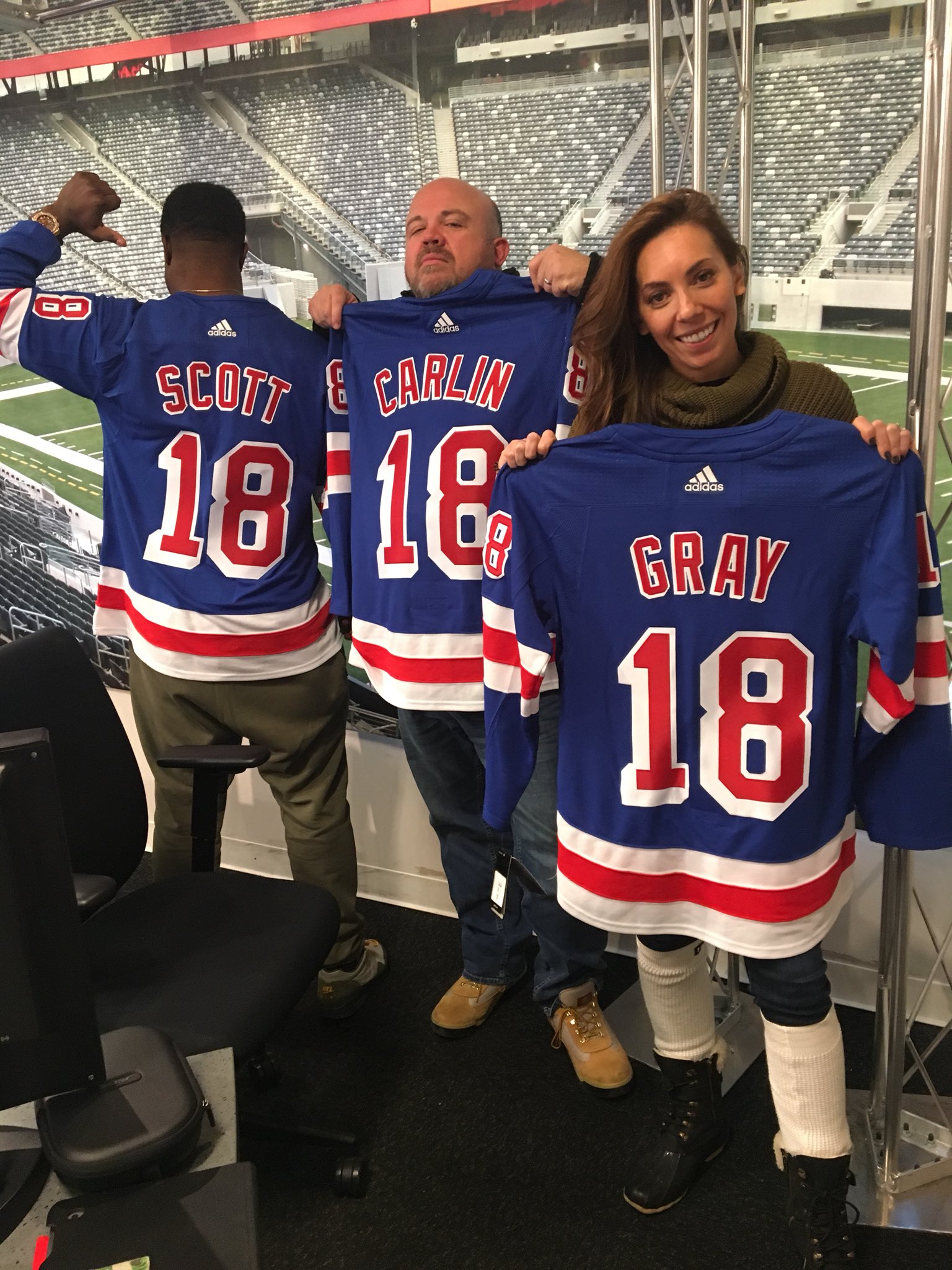 MG: Without a doubt. We didn't know each other very well and a few months into getting the job, we got thrown a pretty big curveball and you can learn more about people when you go through a little bit of adversity and you get to find out what people's true colors are. With Carlin, Bart and I, we seem like we have all these very different opinions or that we wouldn't be three friends who would meet up at a bar and watch a game together, but once we went through that adversity, we realized that we gained strength from each other, we can lean on each other and we saw each other's true colors. That was incredible because when people get peeled away you see their true self and we all really liked what we saw in each other during that time. It made us trust each other a lot and it brought us really close.
BC: I don't know if you felt this at all, but I'm sure with three people trying to get to know each other, it can be harder than when it's just two people. The show went through Mike coming back and then the summer was right around the corner, so now you're filling in for Mike, but you're also taking vacations yourselves. So it's two at a time; it's Maggie and Bart for four hours, Bart and Chris for four hours, Maggie and Chris for four hours.
As a listener, I felt that when the three of you would come back together over the summer as a full show, each time it was noticeably improved, so you were able to build chemistry by each getting that one on one time together.
MG: That's a really good point that I hadn't thought about, but it's true, the three of us have a relationship, and then I feel like I have a friendship with Bart and I have a friendship with Carlin and they are both different relationships. Even when Carlin is out, I'm kind of driving the bus versus when I'm not so that changes your role a little bit, but you're right, I didn't really think about that, but we did have a chance to build relationships, one-on-one, but I do think that our show is at its best, no matter what, hands down, when it's the three of us.
I think that that might be surprising to a lot of people, inside and outside the building, that the show sounds better with the three of us because that was one of the big question marks about the show when we first got it – Does three people work? And I think our show has proven that it can.
BC: There were also times early on that any kind of debate segments would sound like a roundtable discussion. It's Carlin setting up the topic and saying, 'Maggie what do you think' and 'Bart what do you think', followed by 'here's what I think', next topic.
MG: We don't take turns as much anymore
BC: Right. Last Wednesday, I was listening to the open when Carlin was going all in on Mike McCarthy as the Jets head coach while you and Bart were pushing back, but I thought that was the best segment of radio I heard all week on any show or station.
So how about the ability to improve so much with debate where it doesn't sound like you're each trying to avoid stepping on anyone? You're able to have a more genuine conversation and sometimes know when to step back if two of the hosts are hotter on a topic than the other is.
MG: Thank you, that's something also that goes on in the pre-production. Because we're in New York, there are some days where the show writes itself. The topic is exactly what the topic is, it's what everyone's talking about and the obvious thing that needs to be addressed because people are tuning into the radio station for that discussion.
But then there are times when there are multiple options and you're not sure what your lead is going to be. That's why we sit here for an hour and we talk it out. The things that we naturally seem to have different opinions on or sparks the most conversation in this room, with our producer, board-op and the three of us, that's what we go with and that's what should break the tie every single time. Don't outthink yourself. If we all have different opinions on something, let's start with that because it's going be genuine.
BC: What about the producer change, going from Brian Monzo the first couple of months to now Shaun Morash.
MG: Yeah, those kinds of things happen and you just have to roll with the punches. We're so happy that it worked out the way that it did and I think Mike is happy and Monzo is happy it worked out the way it did. It's like a good trade in baseball or football, where both sides actually won here. That was seamless and very easy to navigate.
BC: Morash seems to fit the show so well with his contributions.
MG: One thing that we really appreciate with Morash is that he is our listener. It's like we have a focus group in the room. I mean, he's got a giant tattoo, he's on the message boards, he's a die-hard Yankee fan. We needed that person who not only is professional in this business, but someone who could make himself a little bit removed from that and say I'm the FAN listener in the car today, what do I want? And we needed that, because I'm coming from a journalism background, Bart's coming in as the athlete and Carlin's coming from doing this for a long time, being a host and everything that he's done, it's great to have that person who is just like you know what, all things being equal, I want to talk Yankees today and we take that into consideration heavily.
BC: What radio shows did you listen to growing up?
MG: I didn't grow up with a lot of radio being in Binghamton the days before Satellite, but when I got to New York, I actually listened to a lot of Jim Rome. He used to be on in New York and I still listen to Rome. We're on at the same time, which is crazy, the fact that I've gotten to meet Jim Rome a couple of times is a thrill for me. I listened to a lot of FAN, I started listening to Shmooze because that's when I happened to be in the car the most and NO ONE can do what he's doing, it's unbelievable. And I would listen to a lot of Boomer and Carton.
I also listened to Mike and Mike. It helped me with doing the national show at SI to understand what the national conversation is. Dan Le Batard, I think everyone can agree he is probably doing it as best as it can be done right now, and then podcasts.
I listen to a lot of podcasts; SI's podcasts, Peter King's podcast, I listen to the Lowe Post Podcast and Bill Simmons. Also a lot of NPR, Fresh Air, Wait…Wait Don't Tell Me! I listen to all of those shows because it's as important to me to understand the front pages, as the back pages. You have to be a well-rounded person and aware of what goes on in the world because you never know when it's going to intersect and it can happen in any moment.
I was reading the quote from Adam Gase where he said, 'I'm not on Twitter, I'm not on Instagram, I don't use the internet.' [Laughs]
That's impressive! You don't even use the internet, how did you find out what the weather was going to be today? A football coach mentality is not a good mentality for someone in the media business. You have to understand the world around you.
BC: How did you end up working with Artie Lange? Were you a Stern fan?
MG: Oh my gosh – Artie – I loved doing that.
I wasn't a big Stern fan, we didn't really get him on the radio up in Binghamton, but I would actually watch him when he was on the E! Network, while I was probably in middle school, so I knew his show, but I didn't grow up a huge fan.
I met Artie because he was doing a book tour and he came in to SI. Peter King happened to be there that day and I asked Peter to sit in on SI Now. So it was the three of us and we had this fun conversation and a good rapport, so Artie started to invite me on his show. It was amazing that no matter what state Artie was in, because obviously he's had his battles and I hope he's well, I follow him on Twitter and send him notes to wish him well, but he was always the funniest guy in the room no matter what. Literally – at one point we were on air, he fell asleep, woke up and said the funniest thing of the entire three hour show. He's absolutely hilarious and everyone on that show was great to work with. Just getting to know him was great and I appreciated Artie because he said to me, 'I see what you are, you don't feel like you have to be this macho person who's in the frat house to do this.'
BC: I'm a big Stern fan, I go back and listen to older shows of his and content from the cast. I stumbled on you with Artie and I did think it brought a lot of great balance and was really entertaining.
MG: Thank you, they decided to end the show, otherwise I would've kept doing it because he is hilarious and a really kind-hearted person, but it was a lot of fun and now I do LoudMouths with Jon Hein on SNY. Jon is a great guy and it's fun to do the show with him. SNY has been a nice little side thing to do.
BC: Do you expect CMB to be a long-lasting show and relationship or do you take it day by day and not even look towards the future right now, especially with the curveballs that you guys have already been thrown.
MG: I hope it's a long lasting show. This is the best job I've ever had, I love this job, and Carlin and Bart have been the best part about it.
I think there's even so much more that we have to do. Our end goal of what we want the show to sound like, we're still trying to get there. I love it and I hope I can do it forever. I understand why this is a dream job, because it is that good.
Brandon Contes is a freelance writer for BSM. He can be found on Twitter @BrandonContes. To reach him by email click here.
Brandon Contes is a former reporter for BSM, now working for Awful Announcing. You can find him on Twitter @BrandonContes or reach him by email at Brandon.Contes@gmail.com.
Does Mike & The Mad Dog Reunion Really Have Broad Appeal?
"My confusion is not about the content. It is about the strategy."
I know this is an unpopular opinion, especially on a site built on the back of sports radio, but I also know that I am not alone when I say this. I do not get why ESPN is reuniting Mike & the Mad Dog on First Take on Wednesday.
That is not a comment about Mike Francesa or Chris Russo as people. I am not going to sit here and tell you their show was not groundbreaking or pretend that its success did not make it easier for the sports format to spread across the country. They deserve all of the credit and accolades they get from our industry.
My confusion is not about the content. It is about the strategy. Who outside of New York and/or outside of the broadcast industry feels like this is must-see TV? This feels like some real whiffing of our own farts.
When ESPN writes a press release about the success of First Take, they tend to highlight two demographics. It's either with men 18-49 or with men 18-34. The age range is important because Mike & The Mad Dog hasn't been a thing for almost 15 years. Francesa and Russo have had their own success in that time. It is not like they disappeared, but 2008 was a long time ago. Even lifelong New Yorkers in the desired demos may not have a strong connection to Francesa and Russo as a brand.
And then there are those of us outside of New York. We may understand that Mike & The Mad Dog was a thing, but what does it really mean to us? Outside of industry professionals, I would venture a guess that if you say "Mike and the Mad Dog" to someone from the Central, Mountain or Pacific time zones, the very best-case scenario is that they would tell you that it sounds familiar, but they have no idea why.
Mike and the Mad Dog is a very specific dynamic, and credit to Stephen A. Smith and his producers, it is a dynamic that is perfect for First Take, but thanks to First Take, it isn't a dynamic that I can only get from those two guys anymore. Their loud, unrelenting debates were revolutionary in 1989 when the show launched. Since then, the style has spawned so many imitators that I would worry the significance of the reunion will be lost on the average Joe tuning in from outside the Tri-State Area.
Smith is important enough to ESPN that if this is what he wants to do on First Take, then the bosses needed to make it happen. I respect that. But selling this as an event? It seems more exclusionary than anything. To us everywhere-elsers, Wednesday is just going to be an extraordinarily loud episode of First Take.
I have been working for Barrett Sports Media long enough to know the influence that people that are successful on New York radio have across the sports media industry. Why else would FS1 rearrange its schedule to make room for Craig Carton? If First Take were a show dedicated to debating ratings points and the value of digital audiences versus broadcast audiences, then a Mike & the Mad Dog reunion would be a home run. 
But First Take is where sports fans turn to hear discussion of the Cowboys' most recent playoff failure and the possibility that Nikola Jokic wins a third straight MVP award. Those are topics that cast a wide net – think like the net that commercial fishing vessels drop into the ocean. Using a walk down memory lane with Francesa and Russo as a ratings driver is like trying to catch fish with a pool skimmer.
Well okay, maybe not a pool skimmer. New York is really big, so let's so it is like trying to catch fish with a laundry basket.
Demetri Ravanos is the Assistant Content Director for Barrett Sports Media. He hosts the Chewing Clock and Media Noise podcasts. He occasionally fills in on stations across the Carolinas. Previous stops include WAVH and WZEW in Mobile, AL, WBPT in Birmingham, AL and WBBB, WPTK and WDNC in Raleigh, NC. You can find him on Twitter @DemetriRavanos and reach him by email at DemetriTheGreek@gmail.com.
Jamie Erdahl Reflects On First Season of Good Morning Football
"I learned a lot [and] I got the nuances of the show down. Next year, I hope to elevate even more [and] just push the box a little bit more in."
Jamie Erdahl, who was named in July 2022 as a new host of Good Morning Football on NFL Network following Kay Adams' departure from the show, has looked to redefine the role of studio host and shatter the boundaries of being simply a moderator passing the baton to analysts throughout her career in sports media.
"I don't personally feel that it's my job to include them," Erdahl said of her colleagues. "I like to think that this show is the four of us including each other in the conversation, and I happen to be the one that gets us on the air [and] gets us off the air, but everywhere in-between that it's very much an equal lift if you will."
Since its inception in August 2016, Good Morning Football has provided football fans unparalleled coverage of their favorite sport through recurring segments, interviews with active players and alumni, live demonstrations and insightful analysis. Aside from Erdahl, the show cast consists of Kyle Brandt, who was the former executive producer of The Jim Rome Show, along with NFL analyst Peter Schrager, former NFL cornerback and Super Bowl champion Jason McCourty.
Erdahl never thought hosting a national morning football show produced by a league-owned media outlet was realistic nor possible in the first place, wherefore she focused her early career endeavors towards covering local teams. In fact, her first exposure to sports media was as a 16-year-old shadowing broadcasters and answering the phones at KFAN Sports Radio in Minneapolis, screening callers who wanted to discuss the Minnesota Vikings among other topics.
After transferring from St. Olaf College to American University, Erdahl was placed into a production internship with ESPN through the Association for Women in Sports Media in a role she refers to as one of her "most formative professional experiences off-camera." Her principal responsibility was cutting highlights for Baseball Tonight and SportsCenter, along with writing scripts for the anchors to recite over the highlights during the broadcast.
"To this day, I don't think I would be as great or as strong at reading highlights if I had never had that opportunity at ESPN," Erdahl said. "….I don't think you can be really good on the air if you don't have a full understanding of what it takes to get there from a production standpoint."
Out of college, Erdahl returned to Minneapolis, where she worked as a freelance reporter at Fox Sports North, a regional sports network. In that role, she was a sideline reporter for various high school basketball games and Minnesota Lynx WNBA contests. One year later, she made the move to Boston to join NESN as an on-air anchor and reporter, contributing both to studio coverage and in-person event coverage ranging from the Boston Marathon to Boston College hockey.
Through several years of persistence and determination, Erdahl was afforded more opportunities and chances to continue elevating her skills. During her first year at NESN, she was working on NESN Sports Today as an anchor and reporter while also filling in for Jenny Dell as a field reporter for Boston Red Sox games. By September 2013, she was named the new rinkside reporter for Boston Bruins live game broadcasts where she succeeded Naoko Funayama, an established broadcaster who held the role for nearly six years.
"[Boston], more than any [market] I've ever been around, expects the world of you," Erdahl said. "They expect the world of their athletes; of their coaches; of their organizations; and then of the media that covers the team. They'll sus you out right away if they have a sense that you don't know what you're talking about or if you don't know their team like the back of your hand like they do."
Over her season as the rinkside reporter for Boston Bruins games on NESN, Erdahl performed her job well but internally struggled to report solely on the team. In being immersed in the dynamic atmosphere of a professional team, it is entirely plausible that while the storylines may change, much of the quotidian routine is mundane in nature.
Akin to a beat reporter, Erdahl's job was to focus her work on the Bruins and NHL at large while remaining cognizant of Boston sports. Through it all, she inherently desired something more – a role in which she could cover several teams within a sport rather than just one.
"I am amazed at the people who can do 162-plus baseball games a year," Erdahl said. "I just applaud them so much. I think your wealth of knowledge is admirable, but I found it so challenging to, let's say, do 82-plus [games] of hockey because I felt like I wanted more sport variety."
In 2014, Erdahl signed with CBS Sports as a sideline reporter for the NFL on CBS, traveling every week around the country to uncover stories and perspectives enhancing the game broadcast. She primarily worked with the No. 3 broadcast team of Greg Gumbel and Trent Green, along with director Suzanne Smith, who has served as one of Erdahl's mentors. The move from reporting in one city to adopting a peripatetic lifestyle helped her with professional development and allowed her to cultivate relationships around the country.
"When you are at the regional [sports network], you're just answering to that one team," Erdahl said. "I loved reporting but what I loved about when I got to CBS was [that] you are answering to the broadcast; you are answering to players from both sides. You had to work to make sure that your coverage was fully equal."
After several seasons covering the NFL, Erdahl was named the lead reporter for college football on CBS Sports, including within its SEC broadcast package. Despite the game being similar in many ways, college football presented challenges to Erdahl, largely due to the size of the rosters and the fact that many SEC on CBS Game of the Week broadcasts regularly included the Alabama Crimson Tide, Georgia Bulldogs and Louisiana State University Tigers.
Next season will be the final year CBS will broadcast SEC games before the conference's media rights agreement with The Walt Disney Company (ABC/ESPN) takes effect: a 10-year deal worth a reported $300 million annually. CBS will broadcast the Big Ten Conference instead, inking a 7-year deal for the second-best rights package worth a reported $350 million annually.
"Here I was back again [asking], 'Okay, how do I make things new and fresh?,'" Erdahl said. "You can't talk to Tua Tagovailoa every time on the phone. You've got to branch out; you've got to tell other guys' stories."
In addition to reporting on college football and NFL games, Erdahl was one of the first anchors on CBS Sports HQ, a free 24/7 sports news network available to stream on multiple platforms. She also reconnected with her athletic roots when she provided sideline reporting for CBS Sports' coverage of March Madness. Her alacrity for the game and proficiency in its vernacular gave her an advantage as a media member reporting on one of the year's premier events.
"My translation speed, let's say, of what I hear in a basketball huddle is so much faster to laymen's terms in basketball than it is for football," Erdahl said. "That's just a matter of I played basketball; it is a part of my lifeblood; it is part of my body and soul and upbringing."
Erdahl eventually moved back into sideline reporting for the NFL on CBS; however it differed the second time around because she had two young children at home and had to leave them from Thursday to Sunday each week. Although she was content with her role at CBS and had the support system in place to make it possible, she wanted to be able to see her children grow up and spend time with them.
At the same time, continuing to cover football was important to her and a reason why she considered a studio-based hosting role. In the end, she was ultimately named the new co-host of Good Morning Football on NFL Network.
"Professionally, I think I was very much honing my skill set to become a really great, strong sideline reporter at CBS," Erdahl said. "I grasped at the opportunity to become a really great, strong studio host. I'm not there yet – it's only been six or seven months – but I really wanted this job in particular to get me to a place within the NFL [and] within the industry to be a really good host."
For 15 hours per week, Erdahl is on television discussing the game of football with Brandt, Schrager, McCourty and Selva, along with a plethora of other guests and industry experts. Entering the role from the perspective of a sideline reporter, she has found many aspects of her previous role permeate into this job, most notably those pertaining to listening to others.
"As a sideline reporter, all you can do is be eyes and ears and you're just hoping that if you're not the one saying it on the broadcast, you're relaying information back to the truck or to the play-by-play guy to make sure that what you're seeing or hearing on the field is getting on to the broadcast…. I like to take that back into a studio setting. Very easily we could sit around the table and we could each talk for a minute and give our takes, but then you're not really listening to each other."
Before landing the job, Erdahl had conversations with Kay Adams where they discussed the role and just what makes it unique. Their discussions left Erdahl energized and eager to get started and disseminate her opinions and points of view to consumers on weekday mornings.
"You get to have your own arc of creativity, no matter what chair you're sitting in," Erdahl expressed. "I think Kay did that incredibly well for six years. People loved Kay for all the things that she did – but the job isn't, 'Here's how Kay did it; do it the way Kay did.' That's not how it was presented [to] me [and] I don't think Kay would have wanted it that way."
Over the years, Erdahl has established relationships with colleagues and competitors alike in sports media, staying in touch and reaching out for advice. She was friendly with many of her colleagues at the NFL on CBS, including Tracy Wolfson, Amanda Balionis and Melanie Collins, along with ESPN/Amazon Prime Video's Charissa Thompson and NFL Network host Sara Walsh. She also estimates speaking to SEC on CBS analyst Gary Danielson weekly, someone who was instrumental in her development as a broadcaster and learning more about the game of football.
Erdahl and the rest of the Good Morning Football on-air personalities do not simply show up to the studios to broadcast each morning; rather, there is an immense amount of preparation that goes into each and every show beginning the night before.
On a shared document, show producers compile a layout for the next day's program and Erdahl and the other personalities write notes and perspectives to better inform the rest of the crew as to their individual thought processes. There is a production crew that works overnight to monitor the news cycle and prepare production elements for the next day's program so by the time 7:00 AM ET comes around, the team is ready to produce three hours of insightful football coverage.
"The information wheel in the NFL is just constantly turning so it's easier for me just to kind of, throughout the day, remain aware of it so then at night, I can answer all my stuff and then tomorrow, I feel a little bit more prepared," Erdahl said. "I'm not cramming for an hour before the show…. It's easy to kind of stay swimming in it."
As Erdahl reflects on the impending completion of her first full season on the show, she intends to learn from her mistakes, such as relying on certain statistics or storylines as a crutch for extended periods of time, to improve as a studio host. She also aims to augment her creativity, learn more about the history of the game and demonstrate energy for the game – all qualities imbued within Brandt, Schrager and McCourty, respectively – to become a "master of the NFL."
"I was lucky I got through the season," Erdahl said. "I learned a lot [and] I got the nuances of the show down. Next year, I hope to elevate even more [and] just push the box a little bit more in terms of making sure I don't have those crutches."
Viewers of Good Morning Football or other NFL Network programming might be skeptical towards the legitimacy of some opinions because of the oversight the league has on the broadcast outlet. Yet over her time with NFL Network, Erhardt does not feel as if she has been suppressed in editorializing her views.
Moreover, it is the responsibility of the show to balance subjectivity and the maintenance of professional relationships in football with the display of objectivity and proffering of genuine analysis. After all, she believes the league trusts that she is on the air for a reason, and works to ensure the league communicates its storylines in a way discernible to a variety of demographics.
"I haven't felt the hindrance whatsoever in terms of editorial direction that would make me feel like I shouldn't do something," Erdahl said. "I would say mostly on the daily, I get the green light from the things that we try to accomplish as a show."
There are many football fans across the United States, and it can be safely assumed that many of them have at least thought about potentially covering the game as a media member. Yet very few aspiring media professionals reach the point Erdahl has; in fact, some of her most memorable moments over the years are when she was told she had received certain jobs. Although her skills on the air are evident, her demeanor and team-oriented mindset has separated herself from other candidates and led to sustained success and growth amid a competitive marketplace.
"Sixty percent of being good at this job has nothing to do with being on television, in my opinion," Erdahl articulated. "I think it's about a good, honest, ethical person that is nice to people; that is easy to be around; that coaches and athletes in particular want to be around and want to talk to [and] tell their story to. The other stuff will come because you are speaking to something that you went about the right way."
Derek Futterman is a features reporter for Barrett Sports Media. In addition, he serves as the production manager for the New York Islanders Radio Network and lead sports producer at NY2C. He has also worked on live game broadcasts for the Long Island Nets and New York Riptide. He previously interned for Paramount within Showtime Networks and wrote for The Long Island Herald. To get in touch, find him on Twitter @derekfutterman.
Why Do NFL Fans Want More Greg Olsen and Less Tony Romo?
Olsen creates the perception that he studies each team, breaking down film of offenses and defenses, in preparation for the telecast.
Five years ago, Tony Romo retired as an active NFL player, jumped into the CBS broadcast booth, and immediately became the darling of fans and media for the excitement he brought to his telecasts. Romo's enthusiasm for the game and understanding of modern offense allowed him to predict plays successfully, making him an instant sensation.
Greg Olsen will finish his second season as a full-time broadcaster on Feb. 12 from the NFL's biggest stage, calling Super Bowl LVI for Fox with play-by-play partner Kevin Burkhardt. Olsen hasn't drawn the must-see buzz that Romo did early in his TV career. No fan likely tuned into Fox's top NFL telecast, "America's Game of the Week," to listen to Olsen's analysis. His work doesn't draw nearly the same amount of acclaim.
But the shine has worn off Romo with viewers during the past couple of NFL seasons. Watching a game with Romo in the booth previously felt like sitting alongside a fellow fan, jubilant at fantastic plays or clever strategy, and disappointed at performances that fell short. His energy also elevated Jim Nantz as a play-by-play announcer, bringing him back to life after 13 seasons alongside Phil Simms.
Now, however, Romo's outbursts — noises in place of words, or outright yelling — seem like a crutch when coherent thoughts can't be articulated. Where there was once fascinating insight from the analyst position, the former Dallas Cowboys quarterback often resorts to clichés and platitudes that don't add to a fan's understanding of what's happening on the field.
Worst of all, Romo sometimes talks merely to talk, filling a quiet space when a broadcast needs to breathe or the images are saying enough on their own. That's especially awkward when paired with a veteran like Nantz, who's a master at letting the moment speak for itself rather than trying to punctuate it with unnecessary narration.
On Fox's telecast of the 49ers-Eagles NFC Championship Game, Olsen explained how play-calling changes when an offense intends to go for it on fourth down. He showed an awareness of the strategies that each coach employed to gain an advantage or neutralize what the opponent was doing well.
Early on, he highlighted San Francisco defensive end Joey Bosa holding back on his natural impulse to pursue the quarterback at all costs. Instead, he maintained a position that prevented Eagles quarterback Jalen Hurts from running to gain yardage when pass plays weren't available.
With analysis like this, Olsen creates the perception that he studies each team, breaking down the film of their respective offenses and defenses, in preparation for the telecast. He doesn't appear to be surprised by what he sees because that prep work — watching film, talking to coaches and players — informs him of the eventualities and possibilities that could arise during a game.
The hardcore football fan, those who repeatedly watch highlights and replays, loves that kind of analysis. Such attention to detail feels gratifying because it demonstrates that the person calling the broadcast is as serious about this stuff as the viewer who's waited all week for the big game.
Yet a more casual fan is also drawn in because of Olsen's amiable personality and ability to explain things simply and clearly. It's similar to what viewers enjoy about ESPN's "ManningCast" for Monday Night Football. Yes, there are jokes and funny moments. But Peyton and Eli Manning both explain strategy and preparation very well.
By comparison, Romo comes off like a broadcaster who's winging it, letting his personality and enthusiasm fill gaps created by a lack of preparation. That might be a completely unfair criticism. We don't know what kind of work Romo puts in leading up to a telecast. Maybe he watches as much film as Olsen. Perhaps he talks to everyone available to the broadcast crew in production meetings.
If so, however, that doesn't show itself on the CBS telecast. Romo's work on Sunday's Bengals-Chiefs AFC Championship Game telecast was an improvement over his call of the Bengals-Bills divisional playoff clash. During the previous week, Romo acted as if he didn't have to provide any insight because this was the match-up fans had anticipated all season and already knew everything about the two teams.
Perhaps in response to that criticism, Romo made a point of highlighting the importance of each team's defensive coordinator — Cincinnati's Lou Anarumo and Kansas City's Steve Spagnuolo, respectively — in disrupting the performance of quarterbacks Patrick Mahomes and Joe Burrow. But rather than demonstrate an actual strategy during a replay, he stated that each defense would come after the opposing QB and create pressure.
Ultimately, the difference between Romo and Olsen seems to be schtick versus knowledge. But it's also a product of how each analyst reached their position. Romo joined CBS's No. 1 NFL broadcast team without previously calling any games. (As BSM's Garrett Searight points out, that immediacy and recent connection to the game fueled what felt like fresh analysis.)
Meanwhile, Olsen called games during bye weeks while he was still an active player and was on Fox's No. 2 crew with Burkhardt before being elevated to top status following the departure of Joe Buck and Troy Aikman to ESPN. He's had to get better out of necessity. Even now, as Olsen establishes himself as his network's top analyst, he faces the possibility of being bumped from that position when Tom Brady retires and cashes in on the massive contract Fox offered him.
Compare that to Romo, who's the highest-paid NFL analyst on television. His $18 million annual salary set the bar other top broadcasters are trying to reach. And he has seven years remaining on the 10-year contract he signed with CBS. That is significant job security. Even if network executives (or Nantz) lean on Romo to improve his flaws, how much motivation is there when he's already been anointed a broadcasting king?
However, NFL fans and sports media are making it clear what they prefer from their football broadcasters. They want insight and substance. They want to learn something from the commentary, rather than just be told what they can see for themselves.
Olsen is providing that and is being rightly lauded as a broadcaster living up to his status. Romo is suffering a fall from acclaim and has become a weekly punching bag. If he and CBS want to change that, he'll have to bring more to the booth each week. In the meantime, Fox should consider appreciating what it already has, rather than welcome a glitzy name.
Ian Casselberry is a sports media columnist for BSM. He has previously written and edited for Awful Announcing, The Comeback, Sports Illustrated, Yahoo Sports, MLive, Bleacher Report, and SB Nation. You can find him on Twitter @iancass or reach him by email at iancass@gmail.com.