Maggie Gray Didn't Know She'd Be Here
"The biggest challenge is the limited amount of time, because there is so much to cover and so much that we want say."
13 months ago, sports radio in New York underwent its biggest change in 30 years as Mike Francesa departed WFAN's afternoon drive.  Three voices were tabbed to take over, Chris Carlin, Bart Scott and Maggie Gray.
From WFAN's new trio, Gray was considered by many to be the most surprising selection.  While her credentials were strong, Gray's resume didn't contain Carlin's WFAN history or Bart's signature New York sports moment.  In an industry where not enough women have prominent weekday hosting positions, Gray is doing it at the top station in the biggest market.
It wasn't long before Francesa canceled his retirement and returned to WFAN, chopping CMB's show in half and squeezing them into the midday. After dealing with plenty of criticism and turmoil early, CMB is starting to hit its stride and the two-hour show leaves listeners wanting more.
As she continues to grow in the country's toughest media market, Maggie Gray's unfinished story is already an interesting one.
Brandon Contes: Sports Illustrated was your first full-time sports media job?
Maggie Gray: Yeah, it was, which is both funny and telling about the business that I basically got my very first sports internship when I was a senior in high school, but it took going through college and basically the next five years after college before I got a full-time job.
That's the nitty-gritty nature of the business, because if you start off as freelance – you're never sure what's going to happen, season-to-season you're just trying to make connections, get better and keep moving. I call them lily pads, you're trying to get across, navigate this lake and you're going from one lily pad to the next trying to get across. Now that I'm a little bit older and wiser, I realize you actually never make it across, the lily pads just hopefully keep getting bigger.
But getting SI was a huge deal for me because it was the first time I had a full-time gig and it was the first time where I thought, this is something that is a possibility to really grow, because they hired me for a position that I had never heard of, that a lot of people had never heard of, to be a digital anchor – What does that even mean?
It's not a job that was around when I was in college, I didn't even know I could aspire to a job like that, but to get it in a place that had the name recognition and prestige of SI, while also doing something that's cutting edge and totally new, and have the feeling like you created it from scratch, was one of the most unbelievable opportunities, and the people there were so incredible.
BC: That was a digital show and you were on camera, was it daily?
MG: It didn't start as a daily show, it started as just one-off videos. We would call SI writers and they would say, "Who are you, who is this, why are you calling, what is SI video?" [Laughs]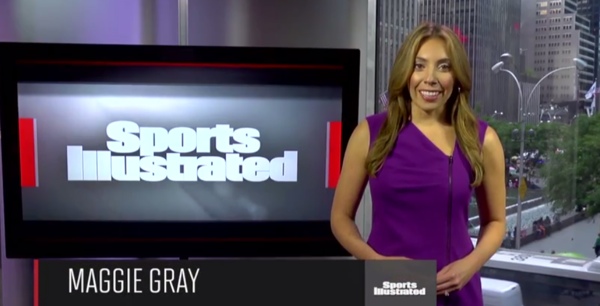 It was establishing relationships and we would do these one-off things that started to grow. It would become a live March Madness Selection Show and we had a relationship at CNN for the first couple of years where we would use their studios to shoot these sort of roundtable discussions. It started to grow and then finally I had some really smart people around me and they said, 'We think we can sell a daily variety show, that's digital.' The show was built as a half hour show that streamed and it was some news of the day, interviews, crazy stuff, serious stuff. It was just a fun show and it was sponsored from the first day to the very last day, and it's actually still going on now.
BC: Were you there with Robin Lundberg?
MG: That's an interesting story because the show started five years ago, I was the host and we had nobody to fill in for me. Even when I got married and went on my honeymoon it was a big deal. One time we were out in L.A. doing the show from Angel Stadium and I got horribly sick on the red-eye home, I went in and did the show the next day and then went home and died. For the next four days it was a mad scramble because there were no backup hosts. They didn't have a lot of video people at SI because it's a magazine company.
Years later, after ESPN had their big layoffs, I had been listening to Robin for a while and I sent him an email to see if he wanted to come help with the show and he's still there now. I'm grateful to him because it made us not so reliant on needing a guest for everything, Robin and I could just talk about it, have that banter and be a little more sports radio-like.
BC: Was radio the goal at that point or was it just to work in any sports media platform?
MG: My first ever sports internship, where I realized I was bit by the sports broadcasting bug, was my senior year in high school.  I grew up in Binghamton, there was a minor league hockey team and I asked if I could be an intern even though they only gave internships to college kids, but they said the radio broadcaster needs someone to help out with stats on home games.  I sat next to the radio play-by-play guy for an entire season helping him with whatever he needed. The last game of the season, he let me come on-air and read the out-of-town scoreboard, which was probably only a minute, but I got a huge adrenaline rush from it.  I don't know how many people were listening, it didn't matter, I loved that rush. So when I went to George Washington University, I walked into the radio station my first day on campus and said, 'Can I be a part of what you guys are doing?', so I was always interested in radio.
BC: When was the first time you were on WFAN? You did updates early on?
MG: I did do updates which is a small part of having a connection with FAN that goes back really far. I was still putting together a freelance life. I was working at MSG – Ironically – MSG was actually the first to put me on air in New York and I'm forever grateful for my opportunity to work for them. I was at MSG and MLB.com, but I wanted the FAN.
In Binghamton we didn't get FAN, so I didn't grow up with it, but when I got an internship at Westwood One in DC, I got to realize what a huge deal WFAN is. The other funny connection is one of my jobs as an intern in DC was to cut and edit this thing called Sports Time with Mike Francesa. It was almost like what the CBS Sports Minute is now and it went out to all the Westwood One radio stations throughout the country.
After college, I decided to come to New York and work behind the scenes for the NBA, but when I realized I wanted to be on camera and I wasn't going to let the dream die, I knew I had to get the Fan. How do you say you want to be a sports broadcaster in New York and not take a turn at WFAN?
I did an update audition when WFAN was still in Astoria. Actually, I did about five auditions. It wasn't an easy job to get, I didn't walk through the door and get a job, it took a while, but I finally got midnight – 6am working Thanksgiving, Christmas and New Year's eve, the trifecta.
BC: How was the transition of doing a half hour daily show with SI and jumping to four hours a day on radio?
MG: Well I had done radio shows before getting this job. CBS Sports Radio launched in 2013 and I auditioned for Dana Jacobson's role with Tiki and Tierney when they did the morning show. Dana got it, which she's amazing so I totally understood that, but then they had a Saturday morning spot open and the Moose and Maggie Show was born, me and Marc Malusis.
I didn't know Moose very well, we met maybe once or twice, but we had instant chemistry. I was still working at SI during the week where I was asking other people for their opinions and just facilitating conversations about sports with all these really smart people. But then on Saturday morning, it was people asking me what I thought about topics and that was the biggest thrill.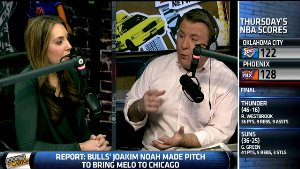 There's no way I could have this job if I didn't do that show with Moose for five years. He's so great at radio and he taught me that you need to bring strong opinions, formulate an argument and back it up. In the beginning, we would argue and I would sometimes back down, but I started to find my voice and realize as long as I'm prepared, have facts and can defend my argument, it's valid. I was so grateful to him for that. I also started to learn to get thick skin.
At SI, you wouldn't get huge amounts of criticism, it wasn't that kind of job. Radio is the intimate medium with callers, listeners and people on social media, so it helped me get thicker skin and realize there are some things you should ignore.
BC: This is obviously a very white male dominated industry, Suzyn Waldman was here hosting middays in the early 2000's, so there was precedent, but you look around the country and go from sports radio station to sports radio station – there are female reporters and update anchors, but there are very, very few women that are part of a daily radio show. Did you find those opportunities hard to come by?
MG: I don't know if I can say. I wasn't looking for the opportunity, the Moose and Maggie Show came to me and this opportunity came to me. I got an email from Mark Chernoff that said I need to talk to you today. My entire life changed within a couple of weeks and it's been unreal. I think there is a part of you when you're trying to break into a portion of the industry that you don't see a lot of people who look like you, there is one part about getting the job and then the other part about keeping the job.
Everyone says you got the dream job, but now what's the reality of that dream job, what's the work like and what does it really look like to have your dream job? And for me, it's better than I could have ever imagined.
Now, I just hope that, not just here, but all around the country the people who are doing the hiring are willing to step out and take the risk, take the risk of hiring someone who is bringing a different point of view because ultimately, there are great women out there doing this, they just need to get a chance, just like Mark Chernoff gave me a chance.
BC: Not only a chance, but you grew up in Binghamton, you didn't look at sports radio as a viable career option. I'm sure there are other women growing up that see the industry as male dominated and the thought of hosting a sports radio show never even crossed their mind. But now they see you with this prominent job in sports radio and maybe it will inspire others and they can now look at the industry as one that could have job opportunities for them.
MG: I know that seeing other women do it before me, inspired me and I do think it's really important because as soon as you see someone doing it, you can start to envision the path for yourself.
What I would say for anyone who is a young woman or even a young man and anyone trying to get into the business, this landscape is changing so much. Sports talk radio is this solid rock, it's going to be here through thick and thin, but think of how the industry is changing. There are just so many more outlets to break into sports broadcasting now, it's fantastic.
When I was coming out of college in 2005 – and this is 2005, I'm not talking about the 80s and 90s – the 6 o'clock SportsCenter and the 11 o'clock SportsCenter was still the ultimate goal for a lot of people. Now look at all of the outlets and other ways you can be around the sports industry, it's incredible.
You can start your own YouTube channel and have your own brand by the time you get out of college. It's really freeing and I think that will help get a lot more women, hopefully people of color and get more diversity into this industry.
BC: It's similar to the NFL right now where there are so few people of color with head coaching positions. It's white male dominated and a lot of that is because for the last 30 or 40 years, it was white males that had opportunities to make connections.
That's not to say Sean McVay was not qualified to be a head coach at the age of 30, but when for 30, 40 years, it was the same demographic working in the industry, he had more built-in connections to move through the ranks quickly. So even though those opportunities that are now available for anyone to break into sports media exist, you still need to create pipelines to help non-white males move up and climb within the industry at an equal pace.
MG: And that's why I'll go back to – It shouldn't be looked at as taking this massive risk to hire a woman, or to hire a person of color, it should be looked at as can the person do the job and especially in this particular industry is the person going to bring a different point of view, that maybe listeners haven't heard in a while. Is it going to be thought-provoking, is it going to stir conversation? And I'm not saying it has to be controversial, just saying it has to be a different point of view and I think it actually opens up the scope of listeners.
With the NFL, everyone is a fan. From an eight year old to an eighty year old, everyone has a fantasy team. Men, women, every race, and what are they always trying to do? Find new markets. This is why they play in Mexico City and London. You're always trying to find new audiences, I don't think you can ever be complacent, even if you're number one.
You're always trying to broaden your horizons and that's something, especially for our show that we have really tried to do. Be loyal and serve the listener of the FAN who has been there for 30 years, but also open up the door for someone who never thought FAN could be for them and welcome them into the conversation as well.
BC: You said early on with Moose, you would back down with your opinions at times, did you ever find yourself needing to have a stronger opinion about something to fit in and seem more credible, especially at WFAN with the local audience?
MG: No…

If it's not genuine, it's going to come through as not genuine. I can't fake that.

One of the big things I learned when I came over from SI, going from a national outlet to a local one is, with national, it's about the issues because you need someone who's in Baltimore, Arkansas, Las Vegas, L.A. to all be connected and have an opinion. Here, it's about the X's and O's, it's about the minutia. It's about the Adam Gase press conference. You can't get too specific or granular here and I found that I love that more than I ever thought I would.
But if I don't think that something is a big deal, or if I think that it's getting taken to a place that is absurd, I'll say that too. You have to be honest. Radio is the most honest of the mediums. One piece of advice that I got early on and something I've been really grateful for, was Mike Quick who was my boss at MSG and he said, 'We need more Maggie.' I thought, really? Are you sure you don't want more Andrea Kremer? But that was really freeing. You can bring your personality and this is such a subjective business, you're either someone's taste, or you're not. I think the more you let people in on who you actually are, the deeper the connection becomes, and I'm okay sharing a lot with our listeners because I like that having that connection with them.
BC: And that's how you end up on the floor eating an entire pizza…
MG: [Laughs] On the floor…puking in the Mike Francesa studios…
BC: [Laughs] I was locked into that show because I thought there was no chance you were finishing that pizza.
MG: So many people doubted me that day. I'll be honest, the doubters did put a big chip on my shoulder. There was a moment where Bart was showing me inspirational videos on his laptop and it was working – we actually crossed that threshold where he's showing me old Nike commercials, and it was helping me get the pizza down.
BC: Did you know Chris or Bart before getting paired up with them?
MG: Chris and I did a couple episodes of LoudMouths together on SNY, but we didn't know each other that well. I knew of him and what a great reputation he had, I didn't know Bart at all. I didn't really have a relationship with either of them, but now I feel like they're my best friends.
We just had the one year anniversary of the show this month. It doesn't feel like a long amount of time, but I feel closer to Bart and Chris than anybody. We've really developed a great bond over this last year.
BC: How was the pressure of stepping in for Mike? Obviously it's an incredible opportunity that couldn't be passed up, but was there ever that moment of, I'd rather replace the replacement of the icon than replace the icon himself?
MG: You'd be surprised how many people, unsolicited, said, 'Boy, you don't wanna be the person to follow the guy.' That was encouraging! [Laughs] The pressure is what you make of it. If you want to feel that pressure, that insane amount of pressure of following up someone, then it will destroy you.
It's almost like being mentally tough. You have to take it for what it is, but then realize what the main goal is – to build a new show from scratch and to find your audience. There's nothing I can do about who I'm following, or when I'm getting the opportunity. The opportunity is presenting itself and there was no way that I was going to pass it up just because of that. The fear of that, like many things, the fear and anticipation is much worse than the reality.
BC: It was interesting from the start because you have three very different personalities getting paired up and thrown into the fire and you guys didn't really do many practice shows.
MG: No, they didn't want to do a lot of practice shows and I agreed with that, there's something different about when it's for real and when it's taped so I understood why they wanted to do that.
BC: It almost would have been easier with the transition to just focus on being a call-oriented show, a similar sound to what listeners are used to, but you guys added a lot of creative segments as well.
MG: Yeah, we do still take a lot of calls. The calls are part of the FAN. The interaction with the listeners is one of the backbones of what makes this place go and there was never a thought that we didn't want to include them in the conversation. They're always welcome and we always want to know what they have to say because they're part of the radio station.
The creative segments are more of a natural thing. We thought, what kind of show do we want to do, what makes us, us? We were just figuring that out with trial and error and now I think we're maybe starting to find our grove a little bit in terms of how much of that creative style to do, the silly stuff, the BS translator and those things. It's about sensing what the audience really wants and balancing that with what we want to do.
BC: Is it hard now that the show is compressed to two hours that you have the three different personalities, three different opinions and you have those radio bits that you want to try, but you need to squeeze it into two hours and make it a cohesive sounding show?
MG: The biggest challenge is the limited amount of time, because there is so much to cover and so much that we want say. The show now is just a sprint from beginning to end, it's really fast moving and also the news cycle is so fast moving that if we don't get to something on Monday or Tuesday, by the time it's Wednesday, forget it because it might not make sense with what people are actually talking about anymore. It's been a challenge, but it's not insurmountable. I hate when athletes say this phrase – but it is what it is, so we just make the best of it.
BC: Cross talk segments are becoming very popular on radio stations around the country, you can do 12:30 to 1:00 with Benigno and Roberts and then 3:00 to 3:30 with Mike and now you have three hours.
MG: [Laughs] That would be something, pitch it to Chernoff.
BC: Do you ever go back and listen to old shows?
MG: Oh yeah, definitely, it's hard because self-evaluation is one of the toughest things to do.
It can be brutal especially when you make mistakes, or things don't come out the way that you want to, but it's also necessary. You have to go back and listen because you could be making the same small mistake over and over and over again when there's no reason to because things can get nipped in the bud so easily. But you have to go back and listen.
BC: I'm sure if you go back and listen to a year ago and then you hear what you're putting on the radio now –
MG: Oh I don't go back that far. [Laughs]
BC: But that comfort level between the three of you has increased significantly?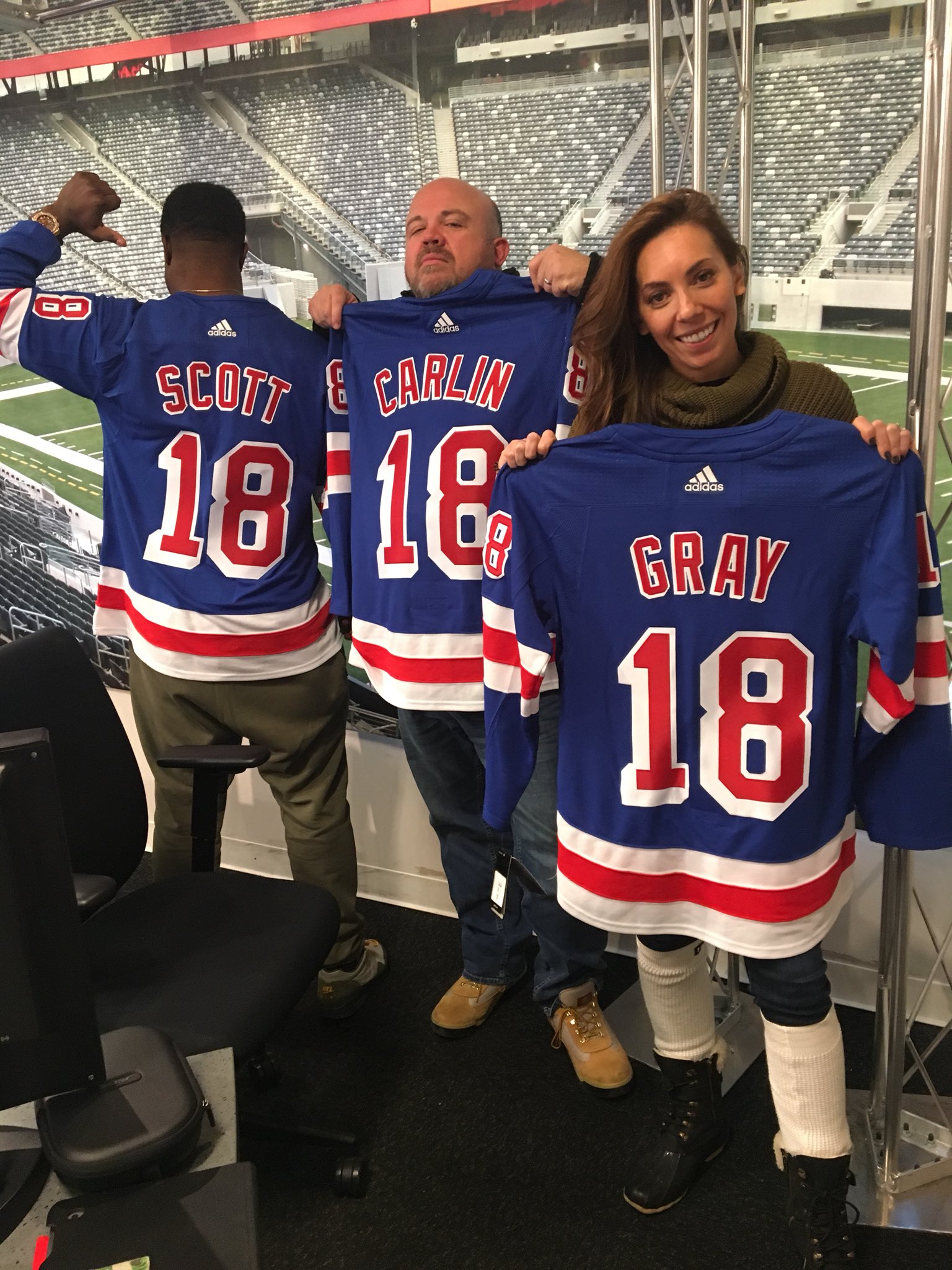 MG: Without a doubt. We didn't know each other very well and a few months into getting the job, we got thrown a pretty big curveball and you can learn more about people when you go through a little bit of adversity and you get to find out what people's true colors are. With Carlin, Bart and I, we seem like we have all these very different opinions or that we wouldn't be three friends who would meet up at a bar and watch a game together, but once we went through that adversity, we realized that we gained strength from each other, we can lean on each other and we saw each other's true colors. That was incredible because when people get peeled away you see their true self and we all really liked what we saw in each other during that time. It made us trust each other a lot and it brought us really close.
BC: I don't know if you felt this at all, but I'm sure with three people trying to get to know each other, it can be harder than when it's just two people. The show went through Mike coming back and then the summer was right around the corner, so now you're filling in for Mike, but you're also taking vacations yourselves. So it's two at a time; it's Maggie and Bart for four hours, Bart and Chris for four hours, Maggie and Chris for four hours.
As a listener, I felt that when the three of you would come back together over the summer as a full show, each time it was noticeably improved, so you were able to build chemistry by each getting that one on one time together.
MG: That's a really good point that I hadn't thought about, but it's true, the three of us have a relationship, and then I feel like I have a friendship with Bart and I have a friendship with Carlin and they are both different relationships. Even when Carlin is out, I'm kind of driving the bus versus when I'm not so that changes your role a little bit, but you're right, I didn't really think about that, but we did have a chance to build relationships, one-on-one, but I do think that our show is at its best, no matter what, hands down, when it's the three of us.
I think that that might be surprising to a lot of people, inside and outside the building, that the show sounds better with the three of us because that was one of the big question marks about the show when we first got it – Does three people work? And I think our show has proven that it can.
BC: There were also times early on that any kind of debate segments would sound like a roundtable discussion. It's Carlin setting up the topic and saying, 'Maggie what do you think' and 'Bart what do you think', followed by 'here's what I think', next topic.
MG: We don't take turns as much anymore
BC: Right. Last Wednesday, I was listening to the open when Carlin was going all in on Mike McCarthy as the Jets head coach while you and Bart were pushing back, but I thought that was the best segment of radio I heard all week on any show or station.
So how about the ability to improve so much with debate where it doesn't sound like you're each trying to avoid stepping on anyone? You're able to have a more genuine conversation and sometimes know when to step back if two of the hosts are hotter on a topic than the other is.
MG: Thank you, that's something also that goes on in the pre-production. Because we're in New York, there are some days where the show writes itself. The topic is exactly what the topic is, it's what everyone's talking about and the obvious thing that needs to be addressed because people are tuning into the radio station for that discussion.
But then there are times when there are multiple options and you're not sure what your lead is going to be. That's why we sit here for an hour and we talk it out. The things that we naturally seem to have different opinions on or sparks the most conversation in this room, with our producer, board-op and the three of us, that's what we go with and that's what should break the tie every single time. Don't outthink yourself. If we all have different opinions on something, let's start with that because it's going be genuine.
BC: What about the producer change, going from Brian Monzo the first couple of months to now Shaun Morash.
MG: Yeah, those kinds of things happen and you just have to roll with the punches. We're so happy that it worked out the way that it did and I think Mike is happy and Monzo is happy it worked out the way it did. It's like a good trade in baseball or football, where both sides actually won here. That was seamless and very easy to navigate.
BC: Morash seems to fit the show so well with his contributions.
MG: One thing that we really appreciate with Morash is that he is our listener. It's like we have a focus group in the room. I mean, he's got a giant tattoo, he's on the message boards, he's a die-hard Yankee fan. We needed that person who not only is professional in this business, but someone who could make himself a little bit removed from that and say I'm the FAN listener in the car today, what do I want? And we needed that, because I'm coming from a journalism background, Bart's coming in as the athlete and Carlin's coming from doing this for a long time, being a host and everything that he's done, it's great to have that person who is just like you know what, all things being equal, I want to talk Yankees today and we take that into consideration heavily.
BC: What radio shows did you listen to growing up?
MG: I didn't grow up with a lot of radio being in Binghamton the days before Satellite, but when I got to New York, I actually listened to a lot of Jim Rome. He used to be on in New York and I still listen to Rome. We're on at the same time, which is crazy, the fact that I've gotten to meet Jim Rome a couple of times is a thrill for me. I listened to a lot of FAN, I started listening to Shmooze because that's when I happened to be in the car the most and NO ONE can do what he's doing, it's unbelievable. And I would listen to a lot of Boomer and Carton.
I also listened to Mike and Mike. It helped me with doing the national show at SI to understand what the national conversation is. Dan Le Batard, I think everyone can agree he is probably doing it as best as it can be done right now, and then podcasts.
I listen to a lot of podcasts; SI's podcasts, Peter King's podcast, I listen to the Lowe Post Podcast and Bill Simmons. Also a lot of NPR, Fresh Air, Wait…Wait Don't Tell Me! I listen to all of those shows because it's as important to me to understand the front pages, as the back pages. You have to be a well-rounded person and aware of what goes on in the world because you never know when it's going to intersect and it can happen in any moment.
I was reading the quote from Adam Gase where he said, 'I'm not on Twitter, I'm not on Instagram, I don't use the internet.' [Laughs]
That's impressive! You don't even use the internet, how did you find out what the weather was going to be today? A football coach mentality is not a good mentality for someone in the media business. You have to understand the world around you.
BC: How did you end up working with Artie Lange? Were you a Stern fan?
MG: Oh my gosh – Artie – I loved doing that.
I wasn't a big Stern fan, we didn't really get him on the radio up in Binghamton, but I would actually watch him when he was on the E! Network, while I was probably in middle school, so I knew his show, but I didn't grow up a huge fan.
I met Artie because he was doing a book tour and he came in to SI. Peter King happened to be there that day and I asked Peter to sit in on SI Now. So it was the three of us and we had this fun conversation and a good rapport, so Artie started to invite me on his show. It was amazing that no matter what state Artie was in, because obviously he's had his battles and I hope he's well, I follow him on Twitter and send him notes to wish him well, but he was always the funniest guy in the room no matter what. Literally – at one point we were on air, he fell asleep, woke up and said the funniest thing of the entire three hour show. He's absolutely hilarious and everyone on that show was great to work with. Just getting to know him was great and I appreciated Artie because he said to me, 'I see what you are, you don't feel like you have to be this macho person who's in the frat house to do this.'
BC: I'm a big Stern fan, I go back and listen to older shows of his and content from the cast. I stumbled on you with Artie and I did think it brought a lot of great balance and was really entertaining.
MG: Thank you, they decided to end the show, otherwise I would've kept doing it because he is hilarious and a really kind-hearted person, but it was a lot of fun and now I do LoudMouths with Jon Hein on SNY. Jon is a great guy and it's fun to do the show with him. SNY has been a nice little side thing to do.
BC: Do you expect CMB to be a long-lasting show and relationship or do you take it day by day and not even look towards the future right now, especially with the curveballs that you guys have already been thrown.
MG: I hope it's a long lasting show. This is the best job I've ever had, I love this job, and Carlin and Bart have been the best part about it.
I think there's even so much more that we have to do. Our end goal of what we want the show to sound like, we're still trying to get there. I love it and I hope I can do it forever. I understand why this is a dream job, because it is that good.
Brandon Contes is a freelance writer for BSM. He can be found on Twitter @BrandonContes. To reach him by email click here.
Brandon Contes is a former reporter for BSM, now working for Awful Announcing. You can find him on Twitter @BrandonContes or reach him by email at [email protected].
Which Network Has the Best NFL Pregame Show?
I watched for chemistry on the panel, the personality of the group as a whole and the value of the information the show provided to get me ready for the game.
It's far too early to start handing out awards in the NFL, with a few weeks left in the season. But it's never too early to rank the various NFL pregame shows on the main and cable networks.
Talented people coming together to get the viewer ready for that week's slate of games. Human interest stories, fantasy football news, and reports from the "insiders" make for standard Thursday/Sunday/Monday viewing.
Who does it all best on Sunday specifically? Last Sunday, I was able to get a good look at the shows. I watched for chemistry on the panel, the personality of the group as a whole, and the value of the information the show provided to get me ready for the game.
The shows are listed in ranked order from the best to the sixth best.
#1 – FOX NFL Sunday
The current crew is led by Curt Menefee, who is the host and moderator. Terry Bradshaw, Jimmy Johnson, Howie Long, and Michael Strahan make up the main ensemble. Rob Gronkowski has made a few appearances this season. The FOX NFL Sunday insider is Jay Glazer.
This show is celebrating 30 years on the air this season and while there are only a few of the original members still on the show, it remains the cream of the crop. I just like the personality of the collective group. Johnson, Long, and Bradshaw have been there from the beginning and the seamless addition of Strahan makes it work even better. The show comes across as so natural. The conversations seem to flow like they are just football fans sitting around talking about the game they all love and either played or coached at the highest level.
Menefee is the perfect, "referee/moderator/traffic cop" for the show. He is really smooth making transitions from topic to topic and keeping things rolling. A ringmaster is needed from time to time when Bradshaw starts playing with his panel mates. He is the ultimate teammate, and isn't afraid to make fun of himself or join in on a "bit".
Glazer is a polarizing figure, coming off as "brash" at times, but there's no arguing his sources and information. Usually, Glazer breaks his news on the show, as opposed to social media. Most of the time the info he provides is first seen on the show. It's top-notch.
Each panelist is strong in opinion without shouting it and getting into heated arguments about the point. As I mentioned these are all guys that have major personalities, but they seem to understand the dynamic. They look at their show as something greater than the sum of their parts. It really works and is the gold standard amongst the national studio shows.
FOX NFL Sunday is a clear choice for the top spot.
#2 The NFL Today (CBS)
Today's cast includes James Brown, Nate Burleson, Bill Cowher, Boomer Esiason, and Phil Simms. JJ Watt will make a few appearances this season. The "insider" is Jonathan Jones.
Back in the day, this was my go-to show. My brother and I would mimic the music all the time. We couldn't wait for a "You are looking live" from Brent Musburger. But the show has changed since its time in the mid-1970s.
The NFL Today returned to CBS after the network acquired the broadcast rights to AFC games in 1998. The current format of this pregame show began in 1975 with Musburger hosting, with Phyllis George, and Irv Cross. Jimmy "The Greek" Snyder joined in 1976. The NFL Today was, for 18 years, the highest-rated program in its time slot.
The latest iteration of The NFL Today is hosted by James Brown. He's been in the lead chair since leaving Fox after the 2005 season. Brown has a smoothness about his delivery that really works. He never tries to be the center of attention, deferring to his esteemed colleagues on the set. Brown really sets the tone for the show, infusing a little humor into the situation when needed.
Esiason has been with the show since 2002 and is the longest-tenured current member of the panel. Esiason and Simms, the two former quarterbacks, like to get after each other once in a while, but sometimes it seems a bit forced. Esiason exudes personality, Simms does not.
Bill Cowher adds credibility having been a highly successful NFL coach with the Steelers. His opinions are usually strong and from time to time, that scowl he was famous for on the field, comes across on the set. Burleson has become somewhat of a rising star at CBS, bursting on the scene in 2017. In addition to his NFL Today duties, he co-hosts CBS Mornings and appears on Nickelodeon as well.
While this show is certainly a good watch, it doesn't feel as "unrehearsed" to me as the show on FOX. Some of the commentary and subsequent arguments feel staged and not as organic as I'd like to see. The panel looks like they're having fun, with Esiason usually driving the boat. Simms gives off a different type of vibe, almost like he's still angry at not being in a booth calling games. I get it, I would be too, but you have to steer into the skid and join in on the fun or you stand out for the wrong reasons. Cowher is solid and gives great insight and I like Burleson too.
The NFL Today is a solid show, but solid only gets you second place in these rankings.
#3 – NFL GameDay Morning (NFL Network)
This show includes Rich Eisen as host, with panelists Steve Mariucci, Kurt Warner, and Michael Irvin. Ian Rapaport is the "insider" and we get info on analytics from Cynthia Frelund.
Eisen is such a great host. His demeanor is perfect for sports and this show as well. It's a perfect blend of substance and sarcasm that keeps NFL GameDay Morning entertaining and informative.
Eisen works very well with his assembled cast on the set. Mariucci provides a nice blend of comedic timing with quality information and analysis. He's always seemed at home in front of the camera and is an easy view. Warner also seems like a natural on the air. His story of course is a great one. He played at a very high level, and I like how he comes across as an everyday guy and isn't pompous about analyzing today's NFL. Irvin is good in doses for me. I find him yelling at me more than providing me with excellent information.
Rapaport is very good as an insider, but most of what he 'breaks' on the show has already been posted on social media. Still great information.
NFL GameDay Morning is a good show, I feel like sometimes it loses out because it's on cable and isn't a regular home for NFL games. You have to hunt for it, but the effort is worth it.
#4 – Sunday NFL Countdown (ESPN)
Now hosted by Sam Ponder, along with panelists Tedy Bruschi, Randy Moss, Rex Ryan, and newcomer Alex Smith. The "Insider" is Adam Schefter.
ESPN's pregame show used to be appointment watching when a then-funny Chris Berman and Tom Jackson anchored the show. It once featured Mike Ditka and Ron Jaworski and was a very fun and insightful show. Sam Ponder does a nice job as the host of the latest iteration of the show. She runs the broadcast well, and tries to keep the panelists in check. Moss and Ryan provide the personality of the show, with each possessing larger-than-life personas. Bruschi provides good information, but kind of gets lost in the shuffle. Smith is learning the ropes as a first-year guy.
Schefter is one of the best "insiders" in the business, but as previously stated, most of what we see has already been reported, several times on social media.
This show has lost some of its previous luster but still has a good amount of value in the pregame show mix. It's a tradition for some who remember the glory days and have become used to watching it every Sunday.
#5 – Football Night in America (NBC)
There have been a few changes over the last couple of years at FNIA since Mike Tirico took over as the main play-by-play guy of Sunday Night Football. Maria Taylor has stepped in as the host, with panelists, Tony Dungy, Jason Garrett, Rodney Harrison, Devin McCourty, and Chris Simms. Jac Collinsworth is a contributor. Mike Florio serves as the "insider" and Matthew Berry is the Fantasy Football guy.
Taylor is a very good host, she's knowledgeable and asks insightful questions of her panelists. That's where the show takes a turn for me. Dungy's soft-spoken takes don't really hit the mark much anymore. Garrett is still growing into his role and I'm still trying to decide whether or not I am a fan. He's loud, but green in the game of broadcasting. The jury is still out.
I like Harrison for his edge and realism. McCourty has been a nice addition as well, adding another player perspective to things. Simms is all about the hot take and it gets annoying at times.
Collinsworth's role is kind of weird to me. It seems like the network just put him in there, to, well, put him in there. Not much added by him. Florio provides good inside information and Berry might be the most important guy since basically the whole world plays Fantasy Football.
The NBC show seems the most sterile of the bunch and highly scripted. Many have said they do a good job of creating hype for the Sunday Night game, but I don't see it. Just my humble opinion.
#6 – TNF Tonight (Amazon Prime Video)
The new kid on the block is Amazon Prime Video and its Thursday Night Football broadcasts. Charissa Thompson, who's been in the news for all the wrong reasons lately, is the host. She's joined by a veteran and some relative newcomers. Tony Gonzalez has the most experience of the bunch, which also includes, Ryan Fitzpatrick, Richard Sherman, and Andrew Whitworth.
Thompson has always been a more than capable host, despite her recent revelation that she made up sideline reports. She has a good sense of each of her co-host's strengths and weaknesses and tries to put each in the best light.
Gonzalez has deep knowledge of the game and a good presence in front of the camera, but he's a little on the bland side. Fitzpatrick and Sherman are the flamboyant ones. Fitz-magic is trying to find his niche in the broadcasting game. The beard and humor are working for him, but he still has to learn about timing.
Sherman isn't afraid to voice an opinion which is great and offers some levity to the show as well. Whitworth's grade is incomplete. He's very new to the studio show world and is trying to find his way.
The group will eventually create chemistry, but it's lacking a bit now.
Andy Masur is a columnist for BSM and works for WGN Radio as an anchor and play-by-play announcer. He also teaches broadcasting at the Illinois Media School. During his career he has called games for the Chicago Cubs, San Diego Padres and Chicago White Sox. He can be found on Twitter @Andy_Masur1 or you can reach him by email at [email protected].
Meet the Podcasters: Mina Kimes, ESPN
"I think fans are smarter than ever now. Because football is such a big tent, you can find pockets of the audience with every level of knowledge and preference for analysis."
As 2023 inches towards the finish line, so too does our Meet the Podcasters series. We have spoken with people that found success in the space after so many different journeys. Greg McElroy and Chris Jericho were championship-winning athletes. Mike Francesa and Adam the Bull dominated local radio. Bomani Jones made his name in the digital space. We end on a bonafide sports television superstar in Mina Kimes.
If you don't believe that, just look at the deal she signed earlier this year. She gets to stay at ESPN and carve out time to work with Meadowlark Media. Those aren't concessions given to someone their network thinks is easy to replace.
It can be tough to find time to chat as the holidays approach, so the conversation was short, but it covered a lot of ground. Why have analytics caught on with fans? Is it more fun to dissect success or to re-think failure? How do you watch a game when you have to not only understand what is happening, but figure out the best way to turn that explanation into analysis?
Obviously, I want to thank Mina and everyone else that made time to chat with me for this series. A big thank you goes to Point-to-Point Marketing as well for making these features possible. Last, but certainly not least, thanks to all of you that took the time to read even just one of these. I hope you learned a little something that you can take with you into 2024 to make your digital content more successful!
Demetri Ravanos: There is a big audience for what you do best and I sometimes wonder how much that surprises those of us that grew up in the media. Do you think the appetite for analytics and in-depth analysis is relatively new, or was the appetite always there without the right platform before the rise of digital media?
Mina Kimes: I think fans are smarter than ever now. Because football is such a big tent, you can find pockets of the audience with every level of knowledge and preference for analysis, but on the whole it really does seem to me that viewers and listeners are better informed than ever, which I'd attribute to the rise of fantasy football and the proliferation of websites and podcasts that talk about film, cap management, analytics, etc.
We see this trend playing out at NFL Live, where our nerdiest segments often capture a good deal of interest.
DR: What for you is more interesting – explaining why things aren't as bleak as the performance may suggest (i.e., Bryce Young not having time or protection to really see what he is as a QB) or highlighting what makes the greats so great (Mahomes' best throws, how Micah Parsons sheds blocks, etc.)?
MK: I love digging into great performances, but the first category is really compelling to me because it forces us to look beyond basic numbers and highlights (or lowlights!). That's where I think the intersection of film and statistics is so useful – it allows us to dig deeper into tendencies and trends to explain why things are happening.
DR: When you are doing your weekend previews, what information do you prioritize? Is it storylines or is there a number or category that you try to make a staple of your analysis for everything?
MK: Once I've settled on which games I want to discuss, there are two things I try to zero in on: The strengths and weaknesses of each team, and how they match up.
I also make note of things I've observed recently (for example, if a team is leaning on a certain personnel group or formation) and then consider how it might impact the game.
DR: What about in setting those topics and discussions up? How do you watch and re-watch games, plays and moments to best understand what it is you are seeing and find the point you want to bring to the audience?
MK: When I'm watching the weekend's games on Sunday, Monday, and Tuesday, I'm looking for interesting (good or bad!) plays, tendencies, and trends. For example, if I notice a QB is having success targeting a specific area of the field, I'll make note of a few plays, grab the numbers later, and then, when I'm podcasting, consider how that might play out next week.
DR: One of the big differences between podcasts and legacy media is that people listening to podcasts are actively choosing you and the topic you are talking about. Does that change the way you can discuss a game or a player versus on TV?
MK: I'd say the biggest difference isn't topic selection, but time. On TV we only have a segment or less to hit on a matchup, whereas on my podcast, I'm often talking about the same games and players, but I have 15 minutes instead of five (and I'm one of two people chatting instead of four or five).
I will add that the topic selection process at NFL Live is very collaborative, though. We know which games we need to focus on, but the way we approach discussion is driven by our interests and observations.
DR: I am always interested in the different views on this. Podcast listeners overwhelmingly say they like video now. Is that a preference you understand or does it not make sense to you?
MK: It makes sense! Because the production quality has improved so much (the kind folks at Omaha Productions have been working with me to improve the look of my show for YouTube), many podcasts really don't look very different from sports television.
If you're already a listener, why wouldn't you want to watch as well, especially since you have a convenient viewing device in your hand all day? I do think there will always be people who just listen, though, because their free time for consumption is relegated to commuting (or in my case, walking a dog!).
To learn more about Point-To-Point Marketing's Podcast and Broadcast Audience Development Marketing strategies, contact Tim Bronsil at [email protected] or 513-702-5072.
Demetri Ravanos is the Assistant Content Director for Barrett Sports Media. He hosts the Chewing Clock and Media Noise podcasts. He occasionally fills in on stations across the Carolinas. Previous stops include WAVH and WZEW in Mobile, AL, WBPT in Birmingham, AL and WBBB, WPTK and WDNC in Raleigh, NC. You can find him on Twitter @DemetriRavanos and reach him by email at [email protected].
Michelle Smallmon Didn't Stumble Into Mornings on ESPN Radio
"The humanity and the relatability is what's going to really bring people in."
It all started with an accident. While vacuuming her apartment just two days before the first episode of her new national ESPN Radio program, Michelle Smallmon tripped over an air purifier cord. As a result of the maladroit blunder, she fell face first into her coffee table and hit the inside of her eye on a drinking glass.
When Smallmon looked into the mirror, she immediately saw that her eye was bleeding and swelling up and was in a state of disbelief, although she was not surprised that this happened to her because of her inherent clumsiness. The black eye that came out of all of this turned out to be an advantageous opportunity for the program, which opened its first hour on the air with this circumstance.
Smallmon works alongside Evan Cohen and Chris Canty weekday mornings on UnSportsmanLike, the new ESPN Radio morning show that leads off a refreshed national programming lineup. Since the program is also simulcast on ESPN2, there are cameras on inside the radio studio at the Seaport District-based radio studio, granting viewers of the premiere episode an opportunity to see Smallmon's black eye for themselves. The incident, however, provided a means for the new hosting trio to introduce themselves and showcase their personalities in an atypical fashion by recalling a calamitous occurrence from the onset.
"We have to be ourselves," Smallmon said. "People are coming for the sports, and hopefully with our opinions and our information and the knowledge that we provide, they'll stick around, but they're going to remember us for who we are. The humanity and the relatability is what's going to really bring people in."
Once the hosts of UnSportsmanLike were finalized, Smallmon met with Canty and Cohen to determine their collective philosophy for the program. At the crux of their conversation was how sports is supposed to be an enjoyable part of people's days, making it important to be genuine with the audience and celebrate the festivities.
"I just think that audio provides a really great way for people to weave us throughout their day and it's something that they can come back to, and I just feel like the audio space continues to grow," Smallmon said. "So that is really exciting to me that there are so many different avenues for us to explore in the audio space."
Smallmon and her colleagues understand that their program that was once anchored by Mike Golic and Mike Greenberg in the mornings for 18 years, who created a show that proved to be an enduring facet to sports radio as a whole. Today, UnSportsmanLike is competing for mindshare and attention span in a dynamic media ecosystem where people can consume various types of content by equipping myriad methodologies. The mission to serve the sports fan anytime, anywhere requires the hosts engage in deft preparation and fealty towards the audio vertical, never taking their positions for granted and understanding the privilege in being able to communicate en masse on the air.
"Any time anybody elects to listen to you, they are giving you a vote," Smallmon said. "They're choosing you [and] they are saying, 'I want to spend a part of my precious time with you,' and particularly in the mornings because we're the first people that get the opportunity to talk about the games from the night before or to give our opinion on certain things."
While Smallmon may have stumbled into an enthralling storyline to open the program and captivate the audience, she did just the opposite in landing a spot within the coveted morning drive daypart. Through years of indefatigable persistence and calculated risk-taking, she positioned herself to garner such a chance when the network was in the midst of developing a new lineup.
Despite having a successful morning show in St. Louis, Mo. on 101 ESPN that was finishing with high ratings and bolstering streams of revenue, Smallmon found herself yearning to live in a sprawling metropolis. Because of this, she started visiting her friends in New York City once per month and gradually became enamored with the locale, prompting her to meet with co-host Randy Karraker, program director Tommy Mattern and Hubbard Radio market manager John Kijowski to express her intent to leave the station.
"They have always been my biggest champions [and] they encouraged me every step of the way," Smallmon said. "They were like, 'This is going to be a tough transition for us because the show's going so well, but we care about you as a person more than we do an employee, and if this is your dream and something you think you have to do, we've got your back.' I will always and forever be indebted to them for not only finding a way to help me do that, but for supporting me and checking in with me every step of the way."
When she was young, Smallmon frequently traveled to St. Louis with her father to attend sporting events, cherishing every chance she could to see a live game. Throughout her childhood, she watched football on television and remembers seeing sideline reporter Melissa Stark interview the players, prompting her to think about working in sports. Quotidian tasks were transformed into beacons of flourishing sports knowledge, catalyzed by her father's creativity with abecedarian activities such as sorting and folding laundry.
Yet Smallmon concentrated in premedical studies at the University of Illinois, matriculating to try and become a dermatologist. Early on, she realized that she was not dedicated enough to pursue a profession in the field, resulting in a meeting with her advisor about her future plans. Upon being asked her ideal career path, Smallmon demonstrated interest in covering the basketball team with the goal of appearing on College GameDay as a features reporter in the future.
Amid an economic crash, Smallmon was able to land a job as a production assistant at KSDK, a local television station with which she had interned as a college student. Smallmon worked on the outlet's morning show, Today in St. Louis, arriving at the studios around 3:30 a.m. every day to prepare and execute the broadcast.
Although her shift ended at 2 p.m., she would put in extra effort to stay later and interact with sportscaster Frank Cusamano and sports director Rene Knott, volunteering her time and trying to be productive. In displaying her aspiration to work in sports, she was eventually offered a position in the department, which first started with shooting and editing high school events.
"Most of the work that was done in sports was leading up to the 5 and 6 o'clock newscast until they took a big break before 10 p.m.," Smallmon said. "I would use that time to just absorb as much as I could, watch the guys at work and try to make myself useful."
Drawing inspiration from the aforementioned Stark, Smallmon had seen various women working and thriving in sports television; however, this was not the case in the sports radio format. Despite being familiar with the medium, she had never considered going on the air until Knott asked her to be a co-host of his new weekend show on 101 ESPN.
After some time, she received a note from an executive inquiring if she would be interested in applying for an open producer position available at the outlet. Even though she applied thinking she would not receive the job – a thought compounded when she discovered the producer role was for the program hosted by Bernie Miklasz – Smallmon made it to the final round of interviews. Speaking with Miklasz directly, he articulated that while he thought she was a good fit for the role, the other candidate had more qualifications and previous experience.
"I looked at him and I said, 'Well, if that person is as great as you say that they are and have this much experience, they will have no problem finding another job when you hire me to be your producer,'" Smallmon averred. "I left there and I was like, 'Man, I blew that.'"
Much to her surprise, Smallmon was hired and ended up working with Miklasz in the role for three years. In speaking with him and observing how he interacted with other people, she learned industry nuances and esoterica that made her even more adept at the role. Smallmon was eventually moved to The Fast Lane in the afternoons with Randy Karraker, D'Marco Farr and Brad Thompson, possessing a mentality of how to best position the show for sustained growth and success.
Smallmon took her skills to ESPN Radio in 2015 when she moved to Bristol, Conn. to work as a producer. The first stint with the network prepared her to excel on UnSportsmanLike, collaborating with hosts such as Ryen Russillo, Danny Kannel and Jorge Sedano, but she always felt a magnetic pull back towards St. Louis. Once Russillo was officially slated to leave ESPN, Smallmon was in talks with the company about different paths she could take and weighing her options. In the eleventh hour, Smallmon received a fortuitous call from Miklasz, who conveyed that he was thinking about changing up his show and wanted to know if she had any interest in co-hosting the program.
"It just felt like all of the cards were falling into place at the right time for me to make that move, and I'm a person that likes to take chances and challenge myself, and I don't ever want to live with regrets," Smallmon said. "I thought, 'Maybe hosting and being on the air is not going to be for me; maybe it's always going to be production, but I'd like to know.'"
Once she returned, Miklasz offered to change the name of the program to incorporate Smallmon, an entreaty that she declined because of fear that it would disrupt what was a known entity to listeners in the locale. Upon his exit from the station two years later, Smallmon started hosting with Randy Karraker, who implored her to add her name. Even though she never sought out to find the spotlight, she capitulated to the request once her co-host explained why it was important as not only an identifying factor, but also as the first female to be a full-time host on the station.
"I would hear from so many female sports fans across the area and parents whose daughters listened to the show and whose daughters paid attention to the show because someone who looked like them occupied that seat," Smallmon said. "I really realized how important it was for me to establish myself in that way."
As Smallmon made the move from St. Louis to New York City, her parents surmised she was recklessly upending her life. Subletting an apartment from a mutual friend in the city, she was working under a usages deal at ESPN Radio where she would deliver overnight updates and host SportsCenter All Night. Smallmon was grateful for the support of her parents and asked them to give her a year, during which she would work hard to land a full-time job in the city. Three hundred and sixty-six days later, Smallmon took to the air with a black eye to commence UnSportsmanLike, officially meeting her end of the bargain.
"It's hard to explain to people how strange our job is," Smallmon said. "The three of us sit in a windowless room and talk to one another for four-plus hours a day, so just by nature of spending that much intimate time with someone, you get to know them really well really fast."
The workday for the morning episode begins the day prior several hours after the conclusion of the previous broadcast, independently reading articles, following sports news and reviewing games. In the preceding afternoon, the program holds a content call where everyone pitches ideas before an early rundown is sent out and added to throughout the day.
While the game of the night is on, Smallmon is in constant communication with her thoughts before getting sleep and preparing for an early wake-up call. There is a pre-show meeting to review the rundown before the four-hour morning show begins at 6 a.m. As soon as the on-air light is extinguished, the process starts again so the hosts are ready for it to illuminate again in 20 hours.
"It's really a full-time commitment, especially during football season, to do a job like this," Smallmon said, "but when you're lucky enough to get the opportunity to host a show of this magnitude, you've kind of got to make it your life in a lot of ways."
When she takes her seat behind the microphone in the morning, Smallmon believes that two of the most talented people she has ever worked with are sitting by her side. In her view, she needs to be at the same level as them on the program and effectuates that through her preparation and by bringing different perspectives to the air.
"I have zigged and zagged and occupied different roles throughout my time," Smallmon said. "It's really just been surprising opportunities that I have emerged and that I've really been grateful to have and that I want to take advantage of, but I don't really think about the future and my motivation is not really driven by what's next; it's driven by the present.
For now, Smallmon is focused on attaining success in New York City and hopes to participate in the program for as long as possible. Down the road though, she knows that her career will entail a second return to St. Louis when she wants to be back in the community she loves and closer to her family. The gratitude she has in being able to regard the city as home is conspicuous and authentic, and those in the locale continue to listen to her on 101 ESPN for two hours each morning ahead of the station's local morning program.
"My only goal right now is to make UnSportsmanLike the best show that it possibly can be, and if that is the case, hopefully we have an amazing run with the show," Smallmon said. "That's the goal is to make it as amazing as it possibly can be and ride that wave for as long as we possibly can."
Smallmon never envisioned herself working in radio but now finds herself as a trusted voice in the mornings on a simulcast program within the network's on-air lineup. Through it all, she has remained true to herself while exhibiting an evident commitment and passion for the craft, valuing every chance she has to go on the air.
"People will always say things to me like, 'Oh, are you going to be the next Erin Andrews?,' or things of that nature," Smallmon explained. "And I say, 'No, I'm going to be the first and only Michelle Smallmon,' because the edge that I have over everybody else is that I'm me. There's nobody else that's me, and so if I can just be myself and be authentic every day and do that, anybody else can."
Derek Futterman is a contributing editor and sports media reporter for Barrett Sports Media. Additionally, he has worked in a broad array of roles in multimedia production – including on live game broadcasts and audiovisual platforms – and in digital content development and management. He previously interned for Paramount within Showtime Networks, wrote for the Long Island Herald and served as lead sports producer at NY2C. To get in touch, find him on Twitter @derekfutterman.