Baseball Play-By-Play Evolves On The Radio
"The Voices of Summer are on the case bringing you the National Pastime in its purist form, even if that art form has changed a little bit."
Baseball broadcasts on radio these days are not just about calling a game.  Broadcasters have to sell products, keep up interest in the team, entertain guests and oh yeah, deliver a quality call so you, the listener know what is happening in the game. 
Things have changed from the old days of baseball play-by-play. It's no longer a "straight forward" broadcast that deals with the game in front of them and really nothing else.
Now broadcasters have to be up on all the news from around the league, their team and be up on all the new statistical information provided to them. Plus, they have to entertain an audience no matter what the score or how their team is doing in the standings. It's not as easy as it may sound. 
Longtime Diamondback's play-by-play man Greg Schulte, now in his 21st season behind the microphone agrees, these aren't your father's baseball broadcasts. Innovation is alive for some teams.
"Candy (partner Tom Candiotti) & I have gotten in to more discussions about current baseball happenings," Schulte said. "We're doing twitter polls on-air.  Incorporated a Dbacks minute in place of a pair of half-inning commercial breaks. It's a lot different listening to a radio game now, than it was when I was a kid growing up.
"I loved using my imagination listening to Harry Caray & Jack Buck describe Cardinals baseball.  I still love talking about the stadium, team uniforms, scoreboard, hot dog vendors, as I bring people inside the ballpark. Try and be as descriptive as I can each and every night.", Schulte said. 
Ted Leitner who is calling his 40th year of Padres baseball (and my former partner in that booth) has a style that's all his own. The beloved broadcaster shared a thought on how he likes to keep an audience entertained.
"I've always thought baseball play by play should include stories-even occasionally non-sports stories and humor in a sport where there really is only about 12 minutes of action in a three hour broadcast." Leitner added, "Just 'ball 1 ball 2 and reams of stats I believe is insufficient."
The downside of trying to entertain is not everyone is doing a non-traditional broadcast. Leitner says, "Doing that can lead to criticism from fans and you'll get the 'just shut up and give the score' comments from listeners. (It's a) Matter of taste." says the veteran broadcaster.
I also wanted to know how broadcasters balance the game with everything else going on around.
"I'm still a stickler on letting the listening fan know what's going on, handling the play-by-play duties," Schulte says. "Nothing worse – in my mind – than someone listening and hearing the crack of the bat against the ball, and not get a description of what just happened. That's tough to manage when we have a guest in the booth."
It is becoming a little more common for teams to put front office members, celebrities at the park, and draft picks on the air for a half inning or more. The problem is the guests don't always understand that on radio every pitch needs to be called.
I've had situations come up where a guest just won't stop to let me get a call in. It's frustrating but at the same time, it's important to be a team player and allow for that possibility because the team wants that person or group on the air to promote something. 
Lastly, I was curious how each of these broadcasters handled replay reviews. Obviously listeners can't see the play that is being challenged, so what do you do?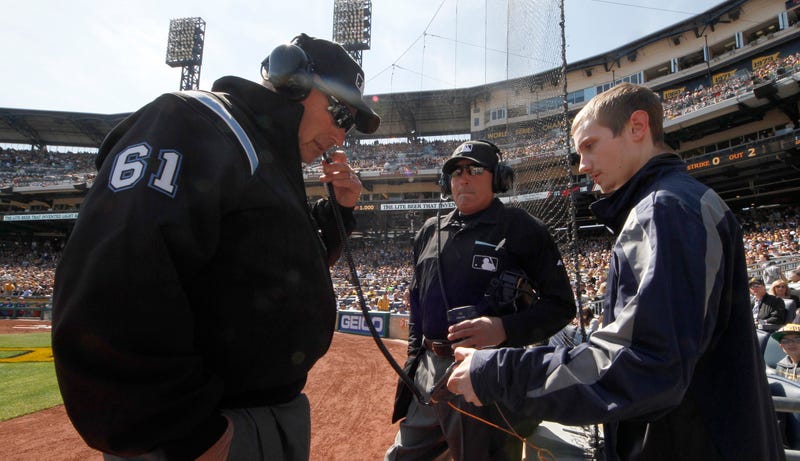 "On replays, Candy (Tom Candiotti) and I usually take a couple looks at the replay in question and form an opinion, right or wrong.", says Schulte. "I may throw in a few out-of-town scores if it turns into a long delay, maybe recap the scoring, but I'm always ready to move right back to what the ruling is from New York."
Leitner's approach is just slightly different.
"I think the focus on review has to be solely on that play. Watching the TV replay and passing that on to the listeners from every angle shown. We really don't need to fill much time for the average review span so there's no need to refer to any other play or subject."
No matter the era, or changes to the game, no matter the changes in philosophy for what a broadcast should be, baseball is meant for the radio. There's nothing better on a Summer afternoon or evening than sitting in your car or house hearing the crack of the bat, the murmur of the crowd, the vendor hawking his wares and a familiar voice. The Voices of Summer are on the case bringing you the National Pastime in its purist form, even if that art form has changed a little bit.

Andy Masur is a columnist for BSM and works for WGN Radio as an anchor and play-by-play announcer. He also teaches broadcasting at the Illinois Media School. During his career he has called games for the Chicago Cubs, San Diego Padres and Chicago White Sox. He can be found on Twitter @Andy_Masur1 or you can reach him by email at [email protected].
Does Mark Cuban See a Bubble That is About to Burst in Sports Media?
"The now-former Shark Tank star has a good track record of identifying the ideal time to bail."
America's top professional and college sports leagues have been living on easy street for the last ten years. Whenever their broadcast rights come up for negotiations, the NFL, NBA, NHL, Major League Baseball, the SEC and the Big Ten have been able to count on a line of bidders eager to get in on the action.
That party may be close to over though. Amin Elhassan of Meadowlark Media said last week that Mark Cuban may be the first to see it and that is why he is ready to sell off his majority stake in the Dallas Mavericks.
"That whole streaming money that everyone's been talking about for years, like, 'oh, when this next TV deal is up, it doesn't even matter if Disney and Turner aren't ponying up.' 'Oh, Amazon and Netflix are going to come in and just dump billions of dollars,'" he told co-host Charlotte Wilder on their Oddball podcast. "That's not been the case. So I think Mark Cuban's looking and he's saying, 'oh, this is the bubble and the bubble is about to burst.'"
He then pointed out that everyone in the NBA should be concerned if Cuban is the one with that vision. The now-former Shark Tank star has a good track record of identifying the ideal time to bail.
"He founded this thing called Broadcast.com," Elhassan explained. "They pioneered the technology that allows people to stream video on the Internet. The reason why you're able to watch anything on your phone, tablet or computer is because Mark Cuban and the company that he founded. He founded it and he sold it and within a few months, the dot com bubble crashed and that he made out like a bandit and everybody else was like Pets.com. 'Ahhhh! We broke!' So I definitely to me, it feels like the ship be sinking and 'let me get off before everyone starts to figure it out and clamor.'"
Now, it should be noted that Cuban was recently asked about keeping the Mavericks a family business and passing control of the franchise down to his kids one day.
"I wouldn't put them through it," he said on a recent edition of All the Smoke. He then went on to explain that team owners need to court investments from real estate developers.
"That's where the money is going be coming from potentially," citing expensive real estate deals like the ones to get new areas for the Golden State Warriors and Los Angeles Clippers.
It's very possible that Cuban doesn't see the single majority shareholder model as a viable way to own and run a team anymore. It's also possible he just wants to enjoy being rich and not have as many responsibilities. It was on that same episode of All the Smoke that the 65-year-old revealed his time on ABC's reality show Shark Tank is coming to an end.
But this is a sports media site. We pour over rights deals and potential deals looking for justification or game changing strategy. Let's dive into the idea that Cuban sees a bubble that is about to burst.
If Amin Elhassan is right, and that is indeed how Cuban feels, he is not alone. 97.1 The Ticket's Mike Valenti said the same thing earlier this year, although his prediction was less about the demand diminishing and more about customer dissatisfaction with the product.
Valenti's point is that leagues' rights will not hold their value if the streamers and networks they sell to make it hard for fans to see the games. The NFL is putting playoff games behind a paywall. Regular season action in Major League Baseball, the NHL, and college sports are already there.
Puck News founder and former editor of The Hollywood Reporter Matthew Belloni disagrees. He told me that the willingness to allow some big games to be streaming exclusives actually makes a league's rights more valuable to media companies in 2023.
"There's a big push in the entire streaming industry right now to raise profits, even at the expense of growing subscriber numbers and usage," he told me via email. "Using premium sports, the top driver of subscription and engagement, to increase profitability, makes perfect sense. All these games *should* be behind a paywall. Thats where they will benefit their broadcaster most, even if the leagues might want greater accessibility."
Cuban and other owners are yet to settle on new broadcast deals for the NBA. Commissioner Adam Silver may have been overly optimistic in insisting that the league could triple its current revenue in its next TV rights deals, but he and team owners have been willing and eager to look at new revenue streams and more modern broadcast deals in order to help them get there.
Still, it's hard not to think about two outlets when it comes to the NBA on TV – ESPN and TNT. Maybe other networks will get involved in the bidding, but at this point, it is hard to picture a world where those outlets and ABC are not airing NBA games.
Do Disney's plans for the future of ESPN inch us closer to a bubble bursting for media rights deals? If the network will be a streaming product by 2025, will Bob Iger and Jimmy Pitaro be more conservative with what they are willing to spend money on and how much they are willing to pay?
I asked Belloni if he expected the company's projections for what ESPN can generate as a streaming product are more likely to make it less agressive with the NBA and other rights deals in the short term.
"It's not a question of aggressive vs frugal, it's what does Disney need to compete in sports," he said. "Iger has said he wants ESPN to be available on streaming by 2025, which isn't that far away."
He added that it doesn't mean that competition stops. Other networks and streamers want in on the NBA. There are major commitments to the NFL, the SEC and others that Disney has to honor as well. Iger and Pitaro are not going to let those get away. They have to sustain the brand's value no matter what form the network takes.
"Renewing top tier rights like the NBA will be key to that push because ESPN will be an expensive product, but he also should expect less revenue in the short term because making ESPN available digitally will exacerbate cord cutting," Belloni said. "Hence why he is looking for a deep-pocketed partner to invest in ESPN and help defray the costs of those rights packages."
Amin Elhassan is an incredibly smart guy. He didn't simply see Cuban's sale announced and jumped to the conclusion that a rights bubble is about to burst and he did a great job of explaining that.
He did leave out the part about who is buying Cuban's stake in the Mavericks and what she plans to do with it.
Miriam Adelson is a Republican mega donor and widow of casino magnate Sheldon Adelson, who's Las Vegas Sands Corporation built three resorts in Las Vegas and seven other properties across Asia.
Sports gambling has become a right versus left issue in Texas, with Republicans coming down on the side of "ain't gonna happen." Adelson's investment in the Mavericks is said to include plans for an entertainment and casino complex near Dallas.
Mark Cuban may be "down to Earth for a billionaire," but he is still a billionaire obsessed with his public image. Remember how furious he was with Draymond Green in 2017 when the Warriors' star said that the term "team owner" invoked the unpleasant idea of one person owning another? Cuban is not completely abandoning the team. He will continue to run basketball operations in Dallas. If he really saw a rights bubble that was about to burst, it seems more likely that he would want to put as much distance as possible between himself and the perceived failure. 
This deal is not about Cuban's projections for sports media's future. It is about Miriam Adelson recognizing an opportunity to wield political influence and add a few billion to her net worth.
Demetri Ravanos is the Assistant Content Director for Barrett Sports Media. He hosts the Chewing Clock and Media Noise podcasts. He occasionally fills in on stations across the Carolinas. Previous stops include WAVH and WZEW in Mobile, AL, WBPT in Birmingham, AL and WBBB, WPTK and WDNC in Raleigh, NC. You can find him on Twitter @DemetriRavanos and reach him by email at [email protected].
As Sports Radio Leaders Prepare for 2024, Ask Yourself This One Question
Constantly, the leaders of major brands will say: "We're not in the radio business, we're in the content business." But if you're leaving out one entire area of content, are your words hollow?
I love reading, listening, watching, and consuming anything I can about our industry. But as sports radio continues to weather some uncertainty, I wonder why some of the things I hear leaders of our industry preach.
Constantly, the leaders of major brands will say: "We're not in the radio business, we're in the content business." But if you're leaving out one entire area of content, are your words hollow?
For the amount of content sports radio creates, we don't do a great job embracing digital video, which I will never understand.
There are some sports stations and shows that simply don't have to worry about this topic, because their shows are already airing on cable TV, right? The Michael Kay Show, Boomer & Gio, Felger & Mazz, The Best Show Ever?, and I could go on, all air on some form of traditional television outlet. But the rest of you? What are you doing?
Whether you're a Market Manager, Sales Manager, Operations Manager, Program Director/Brand Manager, Host, or Producer, as you make your preparations for 2024, the one question you should be asking is: Do we have a digital video strategy?
If the answer is yes, congratulations. That's awesome. Now, what platforms are you prioritizing? If your answer is no, ask yourself: why not?
There's a harsh truth that comes with what I'm about to say, that isn't popular with old-school radio programmers. But truth is like poetry, and most people f—ing hate poetry. If you're not on YouTube or Twitch, you likely don't exist to anyone under the age of 25. And if you look at the first number in your target demo, that age matters.
YouTube is the second-largest search engine in the world. You aren't likely to utter the words "Google doesn't matter", right? Then why in the world would you argue — as someone who's in the content business — that the world's largest content platform doesn't matter? It does! It absolutely does! And yet, so many stations don't have even the slightest idea that they should take the dozen or so hours of fresh, original, can't-get-anywhere-else content they produce and put it on YouTube.
Think of YouTube from your own perspective. How many times a week do you go to YouTube for literally anything? Several? Now, how often do you think people younger than you are using the platform? All the time. Literally, every day. The research that we all rely on for so many things will punch you in the face with the facts that younger audiences are using YouTube more and more frequently.
Digital video is everything radio loves: it's cheap, it's easy, and it's an extra revenue source. Heck, the platforms are free to publish your stuff! It is as easy as it's ever been to make killer-looking video.
The cost to start streaming your shows is unbelievably low for what the potential revenue can make up in return. If you don't have a sales team that would be eager to go out and try to sell a shiny new product, then you've got bigger problems than digital video. But I'd bet you dollars to donuts that if you walked into the sales meeting and said "Hey, we've got a cool new product to offer. We're streaming the shows on YouTube now, and we've got the ability to showcase (X) amount of sponsors in graphics, in product placement, in video commercials. Who wants in?", you'd be hard pressed to not find that elusive 13th month of ad dollars.
Can't monetize it with ads? Fine, do what ESPN Cleveland does and start a subscription service and put your video shows behind a paywall and make money that way.
Apprehensive about starting? Afraid the quality won't be up to your standards? You might be right. But you have to start somewhere. And taking that first step is the most important one.
All digital video does is enhance your product. While Don La Greca's "ED…BLEEPIN'….KRANEPOOL" rant is one of my favorite moments in sports radio history, it only gets better when you can see the veins popping out of his forehead and the crazed look in his eyes while shouting directly into an HD camera.
It takes people behind the scenes, and while audio is a more intimate medium, you can't pretend as if TV is going away. It isn't. But how we consume TV is changing, and YouTube is going to serve as the de-facto free, over-the-air home for video shortly.
Don't know where to start? Ask someone who is already doing it. How did they do it? What equipment did they get? How did they sell management on it? It isn't a different approach from any other special project you've wanted to get started or rolling at your station.
Guaranty Media in little ol' Baton Rouge produces some of the best video content I've ever seen from a radio show. Why? Because they prioritized it, put an emphasis on it, and are seeing the rewards. And yet, there are major market stations that either don't have a YouTube channel, are just now starting one, or have one that has been neglected and only featured a few hundred subscribers.
Other stations either don't promote their streams, or strictly put them on their own websites. I understand the thought process about hosting your video streams on your own website. But why try to create a party when there's already a gigantic party that has all your current and potential friends begging you to show up?
I hear people talk all the time about the future of the format, and how important it is to attract younger audiences, embrace new technologies, and other things that come across as just hollow buzz words used to make it sound like you're on the cutting edge. But I implore you to make 2024 the year you practice what you preach and start taking advantage of all the ways you can not only get in front of my ears and eyeballs, but all the ways you can make revenue for your stations, too.
Dive in head first. Take the leap. It isn't going to be easy to begin, but it'll be worth it in the end. I doubt you'll look back on it later and think "Man, I wish we hadn't started video streaming the shows". Stop hoping people find your content and start shoving it in their faces.
Garrett Searight is the Editor of Barrett Sports Media and Barrett News Media. He previously was the Program Director and Afternoon Co-Host on 93.1 The Fan in Lima, OH. He is also the radio play-by-play voice of Northern Michigan University hockey. Reach him at [email protected].
Will the NBA Be the Next League to Exclusively Stream Playoff Games?
Apple, Amazon, and Netflix are still going to try to find live sports rights, and the leagues will likely carve out a small package to dip their toes in.
In mid-November, the VP and Global Head of Amazon Prime Video Sports, Jay Marine was talking to John Ourand and Andrew Marchand on their podcast about the upcoming NBA media rights deal.
Currently, the Association has an exclusive negotiating window with the incumbent rights holders, Disney (ESPN/ABC) & Warner Brothers Discovery (TNT), until March 2024. The top Amazon sports exec said about Amazon's involvement once their window to negotiate opens, "something like the playoffs would be an important part of [our bid].
A few weeks later Amazon Prime was announced as part of NASCAR's new media rights deal that begins in 2025, as they'll get 5 Cup Series races per year as part of the deal, which expires in 2031. It will be the first time in the history of NASCAR its top series will be streamed exclusively.
On December 23rd, Peacock will air an exclusive NFL game between the Buffalo Bills and Los Angeles Chargers, and NBC Sports Group announced their A-team of Mike Tirico, Chris Collinsworth, and Melissa Stark doing the game from SoFi Stadium. This is the first year of their new 11-year media rights deal with the NFL which allows NBC Universal to stream one game per season exclusively on the streaming service.
It's been mentioned before over the past few years how much streamers want to get involved in live TV rights, but more than ever the sports leagues themselves are embracing the possibility. Are we as viewers ready for the change?
Regular season games have become palatable on streaming services. Along with the game on Peacock in a few weeks, the NFL has an International Series game airs once per year on ESPN+. Major League Baseball has had Apple TV+ air Friday night doubleheaders over the past two seasons, along with a Sunday afternoon game on Peacock as well.
The NHL as part of the new deal that went into effect for the 2021-2022 season has 75 games air exclusively on ESPN+ and Hulu. So in the grand scheme of things we've gotten used to it, but now with Jay Marine's comment, streamers want more, and will the leagues give it to them?
Though NBC has promoted it every time they mention the December 23rd game, people will forget, and I'm sure people will react with shock and horror at the fact an NFL Wild Card game will be streamed exclusively on Peacock this season.
As part of the agreement, the league will have NBC air 3 games during "Super Wild Card Weekend" this season. On Saturday, January 13th, they will have a 4:30 game which will air on NBC (and also available to be streamed on Peacock) and then the 8:15 game will air exclusively on Peacock. Every season during the 11-year deal with the NFL, NBC will also air a Sunday night playoff game.
Fans still complain when a playoff game aired on MLB Network or NBA TV is years past, so the fact the NFL took this chance is saying something. But as we know the NFL is probably the most teflon league in the country. They've aired games at 9:30 AM ET and we all watched, they added a "Black Friday" game on Amazon and we watched. For the other sports, this may not be the perfect sport to mimic.
NASCAR and MLS are niche sports in the country, so they can take chances with streaming, but remember with NASCAR ratings down this season they only chose 5 races to be streamed exclusively, with NBC and FOX getting most of the front and back half.  With the MLS all games are on Apple TV+ so they went with an all-or-nothing approach. Meanwhile, the NHL has struggled to find an audience in this country for years, so they are unlikely to place games exclusively to be streamed.
That leaves Major League Baseball and the NBA. For MLB, they can use the NBA as a test dummy, currently, FOX and TBS have their contracts through the 2028 season, while ESPN also has a contract through 2028, but they can opt out after the 2025 season. The NBA values the NBA Finals being on linear TV, so that likely won't change in the next deal, but with the addition of the In-Season Tournament, and a lot of playoff inventory, they can script out a package for a streamer.
The NBA is looking to double or triple their payout in the next deal from their current rights deals, but with the economy as it currently stands, the NBA will not get that money from only Disney and WBD, since both are likely going to cut games, but still want important games. This means the NBA will have to involve one if not two more partners. But to get the partners to be more enticed to pay a high price, they need to give them something marquee.
WBD will want to keep the All-Star Game, at least one exclusive night a week, and playoff games & a conference final. Disney will sacrifice not doing two nights a week for basketball, maybe one night on ESPN and windows on the weekend for ABC, along with playoff games and the NBA Finals.
What I see as likely for the NBA to get the money they want, and to maybe advance to streamers is to definitely have NBC as your third partner, and what they have done with MLB and NFL as your blueprint.
Suggested NBA-NBC Deal
Alternate NBA Finals with ABC starting in 2026

ABC will get 2025, NBC gets 2026

In Years they do not have the NBA Finals they will get a Conference Final with TNT

2025: NBC Eastern Conference, TNT Western Conference

2026: ABC Western Conference, TNT Eastern Conference

2027: NBC Western Conference, TNT Eastern Conference

2028: ABC Eastern Conference, TNT Western Conference

Alternate In-Season Tournament Knockout Games with TNT & ESPN/ABC
Sunday Night Basketball – begin package right after the NFL Season Ends
Stream 10-20 Games on Peacock, Select First Round Playoff Games on Peacock
With this deal the NBA probably gets the money they want in the deal, NBC Universal gets more product for Peacock, and almost creates Sunday night is where you go for the best of sports. It also may lighten the pressure on the NBA if they don't feel comfortable giving the new streamers postseason games, but still room to carve out a regular-season package.
Apple, Amazon, and Netflix are still going to try to find live sports rights, and the leagues will likely carve out a small package to dip their toes in, but I do believe we are still a few more years away from seeing postseason games from those leagues away from TV.
Moses Massena is a Sports Television veteran, working for Regional and National Networks. Most recently the Seton Hall University Graduate spent 14 years at MLB Network, working in roles from researcher to segment producer to Producer at the league-owned network, winning 7 Sports Emmys for his contributions to "MLB Tonight". The New York native has also worked a producer at MSG Network, and served as a researcher for FOX & ESPN. Moses started his professional television career working at SNY from 2007-2009. To connect with Moses, find him on Twitter @MosesMassena16.