Why Was Sports Radio Obsessed With Game Of Thrones?
"I think most people have treated Game of Thrones as the equivalent of a sporting event. Either watch it when it airs live or that's on you."
It's finally all over and from what I gather, most people are unhappy. Look, before you read what I have written about Game of Thrones you should know I have never seen an episode of Game of Thrones. I'm not one of those dorks that wears that fact like some badge of honor. I just never got into it eight years ago and didn't feel the need to catch up to be a part of the final season.
Of course, I also don't remember the kind of hype for this show that we have seen this season ever existing before this season. Sure, back in 2016 when I was doing mornings with Mike Maniscalco and Lauren Brownlow on Buzz Sports Radio in Raleigh we would make Lauren describe the grossest thing that happened on that week's Game of Thrones every Monday morning. There would be plenty of listener disagreement on Twitter, but I don't remember sports radio losing its mind over this show the way it did for season eight.
Why was our format so obsessed with this show? I asked people whose fandom ran the gamut from obsessed to never having seen an episode.
"Game of Thrones sends viewers to the internet to study the same way fans prep themselves for a fantasy football weekend," said 95.7 the Game afternoon host Damon Bruce. "We all watch Sunday, discuss what happened through Wednesday, then pivot to 'what's next' by Friday. It's just like the NFL sports talk radio schedule."
"As my son said to me, 'GoT is Harry Potter for adults.' It's like Bruce Springsteen and The Rolling Stones – most sports radio listeners are into it!" said Mike Thomas, PD of 98.5 the Sports Hub.
When I asked him if he could remember anything that has received a similar reaction Thomas says "Seinfeld would've been close, but there weren't near as many sports radio stations in the 90's and most of the ones that were doing sports then, were doing straight sports."
Bruce echoed that sentiment and added that social media has been the engine that helped Game of Thrones take over the world. "We probably all watched, The Wire, Sopranos, Deadwood, Breaking Bad, but we didn't have social media driving our conversations. Game of Thrones is a great show for anytime, but perfect for our time."
Fox Sports Radio morning man Clay Travis is known as one of sports radio's biggest Game of Thrones fans. His Twitter commentary on the show regularly receives thousands of interactions.
"I get way more positive feedback on my Game of Thrones than I do my sports opinions," Clay told me in an email. "I think that's because everyone is on the same side with Game of Thrones, it's one large fan base as opposed to 32 NFL fan bases or 100 college fan bases. Everyone is rooting for the show. So the fan base is just massive."
The show hasn't been every host's idea of great material. Plenty of hosts and programmers told me that they felt their audience didn't want to hear the show discussed on sports radio.
Mo Egger of ESPN 1530 in Cincinnati told me that he isn't averse to bringing pop culture topics to his show. He trusts that as long as he is being authentic his audience will follow him wherever he wants to take the conversation, but in a town like Cincinnati, where fans have experienced nearly three decades of playoff futility, there's a desire to talk about the potential for a better tomorrow.
"I've spent way too much time sitting in front of a microphone and talking about next year, but I'm always struck by how people keep coming back," he told me. "Maybe their financial investment in the teams isn't what it was, as both teams have had attendance issues, but in large part because of how parochial this town is, there is still an incredible, deep passion for these franchises that not even decades of not advancing in the playoffs (28 years for the Bengals, going on 24 for the Reds) can kill. Every year, I hear someone wonder about Reds and Bengals apathy, and every year I'm struck by how many people keep coming back."
Armen Williams, who recently took over as program director at SportsRadio 610 in Houston, told me once in a phone conversation that he feels like the NFL is always a safer content choice for his hosts than pop culture topics.
"Every market has its own content filter of what's important to the listener," he said when I asked him via email to elaborate. "We're in Houston, Texas! There's the phrase often used in our industry, 'NFL is king.' We're in an NFL city with a team who made the post-season last year, and they have a franchise QB. All of those factors, and more, play into the decision of what is attractive to talk about on a daily basis."
Ultimately, the appeal of Game of Thrones is what kind of content it can create for your show or your station. Williams even said that while he thinks the NFL is a safer content choice, he still has shows that talk about Game of Thrones and he isn't opposed to it.
"The GOT topic is no different than any other lifestyle or off-topic conversation on the sports radio format. If the host is passionate about it and can make it engaging, then spend the amount of time on it that they feel is appropriate using the previous stated filter."
Content can come from either an undying passion for the show or from serious apathy towards it. JOX 94.5 in Birmingham made headlines when its morning show The JOX Roundtable brought the HBO mega-hit up during an interview with Alabama coach Nick Saban, who it turns out is a huge fan.
"I was told he is a huge fan by one of his main guys," JOX Roundtable host Lance Taylor told me in an email.
Nick Saban has a reputation as one of the best recruiters in college football. Fans of the sport have become accustomed to seeing videos on social media of the accomplished coach dancing at recruits' homes with their parents and other relatives. The joke has always been that he won't be caught in a situation where a mom or grandmama hits him with a dance he doesn't know.
I asked Taylor if he thought the same might be true for Saban's GOT knowledge. "He lit up when we started talking about it," Taylor said. "Seemed legit to me."
Mike Wise of WUSA in Washington, DC and The Mike Wise Show podcast has created great social media content based on not watching Game of Thrones. Every Sunday night for the last month, he has led a Twitter-based support group known as Shame of Thrones or #SOT for those not in on the cultural phenomenon.
"I was watching this really good show on PBS called Unforgotten, about this cold-case homicide unit in London that tracked down decades-old murders, and wanted to talk about it with people who might have saw it," Wise tells me when asked how #SOT got its start. "And I think it was Sunday night about two or three weeks ago. And I couldn't find anybody to talk about Unforgotten, because everybody's world was frickin' forgotten the moment Game of Thrones came on. Twitter was all ablaze with Game of Thrones Tweets. Like, everybody. Or everybody I followed anyway. I knew it was popular, but this was a whole new level. For the first time in how many years of this show, I felt left out, like the kid trying to jam his way into the circle on the playground, where everybody else is checking out Call of Duty on someone's IPAD but you can't catch a glimpse."
Wise told me that one of his favorite phenomena to come out of #SOT is when his support group starts to look and sound a little like any number of 12-step programs.
"My most satisfying moment is when someone uses a recovery term — ostensibly from a genuine support group — and incorporates it in the #SOT thread. It reminds me that as big as a cultural wasteland as social media is, some people actual get my warped sense of humor."
A few weeks ago in my column, I noted that we were watching the end of Game of Thrones play out at the same time that we were watching the end of The Avengers story. More people saw Avengers: Endgame than have seen an episode of Game of Thrones, so why has sports radio and social media gone crazier for the HBO show?
"I do think the difference here is everyone watches Game of Thrones at the same time," Travis told me. "People are worried about spoilers for Endgame. Whereas I think most people have treated Game of Thrones as the equivalent of a sporting event. Either watch it when it airs live or that's on you."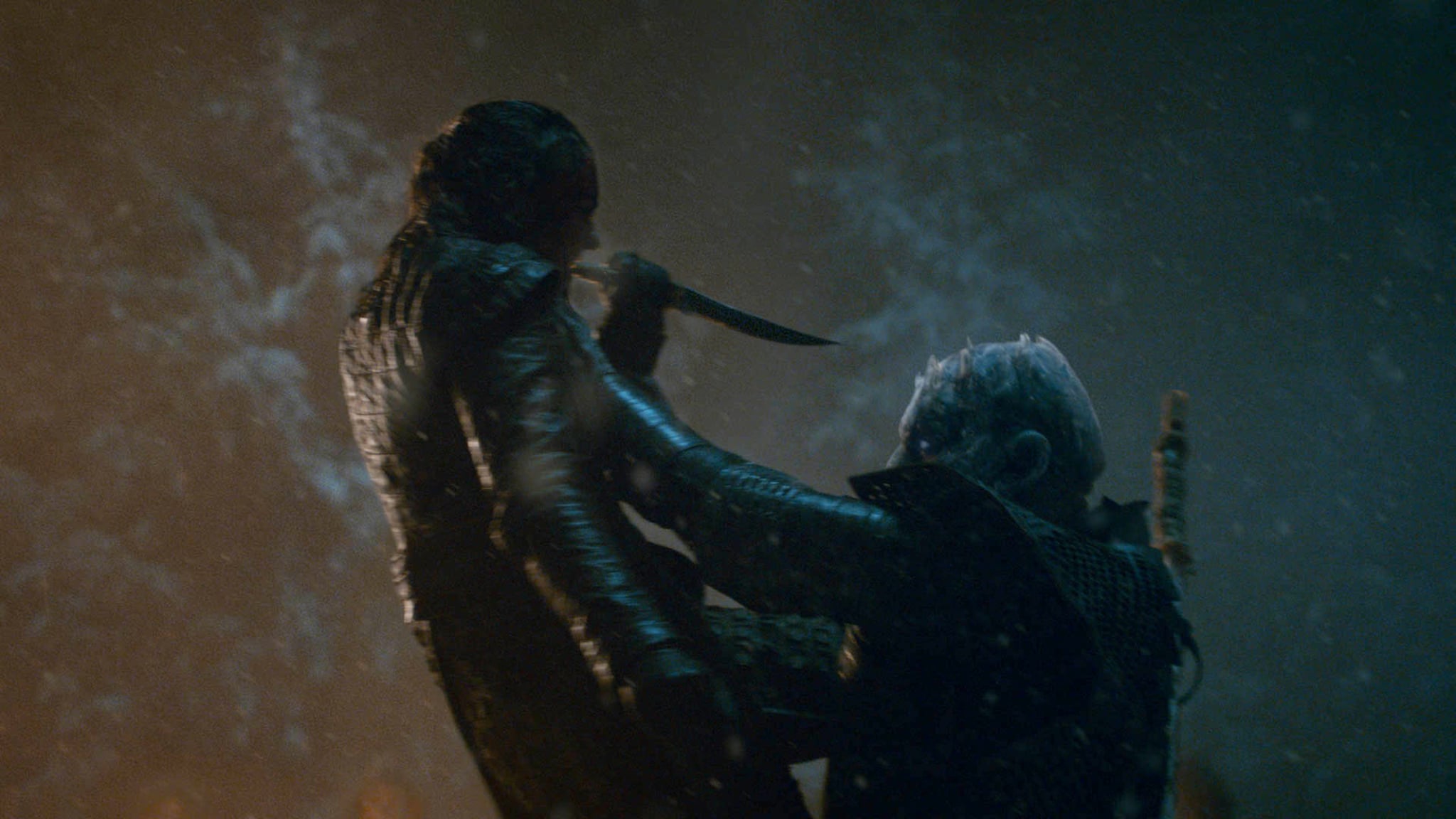 That real-time reaction may explain why the sports media fell so hard for Game of Thrones this year. Whether it was live Tweeting or reaction videos, there was an element of the Game of Thrones fan experience that so closely mirrored the way we experienced Kawai Leonard's miracle shot to send the 76ers packing – we sat in disbelief and then ran to the digital town square to fire off our best jokes, make historic comparisons, or whatever else we did just to make sure others saw it too. That is the kind of passion sports radio has always been built on.
Demetri Ravanos is the Assistant Content Director for Barrett Sports Media. He hosts the Chewing Clock and Media Noise podcasts. He occasionally fills in on stations across the Carolinas. Previous stops include WAVH and WZEW in Mobile, AL, WBPT in Birmingham, AL and WBBB, WPTK and WDNC in Raleigh, NC. You can find him on Twitter @DemetriRavanos and reach him by email at [email protected].
Marcus Spears is One of One
"His laugh is infectious. His facial expressions are memorable. He just makes for good TV."
Paychecks for the likes of Stephen A. Smith and Troy Aikman make headlines. The hiring and promotion of Pat McAfee started an industry-wide conversation. They all matter to ESPN, but none of them are as valuable to the network as Marcus Spears.
If that was something you didn't know, it should be clear after last week when he took an entertaining moment on First Take, and turned it into the central conversation on social media just by naturally reacting to Chris Russo's weekend plans.
Sports media is the entertainment business. Knowledge and insight are great, but they are useless if you are not interesting enough to hold the audience's attention. Even the most successful and seasoned veterans in our industry can lose sight of that reality. Spears never does and more importantly he regularly delivers in both areas.
Marcus Spears's strength is his emotion. The man has absolutely no pokerface and that's a good thing for the audience. His laugh is infectious. His facial expressions are memorable. He just makes for good TV.
Coaches and producers are looking for the same thing. They need players and performers that are difference makers. They are stars and they can make stars out of the men and women around them. That is Spears to a tee.
For a man who earned a spot in the NFL Draft and banked millions by making quarterbacks' lives hell, Spears has been heaven sent to the quarterbacks at ESPN. His partnership with Dan Orlovsky on NFL Live is the heartbeat of the show. Sure, Mina Kimes's breakdowns are awesome and Adam Schefter's information is what makes the show essential for so many fans, but it is the interplay between Spears and Orlovsky that makes the show entertaining.
Spears is a Louisiana foodie from Baton Rouge. Orlovsky drinks red win with ice in it and thinks any spice beyond salt and pepper is too much. The fact that they not only get along, but genuinely love one another, makes the frustration Spears can feel for Orlovsky better than anything else in ESPN's day time lineup.
The first time I met Spears, it was on the set of Thinking Out Loud, the show he did on the SEC Network with Greg McElroy and Alyssa Lang. Within five minutes of his arrival on set (he was dressed like Kiss's Gene Simmons for the show's Halloween 2018 episode), it was easy to see that he was the glue.
I'm not the world's biggest McElroy fan outside of game analysis, but Spears softened him and made the former Crimson Tide quarterback downright likable. That was the emotion shining through. Spears is insanely likable and he is fun to be around. You don't have to be in the same room with him to know that. It comes through your TV screen when he is on. If he is cool with Greg McElroy, then the audience knows it can be too.
My mom adores Marcus Spears. She wants him to come to her home in Alabama so she can cook Greek food for him and listen to his stories. I told Marcus this when we met in 2018 and he responded "That's not a surprise. Mamas love me."
It was maybe the second or third thing we said to each other after "hello" and he already had me laughing and feeling like we were best friends. Not just anybody can do that.
But Spears does so much more than just make people feel good. Look at this clip of him on NFL Live in 2021 talking about the video of Urban Meyer receiving a lap dance from a woman that is not his wife at a restaurant in Ohio.
Spears drew on his experience as a player in the league and on the opinions he had of the Jacksonville Jaguars, who Meyer had coached to an 0-4 record at that point, to deliver a scathing take down of a guy that is rightfully remembered as the worst coach in the history of the NFL.
His thesis was clear. He was careful to note that he took his time to arrive at his conclusion, and his belief could not be shaken. That is then kind of conviction I want from a talking head demanding a coach should be fired.
Few people can communicate the way Marcus Spears can. He is clear with his opinions and finds the right balance between boldness and brevity. He is willing to answer any question you ask, but he answers in a way that is easy for the audience to digest and remember.
I just think the world of Spears as a TV presence. There are some people that are so entertaining as their authentic self that I could listen to them talk about anything and be captivated. Most of them are comedians. In the sports media world, Spears is one of one.
Demetri Ravanos is the Assistant Content Director for Barrett Sports Media. He hosts the Chewing Clock and Media Noise podcasts. He occasionally fills in on stations across the Carolinas. Previous stops include WAVH and WZEW in Mobile, AL, WBPT in Birmingham, AL and WBBB, WPTK and WDNC in Raleigh, NC. You can find him on Twitter @DemetriRavanos and reach him by email at [email protected].
Chad Johnson Won't Make Inside the NFL Sound Like Algebra
"The chemistry is much better when you're working with people you have certain things in common with and the fact that we all played makes it that much easier."
During his 11-year NFL career, Chad Johnson always seemed to be a natural in front of the microphone. He was so comfortable around the media and so entertaining with what he had to say, that one would think the six-time Pro Bowl wide receiver always had his sights set on eventually being involved in the media.
"No, I never really thought about it honestly, but it's something that I enjoy doing," said Johnson who is now an analyst on the new season of Inside the NFL on The CW Network Tuesdays at 8 p.m. ET.
The show was launched 47 years ago and was a staple for many years on HBO and Showtime. Inside the NFL takes a look at the previous week's action captured by NFL Films with a behind the scenes look how at how the games unfolded.
The long-running show has always been prime real estate when it comes to sports television, and Johnson is honored to be a part of it.  
'It means a lot to me," said Johnson will be enshrined into the Cincinnati Bengals Ring of Honor at halftime of Monday night's game against the Los Angeles Rams. "Obviously, this is something that I would never have thought I would ever be a part of so to be a part of something that is iconic and has great tradition behind it and something that was started a long time ago by Steve Sabol has been a tremendous honor."
Johnson is part of a star-studded cast on Inside the NFL.
Ryan Clark, who spent 13 years as a safety in the NFL, including a Super Bowl XLIII title with the Pittsburgh Steelers, is the new host of Inside the NFL. He is also an analyst on ESPN's Monday Night Countdown and has been a regular contributor for ESPN shows including NFL Live and Get Up.
Being able to work with Clark has been very important to Johnson, who admits he is still getting his feet wet in broadcasting.
"Ryan is probably one of the best in the game at what he does," said Johnson. "He's very sharp, very smart and very media savvy. My expertise was being savvy with the media in front of the microphone more for entertainment purposes. Having Ryan and trying to follow behind him and what he does and how to do it the right way has been awesome."
Channing Crowder spent six seasons in the NFL as a linebacker for the Miami Dolphins and now hosts a sports radio show in South Florida.
Jay Cutler, who spent 12 seasons playing in the NFL, was a Pro Bowl quarterback and spent time playing for the Denver Broncos, Chicago Bears and Miami Dolphins.
And the cast is rounded out by Long, an 11-year NFL veteran who played defensive end for the St. Louis Rams, New England Patriots and Philadelphia Eagles.
It's a cast that Johnson is very familiar with.
"Seeing the cast and seeing the people behind the scenes that I was going to have the opportunity to work with made my decision (to join the show) much easier," said Johnson. "The chemistry is much better when you're working with people you have certain things in common with and the fact that we all played makes it that much easier."
While Johnson enjoys breaking down a game that was already played and looking ahead to the following week's action, there is one aspect of being an analyst that has difficult for him.
As a former player, Johnson does not like having to criticize players who had a bad game. While other former players have found it easy to do, Johnson struggles with it but hopes to find a happy medium.
"It's the nature of the beast so I'm going to find a way to navigate it and critique in a way that's positive and not being so critical," admitted Johnson. "I remember feeling bad and I don't want to be the one on TV having to do the criticizing when I know what it feels like. It's just something I have to deal with and I'll find a way to navigate through it."
Johnson does feel like he brings something special to the table in how he can break a game down, especially from an offensive perspective. He doesn't want to confuse the audience so he has found an approach that he believes can help football fans understand what happened during a particular play or during an entire game.
"It's been very exciting," said Johnson who once competed on Dancing with the Stars. 
"A lot of people can relate because I can break it down in such a way where people will understand what I'm talking about and it's just not X's and O's and it's doesn't feel like calculus. I break it down in simple terms using analogies that people will understand and that makes the game much easier to those that are watching."
Johnson also likes bring out his crystal ball.
Once known as "Chad Ochocinco", Johnson has his own segment on the show called "Ocho Predicto" where he picks the winner of one game each week.
He is 3-0 after Week 2 this season.
"Being the fact that I'm always right when it comes to picking games, it just made sense," said Johnson. "I will probably go 17-0 this year and be able to guess the playoffs as well."
Chad Johnson has accomplished a lot during his football career and now he's on the other side of the microphone and camera as an analyst. Now, as part of Inside the NFL, the entertaining and flamboyant Johnson appears to be on his way to excelling as part of the football media.
Peter Schwartz has been involved in New York sports media for over three decades. Along the way he has worked for notable brands such as WFAN, CBS Sports Radio, WCBS 880, ESPN New York, and FOX News Radio. He has also worked as a play by play announcer for the New Yok Riptide, New York Dragons, New York Hitmen, Varsity Media and the Long Island Sports Network. You can find him on Twitter @SchwartzSports or email him at [email protected].
Tricia Whitaker Will Find The Story That Matters
"My role is to really bring the viewers down to that level of the dugout and into the clubhouse."
When St. Louis Cardinals designated hitter Albert Pujols hit his 700th career home run in his final season in the majors last September, the baseball world erupted in mass jubilation. Although the milestone achievement occurred during a road game, the fans still showered one of the sport's quintessential athletes with praise as they witnessed the fourth player enter this exclusive pinnacle of power hitters. For fans watching from afar, they were treated with crisp, vivid footage of the moment since the matchup was exclusive to Apple TV+ as a part of its Friday Night Baseball slate of games.
The game broadcast featured field reporter Tricia Whitaker, who had just joined the Apple TV+ presentations to begin the second half of the season. Being there as one of the voices tasked with keeping viewers informed and captivated by the action was a special experience that she will never forget.
"You're talking about the best cameras in the entire world capturing one of the most iconic players ever," Whitaker said. "I thought the call was amazing; I thought the quality of the shots was amazing [and] I'l never forget that broadcast, ever, because it was so cool."
Whitaker grew up in Bloomington, Ind. and would journey to Wrigley Field with her father once per summer to watch the Chicago Cubs. Through those games, she realized that a ballpark was her ideal future workplace.
"We just didn't have a ton of money, [so] I would sit in the nosebleeds with him once a summer and that was the biggest treat in the world," Whitaker said. "I just realized that I loved telling stories and I loved sports, so I decided to do that."
Whitaker's journey in the industry genuinely began as an undergraduate student at Indiana University Bloomington where she adopted a mindset to seize any opportunities offered to her. Despite having no knowledge or previous reporting experience, she accepted a role to cover a tennis match and quickly started preparing. After one of her professors saw her nascent media acumen, they recommended she audition for the university's student television station to hone her skills. Whitaker earned a spot and began covering Indiana Hoosiers basketball and football for the show Hoosier Sports Night. From there, she simply kept on accepting anything in her purview.
"Your best asset is your availability, so I basically just said 'Yes' to everything," Whitaker articulated.
Once it became time to search for a full-time position, her experience and tenacity helped her land a role at WBAY-TV in Green Bay as a sports reporter and anchor. After two football seasons working there, Whitaker relocated closer to home to report for WTTV-TV Channel 4 in Indianapolis. The time was valuable for her to cultivate new relationships with those around the industry while strengthening existing ones, serving as a foundational aspect of her reporting.
"If they don't trust you to tell their stories, they're not going to talk to you," Whitaker said. "You have to be able to have a good relationship with the players; with the coaches and everybody involved."
At the same time, Whitaker felt compelled to make a lasting contribution to Indiana University through teaching and inspiring the next generation of journalists. She is now an adjunct professor for the IU Media School and wants her students to know how integral it is to make themselves available while being open and willing to try new things to make inroads into the profession. 
"There's always a story to be told, so even if it's a random event that you don't think anyone's paying attention to, there's people there; there's human stories and their stories matter," Whitaker said. "That's what I always try to tell my students is [to] just find that story that makes people interested in it and find that story that matters."
Over the years working in these dual roles, Whitaker became more skilled in her position and proceeded to audition to join the Tampa Bay Rays' broadcast crew on Bally Sports Sun as a field reporter. When she received news that she had landed the coveted job, she remembers starting to cry in her closet while trying to organize her clothes. After all, Whitaker had just learned that she would get to perform the role she idolized when she was young. The access her role gives her to the players and coaches on the field is not taken for granted.
"I'll interview hitting coaches about a guy's hands and where they've moved and about his stance," Whitaker said. "….In the next hit, I'll tell a story about a guy who drinks a smoothie every day before the game and he feels [that] putting spinach in it has really made a difference or something like that. My reporting style is pretty much all of it, but I do like to do the human interest stories more than I like to do anything else because I think that's unique."
After each Rays win, Whitaker takes the field and interviews one of the players on the team. Earlier in the season, she remembers speaking with Rays outfielder Jose Siri after he drove in three runs against the Detroit Tigers; however, the broadcast was not on Bally Sports Sun. Instead, she was doing the interview for Friday Night Baseball on Apple TV+, a national broadcast property the company pays MLB an estimated $85 million annually to carry. Going into the interview, Whitaker knew that she would need to appeal to more than just Rays fans and appropriately started the conversation by asking about the game.
Yet she also knew that it was "Salsa Night" at Comerica Park in Detroit and thanks to her work with the regional network, was cognizant of the fact that Siri likes to dance in the dugout. As a result, she concluded the interview with a request for Siri to demonstrate his salsa dancing skills, something that made an ordinary conversation stand out.
"I tried to personalize it a little bit to help people get to know Jose Siri a little bit better because I think that's important," Whitaker said. "….You make sure you talk about baseball, but then you add a little flair to it; add a little personality to it. Everybody loves salsa, right?"
The Apple broadcasts require Whitaker to prepare as she executes her role with the Rays, keeping her wholly invested and consumed by baseball. There are occasions where she is afforded the luxury of reporting on Rays games for her Friday night assignment, but they are rare. Therefore, she needs to become familiar with two teams by reviewing statistics, reading local reporting and conversing with those involved. She keeps her notes on her cell phone and makes lists of what she is going to do during the day to keep herself organized and focused.
Throughout the week, Whitaker actively prepares for the Friday night matchup and meets with her producer to contribute her ideas and learn about the macro vision of the broadcast. The Apple broadcast, aside from using high-caliber technology, also regularly equips microphones to place on players that allow viewers to hear what is transpiring on the field. Whitaker, along with play-by-play announcer Alex Faust and color commentator Ryan Spilborghs, coordinate with the production team throughout the game to present an insightful and compelling final product.
There was criticism of the Apple TV+ live game baseball broadcasts during its inaugural season, but the noise continues to diminish in its sophomore campaign. Whitaker views her role as accruing a confluence of stories about the game and more insightful looks at the personalities on the field. Before each contest, she interviews a player in the dugout and asks questions that put the season in context, granting a comprehensive understanding about a subset of their journey.
"We try to get their thoughts on the season so far at the plate, but also try to get to know them on a personal level," Whitaker said. "My role is to really bring the viewers down to that level of the dugout and into the clubhouse."
It is considerably more facile to execute such a task before the game than it is during gameplay because of the introduction of the pitch clock. While it has undoubtedly sped up the game and made the product more appealing for fans of all ages, its actualization threatened the viability of unique aspects of baseball broadcasts. The Apple TV+ crew may work together once per week, but over a 162-game season spanning parts of seven months, there is a perdurable bond and unyielding chemistry evident therein.
"Everybody on that crew – and I seriously mean this – is so supportive no matter who you are as long as you do your job well," Whitaker said. "They don't even think about the fact that I'm a female in sports [and] they just support me. They help me take constructive criticism because they care and because they truly see me as an equal."
Whitaker has had the chance to report from Wrigley Field with Apple TV+ and vividly remembers her experience of stepping inside as a media member for the first time. It was a surreal full-circle moment that has been the result of years of determination and persistence to make it to the major leagues.
"I walked into Wrigley and I started to tear up because I remember when my dad and I used to go there and I was 12 years old," Whitaker stated. "If you would have told me at 12 years old [that] I would be doing a national game at Wrigley, I would have told you [that] you were lying because I just wouldn't have thought that was a possibility."
Although Whitaker is receptive to potentially hosting regular sports programming in the future, she has found the joy in her roles with both the Tampa Bay Rays and Apple TV+. Being able to experience historic moments, including Pujols' milestone home run, and then diving deeper into the situation makes the countless flights, hotel stays and lack of a genuine respite worthwhile. She hopes to continue seamlessly fulfilling her responsibility this Friday night when the New York Mets face the Philadelphia Phillies at 6:30 p.m. EST/3:30 p.m. PST, exclusively on Apple TV+.
"There's always a story to be told, and if you're good at your job, you're going to find that story even on a day where you're like, 'Oh gosh, there's nothing going on,'" Whitaker said. "I take that pretty seriously."
Derek Futterman is a contributing editor and sports media reporter for Barrett Sports Media. Additionally, he has worked in a broad array of roles in multimedia production – including on live game broadcasts and audiovisual platforms – and in digital content development and management. He previously interned for Paramount within Showtime Networks, wrote for the Long Island Herald and served as lead sports producer at NY2C. To get in touch, find him on Twitter @derekfutterman.