It Had To Be Connections For John Gambadoro
"I try to give my audience insight that nobody else has, that nobody else knows. I can tell them what's going on with the team, what's going on with a player, what's going on with a coaching search. That's what I live for."
John Gambadoro has carved out a 23-year career as a sports radio host in the Phoenix market. A run this successful doesn't happen based on skill alone, which Gambo clearly has. It takes passion to thrive for over two decades.
Gambo has also developed an extensive contact list in order to uncover information that nobody else has. That doesn't happen by sitting on the couch until it's showtime. It takes a strong work ethic. Many hosts speculate about players and teams. Gambo reaches out to them directly.
Gambo is a firm believer in connections. He stresses the importance of forming relationships to interns and people trying to establish themselves in the business. It's fitting because Gambo has built his success on the foundation of connections himself — from his unconventional start in the sports radio business, to the information he gathers on a continuous basis. Gambo is a great example that no one in this industry becomes successful on their own.
A radio career that began in Phoenix is one that Gambo sees ending in Phoenix. He has accumulated many fond memories — one being a dunk tank of all things — and has no desire to leave the market or Arizona Sports 98.7FM. One of the most interesting details that Gambo also reveals in this interview is the sports radio host he least wants to be like. Enjoy.
Brian Noe: What's the one thing you love most about sports radio right now?

Gambo: I really think that sports radio for the last decade and a half has become the main medium for sports fans to get their news and information. Newspapers are dying. Local sports television is dying. A lot of it is down to a minute and a half a night. The best place for fans to really get their information is sports radio. We're the one medium that hasn't taken a hit.
Our company is growing. Our business is growing. Our listenership, it's growing and it's fascinating to me because everybody else — there are a lot of people in the industry that are struggling. They haven't changed with the times.
I think what the fans like about it is, if I do an interview with the manager of the Diamondbacks, or with the general manager of a team, or a player of a team, fans get to hear that whole interview. In a newspaper you might have one line or two lines of what they said. On TV you may get just a snippet of what they said, but [on radio] you get the whole interview. You get to hear what everyone said. You get opinions. You get breaking news. It just continues to grow and get better and better while other mediums have struggled. As a radio group, I think we continue to be the main source for fans to turn to. Plus, there are still so many people in their cars on a regular basis. We're their outlet for what they can listen to.

Noe: What would you say is the most challenging part of sports radio for you these days?
Gambo: For me personally, I go to a lot of games. I go to the Cardinal games, the Suns games, the D-back games, the ASU games. My role is a little bit different. Yes, I have a talk show and yes I'm opinionated, but I also am a reporter from my background. My background is being a newspaper reporter. I am all about developing contacts, getting sources all around the different leagues and breaking stories. That's what I do. For me personally — it might be different for everybody else — but for me personally it's just, man, how do you manage your time? I've got a wife. I've got kids. I've got D-back games to go to. I've got press conferences to go to. It's busy. That's just the hardest part is just managing your time.

Noe: When you have strong opinions and you're also a reporter, how do you keep those relationships strong with teams if you're hammering them at times?
Gambo: Respect. I go to the games. You have more respect when you go to the games. You're entitled to your opinion and they don't criticize you because you're there. Back when I started doing sports radio in '97, almost everybody that had a press pass went to the games. But now that's changed a lot. There aren't many people that go to the games anymore. Me criticizing I think is accepted more so because, "Oh, he's there. He was in the locker room." I'm there.
I think when you're not there and they never see you, there is a lack of respect. Then when other people criticize, it's like, "Well, who are you to say something because I've never seen you at a game."
I think the key is you've got to be accountable. We get these press passes. We all get them. We all have a press pass, but a lot of people choose not to use them. I've always chosen to use it.

Noe: What's the reason there is a lack of strong sports talk competition in Phoenix?
Gambo: That's a good question. I don't think anybody else is committed to doing it. It takes a commitment. We have an amazing company that is committed to providing the audience with the best sports content, the best talk show hosts. We have the rights to the Cardinals, the Suns, the D-backs, the Coyotes, ASU, and now the Phoenix Rising — the soccer team.
We're committed to content. We're committed to a great staff. We have an amazing, amazing web department. Our podcasts, our app, our ownership group, and our management group are second-to-none.
There is nobody like our management group. They are just committed to supporting us and making sure that we have the tools necessary to dominate. That's where it starts.
It's just like a sports team. It starts at the top. You have to have great ownership that's committed to winning. You have to have great management that's committed to winning. We have that. It makes our job a lot easier when you go to work every day and you've got a support staff that is literally — I think ours is second to none in the country. I can't imagine anybody has a better support staff than what we have.
Noe: Where does Kyler Murray rank among other players in the Phoenix area — past and present — in terms of being a lightning rod that produces opinions?
Gambo: Right now he's at the top of the list because they traded up to draft a quarterback [Josh Rosen] in the first round. Then they got a second round pick for him. They bring this kid in who's apparently too small. He has been our top topic from the day he announced that he was going to play football instead of baseball. The speculation began.
Now I go back to lightning rods like Jeremy Roenick and Keith Tkachuk, Curt Schilling, Randy Johnson. There have been a lot of lightning rods. Steve Nash when he went to the Lakers. Luis Gonzalez when he went to the Dodgers. We have a major hatred for L.A. teams here. Anytime a guy goes to L.A. — A.J. Pollock went to the Dodgers — that's always a lightning rod. From an excitement standpoint, everybody can't wait to see this kid Murray. I don't think in my time here there's been anything like it.

Noe: Who has been the most interesting Phoenix sports figure for you to talk about personally?

Gambo: Probably the Suns owner Robert Sarver because they haven't won in nine years. He's made a lot of poor decisions. There are a lot of opinions about him from this fan base. It's the Suns. They were the first. They're the most beloved. Everybody wants to see the Suns win a championship.
The Suns owner has always been a lightning rod for controversy. The guy wants to win. He wants to win badly. He does care. He's gone about it the wrong way many times though.
There is a feeling with the fan base that a lot of fans want him out, wish he would sell the team. I think for the first time now there's a feeling that he and the organization has turned the corner with the hiring of Monty Williams and James Jones and a new direction for the organization. But he's been clearly one of the lightning rods because of longevity. He's been the owner for over a decade. A lot of players come and go.
Noe: How would you describe your relationship with program director Ryan Hatch over the decade you've spent together?
Gambo: Fantastic. I have a ton of respect for him. He allows me to be myself. He respects the work that I do. He encourages me, supports me, and makes sure I have what I need. It's a very good working relationship. I love working for him and I love working for the company. They are very, very good at — if you're doing your job — they're very good at supporting you and giving you the tools necessary to get the job done.

Noe: You were on a very successful show Gambo and Ash. Now you're on another successful show Burns and Gambo. What is the main challenge of trying to build a new brand when the audience is used to another show?
Gambo: Gambo and Ash was like an iconic brand out here. It was a very, very popular show for 12 years. But all good things come to an end. Then when they paired me with Dave, the market was changing a little bit. At that time we had moved from an AM signal to an FM signal. I think that helped give the show a tremendous boost. David is really great at what he does. I've never worked with a better driver. He is a great driver of the show. That allows me to do what I do.
It's crazy. People won't recognize this; I work during the entire show. During the entire four-hour show I'm talking to coaches, players, and GMs on the phone. We could be talking about a topic and he wants to know an answer. I just start texting. Sometimes I'll take a phone call during the show and I'll literally duck out for three or four minutes and he'll just have to keep talking and nobody knows.
I don't read a lot of stories to get my information. Dave does that so we balance each other very well. I watch games, I go to games, and I call people. I get my information by calling players, calling coaches, calling owners, calling GMs. Dave's very good at reading all of the stories on all of the websites that I don't do. I just don't do that. We gather information in different ways and it just seems to work.
I do like working with him because on a regular basis I've got to take a phone call to find out what's going on with a local team. Zack Greinke gets hurt in a baseball game and I'm able to report first what's going on because I will literally stop doing the show for two or three minutes so I can make some calls or text to try to find out what's going on. We're on during a very busy time. There's always stuff going on from 2 to 6 in the afternoon. It works well. The Gambo and Ash brand is what it is and the Burns and Gambo brand it is what it is. It's some of the same audience, but also a lot of a different audience.

Noe: What does Dave do a great job of as a driver that a weaker or lesser driver doesn't do?
Gambo: Control me. Reel me back in at times when I need to be reeled back in. I don't have an education. I didn't grow up in this industry. I didn't go to school for any of this. I barely got out of high school. I don't speak great. [Laughs.] I grew up in an immigrant family from Italy. So for me, Dave is really good at controlling the show, driving the show, steering the show. "We're going to go here. We're going to go there. Okay, it's time to get off this topic."
I don't introduce guests, I don't do teases, and I don't introduce a segment or end a segment. Him being as good as he is allows me to just concentrate on the content. I concentrate on strong opinions and content. He's very good at leading me. He's very good at setting me up for the information that I know or for the opinion that I'm going to have. He loves the role that he's in. He loves doing what he does. It's totally different from what I do. Completely different from what I do, but he's the best at it.

Noe: How did you initially break into sports radio?
Gambo: So I was a sports writer for Newsday in New York from 1989 to '96. Then I moved to Arizona. I was writing for the Associated Press and I was writing for Sports Arizona Magazine. Then one day I ran into a program director at a radio station — at that time it was KGME — and he was like you would be really good on the radio.
I had no experience and about a month later I was hosting afternoon drive. I had only been here for six months and I was hosting the afternoon drive show because the program director thought that I would be good on the radio. For no other reason, he just heard me talking, just asked me if I had ever done radio before. I said no and he gave me a weekend show for about four to six weeks.
After I had done four to six weeks of Saturday shows he goes, "You're ready." He just put me on afternoon drive. I've been on ever since. 

Noe: Was there a lot of pushback because you sound like a New Yorker — and that's not necessarily a bad thing at all — but you know how it is with local people, "Oh, you sound like you're not from here." Was that a thing for you?
Gambo: Absolutely. It took me a while to win people over, to get people to respect me. People either love me or hate me. As long as they have an opinion — that type of thing.
Not everybody likes me and not everybody hates me. I think a lot of people listen to the show because it's a good show. It doesn't mean you have to like me to listen to the show.
I've been here for a long time now so it's changed a lot, but in the first few years certainly, "Who is this New Yorker? This Yankee fan telling me about my Diamondbacks? This Giant fan telling me about my Cardinals?" The accent doesn't go away. I've been here for 23 years. My accent doesn't go away. It hasn't changed.
In the beginning there was a lot of pushback and I wasn't really accepted, but then I worked hard and I did fall in love with the teams here. I root for the teams here, not over my teams, but I do root for all the teams here a lot. I'm a huge Diamondbacks fan, and Suns fan, and Cardinals. I want those teams to do really well. It just took time to get more experience here, to get accustomed to the lifestyle, and to fit in with the Arizona crowd.

Noe: Could you sense when you were more accepted and they started to take a liking to you?
Gambo: It was probably after the Diamondbacks won the World Series in 2001. I predicted the Yankees would sweep them in four games. I said if the Diamondbacks win, I'll sit in a dunk tank for as long as you guys want and let you guys just clobber me.
After the Diamondbacks won the World Series, they set up a dunk tank at a Fuddruckers. I had like pneumonia because I literally — for six hours there were lines — thousands of people just trying to drunk me. People were putting ice in the dunker machine. I played along and I think that was the turning point for me probably.
I think I just earned respect more than anything by working hard. More than even the Fuddruckers dunk tank, I'm accessible. My life's an open book. I don't block my direct messages on Twitter like other people do or on Facebook, or on Instagram. Everybody knows about my family. Everybody knows about my life. I answer people back as much as I can.
I've never been one of those people that wants to keep my personal life personal. People know about my wife. They know about my kids. I'm an open book. Everybody knows what's going on in my life and I think people really feel like they know me. I always run into people like, "Ahh, I feel like I know you." I think one of the reasons why is I really relate — I'm nothing more than just some schmuck that grew up in New York and I ended up with a radio show out here.

Noe: If any of your kids were interested in one day being a sports radio host, what advice would you give them?
Gambo: Well, my son wants to play center field for the D-backs right now. That would have to be his fallback plan. He's an All-Star center fielder at 10 years old. I probably get two to three messages every week from people that want to get into this business. It's a very difficult business to have success in. Very few people do because it's hard to have ratings, to have revenue, to have longevity.
I've done this for 23 years now. It's not easy, but I would always encourage people to do it because it's a freaking blast. It's not a job. It's a career if you want to make it one. It's an amazing career. I couldn't imagine doing anything else. I always encourage everybody to go for it. Why not? You look at me. I barely got out of high school. I grew up in a mob family. My lifestyle was different as a New York kid than a lot of these other people.
That's why I encourage people. I didn't get to go to college. I didn't have the ability to go to college. I had a buddy of mine who helped me get the job at Newsday because I really loved sports. From that point forward I just kept working hard. I was all about connections, not about how much you know because I didn't have the resume. I didn't have the schooling, and the background, and the college degree. To me it was all about connections. I tell all the interns that work with us, make connections. Meet people. People can help you more than a resume can. People can help you.

Noe: There is so much advice from other people in sports radio, "You need to do this and do that." Do you hear comments and ever say, "No, you really don't need to do that"?
Gambo: I go talk to classes a lot. They have me in and I always say I'm going to be different than everybody else that comes in here and speaks to you. When I go talk to Arizona State kids that are in the Cronkite School. I'm going to be different than everybody else. I'm going to be the only person in here that has no college experience. Everybody else that you're going to speak to is going to come in and they are going to have gone to college and they're going to have a fancy degree and I have none of that.
What I'm going to tell you is different. What I'm going to tell you is make as many contacts as you can. Don't do an internship and walk out of there and just put it on your resume. Walk out of there knowing 10 people and having their phone number and seeing if they'll help you. Bust your ass on those internships, but most importantly get to know people. People will help you.
If you're good at what you do and you're a good person, people will help you get a job or make a phone call for you. If I have an intern and that intern is fantastic — then that intern says I'm going to New York. Hey, I've got connections in New York. I can make a phone call for you. Or hey, can I put you on my resume? Of course. I think that's something that a lot of people miss the boat on. They still think that it's, "Oh, I've got to get the experience and I've got the college degree."
Well, so does everybody else, man. 
Everybody else has a college degree. Everybody else has internships. You've got to get to know people so that way they can make a call for you. That way they can encourage somebody to hire you, or at least take a look at you, or speak to you. That's what I tell everybody is it's connections. That's how I grew up. I didn't have any education. It had to be connections for me.

Noe: When you're as opinionated as you are, I'm sure somebody has confronted you about something you've said. Do you appreciate that? You strike me as a guy that would actually like someone coming up to you if they have a problem with your comments.
Gambo: I always make sure that after I'm extremely controversial over a player, a GM, a coach, that I'm there the next game. I always make sure I'm there the next game. That way in case anybody wants to say something, or confront me, or even just asked me about what I said, I'm there. I always make sure no matter what if I'm really critical of a player that I'm there the next day.
Of course I've gotten in Twitter wars with Markieff and Marcus Morris and a fight with Cody Ross over text messages when I criticized him. So yes it's happened. When Dennis Erickson lost a big football game one year to Washington State — I had said before the game that if he loses this game I'm going to help him pack his bags. Then when he lost the game and he came on the show I said, "Coach, I'm ready to help you pack your bags because you got to go."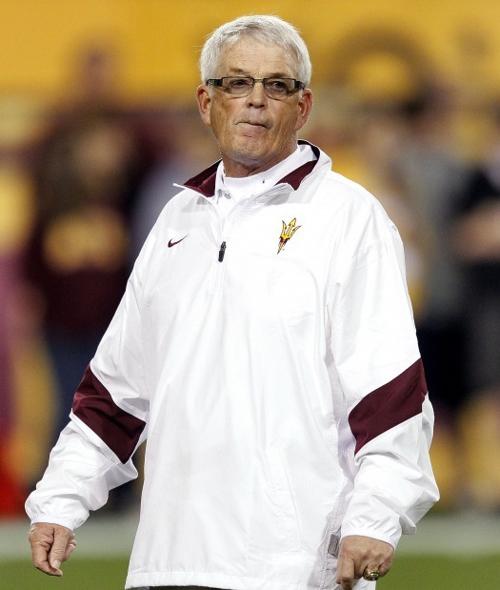 It is about being accountable. It's about being there. Sometimes people want to just ask you about what you said and see if it's true, but most of the time nobody will say anything. Most of the time nobody says a thing.

Noe: You've signed a number of contracts over the course of your career. Outside of cranking out good ratings, what advice would you give a young host who's trying to earn as much money as possible?
Gambo: My career has been pretty successful, but for me I just want to be happy. I'm happy with the amount of money I make. Trust me I am. I can't believe that I'm doing as well as I am. To me it's not about breaking the bank and it's not about always trying to get the next dollar. It's about being content. It's about getting to a point where you work for a good company, you love to work for that company, and you're just happy to be there. It's not about trying to chase the next dollar.
I've had two offers for national gigs — turned them both down. No desire. No desire to go do national radio. To me it's just really about — be happy. If you're making a good living and you're happy with that, you don't have to be greedy. You don't have to keep hammering people over the head for more money and things like that. We make our money through our contract and by endorsing companies.
The only thing I would say is if you find a place and you like working there, you're making a good living, sometimes it's okay to be content. The grass isn't always greener on the other side. I've had a 23-year career and loved every freaking minute of it.
I never chased another job in another market. I've had people chase me, but I've never chased another job. I've always wanted to be here. My radio career will start in Arizona and it will end in Arizona. When it's done and it's over in a few years, I won't look back with any regrets.
Noe: If you think about your entire career, is there one thing above all else that you would change if you could?
Gambo: Let me think about that. I got to be honest with you I don't think there is. Is that okay?

Noe: [Laughs.] Yeah, there's nothing wrong with that. Not one thing though? Not an opinion, your approach to sports radio early on, nothing?
Gambo: Wow, kind of like Frank Sinatra, you know? I did it my way. Right now I have no regrets. I'm not kidding, man. I'm just some street kid from New York that ended up having an amazing career and I've been very blessed.
I thank God every night that I've been blessed with this career because I don't even know that I deserved it. I don't look back with any regrets. I don't look back like I wish I would have done something differently.
I take a lot of pride in not getting in trouble because I represent a company 24/7. It was always important to me — and I tell my bosses this all the time — I'm a local figure here. I represent this radio station 24/7. I always want to represent this radio station well. If I'm out in public and I'm with my family and somebody wants to come talk to me for two to three minutes, I don't blow them off. If I'm shopping at the grocery store with my wife and somebody wants to say hello, I stop and talk.
I don't ever want anybody walking away saying, "God, that guy is such a jerk. I met that guy. He's an idiot." I don't ever want that. I want people to always have a good impression of me because I want them to have a good impression of the radio station.
I don't get in trouble. Don't have a DUI. Don't get arrested. Don't do anything stupid like a lot of people do. You don't realize what you have. I don't know the guy's name, but there was that guy in New York that had this great career and blew the whole thing.
Noe: [Craig] Carton.
Gambo: Yeah, that guy had an amazing career. How do you blow that? You're making tons of money hand over fist and you're doing what everybody would love to do. Everybody would love to do what we're doing. We're talking sports for a living. Don't blow it. So when I see people in the industry — there was some guy in Seattle that had a career as a newspaper guy and I think he got fired or suspended because he started hitting on some girl and she reported him to the newspaper. You remember that one?

Noe: No, I thought you were going to say — I think it was a Seattle host who got busted with a hooker or something like that.

Gambo: Yeah, right. There was a writer — some real estate writer. You should look this up. It was a pretty good story, man. The girl totally outed him on Twitter and then she called the editors. He got suspended. He was sending her all these messages and he's a married guy. I think it's just about representing your company well.
Noe: Is there anything specifically that you want to accomplish before your career is over?
Gambo: That's a great question. I think about this all the time. I don't want to stay too long. I don't want to be Mike Francesa. I don't want to turn into a laughingstock. I want to put in my time and get out at the right time. I don't want to get out too late, and I don't want to get out too early, but I definitely don't want to stay too late because I've seen so many people do that. I want to get out in what would be a fair amount of time.
I'll be 53 years old this year. Is it five more years, six more years, or seven more years? I don't think it's any longer than that. I'm pretty positive it's no longer than that.
I think that's the thing — I can relate to any audience. Younger people, older people, men, women, and I still love what I do. I have no desire the stop now, but I've seen people make fools of themselves by staying too long and I don't want to do that.

Noe: When you start to see the finish line in this business more clearly, does that help you enjoy what you're doing on a day-to-day basis even more?
Gambo: Yes, I enjoy what I do all the time. I think I'm different than anybody else that does this job in the country. I do think I'm different. I'm not saying I'm better. So don't get me wrong, I'm not saying I'm better than anybody else. I'm different. I don't do sports radio the way other hosts do it. Again that doesn't make it better and it doesn't make it right. I'm just different.
I'm all about making contacts with players, coaches, GMs, owners and getting information that nobody else has. My high in this business, the thing that gets me excited, is having information that nobody else has and sharing that with my audience. Giving them insight that they can't get anywhere else. That's my high. That's what I live for. That's what I love to do. Every single day that's my goal. Every single day that's what I try to deliver.
I try to give my audience insight that nobody else has, that nobody else knows. I can tell them what's going on with the team, what's going on with a player, what's going on with a coaching search. That's what I live for.
I don't think there's anybody else in the country that does it the way I do. I don't read the stories on the internet to get ready for a show. I don't read a newspaper. I haven't looked at a newspaper in forever. I don't really go on the websites to see what other people are writing and things like that. I've got a partner that does a really good job of that stuff.
For me it's about talking with players and coaches from all over the league. With the NBA Draft coming up, I talked to seven basketball teams the other day. Seven different teams on the draft lottery to find out what was going on with these teams.
That's just kind of what I do. That's my high because I feel like I can give my audience something that they can't get anywhere else. That's the enjoyment of it for me. If I get to a point where I can no longer deliver that, well then I'm done.
Meet The Market Managers: Ryan Hatch, Bonneville International Phoenix
"Our pitch is that these brands have a connection to the market. That works for us, and that works because it's emotional. It works because it's local. It works because of the creative messaging behind it."
For as long as I have known Ryan Hatch, he has been a good friend, encouraging me to take advantage of each opportunity put in front of me. When someone treats you that way, you cannot be anything but thrilled when you see them do the same thing.
Late last year, Ryan was elevated from a programming executive role with Bonneville to become Market Manager of the company's Phoenix cluster. He is now overseeing every aspect of a building that he has worked in for a long time.
I thought it would be fun to visit with him to see what has changed. The last time I profiled him, he was serving as PD of Arizona Sports 98.7. The last time we profiled Bonneville Phoenix for this series, it was Scott Sutherland in the Market Manager's chair. So, what has changed?
In this conversation, presented by Point to Point Marketing, Ryan and I discuss the changing nature of our business, retaining great talent, and supporting the person who's tasked with filling your former position and leading the programming team forward. When a company is ahead of the curve with its digital strategy and generating strong ratings and revenue, what's next?
---
Demetri Ravanos: So how has the transition gone moving from programming into the market manager's seat? We're a little over six months into the change. How steep has the learning curve been?
Ryan Hatch: You know what? It's been fantastic. And I have to give so much credit to Scott Sutherland, who was in the chair before me, and others within the company for really preparing me for this moment. But it's not just a transition from programming. I would think even if I came up through the sales, marketing or finance side there would be a curve.
I'm learning new things every single day and loving it. So whether it's six months or six years in this chair or more, I hope that I can always say that.
I love the job. I love the market. Obviously, you know, I've been here for such a long time and it's the best chair to be in. I'm thrilled.
DR: You mentioned Scott and I started thinking about this after you and I set a time to talk. There's this advantageous environment of education there, right? Because Scott is still in the area. He held your job before. You're obviously in the building and that's got to be advantageous for Sean Thompson. How much do those conversations take place day-to-day? There seems to be an opportunity for everybody to learn and build on the person that came before them because they can just walk down the hall and ask.
RH: Absolutely it can be advantageous because you've got institutional knowledge. Every person that's been in your chair before can certainly provide important information to help expedite the onboarding process.
The other side of it is making sure that there are clear boundaries. I can speak with Sean Thompson coming in on the programming side. My goal is to empower him and embolden Sean to take this brand to a different level with new ideas and thoughts.
I'd been in that chair for so long, we were certainly ready for somebody new to come in with a new perspective and new experiences, and Sean's done a wonderful job doing that. I think if you talk to Scott, he would probably say something similar. So when you ask the question, "is it advantageous?", the answer is unquestionable. Yes, it is. At the same time, you have to really be clear on where those boundaries are, how much you want to give and share, and how much you want to let that person learn and experience it on their own as they're creating their new environment, if that makes sense.
DR: So with those boundaries, are there things you see Sean putting into place that make you think, "Oh man, that's really cool. I kind of miss programing at this moment"?
RH: Well, the irony is in asking that question, I think today is actually his 90th day on the job. So we're still in the basic stages of him taking that chair.
He's full of ideas, full of energy. I can't wait to see so much of it come to fruition. But again, when you're only three months in, you're doing a lot of listening and a lot of learning before you dig in to start making change. I expect that to come, but he walked into a position with a great on-air staff, fantastic talent, an unbelievable digital team, with a great marketing and promotional support team behind him as well.
I'll tell you what I'm most excited about is what's going to happen this fall. After the listening and the learning is done, we'll be starting to really build some exciting plans into the NFL season around the Cardinals and the NFL. We're also hosting the Super Bowl in February of '23 as well. So we've got a great big build coming here in Arizona.
DR: So let's talk a little bit about the future and where things can go, not just for Phoenix, but for Bonneville overall. I told you this a million times. What has always impressed me about the company, even before you and I got to know each other, was that you guys were so ahead of the curve on recognizing the value of digital content. Arizona Sports is not a radio station, it is a brand.
I wonder now that you are in the market manager's chair, how you look at all of the money from these different companies being put into podcasts. I mean, the deals being made to turn podcasts into TV shows or movies, do you ever think about what is possible or maybe what the next evolution for the digital side of Bonneville could or should be?
RH: Well, I think as a company, and not to speak for Tanya Vea, who's in a new EVP position helping oversee a lot of our content initiatives, we're opening up a mechanism for local ideas to be funneled up to a team led by our VP of Podcasting, Sheryl Worsley. The idea is to be able to support a local that might scale on a national level and help it achieve that potential. I think that we're very aggressive. I think that we're also very strategic in the podcasting world.
There's a blessing and a curse there. The blessing is that that audience is expanding rapidly and the revenue's been following, you know, slowly, but still following in that direction. The downside is how much time and energy and creativity a lot of our best talent have.
Do we want to put our talk show hosts, who are spending 4 hours a day creating live broadcast content, at the forefront of that effort? How many more hours a day of creative juice do they have left for a podcast or a passion project? It could be something that might not be entirely complimentary to the brand.
I think you have to be smart and strategic and understand how big of a bed it is you want to make. I think we're being strategic about it and making the best decision for each individual circumstance.
DR: So what about from a broadcast angle? As podcasting continues to grow and becomes the kind of thing that sellers see as easier to get clients involved with, what are the things that terrestrial radio is going to have to do to secure its own future?
RH: Well, speaking on behalf of our properties here, where we're all local news and all local sports. Really, that's our business. I don't think that there's anything that can replicate the power of live, in the moment, information-based content. And that is the value proposition that broadcast has.
Now, will that traditional radio audience continue to decline and find other venues? Potentially. I mean, that's just natural, and I think that we've seen that accelerate through the pandemic. That doesn't take away from the importance though.
If you look at Bonneville Phoenix, whether it's Arizona Sports or KTAR, our streaming numbers are way, way up. Our monthly app users are way, way up. Our smart speaker usage is way, way up. And I think too many times we categorize one as digital and one as radio. I look at it more through the lens of what is a live broadcast and what is driven by more destination-based, story-based, topic-based choices. That's a different experience and you can serve both.
DR: What is your view of having that live content accessed by both radios and streaming devices? When you're a programmer, I think it is it is easier to say, "Look, people are coming to this content. This is good content. That is what matters." But now that you're the market manager, I know you are a real advocate for total line reporting, but now the ratings take on this whole different meaning to you than they did before. What is your view of the right path forward to paint that picture easily and accurately for advertisers about just how powerful these brands are, whether it's Arizona Sports or KTAR?
RH: Thank goodness we have fantastic sales management and account executives on the streets telling that story and big brands to back them up with that unique content that our stations are delivering. And as I've told you in different settings over the years Demetri, Nielsen is one of many tools that tell that story. When we're on the streets talking to a potential advertiser, and understand that our game is not as national or our market is not as regional, we are hyper-locally focused. In Phoenix, Arizona, that's a lot of small to medium-sized businesses. So when we can walk in and share a total audience report that gives a glimpse of Nielsen, which we know is antiquated and really, really needs to be reformed and updated. You've got to bring your Google Analytics and your Triton numbers. You have so many other tools to use to evaluate how our content is being delivered and consumed. You've got to paint that entire total audience story, and I will tell you that it's a story that is very well received in Phoenix with our products.
DR: Maybe this is more of a question for your sales staff, but is it a matter of walking potential advertisers and current advertisers through each individual number, or do you find a way to synthesize it down into a simple illustration of how many people are listening to your content every day?
RH: It's not a numbers game. It's not getting into detail about how many tens of thousands of listeners we have on one platform and how many on another and how many views or clicks on websites. Our pitch is that these brands have a connection to the market. That works for us, and that works because it's emotional. It works because it's local. It works because of the creative messaging behind it. When you have something that works for your advertisers, they're not going to be coming in and scrutinizing the numbers left and right.
Now, you have to deliver to the audience, and we have significant audiences. In fact, I'll tell you right now, combining everything together. And it's not apples to apples, because these are all different channels. But our audience is here in Phoenix between our websites, our apps, and our radio distribution. Our audiences have never been better. I mean, that's a wonderful and easy story to tell.
DR: Play-by-play is obviously a big part of what you do on Arizona Sports. You and I have talked before about the landscape of Phoenix sports, and I think you've described it as, because Phoenix is a transplant market, you find yourself talking about everyone's second favorite team.
So how does that play with advertisers? Do they buy into the idea that this is a unifying thing or is there some concern that it is too much of a transplant market for the value returned by play-by-play doesn't match the cost to advertise in that space?
RH: Our original franchise, the Phoenix Suns, while, they had a disappointing end of the season, it couldn't have been more galvanizing. That is the one team that has been here for 50-plus years. That orange blood does run deep. The Cardinals have had their moments. The Diamondbacks have the only championship in the major sports here, but that was back in 2001.
I'll answer that question in a couple of ways. Number one, we are catering to the fans and to the super fans, but we try to create content that is going to be accessible and interesting for those that would claim that any of the franchises are their second favorite team in a given league. When you move into a market and you head to the office or nowadays maybe it's a Zoom call, you still want to be able to have a conversation about something that's relevant. You want a shared experience with your coworker or a neighbor, somebody at school when you're hanging out waiting to up the kids. So often that conversation is sports.
We have a fantastic sports market. Now, where's the passion level? Is it as high as a Boston or Philadelphia? Of course not and we're not going to act like it is. But at the end of the day, what does an advertiser look for? They're looking for an audience and they're looking for something exclusive to put their message on. That's what we're able to offer with our play-by-play. On top of that, what's become more and more important to us in our model, especially on the digital side over the years, is the access to those decision-makers, to the coaches, the exclusive access to the general managers with weekly calls, and things like player shows.
There's so much more that you can offer beyond just the game itself that makes these partnerships great for our business and the advertising community.
DR: So coming out of what is being called The Great Resignation, what are you experiencing as a market manager and what are your other hiring managers experiencing? What are the new challenges of recruiting, whether it is sales or programing, any kind of talent in an environment like this?
RH: Well, let's add to that and talk about inflationary pressures as well. I mean, there are so many factors at play right now, and I think it's as tough as I can ever remember it.
What we're doing here at Bonneville Phoenix is really leaning into our culture and making sure that we're an employer of choice because we have a culture that people want to be a part of. It's a good team environment full of hungry people that want to succeed not just for themselves. So the more hungry, humble, and smart people we find, the better off we're going to be.
Now, that doesn't mean that we haven't lost. There's been a dramatic shuffle. Right now, I can say that we're close to a full boat, but that wasn't the case a month ago. There are so many different forces at play right now. It is a difficult environment. Our news side alone faces unique challenges. News itself has been under attack for multiple years. Don't you think that burns people out?
Absolutely I have concerns, but what can we control? Well, we can focus on executing the vision that Bonneville has provided. It's built on passionate people and innovation. It is about creating a culture people want to be a part of.
DR: We've heard a lot about burnout when people talk about why they leave a job in any industry. We hear about work-life balance. You're responsible for the entire building, so what are you telling your managers on the sales and programming side about creating an environment for employees that respects that those are real and valid concerns while still maintaining the level of expectation of quality for Arizona Sports and KTAR.
RH: We're still committed to the highest standards, and we always will be. And we found that certain parts of the business can work pretty effectively from home, while other parts of the business really can't. I will tell you, on the content side working from home, we did it when we had to. We did it, I would say fairly effectively for a few extended periods. But overall, in a local news and local sports environment that really is driven by the breaking news, the need to work together in a space is real. You just can't do things as quickly or as effectively or as creatively if you're separated. You just can't.
Now, on the sales side, we want them on the streets. We want them out of the office, but there is a balance. So what are we asking our great sales managers to do? We're asking them just to make sure that they are up to speed on where the activity is and that we're doing all the jobs that need to be done. Do I ever see us going back to five days a week in the office? I don't. I think that ship has sailed and I think that's just fine. I think there's some real benefit to that.
The way to make this all work is to empower our department heads to come up with a plan that's going to work best for them, for their people, and deliver on what our expectations are for the business. And then as leaders, we have to understand that the plan is going to be evolving. It really is. This is not going to be decided on a new policy set. I think that we're in a new world, probably for the rest of our lives.
Broadcasting Fills The Baseball Void For Keith Moreland
"When I got through… I wanted to do something with my life and I get that same feeling with broadcasting."
Sports color analysts are more often than not former players. This has been a consistent norm across sports broadcasting at all levels. The analyst is there to add "color" to the play-by-play broadcaster's metaphorical and verbal "drawing" of the game. For former MLB slugger and catcher, Keith Moreland, this was the surprise post-playing retirement career that has boosted him to a key figure in Austin media and national media alike.
Moreland played football and baseball at the University of Texas before making his way to the MLB for 12 years with key contributions to the Philadelphia Phillies and Chicago Cubs in the 1980s.
Moreland reminisced on his decision to play baseball full time: "I thought I was going to be in the NFL, but Earl Campbell changed that. I had just played summer ball. We had won a championship and I missed the first few days of two-a-days. I hadn't even had a physical yet and I'm in a scrimmage. I stepped up to this freshman running back and as he ducked his shoulder, one of his feet hit my chest and the other hit my face mask and he kept on truckin'. I got up and I thought 'I could be a pretty good baseball player.'
So I told Coach Royal after practice I was going to focus on baseball and he asked 'what took you so long? We were surprised you came back because we think you have a really good shot at playing professional baseball.'"
It was a good choice for Moreland. He was part of the 1973 College World Series winning Texas Longhorns baseball team. While at Texas Moreland hit .388 and became the all-time leader in hits for the College World Series. After being drafted by the Phillies in the 7th round of the 1975 draft, Moreland would go-on to play in the majors from 1978 to 1989.
"You go your whole life trying to get to play professionally. When I got through my opportunity to play in the big leagues, I wanted to do something with my life and I get that same feeling with broadcasting."
Broadcasting was not the original retirement plan for Moreland. He first tried his luck at coaching with his first stop being his alma mater as an assistant for the Longhorns. At the time, Bill Schoening (a Philadelphia native and Phillies fan), was the radio play-by-play broadcaster. Schoening made Moreland a go-to for a pre-game interview and convinced him to come on talk shows. Schoening even convinced Moreland to practice live broadcasting skills by taking a recorder to games and listening back to them to learn.
"Bill was the guy who brought me onboard and I still have those tapes and I really learned from them, but I don't want anyone else to ever hear them!" Moreland adds with a chuckle on how far he has come in over 25 years of broadcasting.
Moreland has been a key part of University of Texas radio broadcasts for baseball since the 1990s and has catapulted that broadcast experience to Texas high school football, Longhorn football radio and television broadcasts, ESPN, the Little League World Series, the Chicago Cubs and more since hanging up his cleats and picking up a microphone.
While his playing days are well behind him, Moreland still takes the spirit of his professional athlete background to his broadcasting:
"If you don't bring energy to your broadcast, somebody's gonna turn the game on and wonder 'what's wrong? Are they losing the game?'", Moreland remarks, "So you have to come prepared and with energy for the broadcasts."
Radio Partnerships With Offshore Sportsbooks Are Tempting
The rush to get sports betting advertising revenue offers an interesting risk to stations in states where the activity is illegal.
As the wave of sports gambling continues to wash over the United States, marketing budgets soar and advertisements flood radio and television airwaves. Offers of huge sign-on bonuses, "risk-free" wagers, and enhanced parlay odds seem to come from every direction as books like DraftKings, FanDuel, and BetMGM fight over market share and battle one another for every new user they can possibly attract.
For those in states where sports betting is not yet legalized–or may never be–it is frustrating to see these advertisements and know that you cannot get in the action. However, as with any vice, anybody determined to partake will find ways to do so. Offshore sports books are one of the biggest ways. Companies such as Bovada and BetOnline continue to thrive even as more state-based online wagering options become available to Americans.
While five states–Delaware, Maryland, Nevada, New Jersey, and New York–have passed laws making it illegal for offshore books to take action from their residents, using an offshore book is perfectly legal for the rest of the country. While there are hurdles involved with funding for some institutions, there is no law that prevents someone in one of those other 45 states from opening an account with Bovada and wagering on whatever sporting events they offer. The United States government has tried multiple times to go after them, citing the Unlawful Internet Gambling Enforcement Act (UIGEA) of 2006, and have failed at every step, with the World Trade Organization citing that doing so would violate international trade agreements. 
While gambling is becoming more and more accepted every day, and more states look to reap the financial windfall that comes with it, the ethical decisions made take on even more importance. One of the tougher questions involved with the gambling arms race is how to handle offers from offshore books to advertise with radio stations in a state where sports betting is not legalized.
Multiple stations in states without legalized gambling, such as Texas and Florida, have partnerships with BetOnline to advertise their services. Radio stations can take advantage of these relationships in three main ways: commercials, on-air reads, and the station's websites. For example, Bovada's affiliate program allows for revenue sharing based on people clicking advertisements on a partner's website and signing up with a new deposit. This is also the case for podcasts, such as one in Kansas that advertises with Bovada despite sports gambling not being legal there until later in 2022.
People are going to gamble, and it's legal to do so. In full disclosure, I myself have utilized Bovada's services for a number of years, even after online sports wagering became legal in my state of Indiana. As such, advertising a service that is legal within the state seems perfectly fine in the business sense, and I totally understand why a media entity would choose to accept an offer from an offshore book. However, there are two major factors that make it an ethical dilemma, neither of which can be ignored.
First, Americans may find it easy to deposit money with a book such as Bovada or BetOnline, but much more difficult to get their money back. While the UIGEA hasn't been successful in stopping these books from accepting money, it has made it difficult–near impossible, in fact–for American financial institutions to accept funds directly from these companies. Therefore, most payouts have to take place either via a courier service, with a check that can take weeks to arrive, or via a cryptocurrency payout. For those who are either unwilling or not tech-savvy enough to go this route, it means waiting sometimes up to a month to receive that money versus a couple days with a state-licensed service.
The other major concern is the lack of protections involved with gambling in a state where legislation has been passed. For example, the state of Indiana drew up laws and regulations for companies licensed to operate within its borders that included protections for how bets are graded, what changes can be made to lines and when they can take place, and how a "bad line" is handled. They also require a portion of the revenues be put towards resources for those dealing with gambling addiction or compulsion issues.
None of those safeguards exist with an offshore book. While the books have to adhere to certain regulations, it's much more loosely enforced. I've lost track of the number of times a book like Bovada has made somewhat shady decisions on what bets to honor as "wins", and how they handle wagers on what they deem to be "bad lines" where they posted a mistake and users capitalized on it. Furthermore, not a single dime of the monies received go towards helping those dealing with addiction, and there are few steps taken by the offshore books to look for compulsive or addictive behaviors.
As states look to move sports betting out of the shadows, the decision whether to take advertising dollars from offshore books seems to be an even larger gray area than ever before. Although it is perfectly legal to accept these funds when offered, it feels unethical to do so. There are moral obligations tied to accepting the money involved, especially given the lack of regulations and safeguards for players in addition to the limited resources for those who find themselves stuck in a situation they may struggle to escape. While it's possible to take steps to educate listeners on these pitfalls, it simply feels irresponsible to encourage people to utilize these services given the risks involved, and the lack of protections in place.