It Had To Be Connections For John Gambadoro
"I try to give my audience insight that nobody else has, that nobody else knows. I can tell them what's going on with the team, what's going on with a player, what's going on with a coaching search. That's what I live for."
John Gambadoro has carved out a 23-year career as a sports radio host in the Phoenix market. A run this successful doesn't happen based on skill alone, which Gambo clearly has. It takes passion to thrive for over two decades.
Gambo has also developed an extensive contact list in order to uncover information that nobody else has. That doesn't happen by sitting on the couch until it's showtime. It takes a strong work ethic. Many hosts speculate about players and teams. Gambo reaches out to them directly.
Gambo is a firm believer in connections. He stresses the importance of forming relationships to interns and people trying to establish themselves in the business. It's fitting because Gambo has built his success on the foundation of connections himself — from his unconventional start in the sports radio business, to the information he gathers on a continuous basis. Gambo is a great example that no one in this industry becomes successful on their own.
A radio career that began in Phoenix is one that Gambo sees ending in Phoenix. He has accumulated many fond memories — one being a dunk tank of all things — and has no desire to leave the market or Arizona Sports 98.7FM. One of the most interesting details that Gambo also reveals in this interview is the sports radio host he least wants to be like. Enjoy.
Brian Noe: What's the one thing you love most about sports radio right now?

Gambo: I really think that sports radio for the last decade and a half has become the main medium for sports fans to get their news and information. Newspapers are dying. Local sports television is dying. A lot of it is down to a minute and a half a night. The best place for fans to really get their information is sports radio. We're the one medium that hasn't taken a hit.
Our company is growing. Our business is growing. Our listenership, it's growing and it's fascinating to me because everybody else — there are a lot of people in the industry that are struggling. They haven't changed with the times.
I think what the fans like about it is, if I do an interview with the manager of the Diamondbacks, or with the general manager of a team, or a player of a team, fans get to hear that whole interview. In a newspaper you might have one line or two lines of what they said. On TV you may get just a snippet of what they said, but [on radio] you get the whole interview. You get to hear what everyone said. You get opinions. You get breaking news. It just continues to grow and get better and better while other mediums have struggled. As a radio group, I think we continue to be the main source for fans to turn to. Plus, there are still so many people in their cars on a regular basis. We're their outlet for what they can listen to.

Noe: What would you say is the most challenging part of sports radio for you these days?
Gambo: For me personally, I go to a lot of games. I go to the Cardinal games, the Suns games, the D-back games, the ASU games. My role is a little bit different. Yes, I have a talk show and yes I'm opinionated, but I also am a reporter from my background. My background is being a newspaper reporter. I am all about developing contacts, getting sources all around the different leagues and breaking stories. That's what I do. For me personally — it might be different for everybody else — but for me personally it's just, man, how do you manage your time? I've got a wife. I've got kids. I've got D-back games to go to. I've got press conferences to go to. It's busy. That's just the hardest part is just managing your time.

Noe: When you have strong opinions and you're also a reporter, how do you keep those relationships strong with teams if you're hammering them at times?
Gambo: Respect. I go to the games. You have more respect when you go to the games. You're entitled to your opinion and they don't criticize you because you're there. Back when I started doing sports radio in '97, almost everybody that had a press pass went to the games. But now that's changed a lot. There aren't many people that go to the games anymore. Me criticizing I think is accepted more so because, "Oh, he's there. He was in the locker room." I'm there.
I think when you're not there and they never see you, there is a lack of respect. Then when other people criticize, it's like, "Well, who are you to say something because I've never seen you at a game."
I think the key is you've got to be accountable. We get these press passes. We all get them. We all have a press pass, but a lot of people choose not to use them. I've always chosen to use it.

Noe: What's the reason there is a lack of strong sports talk competition in Phoenix?
Gambo: That's a good question. I don't think anybody else is committed to doing it. It takes a commitment. We have an amazing company that is committed to providing the audience with the best sports content, the best talk show hosts. We have the rights to the Cardinals, the Suns, the D-backs, the Coyotes, ASU, and now the Phoenix Rising — the soccer team.
We're committed to content. We're committed to a great staff. We have an amazing, amazing web department. Our podcasts, our app, our ownership group, and our management group are second-to-none.
There is nobody like our management group. They are just committed to supporting us and making sure that we have the tools necessary to dominate. That's where it starts.
It's just like a sports team. It starts at the top. You have to have great ownership that's committed to winning. You have to have great management that's committed to winning. We have that. It makes our job a lot easier when you go to work every day and you've got a support staff that is literally — I think ours is second to none in the country. I can't imagine anybody has a better support staff than what we have.
Noe: Where does Kyler Murray rank among other players in the Phoenix area — past and present — in terms of being a lightning rod that produces opinions?
Gambo: Right now he's at the top of the list because they traded up to draft a quarterback [Josh Rosen] in the first round. Then they got a second round pick for him. They bring this kid in who's apparently too small. He has been our top topic from the day he announced that he was going to play football instead of baseball. The speculation began.
Now I go back to lightning rods like Jeremy Roenick and Keith Tkachuk, Curt Schilling, Randy Johnson. There have been a lot of lightning rods. Steve Nash when he went to the Lakers. Luis Gonzalez when he went to the Dodgers. We have a major hatred for L.A. teams here. Anytime a guy goes to L.A. — A.J. Pollock went to the Dodgers — that's always a lightning rod. From an excitement standpoint, everybody can't wait to see this kid Murray. I don't think in my time here there's been anything like it.

Noe: Who has been the most interesting Phoenix sports figure for you to talk about personally?

Gambo: Probably the Suns owner Robert Sarver because they haven't won in nine years. He's made a lot of poor decisions. There are a lot of opinions about him from this fan base. It's the Suns. They were the first. They're the most beloved. Everybody wants to see the Suns win a championship.
The Suns owner has always been a lightning rod for controversy. The guy wants to win. He wants to win badly. He does care. He's gone about it the wrong way many times though.
There is a feeling with the fan base that a lot of fans want him out, wish he would sell the team. I think for the first time now there's a feeling that he and the organization has turned the corner with the hiring of Monty Williams and James Jones and a new direction for the organization. But he's been clearly one of the lightning rods because of longevity. He's been the owner for over a decade. A lot of players come and go.
Noe: How would you describe your relationship with program director Ryan Hatch over the decade you've spent together?
Gambo: Fantastic. I have a ton of respect for him. He allows me to be myself. He respects the work that I do. He encourages me, supports me, and makes sure I have what I need. It's a very good working relationship. I love working for him and I love working for the company. They are very, very good at — if you're doing your job — they're very good at supporting you and giving you the tools necessary to get the job done.

Noe: You were on a very successful show Gambo and Ash. Now you're on another successful show Burns and Gambo. What is the main challenge of trying to build a new brand when the audience is used to another show?
Gambo: Gambo and Ash was like an iconic brand out here. It was a very, very popular show for 12 years. But all good things come to an end. Then when they paired me with Dave, the market was changing a little bit. At that time we had moved from an AM signal to an FM signal. I think that helped give the show a tremendous boost. David is really great at what he does. I've never worked with a better driver. He is a great driver of the show. That allows me to do what I do.
It's crazy. People won't recognize this; I work during the entire show. During the entire four-hour show I'm talking to coaches, players, and GMs on the phone. We could be talking about a topic and he wants to know an answer. I just start texting. Sometimes I'll take a phone call during the show and I'll literally duck out for three or four minutes and he'll just have to keep talking and nobody knows.
I don't read a lot of stories to get my information. Dave does that so we balance each other very well. I watch games, I go to games, and I call people. I get my information by calling players, calling coaches, calling owners, calling GMs. Dave's very good at reading all of the stories on all of the websites that I don't do. I just don't do that. We gather information in different ways and it just seems to work.
I do like working with him because on a regular basis I've got to take a phone call to find out what's going on with a local team. Zack Greinke gets hurt in a baseball game and I'm able to report first what's going on because I will literally stop doing the show for two or three minutes so I can make some calls or text to try to find out what's going on. We're on during a very busy time. There's always stuff going on from 2 to 6 in the afternoon. It works well. The Gambo and Ash brand is what it is and the Burns and Gambo brand it is what it is. It's some of the same audience, but also a lot of a different audience.

Noe: What does Dave do a great job of as a driver that a weaker or lesser driver doesn't do?
Gambo: Control me. Reel me back in at times when I need to be reeled back in. I don't have an education. I didn't grow up in this industry. I didn't go to school for any of this. I barely got out of high school. I don't speak great. [Laughs.] I grew up in an immigrant family from Italy. So for me, Dave is really good at controlling the show, driving the show, steering the show. "We're going to go here. We're going to go there. Okay, it's time to get off this topic."
I don't introduce guests, I don't do teases, and I don't introduce a segment or end a segment. Him being as good as he is allows me to just concentrate on the content. I concentrate on strong opinions and content. He's very good at leading me. He's very good at setting me up for the information that I know or for the opinion that I'm going to have. He loves the role that he's in. He loves doing what he does. It's totally different from what I do. Completely different from what I do, but he's the best at it.

Noe: How did you initially break into sports radio?
Gambo: So I was a sports writer for Newsday in New York from 1989 to '96. Then I moved to Arizona. I was writing for the Associated Press and I was writing for Sports Arizona Magazine. Then one day I ran into a program director at a radio station — at that time it was KGME — and he was like you would be really good on the radio.
I had no experience and about a month later I was hosting afternoon drive. I had only been here for six months and I was hosting the afternoon drive show because the program director thought that I would be good on the radio. For no other reason, he just heard me talking, just asked me if I had ever done radio before. I said no and he gave me a weekend show for about four to six weeks.
After I had done four to six weeks of Saturday shows he goes, "You're ready." He just put me on afternoon drive. I've been on ever since. 

Noe: Was there a lot of pushback because you sound like a New Yorker — and that's not necessarily a bad thing at all — but you know how it is with local people, "Oh, you sound like you're not from here." Was that a thing for you?
Gambo: Absolutely. It took me a while to win people over, to get people to respect me. People either love me or hate me. As long as they have an opinion — that type of thing.
Not everybody likes me and not everybody hates me. I think a lot of people listen to the show because it's a good show. It doesn't mean you have to like me to listen to the show.
I've been here for a long time now so it's changed a lot, but in the first few years certainly, "Who is this New Yorker? This Yankee fan telling me about my Diamondbacks? This Giant fan telling me about my Cardinals?" The accent doesn't go away. I've been here for 23 years. My accent doesn't go away. It hasn't changed.
In the beginning there was a lot of pushback and I wasn't really accepted, but then I worked hard and I did fall in love with the teams here. I root for the teams here, not over my teams, but I do root for all the teams here a lot. I'm a huge Diamondbacks fan, and Suns fan, and Cardinals. I want those teams to do really well. It just took time to get more experience here, to get accustomed to the lifestyle, and to fit in with the Arizona crowd.

Noe: Could you sense when you were more accepted and they started to take a liking to you?
Gambo: It was probably after the Diamondbacks won the World Series in 2001. I predicted the Yankees would sweep them in four games. I said if the Diamondbacks win, I'll sit in a dunk tank for as long as you guys want and let you guys just clobber me.
After the Diamondbacks won the World Series, they set up a dunk tank at a Fuddruckers. I had like pneumonia because I literally — for six hours there were lines — thousands of people just trying to drunk me. People were putting ice in the dunker machine. I played along and I think that was the turning point for me probably.
I think I just earned respect more than anything by working hard. More than even the Fuddruckers dunk tank, I'm accessible. My life's an open book. I don't block my direct messages on Twitter like other people do or on Facebook, or on Instagram. Everybody knows about my family. Everybody knows about my life. I answer people back as much as I can.
I've never been one of those people that wants to keep my personal life personal. People know about my wife. They know about my kids. I'm an open book. Everybody knows what's going on in my life and I think people really feel like they know me. I always run into people like, "Ahh, I feel like I know you." I think one of the reasons why is I really relate — I'm nothing more than just some schmuck that grew up in New York and I ended up with a radio show out here.

Noe: If any of your kids were interested in one day being a sports radio host, what advice would you give them?
Gambo: Well, my son wants to play center field for the D-backs right now. That would have to be his fallback plan. He's an All-Star center fielder at 10 years old. I probably get two to three messages every week from people that want to get into this business. It's a very difficult business to have success in. Very few people do because it's hard to have ratings, to have revenue, to have longevity.
I've done this for 23 years now. It's not easy, but I would always encourage people to do it because it's a freaking blast. It's not a job. It's a career if you want to make it one. It's an amazing career. I couldn't imagine doing anything else. I always encourage everybody to go for it. Why not? You look at me. I barely got out of high school. I grew up in a mob family. My lifestyle was different as a New York kid than a lot of these other people.
That's why I encourage people. I didn't get to go to college. I didn't have the ability to go to college. I had a buddy of mine who helped me get the job at Newsday because I really loved sports. From that point forward I just kept working hard. I was all about connections, not about how much you know because I didn't have the resume. I didn't have the schooling, and the background, and the college degree. To me it was all about connections. I tell all the interns that work with us, make connections. Meet people. People can help you more than a resume can. People can help you.

Noe: There is so much advice from other people in sports radio, "You need to do this and do that." Do you hear comments and ever say, "No, you really don't need to do that"?
Gambo: I go talk to classes a lot. They have me in and I always say I'm going to be different than everybody else that comes in here and speaks to you. When I go talk to Arizona State kids that are in the Cronkite School. I'm going to be different than everybody else. I'm going to be the only person in here that has no college experience. Everybody else that you're going to speak to is going to come in and they are going to have gone to college and they're going to have a fancy degree and I have none of that.
What I'm going to tell you is different. What I'm going to tell you is make as many contacts as you can. Don't do an internship and walk out of there and just put it on your resume. Walk out of there knowing 10 people and having their phone number and seeing if they'll help you. Bust your ass on those internships, but most importantly get to know people. People will help you.
If you're good at what you do and you're a good person, people will help you get a job or make a phone call for you. If I have an intern and that intern is fantastic — then that intern says I'm going to New York. Hey, I've got connections in New York. I can make a phone call for you. Or hey, can I put you on my resume? Of course. I think that's something that a lot of people miss the boat on. They still think that it's, "Oh, I've got to get the experience and I've got the college degree."
Well, so does everybody else, man. 
Everybody else has a college degree. Everybody else has internships. You've got to get to know people so that way they can make a call for you. That way they can encourage somebody to hire you, or at least take a look at you, or speak to you. That's what I tell everybody is it's connections. That's how I grew up. I didn't have any education. It had to be connections for me.

Noe: When you're as opinionated as you are, I'm sure somebody has confronted you about something you've said. Do you appreciate that? You strike me as a guy that would actually like someone coming up to you if they have a problem with your comments.
Gambo: I always make sure that after I'm extremely controversial over a player, a GM, a coach, that I'm there the next game. I always make sure I'm there the next game. That way in case anybody wants to say something, or confront me, or even just asked me about what I said, I'm there. I always make sure no matter what if I'm really critical of a player that I'm there the next day.
Of course I've gotten in Twitter wars with Markieff and Marcus Morris and a fight with Cody Ross over text messages when I criticized him. So yes it's happened. When Dennis Erickson lost a big football game one year to Washington State — I had said before the game that if he loses this game I'm going to help him pack his bags. Then when he lost the game and he came on the show I said, "Coach, I'm ready to help you pack your bags because you got to go."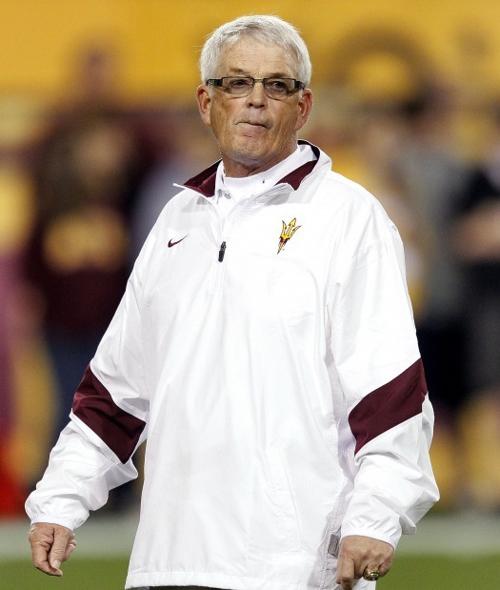 It is about being accountable. It's about being there. Sometimes people want to just ask you about what you said and see if it's true, but most of the time nobody will say anything. Most of the time nobody says a thing.

Noe: You've signed a number of contracts over the course of your career. Outside of cranking out good ratings, what advice would you give a young host who's trying to earn as much money as possible?
Gambo: My career has been pretty successful, but for me I just want to be happy. I'm happy with the amount of money I make. Trust me I am. I can't believe that I'm doing as well as I am. To me it's not about breaking the bank and it's not about always trying to get the next dollar. It's about being content. It's about getting to a point where you work for a good company, you love to work for that company, and you're just happy to be there. It's not about trying to chase the next dollar.
I've had two offers for national gigs — turned them both down. No desire. No desire to go do national radio. To me it's just really about — be happy. If you're making a good living and you're happy with that, you don't have to be greedy. You don't have to keep hammering people over the head for more money and things like that. We make our money through our contract and by endorsing companies.
The only thing I would say is if you find a place and you like working there, you're making a good living, sometimes it's okay to be content. The grass isn't always greener on the other side. I've had a 23-year career and loved every freaking minute of it.
I never chased another job in another market. I've had people chase me, but I've never chased another job. I've always wanted to be here. My radio career will start in Arizona and it will end in Arizona. When it's done and it's over in a few years, I won't look back with any regrets.
Noe: If you think about your entire career, is there one thing above all else that you would change if you could?
Gambo: Let me think about that. I got to be honest with you I don't think there is. Is that okay?

Noe: [Laughs.] Yeah, there's nothing wrong with that. Not one thing though? Not an opinion, your approach to sports radio early on, nothing?
Gambo: Wow, kind of like Frank Sinatra, you know? I did it my way. Right now I have no regrets. I'm not kidding, man. I'm just some street kid from New York that ended up having an amazing career and I've been very blessed.
I thank God every night that I've been blessed with this career because I don't even know that I deserved it. I don't look back with any regrets. I don't look back like I wish I would have done something differently.
I take a lot of pride in not getting in trouble because I represent a company 24/7. It was always important to me — and I tell my bosses this all the time — I'm a local figure here. I represent this radio station 24/7. I always want to represent this radio station well. If I'm out in public and I'm with my family and somebody wants to come talk to me for two to three minutes, I don't blow them off. If I'm shopping at the grocery store with my wife and somebody wants to say hello, I stop and talk.
I don't ever want anybody walking away saying, "God, that guy is such a jerk. I met that guy. He's an idiot." I don't ever want that. I want people to always have a good impression of me because I want them to have a good impression of the radio station.
I don't get in trouble. Don't have a DUI. Don't get arrested. Don't do anything stupid like a lot of people do. You don't realize what you have. I don't know the guy's name, but there was that guy in New York that had this great career and blew the whole thing.
Noe: [Craig] Carton.
Gambo: Yeah, that guy had an amazing career. How do you blow that? You're making tons of money hand over fist and you're doing what everybody would love to do. Everybody would love to do what we're doing. We're talking sports for a living. Don't blow it. So when I see people in the industry — there was some guy in Seattle that had a career as a newspaper guy and I think he got fired or suspended because he started hitting on some girl and she reported him to the newspaper. You remember that one?

Noe: No, I thought you were going to say — I think it was a Seattle host who got busted with a hooker or something like that.

Gambo: Yeah, right. There was a writer — some real estate writer. You should look this up. It was a pretty good story, man. The girl totally outed him on Twitter and then she called the editors. He got suspended. He was sending her all these messages and he's a married guy. I think it's just about representing your company well.
Noe: Is there anything specifically that you want to accomplish before your career is over?
Gambo: That's a great question. I think about this all the time. I don't want to stay too long. I don't want to be Mike Francesa. I don't want to turn into a laughingstock. I want to put in my time and get out at the right time. I don't want to get out too late, and I don't want to get out too early, but I definitely don't want to stay too late because I've seen so many people do that. I want to get out in what would be a fair amount of time.
I'll be 53 years old this year. Is it five more years, six more years, or seven more years? I don't think it's any longer than that. I'm pretty positive it's no longer than that.
I think that's the thing — I can relate to any audience. Younger people, older people, men, women, and I still love what I do. I have no desire the stop now, but I've seen people make fools of themselves by staying too long and I don't want to do that.

Noe: When you start to see the finish line in this business more clearly, does that help you enjoy what you're doing on a day-to-day basis even more?
Gambo: Yes, I enjoy what I do all the time. I think I'm different than anybody else that does this job in the country. I do think I'm different. I'm not saying I'm better. So don't get me wrong, I'm not saying I'm better than anybody else. I'm different. I don't do sports radio the way other hosts do it. Again that doesn't make it better and it doesn't make it right. I'm just different.
I'm all about making contacts with players, coaches, GMs, owners and getting information that nobody else has. My high in this business, the thing that gets me excited, is having information that nobody else has and sharing that with my audience. Giving them insight that they can't get anywhere else. That's my high. That's what I live for. That's what I love to do. Every single day that's my goal. Every single day that's what I try to deliver.
I try to give my audience insight that nobody else has, that nobody else knows. I can tell them what's going on with the team, what's going on with a player, what's going on with a coaching search. That's what I live for.
I don't think there's anybody else in the country that does it the way I do. I don't read the stories on the internet to get ready for a show. I don't read a newspaper. I haven't looked at a newspaper in forever. I don't really go on the websites to see what other people are writing and things like that. I've got a partner that does a really good job of that stuff.
For me it's about talking with players and coaches from all over the league. With the NBA Draft coming up, I talked to seven basketball teams the other day. Seven different teams on the draft lottery to find out what was going on with these teams.
That's just kind of what I do. That's my high because I feel like I can give my audience something that they can't get anywhere else. That's the enjoyment of it for me. If I get to a point where I can no longer deliver that, well then I'm done.
Brian Noe is a columnist for BSM and an on-air host heard nationwide on FOX Sports Radio's Countdown To Kickoff. Previous roles include stops in Portland, OR, Albany, NY and Fresno, CA. You can follow him on Twitter @TheNoeShow or email him at bnoe@premierenetworks.com.
Fred Roggin Deals in LA Sports on AM Radio
"I simply want to grow and learn every single day. I want to experience new things every day. I have a philosophy, when you stop learning, you die."
Johnny Carson had a very successful run in late night TV. He was incredibly popular and received many awards as The Tonight Show Starring Johnny Carson aired from 1962 to 1992. What I always found interesting about the show was the amount of planning that went into each episode.
Carson prepared, crafted, and rehearsed scenes over and over again. During the show, it sounded like he was just having a bunch of fun and cutting loose. What's often overlooked is just how much thought and attention to detail went into each broadcast. There always was a game plan.
Fred Roggin operates very similarly. He teams up with former USC and NFL quarterback Rodney Peete each weekday. Roggin & Rodney airs on AM 570 in Los Angeles. Roggin sounds like he's having a ton of fun — and he is — but just like Johnny Carson, Roggin plans and pays close attention to detail. It's one of the reasons he's been so successful in his distinguished radio and television career.
Considering the fact that Roggin hosts a daily show on AM 570, he has some interesting opinions on the fight to preserve AM radio in cars. Roggin also talks about how the LA sports radio market differs from other places but doesn't lack passion, and what's in store for him next after an incredible 43-year run on daily TV. Enjoy!
Brian Noe: You did TV at NBC4 for over four decades. How do you feel now after signing off just a few months ago?
Fred Roggin: It's interesting, the media business has changed dramatically. And let's be really honest, television doesn't have the impact that it one time had. It really doesn't.
More things are digital than ever before. The only way to succeed, I felt, was to try to be unique and different. Always did feel that way. But it just wasn't as much fun anymore. I haven't really retired completely from television because I still may be doing some things, but I stopped doing the daily local news. That's the thing, I just stopped. It was exhausting me.
It's funny in LA, in the 43 years I've been here, I've probably done radio for 20 of them at different places. I started in radio, I'm a radio guy. I always kept my fingers in it because I really enjoyed it. We have more people listening to us on KLAC than were watching our newscast on television. Think about that. And that does not speak to the quality of work we were doing at NBC, because our work has always been impeccable; but it was like, I wanted to have fun. I just didn't want to do daily local news anymore.
BN: When you're doing a radio show, I think that you have a great feel for when to switch gears. It's time to be a little serious about this topic, and now it's time to have some fun. How would you describe your feel between times of content and times of comedy?
FR: Well, first of all, thank you for saying that. I would hope that's one of the reasons people listen to us. I think in our business what you find is, some people are all comedy, some people are all opinion. It's hard, I think, to blend them. Every show is unique. Every personality that does this is unique. Every host is unique. I've always looked at it like this, and it was the same philosophy I used in television, when I was on TV, we would change stuff an awful lot. Even if a show was successful, every year or so, I would tweak it. I would change it. The producers would say why? I would always have the same answer; because if I'm bored, I gotta tell you, the viewers will be bored. They don't even realize it yet, but they will be. So why would we allow them to feel that way?
I think the same holds true in what we do here in radio. You know when it's enough. If you went to an ice cream store, would you always order the same flavor every single time? No, you have a favorite, but you try different things, otherwise you would become bored. What we try to do, obviously we're LA based, so we're going to go hard on the LA teams as much as we can. But then you drop in things that change the pace a bit, give people a breather and a reason to smile or be mad at you. Either way we know they're going to react. Then keep moving. It's kind of a tapestry rather than a giant wall painted all one color.
BN: Do you feel like having a TV background helps with pacing and moving a radio show forward?
FR: It's funny, I think having a radio background helps you in TV. I think radio really helps you in television because if radio is the purest form of communication, you're forced to learn to talk with people. In TV, you have advantages. I can lean in. I can change my facial expression. I have video that I can narrate directly off a script. Radio you have none of that. Radio forces you to be a solid communicator and that's why people that do radio can transition to TV. But people that start in TV oftentimes have a very difficult time transitioning to radio.
When I would build TV shows, my background was really in production. I was the guy in front of the camera, but my background is in production. Pacing meant everything. Everything. Visuals meant everything. Changing the tone meant everything. The radio show is very much the same. Our producer, Kevin Figgers, is terrific. I think you know Kevin.
BN: Oh, yeah. Yep. He does a great job.
FR: I'll tell you, he's a superstar. He gets it. He's good. We always talk about the pace and where we should change things and drop things in. We invite everybody to stay for three hours. You know this as well as I do, they don't. They have lives.
We always have to be mindful of the fact that at any moment, someone could be joining us. At any moment. Our objective is when that person should find us, that we are giving them a reason to stay. Even with our bumper beds that Kevin created, they're a little different than traditional sports talk radio. They sound more like an FM music station. We stop, boom, cold, hit the music, hit the sounder, and then we tease. We try every day to be mindful of pacing.
In our medium, like Colin Cowherd who's brilliant, I think the best in the business, there are few guys like him. He distinguishes himself. How can we distinguish ourselves to stand out or attempt to stand out and give people a reason to come to us? It could be the slightest little thing. It could be the pacing of our show. Everything that Kevin does is strategized. Even the music we use for our games, it all has a feel, it all has a pace.
BN: What are your thoughts on the fight to preserve AM radio in cars?
FR: I think it's a battle worth fighting. Until you do this for a living, you don't realize how many people listen to us on the AM band, period. We have listeners that still listen on transistor radios. These are valuable human beings, they make a difference. The AM band provides information in times of distress and disaster. As technology evolves and things blend, I think it's important to realize that a lot of people still count on the AM band for their news, for their information, for their entertainment, for their companionship. And in the event of an emergency or disaster, it is necessary. I will fight that fight personally because I know how valuable it is.
Here's the thing, Brian, as we continue to evolve, you can listen to us on the iHeartRadio app. I'm sure that's what carmakers are thinking, Well, eventually, all cars will just have apps and you'll be able to listen to whatever you want to. But you're discounting a huge portion of the audience and the population. People that desperately count on their radio station on the AM band to be there for them.
I'm of the belief, and I don't manufacture cars, and I don't know what anything costs, but I do know it doesn't seem that hard to include the AM band for the millions of people that still count on it.
BN: Have you ever heard from a listener that said, man, I got a new car and it doesn't have AM. I don't listen as much as I used to. Has that ever happened?
FR: No, I haven't heard that. What we find is more and more of our listeners are transitioning to the app. But see, here's the disconnect, and here is what's so hard to understand. Just because a number of people are transitioning, doesn't also mean there aren't a number of people that still depend on it.
What you're doing is you're telling people that listen to AM, you're not very important. You don't really count. We know they desperately count, and they count on us. I honestly don't understand, as I said, the costs associated with any of this, but it just doesn't seem that difficult to me. Take care of everybody. Don't eliminate people.
BN: You reacted to a column last year claiming that no one listens to sports talk radio in LA. It's like you channeled your inner East Coast, I love how you attacked the story with some edge. What was the reaction in LA to your comments about that column?
FR: Minimal. You have to understand your market. And my point there was, yeah, if we were on the East Coast, we would have a larger listening audience, simply because of the market. In Los Angeles, if you just look at it from a business perspective, there are so many ways to spend your disposable income. There are so many teams. To say the people in Boston are more passionate, or there are more people listening in Boston, I think there's no nuance to that. Understand your market.
Are you telling me that people in this market are not passionate? Well, when you come to town, let's go see the Dodgers or the Lakers play. You tell me if they're passionate. You tell me if they are as passionate as Celtics or Red Sox fans. I'll take you to see the LA Kings, you tell me if those people are as passionate as Boston Bruins fans. I think you're going to agree they are, if not more so.
It's understanding the nuances of your market. And to make a blanket statement, and try to compare apples to oranges, that was low-hanging fruit. That was too easy. It's much more involved than that. It bothered me because I really thought in that situation, someone didn't do their homework. It could have been presented very much like the audience is bigger here, or seemingly more passionate here, but let's analyze why. If you take the time to analyze all of it, you realize that the fan bases are as passionate. We just have more things to do here.
BN: Your station, AM 570, is the home of the Dodgers. How does that relationship impact the way you present topics about the team, or any of the opinions that you share?
FR: That's a fair question. I can tell you in the years that I've worked here, if the Dodgers have performed well, or something great happens, we're on it. If they're struggling, if things aren't going well, if something had been bungled, we're on that too. Never, not one moment, not one time has anyone called myself or Rodney into the office and said back off. Never, no one has ever said don't talk about that.
I think what all the teams want, and Brian, maybe I'm wrong, and I know this with the Rams because I talk to them all the time, they always say the same thing. I've always tried to be this way, just be fair. If we deserve criticism, then we should be criticized. But don't take cheap shots. If we've done something well, that should be acknowledged. Don't go over the top. Just be fair, be honest.
BN: As you transition from daily TV, when you look at your future, what do you want the next five years to look like?
FR: I want to continue doing this and growing this. We have been working, and we actually need to accelerate the pace, but we have been working on preparing this for multiple platforms.
I simply want to grow and learn every single day. I want to experience new things every day. I have a philosophy, when you stop learning, you die. It might even be the smallest little thing. Even driving down the street and noticing a sign you hadn't noticed before, you learned something today. Interacting with someone and finding something out about them you didn't know, you learned something today. I'm very curious. My mind never stops working.
I would like to continue doing this. As I said, we're working on some things to share this on multiple platforms. We're probably 50% of the way through it at this point. But grow this, keep growing and keep learning. Then I'll be very happy. This is such a wonderful, wonderful business. You really do meet the nicest people doing this for a living. People that care, that work hard, that really take a lot of pride in what they do. That means a lot to me. I love working with people like that. I'm honored to work with them. And just keep growing this.
Look at it like this. People said, well, you stopped doing TV. I did TV going on 43 years here. As I mentioned, for 20 of those 43, I actually did radio too. I had two jobs and people would say, well, you're retiring. I'd say no, I'm stopping doing part of one job, I have another one. Another one that I truly love. It's funny, on TV, I said I'm not retiring. I'm just not doing the news anymore. That doesn't mean I won't be on LA TV. It means I'm not doing the news. I just want to keep growing and having fun to be honest with you. Maybe that's too easy of an answer, but you get to a point in life, you just really want to love what you do and have a good time. And I do, every single day.
Brian Noe is a columnist for BSM and an on-air host heard nationwide on FOX Sports Radio's Countdown To Kickoff. Previous roles include stops in Portland, OR, Albany, NY and Fresno, CA. You can follow him on Twitter @TheNoeShow or email him at bnoe@premierenetworks.com.
Robert Griffin III Wants to Tell Your Story the Right Way
"Even if I do know you personally, I'm not going to bring that to the broadcast because that's not my job."
During last season's VRBO Fiesta Bowl, Robert Griffin III was part of ESPN's alternate telecast at field level alongside Pat McAfee. Suddenly, the Heisman Trophy winner took a phone call. Once he hung up the phone, Griffin divulged that his wife had gone into labor and proceeded to sprint off of the field to catch a flight. An ESPN cameraperson documented his run and jubilation as he returned home to welcome his daughter, Gia, into the world. It encapsulated just what motivates Griffin to appear on television and discuss football, and why he is one of ESPN's budding talents with the chance to make an impact on sports media and his community for years to come.
"This was an opportunity for me to go out and be different in the way that the media covers the players and truly get to the bottom of telling the players' stories the right way," Griffin said. "I look at this as an opportunity to do that."
Griffin was a three-sport athlete as a student at Copperas Cove High School, and ultimately broke Texas state records in track and field. In addition to that, he played basketball and was the starting quarterback for the school's football team as a junior and senior, drawing attention from various schools around the country. He ended up graduating high school one semester early and quickly became a star at Baylor University in both football and track and field.
Robert Griffin III's nascent talent was hardly inconspicuous, evidenced by being named the 2008 Big 12 Conference Offensive Freshman of the Year and then, three years later, the winner of the Heisman Trophy. In the end, he graduated having set or tied 54 school records and helped the program to its first bowl game win in 19 years.
Ultimately, he transitioned to the NFL in a career with many trials and tribulations, but through it all, he never lost his sense of persistence. Nearly a decade later, he returned to college, but this time as a member of the media covering the game from afar. Unlike a majority of former players though, Griffin did not formally retire from playing football when inking a broadcasting contract with ESPN.
"I haven't retired yet at all," he said. "I tell everyone that asks me the question that I train every day [and] I'm prepared to play if that call does come. I've had some talks with teams over the past two years; just nothing has come to fruition."
While Griffin's focus as a broadcaster is undeniable, he never thought about seriously pursuing sports media until his broadcast agent pushed him to do so. He was urged to take an audition at FOX Sports. Griffin broke down highlights and called a mock NFL game alongside lead play-by-play announcer Kevin Burkhardt. He was not prepared for that second part, but impressed executives and precipitously realized a career in the space may not be so outlandish after all.
Griffin then moved to ESPN where he experienced a similar audition process, this time calling a game with play-by-play announcer Rece Davis. Once the audition concluded, it was determined that Griffin would not only begin working in the industry, but that he would be accelerated because of his ability to communicate in an informative and entertaining style.
As a player, he saw the way media members covered teams – sometimes bereft of objectivity – and therefore saw assimilating into the industry as a chance to change that. Now, he is focused on telling the stories of the players en masse while being prepared to pivot at a moment's notice.
ESPN's intention was to implement Griffin on its studio coverage, but once executives heard him in the broadcast booth, the company had a palpable shift in its thinking. He was told he was ready to go out into the field and start calling games immediately, something of a surprise to him. FOX Sports felt similarly. This led to a bidding war between the two entities, which ultimately concluded with Griffin inking a contract with ESPN. He appeared over its airwaves plenty of times as a player, and even participated on a variety of studio shows in 2018 where he was almost permanently placed on NFL Live. This time around though, Griffin was suddenly preparing to work with Mark Jones and Quint Kessenich on college football games. He did not have time to consider the implications of the decision, instead diving headfirst into the craft and remaining focused on what was to come with producer Kim Belton and director Anthony DeMarco at his side.
"These guys took me under their wing, and I'm beyond indebted to them for that," Griffin said of his colleagues. "They taught me everything that I know about the industry. They taught me everything I know about how to present things to the masses to where it can be easily digestible. They've allowed me to allow my personality to shine through."
Demonstrating his personality was a facet of his makeup Griffin felt was inhibited by playing professional football, but he knows it would have been considerably more difficult to attain a chance to cover the game had he not laced up his cleats. Calling college football games with Jones accentuated his comfort in the booth because of Jones' adept skill to appeal to the viewers and penetrate beyond the sport.
"He has the way to connect different generations of listeners to hear what he's saying and perceive it in the same way," Griffin said. "To me, that's what we all strive to do in this industry is to be able to find the connective tissue between the fan who is 60 or 70 years old, and the fan who's in their late teens or early 20s."
From the beginning, everyone told Griffin to be himself and not adopt an alternate persona in front of the camera. That advice has guided him as he approaches his third year working in the industry.
"It is so hard to maintain a character or try to be someone that you're not, but if you are who you are every single day, then every time you show up on camera you will be that person," Griffin said. "I've made sure that when I stepped foot in front of that camera, I was going to be myself."
Griffin identifies his style as pedagogical to a degree, critiquing players as if he was coaching them on the sidelines. He will never look to penetrate beyond football with his criticism, as drawing conclusions and using unrelated parlance could be viewed as indecorous. In short, Griffin III knows what it means to represent ESPN.
"We're not a gossip website. We're supposed to be critically acclaimed, prestigious journalists, and at the end of the day, that's how I try to approach the job that I do. That's why I got into the business – because I felt like there was a little of that going on, especially during my career, so I would never do to somebody else what was done to me."
Over the course of his NFL career, Griffin was subject to immense criticism that went significantly beyond the gridiron. For example, sports commentator Rob Parker suggested that Griffin was not fully representative of the Black community and proceeded to question if he was a "cornball brother." The incident resulted in Parker receiving a 30-day suspension from ESPN, and after he defended his comments and blamed First Take producers in a subsequent interview, the network decided not to renew his contract.
"My goal as a member of the media is to tell players' stories the right way, and if I don't know you personally, I'm never going to make it personal," Griffin said. "Even if I do know you personally, I'm not going to bring that to the broadcast because that's not my job."
In addition to broadcasting college football games with Jones on ESPN and ABC, he also appears on-site for Monday Night Countdown, the network's pregame show leading up to Monday Night Football. Making the decision to add NFL coverage to his slate of responsibilities meant that Griffin would be able to tell more stories and utilize his knowledge of players during their collegiate careers to enhance the broadcast.
The energy that he felt attending tailgates and interacting with fans at the college level gave him a unique skill set to translate to the NFL side, leading him to present the production team with an unparalleled idea for Week 1. He wanted to race Taima the Hawk, the live game mascot for the Seattle Seahawks who flies around Lumen Field prior to the start of each home game. It was an outlandish idea, but one that made sense for television because of the visual appeal it can present.
"If you know anything about hawks, they can fly up to 120-140 miles per hour, so they're like, 'There's no way he's going to beat this hawk in a race, but we'll do it,'" Griffin said. "To that crew's credit, they never once balked at any of the creative ideas that I brought to the table because they want to try different things and be exciting and have fun on the show."
Griffin ended up winning the race, commencing the new season of Monday Night Countdown with immediate excitement before the Seahawks' matchup against the Denver Broncos. He thoroughly enjoyed his first year on the show and having the chance to work alongside Suzy Colber, Adam Schefter, Booger McFarland, Steve Young, Larry Fitzgerald and Alex Smith.
"They always tell me, 'Hey, anything you're not comfortable with, you just let us know and we won't do that thing,'" Griffin said of the show's producers. "My answer always back to them is, 'Well, I won't know if I'm uncomfortable with it if I don't try.'"
While Griffin had what looked like a seamless assimilation into the broadcasting world, he had a difficult moment when using a racial slur on live television in discussing Philadelphia Eagles quarterback Jalen Hurts. The clip quickly gained traction across the internet, and Griffin issued an apology on his Twitter account for using the pejorative language and claimed that he misspoke.
"I was shocked that it came out in the way that it did, and I immediately jumped on it and apologized because there's no need to deny," he said. "You messed up. You move forward, and I think that's the easiest way to get over those types of things and to get back on your feet."
The football season at both the college and professional level is undoubtedly a grind, and it requires a combination of dedication, passion and persistence few people possess. Robert Griffin III has garnered the reputation of being an "overpreparer," often partaking in considerably more information than necessary to execute a broadcast. The information he consumes and conclusions he draws combined with his experience at both levels has cultivated him into a knowledgeable analyst who makes cogent, intelligible points on the air.
"I over-prepare for everything, and 70% of the information that I soak in going into a game or going into a broadcast for Monday Night Countdown, I don't use because there's just not enough air time," Griffin III said. "There's not enough opportunities to talk on it all."
At the same time, he makes a concerted effort to make the most of his time with his family and separate himself from the field, engaging in activities including playing ping pong, going to the movies and supporting his children. He also embarks in charity work through his RG3 Foundation and strives to teach his daughters the importance of giving back. The mission of the nonprofit foundation is to discover and design programs for underprivileged youth, struggling military families and victims of domestic violence, and it has made a significant impact since it was launched in 2015.
"Trying to end food insecurity; making sure that our under-resourced youth have access to the things that they need just to survive – talking about food, clothes, books, the ability to learn [and] putting on these after-school programs," Griffin elucidated in describing the organization's mission. "We want to have an impact on our community. We mean that with everything in us and have shown that to be the true case of why we do this."
Griffin's wife, Grete, serves as the executive director of the foundation and also runs her own fitness business. Staying physically and mentally in shape is something they actively try to accomplish in their everyday lives, and lessons they are passing down to their daughters.
"I'm 33 years old right now, so if I want to continue to train every single day, I can do that for the next 10 years if I need to," Griffin said. "Not taking hits and being physically fit is also a good thing for your own health, which is something me and my wife are extremely passionate about."
Although his experience is in playing football and working in sports media, Robert Griffin III does not believe in limiting himself and would consider exploring opportunities outside of sports and entertainment. He wants to become the best broadcaster possible no matter where he is working in the industry and continue finding new ways to be distinctive en masse.
"We're storytellers," he said. "We're here to break down things [and] to tell people a story the right way; things that people are interested in, and that expands across all media levels. We're not closing the door on anything from that standpoint."
While he was playing in the NFL, Griffin dealt with a variety of injuries that ultimately kept him off the football field and made it difficult to display his talents. Ranging from an ACL tear, shoulder scapula fracture and hairline fracture in his right thumb, staying healthy was a challenge for him over the time he played in the NFL.
Through surgeries and rehabilitation, he learned how to face and overcome these challenges. It has shaped him into the broadcaster and person he is today as he looks to set a positive example to aspiring football players and broadcasters everywhere.
"The eight-year career that I was able to have thus far didn't come without roadblocks in the way [and] didn't come without adversity. Learn from the adversity that you go through and learn from all the things and the lessons that you have that sports teaches you, and then go be able to present that to the masses."
Derek Futterman is a contributing editor and sports media reporter for Barrett Sports Media. Additionally, he has worked in a broad array of roles in multimedia production – including on live game broadcasts and audiovisual platforms – and in digital content development and management. He previously interned for Paramount within Showtime Networks, wrote for the Long Island Herald and served as lead sports producer at NY2C. To get in touch, find him on Twitter @derekfutterman.
Pac-12 Pushing Enhanced Access, Deion Sanders Reeks of Desperation
What good is enhanced access for TV broadcasts or the star power of Coach Prime if those game telecasts aren't seen?
Getting experimental has drawn some attention to USFL and XFL broadcasts during each league's seasons. The Pac-12 is apparently hoping the same approach will draw viewers to its football telecasts beginning this fall.
Last week, the conference announced that its broadcasts on ESPN, Fox Sports, and Pac-12 Networks would feature enhanced access for viewers. Head coaches will be interviewed during games. Players and coaches will be mic'd up during pregame warm-ups. Cameras will have pregame and halftime access to team locker rooms. And handheld camera operators will be allowed to film parts of the field and game experience which were previously prohibited.
Those familiar with USFL and XFL telecasts will likely see some similarities to the greater access that those leagues allow their TV partners. Coaches are mic'd up on the sidelines, giving viewers insight into play calls and strategy. Players are interviewed during the game, providing near-instant reactions to success or failure. Cameras in the replay booth show how officials decide to either overturn or uphold calls on the field.
What the Pac-12 intends to do with its broadcasts won't go as far as the USFL and XFL. Access to coaches and players is being expanded but will still have limits. The conference doesn't have to demonstrate familiarity, credibility, and legitimacy to fans and media.
Spring pro football leagues are a tough sell to mainstream sports fans accustomed to college football and the NFL from September through January. Especially when the level of play is subpar and rosters are filled with unfamiliar names, the USFL and XFL have to give fans more reasons to watch.
USC, UCLA, Washington, and Oregon are established national brands and regularly compete with the top teams in college football. Utah has played in the past two Rose Bowls, seen on millions of televisions during the New Year's Day holiday. All five of those schools finished among the final AP Top 25 rankings of the 2022-23 season. USC quarterback Caleb Williams won the 2022 Heisman Trophy.
Yet the Pac-12 is promoting the gimmick of enhanced access because it needs to attract positive fan and media attention. Right now, most of the headlines the conference is generating aren't flattering.
Notably, the Pac-12 needs a new media rights deal. Losing two of its most prominent schools, USC and UCLA, to the Big Ten in 2024 certainly isn't helping with that. Rumors have persisted that Washington and Oregon could soon follow. Additionally, the Big 12 is reportedly eyeing Colorado, Arizona, Arizona State, and Utah as possible expansion targets.
Pac-12 commissioner George Kliavkoff is left to tout Colorado's new head coach, Deion Sanders, as a selling point in a new media rights deal. Never mind that Sanders hasn't coached a game in Boulder yet. The Buffaloes are also coming off a 1-11 season and have won more than five games only once since 2007.
If Coach Prime is as successful as Colorado hopes, how likely is he to jump to a better program and stronger conference? And as mentioned in a previous paragraph, even if Sanders sticks around, Colorado could be poached by the Big 12. How much value would Coach Prime provide for the Pac-12 then?
ESPN's deal with the conference expires in July 2024, shortly before USC and UCLA defect, and reportedly has no intention of renewing. (ESPN could still agree to a package of lower-tier games for late-night broadcast windows, but Andrew Marchand of the New York Post reports that doesn't appear likely.) Fox's agreement is up at the same time, though prospects of a renewal seem more optimistic. The network needs Pac-12 games to fill its college football Saturday inventory.
The options from there aren't promising. CBS Sports' Dennis Dodd reports that current speculation has USA Network, part of the NBCUniversal conglomerate, as a possible landing spot. According to The Athletic, Pac-12 commissioner George Kliavkoff believes that the conference's next media rights deal will have a large streaming component with Amazon and Apple TV+ mentioned as potential partners.
A streaming partner might be good from a financial standpoint, helping produce some of the revenue that ESPN has cut off. But forcing fans to find your product and asking them to pay for another TV platform isn't a good way to draw interest. It may well be a path to irrelevance and obscurity. That's not going to compete with the Big Ten and SEC, or even the Big 12.
And as The Athletic's Chris Vannini points out, how can streaming be expected to save a conference like the Pac-12 when it isn't even helping TV networks (or standalone providers) right now? Disney is losing money with Disney+, ESPN+, and Hulu. NBCUniversal has lost billions on Peacock, as has CBS with Paramount+. Maybe the Pac-12 won't care about that because it got paid. But there's little chance for growth.
OK, Lincoln Riley, Chip Kelly, Dan Lanning, and Kyle Whittingham could be interviewed during games. But they probably won't say much interesting during a game. Caleb Williams, Bo Nix, and Michael Penix Jr. will be mic'd up during warm-ups. Maybe we'll see coaches and players going crazy in the locker room at halftime. Just remember that Peyton Manning said most players only have time to use the bathroom and have a snack. There's your compelling television.
What good is enhanced access for TV broadcasts or the star power of Deion Sanders if those game telecasts aren't seen by large audiences? To say otherwise is desperate. That's exactly where the Pac-12 is.
Ian Casselberry is a sports media columnist for BSM. He has previously written and edited for Awful Announcing, The Comeback, Sports Illustrated, Yahoo Sports, MLive, Bleacher Report, and SB Nation. You can find him on Twitter @iancass or reach him by email at iancass@gmail.com.