The NFL Broadcaster Fantasy Draft
"Seven of us are putting together a fantasy broadcast booth. We all have to take a play-by-play man, an analyst, and a sideline reporter."
After a long spring and summer without football, the NFL makes its 2019 debut this week. The 2019 season begins Thursday with the Packers heading to Chicago to take on the Bears.
In the weeks leading up to the regular season, fans everywhere have been pouring over fantasy football draft guides and listening to radio segments and podcasts for advice on how to prioritize their draft in a PPR league or how much is too much to bid on Travis Kelce's services.
Here at Barrett Sports Media, we have a fantasy draft of our own. Seven of us are putting together a fantasy broadcast booth. We all have to take a play-by-play man, an analyst, and a sideline reporter.
Every broadcaster on the rosters of CBS, FOX, NBC, and ESPN was eligible. A random draw was done earlier to determine the draft order. Here's how it turned out.
Andy Masur
Jason Barrett
Demetri Ravanos
Brian Noe
Tyler McComas
Matt Fishman
Brandon Contes
Without further ado, here are the results of BSM's first ever Fantasy Football Broadcasters Draft!
FIRST ROUND
1. Andy Masur – Tony Romo
TV is all about the analyst and the best in the business right now is Romo. Not too far removed from his playing days, he somehow sees the future. He adds so much to the broadcast from a viewer standpoint and really works well with his partner Jim Nantz. CBS better pony up or they will lose him one day!
2. Jason Barrett – Al Michaels
It's without hesitation that I'm using my 2nd overall selection to draft Al Michaels. When Al calls an NFL game it just feels bigger. His passion for the game, attention to detail, command of the mic, chemistry with analysts, vivid descriptions of developing game situations, and ability to seamlessly lead into or out of video pieces are what set him apart as a play by play announcer.
Whether you're a hardcore football fan or a casual one, he makes the game easy to follow, plus he has a great feel for knowing how to use his voice to capture each moment. The bigger the situation, the better he is. When I watch a football game, I expect the broadcast team to entertain and inform me. When Al Michaels is calling the action, I have no doubt my expectations will be exceeded.
3. Demetri Ravanos – Joe Buck
Joe is sort of the voice of American sports at this point. He speaks with authority on any broadcast, but doesn't take himself so seriously that he won't make time to show up and make a fool of himself on Brockmeyer or The Dan Le Batard Show. Plus, in the event that someone pretends to moon the crowd or poop out a football, Joe is always willing to put on his best Helen Lovejoy and ask "WON'T SOMEBODY PLEASE THINK OF THE CHILDREN!"
4. Brian Noe – Cris Collinsworth
It's impressive how much information Collinsworth provides during games without rushing to a fault. He doesn't try to cram in six sentences when time only allows for three. He's conversational. Besides providing outstanding analysis, Collinsworth has some punch too. He doesn't kiss up to every player and coach in the league and isn't shy about dishing out some fair criticism. Collinsworth has a great knowledge of the game and is a top-notch analyst.
5. Tyler McComas – Tracy Wolfson
What?! A reporter in the first round? Is that like taking a tight end with your first pick in Fantasy Football? Look, when I see Wolfson, it's like, okay, this is a big game. I think she's the best at what she does and has been for a while. No, she's not in the highest profile position on the broadcast, but that doesn't mean she's not elite.
6. Matt Fishman – Charles Davis
I have been following Charles Davis since his days as a college football analyst on TBS…amazing to think of that phrase, "College Football on TBS". Charles is extremely knowledge, prepared, smart, and funny. He also has great chemistry with his partner Kevin Burkhardt on Fox's best NFL broadcast team.
7. Brandon Contes – Ian Eagle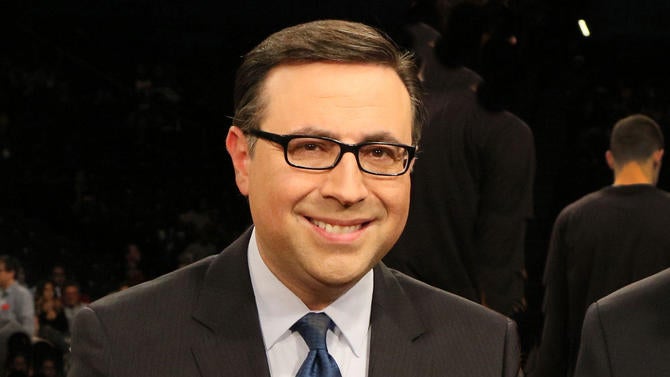 No matter what two teams are playing, if Ian Eagle is in the booth, the broadcast is a must see and must listen. Eagle would've been my first overall pick in the draft, not just because of his ability to call a game, but for his added entertainment value. Eagle's enthusiasm and unforced humor keeps the audience engaged even when the outcome is already decided. "The Bird" is the perfect frontman for a sports broadcast.
SECOND ROUND
8. Brandon Contes – Booger McFarland
Engaging, opinionated, natural sense of humor – these are qualities I want from an analyst and Booger McFarland is all of the above. Last season, Booger was put in a terrible spot by ESPN, being asked to offer analysis from afar while roaming the sideline in the Booger Mobile. The broadcast was rightfully criticized, but this season he'll shine in the booth, and from a fantasy draft perspective, would make a fantastic complimentary voice to Ian Eagle.
9. Matt Fishman – Kevin Burkhardt
I think Kevin and Charles Davis are easily Fox's best NFL play by play team. What I love about Burkhardt is how he paid his dues and worked his way up as a reporter for WFAN covering the Jets and covering the Mets for SNY.
10. Tyler McComas – Troy Aikman
Troy Aikman at this spot? What an unbelievable value pick. I'll take a big name that's a great analyst who's been on the call for many big games in his career. Aikman is both recognizable and respected, along with many years of experience in the booth.
11. Brian Noe – Jim Nantz
"Hello, friends." Nantz came up with his signature phrase at the 2002 PGA Championship. The cryptic message was actually a hidden greeting for his father who was battling Alzheimer's. Nantz joined CBS Sports way back in 1985. His experience in the business is extensive to say the least. He remains incredibly sharp, smooth, and excitable as an NFL play-by-play host. Nantz also makes games feel bigger thanks to his history of calling some of the biggest events in sports.
12. Demetri Ravanos – Michelle Tafoya
There's no bigger name left on the board at this point than Michelle Tafoya. She has the respect of every coach and player in the league. As good as her NBC partners are, it is Michelle's sideline interviews that put the NFL's marquee broadcast team over the top as absolutely unimpeachable.
13. Jason Barrett – Mark Schlereth
'Stink' has been exposed to a national football audience for well over a decade on ESPN and FOX Sports. That makes him immediately familiar to the viewer. Secondly, his passion, insight, attention to detail and comfort with delivering candid opinions make him a natural to blend in well with Al Michaels. His football and broadcasting resume would also likely meet Al's approval.
Additionally, anyone who's been around Mark knows that he can talk football x's and o's with the best of them but he can also go off script and offer entertaining commentaries to hook the casual sports fan. Mark wouldn't be phased by the bright lights of calling marquee events and thru his various experiences in television he's shown he can adapt to working with anyone while delivering high quality content.
14. Andy Masur – Kevin Harlan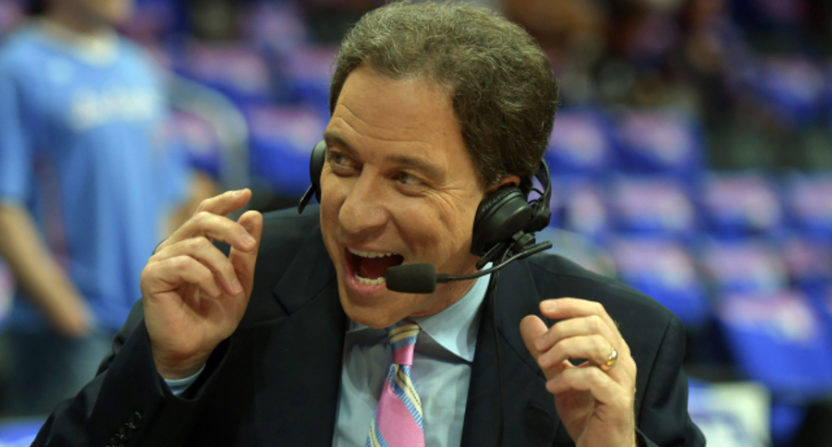 To me he's one of, if not the most versatile broadcasters today. He's excellent on television and equally as excellent on a radio call. Great on football and just as good on basketball. Enthusiasm is never lacking when it comes to his broadcasts. He's excellent at sneaking a little humor into a broadcast and creating catch phrases from seemingly out of nowhere.
THIRD ROUND
15. Andy Masur – Laura Okmin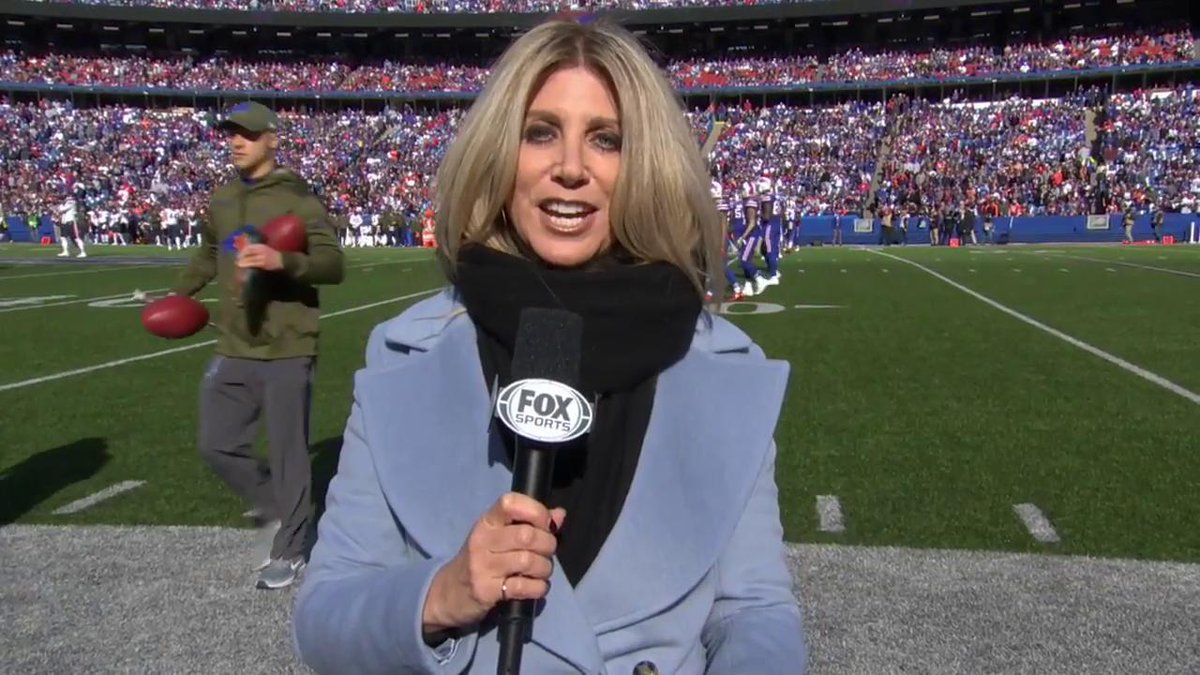 There is just something about Laura's reporting on the sideline that makes her the choice here. She's very smooth and seemingly does a lot of homework to be as knowledgable about the teams as possible. I'm also a fan of her very solid and friendly delivery that makes the stories she reports on and tells sort of come to life.
16. Jason Barrett – Melanie Collins
Most people would probably take Erin Andrews here given her big game experience, audience familiarity, and quality work on the sidelines, but I'm going to roll the dice and bet on Melanie Collins. When I was programming in the Bay Area I became aware of Melanie's work and was very impressed with her versatility. She presents herself with great energy, a love for her job, and her questions to guests are short, focused, and on the most important issues surrounding a game. CBS saw the same qualities in her which is why she's now working with Greg Gumbel and Trent Green.
If I'm going to count on Al Michaels and Mark Schlereth to deliver a spectacular broadcast inside the booth, they've got to have a strong person on the sidelines adding information they can't. When it's time to make that call, I'm dialing up Melanie Collins.
17. Demetri Ravanos – Rondé Barber
Okay, admittedly I grew up a Buccaneers fan, so this is a bit of a homer pick. As I look at who is left on the board though, I think he is the kind of partner that could bring out the very best of Joe Buck in the broadcast booth. He is the opposite of Troy Aikman's serious nature. I think seeing Rondé having fun and genuinely enjoying the game in front of him would let Buck's lighter side come out and shine.
18. Brian Noe – Erin Andrews
I like the feel of having an All-Star crew — Nantz is synonymous with CBS, Collinsworth began his first stint with NBC in 1990, and Erin Andrews has been with FOX Sports since 2012. Andrews is one of the most recognizable sideline reporters in sports history. Her notoriety extends beyond the sideline thanks to her work on Good Morning America, Dancing with the Stars, and as a co-host on the CMT Music Awards. She brings a big presence to NFL games and helps complete this power lineup quite nicely.
19. Tyler McComas – Joe Tessitore
I really like Tess. Unfortunately for him, I think his broadcast is starting to get a negative rap because of the chaos surrounding the Monday Night Football analyst roll. But don't let that fool you, there's a reason he's calling Monday Night Football. Highly talented.
20. Matt Fishman – Lindsey Czarniak
Lindsey is an experienced sports reporter and anchor. I thought that's she has been at her best as a pit reporter covering NASCAR. Those same skills will serve her well roaming the NFL sidelines for Fox.
21. Brandon Contes – Pam Oliver
Ending up with Pam Oliver this late in the draft, speaks to the quality of sideline reporters in the NFL. A pioneer in the industry for women and African Americans, Oliver has been an exemplary sportscaster for decades. As one of the first sideline reporters I can remember watching, with John Madden and Pat Summerall, Oliver is synonymous with the NFL and will enhance any broadcast.
So just to recap here are our teams.
Andy Masur: Kevin Harlan, Tony Romo, Laura Okmin
Jason Barrett: Al Michaels, Mark Schlereth, Michelle Collins
Demetri Ravanos: Joe Buck, Rondé Barber, Michelle Tafoya
Brian Noe: Jim Nantz, Cris Collinsworth, Erin Andrews
Tyler McComas: Joe Tessitore, Troy Aikman, Tracy Wolfson
Matt Fishman: Kevin Harlan, Charles Davis, Lindsey Czarniak
Brandon Contes: Ian Eagle, Booger McFarland, Pam Oliver
Meet The Podcasters – John Middlekauff, The Volume
"I worked in college football and I worked in the NFL, and the reality is you talk about it in those buildings like a fan would talk. 'Is this player better than the other player?' 'This coach sucks.' I mean, you have the same conversations."
John Middlekauff is in the right business at the right time. America has never wanted more football talk and what stands out are educated people with unique points of view.
Before his media career began, John was a scout, first in the college football world and then for the Philadelphia Eagles. His insight on the game is informed by experiences on multiple levels. It is no surprise that Colin Cowherd saw Middlekauff as the perfect addition to his podcast network.
Our conversation focuses on the value of authenticity, why it's good not to be beholden to a team or business and what conversations he has learned his audience wants to participate in. He even answers my question about what is wrong with the Carolina Panthers in the bleakest, most disheartening way possible.
Demetri Ravanos: Can there ever be too much NFL content out there?
John Middlekauff: Oh, yeah. I mean, it's obviously as big as it's ever been. I think the key is to not just regurgitate. Everyone's watching the games. Clearly, there are a lot of different NFL podcasts. Everyone talks about the NFL. Every show talks about the NFL because clearly, there is a demand for it. It's somewhat supply and demand.                     
I'm 38 years old. When I was a kid, baseball was still huge in the early mid-'90s – Cal Ripken, Barry Bonds, [Ken] Griffey Jr. That kind of dipped through Michael Jordan taking the NBA, which was as big as any league, right at his peak. They've ebbed and flowed, and obviously, the NFL's passed them. Now, the NFL was big in the '90s, but it's gone to a different stratosphere the last, I'd say 20 years, the [Tom] Brady and Peyton Manning kind of era.
For the foreseeable future, I think, who knows? I mean you can never predict 20 years ahead, but for the next this next decade it feels like it's going to maintain pretty consistently. So, I would say as of right now, probably not. 
DR: As you know, podcasts in general have opened up the door for all kinds of different content. You come at it with an experience that not a lot of people talking about the NFL have with the league. You think about something like the ManningCast, the fact that Pro Football Focus is able to sustain itself with subscriptions. It seems like the appetite for the type of NFL content that the average person wants has certainly changed.
JM: Well, my whole thing is just to try to talk about it like a fan would. I worked in college football and I worked in the NFL, and the reality is you talk about it in those buildings like a fan would talk. "Is this player better than the other player?" "This coach sucks." I mean, you have the same conversations. You just might be having him with a guy that could fire the offensive coordinator or has the potential to trade the player you're talking about, but you have the same conversation as the five guys that watch their favorite team at the bar or in their home have. You just have closer access to the people who make the decisions.
I actually kind of pride myself. I don't get that nerdy on stuff. There are a lot of podcasts that get much more nerdy and analytical on football. I just kind of talk about it like I've always talked about it, like I did in the NFL and like I did when I worked with Jason [Barrett] on radio. 
You've got to make it entertaining, but I just try to talk about it like the fan would. Luckily, that's just how I talk about it, so it's been pretty easy for me so far.
DR: What kind of conversations do people want to have with you on social media? Is it just more fan talk or do you find that people do want to figure out, "What is the life of the scout like? What was that experience like for you?"
JM: We have talked about that from time to time, but I think it's much more specific on, "What the f*** is up with this coach?," right? "What's what's going on with our team?" Or maybe something bigger picture, like, "What should our general manager do? Should our coach get fired? Is this guy really a top player? Who should we draft?" Stuff like that; it's more on that angle.                       
No one gives a shit on a daily basis how many players you write up on the road or when you write those reports. I don't spend any time talking about that really at all unless I get asked and then we will talk about it.
DR: Well, since you since you brought up that that's the way you talk, I told you I'm here in North Carolina. What the f*** is up with Frank Reich, man? He can't be this bad at the job, right?
JM: That's a good example, you know? I mean, working with Colin [Cowherd], it's such a big, national audience that you get people from all over. Really, the Internet has made it so you'll get, "Hey, I'm stationed over in Germany and I'm a big Panther fan" or, "Hey, I'm in Australia. I'm a diehard Seahawks fan," which is cool. It shows you the power. Listen, social media and all this stuff can drive us all nuts and you wish it didn't exist, but then there are also the positives of it, especially in the business we're in.                      
I would say that the one thing I have definitely taken away from Colin is, "You're going to be wrong on stuff. Just move on." Colin's big thing was like, "I'm not in the credit business. You're right and wrong. Who cares? Just be entertaining."
I love Bryce Young; I watched him at Alabama. Like most people over the last ten years, I end up watching a lot of Alabama games. I'm a California guy; he's from California. It took about two preseason snaps to go, "Holy shit, he's tiny." Now, he's always been the same size. But you watch him in the pros and he looks extra small, especially when his team is not good. And you go, "I don't know if it's going to work."              
Clearly, the other two quarterbacks, C.J. Stroud, he's got a really good coach in DeMeco [Ryans], but he just looks like a normal NFL quarterback. Anthony Richardson is like Cam Newton 2.0. So you compare him to little Bryce Young and you go "God, they might want a re-do on that one."
DR: So not only am I in North Carolina, I'm an Alabama graduate. So like, this is particularly personal and painful to me.
JM: Do you agree? I mean, doesn't he look really, really tiny?
DR: He does look really small, but I also look at the play-calling, and it seems pretty obvious to me that like, "Oh, this is not the dude Frank Reich wanted." And I don't think that Frank Reich is acting out or trying to sabotage Bryce. I just don't think he has a lot of confidence in Bryce, and I don't know that that's necessarily fair, but I also think it's pretty clear he never really had a plan for the guy.
JM: Well, if that's true, then it's all destined to blow up, and that's the type of stuff we talk about, like when people aren't aligned – you know, the head coach, the GM, the owner forces stuff, because that happens in a lot of industries. When the owner of the car dealership is mad at the guy who runs the day-to-day business no one outside cares, right? But in this business, those dynamics sink or swim whether you win or lose.
Now Carolina doesn't have their picks. They trade away D.J. Moore. They've got no talent on offense. I don't see how it gets better for a couple of years, right?
DR: I'm 100% with you on that. Alright, you mentioned Colin [Cowherd], so I do want to ask about what Colin has done with his podcast, and I don't just mean at The Volume, I mean like his podcast feed for his radio show too. He's slipping The Volume shows in there all the time. How much has that affected your own audience? Are you seeing real growth from week-to-week whenever you pop up in Colin's feed? 
JM: What makes my show unique is I've been doing it well before The Volume started with Colin. I don't remember the exact date; maybe late 2018 we were going full-time. So I've been doing the show and connected to that feed. Obviously it ramped up, I think, with the promotion through The Volume as he built the team around so many different elements. Before I would just do a podcast with no video element.
Obviously, YouTube is big. I go on with him right now during football season every Sunday and we get 150,000; 175,000 people watching a 40-minute show. So there are a lot of different elements that help there, but from the feed specifically? I mean, I've been lucky enough that I've been going on it now five years probably. It always helped. People would hit me up and say [they] "discovered [me] through him," so that's pretty awesome.
It's like anything in life. You get an opportunity to get a new person listening. Most people in podcasts don't have to the distribution and the power of being with one of the most powerful guys in the industry in sports, specifically football. It's been freaking awesome. I take a lot of pride and put a lot of effort into every show I do, because I know that every show, more than likely is going to get new people for the for the first time.
DR: You just threw it out as an example, the amount of people listening when you and Colin do your Sunday show. How much are you paying attention to those numbers? How much are you seeking out the metrics versus how much are you making your decisions based off what is presented to you from the folks at The Volume?
JM: Yeah, we don't really have those conversations, to be honest. Now, I'm a big market guy, I'm a 49er guy; Bay Area guy. I worked for the Eagles. We will talk all day about anything that's interesting, right? If something crazy happens – someone gets fired – Matt Rhule gets fired. But I mean, the Cowboys and Niners play Sunday night. I've been in this business long enough. I was a consumer of radio. Back when I was in junior high, I used to listen to Jim Rome. I mean, I've been a sports talk radio guy since I was really young and KNBR was in its heyday. I know what works and what doesn't. I've learned it over time but have a pretty good idea of what to attack and what not to attack.
DR: I know you were on sports radio in the Bay Area for a while. I know you've done some TV as well. Coming up in a more traditional media setting, are there things that you had to either unlearn or learn differently to become an effective podcaster?
JM: It's definitely different. On radio, there are breaks, right? This is a much different medium.
Also, there's no rules of what I can say and not say. Now, I tend to probably swear on the higher end of people and I've learned that while I'm going to have a lot of people in their 20s, I'm also going to have people in their early 40s with young children listening in the car. I try to be cognizant of just being careful, but authenticity, I think, has been a big reason the show works and has had a lot of success. A reason we're able to make money is because I'm not faking anything. Actually, a lot of our stuff is anti-fakes and frauds and phonies. That really works in 2023.                            
What people are seeking out is kind of people who aren't afraid to say whatever they think. Because like I said, back to what we were talking about, about the fans, that's just how people talk, right? There's a way people talk about sports, and then you turn on TV and they're just talking completely different because they're afraid to offend someone or whatever. It's not what my show kind of stands for.
DR: I know this is this is not football. This is baseball. But like you have the experience of working at a radio station [95.7 The Game in San Francisco] with a very sensitive play-by-play partner who wasn't always putting the best product on the field. Certainly, that is a very different element of how you talk about something that people can see with their own arms. 
JM: Well, you know, we had the A's, but we also had the Raiders, and I did the Raiders postgame show and I pissed them off a lot. After Jason had left, they wanted me gone. That was ultimately the best thing that ever happened to me. It led me here, and I pride myself on not being in business with teams. I'm not the type guy that can be a business with teams. I mean, it's one thing if your team's like the freakin' Brady/Belichick Patriots in their prime. That's pretty easy. But when you're a lot like the Raiders, what do you say?                     
It's really difficult and I think I'm a pretty good voice for people when things are going wrong because I have a lot of respect for how hard it is to play, right? It's really hard. So I'm hesitant on just missed tackles and stuff like that. I don't waste my time talking a bunch of shit about every single player, but I think coaching is something where I feel very, very comfortable letting it rip. You know, they're making a ton of money and a lot of guys, I think, are kind of stealing.
Luckily for the sport of football, the power of the coaches and the power of the coordinators is a thing that a lot of people talk about, which I love talking about, which makes for great just conversation, right? Especially during the season and after games – reacting to what should have happened and what didn't – we talk a lot about that. 
To learn more about Point-To-Point Marketing's Podcast and Broadcast Audience Development Marketing strategies, contact Tim Bronsil at [email protected] or 513-702-5072.
Demetri Ravanos is the Assistant Content Director for Barrett Sports Media. He hosts the Chewing Clock and Media Noise podcasts. He occasionally fills in on stations across the Carolinas. Previous stops include WAVH and WZEW in Mobile, AL, WBPT in Birmingham, AL and WBBB, WPTK and WDNC in Raleigh, NC. You can find him on Twitter @DemetriRavanos and reach him by email at [email protected].
Taylor Swift Coverage Should Be a Reminder to Sports Radio
The conversation around Swift at NFL games goes back to radio 101.
Taylor Swift has set the sports media world ablaze — for better or worse — with her appearances at a pair of NFL games in the last two weeks.
Make no mistake about it: complaining about the amount of coverage she is getting reeks of an inferiority complex.
We love sports. It's why we do what we do, and why we chose the career field we did. And in our narrow view, no one should be able to come into our stratosphere and take the limelight away from the thing we love, right?
Wrong.
The coverage of Taylor Swift, whether it be from CBS, NBC, or your local sports radio stations, embodies Radio 101: Play. The. Hits.
You know what everyone outside of sports radio spent the summer talking about? Taylor Swift. You know what drives traffic on every single platform? Taylor Swift. You know who the most famous woman — maybe the most famous person — on the face of the planet is? Taylor Swift.
Taylor Swift content is the "Is Joe Flacco elite?", "Is LeBron better than Michael?", and "Give me your Mount Rushmore for (insert franchise here)" topics rolled into one. She drives traffic, reaction, engagement, and ratings. Isn't that what we're all trying to do?
We're all after notoriety, publicity, and attention. To say you aren't is disingenuous. Taylor Swift just happens to embody those things, and for the time being, is spending her free Sundays watching someone she may or may not actually be dating.
Many pundits have been preoccupied with the amount of coverage she has received. Of course the NFL is going to attach itself to her. Quite literally, she's more famous than the league is. And the ever-hungry corporate beast that is the NFL is always looking for new ways to make fans. Do you know why the NFL let ESPN+ and Disney+ air an alternate broadcast featuring Toy Story characters? It wasn't because they were bored! They're (for lack of a better term) indoctrinating your kids to like football!
Of course sports radio hosts and stations are going to talk about her. She's the most famous person in the world, and she's dropped her legions of fans and followers at your doorstep. Now, is it likely that you're going to end up growing a passionate Swifty following for your brand? Hell no.
But what does Radio 101 entail? Play the hits. Capture the moment. Talk about what everyone is talking about.
What is everyone talking about? Taylor Swift. What has a history of driving traffic, engagement, and reaction? Taylor Swift.
I understand if you're sick of the content. Driving things into the ground until it's pulverized into dust is what we do, like it or not. I also understand if you don't want to talk about her, Travis Kelce, seeing her on the broadcasts, or anything to do with her. I totally get it.
But don't stand in the way or bitch and moan about the people that do. They're just doing what they're supposed to do.
Garrett Searight is the Editor of Barrett Sports Media and Barrett News Media. He previously was the Program Director and Afternoon Co-Host on 93.1 The Fan in Lima, OH. He is also a play-by-play announcer for TV and Radio broadcasts in Western Ohio. Reach him at [email protected].
Matt McClearin is Not Just Filling a Void at The Ticket
"As much as I dreamt about this opportunity, it's even more so than I probably could ever have dreamt."
Norm Hitzges is considered an industry pioneer, helping establish morning sports talk radio in the Dallas area. Spending a total of 48 years in the format, he made an immense contribution to the field. When Hitzges officially retired in June, there were questions surrounding who would move into the midday slot on Sportsradio 96.7 and 1310 The Ticket to work alongside host Donovan Lewis. The station eventually made the decision to bring one of its own home in Matt McClearin, and he has excelled in the assignment since officially taking over in August.
McClearin, a Texas native who grew up listening to Hitzges and other programs on the outlet, is living his dream with the medium he set his sights on from the time he was young. Over the years, he had a chance to be around Hitzges and saw his elite level of preparation and congeniality firsthand.
"One of the kindest humans I think that I've ever met," McClearin said of Hitzges, "especially in this business, and that says a lot, I think, about how to carry yourself. Even when you have success and get to a certain level, [knowing] the right way to treat people and the right way to go about your daily business."
It is safe to say that Hitzges had an impact on everyone at The Ticket, and it is a legacy that McClearin hopes to further perpetuate. Every time he walks into the studios, it is not lost on him the magnitude of the assignment he has been entrusted with, and he remains focused and driven on realizing his full potential.
Reaching this point took endurance and patience, but the timing ultimately ended up working out in his best interest. Growing up in the metroplex, The Ticket was a fundamental part of the sports sound and represented McClearin's innate ambition.
McClearin was selected by station management to work in paid positions for two years while attending Texas State University – production director and program director – which entailed 20 to 25 hours per week within the offices and studio. In addition to working on job-specific functions, he also used the time to perfect his editing skills and board operating procedures and gain on-air repetitions. By the time he graduated and sought to apply for a job, he surmised that possessing versatility would engender a larger swath of chances to become immersed in the craft.
"Originally, [I was] kind of practicing the craft as much as [I] could and learning as much as I could," McClearin said. "I could increase [my] value, I think, of being able to walk into a radio station in Dallas in a Top 5 market and say, 'I can run the board; I can do production [and] I can do on-air stuff,' but not just talk."
By happenstance, he learned that The Ticket was looking for a part-time sports anchor to fill in for various shows, leading him to send his demo reel to the outlet. After some conversations with station management, McClearin officially joined the team and became immersed in refining his on-air skillset with guidance from program director Jeff Catlin.
"He's very hands-on [by], early on, giving you a lot of constructive criticism and helping you to learn the ins and outs and proper formatics and how to set up each segment correctly," McClearin said of Catlin. "Doing things like that and having those opportunities [are things] I always enjoyed."
McClearin eventually began working as a pregame and postgame studio host for Dallas Stars broadcasts. Moreover, he would attend Dallas Cowboys games and collect audio from the players and coaches to edit and send back to the radio station to be used across its programming.
Working hard and going the extra mile helped separate McClearin from his competition both inside and outside of the radio station, ultimately earning him a weekend show with Scot Harrison. His candid assessments of the local teams and ability to delegate on the show, indifferent towards whether or not he is the center of attention, have rendered his hosting abilities conducive to success.
"I'm just a big believer in being who you are and being real and presenting that on the air," McClearin said, "so no matter what you're going through or what's different about you, there are listeners out there that can connect with that and understand that you're being real."
The program remained a fixture on the weekends before both hosts were offered the chance to become part of the weekday programming lineup, following sports radio luminary Paul Finebaum. This opening, however, would require McClearin and Harrison to pick up and move to Birmingham so they could broadcast from the studios of Jox 94.5.
Both hosts eventually agreed and spent the next three-and-a-half years on the outlet, growing a new audience and becoming an indispensable part of the evenings in the area. There are certain instances in any business that are fugacious and unexpected in nature though, and the show cancellation in 2016 was an example of such.
McClearin returned to Dallas to work as a part-time radio host on ESPN Radio 103.3 FM, an extraordinary circumstance in that he was in the same building he used to work in with The Ticket. The station was operating under a local marketing agreement (LMA) with Cumulus Media and competing with the very outlet they were sharing the building with, cultivating a professional atmosphere mired by the ratings. The onset of the global pandemic caused the station to shutter.
"It was one of those things where you've just got to believe in what you're doing and believe that there's an appeal to what you're doing," McClearin said. "You get hired for a reason, and you continue to perform and try to grow what we were doing at the time."
Catlin continued to serve as a mentor for McClearin during his years away from The Ticket, a venerable radio professional who has helped further build the outlet into a local powerhouse. The station frequently posts stellar ratings each quarter, representing a place where McClearin feels he can grow his brand and show to unrealized heights.
"The goal is to be No. 1 in the ratings in our [demographic] and to continue that," McClearin said. "That's something that I think drives me every day. When you're not No. 1, you want to know, 'Okay, well why aren't we No. 1?,' and when you get to that point, the question then becomes, 'Okay, well how do we maintain this and continue to go and be better and bigger than what we were the previous month?'"
Before he ultimately returned to The Ticket to work with Lewis in the midday time slot, there was a bit of irony in that he, once again, called Birmingham home. When McClearin's original program was canceled, he felt as if he had assimilated into the city and found his niche. He was disappointed in the outcome and always thought of the area in a favorable light, which then led to his phone ringing with a call from program director Ryan Haney.
As fortune would have it, Haney asked McClearin if he would be interested in returning to the station to host a solo program as part of a refreshed local lineup. Without hesitation, he conveyed that he would be interested in making a comeback in the locale, a full-circle moment filled with feelings of both satisfaction and gratitude.
"I never thought that I would go back to Alabama, much less work for the same station that, five years prior, had made the decision to let, at the time, Scot Harrison and I go," McClearin said. "….I never wanted to leave in the first place, [so] I was really, really happy and I'm very fortunate that Ryan believed in me and gave me that opportunity to come back."
The dynamic of the show differed the second time around in that he was the primary host, yet he also had help from John Saber and Conrad Van Order. Being around the Birmingham audience for a second time gave him more chances to talk about college football, basketball and other sports topics dominating the local and national scene.
Moving from one marketplace more focused on professional teams to one that was dominated by college sports, he furthered his abilities and worked to finish at the top of the ratings.
"I say the things that I actually believe in and I talk about the things that I really do to where, yes, sometimes I think I probably do some weird things and I'm a different type of person, but that's just my personality and I have my quirks and my eccentricities," McClearin said. "Again, I think if I present that and that is me, then the audience understands that and I think it comes across that way."
Just as he thought during his initial stint in Birmingham, McClearin was prepared to stay in the marketplace for the long haul and try to further cement his name in the radio airwaves. Being able to reconnect with the audience and discuss meaningful, impactful topics was validating and worthwhile for him, and he was especially steadfast to the outlet. After all, he never had a particular interest in voyaging to television and still, to this day, concentrates his efforts on growing and maintaining the sports radio format.
"My brain just doesn't think like that in those three-minute little quips that you do," McClearin said. "TV is just so much more structured and short than radio, where we can have a 15-minute segment and have a real conversation."
The only way McClearin was going to leave the station was if The Ticket came along, and sure enough, an opening became available concurrent with Hitzges' retirement. While he enjoyed his time in Birmingham, he doubled down on his commitment to the Dallas-Fort Worth marketplace for the long run in making this move and conceding a solo program for a new co-host.
"When I got the call and went through the process with Jeff Catlin, [it] was a little bit surreal because it truly is a dream coming true," McClearin said. "I found out that they're going to put me with Donovan Lewis is kind of when Norm Hitzges decided to retire and I was going to walk in, [and] it's really such a new show. Donovan and Norm had had such success for a while."
As soon as McClearin took the air with Lewis for the first time, he felt an instant connection. Just a few months into the program, both hosts know there is plenty of room for growth and consistent improvement to create enthralling and proprietary content that will amplify cume and serve the community.
"We both are just two people, I think, that really care about the listener [and] what we're putting together each and every day to make it the best that we can," McClearin said. "So far, it's been really easy and it's been just – as much as I dreamt about this opportunity, it's even more so than I probably could ever have dreamt."
The Ticket is in competition with 105.3 The Fan in the Dallas-Fort Worth marketplace, along with other media outlets across various platforms. Whereas the Birmingham market releases its ratings through quarterly diaries, Dallas has monthly figures through PPM, but he makes sure the influx of quantitative data does not command his mindset.
"We can all see the ratings that the two main sports stations here have – they're very healthy ratings and I think there's a real hunger," McClearin said. "A lot of that is football-driven – the Cowboys, nationally, are crazy relevant. All the [networks with] NBC and ABC and FOX and everybody; they always want to put them on because the Cowboys drive the needle. Well, they also drive the needle in Dallas very, very much so."
Understanding and capitalizing on the reach and relevance of the Cowboys helps these local programs gain further traction. Arriving unprepared equates to marketplace malfeasance.
"Prep is very important to me, and I like to try to come into the pre-show meeting that I have with Donovan and our producer Travis every day with my own ideas, but also, 'Okay, Donnie, what do you think?,' and then, 'Travis, what do you think about that?,'" McClearin said. "From that and our own individual prep, we kind of do the show prep together [to present] the in-depth segments that we roll out."
The majority of content focuses on the Cowboys since they are the team that exhorts the most interest in the area, but there are plenty of other storylines within the landscape. The Texas Rangers are headed to the Major League Baseball postseason for the first time since 2016, while the Dallas Mavericks organization enters its first full season with superstar guard tandem Luka Dončić and Kyrie Irving. Sometimes, sports fans do not want to solely listen to discussions about the teams themselves but rather hear about other pertinent topics in which they may be interested.
"I like to call them, I guess, lifestyle segments because I don't think anybody, even the most passionate sports fan, only does sports in their life," McClearin said. "We all have relationships and we have TV shows that we like to watch, and we went to the store and [some] random thing happened. We incorporate that, I think, into the show, and I think that's The Ticket itself. It's a very real station that has real conversations with a focus on sports."
Everything throughout McClearin's professional journey has centered on reaching this moment, and he wants to maximize the opportunity he has earned by bringing his best to the air on a daily basis.
From the onset, he knew where he wanted to end up and took the necessary steps to get there, even if it meant enduring some difficult setbacks. By taking advantage of every opportunity in his purview, he has made it in front of the microphone, and he has no plans on going anywhere at any time soon.
"I want to continue to grow the audience and have as many people enjoy doing what I love to do as possible," McClearin said. "I get a lot of motivation from that [and] just the excitement of driving into the station every day and the excitement of when that light comes on and it's time for the show. It's like being on stage to me; it's almost like you just get kind of high off of that feeling, and I love it."
Derek Futterman is a contributing editor and sports media reporter for Barrett Sports Media. Additionally, he has worked in a broad array of roles in multimedia production – including on live game broadcasts and audiovisual platforms – and in digital content development and management. He previously interned for Paramount within Showtime Networks, wrote for the Long Island Herald and served as lead sports producer at NY2C. To get in touch, find him on Twitter @derekfutterman.