The Wrong DVD Launched Ashley Adamson's Career
"I just kept thinking so many people have worked so hard for so long for this moment, I can't let them down."
It's 3:00 pm. At least that's what the digital clock on her aunt's 2000 Buick LeSabre tells her.
It's February of 2008 and 25-year-old Ashley Adamson spends about as much time staring at her gas gauge as she does the road. Such is life when you're barely living paycheck to paycheck.
"The gas station attendant around the corner from my place knew my name from all the trips I'd have to make with my little portable tank," Adamson recalls. Her expression stuck somewhere between humor and horror.
Relief is the emotion that would best describe Ashley on this winter day nearly 12 years ago. The Denver native had just spent the last 13 months working as an overnight Associate Producer for a television station in Albany, but her days of re-writing stories off the AP wire appeared to be numbered. She had just spent the afternoon interviewing for a reporter position in Syracuse and she was sure she'd get the job, her first on-air role.
The lifelong athlete and Notre Dame football fan had aspirations to work in sports, but a full-time on air gig doing news would be just fine. She was tired, almost defeated. She was ready to settle for just about anything. Sports was always a bit of a pipe dream. Besides, why would any sports director hire her?
A second ring from her phone in a matter of 30 seconds brings Ashley back to 2019 and downtown San Francisco.
"I'm sorry, I have to grab this," the 37-year-old answers the phone while shooting me an apologetic glance. Her half-eaten peach berry scone laying neglected on our table.
"Hi, this is Ashley."
In a matter of hours Adamson will be on a plane to Denver. She won't be visiting home, in fact the Mile High City hasn't been her home for a while. Rather, she'll head straight to Boulder to prepare for her pre-game show Saturday at Folsom Field. For the next 9 months, Ashley will always be a few days removed from a flight. Such is life for the face of the PAC-12 Networks.
"Yeah, he did. That's right. Ok, yeah I think there was some spinach in there as well."
Ashley didn't interrupt our conversation for a production call or an inquiry from an Athletic Director. It was much more important than that.
"Sorry, that was Collins' school," she takes a deep breath as she places her phone back face down on the table.
"I guess he vomited and they saw some peanut butter in there. They wanted to know what else he had for breakfast because the whole school is peanut-free." explained the mother of two, not hesitating to give herself a quick bite of scone.
"This is my life now," she smiles, shrugging as if to admit defeat.
Ashley Adamson is a lot of things. Defeated, she is not.
The long road that lead her through Upstate New York and ultimately to her current position in the Bay Area started at Denver's Mullen High School. Even today, it doesn't take more than a handshake and an introduction to believe she was a multi-sport athlete in her high school days. She loved basketball, but it was track and field that she could continue at the next level. As for that next level, that was pretty much pre-determined.
"It was always Notre Dame. My dad is an alum, I've been a fan from birth, my older brother went there. I always knew I would end up in South Bend."
That is, until it actually became time to make the decision. With hours to go before she had to accept her admittance to Notre Dame – Ashley had second thoughts.
"I guess I just wanted to carve my own path," Ashley explained. "I wanted to do my own thing. I loved Notre Dame but that wasn't mine, it was the path my dad and brother took."
Ashley communicated her dilemma to her father, who didn't try to sway her in either direction, but made sure she was confident in her choice.
"He told me wherever I go, it was going to be the decision that had the greatest impact on my life. I didn't fully understand in the moment, but he was so right."
In the 11th hour, Ashley decided on Boston College, much to the disappointment of her brother Alex, who was entering his Junior year in South Bend.
"I was really bummed," admits Alex today. "I tried to remind myself that on the bright side of things she'd be further away from my sketchy college friends and I figured I'd probably have a better and more interesting job than her. The first part really worked out."
Ashley was still a long way from landing any job, let alone one you could classify as cool. For the first time in her life, she moved to a strange city intent on forging a place for herself. It wouldn't be the last.
"I knew within a couple weeks I made the right choice. I loved the campus, the city, it felt like home almost immediately."
As for the track and field career? Adamson successfully walked on her Freshman year, but things got a bit complicated.
"My dad was also right when he told me that between academics, athletics and a social life, I could only pick two to be successful with in college," Ashley smirked. "So, obviously my grades suffered."
And with that, the track and field career was over with the start of her Sophomore year. Proving dad prophetic, Ashley went on to thrive in the classroom and on the social scene. Among her new network of friends was Kate Coakley, a fellow Colorado native with whom Ashley grew especially close.
"I spent so much time with Kate that I actually fell in love with her parents. We would joke that I would marry her little brother Chris just so I could join the family and be their daughter-in-law."
Smelling an opportunity, Chris worked up the nerve to "propose" to Ashley towards the end of her senior year at BC. In lieu of a ring, the quick thinking Freshman ripped the plastic top off a Busch Light can and offered it as a symbol of his commitment. It would be roughly a decade before that seemingly empty gesture developed into one of Ashley's favorite stories.
With a well established life in Boston, complete with her 2nd family, Ashley opted to spend two more years in her adopted city. She enrolled in grad school at Boston University and finished up in January of 2007 with her degree in journalism.
Ask Ashley to tell you her story, and this is where you feel a seismic shift in tone and expression. Like any new aspiring journalist, she was ready and willing to take any job that came her way. This is what lead her to Cable News 9 in Albany. As an overnight AP, Ashley wouldn't spend much time out during daylight hours – and when she was it was to shoot stand ups for her reel. The days were melting into weeks. The ever optimistic Ashley was reaching her breaking point.
"One day I was driving home, it must've been noon, and my dad asked me how my day was," Ashley remembered with a stoic face. "I just lost it. I broke down and cried. Those were some dark days"
"There I was," she continued "a college grad with a graduate degree making $20,000 a year writing copy all night. It didn't feel like there was a way out."
Ashley wasn't getting the best professional feedback at the time either. When she showed an Albany producer a stand up, she was told her chin was too pointy for TV. All this negativity nearly drove Ashley to abandon hopes of an on air career entirely.
"I was close. I had connections at NESN, I could've gone back to Boston and figured something out there. A job producing, a marketing job, something. Anything was better than what I was doing. It just felt like there were no opportunities to be on air."
She had chosen a path with no paved road to success. There was no playbook to guide her one direction or the other and there certainly weren't any guarantees she'd even make it out of Albany if she kept pushing forward. But she did.
"What's known is always known. I knew Boston. I also could probably map my life out if I went that route. That was the safe choice. To do what I really wanted to do, I knew I had to keep pushing into that unknown."
Ashley narrowed her focus. She started building her news reel. She knew for every one sports position there were five news opportunities. Soon, she got a bite from the CBS affiliate in Syracuse – and she couldn't pop into her LeSabre fast enough to interview.
Ashley walked out of WTVH-5 after a couple hours on that February 2008 afternoon confident she'd receive an offer within a day. Her on air career would begin in a matter of weeks. It was a good day. She had no idea it was about to be an incredible day.
"My friend called me when I was still in Syracuse to tell me there was an opening at WSYR-9, the market's number 1 station. So then she's trying to feed me directions through the phone as I'm driving through town, and I just had to end the conversation. I appreciated the call, but I knew I was gonna get the other job," Ashley reasoned. "Plus it's the number one station in the market, they're not gonna hire someone who has never been on TV. All that and I wanted to beat traffic," she offered with a smile.
"Then, out of nowhere from the freeway I see the station's call letters. I remember that moment so vividly. I realized in that moment, I had to pull off. I'd at least walk in. If nothing comes from this, fine, but this would be a great story if it worked out."
Ashley couldn't have scripted the next 45 minutes better.
"I parked, grabbed a hard copy of my resume and a DVD of my reel from the trunk and just handed both to the receptionist. I told her I heard about an opening, feel free to have someone call if they want to chat."
The whole errand took less than five minutes, and within the hour she was well on her way back to Albany when she received a call from a Syracuse number. The man on the other end introduced himself as Steve Infanti, Sports Director at News Channel 9.
Ashley was immediately confused as to why she was speaking with the sports director – and in an instant she realized she made the greatest mistake of her life. In her trunk was an unlabeled sports reel she made specifically for her dad back in Denver. She had no intention of handing it over professionally, she cut it just for him.
"Like a great daughter, I still hadn't mailed it. It was back there for weeks," claimed Ashley, still having a tough time recalling the beautifully strange day.
Ashley handed over the wrong DVD, but she wasn't about to explain herself in the moment.
"Steve told me they were looking for a number 3 in the sports department and asked how far out of town I was. It was crazy."
Within a month Ashley was a full time member of the top sports department in market 81. Her luck didn't stop there. A few weeks into her role with WSYR, the weekend sports anchor decided to leave the business, giving Ashley an outside shot at his position.

"I probably didn't deserve it, and the news director went out of his way to tell me he wasn't going to hire me for it," she laughed.
"Eventually, after a couple interviews they realized they could save money by continuing to pay me what I was making and just move me over to weekends without training someone else. So then the job was mine"
Ashley shutters to recall her early anchor days.
"I was terrible for a while, obviously, but Steve Infanti never gave up on me," remembered Ashley with more than a touch of reverence in her voice. She earned her position in Syracuse by doing the work few in her position would do, but she's quick to assign the credit to the people who helped her along the way – none more than Steve Infanti.
"He taught me how to do sports after I had pretty much given up on sports. No shot I'd be here today without Steve Infanti."
With a full time gig and her confidence growing, Ashley could begin to see her hard work paying off. Opportunities were beginning to present themselves. In February of 2010 she was packing up the car again, this time the destination was Indianapolis.
"I've never had more fun covering sports than I did when I was working in Indianapolis," professed Ashley.
Coming from a PAC-12 Networks Anchor who just started her 8th year as one of the conference's most recognizable faces, this is hard to imagine. Her time in Indiana, though, was a pretty exciting stretch.
Just over a year in her new city, Ashley had followed Butler to two national championships, witnessed Peyton Manning's last season with the Colts, and covered the Giants-Patriots Super Bowl at Lucas-Oil Stadium. She couldn't have been happier with her career, but just like her dad told her back in Denver, sometimes the social life has to take a backseat in order to succeed in other parts of life.
In the Spring of 2012, Ashley was all set to attend her friend Brittany Diehl's bachelorette party in Las Vegas. She had the time off requested – no small task for a local sports reporter – and was simply waiting on a little help from Uncle Sam in the form of a tax refund. Much to her disappointment, it turned out her taxes went the other way, and Ashley's savings dried up in a second.
"I called Brittany and apologized. She worked for the Fox affiliate in Indy and kind of understood my situation. I had the time off and the flight booked but I just couldn't go. Vegas sucks when you're broke."
With a long weekend off and no where to go, it was Ashley's brother Alex, now in San Francisco, who came to the rescue.
"He told me to come out, we'd head up to wine country, and I didn't hesitate."
At this point in her career, Ashley was beginning to long for family. She had been out of Denver for over a decade and it had been years since she left Boston and her Busch Light in-laws. By 2012, her best friend Kate and husband Geoff had also moved to San Francisco, making the City by the Bay an attractive destination for her next adopted city. An added incentive was the PAC-12 Networks, which would launch that summer.
Ashley's representation had already reached out to the conference, as did countless other candidates. Fortunately for the Indianapolis anchor, Ashley's impromptu trip to the Bay Area afforded her the opportunity to get in front of the decision makers – and they happened to be expecting her.
"I watched thousands of broadcast reel submissions," recalled Kristin Bredes LaFemina, the PAC-12 Networks' first Director of Talent.
"When I watched Ashley's, I remember rewinding and re-watching quite a few times. She was likable, relatable, witty, intelligent and drew me in. I remember thinking; 'Ha, I bet we'd be friends. I think I want to know her.'"
Needless to say Kristin – who now works as a talent agent for ICM Partners – had no problem opening the doors of the Walnut Creek headquarters for their first meeting, a meeting Ashley remembers quite well.
"We just talked about everything. It started off with the vision of the Networks but from there we just talked about life, where we both came from. When it was time to wrap up, I remember we hugged at the elevator," Ashley paused, submitting to the smile that was fighting to take over.
"Who hugs at the end of an interview?  I'm a big hugger and I had never done that.  I walked out thinking it went pretty well."
Ashley's intuition was correct. In fact, Bredes LaFemina was so impressed, she had just about made up her mind.
"I told Lydia Murphy-Stephans, my boss, that I wanted to hire Ashley without an audition. I felt it in my gut that she'd be the perfect fit. Lydia agreed with my assessment, supported my decision and we took a leap of faith."
It was late May when Ashley received the news back in Indianapolis that she would be the female face of the PAC-12 opposite ESPN's Mike Yam. When asked about the day she got the news, Ashley's humility takes over.
"If I had to audition, I'm not sure I would've gotten the job. This is a subjective business and it takes finding your Steve Infanti or Kristin Bredes to see something and take a chance on you."
While Ashley handled the news about as well as possible, her older brother Alex had a tougher time containing himself.
"I'll never forget when I found out. I was at a casino in Georgia for a 'work event.' I went bonkers and was telling everyone in the place and at one point a very nice dealer told me 'we know you're excited about your sister but you need to tone it down.'"
August 15, 2012 was launch night for the PAC-12 Networks, and the scariest evening of Ashley's life. A reasonable person would be nervous for any number of reasons, but Ashley's nerves were inspired by something else entirely.
"I just kept thinking so many people have worked so hard for so long for this moment, I can't let them down."
Since that August night 7 years ago, Ashley's sense of responsibility has only grown – both professionally and personally.
"I can't say enough about who I work with here, on air and off. I honestly think of Mike Yam as a brother. What I've experienced with people like JB Long, Yogi Roth, Kate Scott and Guy Haberman? Those people are much more than my coworkers."
As for the family life, Ashley and then LA-based Chris began dating shortly after she accepted the PAC-12 position, finally making Pam and Peter Coakley her in-laws in 2015. Their first born, Collins, turns 3 this November and enjoys starting his day with a peanut butter smoothie. Their daughter Cora was born earlier this year with JB Long and Boston College Kate chosen as her god parents.
As for older brother Alex, he lives down the street from Ashley and Chris with his family. Nearly 20 years after the fact, he's come to terms with his younger sister choosing Boston College over his beloved Notre Dame.
"If she went to Notre Dame she'd probably be a catholic school teacher with a weird YouTube channel or something so I think it worked out for the best."
Ashley finds the question "would you do it all over again," difficult to answer. She's torn. She can't imagine her life any different than it is, but she refuses to discount how hard her journey was at times.
"I can just say I'm so grateful to my younger self who rose up through local television, who grinded through the unknown. I uprooted my life three times and started over three times. When you do that you feel like you can do anything."
Sam Mayes Got A Raw Deal But Tyler Media Made The Right Call
"You are being naive if you think a company should stand behind an employee that has put themselves in this situation."
I do not envy whoever at Tyler Media had to make a decision about Sam Mayes's future with the company after audio of a private conversation in 2016 was leaked to the media. Mayes and now-former co-worker Cara Rice made a few racist jokes at the expense of Native Americans.
The recording, according to Mayes, was made without his knowledge and leaked illegally. He says in a recorded statement that he should have been given the opportunity to address the recording on air and make amends.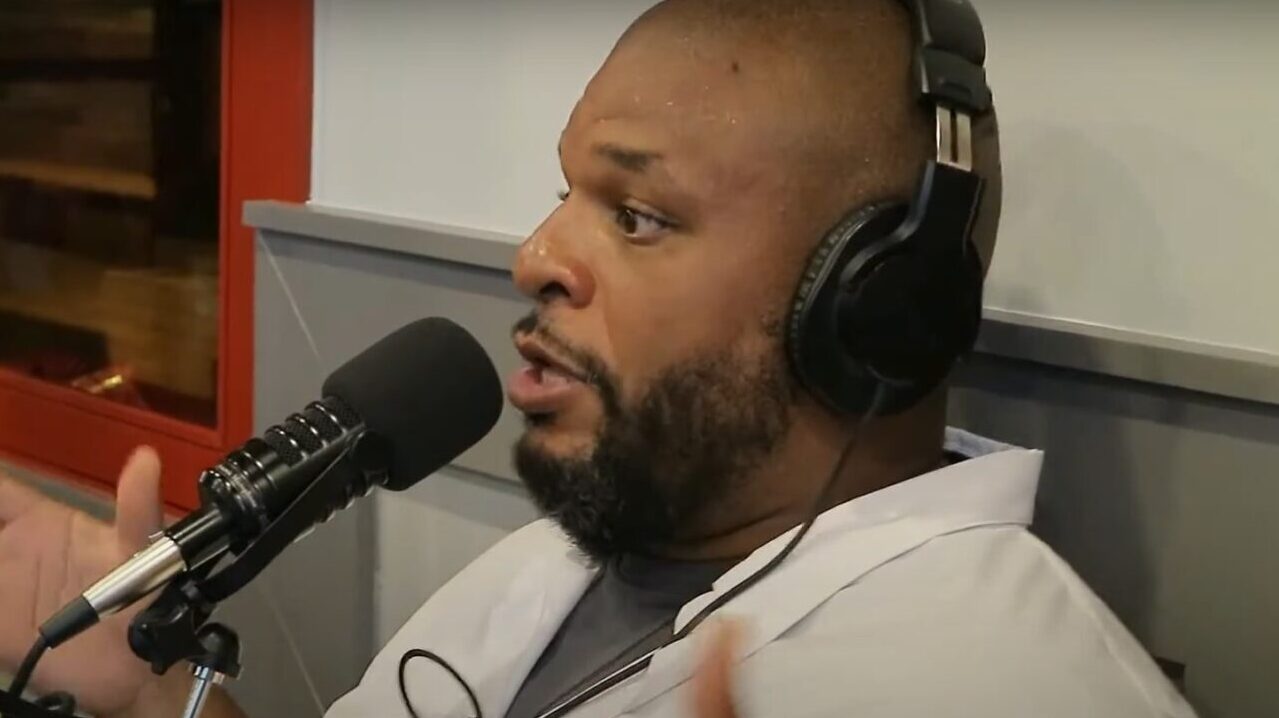 Maybe that is true, maybe it isn't. I hate for Sam to lose his job as the result of an illegal recording of a private conversation, but the fact is, that conversation isn't private anymore. Tyler Media didn't really have an option here. Sam Mayes had to go.
Someone had an illegal recording of the conversation and created an anonymous email account to send it to people in the Oklahoma City media. I was shown a copy of the email. The author states clearly that their goal is to see Mayes and Rice out of a job. There is nothing fair or just about that person getting exactly what they want. It feels slimy. I can't say that it feels like it wasn't the right call though.
We have debated whether or not someone should lose their job over comments made in a private conversation many times before. It happens in every field. It wasn't long ago at all that we were having this same debate about Jon Gruden. His emails to Bruce Allen and others were sent in private. Is it fair he had to go when they were made public? No matter what horrible things were in there, they were said with the understanding that it would stay between friends.
I am going to say the same thing about Sam Mayes that I did about Gruden when that story first broke. You are being naive if you think a company should stand behind an employee that has put themselves in this situation.
You read that right. The circumstances of how the conversations in these examples came to light are absolutely unfair, but the conversations came to light. How it happened is irrelevant. Any sponsor or boss that stands behind Sam Mayes or Jon Gruden would be endorsing the language they used, either inadvertently or very much on purpose. Try explaining that to a sponsor.
People at Tyler Media may know Sam Mayes's heart. He doesn't seem like a bad guy. The fact of the matter is, once the audio became public, their hands were tied. There is no mistaking what was said or who said it.
How can any seller or manager take Mayes to advertisers now? How can they put him in front of the Lucky Star Casino, one of the station's biggest advertisers? They can ask for an audience to let Sam explain himself and try to make amends. The Cheyenne and Arapahoe Tribes, who own the casino, are under no obligation to forgive or even listen.
Maybe the day will come where Sam Mayes bounces back. I hope it does. I hope he gets the chance to address his comments with members of Oklahoma's Native American community and listen to what they have to say in response. I do think it sucks that this is how his time at The Franchise comes to an end, but I get it.
If I have to explain to you why not to say dumb, racist shit, then I don't think we have much to talk about. But, it is worth noting that the recording of Mayes and Rice's conversation is proof that privacy is always an assumption, not always a fact.
In his audio statement, Mayes admits it is his voice on the recording. He also says that he was uncomfortable with Rice's comments and he tried to end their conversation. I'll take him at his word, but I will also point out that before he tried to end the conversation, he joined in on the jokes. Maybe when someone says that Native Americans are "too drunk to organize" it isn't a great idea to respond. All it leads to is proof of you saying something dumb and racist.
Again, I'll reiterate that how these comments came to light is unfair, but they did come to light. That is Sam Mayes's voice on the recording. He is joining in on the jokes about Native Americans being drunks and addicts. At the end of the day, the only thing that was done to him was the audio being released. He fully and willingly committed the firable offense.
What is the response to a client or potential client when they bring that up? All Tyler Media can do is try to recover and move forward. The company cannot do that with Mayes on the payroll.
Stop Prospecting, Start Strategizing!
"You cannot put a price tag on authenticity. It's very rare and hard to find these days."
Struggling to get new business appointments? Dreading making prospecting calls? Having trouble writing creative emails that seemingly never get a response?
Generating responses to new business outreach is easier than you think. Just make sure you do your homework first and keep it "Simple Stupid".
To do that, start with asking yourself these (3) simple questions:
#1: Did I do my home work on the business itself, their competition and those I plan on reaching out to?
#2: If I were on the other end of the phone and/or email with myself would I want to engage in conversation and/or reply to that email?
#3: Am I prepared to make a one call close given the opportunity to?
If the answer to any of these is "No"… do NOT pick up the phone and by all means do NOT hit the send button on that initial outreach email! Doing so will all but ensure you fall flat on your face. On the off chance you do happen to get the decision maker on the phone you won't make that great first impression that sometimes can be so crucial. First impressions are always important… ALWAYS!
Skipping over these critical steps is a sure-fire way to ensure your email is completely ignored and will not generate the engagement from the prospect you'd hope for. Successful prospecting is all about the front end digging and research. Do your homework first then strategize a plan of attack for your call and/or email. Taking these extra measures on the front end is absolutely "Mission Critical" and will set you up for much more success with your prospecting endeavors.
Now once you've answered "Yes" to all of the above, you're ready to attack with the knowledge and confidence that should set you a part from your competition. It's all about the Game Plan, and if you don't have one, you're destined for failure time and time again. Incorporate these (5) things into your prospecting Game Plan for your next call/email and watch your results dramatically improve:
#1: MAKE IT PERSONAL & CASUAL – Be informal, find out something interesting about them.
#2: MAKE IT SHORT & CONCISE – Be straight forward and to the point, people are busy.
#3: MAKE IT TIMELY & RELEVANT TO THEM AND/OR THEIR BUSINESS – Give them a good Valid Business Reason.
#4: MAKE IT INTERESTING, COMPELLING & INFORMATIVE – Be the expert they're missing.
#5: MAKE IT FUN – Fun people are easy to do business with and make it less like "work".
Lastly, and most importantly, Be Yourself! You cannot put a price tag on authenticity. It's very rare and hard to find these days. When clients do find it trust me, they value it and appreciate it way more than you'll ever know!
Good Producers Can Teach The World A Lot About Christmas
"A lot has to be accomplished in the lead-up to Christmas. So much of it happens in the background without much recognition."
Who is Carl Christmas in your house? Who is the one that makes sure everyone that needs to get a card does? Who comes up with the plan for the lights? Who takes the reins on the shopping?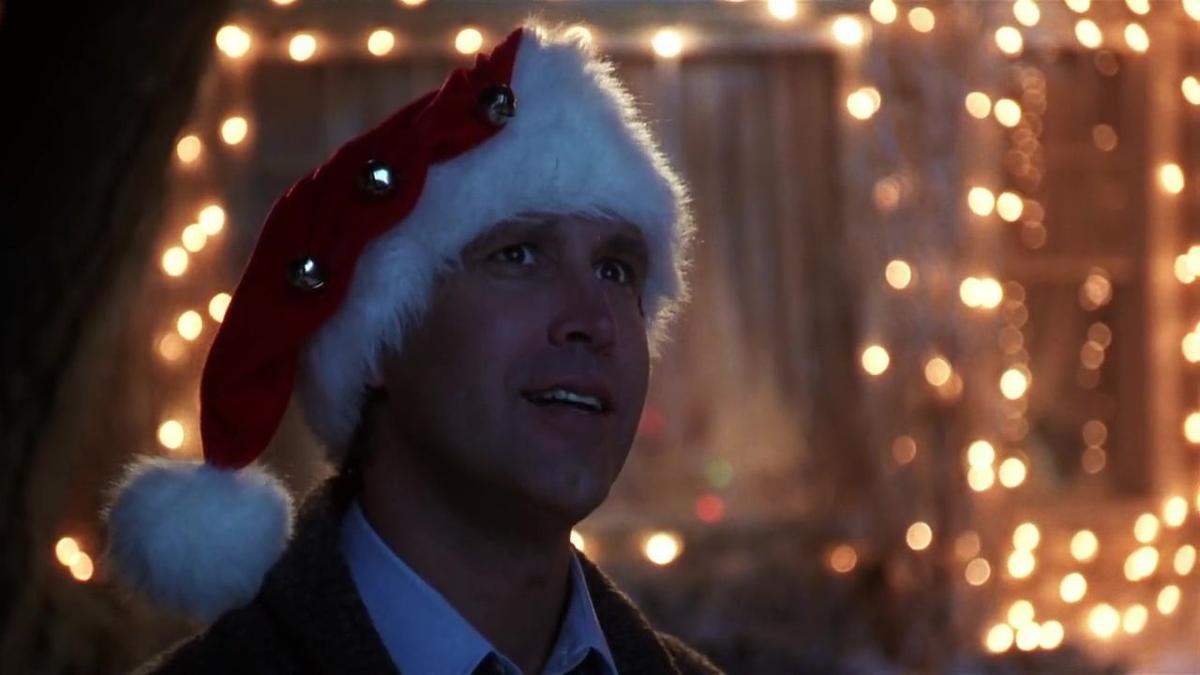 Every home needs one and in my house, that's me. December (including the last week of November) is my time to shine, baby!
One thing I have tried to impress upon my mom and wife this year is that shipping and supply chain delays are real. So, if you are planning on procrastinating on your online shopping this year (you know, like usual) someone (me) is going to have no presents under the tree.
Veteran producers are used to operate this way. Young producers, listen up. Your job involves the most delicate balance of any in sports radio. You have to help bring your host's and PD's visions to life. That means you have to be able to take their direction. But you also have to keep the host on target. That means you cannot be afraid to be forceful and lead when the moment demands it.
There's no value to being an unrepentant asshole to people, but you do have to hold them accountable. Look at that Christmas shopping example again. If you want to get what you want, you need to keep on task the people you know aren't paying attention to the potential roadblocks. It isn't selfish. It is making sure everyone gets the holiday W they are expecting. Sure, you would be disappointed if your gift doesn't arrive on time, but so will the gift giver.
Being a stickler for the clock or moving a host off of a topic that has no value is the same thing. Of course there is something in it for you, but you are also helping the host do his or her job better. They may get annoyed with you now, but if you save them from an ass-chewing from the bosses or slipping ratings, then they have reaped the benefits.
I guess the unfortunate difference here is that there may be no acknowledgment of what you did or helped them to avoid. Oh well. Every producer has to expect a certain level of thanklessness.
Producers have to take on that Carl Christmas role in dealing with sales too. Remember, just because the producer's name isn't on the show doesn't mean that isn't every bit his or her show that it is the hosts'.
It's like decorating your house for the holidays. You may have a certain design in mind. Maybe you have a traditional look you stick to every year. If your spouse or your kid comes home with a giant, inflatable Santa Claus in a military helicopter that they want on the lawn, you have a decision to make. Are you going to say no and suggest an alternative that aligns more with your goal or are you going to let your plan get run over?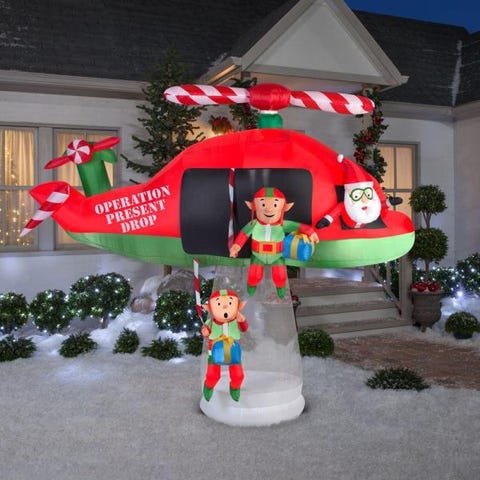 Sales has a job to do. It is to make sure their clients' messages are heard and to make money for the station. Both can be accomplished without sacrificing your show's quality.
If a seller comes to you and says he wants his client to come in for five minutes and talk about now being the time to book an appointment to have your garage floors redone, you have to speak up. You have an obligation to make sure that the seller knows that even five minutes of that will hurt the show and have listeners diving for the preset buttons on their car stereo. That isn't good for the station or his client.
Instead, offer to work with the seller and the client to come up with a piece of content that the client can put his name on and a 20-second ad read behind. Will the audience stick around to listen to some dude named Jerry talk about garage floors or will more people listen to you talk about the NFL playoff picture in a creative way and then still be there to hear Jerry's message about garage floors? The answer seems obvious.
A lot has to be accomplished in the lead-up to Christmas. So much of it happens in the background without much recognition. If the background work wasn't done though, the problems would be right out on the front lawn for everyone to see.
"Gatekeeper" is a term I really hate. It implies that someone is telling others what they are and are not allowed to enjoy. It is a necessary term though to properly describe what it is that a great producer and a great Carl Christmas do.
We don't shut people out from being able to enjoy or be a part of what it is we are creating. We set or are handed down expectations and we block anything that can get in the way of achieving them. Sometimes, that is more thankless work than it should be. It is necessary though.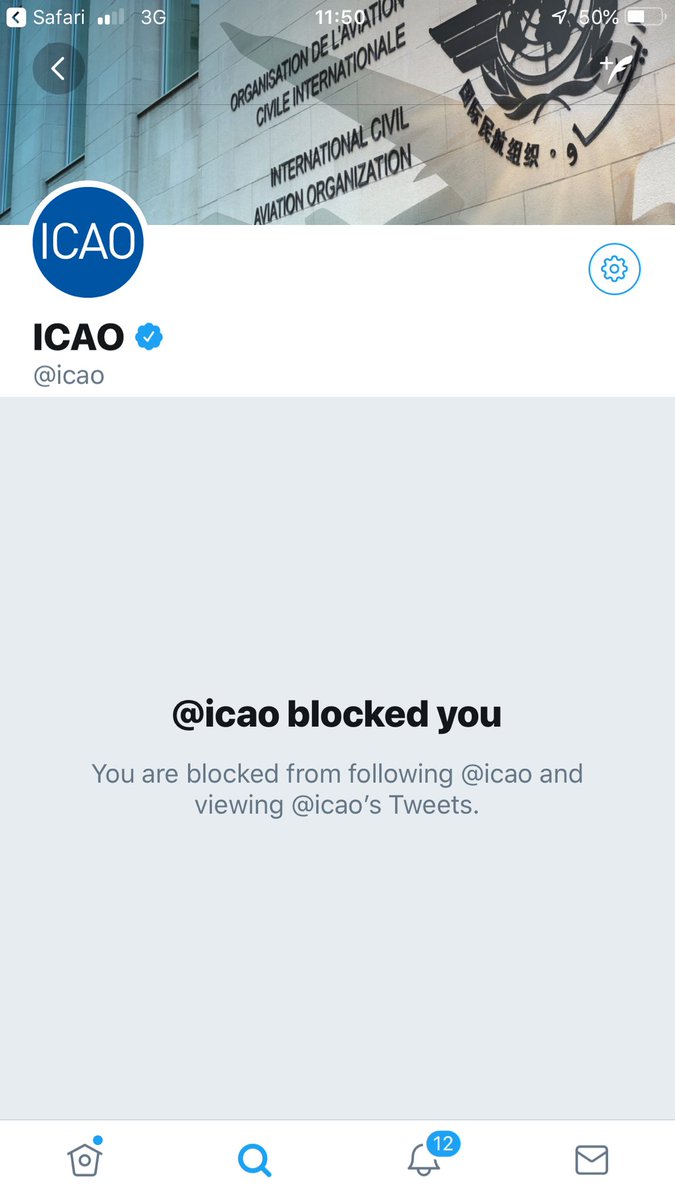 As my home's self-appointed Carl Christmas and a former producer, let me give my countrymen the thanks others forget. We are the ones that make it possible for everyone else to be mindless. Wear it as a badge of honor. We may not get the kind of recognition we deserve everyday, but when plans go off without a hitch, we are usually the first to be recognized for making it happen.