Sports Media Vs. The Social Media Mob
"If I agree with the consensus on social media, I check my sanity. Social media is a stage where people perform."
Social media is a blessing and a curse for the sports media world. So many of us check out what is trending on Twitter as we're putting together our rundowns. We use comments from Twitter and Facebook in place of phone calls. ESPN and FS1 routinely use Instagram and Snapchat videos to spur discussions on their various debate shows. It has become every bit as important to our professional lives as it is in some people's social lives.
That is the blessing side. The curse is that with social media comes constant access. People that don't like you always have a way of reaching you. There are block and mute buttons, and I think anyone in this industry would highly recommend making use of them.
What about when the barrage is constant though? This column isn't about the art of a good hot take. That is a different discussion for a different day.
Over the last couple of weeks, I have been talking to people that have found themselves on the wrong side of the social media mob. Some of the names might surprise you. Others probably won't. Your opinions of them (hell, mine too really) don't matter. What I want to know is what it's like to live on the wrong side of the hive mind.
There are a lot of ways to earn yourself a public shaming on social media. Sometimes it's as simple as being downright offensive and ignorant. Remember when Mike Bell referred to ESPN's Jessica Mendoza as Tits McGee? That was ignorant and inexcusable. Any public shaming he received was warranted.
The people I wanted to talk to have found themselves in the same position as bell for far more minor offenses. Sometimes, it has just been the result of being who they are. Take Dan Dakich for example. The ESPN college basketball analyst and midday host on 1070/107.5 the Fan in Indianapolis is very aware that anything he Tweets will be met with at least some scorn.
"Look, I totally understand who I am to people on social media," he told me. "There are some of us that are like a cancer on social media and people are going to say what a jackass I am, and that's probably self-inflicted I would think."
Recently a Tweet about Andrew Luck's sudden retirement was met with more than just some scorn. Dakich didn't hold back. Whether or not he intended to imply Luck was soft, it certainly read that way.
According to Dakich, this wasn't a hot take. He was at a wedding with his wife, who is a former coach, and one of his best friends from childhood, who is a longtime Colts season ticket holder, and this is what he was hearing them say. Dan agreed and wanted to use his platform to express that sentiment from people in Indianapolis.
"What I say on social media I do believe," Dakich says. "Like, I've always said this and I have been very consistent. I never thought Andrew Luck was the guy that was all encompassed in football like Peyton Manning or Drew Brees, and good for him that he has other interests. Any scout that has scouted him will tell you the same thing. All I've ever said is he is not the guy that everyone is saying he is, because in his offseason Luck is going to head to Prague instead of Zionsville High School's practice field."
Dakich wasn't afraid to double down on his point as countless people fired back at him on social media. Whether you agreed or not, Dakich thought he was right. He also swears his intention wasn't to imply Andrew Luck was soft.
"I've always said he plays football as a tough guy. I was stunned at how so many people took that [Tweet] and said I was saying Andrew Luck was soft. That wasn't what I was saying. I literally sent another Tweet out that said 'Look, if you don't love football anymore and you've got enough money and you wanna walk away, just tell us that. That's cool.' I put that in a Tweet after, but no one paid attention to that."
There was only one comment Dan Dakich was taken aback by. ESPN Radio morning man Trey Wingo referenced Dakich's abrupt exit as West Virginia University's men's basketball coach and said that Dakich should "clean up his own backyard" before commenting on anyone else.
Dakich Tweeted his objections.
He told me that it actually lead to phone calls with Trey Wingo and ESPN's Executive Senior Vice President of Studio and Event Production, Norby Williamson.
"Trey was great. ESPN was fantastic with it. I made my opinion known to the higher-ups. Trey and I had a long conversation, then Trey apologized on air…He was great. He was really, really good with it. Norby Williamson was great with it. We got it resolved once we were able to get on the phone, Trey and I, and it was very nice of him to apologize."
Sometimes hosts can find themselves the focus of a social media mob because the local fanbase isn't ready to hear anything negative about the home team.
Lauren Rew of 1010XL in Jacksonville had just come to town from Tulsa in July of last year. The Jaguars were just coming off of a trip to the AFC Championship Game, and fans and fellow hosts were confident the team would go further in 2018. Rew didn't buy it.
"I said on-air the Jaguars wouldn't go to the Super Bowl and probably wouldn't make the playoffs, my main reason: Blake Bortles," Rew told me in an email.
The Jags finished 5-11, traded for Nick Foles and let Bortles go to LA where he is now backing up Jared Goff. Rew says that didn't change the way listeners in her new home town reacted to her.
"Let's just say, I didn't make a whole lot of 'friends' early on and I 100% felt the mob mentality of social media throughout the season. But! I want to make this very clear, I didn't (and still don't) come up with 'hot takes' or go against the grain to be controversial or a contrarian. If I'm passionate or strongly agree/disagree with something, you'll know it and I will say it because I genuinely feel that way."
Rew adds, "Thank the Twitter Gods for the mute and block options."
Josh Parcell co-hosts Wilson & Parcell on WFNZ in Charlotte. While he also insists that he never goes out of his way to spout a hot take (a common theme in all these conversations you'll notice) he makes no qualms about being one of the few hosts on his station to point out the failings and flaws of the Carolina Panthers, namely the team's franchise quarterback Cam Newton.
That has drawn some fire from co-workers and listeners alike. I had lunch with Josh a few months ago and he told me that he had been called "Little Cowherd" and "Danny Kannel Jr" with regularity.
In an email this week, he told me that he doesn't shrink from any criticism of the Panthers or their biggest star. He also isn't surprised that Panthers fans don't want to hear any of it.
"For the first 15 years of the franchise, they watched Kerry Collins, Chris Weinke, Steve Buerlein, Jake Delhomme and Jimmy Clausen lead the team through a ton of ups and downs," Josh says. "Cam is the biggest star and brightest personality the franchise has ever had. He's made them relevant outside of the Carolinas.
"Because he came into the league after one of the greatest single seasons we've ever seen in college football and claimed to want to be an "icon" before ever playing a down in the NFL, Cam set the bar incredibly high for himself when he joined the Panthers. And let's face it, Cam isn't perfect — as a player or as a person. His ceiling as a player is as high as anyone we've ever seen. No one in the league is as athletically gifted as Cam. Whenever he fails to live up to that lofty standard, he's easy to criticize.
"Panthers fans can't stand the thought of going back to the Clausen era, or even a guy like Delhomme, so they'll do everything they can to defend Cam against the negative criticism that comes his way."
I live in North Carolina, and really there is no reason I should like Cam Newton. He plays for the Panthers and I grew up a fan of the division rival Buccaneers. I went to the University of Alabama and he played college football at Auburn, the team that I would openly root against even if they were playing Taliban A&M.
Still, I can't help but be charmed by Cam and his unflinching devotion to being himself. I mean the guy once wore a fox tail to a press conference just because he wanted to. How can the thought of an NFL quarterback dressing like Raccoon Mario not make you smile?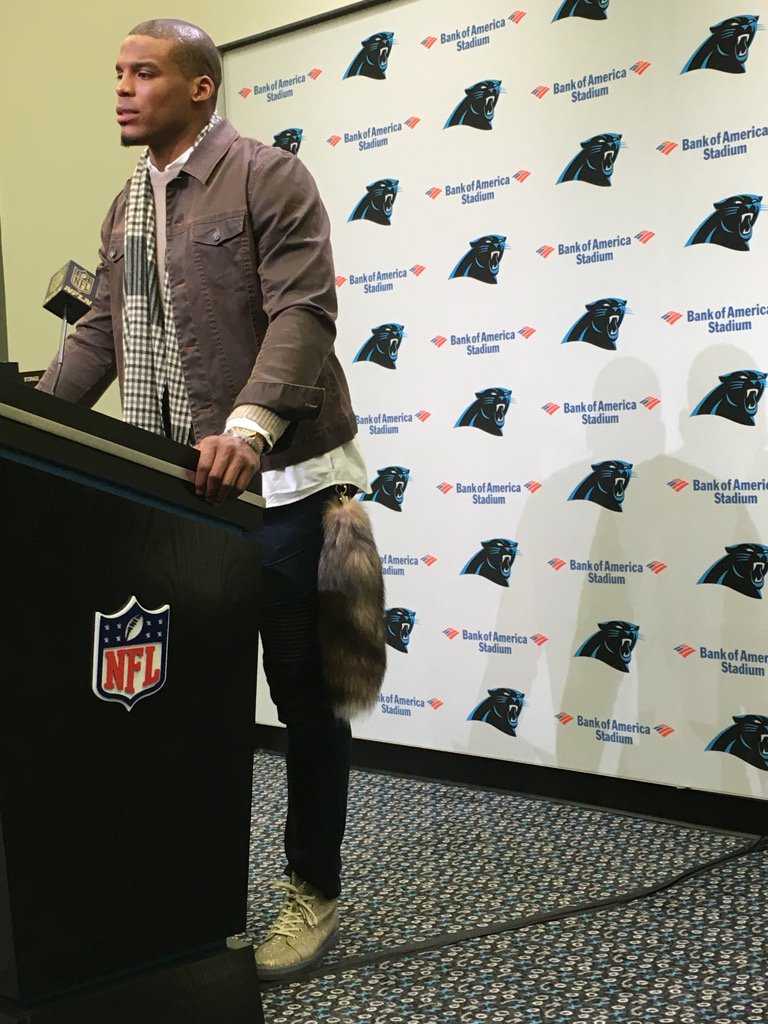 That devotion to self-expression has drawn plenty of criticism of Newton, some of it fair, some of it insane, and some of it clearly racially motivated. I asked Josh if he thought that some of the coded critiques of Cam have made his fans even more dogged in their defense of him. He didn't disagree exactly, but Josh doesn't think Cam Newton's detractors have been as motivated by his race as his fans think they are.
"I think we judge quarterbacks based on their behavior much more than their skin color. Deshaun Watson is a quiet guy, doesn't wear flashy outfits, doesn't generally draw attention to himself on the field like Cam does. and no one seems to have a problem with him, right? In fact, the only time anyone had a problem was when he was celebrating first downs in a blowout loss in the Playoffs. That's a behavioral criticism, not a racial one.
"Baker Mayfield, on the other hand, was arrested for a fairly trivial crime in college, won a Heisman Trophy, was the #1 pick, is very outspoken and doesn't lack for confidence. Baker's been criticized (and lauded) for a lot of what he says and does. Sound familiar? Most people expect quarterbacks to be boring. When they're not, it's interesting. Cam is interesting. Baker Mayfield is interesting. Some people love it, others hate it. I'm not altogether dismissing the idea that there are people out there who have a racial bias towards Cam Newton, but I think the racial element of the Cam Newton criticism is wildly overstated."
A guy that is more than comfortable with detractors coming after him on social media is FS1's Jason Whitlock. The Speak For Yourself co-host doesn't mind people disagreeing with him. He just hopes that when they do, they are speaking for themselves (pardon the pun) and not trying to score points by regurgitating a popular opinion.
"There's good information and insight on social media as long as you dig beneath the surface and ignore the trolls and Artificial Intelligence," Whitlock told me in an email. "It's a good way to engage with authentic fans and critics. I like engaging with my critics. Keeps my perspective sharp. Helps me avoid complacency. You just have to dig beneath the pile of shit Twitter and its algorithms try to stuff down your throat."
Sometimes, what people that are ready to pile on Whitlock at a moment's notice see as controversial, he sees as merely pointing out logical fallacies. Recently, he tweeted about an ESPN segment about USWNT star Carli Lloyd's plans to work toward an NFL tryout after kicking a 55-yard field goal at a training camp practice with the Philadelphia Eagles.
Now, to be honest, I tend to think Carli Lloyd showed the ability to kick in the NFL and the idea of "What is she going to do if a kick is blocked and she has to play defense?" is kinda bullshit. No NFL team has ever taken that into consideration when evaluating any other kicker.
That being said, I don't think Whitlock's point is wrong here. Four guys all agreeing on any point, let alone one that some people very passionately disagree on, is boring television done in the name of playing it safe. I asked him if his Tweet was a comment on Carli Lloyd or on the ESPN panel.
"They all said the same thing, which I just don't think is reflective of reality," Whitlock responded. "Four guys, two of them being high-level former football players, won't all agree that Carli Lloyd or any woman could kick in the NFL. It makes no sense. One person should've expressed some skepticism. Hell, all four should've expressed some skepticism. But it's not worth it because they're smart enough to realize the blowback they would receive via social media."
How does a guy like Jason Whitlock view social media? I wondered if he looked at it as something of a sparring partner. Does he digest the popular opinion and try to see how he can challenge it, and are there ever times where he finds himself arguing that the popular talking points on social media are the right ones?
"If I agree with the consensus on social media, I check my sanity. Social media is a stage where people perform. That's what you do on a stage. You act. You perform. Social media is a platform for inauthentic thought."
So how do the people that find themselves in the crosshairs of the social media mob view social media? Well, all four of the people I talked to gave different answers. Most of them wanted to make it clear that they don't ever form an opinion just to be controversial.
And then there's Dakich, who when I ask if knowing his reputation, is there a part of him that enjoys needling people on social media responds with an enthusiastic "OH GOD, YEAH!".
He tells me a story about driving home with his wife after calling a game. She is in the driver's seat. He is checking Twitter and seeing people ripping the job he just did. Dan says it is the element of him that is still a fan that makes him want to interact with even the people calling him names.
"I'll respond to them. I would have thought it would have been cool when I was in high school or when I was in grade school to watch Al Maguire and then have him respond to me immediately after a game."
There is a great line from the original Men in Black where Agents J (Will Smith) and K (Tommy Lee Jones) are discussing what would happen if people ever found out aliens not only existed but were here on Earth. J asks why not just put the truth out there. "People are smart. They can handle it," he says.
"A person is smart," K responds. "People are dumb, panicky, dangerous animals, and you know it."
I tell Rew about this line and ask her if that sentiment could be applied to social media as well.
"I honestly think that's the first time I've seen/heard anyone reference a line from Men In Black, but damn it's a good one. And yes, I completely agree that part of the mob mentality on social media stems from people not being able to think for themselves. All it takes is a 'leader' from ANY group (sports, politics, music, etc.) to make a claim about what someone said/did and usually his/her followers will jump at the opportunity to pile on; usually doing so without doing any research themselves or in the case of something a radio host has said, having heard it themselves."
I'm going to close with a quote from Whitlock here. I asked him how he viewed being branded as "controversial." What even is controversy when small pockets of people get loud voices because of the reach of social media?
His response was unfiltered and very…is Whitlockian a word? If not, I am making it one right now.
"Twitter has made common sense 'controversial.' If I say LeBron James shouldn't celebrate on the court during his son's AAU game, that's basic common sense. The overreaction to my common-sense statement is controversial. My opinion wasn't. People like the NFL Network's Nate Burleson went to Twitter and performed like my LeBron comment was controversial. Think about it. I said a parent shouldn't be on the court during a game and people acted like I said LeBron James is the worst parent on the planet.
"Twitter is a platform operating as a marketing/public relations tool for elite celebrities and athletes, particularly the celebrities and athletes who promote far left ideology. Much of the Twitter lynch mob is Artificial Intelligence bots/algorithms that agencies and PR firms buy for their top clients. We act like only the Russians manipulate social media. People with money and an interest in controlling public perception or protecting a brand manipulate social media.
"Painting me as 'controversial' and spamming me with Twitter criticism are ways to tell other people in the sports media to avoid criticizing LeBron. If you're black, you'll be labeled a sellout. If you're white, you'll be labeled racist. Don't criticize LeBron!!! Celebrate Taco Tuesday! Criticize Carli Lloyd's NFL publicity stunt and Twitter will paint you as sexist. If Joseph McCarthy and Joseph Stalin had a baby, they'd name it Twitter."
Demetri Ravanos is the Assistant Content Director for Barrett Sports Media. He hosts the Chewing Clock and Media Noise podcasts. He occasionally fills in on stations across the Carolinas. Previous stops include WAVH and WZEW in Mobile, AL, WBPT in Birmingham, AL and WBBB, WPTK and WDNC in Raleigh, NC. You can find him on Twitter @DemetriRavanos and reach him by email at [email protected].
Matt McClearin is Not Just Filling a Void at The Ticket
"As much as I dreamt about this opportunity, it's even more so than I probably could ever have dreamt."
Norm Hitzges is considered an industry pioneer, helping establish morning sports talk radio in the Dallas area. Spending a total of 48 years in the format, he made an immense contribution to the field. When Hitzges officially retired in June, there were questions surrounding who would move into the midday slot on Sportsradio 96.7 and 1310 The Ticket to work alongside host Donovan Lewis. The station eventually made the decision to bring one of its own home in Matt McClearin, and he has excelled in the assignment since officially taking over in August.
McClearin, a Texas native who grew up listening to Hitzges and other programs on the outlet, is living his dream with the medium he set his sights on from the time he was young. Over the years, he had a chance to be around Hitzges and saw his elite level of preparation and congeniality firsthand.
"One of the kindest humans I think that I've ever met," McClearin said of Hitzges, "especially in this business, and that says a lot, I think, about how to carry yourself. Even when you have success and get to a certain level, [knowing] the right way to treat people and the right way to go about your daily business."
It is safe to say that Hitzges had an impact on everyone at The Ticket, and it is a legacy that McClearin hopes to further perpetuate. Every time he walks into the studios, it is not lost on him the magnitude of the assignment he has been entrusted with, and he remains focused and driven on realizing his full potential.
Reaching this point took endurance and patience, but the timing ultimately ended up working out in his best interest. Growing up in the metroplex, The Ticket was a fundamental part of the sports sound and represented McClearin's innate ambition.
McClearin was selected by station management to work in paid positions for two years while attending Texas State University – production director and program director – which entailed 20 to 25 hours per week within the offices and studio. In addition to working on job-specific functions, he also used the time to perfect his editing skills and board operating procedures and gain on-air repetitions. By the time he graduated and sought to apply for a job, he surmised that possessing versatility would engender a larger swath of chances to become immersed in the craft.
"Originally, [I was] kind of practicing the craft as much as [I] could and learning as much as I could," McClearin said. "I could increase [my] value, I think, of being able to walk into a radio station in Dallas in a Top 5 market and say, 'I can run the board; I can do production [and] I can do on-air stuff,' but not just talk."
By happenstance, he learned that The Ticket was looking for a part-time sports anchor to fill in for various shows, leading him to send his demo reel to the outlet. After some conversations with station management, McClearin officially joined the team and became immersed in refining his on-air skillset with guidance from program director Jeff Catlin.
"He's very hands-on [by], early on, giving you a lot of constructive criticism and helping you to learn the ins and outs and proper formatics and how to set up each segment correctly," McClearin said of Catlin. "Doing things like that and having those opportunities [are things] I always enjoyed."
McClearin eventually began working as a pregame and postgame studio host for Dallas Stars broadcasts. Moreover, he would attend Dallas Cowboys games and collect audio from the players and coaches to edit and send back to the radio station to be used across its programming.
Working hard and going the extra mile helped separate McClearin from his competition both inside and outside of the radio station, ultimately earning him a weekend show with Scot Harrison. His candid assessments of the local teams and ability to delegate on the show, indifferent towards whether or not he is the center of attention, have rendered his hosting abilities conducive to success.
"I'm just a big believer in being who you are and being real and presenting that on the air," McClearin said, "so no matter what you're going through or what's different about you, there are listeners out there that can connect with that and understand that you're being real."
The program remained a fixture on the weekends before both hosts were offered the chance to become part of the weekday programming lineup, following sports radio luminary Paul Finebaum. This opening, however, would require McClearin and Harrison to pick up and move to Birmingham so they could broadcast from the studios of Jox 94.5.
Both hosts eventually agreed and spent the next three-and-a-half years on the outlet, growing a new audience and becoming an indispensable part of the evenings in the area. There are certain instances in any business that are fugacious and unexpected in nature though, and the show cancellation in 2016 was an example of such.
McClearin returned to Dallas to work as a part-time radio host on ESPN Radio 103.3 FM, an extraordinary circumstance in that he was in the same building he used to work in with The Ticket. The station was operating under a local marketing agreement (LMA) with Cumulus Media and competing with the very outlet they were sharing the building with, cultivating a professional atmosphere mired by the ratings. The onset of the global pandemic caused the station to shutter.
"It was one of those things where you've just got to believe in what you're doing and believe that there's an appeal to what you're doing," McClearin said. "You get hired for a reason, and you continue to perform and try to grow what we were doing at the time."
Catlin continued to serve as a mentor for McClearin during his years away from The Ticket, a venerable radio professional who has helped further build the outlet into a local powerhouse. The station frequently posts stellar ratings each quarter, representing a place where McClearin feels he can grow his brand and show to unrealized heights.
"The goal is to be No. 1 in the ratings in our [demographic] and to continue that," McClearin said. "That's something that I think drives me every day. When you're not No. 1, you want to know, 'Okay, well why aren't we No. 1?,' and when you get to that point, the question then becomes, 'Okay, well how do we maintain this and continue to go and be better and bigger than what we were the previous month?'"
Before he ultimately returned to The Ticket to work with Lewis in the midday time slot, there was a bit of irony in that he, once again, called Birmingham home. When McClearin's original program was canceled, he felt as if he had assimilated into the city and found his niche. He was disappointed in the outcome and always thought of the area in a favorable light, which then led to his phone ringing with a call from program director Ryan Haney.
As fortune would have it, Haney asked McClearin if he would be interested in returning to the station to host a solo program as part of a refreshed local lineup. Without hesitation, he conveyed that he would be interested in making a comeback in the locale, a full-circle moment filled with feelings of both satisfaction and gratitude.
"I never thought that I would go back to Alabama, much less work for the same station that, five years prior, had made the decision to let, at the time, Scot Harrison and I go," McClearin said. "….I never wanted to leave in the first place, [so] I was really, really happy and I'm very fortunate that Ryan believed in me and gave me that opportunity to come back."
The dynamic of the show differed the second time around in that he was the primary host, yet he also had help from John Saber and Conrad Van Order. Being around the Birmingham audience for a second time gave him more chances to talk about college football, basketball and other sports topics dominating the local and national scene.
Moving from one marketplace more focused on professional teams to one that was dominated by college sports, he furthered his abilities and worked to finish at the top of the ratings.
"I say the things that I actually believe in and I talk about the things that I really do to where, yes, sometimes I think I probably do some weird things and I'm a different type of person, but that's just my personality and I have my quirks and my eccentricities," McClearin said. "Again, I think if I present that and that is me, then the audience understands that and I think it comes across that way."
Just as he thought during his initial stint in Birmingham, McClearin was prepared to stay in the marketplace for the long haul and try to further cement his name in the radio airwaves. Being able to reconnect with the audience and discuss meaningful, impactful topics was validating and worthwhile for him, and he was especially steadfast to the outlet. After all, he never had a particular interest in voyaging to television and still, to this day, concentrates his efforts on growing and maintaining the sports radio format.
"My brain just doesn't think like that in those three-minute little quips that you do," McClearin said. "TV is just so much more structured and short than radio, where we can have a 15-minute segment and have a real conversation."
The only way McClearin was going to leave the station was if The Ticket came along, and sure enough, an opening became available concurrent with Hitzges' retirement. While he enjoyed his time in Birmingham, he doubled down on his commitment to the Dallas-Fort Worth marketplace for the long run in making this move and conceding a solo program for a new co-host.
"When I got the call and went through the process with Jeff Catlin, [it] was a little bit surreal because it truly is a dream coming true," McClearin said. "I found out that they're going to put me with Donovan Lewis is kind of when Norm Hitzges decided to retire and I was going to walk in, [and] it's really such a new show. Donovan and Norm had had such success for a while."
As soon as McClearin took the air with Lewis for the first time, he felt an instant connection. Just a few months into the program, both hosts know there is plenty of room for growth and consistent improvement to create enthralling and proprietary content that will amplify cume and serve the community.
"We both are just two people, I think, that really care about the listener [and] what we're putting together each and every day to make it the best that we can," McClearin said. "So far, it's been really easy and it's been just – as much as I dreamt about this opportunity, it's even more so than I probably could ever have dreamt."
The Ticket is in competition with 105.3 The Fan in the Dallas-Fort Worth marketplace, along with other media outlets across various platforms. Whereas the Birmingham market releases its ratings through quarterly diaries, Dallas has monthly figures through PPM, but he makes sure the influx of quantitative data does not command his mindset.
"We can all see the ratings that the two main sports stations here have – they're very healthy ratings and I think there's a real hunger," McClearin said. "A lot of that is football-driven – the Cowboys, nationally, are crazy relevant. All the [networks with] NBC and ABC and FOX and everybody; they always want to put them on because the Cowboys drive the needle. Well, they also drive the needle in Dallas very, very much so."
Understanding and capitalizing on the reach and relevance of the Cowboys helps these local programs gain further traction. Arriving unprepared equates to marketplace malfeasance.
"Prep is very important to me, and I like to try to come into the pre-show meeting that I have with Donovan and our producer Travis every day with my own ideas, but also, 'Okay, Donnie, what do you think?,' and then, 'Travis, what do you think about that?,'" McClearin said. "From that and our own individual prep, we kind of do the show prep together [to present] the in-depth segments that we roll out."
The majority of content focuses on the Cowboys since they are the team that exhorts the most interest in the area, but there are plenty of other storylines within the landscape. The Texas Rangers are headed to the Major League Baseball postseason for the first time since 2016, while the Dallas Mavericks organization enters its first full season with superstar guard tandem Luka Dončić and Kyrie Irving. Sometimes, sports fans do not want to solely listen to discussions about the teams themselves but rather hear about other pertinent topics in which they may be interested.
"I like to call them, I guess, lifestyle segments because I don't think anybody, even the most passionate sports fan, only does sports in their life," McClearin said. "We all have relationships and we have TV shows that we like to watch, and we went to the store and [some] random thing happened. We incorporate that, I think, into the show, and I think that's The Ticket itself. It's a very real station that has real conversations with a focus on sports."
Everything throughout McClearin's professional journey has centered on reaching this moment, and he wants to maximize the opportunity he has earned by bringing his best to the air on a daily basis.
From the onset, he knew where he wanted to end up and took the necessary steps to get there, even if it meant enduring some difficult setbacks. By taking advantage of every opportunity in his purview, he has made it in front of the microphone, and he has no plans on going anywhere at any time soon.
"I want to continue to grow the audience and have as many people enjoy doing what I love to do as possible," McClearin said. "I get a lot of motivation from that [and] just the excitement of driving into the station every day and the excitement of when that light comes on and it's time for the show. It's like being on stage to me; it's almost like you just get kind of high off of that feeling, and I love it."
Derek Futterman is a contributing editor and sports media reporter for Barrett Sports Media. Additionally, he has worked in a broad array of roles in multimedia production – including on live game broadcasts and audiovisual platforms – and in digital content development and management. He previously interned for Paramount within Showtime Networks, wrote for the Long Island Herald and served as lead sports producer at NY2C. To get in touch, find him on Twitter @derekfutterman.
Focused on Today With My Eyes on Tomorrow
"Our sites perform best when they are original, creative, and going beyond the surface, and we will do more of that in 2024."
It's been a minute since I managed the editor's desk for our websites but as we look for the right leader to execute our strategy, I'm back involved assisting my team. The positive is that it gives me a chance to get further connected with our writers and see what's being produced. The challenge is trying to balance website duties with consulting work, conference building, content creation for two newsletters, and tabling ideas until we're at full strength. We already made a few tweaks to BNM with the addition of a Media Stock Ticker on the website and the addition of On The Record and Job of the Week in the newsletter. If you haven't checked them out, please do so.
This seems like a good time to remind you that I am looking for a full time editor/writer to help lead BSM and BNM. A passion to write, manage people, provide ideas, and execute the vision is important. I'm looking for the equivalent of a digital program director who enjoys creating content. Covering the media industry is different than writing about sports or news. If you don't love the broadcasting business and understand the brands, people, issues, and challenges and opportunities facing those involved, this won't work. If you do, and you have the ability to manage a writing team and editorial calendar, dig for stories, expand relationships, and understand SEO and how to grow traffic and influence, then let's talk. My email is [email protected]. Please include your resume and a few writing samples.
In the short term, you won't notice much different on our websites. Our columnists will keep delivering timely opinions and insights, our features on broadcasters will remain thorough and interesting, and our daily news will occupy most of the space on both home pages. However, starting in 2024 we will begin placing a greater focus on original storytelling, expert insights, and creative features and benchmarks. This was a bigger focus during our early days but we've done less of it over the years as news began to dominate our daily content focus.
Though we will continue to relay industry happenings, personnel changes, and key details involving sports and news media brands and professionals, our sites perform best when they are original, creative, and going beyond the surface. That's why our annual conferences are a hit. They educate, celebrate, and investigate key issues with the right people. I know that in today's media climate aggregation is impossible to avoid especially when we're seen as a resource for relaying key stories that others may not have seen but my hope is to do less of it and place a higher premium on original material. This means examining more of the radio, television, podcasting, advertising, and social media business from all angles not just reacting to things said on the airwaves.
I've already assembled a content plan for BSM and BNM for 2024 and am fired up about it. Stephanie Eads and I will share some of those plans with existing and prospective partners during Q4, and we'll start rolling things out little by little once the new year rolls around.
Having shared that, I mentioned when we celebrated our 8 year anniversary that this year has been harder than others. The more we grow, the more we have to manage, and that's why it's so important to find a strong editor to help me maximize our websites while I remain heavily involved with our clients. One thing I haven't done in a while that I'd like to take advantage of while I have you here is ask you two simple questions: What is it that you enjoy reading most on our sites? What would you like to see more and less of? Your feedback is appreciated at [email protected].
On a daily basis, we publish 14-16 pieces of content on BSM and 10-12 on BNM. That's a ton, and let's be honest, you're not reading all of that. We constantly provide a full menu of options and try to avoid it feeling like we're throwing up content to fill the page but truth be told, sometimes it feels like we're filling the page. I don't want to invest time and resources in busy work that is less relevant. I want to create stories that are worth your time to help you stay informed, entertained, challenged, and inspired. I realize readers have different opinions and pleasing everybody isn't possible but we're trying deliver more of what you want and less of what you don't. It's why I'm asking questions, interviewing candidates for our editor role, and reviewing our analytics to make sure we have the right content plans in place.
If there's one lesson we've all learned it's that the rules are constantly changing. What worked 5 years ago on Twitter isn't the same today on the X. What was a guaranteed way to produce ratings on the radio a few years back is more complex now with video and podcasting part of the overall sum of success. It's no different for BSM and BNM. If we're writing about stations, networks or people that others don't care to read about, we change our focus. If our ability to generate interest through social media platforms changes due to an algorithm adjustment, then the content and amount of posts we had planned changes too. Is it inconvenient sometimes? Yes. But if the winds of change are blowing, it's on us to adapt or risk getting blown away.
I'm going through these next few months of 2023 making sure we stay focused on what matters each day while also inspecting our brands to make them the best they can be for 2024. In between all of that is hiring an editor, creating our annual BNM Top 20 (December) and planning a 2024 BSM Summit (March). One thing I'd like to do entering the new year is add 1-2 additional columnists on BSM and possibly another reporter/features writer for BNM. I'm also planning to bring back The Jason Barrett Podcast in April except with guests from both formats, sports and news.
We've come a long way since September 2015. This started as a one man show with a thousand people reading each day, and it's turned into a talented team producing quality, relevant industry content read by 10-20 thousand people per day. Our challenge moving forward is figuring out what we need more of, what we need less of, diving deeper into the original content pool, adding more support, and seeing just how far we can ride this train. As always, thanks for reading and supporting our journey.
Jason Barrett is the owner and operator of Barrett Sports Media. Prior to launching BSM he served as a sports radio programmer, launching brands such as 95.7 The Game in San Francisco and 101 ESPN in St. Louis. He has also produced national shows for ESPN Radio including GameNight and the Dan Patrick Show. You can find him on Twitter @SportsRadioPD or reach him by email at [email protected].
3 Questions to Ask Before Booking a Guest
Nobody has more passion for your show than you do. Be very careful who you invite to share that passion.
In my formative years of sports talk, the legendary Rush Limbaugh was at the absolute height of his popularity. Limbaugh had a very simple formula, nobody could argue against the success of that formula. Each hour was pretty much the same; a monologue or two, a sound bite, a few phone callers, and lengthy reactions to those calls. One thing that was absent was a guest, Limbaugh almost never had a guest on his show.
He was once asked about that and maintained there isn't a guest that has the same passion for his show as he does so, why hand the show over to someone without that passion? It is an intriguing and thought-provoking strategy.
Each show has a unique approach to guests; the type that work, the length of the interview, the times they should be on. There is no cookie-cutter approach that works for every show in every market. I do think a strategy for a show as it relates to guests is absolutely crucial. Scheduling them without first answering a few "whys" would be a critical mistake. We only get so much time with each listener, few things can run them off like a bad one.
More on the "whys" in a moment but I first need to address what I believe to be a misconception. I often hear that a show is good because "it gets great guests". That may be a plus for the listener but I refuse to believe it is what makes a show great.
Ultimately, a show is great because the entire production is entertaining. Guests are only part of what makes a show entertaining. Even two in an hour on a show still leaves the hosts having to fill the majority of the time. If they aren't entertaining hosts, there isn't a guest alive that makes the show good. All of that gets me to the "Whys".
Why is this guest on?
There must be a reason to hand part of your show over to a guest. They must be extremely entertaining, covering a topic that is of great interest to your audience, or be someone you know beyond a shadow of a doubt your audience loves.
If you can get at least two of those three, you have a winner.
Otherwise, it feels like a segment filler and I think most audience members can spot a segment filler from miles away. I get it, I've done small market shows solo before and felt like I was the only one listening. I know the appeal of having someone to help fill a segment.
The truth is, it does more harm than good if it isn't entertaining.
Why does this guest want to be on?
Every guest you have on has an ulterior motive. It is part of the transaction: They scratch your back and they get something out of it. The more they feel they get out of it, the more likely they are to give you a better interview.
Having someone who understands the value of a spot on your show will exponentially increase the interest and effort of that guest in their given segment. Simply put, if they're not into it, the segment isn't going to work.
I've seen shows chase the "big name guest" and the big name has very little interest in the interview. It shows. We once had a former athlete turned analyst on our show who was doing the interview on speakerphone while he was packing for a trip. He could not have been less interested in doing the interview and I still don't know why he agreed. It was a show killer.
I don't care how big the name is, if the big name just goes through the motions, it will be a failure.
Why is this YOUR guest?
Most topics you'll discuss on a show have numerous possibilities tied to them. Rarely is there only one guest that can discuss that topic. Try finding the person who has the best chemistry with your show. Show chemistry matters when selecting hosts, I think it should matter just as much when selecting guests. It is likely your show has a unique personality of its own, lean into that when you are selecting guests.
As an example, my show is far more likely to discuss a player's haircut rather than his NextGen Stats. When we have someone on, it is important to us that they understand that and isn't thrown off by it. That is an understanding of the chemistry of the show and the importance of that to the audience. I think every booking has to be viewed through that prism.
Ultimately, I have always believed having no guest is far better than having a bad guest. If people are consuming your show, they already value your opinion and insight, don't lend that audience trust to someone who will not value it to some extent. Rush Limbaugh may have taken it to extremes, he was good at that, and he was also correct in his assessment.
Nobody has more passion for your show than you do. Be very careful who you invite to share that passion.
Ryan Brown is a columnist for Barrett Sports Media, and a co-host of the popular sports audio/video show 'The Next Round' formerly known as JOX Roundtable, which previously aired on WJOX in Birmingham. You can find him on Twitter @RyanBrownLive and follow his show @NextRoundLive.