WWL Investigating Offensive Tweet From Its Account
"According to WWLTV.com, Dunlap did not directly respond to the offensive tweet during his Tuesday evening radio show, but the host did open the program with a message of unity."
The Twitter account for Entercom's WWL in New Orleans, posted a homophobic slur in reference to one of their own hosts on Tuesday. The offensive tweet directed at WWL radio host Seth Dunlap was deleted, but not before it was already seen, shared and screengrabbed by many.
Dunlap is a longtime sports broadcaster from Washington State. The NOLA transplant hosts The Last Lap on WWL, Monday – Friday from 8 – 11pm. In addition to his weeknight show, Dunlap also hosts pregame for the Saints Radio Network. WWL is the flagship radio network of the New Orleans Saints.
Tuesday afternoon, Dunlap tweeted , "Which of these 5 "overreactions" isn't actually an overreaction? You tell me…" while sharing an article he wrote for WWL's website, presenting "overreactions" from the Saints week 1 victory.
Soon after, the radio station Dunlap works for shockingly responded with a homophobic slur that would be offensive when directed toward anyone, let alone an openly gay employee.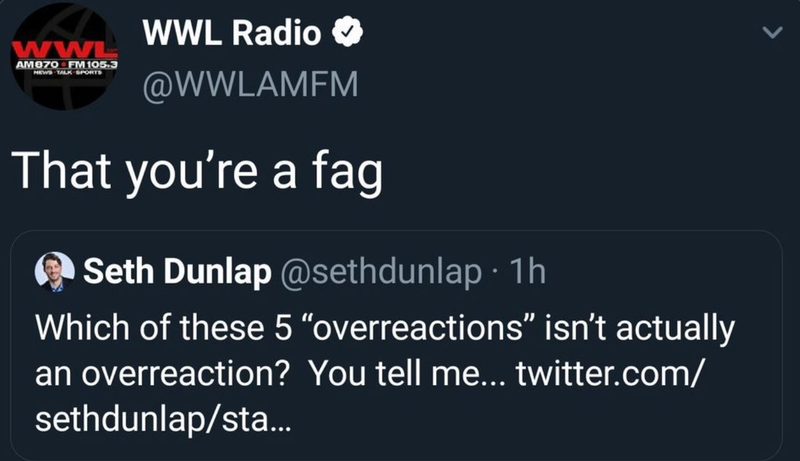 LGBT equality was a topic highlighted in New Orleans recently after Saints quarterback Drew Brees partnered with Focus on the Family and released a video to promote "Bring Your Bible to School Day." Brees received backlash over the video as Focus on the Family is a fundamentalist Christian organization that has historically opposed LGBT rights. Brees then posted a second video in response to the criticism he received.

Dunlap, an openly gay man, wrote a public letter to Brees in response to the quarterback's second video and his partnership with Focus on the Family.
"I am a gay man who has worked nearly two decades in the sports media industry. My personal experience, not headlines or Twitter innuendo, caused me to recoil at your initial video, and become even further flummoxed at your response today," Dunlap wrote.
Dunlap's full letter to Brees can be read via his Facebook page.
According to WWLTV.com, Dunlap did not directly respond to the offensive tweet during his Tuesday evening radio show, but the host did open the program with a message of unity.
"White, black, Latino, men, women, straight, gay, nobody cared," Dunlap said referring to the Superdome's Monday Night Football crowd. "That camaraderie, that togetherness, it what makes sports so special. To me, it's what makes sports so important to modern society. We can set everything aside and just be ourselves."
The Entercom owned radio station acknowledged they were aware of the offensive tweet that was sent from the WWL social media account and were investigating the incident.
Brandon Contes is a freelance writer for BSM. He can be found on Twitter @BrandonContes. To reach him by email click here.
Brandon Contes is a former reporter for BSM, now working for Awful Announcing. You can find him on Twitter @BrandonContes or reach him by email at Brandon.Contes@gmail.com.
Steak Shapiro Apologizes, Says He Didn't Think Stetson Bennett Criticism Was 'That Inflamatory'
"You were just trying to play music and not ignore the fans. Still don't think it was a great speech, but again, you're the biggest football hero in Georgia football history."
Wednesday's edition of The Steakhouse was one Atlanta sports fans were waiting for. Late Tuesday night, Steak Shapiro took to Twitter to promise that he would address Stetson Bennett IV's reaction to his criticism of the way the quarterback behaved at Georgia's National Championship parade on Saturday.
"The notion is that Steak was basically roasted," he said of the coverage the social media spat received. "He was put on the grill and taken to task."
Shapiro had tweeted that he did not think it was a good look for Bennett to be on his phone during the championship parade and that his speech seemed more about settling old grudges than it was about celebrating the team or the fans. In a message on Twitter, which began by addressing Shapiro as "Mr. Med Rare", Bennett explained that he was using his phone to play music in the car he was riding in. He was not ignoring the moment or the fans.
After giving Bennett credit for coming up with a funny nickname, Steak Shapiro said that he was surprised that the quarterback took the criticism so personally.
"My job is to give an opinion. I didn't think it was that inflammatory. I didn't think it was that dramatic."
He added that has no problem with Stetson's disdain for the media. He just thought the parade should have been about the fans and the accomplishment rather than Stetson Bennett IV trying to settle old grudges. Still, Shapiro wanted to make it clear that he does not hate the Georgia quarterback. He remains one of Bennett's most vocal fans.
"On three or four occasions, I was lambasted because I said I thought he was the greatest player in Georgia history, and I said that before he won the national title," Shapiro said. "I said that when they had the undefeated regular season, and then people started saying 'stop saying that about Stetson' or 'Stetson's overrated'. I just kinda had his back the entire year and probably had his back the last two years. I just didn't think Saturday was a great day. That is what I have been saying, and I stand by it. I just didn't think it was a great-looking day."
Steak Shapiro did offer an apology to Bennett. He said that if the quarterback was just trying to play music on his phone, that isn't that big of a deal, and if he had known that is what was happening, his reaction may have been different.
"My bad," he concluded. "You were just trying to play music and not ignore the fans. Still don't think it was a great speech, but again, you're the biggest football hero in Georgia football history. You're one of the iconic sports figures — maybe number one — in a town of Hank Aaron, and Chipper Jones, and Domonique Wilkins, and Matt Ryan, and Deion Sanders. You're probably number one all time."
Brian Gebhardt to Serve as Program Director of Sactown Sports 1140
"Learning under skilled leaders such as Terry Foxx, Sean Thompson, Reggie Rouse, and Mike Conti helped prepare Gebhardt for the next step."
Sactown Sports 1140 has found their next program director. After an extensive search, GM Steve Cottingim and Bonneville Sacramento's Group Director of Programming Chad Rufer have found their next leader in Atlanta, GA, tabbing Brian Gebhardt to guide the brand's programming department.
Gebhardt heads west to join Bonneville Sacramento after enjoying over seven years of success at 92.9 The Game. He has served recently as the Executive Producer of the 'Andy & Randy' show featuring Randy McMichael and Andy Bunker. During his time with the Atlanta sports station, Gebhardt has learned under skilled leaders such as Terry Foxx, Sean Thompson, Reggie Rouse, and Mike Conti. Those experiences prepared Gebhardt for the next step, as did working with numerous on-air talents who have helped The Game become a model of consistency in Georgia.
"Brian's experience working with both premiere talent and professional sports franchises will help us help the Sactown Sports brand grow both on-air and on-line ," said Cottingim.
"Brian demonstrated to us a real passion for leading extraordinary talent," shared Rufer. "We are very confident that he will help us grow Sactown Sports into Sacramento's premiere sports brand."
"I can't wait to get started and I am beyond excited to be working with Bonneville," added Gebhardt.
The hiring of the Georgia native as new PD allows Nick Cattles to focus exclusively on hosting the station's afternoon show, a role he's wanted to invest more time. Cattles joined Sactown Sports in November 2021 and has pulled double duty since arriving in Northern California. He hired Ramie Makhlouf as his afternoon drive co-host and the duo have built a solid foundation in afternoons. Having the ability now to focus solely on the show should allow Cattles and Ramie to elevate their program even more.
The first day on the job for Gebhardt will be Monday February 3rd. Depending on what develops with the San Francisco 49ers in the NFC playoffs, there's a possibility he could be walking into two straight weeks of Super Bowl planning. Regardless, Gebhardt has a new market to learn, a new team to meet, a new company to deliver results for, and an opportunity to take a big step in his radio career.
DNVR Sports Files Injunction Against Bonneville Over Denver Sports Brand
"We can't allow someone that represents the exact opposite of us to damage the goodwill of our brand or create confusion in the community."
After Bonneville International unveiled new branding for its Denver Sports properties, digital outlet DNVR Sports has filed an injunction to stop the radio company from utilizing the brand and logos.
In a Twitter thread, ALLCITY Network CEO Brandon Spano claimed DNVR Sports has already seen listeners, viewers, and readers confuse the two brands. "We can't allow someone that represents the exact opposite of us to damage the goodwill of our brand or create confusion in the community," Spano tweeted.
"Our branding was created purposefully, to be different from the way sports networks traditionally looked," he said in another tweet. "To represent the city of Denver in a simple way while removing us from the gloss and pretentiousness of sports media. To create something that brings people together."
Spano added that ALLCITY sent Bonneville a cease-and-desist letter last week, but claims the company failed to respond, so an injunction has been filed.
The Denver Sports branding utilized by Bonneville — which encompasses 104.3 The Fan and ESPN Denver — features a black and white city skyline as well as the Rocky Mountains inside a hexagon with block lettering. The DNVR Sports logo is a rectangle, similar to the city of Denver flag, with the sun centered between the mountain peaks and a block "DNVR" below the rectangle.
The complaint filed by StudioIP LLC — the law firm representing ALLCITY — claims the branding used by Bonneville constitutes "trademark infringement, unfair competition, trade dress infringement, dilution by tarnishment, and tortious interference arising out of Bonneville's trademark infringement of Plaintiff's trademarks," according to Westword.
Bonneville has denied any wrongdoing, saying the accusations "have absolutely no merit, and our legal counsel is preparing a formal response. Denver Sports remains committed to delivering the most in-depth and inclusive local sports content for all Denver sports fans."