Broadcaster Review: Monday Night Football
"You aren't going to make everyone happy, but in prep for a game like this, having something good, bad or indifferent to say about each club will go a long way in keeping interest."
I watched Monday Night Football as the Redskins hosted the Bears. I re-watched the first half to go more in depth on the broadcast and how the broadcasters handled things. National broadcasts are tough, but I thought things went pretty well overall.  
I was watching the game in a local bar and the sound/telecast didn't come on until just around kickoff. The open to the broadcast wasn't filled with a lot of information or detail on the game, and since I was getting the call right up against game-time there really wasn't anything to provide me with some "pregame" or other info. Now I realize ESPN does 15 hours of pregame, but some viewers only tune in for the game and they get shafted. 
Early in the game with the Bears on offense, the focus of the crew was spot on. Focused on the Bears offense or lack thereof. Booger McFarland talked about the struggles of Mitch Trubisky repeating the Trevon Williams quote from the Packers about making Trubisky beat teams by taking away the other weapons. I think in the Bears first drive they missed an obvious player being used on offense, that was Cordarrelle Patterson. Why are the Bears using him so much early? Does that take pressure off of the QB? McFarland brought up a terrific point referencing a conversation he had with the Bears QB, about his love of throwing out of the pocket and scrambling. McFarland said "when I asked him that question, his eyes lit up"…that's good stuff.
On the Redskins first drive, Joe Tessitore referred to the Case Keenum quote about playing on borrowed time, then paying it off with the mention of the rookie Dwayne Haskins Jr. Then it plays out with the QB firing a pick six to Clinton Ha Ha Clinton-Dix. Tessitore comes up big with the fact that the DB spent some time last year with the Redskins and how Eddie Jackson the Bears DB, convinced him to sign with the Bears to relive their days in Alabama together. That's great prep work to me, because it's a story for sure. Great insight too, because I'm sure that many fans (including some that I watched the game with) only remember Clinton-Dix from Green Bay. 
The Bears kicking situation has become much more of a talking point than maybe it needs to be at times. But the MNF crew made mention of the injury suffered by rookie place kicker Eddie Piñeiro suffered in the weight room during the week and clarified that was why the punter Patrick O'Donnell was handling the kickoff duties. 
Even though it's kind of an old story already, the way the Bears defense started the game, it was probably worth a mention of the new defensive coordinator Chuck Pagano. McFarland made a great point that the new guy typically wants to put his own stamp on things, but Pagano realized what he had and mainly wanted to regain players trust and let them play. The crew gets lucky because on the next play Khalil Mack busted through the line with a sack and a forced fumble.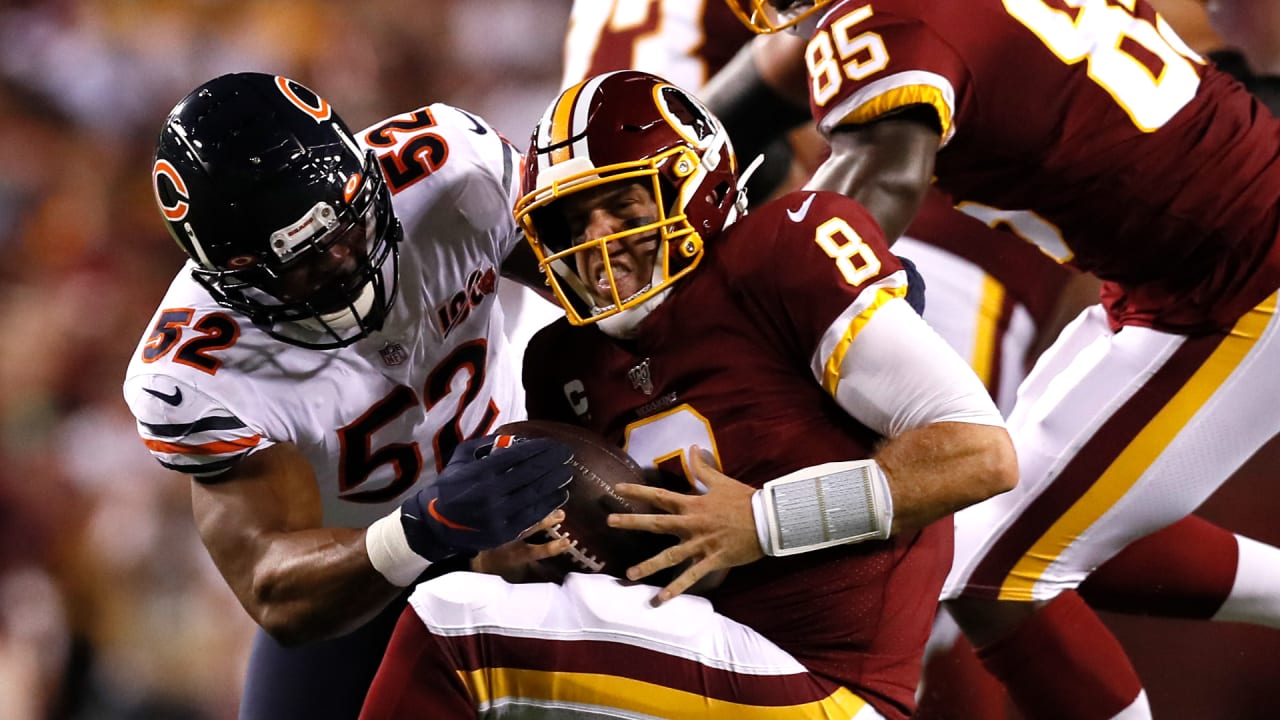 McFarland pointed out that great players want to continue to be great and don't think about what they did last season.
Odd choice to me by the production crew to again make note of the 2017 first round QB's. Trubisky was #2 overall, Patrick Mahomes #10 and Deshaun Watson #12. I sort of get it since the Bears offense has scuffled, but Trubisky did help lead the Bears to a division title last season. Didn't he? McFarland made a brilliant observation after the graphic, by saying "this is not all on Trubisky (this year), some of it is on Matt Nagy who admitted that they tried to do too much." That's a great follow up note in my opinion. 
It seemed to me like the broadcast focused mainly on the Bears early on, with the struggles on offense, the great things on defense and the kicking situation. Late in the 1st quarter after a near "safety" on Trubisky, the broadcast team mentions that in a 7-0 game, the Redskins defense has done a nice job. The hardest thing to me in a national broadcast like this is to please both sides of the rooting bases. You aren't going to make everyone happy, but in prep for a game like this, having something good, bad or indifferent to say about each club will go a long way in keeping interest. I know I was always interested as a fan to hear what the national crews felt about my team, something I always looked forward to hearing. More of this is needed so far in this game. 
Along those lines Tessitore, after an Adrian Peterson run, starts to talk about "AP's" place in the record books and how a touchdown last week put him 5th on the all-time TD list. McFarland is having a strong game, he comes out to talk about how Peterson will be running with some anger, especially after being inactive in the Redskins Week 1 loss. He'd go on to say that Peterson has "renewed energy now". There was good production support of this conversation too, after a Peterson short gain they put up the Most Rushing TD in NFL history graphic to show Peterson is 3 away from as Tessitore put it "Peterson's idol, Walter Payton". Tessitore comes up large continuing that thought saying Peterson told him that getting to Payton "motivates me and would mean the world to me", those inside stories from candid players are gold. 
There was an underrated but good perspective note by Tessitore to open up the 2nd quarter, by telling the audience that at this point the Bears have as many defensive touchdowns as they do offensive. Wow. 
The Redskins drive hit 3rd down in the red zone and Danny Trevathan sacked Keenum, and McFarland picked something up on the replay showing a nice fake out of an offensive lineman by the Bears linebacker and having a little laugh about it.
Some of the themes of the broadcast are redundant but covered nicely by some anecdotal material. Of Trubisky's inaccuracy issue, Tessitore points out that the Bears QB is comfortable with who he is and understands the criticism but feels like he has the talent to make things work. Good supporting material for the discussion.
Greg Manusky's defense has come under fire and for the fans watching in DC, it's a lightning rod issue. Tessitore points out that many wanted the defensive coordinator fired last year, but Jay Gruden kept him on. In a 7-0 game to this point, it's a valid discussion because it wasn't like the Bears offense dominated to the midway point of the second quarter. Soon after the discussion though the Bears go up 14-0 putting the defense of the Redskins in the crosshairs again. Tessitore points out that NFL QBs against the Skins defense in the red zone have converted on all 10 trips. 
After the Bears went up 21-0 and Case Keenum threw an interception naturally the discussion turned to Haskins and if things continued to go south would he eventually get into a game this season. Tessitore referenced a conversation with Jay Gruden saying "this is going to be a process, he's learning how to prepare as a pro right now and that everyone in the organization thinks that right now, sitting him is the best decision.". McFarland agreed and brought up that Haskins only played one year at Ohio State, so in other words, he has a lot to learn. I'm sure Redskins fans were throwing things at their TV's as much as Keenum was tossing interceptions. 
Nearing the two-minute warning, more gold. Pointing out that Cole Holcomb, the Skins 5th round pick in 2019 from North Carolina was in an "interesting position, playing inside linebacker tonight." Why? He was Trubisky's roommate in college. Love that stuff. 
More good things happen on the video replay review of the Taylor Gabriel no catch in the endzone. The guys smartly defer to their in booth official, John Parry, who said he believed the call should be reversed and it was. He broke down the play, explaining that even though the ball moved a bit, that is allowable under the rule and he felt there was control and two feet down. He's fresh off the field and was dead on with all his assessments of that particular play and sounded very comfortable delivering the information. Excellent use of the former referee and a great take by him as well. 
Overall, the first half of this game seemed difficult to call. One team was dominating another and there were a ton of flags on the field. I thought McFarland was the star of the show. That's the way a television broadcast should go, letting the analyst do what he does and inject some good points and offer a little levity. McFarland clearly did his homework and was prepared for every situation on the field. He impressed me with his knowledge of both sides of the football, not just the defense. Tessitore also did a ton of prep and it's evident throughout the telecast. He is solid and used the information he gathered in the days leading up to the broadcast and interjected information seamlessly throughout that first half. I'd like to hear him be a little less intense. It seems to me like sometimes there isn't a lot of emotion in his voice, it's one way to approach things with a personality like McFarland in the booth, but I'd still like to hear more from him. Again he is solid and handling a tough job on a big stage. 
Andy Masur is a columnist for BSM and works for WGN Radio as an anchor and play-by-play announcer. He also teaches broadcasting at the Illinois Media School. During his career he has called games for the Chicago Cubs, San Diego Padres and Chicago White Sox. He can be found on Twitter @Andy_Masur1 or you can reach him by email at Andy@Andy-Masur.com.
Nate Bukaty Didn't Sell Himself Short
"Don't sell yourself short," Bukaty remembered his friend saying to him. "That's the sentence I remember he kept saying."
There's an old Vin Scully video clip I can't stop watching. It may be the most impressive example of how to do baseball play-by-play I've ever seen or listened to. It's the bottom of the fourth inning at Dodger Stadium as the home team plays the rival Giants. Madison Bumgarner is on the mound for San Francisco and Scully is telling a story in the middle of the inning about how the pitcher and his wife saved a baby jackrabbit from the inside of a dead snake.
The story goes that Bumgarner and his wife ran across a rattlesnake while the two were roping cattle. They were startled, so the three-time World Series champ grabbed an ax and chopped the snake to pieces. That's how they found the baby jackrabbit. Bumgarner's wife brought the rabbit back to the apartment and nursed it for the next few days. Eventually, the rabbit was healthy enough to be released back into the wild.
Mind you, Scully is telling this incredible story while calling a baseball game and not missing a beat with the live action. It's truly a spectacle of broadcasting mastery.
Scully ends the story by saying, "Madison said, just think about how tough that rabbit was. First, it gets eaten by a snake, then the snake gets chopped to pieces, then it gets picked up by people and lives."
Scully then follows with "so I guess, really, the moral to the whole story about the rabbit and the snake is you have to somehow survive, you have to somehow battle back. A lesson well-taught for all of us."
When I listen to those final two sentences I can't help but think of how it relates to Nate Bukaty's journey into sports media, which is a story I heard just a few hours before the news of Scully's passing on Tuesday night. Granted, Bukaty's story has nothing to do with something as intense as taking an ax to a live rattlesnake, or even something as heroic as saving a baby rabbit, but his start in the business can be a comparison to the moral of the story, which was overcoming early adversity and battling back.
Bukaty realized in the front seat of his dad's car in the sixth grade he wanted to be in sports media for a living. An hour before he made that decision, he would have told you he wanted to play the game professionally, instead of broadcasting it. But after his dad quickly pointed out how difficult it was going to be for him to be a pro athlete with a very to-the-point conversation, Bukaty turned his decision to the guys calling the Kansas City Royals game on the radio. His dad didn't fight back at that aspiration. The father and son then spent the entire rest of the car ride discussing what it would take to achieve his newfound dream.
The dream persisted through junior high, high school, and even upon the decision to attend The University of Kansas. For over six years, Bukaty never re-considered what he wanted to pursue for his future. He made the decision long ago that he was going to broadcast games. But during one of his first days on campus at KU, his first major roadblock hit. 
"I met with the sportscasting professor and he told me I would never make it in the business because my voice was too high," said Bukaty. "It was my childhood dream since I was in 6th grade and the professor told me the first day on campus I was never going to make it. I was pretty devastated by that for a day."
This wasn't a criticism an aspiring broadcaster normally gets. It was something completely out of Bukaty's control. His voice wasn't something he could change. Most, probably, would have changed their major as quickly as possible, but Bukaty didn't. Instead, he remembered a time he overcame adversity by being cut from the high school basketball team his sophomore year, only to be a starter on varsity his senior season. He was ready to overcome adversity again. 
"I just went back to him and said, 'well, I'm going to give this a shot, with your help or without', " Bukaty said. 
But this isn't a story where the young kid tells the professor he's going to do it anyway, and easily finds himself in the future as the voice of a Major League Soccer team and 18-plus year veteran at Sports Radio 810 in Kansas City. No, there's more adversity to come in this story and it happened less than three years later.
Bukaty was now a junior at KU and the reality of how hard it was going to be to make a career in broadcasting was settling in. He was applying for internships and realized there were all kinds of people working for free. The thought of finding a way to get paid for one was starting to become overwhelming. 
His morale was starting to sink as he expressed his frustration over dinner with a friend that also attended KU. Bukaty even told him he may try to attend grad school to become a history professor or even a lawyer.
"I'm just looking at the odds and how hard it is to get a foothold in this business of sports broadcasting, especially since I don't have any connections or anything," Bukaty told his friend. "I think I find those other things interesting enough to be happy doing it."
The next thing that was said is something Bukaty will never forget. You could even argue it set the tone for the rest of his professional career.
"He chewed me out and told me, how dare you give up on your dreams before you even give it a shot," Bukaty said. "He told me I'd regret it for the rest of my life if I didn't at least give it a shot."
It was the exact push Bukaty needed to refocus. It was made clear to him he could go back to law school at any time, but his dream was something he needed to chase.
"Don't sell yourself short," Bukaty remembered his friend saying to him. "That's the sentence I remember he kept saying. That really helped me refocus and realize, yeah, this is what I have wanted to do since I was a kid and I shouldn't give up on it. I'm going to keep going."
It's a moment Bukaty hasn't shared very much over the years. But there's no denying the incredible impact it had on him. From that moment, he's never looked back.
The funny thing is the friend that shared incredible wisdom with him that day had no intentions of going to college while he and Bukaty were in high school. The only reason Bukaty convinced him to come to The University of Kansas was because he turned his friend into a huge KU basketball fan. Without the Jayhawks fandom, there's a great chance that distinct conversation never happens.
But that's not the end of the incredible interaction that night with Bukaty and his friend.
"That night, he also said, here's what's going to happen: You're going to become a successful sports broadcaster and I'm going to become a sports historian and I'm going to write a book on you someday."
His prediction was nearly spot on. Amongst many other incredible jobs and titles, Bukaty is the play-by-play voice of Sporting KC and one of the longest-tenured sports talk hosts in Kansas City. His friend is no other than Matt Zeysing, who's the head curator of the James Naismith Basketball Hall of Fame in Springfield, Mass.
There aren't any current plans for Zeysing to fulfill the entire prediction and write a book on Bukaty's career, but if he wanted to, he could probably write a best-seller on just the night the two shared inside a bar in Lawrence. Regardless, it was an incredible prediction that had a lasting impact on Bukaty's career.
And about the professor who told Bukaty his voice was too high to be in the business? It was that same person who got him a radio job in Moberly, MO. Talk about a redemption story. 
Bukaty's career story combines overcoming adversity, living out a dream, and getting outside his comfort zone to realize new passions and talents. Calling Major League Soccer games for Sporting Kansas City is truly a dream come true for him. Play-by-play was always his first love and getting to realize that dream is one that he never takes for granted. Even if that means getting home after a game at 11:30 at night and having to do a morning drive radio show the next day at 6:00 a.m.
"My sleep schedule is a complete nightmare," laughed Bukaty. "After a game, I cannot go to sleep. Say it's a Wednesday game and I get home around 11:30, I'll go for a three-mile run around my neighborhood. That does wonders. I feel three really good hours of sleep is better than four hours of tossing and turning and not turning your brain off."
Bukaty has always challenged himself to get out of his comfort zone. That's originally how he started in sports radio at 810 WHB. He listened to sports radio, but it wasn't something he was immediately drawn to as an opportunity. Bukaty saw it more as a forum where hot takes were consistently lived, which wasn't his broadcast style.
"I came to talk radio reluctantly," said Bukaty.
The human drama and the amazing feats of athleticism were things that interested Bukaty far more than a hot take.
"I love the storylines of humans overcoming adversity and achieving hard-fought objectives as teams," said Bukaty. "I love the emotional connection between the team and their fans. I didn't love sports because of the hot take."
That's what makes Bukaty's sports radio career so impressive. He's seen the beginning and the rise of the industry, yet, he's never changed who he is on the air. Regardless of how the business has changed, he's never let the style of other broadcasters change the way he wants to do a show.
"What makes it easy for me is that my co-host, Steven St. John, drives the show," said Bukaty. "And that's the way it should be because he connects with the sports fans in Kansas City better than any person in sports talk radio and maybe better than any media member in town."
Bukaty has a career that the young version of himself at KU would only dream about. Who knows, just like he made the decision to broadcast games in the front seat of his dad's car while listening to a Royals game, maybe he's helped a kid in Kansas City realize play-by-play is what they want to do. But one thing is for sure, Bukaty isn't done getting out of his comfort zone to make himself better. That's why he's now calling MMA events. And it's why he could accomplish even greater things in the future.
"I've always tried to make it a habit to get outside my comfort zone and say yes to things that seem a little uncomfortable," said Bukaty. "Every time I've ever done that I'm glad because it's made me grow professionally or as a person."
Tyler McComas is a columnist for BSM and a sports radio talk show host in Norman, OK where he hosts afternoon drive for SportsTalk 1400. You can find him on Twitter @Tyler_McComas or you can email him at TylerMcComas08@yahoo.com.
I Raise My Microphone to You, Vin Scully
Thank you for your graciousness and for the gift you bestowed upon all of us. I wish you a peaceful rest.
"It's time for Dodger baseball! Hi, everybody, and a very pleasant good evening to you, wherever you may be." That's how the legendary Vin Scully would greet countless thousands of Dodgers' fans every time they'd watch or listen to a game. His gift was making every single listener/viewer feel like he was your buddy, the guy sitting next to you at the game or a bar or wherever. Vin made everyone feel special because that's who he was.
Now, unfortunately it's time to talk about the passing of an absolute legend. Scully died earlier this week at the age of 94. Scouring Twitter and reading reactions to his death, there's one theme I noticed. Most everyone that watched him or listened to him, Dodgers fan or not, say it feels like they're losing a friend. Not that Vin's career needed any validation, but to me, that's the mark of a great broadcaster. Being there, through the ups and downs and being a trusted voice that people could rely on if they had a bad day or a great day.
Vin's passing leaves a void in our industry that will never again be filled. I say that, not just because he was the greatest baseball play-by-play announcer to ever crack a mic, but because he was a tremendous person. He seemingly had time for everyone. Even a green around the gills play-by-play apprentice, me.
In 2004, when I was with the Cubs broadcast team, we made our annual trip to Los Angeles. I had been traveling with the team for a couple of years at that point, but never had the chance to meet Scully. I mentioned this in passing in the booth one afternoon. Pat Hughes, Ron Santo and our producer Matt Boltz started talking about Vin. Hughes said something to the effect of, let's go visit him after the game. I thought nothing of it. But sure enough, after the postgame show, Pat motioned to me to come with him. I will admit, I was nervous. Out of character for myself, I didn't know what I was going to say to him. I even had a baseball with me for him to sign. Such a geek.
We made our way through the press dining room at Dodger Stadium and tucked away in one of the back corners was a doorway marked "Private". Pat and I entered the private dining room for the Dodgers broadcasters and there was Vin and the rest of the crew. Pat was greeted immediately by the guys and proceeded to introduce me to everyone. He saved Vin for last. The ever-gracious Scully stood up from his chair and stuck out his hand. I'll never forget what he said and in his dulcet tones, I can still hear it. "It's a pleasure to meet you Andy, I understand you've been doing some play-by-play, how's that going?" Floored, I managed to speak and told him that it was a work in progress, but I was happy for the chance. He told me to keep at it and shook my hand. He then noticed the baseball in my hand, and asked if I wanted him to sign it. The fanboy in me, shook my head and I still have that ball in my collection.
I moved on to San Diego and saw Vin numerous times. I almost literally 'bumped' into him before a Dodgers/Padres game at Petco Park. Vin would walk the hallways in the broadcast area to 'warm up' before a broadcast. I marveled at this man, who still seemingly had that nervous energy that we all experience before going on the air. He would stroll up and down humming, not loudly, but with enough volume that you could hear him. He told me that was how he exercised his voice in getting ready for a game. It was amazing to see and hear, then get the explanation.
Scully was a decorated man, winning many awards. He was inducted into Baseball's Hall of Fame in 1982, receiving the Ford C. Frick Award. He was given a Presidential Medal of Freedom in 2016 and had his microphone retired by the Dodgers.
This great gentleman broadcast baseball for 67 years. Starting in Brooklyn in 1950 and finishing in Los Angeles in 2016. Scully worked for both CBS and NBC during his career and not only covered baseball, but on CBS he called NFL games from 1975-82. In his final telecast for the network, he was on the call for the NFC Championship Game, when Joe Montana hit Dwight Clark in the endzone for 'the catch' that put the 49ers into the Super Bowl. He also was on the network's golf coverage as well as tennis.
At NBC he did baseball and he did it well of course. He called four All-Star Games, four NLCS and three World Series. Scully had some memorable calls in the Fall Classic. Scully provided the call for one of baseball's most memorable plays when Bill Buckner's error in the 10th in Game 6 of the 1986 World Series gave the Mets an improbable win over the Red Sox:
"Little roller up along first. Behind the bag! It gets through Buckner! Here comes Knight, and the Mets win it! "
Scully also called Kirk Gibson's famous homer during Game 1 of the 1988 World Series:
"High fly ball into right field, she i-i-i-is … gone!"
Scully said nothing for over a minute, allowing the pictures to tell the story. Finally, he said:
"In a year that has been so improbable… the impossible has happened!"
Well before those moments, he was part of so many legendary and unforgettable calls with the Dodgers. Upon his retirement Dodgers fans voted on his greatest calls of all time. There are too many to list here, but a couple come to mind immediately.
Scully had a flair for the English language. He would say things in a way that made the listener/viewer feel like they were right there with him. He set a scene unlike any other broadcaster. Take for example the 9th inning of Sandy Koufax's perfect game in 1965, a 1-0 win over the Cubs at Dodger Stadium.
When Koufax struck out Harvey Kuenn for the game's final out, this is what Scully said to paint the picture as perfectly as Koufax painted the corners that night:
"You can almost taste the pressure now," he said as the ninth inning got underway. " … There are 29,000 people in the ballpark, and a million butterflies."
"It is 9:46 p.m.," Scully said. "Two and two to Harvey Kuenn. One strike away. Sandy into his windup, here's the pitch … swung on and missed, a perfect game!"
There were then 38-40 seconds of nothing but crowd noise.
"On the scoreboard in right field, it is 9:46 p.m. in the city of the angels, Los Angeles, California. And a crowd of 29,139 just sitting in to see the only pitcher in baseball history to hurl four no-hit, no-run games, and he's done it four straight years. And now he's capped it; on his fourth no-hitter, he made it a perfect game."
Brilliant. Simple, yet incredible. The first of the three perfect games Scully called, took place in the 1956 World Series. Don Larsen faced the Dodgers in the Bronx and as the game went into the 9th inning, Scully epically described the tense feeling building at Yankee Stadium.
"Well, all right, let's all take a deep breath as we go to the most dramatic ninth inning in the history of baseball," he said.
Scully later described Yankee Stadium "shivering in its concrete foundation" as 64,517 fans hung on every pitch.
When Larsen struck out Dale Mitchell on a called third strike to end the game, Scully said, "Got him! The greatest game ever pitched in baseball history by Don Larsen, a no-hitter, a perfect game in a World Series."
"When you put it in a World Series, you set the biggest diamond in the biggest ring," Scully said.
Scully was the gem of the biggest kind. I've heard many words used to describe the man upon his passing. Gentleman, kind, warm and friendly are a few. To me, Vin always displayed class. Even as his final game in the booth for the Dodgers came to an end, he eloquently said so long:
"You know, friends, so many people have wished me congratulations on a 67-year career in baseball, and they've wished me a wonderful retirement with my family, and now, all I can do is tell you what I wish for you. May God give you, for every storm, a rainbow; for every tear, a smile; for every care, a promise; and a blessing in each trial. For every problem life seems, a faithful friend to share; for every sigh, a sweet song, and an answer for each prayer. You and I have been friends for a long time, but I know, in my heart, I've always needed you more than you've ever needed me, and I'll miss our time together more than I can say. But you know what, there will be a new day, and, eventually, a new year, and when the upcoming winter gives way to spring, ooh, rest assured, once again, it will be time for Dodger baseball. So, this is Vin Scully wishing you a pleasant good afternoon, wherever you may be."
A year after he signed off, the Dodgers advanced to the World Series for the first time in 29 years. Dodgers' fans started a petition for him to come out of retirement and call the games on Fox. Joe Buck was even on board. Scully declined, preferring instead to lay low. "I honestly don't feel I belong there and I would not want anyone to think I was eager for a spotlight." Scully said. He added, "I've done enough of them."
I think any of us, that got to meet him, watch him or listen to him over the years would disagree with that last statement. You could never get enough of the great Vincent Edward Scully. Thankfully his voice lives on through audio recordings and YouTube videos to show the younger generation how it was done. And done so well for so many years. It's always hard to say goodbye, to someone you feel like you knew, even if you never had the chance to meet him.
Vin, I raise a microphone to you. Thank you for your graciousness and for the gift you bestowed upon all of us. I wish you a peaceful rest. And we all know where you'll be, in our hearts and fondest memories forever.
Andy Masur is a columnist for BSM and works for WGN Radio as an anchor and play-by-play announcer. He also teaches broadcasting at the Illinois Media School. During his career he has called games for the Chicago Cubs, San Diego Padres and Chicago White Sox. He can be found on Twitter @Andy_Masur1 or you can reach him by email at Andy@Andy-Masur.com.
Sports Talkers Podcast – Linda Cohn
Stephen Strom can be heard hosting 'The Sports Talkers Podcast' for Barrett Sports Media. In addition to hosting here, Stephen works as a broadcasting assistant for the Miami Heat and color analyst for Nova Southeastern. Additional career experiences include working for SiriusXM, performing analyst duties for Princeton basketball, and hosting shows for TalkNorth.com. You can find him on Twitter @SStrom_.