Every Week Is Shark Week For Dan Rusanowsky
"You can't be that guy always looking for the next job. You have to focus on being the best you can be wherever you are."
Memory is funny. It can be difficult to recall small events in our lives that occurred last week, yesterday or even a few hours ago. Our memories can shift without our permission, painting a picture of an experience that might be different than what other people remember. Memories shape who we are, how we think, and even what we value. The cruel universal reality is that it's our darkest moments we tend to remember the clearest.
One can argue memory's greatest ally is time – not the enemy it appears to be. Like a Zamboni to ice, time has a way of healing certain scars from our past, and in the process can turn pain into wisdom. It also has a way of preserving our happiest moments through the decades.
58-year-old Dan Rusanowsky is a man not short on happy memories – and many are tied his 40 year career calling hockey games.  He can tell you in great detail about the time the Sharks snapped a 17-game losing streak in Winnipeg on Valentine's Day 1993.
"After the game," he smiles "they raised a garbage can in the visitor's locker room like it was the Stanley Cup."
His memory is well organized and cataloged. Ask him for a San Jose Sharks story and the Connecticut native would respond with "What season?"
Just about every high point in his professional career is tied to a hockey game on some level. Unfortunately, the same can be said for a very low point in his personal life.
Ask him where his love for hockey began, and Rusanowsky doesn't hesitate.
Herman Solomon, the brother of Rusanowsky's mother, sparked Dan's passion for the sport at a very young age. The two were regulars at New Haven Nighthawk home games and spent plenty of time watching the nearby Yale Bulldogs on the ice. To this day, Rusanowsky continues to honor his uncle's influence.
"I still mention him every game," beams the proud nephew. "I would always refer to him as the unofficial statistician of the broadcast, so much so that people have asked me if he's actually on the payroll."
Long before young Rusanowsky found himself in front of a microphone, he found himself on the stage. He was never far away from the opening of a new play – portraying Captain Hook in Peter Pan and the title role in a Charlie Brown Christmas production. His enthusiasm for acting faded a bit as he entered high school – but Rusanowsky still values his experience as a thespian.
"What I do professionally is, and always has been, performance art. I'm presenting my audience with the images only I can see. Every game is a performance of sorts."
Rusanowsky's reverence for his profession is clear, and it started with what he calls the "romantic" crackle of the radio dial. From his home in Milford, he recalls hearing Penguins broadcasts, Buffalo Sabres, Toronto Maple Leafs via Hamilton, and even the Montreal Canadians.
"The whole thing was in French so I couldn't understand a word," chuckles Rusanowsky.  "Every once in a while they would mention a name though, so I recognized the names!"
Understanding he wanted to pursue a career in his two passions – hockey and radio – Rusanowsky set off for college at St. Lawrence University, roughly 5 hours north of Milford.
St. Lawrence was attractive to Rusanowsky on a couple of levels. For one, it was a small school, a size that would afford him personal relationships with his professors, and two, the Saints played D1 hockey.
"My freshman year I went in there, not really with any clue what I was doing, and I introduced myself to their play by play man, Bob Vilas, and pretty much said I was interested in pursuing this as a career."
To Rusanowsky's shock, it just so happened they were in need of a fill in play by play announcer later that season. Vilas told the 18-year-old to watch some games from the booth and record some practice tapes. In time, Rusanowsky could feel Vilas' confidence growing in him, but even he couldn't have predicted what happened next.
With the Saints games being delivered on the local NPR station, Vilas didn't have the luxury of commercial breaks during intermissions.
"One game in that first season he came up to me and said 'Dan, here's your interview subject, I'll be back in 5 minutes, you're on in 30 seconds,' just like that I was on the air for the first time ever."
Rusanowsky still remembers the man he interviewed – Tom Burke, a hockey writer – but he wouldn't give himself high marks for the conversation.
"I don't have that tape. I wish I did! I'm sure it was just about the worst interview in the history of radio!"
While the thought of the tape might be cringe-worthy, he looks at that experience as a seminal moment. Not only was it his on air debut, but he was given a challenge he wasn't prepared for and didn't back down.
"In this job," Rusanowsky explains, "what you expect is often not what happens. You have to be prepared for the unexpected and find a way to make it work."
Rusanowsky made it work, and a Hall of Fame broadcast career was born.  By his Junior year, he became the voice of the Saints, a title he didn't want to lose on account of graduation after his senior year, so he enrolled in grad school at nearby Clarkson University.  He knew the next logical step towards his ultimate dream of landing in the NHL was a position in the American Hockey League.  He would check religiously, and finally – one day after his graduation from Clarkson – he got an offer from the New Haven Nighthawks.  His hometown AHL club.
He was thrilled for the opportunity, but his paycheck left a lot to be desired.
"When I got the job in June I weighed 175 lbs. The next time I stepped on the scale was when I was home for Christmas in December – I was 148 lbs."
The radio veteran laughs today when talking about his early days in the industry, as he grinded his teeth through so much uncertainty. He recalls looking forward to road trips because he could pocket a little extra per diem cash. One thing he never did was look too far ahead, and he believes that made all the difference in his career ascension.
"You can't be that guy always looking for the next job. You have to focus on being the best you can be wherever you are."
In his five years with the Nighthawks, Rusanowsky was responsible for promoting the club and selling season tickets – a side of the business that interested him greatly. For the first time in his life, Rusanowsky was learning about the business side of his craft. Understanding the intersection of art and commerce. It's that layered knowledge of the radio business that would serve him greatly in his next position.
By the late 1980s Dan was approaching 30. He knew in the next couple years, if he wanted a to buy a house or settle down with a family, he'd have to consider a career shift. He couldn't accomplish his personal goals on an AHL salary. Before he walked out of the booth entirely, he knew the NHL was expanding with a franchise in the Bay Area – a region of the world as foreign to the Connecticut kid as another country entirely. Always a realist, Rusanowsky understood his chances of becoming the radio voice of the San Jose Sharks was slim, but he submitted his tape to the powers that be regardless.
"I mailed in my tape and they asked for another one, that was a good sign. I sent another tape and they asked to fly me out for an in-person interview, that was a very good sign. I fly out to meet everyone and they tell me I'm one of a couple different people they're considering, that's a great sign."
Dan is not lost for words when you ask him about his uncle Solomon, Bob Vilas, and about a dozen other individuals who he credits with the rise of his career. However, when you ask him about the moment he was offered an NHL radio announcing job, he's efficient and humble.
"They offered me the job and I said yes almost before they could finish asking."
The San Jose Sharks played their first two seasons roughly an hour north of San Jose in the Cow Palace just south of San Francisco.  The venue was a bit of relic, even 30 years ago, but that certainly didn't bother their 30-year-old radio play by play man.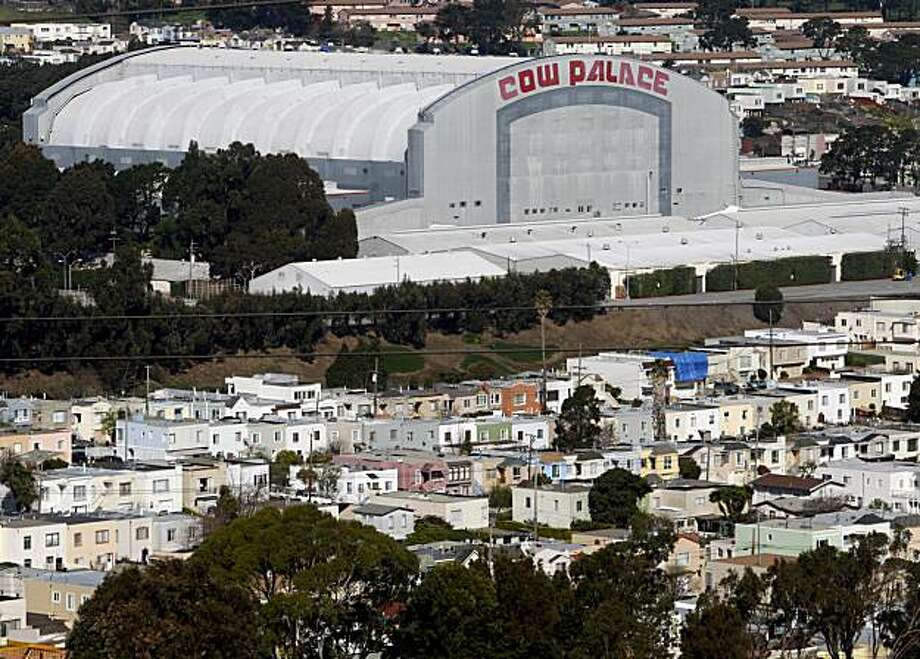 "I look back at the Cow Palace years and remember a lot of fun times," he offers with a grin, as if to say he can't begin to tell me half the stories he has locked away.
"We definitely did our fair share of losing though."
During their second season, the Sharks lost a staggering 17 consecutive games and earned just 24 points in the standings.  It was clear after two seasons, the shine of the new NHL franchise was wearing off in the Bay Area.
"A new team is like a new baby," Rusanowsky explains. "The first year, everyone wants to come and see the baby, then the 2nd year you get less visitors. Well, our circumstances were such that in year 3, despite losing so much in year 2, we had a renewed energy around the team when we finally moved to San Jose. San Jose is interesting in that it's bigger than San Francisco, but it's very much in the shadow of San Francisco. This was the first team of the major four leagues who said 'we want to be in San Jose, we want San Jose in our name,' and the community around here really embraced us for that."
In their first season in San Jose and third in existence, the Sharks made their first postseason appearance. Soon thereafter, the new franchise was much more than a novelty in the league – they were regularly playing meaningful hockey in late spring and the entire Bay Area was taking notice.
Personally, Dan couldn't have been happier. He had met his wife in his new adapted city and not only was he an NHL play by play man – he had called every game in franchise history. That streak, unfortunately, came to an unexpected end on November 25, 2000.
Like they so often are, Dan finds the details leading up to this particular bad memory very easy to recall.
"It was the Saturday after Thanksgiving. The New Jersey Devils were in town and I had just spent the morning at practice getting some interviews done for that night. My routine for home games was generally always mornings with the team, then I'd go home to work in my office before coming back for the game. That day, I was invited to a new restaurant my friends had just opened up, so I thought I'd stop by for a quick lunch, that's the only reason I was at that particular intersection on that particular day."
Rusanowsky pauses slightly, as if to apologize for the upcoming hole in his story.
"I don't remember the impact, of course, but a driver ran a red light – hit my driver's side door and I woke up in the hospital."
The then-39-year-old suffered a number of injuries, most notably a fractured femur and a ruptured diaphragm, the second of which would've been life threatening if not quickly identified by a specialist that day.  That night, the San Jose Sharks played their first game in franchise history without Dan Rusanowsky in attendance.  He would spend the next week in the hospital and would not return to the booth for 27 games.  It was a dark time for Silicon Valley's adopted son and his wife, but it's an experience in which he realized he belonged in San Jose.  
"The reception I got from the team, from the fans and from the community was overwhelming.  It truly was.  When I was healthy enough to return to work, I was presented with four long panels covered in get well messages from fans.  Those are still in my house, and they're not going anywhere."
Like his panels, Rusanowsky doesn't seem to be going anywhere either.  Last season he called his 2,000th regular season game for the Sharks.  He also has the incredibly rare distinction of calling every playoff game in franchise history – including the 2016 run to the Stanley Cup Finals.
Six years ago the East Coaster was immortalized in the Bay Area Radio Hall of Fame.  Ask him about it and he's quick to share the honor with his fellow inductees.  He points to his nearly 20 year working relationship with KFOX, the terrestrial station that has carried Rusanowsky's Shark network since 2000.  On paper, Dan has done just about all one can hope to do in the world of sports broadcasting, but he's still as enthusiastic as ever to go to work every day.
"It's a unique lifestyle, doing what I do.  It's also an honor and a privilege to be broadcasting in the National Hockey League.  Working in sports and sports broadcasting is as rewarding now as it's ever been I believe. 
"You look at a market like the Bay Area – there's people from all walks of life, from all different backgrounds.  There's different groups of people who may disagree on any number of topics – but the one thing we can all see eye to eye on is sports.  If our local teams win, we all win, and we can share that together.  If we can share that together, I think that opens up a lot of other things we can do together."

Jack Ferris writes feature stories for BSM and serves as an update anchor for iHeart Radio in San Francisco and as a freelance contributor for the PAC-12 Network. Previously he has worked as a sports anchor for KXLY-TV in Spokane and as the co-host of the Don West Show on KPQ in Central Washington. You can find him on Twitter @JFerris714 or reach him by email at [email protected].
Evan Cohen Wants to Be as Relatable as Possible
"If you stay true to kind of what got you here and stay true to what you believe is right in terms of radio, then I think that you're going to be good."
Evan Cohen had an advantage when deciding how to introduce himself to the audience thanks to a dual role as both a host and an executive. Ushering in a new era of ESPN Radio, he prompted Michelle Smallmon to talk about why she came in the show's premiere episode with a black eye.
Viewers of the program could see it for themselves on ESPN2 as she regaled the tale of what happened in her New York City apartment, instantly invested and intrigued by the story and everything thereafter. Even though the circumstance timed itself perfectly, Cohen took a risk in starting a show this way and learned the details behind the incident with the audience live on the air.
Whether it is about sports or not, Cohen is always prepared. Watching games is just as important as the viewing experience, trying to find the metadramatics in each situation to present consumers with parlance and conversation that goes beyond expounding statistics. Sports radio has an inherent element of entertainment that forges a strong connection with its listener base, and these narratives tend to have more value than meretricious greetings.
"If I'm doing the show and we're doing the show that we think is right, our life is work and our work is life," Cohen said. "….If you just make up in your mind, or at least I have made up in my mind, 'My entire life could be show fodder,' then it's always enjoyable."
Good Karma Brands and ESPN have been business partners for more than two decades. In the first quarter of 2022, Good Karma Brands acquired ownership of ESPN New York 1050, ESPN 710 Los Angeles and ESPN 1000 in Chicago. As part of that agreement, Good Karma Brands continued its digital sales obligations for ESPN as its official operating partner and inked a local marketing arrangement (LMA) to take on select responsibilities pertaining to ESPN New York 98.7. 
When ESPN began layoffs mandated by The Walt Disney Company in order to slash $5.5 billion in costs, the audio division of the outlet took a significant hit. Program directors Ryan Hurley and Amanda Brown were relieved of their duties, as were executives Scott McCarthy, Louise Cornetta and Pete Gianesini. Additionally, those within the ESPN Radio Network sales staff lost their jobs as the company finalized a renewed deal with Good Karma Brands to execute sales responsibilities within the company's radio and podcast networks.
Cohen is part of this transition as the vice president of content for Good Karma Brands, but he has no jurisdiction over what happens at the outlets in New York and Los Angeles from a managerial standpoint. As it relates to other ESPN affiliates owned by the company, he works directly with market managers and content directors to ensure that they produce content that best satisfies three key performance groups: fans, teammates and partners. The partnership is one factor that Cohen affirms proves ESPN's commitment to content crafted for the ear.
"[ESPN has] decided that [it] would like to find partners to go out and find a way to market the content to great advertising partners that they can put [its] message on, and [it wants] to bring in best-in-class operators who do that on a daily basis to help raise the profile of [its] audio," Cohen said. "I think people have had this twisted for so long."
ESPN Radio announced a revamped national weekday lineup in late August with experienced hosts up and down the board. From Freddie Coleman and Harry Douglas to Amber Wilson and Ian Fitzsimmons, new and unique pairings are keeping listeners interested and entertained with the latest sports talk.
Starting off the day is a three-person composition with Chris Canty, Michelle Smallmon and Cohen on Unsportsmanlike, and early reviews of the show have been favorable. For Cohen, reaching this point of his career required taking calculated risks and seizing any opportunity that could help him grow – even if it was outside his direct interests.
When Cohen was 9 years old, he heard Mike Francesa and Christopher "Mad Dog" Russo on WFAN for the first time and remembers distinctly thinking that he wanted to work in sports media.
In addition to working on the student radio station and newspaper at the University of Wisconsin, he had professional experiences over every summer. An internship with the Madison Square Garden Radio Network marked his first external radio endeavor, and subsequent experiences at WFAN and various network public relations departments bolstered his acumen and comprehension.
During Cohen's junior year at the university, he interned for the Wisconsin Badgers broadcast team, consisting of Matt Lepay and Mike Lucas. For football and basketball home games, along with television and radio shows, he observed the way they went about their jobs and helped out where he could. Learning both through osmosis and involvement assisted in his erudition, but there was no viable substitute for bonafide repetitions.
"Matt Lepay taught me a lesson early on [by saying], 'If you want to be on the air, you've got to get on the air,'" Cohen recalled. "He was specific in the way he said that because he didn't say, 'If you wanted to be a sports talk radio host, you've got to do sports talk radio.'"
Good Karma Brands had found its niche in the sports talk format and was starting an ESPN Radio affiliate from scratch in West Palm Beach, Fla., leading Cohen to relocate and host a show produced by John Martin. Originally on 760 AM, the station implanted itself in the country's largest market without a sports radio station at the time and included programming hosted by company executives Craig Karmazin and Steve Politziner themselves. Today, ESPN West Palm is in the midst of celebrating its 20th year on the air and has established itself as one of the outlet's trusted and respected sports media outlets.
Cohen, however, quickly found out that he was going to be much more than just a host. As he was discussing the job offer with management, he remembers being told that no money would be invested in advertising the station and that no full-time producer would be hired. Furthermore, working as a salesperson would be a condition of his employment as a host, requiring that he execute the role during the day to catalyze remunerative growth.
"It was the single greatest experience I could have because it allowed me to appreciate being on the air," Cohen affirmed. "It allowed me to work to be on the air, and we started something from scratch that the only way we could make it work was grassroots efforts of being there, meeting people and learning the market."
Upon being informed of the offer though, Cohen expressed some ambivalence regarding whether or not he should take the chance and called his father to ask his opinion. He was met with a resounding plea to take the job, with his father emitting shock that he would even consider turning it down in the first place. Today, Cohen is often asked how media professionals can exit their comfort zone, to which he frequently replies, "You have to determine what your comfort zone is in order to know how to get out of it."
Despite West Palm Beach's status as a top 50 market, the area at the time consisted of many transplant sports fans with allegiances to various teams. Evidently, personalities had to be able to talk about non-local topics. Hosting shows in this marketplace helped him relate to different types of listeners and foster connections with strategic corporate partners, preparing him to continue broadening his horizons.
"You're appealing to a fanbase that is not solely focused on one team, so how do you connect with them?," Cohen expressed. "I think it's [by] being as relatable as possible."
Cohen connected to the local marketplace by working on Florida Atlantic University broadcasts of football and basketball games in various roles, including as a play-by-play announcer, analyst and sideline reporter. He could also be heard on the Miami Hurricanes Radio Network as the host of its postgame show, coinciding with opportunities to serve as a fill-in host on FOX Sports Radio. Former vice president and general manager Andrew Ashwood afforded him the chance to contribute to the outlet, a place where he ended up meeting colleagues Jorge Sedano, Greg Bergman and Chris Morales.
"It's crazy in this industry how many people you meet early on," Cohen said. "Then later in life, you work on different projects with [them] and now I'm interacting with all of them [at] ESPN LA."
While most of Cohen's work took place on the radio, he also gained television experience as the sports anchor for WPTV, the local NBC affiliate. The job emanated from a deal that tabbed ESPN 760 sports radio personalities to appear on the news channel to provide local sports features and contribute to the Braman 5 Sports Live nightly sports wrap-up program. The confluence of exposure and expertise, combined with fortuitous timing, put him on the radar of SiriusXM.
Cohen began hosting a four-hour morning drive program on Mad Dog Sports Radio with former baseball executive Steve Phillips and worked closely with lead producer Mike Babchik. Later in the day, he would host his two-hour show on ESPN West Palm while continuing to serve in a managerial role with Good Karma Brands. Cohen's days were jam-packed with media obligations, and he split his time between New York City and West Palm Beach each month to effectively perform his roles. Regularly appearing on a national and local outlet each day, he adopted nuanced differences in his style while keeping a consistent approach.
"The platform is the biggest thing that's different [in] who's watching and who's listening and the amount of people," Cohen expressed. "If you stay true to kind of what got you here and stay true to what you believe is right in terms of radio, then I think that you're going to be good."
Cohen and Babchik eventually began hosting the show, renamed The Morning Men, together when Phillips transitioned to work on SiriusXM MLB Network Radio, an idea they had discussed previously and implored station management to cosign. Former New York Jets guard Willie Colon joined the program in 2021, and the show continued to gain traction on the air. After some time passed, Cohen came to end his afternoon program in West Palm Beach after more than 5,000 episodes of his show to focus on his SiriusXM and Good Karma Brands managerial responsibilities.
Continuing the three-person hosting format as he did with SiriusXM and Morning Men made sense to him of the caliber of talent he is working with now on ESPN Radio's Unsportsmanlike. Michelle Smallmon had been a successful radio producer and found success in multiple morning teams on 101 ESPN in St. Louis. Chris Canty had played in the NFL and appeared both on radio and television with ESPN, taking the preparation of his show as seriously as lining up against Tom Brady. Cohen is cognizant of the fact that this is a show with invaluable levels of radio experience and can appeal to consumers from numerous markets.
"When I get this insane opportunity to be at ESPN and to be a part of this show and to work with two people like that – man oh man," Cohen said. "You can't be luckier than I am to work with that level of talent."
Canty authored the name of the show during a brainstorming session, recognizing that its goal is to find enjoyable and convivial aspects of every story discussed. Deviating from usual sports media structure by focusing on celebrating the game and its players is at the center of their ebullient mindset.
Relatability and connectivity are the keys to success for any sports radio program, effectively transforming casual listeners into devoted fans who can advocate on the show's behalf and convince more people to listen. There is no host who has done that more effectively in the history of the medium, according to Cohen, than Howard Stern.
"If you think about the Howard fans, they support Howard in a way that is so unbelievable that I think the mark of a great show is, in some ways, getting your fans to contribute to the marketing department," Cohen said. "The more the fans can promote the show, the better your show is going to have a chance to succeed."
None of that is possible without some level of vulnerability and divulgence of personal life, continuing to entice listeners and retain their mind share. Growing comfortable in doing that as an executive took time for Cohen, and he now feels he has reached a point where he can relax and fulfill his obligations with aplomb. Having a vested interest in both sides of the partnership centers his focus on how the brands can help one another achieve their collective goal of generating revenue and garnering relevancy.
"I think that I am unbelievably lucky to have both," Cohen said. "….I get to learn so much from so many people at both companies and then kind of be that messier of ideas so to speak with both spots."
Good Karma Brands will forsake the 98.7 FM signal in New York City in August 2024, converting ESPN New York's distribution solely to the AM band and other digital channels. The decision to abdicate its position on the FM dial saves $12.5 million for its annual lease fee, perpetuated by internal data that reveals that 60% of station listenership comes outside of radio. 
"I see no time in which Good Karma Brands will not do everything in its power to make sure the fans consume our content in a way that partners can support that will make teammates happy," Cohen said, who did not have direct involvement in this decision. "I have no idea where and when that lands and how that lands, but I know for 20+ years, the goal of Good Karma is to make sure fans consume our content in a way that partners want to support and makes teammates happy, and I've never seen anything otherwise."
Cohen references New England Patriots head coach and general manager Bill Belichick in what he looks for from himself and his colleagues on a day-to-day basis. Whenever he is asked what encompasses a successful effort on the field, Belichick will usually reference all three phases of the game – offense, defense and special teams.
"I look at it in the same way [with] all three phases," Cohen said. "The three phases are sales, marketing and content – but in essence, it is fans, teammates and partners. If we hit all three of those phases, we will be successful."
Derek Futterman is a contributing editor and sports media reporter for Barrett Sports Media. Additionally, he has worked in a broad array of roles in multimedia production – including on live game broadcasts and audiovisual platforms – and in digital content development and management. He previously interned for Paramount within Showtime Networks, wrote for the Long Island Herald and served as lead sports producer at NY2C. To get in touch, find him on Twitter @derekfutterman.
Where Does the Biggest College Football Story in Years Go From Here?
"Teams battling for bowl eligibility aren't normally big ratings winners, their games normally relegated to the conference networks rather than the ESPNs and FOXs of the world. But, this is no normal team."
There is zero doubt what has been the biggest story of the 2023 college football season – Coach Prime and the Colorado Buffaloes. Take me back to the middle of August and I would never have believed I would type that sentence.
What Deion Sanders has accomplished in eight short months on the job is absolutely astounding. Make no mistake; he took over a program that was completely adrift, turned over the majority of the roster and started 3-0 with three of the most viewed games of the college season. Nobody without the last name of Sanders could've genuinely expected that to happen.
At some point, every Cinderella meets midnight. The clock seemed to strike twelve for the Buffs in Eugene, Oregon Saturday. Colorado was never in a game that finished in a 42-6 Oregon win. Everything you feared about this Colorado roster appeared in one dreadful afternoon. The best two-way player, Travis Hunter, was sidelined with injury and there is no replacing him. Their lines of scrimmage were overwhelmed resulting in Oregon out gaining Colorado by 323 yards. Running for his life, quarterback Shedeur Sanders had by far his worst passing day. It was an across the board failure for The Buffs.
That raises an important question: What does the media do now with Colorado? The Buffaloes have been television gold to this point of the season. The only game to have better TV ratings in week one was a stand alone Sunday night game featuring Florida State and LSU. In week two, only college football royalty, Texas at Alabama, had more viewers. The biggest ratings test was week three when Colorado didn't kick off until 10:30 pm ET. That game was the number one game of the week and still had more than 8 million viewers at 2:15 AM ET. Again this past weekend, the initial overnight ratings showed Colorado at Oregon took the top spot. That's two noon ET, a 3:30 pm ET and a 10:30 pm ET window that Colorado has turned into a massive TV number.
Will it continue if they start losing games? The possibility is there, it all starts Saturday with undefeated USC visiting Boulder for FOX's Big Noon Kickoff, the Trojans are a three touchdown favorite over the Buffs. After that, Colorado gets a bit of breathing room against the dregs of the PAC 12, on the road at Arizona State and at home against Stanford. After those two "breathers" the schedule is mostly unrelenting with UCLA, Oregon State, Arizona, Washington State and Utah. Becoming bowl eligible will be a massive accomplishment for Sanders' squad.
Teams battling for bowl eligibility aren't normally big ratings winners, their games normally relegated to the conference networks rather than the ESPNs and FOXs of the world. But, this is no normal team. Everything Colorado has been big ratings, viewership and clicks for the outlets that cover college football.
There is a possibility that the people who have watched in massive numbers hoping Colorado will win will continue watching even if the wheels start to come off. Likewise, those watching in hopes Colorado will lose big will tune in to "hate watch" the rest of the schedule. Either way, I don't expect the coverage of Colorado to decrease at all. Simply, the demand is still there.
If Colorado starts dropping games, they become injured Tiger Woods. For the better part of a decade, Woods would limp his injured body into majors with what seemed like equal odds of winning and withdrawing due to injury. There were times it was tough to watch…but, we watched every shot. We watched every shot because the networks showed every shot. It did not matter if Tiger was 10-under or 10-over, we saw Tiger do everything.
Tiger got that treatment because he was the best in our generation by a mile. Colorado has not been the best but there are no rules in what the public demands for coverage. They get to dictate what they want to consume and, if ratings is our goal, it is our job to provide them as much of that as they demand. That means Colorado coverage isn't going anywhere. As Deion Sander loves to say, "We Comin." The question is "Will you be watching?" Something tells me you'll be given every opportunity.
Ryan Brown is a columnist for Barrett Sports Media, and a co-host of the popular sports audio/video show 'The Next Round' formerly known as JOX Roundtable, which previously aired on WJOX in Birmingham. You can find him on Twitter @RyanBrownLive and follow his show @NextRoundLive.
Marcus Spears is One of One
"His laugh is infectious. His facial expressions are memorable. He just makes for good TV."
Paychecks for the likes of Stephen A. Smith and Troy Aikman make headlines. The hiring and promotion of Pat McAfee started an industry-wide conversation. They all matter to ESPN, but none of them are as valuable to the network as Marcus Spears.
If that was something you didn't know, it should be clear after last week when he took an entertaining moment on First Take, and turned it into the central conversation on social media just by naturally reacting to Chris Russo's weekend plans.
Sports media is the entertainment business. Knowledge and insight are great, but they are useless if you are not interesting enough to hold the audience's attention. Even the most successful and seasoned veterans in our industry can lose sight of that reality. Spears never does and more importantly he regularly delivers in both areas.
Marcus Spears's strength is his emotion. The man has absolutely no pokerface and that's a good thing for the audience. His laugh is infectious. His facial expressions are memorable. He just makes for good TV.
Coaches and producers are looking for the same thing. They need players and performers that are difference makers. They are stars and they can make stars out of the men and women around them. That is Spears to a tee.
For a man who earned a spot in the NFL Draft and banked millions by making quarterbacks' lives hell, Spears has been heaven sent to the quarterbacks at ESPN. His partnership with Dan Orlovsky on NFL Live is the heartbeat of the show. Sure, Mina Kimes's breakdowns are awesome and Adam Schefter's information is what makes the show essential for so many fans, but it is the interplay between Spears and Orlovsky that makes the show entertaining.
Spears is a Louisiana foodie from Baton Rouge. Orlovsky drinks red win with ice in it and thinks any spice beyond salt and pepper is too much. The fact that they not only get along, but genuinely love one another, makes the frustration Spears can feel for Orlovsky better than anything else in ESPN's day time lineup.
The first time I met Spears, it was on the set of Thinking Out Loud, the show he did on the SEC Network with Greg McElroy and Alyssa Lang. Within five minutes of his arrival on set (he was dressed like Kiss's Gene Simmons for the show's Halloween 2018 episode), it was easy to see that he was the glue.
I'm not the world's biggest McElroy fan outside of game analysis, but Spears softened him and made the former Crimson Tide quarterback downright likable. That was the emotion shining through. Spears is insanely likable and he is fun to be around. You don't have to be in the same room with him to know that. It comes through your TV screen when he is on. If he is cool with Greg McElroy, then the audience knows it can be too.
My mom adores Marcus Spears. She wants him to come to her home in Alabama so she can cook Greek food for him and listen to his stories. I told Marcus this when we met in 2018 and he responded "That's not a surprise. Mamas love me."
It was maybe the second or third thing we said to each other after "hello" and he already had me laughing and feeling like we were best friends. Not just anybody can do that.
But Spears does so much more than just make people feel good. Look at this clip of him on NFL Live in 2021 talking about the video of Urban Meyer receiving a lap dance from a woman that is not his wife at a restaurant in Ohio.
Spears drew on his experience as a player in the league and on the opinions he had of the Jacksonville Jaguars, who Meyer had coached to an 0-4 record at that point, to deliver a scathing take down of a guy that is rightfully remembered as the worst coach in the history of the NFL.
His thesis was clear. He was careful to note that he took his time to arrive at his conclusion, and his belief could not be shaken. That is then kind of conviction I want from a talking head demanding a coach should be fired.
Few people can communicate the way Marcus Spears can. He is clear with his opinions and finds the right balance between boldness and brevity. He is willing to answer any question you ask, but he answers in a way that is easy for the audience to digest and remember.
I just think the world of Spears as a TV presence. There are some people that are so entertaining as their authentic self that I could listen to them talk about anything and be captivated. Most of them are comedians. In the sports media world, Spears is one of one.
Demetri Ravanos is the Assistant Content Director for Barrett Sports Media. He hosts the Chewing Clock and Media Noise podcasts. He occasionally fills in on stations across the Carolinas. Previous stops include WAVH and WZEW in Mobile, AL, WBPT in Birmingham, AL and WBBB, WPTK and WDNC in Raleigh, NC. You can find him on Twitter @DemetriRavanos and reach him by email at [email protected].