Talent Is Futile Without Work Ethic
"By March of 2011 I had just about given up on the idea of moving to North Dakota or West Texas to start my career. Instead I settled on whatever job in the industry I could get."
Falling in love with the idea of a career in sports media was easy. Too easy. Getting paid to talk about sports? It was almost too good to be true.
As a kid I was fortunate enough to be surrounded by a great support group. Like so many others in the industry, I grew up with an addiction to sports and attention – and my family made sure I never went too long without getting my fix. Community theater, football, speech tournaments, basketball – you name the night and we were driving to and from a rehearsal or practice.
Naturally, I was attracted to my local sports radio shows and SportsCenter anchors. Here were people who understood my addiction. They shared my passion for sports and the performing arts. I had friends who grew up with the dream of becoming cops, teachers, lawyers – that was all well and good. For me – it was always sports media. How hard can it be?
No one wants to tell the bright eyed, bushy tailed high school senior that unlike doctors and lawyers – there's neither a demand or road map for aspiring sports radio hosts or television anchors. Like Los Angeles restaurants are filled with aspiring actors waiting tables, colleges are filled with aspiring SportsCenter anchors producing reels.
Unfortunately, that's a lesson you don't learn until you graduate and look around wondering why your emails and calls aren't getting returned from sports directors all over the country.
In the summer of 2010 that was my reality.  I had spent the previous four years at Gonzaga University – an experience I wouldn't trade for the world – and I couldn't understand why I wasn't fielding offers from stations left and right.  I was a natural on air.  I was among the best in the entire GU broadcast department.  Couldn't they see that?
That reality was sobering.  For the first time in my life I wasn't the irreplaceable funny guy.  I wasn't the one who could get whatever I wanted just by charming someone.  I was just a resume in a stack of resumes.  I wasn't one in a million – I was one of a million.  
What made matters worse was seeing my classmates get jobs. Years later I would learn that being envious of your friends is pointless, but as an unemployed 22-year-old with no prospects I couldn't help myself. If I couldn't get a job, I didn't want anyone getting a job.
By March of 2011 I had just about given up on the idea of moving to North Dakota or West Texas to start my career.  Instead I settled on whatever job in the industry I could get – which turned out to be a Production Assistant role with KCBS, a news radio station in my home of San Francisco.  At $11/hour in one of the most expensive cities in the world – I was pretty much living at the poverty line, but I had the proverbial foot in the door.
Once I was working, soon the dream became attainable.  I was cutting sound and re-writing AP wire stories, but I was working.  I looked around at the reporters and anchors and began to understand they were normal people.  I began to understand that maybe my dream wasn't too good to be true.  
In August of 2012, the PAC-12 Networks launched and it finally felt like I was in the right place at the right time.  A freelance position turned into a staff position, and within 3 years I was writing and producing long-form features.  I was flying across the country to interview guys like Steve Mariucci and John Robinson.  I was sitting in production meetings with Rick Neuheisel and Ronnie Lott.  More importantly, I was looking at Mike Yam and Ashley Adamson and understanding that being charismatic in front of the camera is great – but it's hard work that sets you apart in this industry.  You can be the funniest guy in the room, you can be the smartest guy in the building – but there is absolutely no substitute for hard work.  One hour on air is the result of a day's work behind the scenes and at 26, that was a concept I had never really grasped.  I realized my personality was great but useless if I didn't put in the work.
In the Fall of 2015 I received my first on-air job offer – as a news anchor for KPQ radio in the sprawling metropolis of Wenatchee, WA.  A lot of family and friends scratched their heads when I decided to give up a great job and a beautiful apartment in San Francisco to move into a duplex in rural Central Washington – but most of my colleagues understood. 
I had carved out a life at the PAC-12 and was well on my way to becoming a producer that could work just about anywhere in the country by the time I was 30 – but my desire to be on air was always right under the surface, and the "what if" game was not one I was interested in playing as I grew older.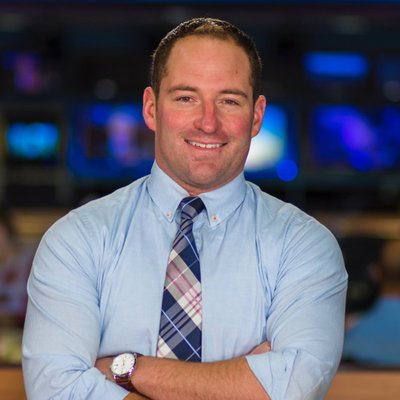 I'd be lying if I said I never second guessed my decision to work for KPQ. I went from covering USC's dismissal of Steve Sarkisian to writing about Wenatchee's city council race in a matter of weeks – but I was all in. With time, it felt like the right decision.
Within a couple months of my arrival, the station hired Don West, a man made famous in the 90s as a Shop at Home Network baseball card pitchman and TNA wrestling host.  He was loud, obnoxious and hilarious.  We got along famously.  
Together we launched the region's first sports show and within a couple months the three hour midday window become the station's most profitable portion of the clock.  It was incredible.  It was my dream.
It wasn't enough.
I loved my time with Don, and his trust in me allowed my confidence to soar on the microphone. However, in October of 2016 I was offered a position with KXLY in Spokane as a morning show reporter with the opportunity to fill in as a sports anchor. It was an offer I couldn't refuse.
By the Fall of 2017, everything had lined up for me. I was on TV everyday, I had travelled to Phoenix for the Final Four with Gonzaga 6 months prior, and I was surrounded by a network of close friends. I had another two years on my contract with KXLY, at which point I would no doubt make a market jump and end up in a bigger city with a bigger paycheck. I had played career roulette a couple years prior and it was clear I made the correct decision – until adversity knocked on the door in the form of a broken back.
I went as long as I could without surgery, understanding that back surgery for a guy in his late 20s should be a last resort. I tried physical therapy, cryotherapy, cortisone shots and even acupuncture. Nothing seemed to help. Every morning would start with pain and every evening would end in an unhealthy amount of painkillers. Between liveshots I would lay flat on the ground, no matter where I was. I once shot an Eastern Washington football game with my stomach down on the red turf. Surgery was inevitable, and by January of 2018 I caved.
The relief was instant. I was once again able to sleep through the night, ride in a car, and go through my day without violent mood swings caused by pain. Everything was back on track – until I blew it out again one month after the surgery.
By March of 2018 I was a 29 year old with two back surgeries to my name and a cloudy future.  I loved my job, I loved my coworkers, but I knew carrying a camera and performing the everyday duties of a modern local journalist was out of the question.  There's no perfect road map for a career in sports media, but my path had run into a brick wall.  It was a rough time, I couldn't help but feel every sacrifice I had made until that point, every career triumph, every accomplishment had been for nothing.  I was lost. 
Fortunately, the KXLY News Director was more of a friend and mentor than a boss.  Melissa Luck was beyond supportive through my back issues, and fully understood when I asked to be released from my contract early.  She was more than willing to make accommodations to keep me around, but I knew that was a temporary fix.  My next boss in the next market wouldn't be so understanding.  My career in local news was over.
Enter Jason Barrett.
Growing up in the Bay Area, I had been aware of JB for a long time.  He had done what so many in the market thought was impossible when he challenged the mighty KNBR with 95.7 The Game in 2011.  I had also probably sent the guy a dozen emails over the years- none of which ever earned a response.  I never took that personally – you can't afford grudges in this industry.  To be honest, it really never set Jason apart from the rest of the Program Directors I was trying to flag down.  I was funny, I had a resume, I had references – but I wasn't much more than a resume in a stack of resumes.
Imagine my surprise when Jason responded to one my emails.  Of course, this time it wasn't in response to a co-host position, it wasn't for a producer role, it wasn't even for a board op gig.  Jason reached out after I applied to write for SportsRadioPD.com.  
To JB's credit – he laid it out straight.  He wasn't looking for an anchor, he wasn't looking for a host – he was looking for a guy who wasn't too proud to rewrite stories from a number of other sources he could then post on the site.  
To be perfectly honest, I was torn. I was 30. I had filled 3 hours of radio by myself regularly. I had written, produced and edited features that still air in regularity on cable television. I had gone live for 90 seconds from an active live scene with little more than "the cops are here, Robyn," more times than I care to count.
To rewrite the words of other writers wasn't borderline insulting – it was insulting.
Fortunately – with age and wisdom comes wisdom and perspective.
The wisdom part was easy. I knew this was a relationship-driven industry. I also knew Jason Barrett was a dude who knew everybody. And I mean everybody. He wasn't just an ally I wanted, he was an ally I needed.
Perspective was a little tougher. Yes, he was asking me to do mind-numbing work. Work that I, quite honestly, thought was a waste of my time. But – who the hell was I in Jason's eyes? Sure I had been been on TV and radio for a few years. Maybe I had a writing credit or two to my name – but that didn't mean anything to Jason. Once I wrapped my mind around that, whatever insult I thought being asked to rewrite to words of other writers was became easier to swallow.
I committed.
I said I would write a couple 200-400 word stories a night for awhile – with Jason's word that he would go to bat for me once I proved myself.
I thought I would mail in a couple stories for a month or two, Jason would recognize my genius, and off I would go to my next gig somewhere.  I was wrong.  
Somewhere along the way I started to feel sorry for myself.  I started giving myself excuses, giving myself outs.  I was moving.  I was starting a fulltime job with iHeartRadio in the city.  I was going through the motions with Jason and I pretended to be shocked the day Demetri Ravanos (JB's right hand man) sent me an email essentially asking if I wanted to keep working for BSM.  
That email came in early June.  To be honest, half of me wanted to reply with a kind "Thank you for asking, I'm too busy to continue with you, good luck."
Communication is hard enough in a work environment. It's especially hard when you're working remotely and your only correspondence from the superiors is "hey, you're not doing a good job."
It was as I was writing the email I had the realization; JB and Demetri weren't out to get me – they were right. I was doing a horrific job. Sure, I had a few clever references to a number of John Hughes films in my stories – but I wasn't really sweating over the pieces I submitted. Cutting off my tie to Jason and Demetri would be nothing more than a sign of my arrogance. I knew I had the capacity to tell a story, I just needed the opportunity to show them.
Although I probably didn't deserve it, Jason gave me a bit of a leash with features. Instead of a couple stories a night, he'd give me 3,000 words on someone or something a week. I didn't take the privilege lightly.
We're a few months removed from that conversation and my role with BSM has shifted dramatically. I no longer look at Demetri as the "email guy" – he's a friend. He's even funny if you're in the right state of mind. JB is no longer a "boss," he's a mentor. He's a resource I can lean on. I can ask him honest questions and he'll get back to me with thought out, genuine answers.
This change didn't happen overnight – it happened because I went to work. I took pride in every piece I turned in, every word. Jason's rolodex opened up. Soon he was trusting me to represent him and his brand in front of leaders in the industry. It's not because I had a funny reel, it's not because I have fancy contacts – it's because I earned his respect, and that's a respect I intend on keeping.
I don't know where my career is headed, but things seem to be a bit brighter with my new contacts.
I was humbled, to be honest, when Demetri asked me to write about my experience in the industry. He seems to be of the impression young professionals might have something to learn. If I were to pass on any kind of wisdom, it's simple.
Talent is great. It futile without work ethic.

Jack Ferris writes feature stories for BSM and serves as an update anchor for iHeart Radio in San Francisco and as a freelance contributor for the PAC-12 Network. Previously he has worked as a sports anchor for KXLY-TV in Spokane and as the co-host of the Don West Show on KPQ in Central Washington. You can find him on Twitter @JFerris714 or reach him by email at FerrisJack54@gmail.com.
How Are Broadcasters Supposed To Cover Alabama Basketball Right Now?
"It's obviously not in the comfort zone of most sports broadcasters to be talking about violent acts off the court"
As you've probably seen or read by now, Alabama men's basketball player Darius Miles and another man were charged with capital murder in connection with an early morning shooting last weekend near the Tuscaloosa campus. A 23-year-old woman was killed. Miles, a junior forward from Washington DC, is no longer on the team.
Last Saturday, Alabama had announced before its game against LSU that Miles would miss the rest of the season with an ankle injury. Following Miles' arrest his bio has been removed from the athletic department website, and the university's statement said he "has been removed from campus."
It's another incident that puts sports in proper perspective. There have been too many of these 'incidents' lately. Whether it be due to gun violence, sexual violence, bus or plane crashes, or the latest tragedy when we all watched a man brought back to life on a football field. Sports is meant to be entertainment, a way to escape the challenges of everyday life. Now it seems to be causing us to think more about outside noise than the actual games that we're supposed to be watching.
Let's focus for the moment on the Alabama situation. The Crimson Tide are having a basketball season for the ages. As of the time I'm writing this, Alabama is #4 in the AP Top 25 with a record of 15-2. Many analysts and experts in college basketball circles think this team is actually the best team in the country. A good bet for the Final Four perhaps and maybe even a national title. Now what?
Head basketball coach Nate Oats spoke to reporters Monday, but not about his team's prep for another game and a chance at another win. He had to speak about something he probably never imagined he'd have to in his career. One of his now former players has been charged with murder.
"I just want to start by offering condolences to the family and friends of Jamea Jonae Harris, the young woman, mother, daughter who was taken away too soon from a senseless act," Oats said in a prepared statement. "This is an incredibly sad situation. Hearts go out to her loved ones. I'm keeping them in my thoughts and prayers as they continue to grieve."
Oats called it a tragedy all around, especially for the victim's family. He then addressed the message to his players.
"Wish we weren't having to address this situation, but we've got to pull together as a team at this point and … really be there for each other." Oats said. "This is a really difficult situation, and we'll continue to support each other as we process this and balance school and basketball," Oats said. "To that end, we regrouped this morning to maintain our routine and some structure in the midst of this situation and we'll practice before heading up to Nashville for the Vanderbilt game."
Last week we talked about the handling of the Damar Hamlin situation, that unfolded on the field in Cincinnati during the Week 17 game between the Bills and Bengals. Hamlin needed to be resuscitated once on the field and once on the way to the hospital. ESPN's broadcast crew handled the situation about as well as they could. Information was scarce and there was no room for rumor or speculation.
Now, bringing it back to Alabama, what do you do, when you're a broadcaster for the Crimson Tide? How much attention should be given to the shooting and the results?
Once again there is no handbook to say, okay you do this, then this and then this. Nope. I'm sure 'higher ups' at the school and the stations will have some input as to how it will be handled. It's a delicate situation to say the least. A life was lost. A player that, more than likely, the broadcast crew interacted with numerous times, has been accused of murder. All of it makes you really think.
So, here's how the crew on the SEC Network decided to handle talking about the Darius Miles arrest during the Alabama/Vanderbilt game. The announcers, Courtney Lyle on play-by-play and Carolyn Peck as the analyst, briefly mentioned the Miles situation at the start of the game. Saying they would talk about "what Alabama has been dealing with off the court."
There was no further mention through the first media timeout. Instead, they talked basketball, including talk of Vandy's upset of Arkansas and Nate Oats' notes about Alabama's defense in recent games.
Coming out of the first timeout, ESPN put up a graphic stating the charges against Miles and some of Coach Oats' comments about the situation and his team. Peck then spoke about Oats and how he told his team about the charges. The story she told, continued saying how Oats brought the team together Sunday and let them decide whether or not to practice. They chose to skip Sunday and regroup according to her commentary.
It's obviously not in the comfort zone of most sports broadcasters to be talking about violent acts off the court. I'm not sure what was said to Lyle and Peck before the broadcast, so it's hard to really critique.
Having said that, I really wish Peck, who is a former college basketball coach, could have spoken about what Oats must be going through. He had to tell his team that one of their fellow players was accused of murder. Peck might have also delved into what the job of a coach is, off the floor. Looking out for his or her players as people as well as athletes. Again, it's easy for me to say, and I'm not privy to what the broadcasters were allowed to say by producers or the school. I just felt like an opportunity to humanize the story went by the boards. Especially from a credible source, like a former coach.
I've never been in the situation directly. I've had to deal with deaths during broadcasts. I  mentioned the Daryl Kile game in 2002 a couple of years ago in a column. When I was with the Padres, our bullpen coach Darrell Akerfelds fought an admiral bout with cancer, but succumbed to the disease in the middle of our 2012 season. I knew Akerfelds and actually had a hard time keeping it together when news of his passing was made public. This Alabama situation is totally different. 
To me, there are a few things broadcasters need to keep in mind when dealing with situations like these. Our natural inclination is not to want to talk about it. We just want to concentrate on the games and what's happening on the court or field. I get that. Audiences are going to tune in and, especially in the case of a local broadcast, wanting to know what's happening from their trusted voice – you. Fair or not, that's the position you'll likely find yourself in, if God forbid this happens to one of your teams.
One thing that is absolutely critical in this particular situation, is wording. Remember in the United States, you are presumed innocent until proven guilty. While the court of public opinion may have already made up its mind, you do not have the luxury to do so. Verbiage is very important. Miles has been 'charged' with capital murder. He is 'alleged' to have provided a gun to the shooter. You as the broadcaster have to play it straight, even if you have the opinion that he's guilty, that's not the case right now.
The problem here is that you're damned if you do and damned if you don't. If you read the statement from the school, the audience will say "that's not enough". If you go into detail and let it consume the broadcast, others will say, "enough, we already know this, get on with the game," right?
Case in point, NFL broadcasters took a lot of heat for coverage of the return to the field of DeShaun Watson. The Browns quarterback was accused by numerous women of sexual misconduct and was suspended for 11 games. The CBS telecast, according to a New York Times article, covered the accusations against Watson about 10 minutes before kickoff but the complaints made against Watson were not detailed during the game itself.
Late in the game, the CBS play-by-play announcer Spero Dedes mentioned the "mixed emotions" of Browns fans as they reckoned with the "weightiness of the allegations with Watson."
Analyst Jay Feely added, "We were conflicted, getting ready to prepare for this game, because you want to show empathy for the women impacted and affected by this." Feely said."You have to talk about football as well."
I get it, these were serious allegations and there were numerous complaints about Watson. Not to minimize the impact of his actions, but Dedes and Feely are expected to talk about the game on the field. Are football fans tuned in for social commentary? There are many other outlets for more pointed opinions. Just by mentioning the gravity of what was going on, they probably said more than a lot of fans expected.
To have an opinion on something other than sports as a sportscaster opens you up to the "stick to sports" tired reaction from fans. This is the problem. Incidents like this, straddle the line between sports and news. How much should be handled by each department is pretty critical. During some recent sportscasts I've delivered, I had to talk about the news of journalist Grant Wahl dying in Qatar. While everyone wanted to know how and why, I only talked about the facts, and the decorated journalists' career. Our news department carried the rest.
Judgement and true feelings are at play here. We are human beings and everyone reacts to tragedy and death differently. In our situation as broadcasters, we have to be sympathetic to the victim, empathetic for what the team is now going through and realistic as to how much you should or shouldn't say about the situation. There is no cut and dry way to handle this, you do the best you can and that's all that can be asked of you.
Andy Masur is a columnist for BSM and works for WGN Radio as an anchor and play-by-play announcer. He also teaches broadcasting at the Illinois Media School. During his career he has called games for the Chicago Cubs, San Diego Padres and Chicago White Sox. He can be found on Twitter @Andy_Masur1 or you can reach him by email at Andy@Andy-Masur.com.
Nick Coffey Embracing New Afternoon Role on Rebranded Sports Talk 790AM
"I'm a fan, I'm fair, I'm objective and we're going to talk about both teams, because that's what our audience is."
The clock hits 4:45 AM inside the home of Nick Coffey and there's nothing but complete silence. Nobody in the house is awake, no coffee is brewing, only a family sleeping in the darkness of the night Louisville sky.
But this is somewhat of a new occurrence for the Coffey household. That's because it wasn't long ago when dad was up and around before 5:00 AM to make it on time to host his morning radio show. In fact, only about two weeks. But with a recent rebrand of his station and a move to afternoon drive, he's no longer the dad that's out the door before his kids wake up. He's the dad that gets to take his kids to school in the morning.
Cards Radio 790 WKRD in Louisville was recently rebranded to Sports Talk 790AM. The gist of the rebrand is that the station and The University of Louisville had — according to Coffey — a mutual agreement to part ways. 
"We were Cards Radio 790 WKRD for many years, long before I was here," said Coffey. "We did not renew, and it was more of a mutual thing. We had the rights to U of L football and basketball games for quite some time and that kind of limited us from doing a whole lot, because their logo was on the station."
What Coffey means by limiting the station is they didn't previously put a lot of University of Kentucky coverage on the station. At the time, it didn't make a lot of sense to do so, especially with the close relationship the station had with U of L. And as you can imagine, the university didn't love UK coverage on the station. 
The move to Sports Talk 790AM has completely changed that philosophy. Now, along with coverage of Louisville athletics, coverage of Kentucky is more prevalent on the station than ever before. The move is a smart one, because even though there's a large collection of Louisville fans in the state, there are more UK fans. 
"Once our deal with U of L ran out during the summer, our plan was to make 790 a sports specific station that's going to have — I'm a Louisville fan myself — but there's a ton of Kentucky fans in Louisville," said Coffery. "My shift has really been focusing on, you know where my allegiances lie. I'm a fan, I'm fair, I'm objective and we're going to talk about both teams, because that's what our audience is. Getting away from the Cards Radio brand really opened us up to where we're not just sticking to just one side."
Adding content with a Kentucky twist was also a plan for the rebrand. That includes Matt Jones of Kentucky Sports Radio and the huge following he brings. Granted, Sports Talk 790AM isn't the only place you can hear KSR — there are several affiliates across the state — but it was a plan to bolster coverage of UK on the station.
"He has a monster of a show and there's a ton of statewide affiliates," said Coffey. "Because of our relationship with U of L before, we had to put him on a sister station of ours, at Talk Radio 1080 which is just an AM signal we put our paid programming on. This just freed us up to build what we hope to be, sort of a monster here in sports."
Part of that plan was to move Coffey and Company to afternoon drive. Granted, Coffey loved morning radio despite the early morning grind, he was pitched on the overall benefit of the station. 
"What was pitched to me when I decided to make the move to afternoons," said Coffey. "One, I thought it would just be better for the station. And if it's better for the station, it's better for me. Also, I have the chance to get on these other affiliates, where I'm not just on in Louisville."
Maybe this wasn't included in the pitch to move to afternoons, but Coffey had to think about what the move could do for his daily lifestyle. So far after just two weeks, he loves what the new adjustment has brought to his life.
"So far it's been awesome, because I'm still getting up early, but there's a difference between getting up at 7:45 and 4:45," laughed Coffey. "I'm just getting more sleep and throughout the day I'm more energized and ready to go.
"After a year of morning drive I remember thinking I didn't want to do anything else, because I loved the thought of people starting the day with whatever we got for them. It's also nice to have your shift end pretty early, when you wrap it up. I could stay after and get a head start on the next day, talk to clients, and be out of there by 12:30 PM. That was beneficial, but now I get to wake up, I'm in charge of the kids in the morning. That's something I really enjoy. So far so good."
Coffey is big on show prep, just like any other successful host is. The dynamic of prepping a morning show compared to an afternoon show is vastly different. That's been a change for Coffey, but there's another element of his changed lifestyle that he's found that really helps his prep.
"When I prepare for my show I try to be as informative as I can and I'm ready to give fresh thoughts," said Coffey. "But I also like to talk about things that go on in my daily life. I've noticed in the two weeks we've been here, I've got 7-8 hours where I'm up and there's a lot of things I can bring to the show. So far I really do enjoy it."
It was a smart move for Sports Talk 790AM to rebrand and focus more on Kentucky. The reasoning for it is pretty simple. It's the largest sports entity in the state and is considered a "blue blood program" in college basketball, which has the most rabid following in Kentucky. But Louisville also has a following with a lot of passion.
When you have a station that previously focused almost entirely on U of L, a change to cover more of the bitter rival probably didn't go over too well for most of the fans. That has certainly been the case in some instances, but overall, the feedback has been strong. 
"I think if we get eight responses, six will be positive, two will be negative and you find yourself focusing more on the negative," said Coffey. "I think that's just human nature with some people. I think the reaction has been good overall. This state is just filled with Kentucky fans. Louisville fans, and I'm one of them, they don't seem to like to hear this but it's true, in Louisville it's about 50/50."
But as much as Kentucky might be more in the conversation, Louisville coverage is still very present on the station. Especially with Coffey and Company in afternoons.
"What I try to emphasize to people is you didn't get any less U of L coverage, I'm just now in the afternoons. I think top to bottom, just not being Cards Radio has opened us up to new clients that want to advertise. People know now they're going to get both UK and U of L."
Tyler McComas is a columnist for BSM and a sports radio talk show host in Norman, OK where he hosts afternoon drive for SportsTalk 1400. You can find him on Twitter @Tyler_McComas or you can email him at TylerMcComas08@yahoo.com.
Programmers Offer Ideas To Refresh The ManningCast in Year 3
Matt Edgar, Matt Fishman, Parker Hills, Q Meyers, Jimmy Powers and Kraig Riley share their thoughts.
Monday night brought the second season of The ManningCast to a close. ESPN's alternate broadcast of Monday Night Football featuring Peyton and Eli Manning remains a trail blazer. Plenty of other networks and other sports have tried to copy the formula. It just never seems to work as well. There is something about these guys, their chemistry, and their view of football that just works.
Still, the ManningCast missed that feeling of freshness this year. It's nobody's fault. We had expectations. That is very different from 2021, when this was a wild, new concept.
The circumstances at ESPN have changed too. In 2021, the network was looking for a crew that could capture the big game feel of the Monday night slot, because it didn't have it on the main broadcast. Now, it has Joe Buck and Troy Aikman, arguably the two voices most identified with big NFL games. That means the Mannings have to do more than just provide a star-powered alternative to the main broadcast.
Going into 2023, the ManningCast will be facing a problem that is pretty common in radio. How do you improve something that works? Reinvention isn't necessary for the broadcast, but a recalibration would certainly raise the ceiling.
"Disney isn't looking at Peyton Manning as part of ESPN," I wrote in 2021. "They are looking at him as Mickey Mouse or Iron Man or Baby Yoda. He is another of Disney's mega-brands that is talked about on investor calls and upfront presentations."
With that kind of commitment from the network in mind, I asked six radio program directors to answer two questions.
1. Going into year 3, how has your view of the ManningCast changed since its debut?
Matt Edgar (680 The Fan in Atlanta) – I view the ManningCast as the standard of all alternate game broadcasts, nothing really comes close.
Matt Fishman (850 ESPN in Cleveland) – The real challenge is how to be more interesting and entertaining each week. The first year was a great novelty. A real breath of fresh air, especially with some underwhelming games.
Now that ESPN MNF's main broadcast is the powerhouse of Joe Buck and Troy Aikman, you need to be bigger and more unique to get people to check it out.
Parker Hillis (Sports Radio 610 in Houston) – Early on I was skeptical of the ManningCast. I wanted a "two guys hanging out at the bar talking football" vibe that was less formal and more fun. What I got in the beginning was not that. The broadcasts leaned heavily into Peyton's football IQ, diving way too deep into X and O analysis in real-time and providing more of a distraction than a benefit. The production and pacing felt clunky and awkward, another distraction. And most frustratingly, I didn't get anything out of Peyton and Eli's personalities.
Somewhere along the way, as the concept has been refined and Peyton and Eli clearly have gotten more comfortable, they've gotten there. Two goofy football nerds with incredible insight and experience seamlessly meshing smart analysis with real football fandom. They're inviting me in to watch the game with them, not telling me what I need to know about what's going on, and that is something I can get into and really enjoy.
Q Myers (ESPN Las Vegas & Raider Nation Radio in Las Vegas) – For me personally it hasn't changed much. I find it entertaining but only in a small serving size. I might pop on for an interview with a guest that I really want to hear from but then tune out. I really enjoy the game being the bigger feature, and I realize for a lot of the games that aren't that great this could help out a bit.
Jimmy Powers (97.1 The Ticket in Detroit) – It hasn't really. I've enjoyed it from the beginning and thought it was genius when it debuted! I think it has given many sports fans an alternative option to the traditional broadcast, which allows them to get a better understanding of what is going on. In my opinion, the knowledge and entertainment value they bring to the viewer is excellent!
Kraig Riley (93.7 The Fan in Pittsburgh) – My view has changed in that, as much as I loved it when it debuted, I questioned the long-term sustainability given how driven it was by the guests they welcomed in. I always wanted more of the Peyton-Eli brotherly relationship part of it. Their breakdowns of the game were good and so were the guests, but what were they going to do to add to that? Since they've shown more of their personalities, it stands out more in a way that separates itself from just watching the standard broadcast of the game.  
---
2. As a programmer, what would you do to freshen up this brand next season?
Edgar – You don't want to get gimmicky or clownish, but I'd love to see them talk with a mic'd up player, similar to what they do on Sunday Night Baseball. They obviously can't speak with a player between the lines, but what about someone who is in the mix and actually playing, like a linebacker after the defense comes off the field?
Fishman – To me, the biggest "miss" is not having Eli and Peyton in the same place. It creates a certain sloppiness and a decent amount of talking over each other. Some of that gives it the casualness that's appealing and some of it is just messy. It's sort of like Zoom calls. They were fine when you needed them during the pandemic, but if you can do it in person, it's better.
Hillis – It might not be "freshening it up", but the biggest thing I would do to tweak the Manningcast is limit the interviews. Peyton and Eli can carry the broadcast with their personalities and knowledge alone.
Having big name guests from the NFL, the sports world, and pop culture makes for a great promotion piece to draw in a different audience, but at the end of the day, it's distracting and pulls away from the game I'm watching and the brand of the broadcast itself. I want to connect with Peyton and Eli… that's what the brand is built around, so give me more of them.
Myers – I think keeping it a little more tight as far as breakdowns and analysis from the two make it good. A lot of times when it gets off the rails it does tend to be funny, but I don't feel like I learn a lot from it. It feels to me like a lot of the comedic side of things is forced at times, when it happens organically it just seems better. For example, with Peyton walking off after Maher missed his 3rd kick. That felt like what we all were doing at the time.
Powers – Since they only do a number of games, I would put the two of them together in the same room to view the games. You could still split the screens and have the same look – but it would prevent (or at least limit) the talking over each other because of the delay. That is especially a problem when they bring in 3rd person.
Riley – I would push for more of the content that stands out aside from the game and can be pushed on social. I think the original audience will always need more in order to continue engaging with them over the standard broadcast of the game. That audience knows their broadcast is different, but what about the audience that hasn't engaged yet or has possibly disengaged?
Serve them up with some breakdowns of the game that only Peyton and Eli can provide. Give them the best clips of the interviews. But super-serve them on the entertainment and personality sides so that the audience knows they're getting something more than just the game. They can consume that elsewhere.
---
The ManningCast is not in danger. It's one of the most influential sports television products of the last 15 years. Even radio is trying to figure out a way to make it work. Edgar's station, 680 The Fan, delivered a conversational alternate broadcast of the Peach Bowl this year.
Like anything else in pop culture though, the producers always have to think about what is next. How do you tempt fans to come back for more? It's why we don't see Spider-Man fight the same villain in every movie. When you know the parameters, the content has to be all killer and no filler just to move the needle.
But this is a product built around live sports. By nature, there is plenty of filler in a football game broadcast. That isn't the Mannings' fault, and most weeks, they find a way to make gold in those moments. Going into the 2023 football season though, the novelty of the ManningCast, and frankly of alternate broadcasts in general, will have worn off. Peyton and Eli don't have to change everything, but re-evaluating where their show stands and where it could go wouldn't be a bad idea.
Demetri Ravanos is the Assistant Content Director for Barrett Sports Media. He hosts the Chewing Clock and Media Noise podcasts. He occasionally fills in on stations across the Carolinas. Previous stops include WAVH and WZEW in Mobile, AL, WBPT in Birmingham, AL and WBBB, WPTK and WDNC in Raleigh, NC. You can find him on Twitter @DemetriRavanos and reach him by email at DemetriTheGreek@gmail.com.