Talent Is Futile Without Work Ethic
"By March of 2011 I had just about given up on the idea of moving to North Dakota or West Texas to start my career. Instead I settled on whatever job in the industry I could get."
Falling in love with the idea of a career in sports media was easy. Too easy. Getting paid to talk about sports? It was almost too good to be true.
As a kid I was fortunate enough to be surrounded by a great support group. Like so many others in the industry, I grew up with an addiction to sports and attention – and my family made sure I never went too long without getting my fix. Community theater, football, speech tournaments, basketball – you name the night and we were driving to and from a rehearsal or practice.
Naturally, I was attracted to my local sports radio shows and SportsCenter anchors. Here were people who understood my addiction. They shared my passion for sports and the performing arts. I had friends who grew up with the dream of becoming cops, teachers, lawyers – that was all well and good. For me – it was always sports media. How hard can it be?
No one wants to tell the bright eyed, bushy tailed high school senior that unlike doctors and lawyers – there's neither a demand or road map for aspiring sports radio hosts or television anchors. Like Los Angeles restaurants are filled with aspiring actors waiting tables, colleges are filled with aspiring SportsCenter anchors producing reels.
Unfortunately, that's a lesson you don't learn until you graduate and look around wondering why your emails and calls aren't getting returned from sports directors all over the country.
In the summer of 2010 that was my reality.  I had spent the previous four years at Gonzaga University – an experience I wouldn't trade for the world – and I couldn't understand why I wasn't fielding offers from stations left and right.  I was a natural on air.  I was among the best in the entire GU broadcast department.  Couldn't they see that?
That reality was sobering.  For the first time in my life I wasn't the irreplaceable funny guy.  I wasn't the one who could get whatever I wanted just by charming someone.  I was just a resume in a stack of resumes.  I wasn't one in a million – I was one of a million.  
What made matters worse was seeing my classmates get jobs. Years later I would learn that being envious of your friends is pointless, but as an unemployed 22-year-old with no prospects I couldn't help myself. If I couldn't get a job, I didn't want anyone getting a job.
By March of 2011 I had just about given up on the idea of moving to North Dakota or West Texas to start my career.  Instead I settled on whatever job in the industry I could get – which turned out to be a Production Assistant role with KCBS, a news radio station in my home of San Francisco.  At $11/hour in one of the most expensive cities in the world – I was pretty much living at the poverty line, but I had the proverbial foot in the door.
Once I was working, soon the dream became attainable.  I was cutting sound and re-writing AP wire stories, but I was working.  I looked around at the reporters and anchors and began to understand they were normal people.  I began to understand that maybe my dream wasn't too good to be true.  
In August of 2012, the PAC-12 Networks launched and it finally felt like I was in the right place at the right time.  A freelance position turned into a staff position, and within 3 years I was writing and producing long-form features.  I was flying across the country to interview guys like Steve Mariucci and John Robinson.  I was sitting in production meetings with Rick Neuheisel and Ronnie Lott.  More importantly, I was looking at Mike Yam and Ashley Adamson and understanding that being charismatic in front of the camera is great – but it's hard work that sets you apart in this industry.  You can be the funniest guy in the room, you can be the smartest guy in the building – but there is absolutely no substitute for hard work.  One hour on air is the result of a day's work behind the scenes and at 26, that was a concept I had never really grasped.  I realized my personality was great but useless if I didn't put in the work.
In the Fall of 2015 I received my first on-air job offer – as a news anchor for KPQ radio in the sprawling metropolis of Wenatchee, WA.  A lot of family and friends scratched their heads when I decided to give up a great job and a beautiful apartment in San Francisco to move into a duplex in rural Central Washington – but most of my colleagues understood. 
I had carved out a life at the PAC-12 and was well on my way to becoming a producer that could work just about anywhere in the country by the time I was 30 – but my desire to be on air was always right under the surface, and the "what if" game was not one I was interested in playing as I grew older.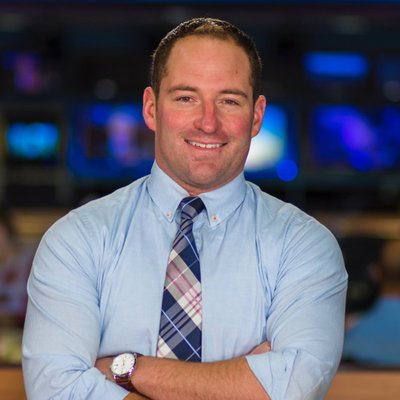 I'd be lying if I said I never second guessed my decision to work for KPQ. I went from covering USC's dismissal of Steve Sarkisian to writing about Wenatchee's city council race in a matter of weeks – but I was all in. With time, it felt like the right decision.
Within a couple months of my arrival, the station hired Don West, a man made famous in the 90s as a Shop at Home Network baseball card pitchman and TNA wrestling host.  He was loud, obnoxious and hilarious.  We got along famously.  
Together we launched the region's first sports show and within a couple months the three hour midday window become the station's most profitable portion of the clock.  It was incredible.  It was my dream.
It wasn't enough.
I loved my time with Don, and his trust in me allowed my confidence to soar on the microphone. However, in October of 2016 I was offered a position with KXLY in Spokane as a morning show reporter with the opportunity to fill in as a sports anchor. It was an offer I couldn't refuse.
By the Fall of 2017, everything had lined up for me. I was on TV everyday, I had travelled to Phoenix for the Final Four with Gonzaga 6 months prior, and I was surrounded by a network of close friends. I had another two years on my contract with KXLY, at which point I would no doubt make a market jump and end up in a bigger city with a bigger paycheck. I had played career roulette a couple years prior and it was clear I made the correct decision – until adversity knocked on the door in the form of a broken back.
I went as long as I could without surgery, understanding that back surgery for a guy in his late 20s should be a last resort. I tried physical therapy, cryotherapy, cortisone shots and even acupuncture. Nothing seemed to help. Every morning would start with pain and every evening would end in an unhealthy amount of painkillers. Between liveshots I would lay flat on the ground, no matter where I was. I once shot an Eastern Washington football game with my stomach down on the red turf. Surgery was inevitable, and by January of 2018 I caved.
The relief was instant. I was once again able to sleep through the night, ride in a car, and go through my day without violent mood swings caused by pain. Everything was back on track – until I blew it out again one month after the surgery.
By March of 2018 I was a 29 year old with two back surgeries to my name and a cloudy future.  I loved my job, I loved my coworkers, but I knew carrying a camera and performing the everyday duties of a modern local journalist was out of the question.  There's no perfect road map for a career in sports media, but my path had run into a brick wall.  It was a rough time, I couldn't help but feel every sacrifice I had made until that point, every career triumph, every accomplishment had been for nothing.  I was lost. 
Fortunately, the KXLY News Director was more of a friend and mentor than a boss.  Melissa Luck was beyond supportive through my back issues, and fully understood when I asked to be released from my contract early.  She was more than willing to make accommodations to keep me around, but I knew that was a temporary fix.  My next boss in the next market wouldn't be so understanding.  My career in local news was over.
Enter Jason Barrett.
Growing up in the Bay Area, I had been aware of JB for a long time.  He had done what so many in the market thought was impossible when he challenged the mighty KNBR with 95.7 The Game in 2011.  I had also probably sent the guy a dozen emails over the years- none of which ever earned a response.  I never took that personally – you can't afford grudges in this industry.  To be honest, it really never set Jason apart from the rest of the Program Directors I was trying to flag down.  I was funny, I had a resume, I had references – but I wasn't much more than a resume in a stack of resumes.
Imagine my surprise when Jason responded to one my emails.  Of course, this time it wasn't in response to a co-host position, it wasn't for a producer role, it wasn't even for a board op gig.  Jason reached out after I applied to write for SportsRadioPD.com.  
To JB's credit – he laid it out straight.  He wasn't looking for an anchor, he wasn't looking for a host – he was looking for a guy who wasn't too proud to rewrite stories from a number of other sources he could then post on the site.  
To be perfectly honest, I was torn. I was 30. I had filled 3 hours of radio by myself regularly. I had written, produced and edited features that still air in regularity on cable television. I had gone live for 90 seconds from an active live scene with little more than "the cops are here, Robyn," more times than I care to count.
To rewrite the words of other writers wasn't borderline insulting – it was insulting.
Fortunately – with age and wisdom comes wisdom and perspective.
The wisdom part was easy. I knew this was a relationship-driven industry. I also knew Jason Barrett was a dude who knew everybody. And I mean everybody. He wasn't just an ally I wanted, he was an ally I needed.
Perspective was a little tougher. Yes, he was asking me to do mind-numbing work. Work that I, quite honestly, thought was a waste of my time. But – who the hell was I in Jason's eyes? Sure I had been been on TV and radio for a few years. Maybe I had a writing credit or two to my name – but that didn't mean anything to Jason. Once I wrapped my mind around that, whatever insult I thought being asked to rewrite to words of other writers was became easier to swallow.
I committed.
I said I would write a couple 200-400 word stories a night for awhile – with Jason's word that he would go to bat for me once I proved myself.
I thought I would mail in a couple stories for a month or two, Jason would recognize my genius, and off I would go to my next gig somewhere.  I was wrong.  
Somewhere along the way I started to feel sorry for myself.  I started giving myself excuses, giving myself outs.  I was moving.  I was starting a fulltime job with iHeartRadio in the city.  I was going through the motions with Jason and I pretended to be shocked the day Demetri Ravanos (JB's right hand man) sent me an email essentially asking if I wanted to keep working for BSM.  
That email came in early June.  To be honest, half of me wanted to reply with a kind "Thank you for asking, I'm too busy to continue with you, good luck."
Communication is hard enough in a work environment. It's especially hard when you're working remotely and your only correspondence from the superiors is "hey, you're not doing a good job."
It was as I was writing the email I had the realization; JB and Demetri weren't out to get me – they were right. I was doing a horrific job. Sure, I had a few clever references to a number of John Hughes films in my stories – but I wasn't really sweating over the pieces I submitted. Cutting off my tie to Jason and Demetri would be nothing more than a sign of my arrogance. I knew I had the capacity to tell a story, I just needed the opportunity to show them.
Although I probably didn't deserve it, Jason gave me a bit of a leash with features. Instead of a couple stories a night, he'd give me 3,000 words on someone or something a week. I didn't take the privilege lightly.
We're a few months removed from that conversation and my role with BSM has shifted dramatically. I no longer look at Demetri as the "email guy" – he's a friend. He's even funny if you're in the right state of mind. JB is no longer a "boss," he's a mentor. He's a resource I can lean on. I can ask him honest questions and he'll get back to me with thought out, genuine answers.
This change didn't happen overnight – it happened because I went to work. I took pride in every piece I turned in, every word. Jason's rolodex opened up. Soon he was trusting me to represent him and his brand in front of leaders in the industry. It's not because I had a funny reel, it's not because I have fancy contacts – it's because I earned his respect, and that's a respect I intend on keeping.
I don't know where my career is headed, but things seem to be a bit brighter with my new contacts.
I was humbled, to be honest, when Demetri asked me to write about my experience in the industry. He seems to be of the impression young professionals might have something to learn. If I were to pass on any kind of wisdom, it's simple.
Talent is great. It futile without work ethic.

Jack Ferris writes feature stories for BSM and serves as an update anchor for iHeart Radio in San Francisco and as a freelance contributor for the PAC-12 Network. Previously he has worked as a sports anchor for KXLY-TV in Spokane and as the co-host of the Don West Show on KPQ in Central Washington. You can find him on Twitter @JFerris714 or reach him by email at FerrisJack54@gmail.com.
The Big Ten Didn't Learn ANYTHING From the NHL's Mistake
However, to not have your product ever mentioned outside of Saturdays ever again on the network that literally everyone associates with sports seems like a steep tradeoff to me.
My favorite moments in life involve watching someone/something on the verge of a great moment and after a lot of struggling, get to the moment that makes them happier than you cam imagine. You can feel your scowl shift from tepid observer to interested party and then finally transition to open fandom. I was on the verge of another one of those moments coming into this week until the Big Ten decided that they would make biggest mistake since the Legends and Leaders divisions.
The conference was closing in on a brand new set of media rights to go into effect starting with the 2023 football and basketball seasons. The discussions were near a climax when the USC and UCLA called Big Ten commish Kevin Warren. Then, the negotiations relaunched and something special was about to happen. The Big Ten was inches away from declaring themselves the richest and most forward-thinking conference in the entire country and if they could win a few football games, they'd be head ahead of the SEC.
You can argue until you are Gator Blue in the face but the fact is, the Big Ten was about to explode and pass the SEC. The conference was about to have games on FOX, ABC/ESPN, CBS and NBC. All of the networks. ALL OF THEM. They were also developing a package for a streaming service to test the waves of the web. It all sounded so damn smart.
Then, the Big Ten went dumb.
The conference got greedy and asked for too much from what would have been their most profitable partner in cachet, ESPN. Reportedly the conference asked ESPN for $380 million per year for seven years to broadcast the conference's second-rated games… at best. My jaw hit the floor.
Pure, unapologetic greed got between the Big Ten and smart business. The conference forgot a lesson that the NHL learned the hard way. ESPN dominates sports. ESPN is sports.
I don't need to go to far back in the archives to remind you that ESPN's offer to the NHL for media rights wasn't as lucrative financially as NBC's was, but the NHL took the short-term money and ignored the far-reaching consequence. ESPN essentially wiped them from the regular discussion. Yes, there were some brief highlights and Barry Melrose did strut ass into the studio on occasion, but by no means was that sport a featured product anymore.
One afternoon I had someone tell me that they were upset ESPN was airing a promo for an upcoming soccer match that ESPN was carrying. He told me, "they're only promoting it because they have the game."
That's kind of how this thing works. ESPN is in business with some sports and not others so it makes a lot of sense to promote those you are in business with, yeah? ESPN doesn't spend a lot of time promoting Big Brother, Puppy Pals or ping pong either. Why would they? There is no incentive too.
Here's the sad question. Why would ESPN bother promoting the Big Ten? Why would ESPN spend extra time on the air, on their social platforms, on their digital side, to promote something they don't have access to? The Big Ten is a big deal, but is it that big of a deal?
I am not suggesting that ESPN will ignore the Big Ten. They will still get discussed on College GameDay. But why would the network's premiere pregame show for decades go to any Big Ten games and feature the conference?
There will be highlights still shown on SportsCenter, but I'm willing to bet they get shorter.
The Big Ten chose network television and a streaming service over the behemoth that is ESPN. As far as streaming is concerned, consider that over half of all NFL frequent viewers still don't know that Thursday Night Football games are on Amazon only this year. That's a month away and that's people who call themselves frequent NFL viewers and that's the biggest, baddest league in the land. Good luck telling them Purdue/Rutgers is on Apple or Amazon. Streaming is a major part of the future, but it still isn't the now.
ESPN may seem like the safe bet, but that's because it's the smartest bet. NBC is a fine network that spends a bajillion dollars on America's Got Talent and The Voice. Fine shows, but tell me where I can watch highlights of the recent Notre Dame/Stanford game.
CBS is a wonderful network that dominated with the SEC package for a long time, but that's because the very best SEC game each week went to CBS. Will they still dominate if they have the league's #2 package? Because why wouldn't FOX, Big Ten Network co-owner FOX, get the best game each week for Big Noon Saturday?
There isn't a single one of us that has a good damn idea where college football will be in three, five or seven years but I do know that ESPN isn't going anywhere. I know ESPN has elite talent at every level of production and on-air that's been in place for a really, really long time. I also know ESPN cares way more about sports than the other networks. CBS would like the Big Ten to do well, but CSI: New Orleans is a priority, too.
The NHL went for quick money and it cost them market share. The sport is still trying to recover after being largely ignored by ESPN for 17 years. It wasn't out of spite, it was out of business. The NHL once thought it didn't need ESPN. Where's the NHL now?
The money the Big Ten will generate is amazing, I will not deny that. It seems like a boondoggle of a lifetime to grab this cash. However, to not have your product ever mentioned outside of Saturdays ever again on the network that literally everyone associates with sports seems like a steep tradeoff to me. The Big Ten is going to get paid a lot now but in the long term, they will pay the most.
Arky Shea serves as BSM's evening editor, a daily news writer, and a weekly media columnist. He has previously worked for Outkick, 97.7 The Zone, 740 Sports Radio, and 730 The Ump where he held roles as the station's program director, afternoon host, and producer. To connect, find Arky on Twitter @ArkyShea.
Producers Podcast – Nuno Teixeira, ESPN Radio
Brady Farkas is a sports radio professional with 5+ years of experience as a Program Director, On-Air Personality, Assistant Program Director and Producer in Burlington, VT and Albany, NY. He's well versed in content creation, developing ideas to generate ratings and revenue, working in a team environment, and improving and growing digital content thru the use of social media, audio/video, and station websites. His primary goal is to host a daily sports talk program for a company/station that is dedicated to serving sports fans. You can find him on Twitter @WDEVRadioBrady and reach him by email at bradyfarkas@gmail.com.
Lance Zierlein Isn't Taking Shortcuts
"That really hammered it home for me; man, you just can't take shortcuts."
Jack of all trades, master of none. The only thing I dislike about that saying is, to me, it implies that a person isn't special in any one particular area. That isn't the case with Lance Zierlein. The guy has been crushing morning drive in Houston for 25 years and knocking out NFL draft evaluations for eight years now at NFL.com. It isn't possible for anybody to master draft analysis, but Zierlein's talent evaluations stand out so much that NFL coaching staffs and front offices pay attention to his views.
In addition to his on-air duties and draft analysis, Zierlein used to provide gambling advice for bettors through his own handicapping business. This dude gets around. Zierlein has proven to be valuable in many different areas. It's no wonder that new opportunities have become available to him over the years. In our conversation, Zierlein talks about not taking shortcuts. He also mentions how he tries to avoid taking himself too seriously on the air, and reveals the most gratifying experience of his career. Enjoy!
Brian Noe: How did you initially break in to the radio business?
Lance Zierlein: Radio started for me 25 years ago. Actually it started before then; I started my own handicapping business 28 years ago when I was really young. Then I hustled my way on radio as a football analyst, an expert in my early 20s. I sent stuff out to a bunch of stations, got on, gave out my phone number for my pick line, which I answered myself and gave out picks. That was my living. 
From there, 610AM became an all-sports station in the fall of '94. By '95 the general manager of the station liked me on the radio and so I was doing a weekend sports show for a couple of hours on Sunday. By '97 I was doing morning drive. That's what I've been doing ever since. I quit a job making $400 a week working 60 hours a week. It was just ridiculous. It was like some horrific management position in a field I had no idea what I was doing. I just quit and bet on myself and started my own business and three years later I've got a morning sports talk show. It's been that way ever since.
BN: What has been your career path when it comes to writing?
LZ: I've been writing for a while. I started my own football newsletter in 1998. It was a sports newsletter, then in 2001 it became a football only newsletter. I did that for a while. I was a fantasy football writer for the Houston Chronicle. I had a blog in the Chronicle that was fairly heavily trafficked. I covered everything but really started to focus in on the NFL draft and some fantasy football stuff and the Houston Texans.
Some people over at the NFL noticed me. I planted some seeds over there and introduced myself to people at NFL Media. In October of 2014, they reached out to me about being their new NFL draft analyst. Shortly thereafter I was hired. I've worked there since the fall of 2014. So eight NFL drafts and 25 straight years of drive-time radio as well.

BN: When you think about all of those different avenues whether it's handicapping, sports radio, or being a draft analyst — which is like scouting — which do you think you've had to learn the most about to know what you were talking about really well?

LZ: Oh man, well for me radio was never formulaic. I didn't learn in college, I was just a natural talker and thinker and entertainer. I'm not necessarily predictable.
I think the most that I had to learn was the NFL draft. Handicapping is something that you learn as well. I learned in the pool halls of New Orleans when I was going to school at Tulane. I had a mentor who was a former vice president of finance for a company there. He just taught me about handicapping as being an analytical process where you try to find the right side of the puzzle. There's a puzzle between two teams, various players, here's the point spread and you try to work the puzzle out and find the right side. That took time too.
When it came to the draft you're talking about having to really learn all of the specific factors for every position. From long snapper to punter to kicker to every position on the offensive side and defensive side. Even if you think you know what you're doing and even if you have a scouting manual like I had to work off of, until you actually watch a ton of tape and make mistakes in evaluations, which you don't know until two and three years down the road in many cases, and learn from those mistakes and alter your process and dial in your process to match the changing tides of NFL and college football, you really can't get there.
I think the most learning I had to do believe it or not, and my dad was an NFL and college football coach my whole life, I think it's interesting; the most learning I had to do really was the scouting and the evaluating process before the NFL draft. I think that was the most work I had to do from start to finish. And I still think that I'm learning in that as well.

BN: Doing draft evaluations is difficult. Handicapping games is difficult. Between the two, which do you think you were thrown into the deep end more? Most when it comes to that?
LZ: Handicapping I was trying to pick winners for people and I didn't really feel like I had anything to lose. I was doing something I loved to do. I had left a job I hated that I should have never even been in. To me I was master of my own domain. I had my own company. But there's a pressure that comes with that because although I didn't need much money to survive and I was married to my first wife at the time, there is a pressure with knowing that you have to win so that people will sign up for the next month and you can pay bills.
When it comes to being thrown into the fire, listen I've got to write 500 players a year and every one of them is going to live on the internet forever. There's receipts on 500 players. When I got thrown in I'm having to call defensive back coaches I know to ask questions about certain things having to do with cornerbacks, safeties. I'm talking to pass rush specialists. I'm talking to coaches primarily and really getting an education. I was lucky enough to talk to some guys who really gave me some help along the way.
But if you just watch a tape, the tape will speak to you. I had Jerry Angelo who was the GM of the Bears who one time told me just say what you see. Just say what you see. I really lived off that for the first couple of years. Then beyond that I started to really learn to be more technical with some of the things I was looking at at every position. Having 500 players that you're writing up, from what I recall from a former editor there, he got 15 million hits internationally on my scouting reports over a relatively short period of time during the draft.
That really hammered it home for me; man, you just can't take shortcuts. You have to really understand these guys, know these guys. If you project them wrong that's fine, but don't miss because you took shortcuts. It's going to be there for everyone to read and see. I would say thrown to the wolves much more in the evaluation.

BN: Which of the three would you say is the most gratifying for you between sports radio, handicapping back in the day, and the writing/analyst work that you do?

LZ: God, that's such a hard question because they're three very different times of my life. The handicapping stuff was me just getting a shot to springboard into sports and into radio. I always knew handicapping was going to be a way for me to get into radio. I planned it as a side door into radio and my plan worked. I was pretty good at what I did.
Radio was just incredible because it introduced me to my wife. She was a listener so it introduced me to her. We had such a great following. Athletes liked the show. That's gratifying on a level in my 20s and in to my 30s, I don't think anything can match that when people around the city know who you are. You're having fun every single day. You're coming into the radio station and it's just a lot of fun. You're just kind of on a wild ride. You don't really recognize it until after it's over.
Football was special in a different way because my dad was a lifelong coach. He's been a coach since I was one or two years old. He's won a Super Bowl ring. He's coached for a variety of college and pro teams. The first time he was reading my scouting reports when he was with the Arizona Cardinals, he came across them. One of the other coaches showed him.
When he really realized wow, he knew I did radio, he knew I did some of the scouting stuff on my own in a newsletter, I don't think he really took it all that seriously. When he realized in reading my scouting reports for offensive lineman that I was really pretty good at it, and that he agreed with much of it, and he's now calling me every other day to talk about prospects and get my thoughts on guys, you just can't imagine the amount of happiness that gave me as a son to know that my dad had that level of respect for my work.
It's really a second job. Radio is what I had done and this is a dramatically different job. If you're doing NFL draft analysis for NFL.com, I'm following a scouting protocol. This is not radio. It's a totally different discipline and job. Knowing that he really had a great deal of respect and that other Arizona Cardinals coaches started calling me and asking my opinions on certain players, it's hard to really put into words how gratifying that is.
Then through the process knowing that there are people in the league who really respect my work and guys I've become friends with who are general managers now who respect what I do. There's just an immense feeling of satisfaction in doing that and knowing I've got number one radio shows at four different stations in Houston.
Then to be able to do this with professionals that are in my dad's trade. I grew up watching my dad as a coach, I know how tough that profession is for front office personnel, for coaches, and to know that people have a respect for the work that I do, that's a level of gratification that's completely different. That's like a cherry on top. If I never did anything again tomorrow, I would be happy with what I've accomplished in my time in sports.

BN: Football fans turn into mini GMs when the draft rolls around. A lot of their evaluations are way off. [Laughs] Do you see a common thread between some of the evaluations that are just not accurate?
LZ: That's a tough question. I think some people are way too opinionated and firm in opinions and they have not spent nearly enough time actually watching the players. I think it's really more they're aggregating opinions from other people and then turning it into their own, which is kind of an incomplete analysis. I think that's a mistake that some people make.
I think there's a belief that who you are now is who you're going to be in the future. That's the most basic mistake that everyone makes. You have to learn you're not giving grades for who a player is right now, you're giving grades for who a player is going to be in three to five years. Learning to do that does not happen overnight. It's hard. It forces you to think differently. It forces you to really focus on traits and the habits of successful people.
Whether it's certain successful traits, there are traits that can lead to success, explosiveness, speed, length, toughness, and you've got to look for those, and then you worry about NFL coaches coaching up the rest of it. Don't get too hyper-focused. I think a lot of people get too hyper-focused on who a player is right now and not who a player is going to be later. Then also on the flip side, they get too enamored with stats and names as opposed to understanding what typically works in the NFL.

BN: How about your future? Say five years from now, what you're doing, where you're doing it at, what would be ideal for you?

LZ: I really don't know. I think honestly if the right opportunity came with an NFL team and somebody I respected as a general manager, that would be something I would have to consider. I'm not sure that that right opportunity and all the things would fall in place. I don't know that that would ever be the case. I'm not sure I see myself doing that in five years.
I think honestly, I feel like I have an eye for talent outside of football. I think I have an eye for talent in radio. I've brought five to seven people in who have become radio people and good hosts. I think at some point that might be something that I want to do is become more of a program director. If not a program director a talent scout to bring in the next generation of radio professionals.
I could see myself doing that because I do think I have an eye for people who have it. I didn't learn the traditional way and so I understand that you don't have to go through the traditional methods to be someone who can be captivating or entertaining or someone with upside. I think I recognize when people have that kind of upside. I think I'd love to be involved in that side of radio at some point in the future.
I've got a football business along with the former director of analytics for the Tampa Bay Bucs. It's kind of a scouting tool and a recruiting tool for colleges. We're already working with college teams and with high school teams. I think the handicapping stuff is out for me moving forward. [Laughs] That was an avenue and a vehicle and I still love trying to solve the puzzle, but I don't put the same time into it anymore. There are different directions I can go in, but I'm happy where I am right now both in radio and the draft stuff. I'm just going to keep letting things play out and we'll see what happens.
Brian Noe is a columnist for BSM and an on-air host heard nationwide each weekend on FOX Sports Radio. Previous roles include stops in Portland, OR, Albany, NY and Fresno, CA. You can follow him on Twitter @TheNoeShow or email him at bnoe@premierenetworks.com.