Broadcaster Review: The SEC on CBS
"Sometimes broadcasters fall victim to over enthusiasm when it comes to calling huge games. These guys seemed relaxed and ready for what was to come that afternoon."
Rarely do hyped match ups live up to the advanced billing. Most of the time they wind up in a blowout which ruins everything for the network covering it and its announcers. That wasn't the case last Saturday when LSU faced Alabama in Tuscaloosa. CBS had its "A-Team" on the call, Brad Nessler on play-by-play and Gary Danielson handling color commentary.
I went back and watched the game, to focus on the actual broadcast and not the outcome. Here are my thoughts. 
GAME OPEN
The broadcast open concentrated on the 2011 meeting between the two teams billed as "The Game of the Century", which wound up in a 9-6 overtime win for LSU. CBS created good drama, using music and graphics to set the stage for this big moment, billed as "The Game of the Year". 
It was good to see that both Nessler and Danielson seemed be loose for calling such a big game in their on camera open. Sometimes broadcasters fall victim to over enthusiasm when it comes to calling huge games. These guys seemed relaxed and ready for what was to come that afternoon.
The open featured most of the obvious angles, concentrating on the two QBs and of course mentioning the injury to Alabama's Tua Tagovailoa. They went deeper to include an injury on defense to LSU's safety Grant Delpit. Both were dealing with ankle injuries.   
Nessler brought in Jamie Erdahl, the sideline reporter for the game, first with an interview of Alabama coach Nick Saban who confirmed what we already knew that Tagovailoa would start the game. After a brief toss back to the booth, Erdahl caught up with LSU coach Ed Orgeron who mentions that he told his team all week, "you are the better team". Pretty good stuff here.
Back to the booth now and Nessler is going over a graphic illustrating that Alabama has an 8-game win streak in the series vs. LSU. It's followed by a good graphic showing what these two teams have done over the course of the rivalry. Good illustration for those that may be new to the game.
The open segment wraps up with something that I had to rewind to make sure I heard correctly. Nessler exclaimed, "football fans around the world have circled November 9TH", really? The world? Seems a bit much to me here. I get what he's trying to say but that seemed a bit over the top.
1ST QUARTER
There is good energy in the stadium for the opening kick. LSU won the toss and deferred. I liked the energy from the guys in the booth too as Alabama gained two first downs on its first two plays from scrimmage. The announcing crew didn't get caught up in the crowd noise from the over 102-thousand fans in attendance. 
To me, Danielson was very sharp early. He noticed six offensive lineman in game for Alabama on one offensive set, then four wides (receivers) on the next. I liked how he explained why Alabama had to call a timeout in the red zone on the first Tide drive. It all made sense and was easy to understand, even for the uninformed casual fan. 
Danielson continued to shine as Tagovailoa fumbled trying to scramble. The crew showed the replay and it was obvious there was some rust on the QB who had ankle surgery 21 days earlier and missed some game time. "You can't simulate game action. You can test it (the ankle) all you want, now you have to instinctively make moves. Can't blame that one (fumble) on a bad ankle".
LSU would take over and a lot of the focus turned to Joe Burrow the QB for the Tigers. He led the team right down the field for a score following the fumble to give LSU a lead. I thought Nessler did a great job of "laying out" after LSU touchdown. Even though the game was in Tuscaloosa, there were a lot of Tigers fans in the crowd, they were heard from after the score.
Coming back from a break CBS posted a great graphic illustrating it was LSU's first lead over Alabama since the 2017 game in the 3rd quarter. Nessler acknowledges it after the graphic is gone because he let Danielson make a point, which a good play-by-play guy should do.
Now with Alabama on offense a poignant graphic popped up, stating that the 7-0 deficit was tied for the largest of the season for the Tide.
In an effort to show both sides, the producer popped up a graphic, a comparison of the two team's wide receiver corps. Nessler leads to it, showing how eerily similar the numbers are – Nessler pays it off saying, "despite all that ask if there's a better group (of receivers) than Alabama, here you go."
The booth sends things to Erdahl after returning from a break. She has a very in depth look at the surgery Tagovailoa went through on his ankle complete with animated graphics. Nessler highlighting the detailed look with, "Jamie did so much research on that ankle thing we thought she could perform the surgery on us."
The first quarter ends after a 77-yard punt return for a touchdown by Alabama's Jaylen Waddle, making the score LSU 10, Alabama 7. 
2ND QUARTER
As the 2nd quarter begins with LSU on offense, I noticed that the CBS crew cut off a few of the replays before they were finished, because of the pace of the LSU offense. I found it really distracting and maybe they should consider waiting until the Tigers go into a huddle?
LSU continued its offensive prowess with another scoring drive. Nessler with a good call of the Burrow to Marshall touchdown. Danielson points out how the Alabama defense got schooled big time, saying "it's just embarrassing for the Alabama defense".
The criticism wasn't reserved for just the Tide defense. Danielson, the former NFL QB had a point with the slow start for Tagovailoa and the Alabama offense. "Right now he is not in sync at all in this game. He does not have the feel of complete high level competition so far." Also so far I've noticed that Nessler is having a bit of an issue with the name Tagovailoa. Not that I can blame him, but it's been coming out a few different ways. 
Sometimes it's better to be lucky than good. Maybe it was just great timing, as Nessler and Danielson had a conversation about the 'Bama wideouts from Jerry Jeudy's perspective. He told the crew that Devante Smith just "caught everything", just then Tagovailoa threw a 64-yard score to…Smith. How did he get so open? The producer showed us on replay, that several LSU defenders looking to the bench for a change in coverages as the touchdown pass developed.
CBS shined during a disputed play in the 2nd quarter. LSU receiver Thaddeus Moss made a catch near the sideline, it was very close, but called a catch on the field. "Pylon cam" showed Moss' left foot out of bounds then re-established in the field of play to make the catch. This produced some good discussion between Danielson and rules analyst Gene Steratore about the legality of the catch. Was it illegal touching? No flag was thrown for it. Eventually after a lengthy delay, the call is confirmed. More on this situation pops up later in the broadcast. 
As the first half ends, Danielson says this about Tua, "he just seems rusty to me, more than just his ankle is bothering him, just seems out of sorts." Followed by Nessler throwing to a break, "I don't believe I'm saying this, LSU by 20."
The first half ends with LSU up 33-13.
3RD QUARTER
To open things up, Steratore had a terrific follow up of the ruling of the completed pass controversy in the 2nd quarter. He stated that all the information wasn't initially given about the play. He said that the official near the sideline ruled the receiver was pushed out of bounds and did not go out on his own, that would make it a legal catch rather than illegal touching. It is a strong follow up from one of the best rules analysts in the business.
The struggles continued for Alabama, with Waddle calling for fair catch inside the 10…Danielson "that's a mistake, you're not supposed to back up behind the 10. Usually it's Alabama forcing their opponent into bad plays like this, today it's different." Strong and correct commentary. 
Even after the previous statement the sentiment in the booth is that Tua is going to get hot at some point. Again, lucky or just great timing, Tagovailoa obliges and validates the thought with a touchdown pass to his RB Najee Harris.
As the quarter comes to an end, Nessler says, "If you've ever in your life thought about doing something now instead of watching the fourth quarter – reconsider. 33-20 LSU after 3…"
4TH QUARTER
The game still felt in doubt as the final quarter began. Alabama went right to work with the Tide scoring an early 4th quarter touchdown. Right after the play, again Nessler lays out for crowd reaction, which was a beautiful thing.
After the Alabama score, the narrative switched to the pressure being on the LSU offense now which hasn't scored since the 2nd quarter. Of course, more fortuitous timing, because a TD drive would ensue.
Nessler put on his SEC hat and seemed to go on a rant which based on Twitter reaction wasn't received all that well. The producer put up the College Football Playoff graphic, with LSU as #2 and Alabama as #3, leading him to say, "I don't care if Ohio State (the #1 Buckeyes) won by 100 points (73-14 actually over Maryland), if LSU beats Alabama their number one next week." The Clemson and Oregon fan bases were the most critical of this comment of all.
The announcing crew shined in some cases as the game's momentum swung from one side to the other toward the end.
Danielson reacted to a pass that was batted down at the line, with a possibility of him running in the picture. Danielson thought that for the first time in the game, Tagovailoa may have been affected by his ankle injury in his decision making. The analyst still wasn't off the bandwagon, thinking there would be a moment for the Tide quarterback. The payoff came after a huge 4th down conversion resulting in a touchdown throw by Tagovailoa. It's a 5-point game, LSU 39, Alabama 34.
Now it was Burrow's time to shine. He led a 7 play, 75-yard drive and in the process picked up a huge first down late in the drive and quarter. Nessler pointed out, "might be a Heisman moment there." The drive continued and wound up in a 7-yard score for running back Clyde Edwards-Helaire. 
As quickly as the crew commented on the LSU score after the kickoff, the Tide would strike on its first play from scrimmage. The game would come to an end after a failed on-sides kick to give LSU the win in Tuscaloosa.
OVERALL
It didn't seem like the moment was too big for a veteran broadcast crew, and I never really suspected it would be. I felt like Danielson was very pointed in his commentary and on both sides. He had criticisms for each of the teams and all seemed extremely warranted at the time of the commentary.
Nessler did his normal solid job with a couple of exceptions. The pronunciation of Tagovailoa's name changed a few times and he didn't seem to see some of the things that looked obvious on screen, especially when plays would be called back by penalty. Just a little nitpicking on my part here. 
The broadcast never seemed too over the top which can be a tendency when some networks cover big games. CBS stuck to the script and to the storylines of the game itself. Nice job all around.

Keeping Premier League Games Shouldn't Be A Hard Call For NBC
"Beyond its massive global fanbase, the Premier League offers NBC/Peacock a unique modern 21st-century sport for the short attention span of fans."
NBC Sports is facing some tough, costly decisions that will define its sports brand for the rest of this decade.  A chance to connect with viewers in a changing climate and grow Peacock's audience as well.  However, making the right choice is paramount to not losing to apps like Paramount+ (pun intended).
NBC is currently in the business of negotiating to continue airing the Premier League as their current deal ends after this 2021-2022 season. NASCAR is contracted to NBC (and FOX) through the 2024 season.
NBC's tentpole sports are the NFL and the Olympics.
Negotiations for the EPL are expected to go down to the wire. Rather than re-up with NBC, the league is meeting with other networks to drive up the price. NBC has to then make a decision if the rights go north of $2 billion.
Should NBC spend that much on a sport that is not played in the United States? It's not my money, but that sport continues to grow in the US.
If NBC re-ups with the Premier League, will that leave any coins in the cupboard to re-up with NASCAR? Comcast CEO Brian Roberts hinted that there might be some penny pinching as the prices continue to soar. This may have been one of the reasons that NBC did not fight to keep the National Hockey League, whose rights will be with Disney and WarnerMedia through ESPN and TNT, respectively.
"These are really hard calls," Roberts said. "You don't always want to prevail, and sometimes you're right and sometimes you're wrong, but I think the sustainability of sports is a critical part of what our company does well."
Roberts was speaking virtually at the recent Goldman Sachs 30th Annual Communacopia Conference. He told the audience that between NBC and European network Sky, that Comcast has allocated approximately $20 billion towards these sports properties.
Comcast CFO Michael Cavanagh spoke virtually at the Bank of America Securities 2021 Media, Communications and Entertainment Conference and echoed that the company is in a good position to make some strong choices in the sports realm.
"The bar is really high for us to pursue outright acquisitions of any material size," Cavanagh added. "We got a great hand to play with what we have."
While the European investments involve a partnership with American rival Viacom, the US market seems to have apparent limits.
Last Saturday's NASCAR Cup Series at Bristol Motor Speedway was seen by around 2.19 million people. It was the most-watched motorsports event of the weekend. That same week eight different Premier League matches saw over 1 million viewers. More than half of those matches were on subscription-based Peacock. 
Beyond its massive global fanbase, the Premier League offers NBC/Peacock a unique modern 21st-century sport for the short attention span of fans. A game of typical soccer fan is used to a sport that is less than two hours long. The investment in a team is one or two games a week. 
My connection to the Premier League began before the pandemic. When I cut the cord in late 2017, I purchase Apple TV. Setting it up, it asks you to name your favorite teams. After clicking on the Syracuse Orange and the New Jersey Devils, I recalled that my wife has family based in London, England. They are season ticket holders for Arsenal, and that family redefined the word "die-hard" fans.
I've long been a believer that sports allegiances are best when handed down by family. I love hearing stories of people loving the New York Giants because their parents liked them, and they pass it down to their children.
I've successfully given my allegiance to the Devils to my young daughters.
By telling Apple TV that I liked Arsenal, I get alerts from three different apps when the "Gunners" are playing. The $4.99 is totally worth it to see Arsenal.
Whenever I told this story, I was amazed to see how many other American sports fans had a Premier League team. Students of mine at Seton Hall University rooted for Tottenham Hotspurs, while an old colleague cheers on Chelsea.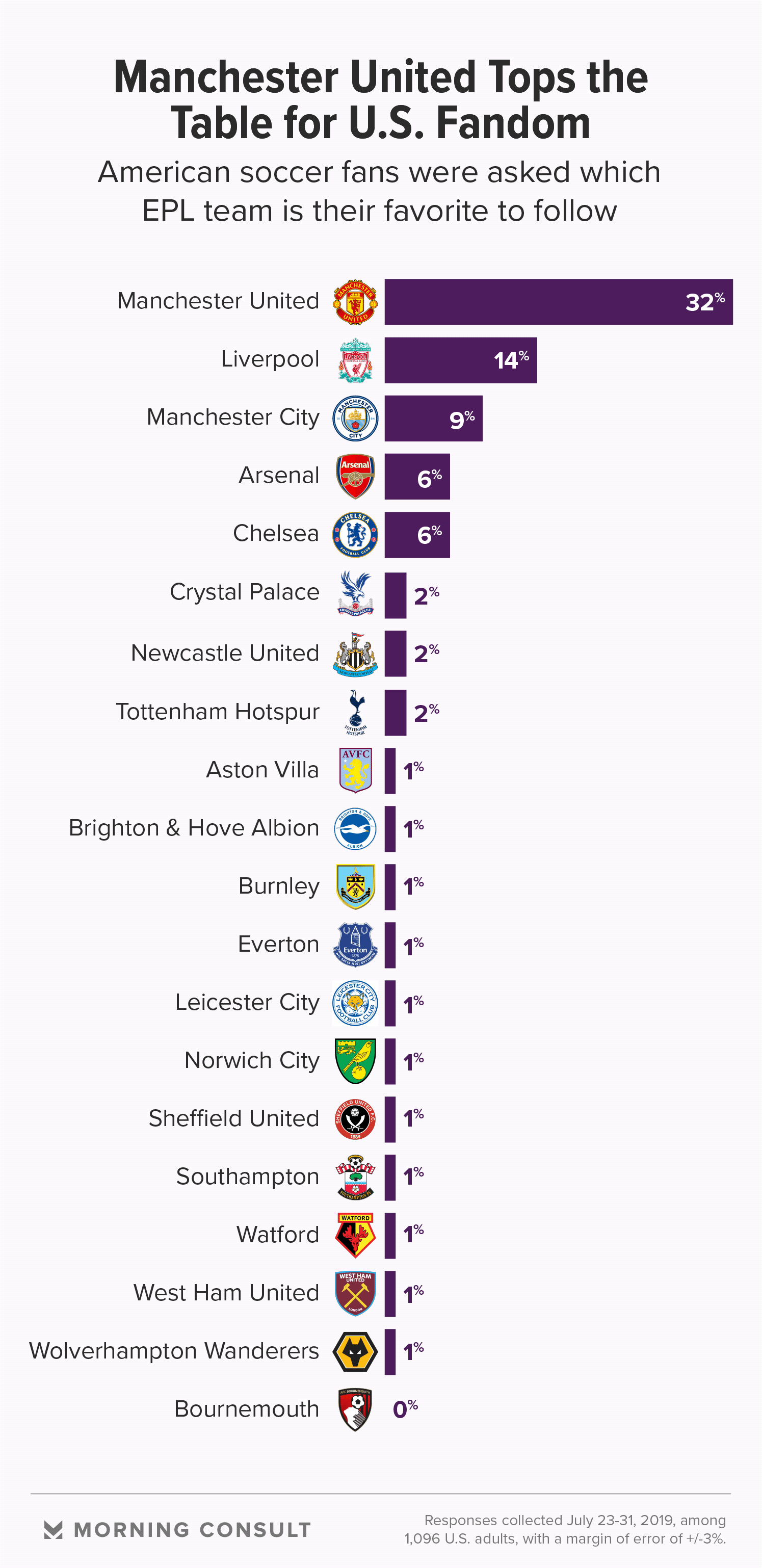 This is not meant to say that NBC should sign the EPL on my account. The key for any US-based soccer fan is that between Bundesliga, Serie A, and other leagues, there will be no shortage of soccer available on both linear television and streaming services.
Besides, Dani Rojas did say that "Football is life." NBC, originator of the Ted Lasso character, should make keeping its Premier League US connection a priority.
Today, Demetri is joined by Tyler McComas and Russ Heltman. Tyler pops on to talk about the big start to the college football season on TV. Russ talks about Barstool's upfront presentation and how the business community may not see any problems in working with the brand. Plus, Demetri is optimistic about FOX Sports Radio's new morning show.
Podcast: Play in new window | Download
Subscribe: RSS
6 Ad Categories Hotter Than Gambling For Sports Radio
"Using sports radio as a back page service for gambling will have a limited shelf life."
For years sports radio stations pushed sports gambling advertisers to early Saturday and Sunday morning. The 1-800 ads, shouting, and false claims were seedy, and some stations wouldn't even accept the business at 5 am on Sunday.
Now, with all but ten states ready to go all in on sports gambling, sports radio stations can't get enough of that green. Demetri Ravanos wrote about the money cannon that sports gambling has become for stations. Well, what if you are in one of those ten states where it isn't likely to ever be legal like California or Texas? Where is your pot of gold?
Or, let's face it, the more gambling ads you run, the more risk you take on that the ads will not all work as you cannibalize the audience and chase other listeners away who ARE NOT online gambling service users and never will be. So, what about you? Where is your pot of gold?
Well, let's go Digging for Gold.
The RAB produces the MRI-Simmons Gold Digger PROSPECTING REPORT for several radio formats. In it, they index sports radio listeners' habits against an average of 18+ Adult. The Gold Digger report looks at areas where the index is higher than the norm – meaning the sports radio audience is more likely to use the product or service than an average 18+ Adult who doesn't listen to sports radio. The report, generated in 2020, indicates that sports radio listeners are 106% more likely to have used an online gambling site in the last thirty days. That's impressive because the report only lists 32 activities or purchases a sports radio listener indexes higher than an average adult. I looked at those 32 higher indexes, and I think we can start looking for some gold.
Using sports radio as a back page service for gambling will have a limited shelf life. The gambling companies who commit significant money to get results will continue advertising and chase the others away. So, the future of sports radio needs to include other cash cows.
If it is evident to online sports gambling services that sports radio stations are a must-buy, who else should feel that way?  I looked at the Top 32 and eliminated the media companies. ESPN, MLB/NHL/NFL networks, and others aren't spending cash on sports radio stations they don't own in general. But Joseph A Bank clothing, Fidelity, and Hotwire should! Here's your PICK-6 list I pulled together that's hotter than sports gambling:
Sportscard collectors, Dapper Labs, Open Sea- read about Sports NFT $.
Online brokerage firms-Fidelity, Charles Schwab, Robinhood, Webull, TD Ameritrade
Golf courses, resorts, equipment, etc.- we play golf at home and vacation
Hotwire.com, Booking.com, TripAdvisor, Airbnb, Carnival Corporation, and Priceline.com- we've used Hotwire in the last year.
FedEx, UPS, U.S. Postal Service, Venmo, PayPal, Zelle-we wired or overnighted $
Jos. A. Bank, shein.com, macys.com, nordstroms.com- we went to Jos. A. Bank in last three months
The sports card/NFT market is 32% hotter than the sports betting market for sports radio listeners. Everything on the PICK-6 is at least 100% more likely to purchase than an average 18+ Adult who doesn't listen to sports radio. All listed are at or above indexing strength compared to sports betting. The individual companies I added are industry leaders. Bet on it! Email me for details.