What If The Streaming War Was Sports?
"The next stage of the streaming wars will probably have a lot to do with the rights to live sporting events, but for now the power still rests with the traditional network powers."
The great streaming wars are upon us – and the casualty is our spare time.  I'll admit I didn't realize how bad I wanted to watch 1994's Blank Check until Disney+ gave me the option Tuesday night.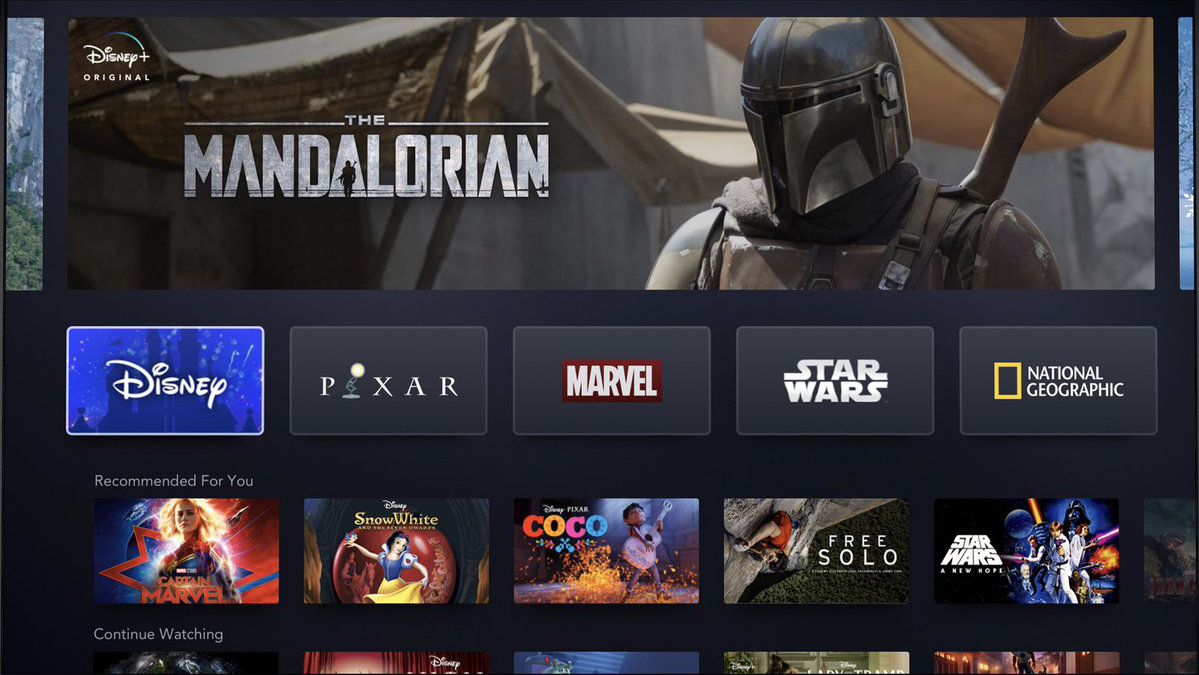 At the moment – the main weapon in the war is intellectual property (IP), and Disney is loaded with ammunition.  It's the newest player to the game but with Marvel, Star Wars, Pixar and Disney Channel Original bangers the likes of Brink! and Luck of the Irish – it's easy to see how the service received 10 million subscribers almost overnight.  
In a notable counteroffensive this week, Netflix (60M domestic subscribers) announced a partnership with Nickelodeon IP and gained valuable territory on the battleground of millennial nostalgia in the process.  
Of course, the arrival of Disney+ means one more password and one more monthly payment to factor into the budget.
If you count the money I'm saving by using my sister's old roommate's ex boyfriend's login information on a handful of premium network subscriptions (he's cool with it) I'd be paying close to $90 a month for all my television.
Disney+, AppleTV+, Netflix, Hulu, Amazon Prime, HBO Go, Showtime Anytime, Starz – do the math and you're probably pretty close to $90 yourself.
In a matter of years, if not months, how we consume sports could look a lot different. The NFL is seemingly very close to closing a "Sunday Ticket-type" deal with a streaming giant that would dramatically shift the landscape of the sports world. Hulu has spent what appears to be several small fortunes getting athletes to tell us "Hulu has live sports." A company like Apple certainly has enough cash to bid for an NBA rights deal against ESPN or Turner. What's stopping Netflix from doing the same?
The next stage of the streaming wars will probably have a lot to do with the rights to live sporting events, but for now the power still rests with the traditional network powers.  Skynet is not yet self-aware, so let's not stress out too hard.  We'll save doomsday scenarios for another article.
For now, let's play a game.
If we watch as much live sports as we do television and movies – it's fair to put the same value on our live sports consumption, in this case let's say $90.
If I had $90 and it was up to me to assign a cost to each of the sports media giants in a streaming war of sports, this is how it'd look.  
ESPN
Platforms: ABC, ESPN, ESPN2, ESPNU, ESPNews, ESPN Classic, SEC Network, ACC Network. ESPN+
What Disney+ is to the intellectual property race, ESPN is to the sports content war.  The appropriately named World Wide Leader has their fingers in every pie. 
Give me the NBA Finals, the College Football Playoffs, and the best games from each sport all season long.  College basketball games almost every night through the winter from just about every conference you can name – with a special emphasis on the SEC and ACC.  They're on the grounds for two of golf's four majors and three of the four tennis grand slams.  And oh by the way, they own Monday Night Football and are probably a few years away from getting in the Super Bowl rotation. 
Even in the dog days of summer – you can find the Little League World Series or wall-to-wall NBA free agency coverage on an ESPN platform.  It's truly a must own for any sports fan, and it's price point in my budget reflects that.
MONTHLY BUDGET: $20
FOX 
Platforms: FOX, FS1, FS2, BIG TEN
Like ESPN on a slightly smaller scale, a FOX subscription offers me a little bit of everything.  I'd get a huge slice of the NFL Sunday pie and the best PAC-12 and Big Ten games each Fall Saturday has to offer.  It would also prove invaluable during October as I get my cherished Joe Buck time during the MLB Playoffs.  It would dominate my house during the US Open thanks to the network's agreement with the USGA, and I would gladly pay double the price if it was a World Cup year.  I'm not a huge WWE or NASCAR guy – but I'll take it if it's all part of the bundle.
MONTHLY BUDGET: $15
CBS
Platforms: CBS, CBS Sports
Kind of a "meat and potatoes" situation here. CBS only has a few things to offer – but man are they crucial things. Imagine your sports calendar without Jim Nantz. See? It's not possible. No self-respecting sports fan can live without the CBS jingle during the month of March. Honestly, I would pay just for the NCAA tournament, but I'm not gonna turn down a little icing on my cake. I'll take the lion's share of the Sunday AFC games as well as the Masters in April. Sprinkle in a little Brad Nessler with the best SEC football game of the week and I'm a happy man.
MONTHLY BUDGET: $15
Regional Sports Networks
Platforms: YES, Fox Sports RSNs, NBC RSNs, etc.
The Regional Sports Network is commonly forgotten by first time cord cutters.  You don't realize how much you need the option of watching your local NBA, MLB, or NHL team on some idle Tuesday until you don't have it. 
Again, we're sticking to sports for this game. I recognize Disney+ has changed everything now that you can fill those idle Tuesdays with Cool Runnings or Homeward Bound.  Stick with me. 
Losing your RSN means losing track of the storylines in your hometown teams, and that's just not an option for sports fans.  The RSN bill has to get paid.
MONTHLY BUDGET: $11
League Networks
Platforms: NFL Network, MLB Network, NHL Network, NBA TV
Not a ton in the way of live events for this bunch.  Wall-to-wall NFL combine coverage would be nice in April, and the MLB, NHL and NBA Networks always have sneaky playoff games, but for the most part I'm getting studio shows and documentaries here. 
Truthfully, there is one reason the League Networks rank this high on the list and that's Redzone.  Assuming this package gives me Redzone 17 Sundays out of the year, I'll happily pay a monthly fee.
Monthly Budget: $9
NBC
Platforms: NBC, NBC Sports, Golf Channel 
I'll be honest – there's not a ton for me here.  I love me some Sunday Night Football with Al and Chris, but the rest of the week you don't really have my attention. 
I could see Notre Dame football and NHL diehards clearing some space in the budget, but it just doesn't make a lot of sense of me to overextend here.  I don't wake up early enough to be a Premiere League guy, and I'd rather get off the couch than watch a cycling event.  I am, of course, open to renegotiate as we get closer to the Olympics.
MONTHLY BUDGET: $9
Turner
Platforms: TNT, TBS, TruTV, B/R Live
If valuing Turner over NBC Sports seems like a surprise, I'd challenge you to consider your own viewing habits.  Yes, Turner gets a little nod for supplementing CBS's NCAA Tournament coverage in March (and I'll give them $1 for their MLB stock) but TNT is on my TV on and off all winter long and it's a must have for NBA fans during the postseason. I also don't hate Rizzoli & Isles reruns.
MONTHLY BUDGET: $11

Athletes Are Making Their Money In Content
"Jordan's example has led to the next generations' emergence in entertainment, media, and sports. It is an emergence that is beyond in some ways what Jordan has accomplished."
In many ways, the voice of athletes started its exponential growth with the introduction of social media, where every human being has access to a personal broadcast channel to express themselves, their passions, stories, and ideas.  The athlete as an artist immediately expanded from highlight reel to Hollywood film and television reel as a content producer.  However, it was The Players' Tribune, founded by Derek Jeter in 2014, that jumpstarted the athlete-driven voice of content, first in writing, and later in video, polls, and podcasts.  
Michael Jordan was the first international athlete that made millions in sponsorship money—selling his name or attaching his name to products for the purpose of endorsing them for a profit.  He also starred in the Warner Bros. live-action/animated film Space Jam.  Jordan turned those partnerships into ownership of an NBA basketball team and a partner and focus of one of the most iconic athletic brands in the world, Jordan/Jumpman (Nike).  More recently, Jordan was the focus of the Emmy award-winning The Last Dance docuseries about the NBA Chicago Bulls six championships and more specifically the sixth and final trophy for Air Jordan his Bulls team.  He also co-owns a NASCAR team with Joe Gibbs.  
Jordan's example has led to the next generations' emergence in entertainment, media, and sports. It is an emergence that is beyond in some ways what Jordan has accomplished.  However, that is the point—the mentee should always outperform the mentor with proper, training, guidance, and a little luck too.  Where many athletes have pursued broadcasting work as color analysts during and after their professional careers in sports, Jordan did not pursue these avenues or seek to open a television or film production studio to develop entertainment, media, and sports content.  
The direct-to-consumer approach of Hollywood and sports networks through streaming platforms, combined with the introduction of athlete voices through social media and podcasts has led to more opportunities.  Los Angeles Laker LeBron James launched his SpringHill Company in 2020 not long after joining showtime in Tinseltown.  SpringHill is a content studio that develops and looks to other studios for major production and distribution.  LeBron has the sponsorship advertising prowess, but can also add documentaries and feature film content to his resume.  
Kevin Durant launched a podcast titled "The Boardroom" through his company, Thirty-Five Ventures.  With YouTube on par with Netflix in revenue (minus the paywall), it provides another direct-to-consumer platform for everyone and more opportunities.  Steph Curry launched Unanimous Media in 2018 as a content and production studio, originally in partnership with Sony Entertainment, now the studio is partnered with Comcast owned NBCUniversal in the $10 million dollar range.  
The media has deemed the Curry deal a first, which is noteworthy, but so is the faith and family focus of Curry's programming that will span many brands in the NBCUniversal entertainment family. Curry will join the NBC broadcast for the Ryder Cup as an analyst and host and interview guests for an educational series, which does not include film projects and the second $200 million dollar basketball contract Curry signed in 2021. Chris Paul, Kyrie Irving, and Dwayne Wade have been involved with film projects of their own. Tim Tebow is a nationwide celebrity and motivational speaker, not to mention a world-renown athlete and person with a big heart towards faith and philanthropy.
Peyton and Eli Manning also have their own broadcast for Monday Night Football.  Peyton also starred in the very successful "Peyton's Places" that will have season two launched soon on ESPN+.  Both are produced by Peyton's Omaha Productions.
Speaking of Disney brands, the company's 30 for 30 is still one of the main catalysts for highlighting the struggles and triumphs of athletes.  Hard Knocks, Ballers, and Jerry Maguire also gave insight into the world of sports beyond the field, statistics, and championships.   
The growth of entertainment, media, and sports has been and continues to be exponential.  Some additional areas to watch include development of series and docuseries in baseball, hockey, soccer, and in other popular, but not the big five sports in America (e.g., lacrosse, cricket, etc.).  With women's sports receiving more attention on television, there are tremendous opportunities for growth in entertainment production particularly in women's soccer. 
To date, NBA players have dominated the entertainment, media, and sports landscape for Hollywood production.  However, to each their own, because some stars love developing content, others love speaking about content, and still others love to own content (particularly in the form of brands and franchises) (see Michael Jordan and Derek Jeter).  Indeed, the era of athlete as Hollywood producer is upon us.      
This week's episode is all about the NFL. Demetri explains why the league embracing kids is long overdue, Andy Masur stops by to breakdown the first Manningcast, and Ryan Maguire explains why some sports radio stations are missing a golden opportunity to shine on Sundays.
Podcast: Play in new window | Download
Subscribe: RSS
Interviews Thrive On Podcasts In A Way They Can't On Radio
"Opportunities that a podcast creates open doors to audio that is simply superior to live radio."
Live radio vs. podcasts seems to be a heavyweight fight that isn't ending anytime soon.  Podcasts are growing so much that companies that do radio are also now offering podcasts. This column is hardly about that fight. 
Instead, this is about how a podcast interview is a better way to get the best out of the guest than anything live on a radio station. This is not about downloads or clicks or sponsors. Solely about the content that is being produced.
A podcast makes the guest more comfortable and is more intimate than a live radio show. Especially in sports.
Since 2015, I have hosted and produced 656 podcasts (yes it was fun to count them) and hosted many radio shows. My current shows are called Sports with Friends, Hall of Justice, and Techstream. That last one I host with tech expert Shelly Palmer.
On radio, there is a myriad of things the host has to do besides focus on the guest.
First, there are the IDs. Program directors have always told me ID the guest every chance I get. "We are talking with Eli Manning on WFAN," is heard 7 times during an eight-minute segment.
On a podcast, the name of the guest is on the player or app that is playing the podcast. "Episode 1. Eli Manning, New York Giants" scrolls across smartphones, car radios, or other devices constantly.  Never interrupt the guest with an ID.
Then, there's the fact that it is recorded and not live. I have a standard preamble that I say to any guest before any record light turns on.
"I will push," I explain. "I will see where the conversation takes us, but I do tend to push. However, I'm on your side. This isn't some expose'. If something comes up that you don't like your answer, tell me. I'll take it out. If there's something that I say that is bad or wrong, tell me, I'll take it out. This is a conversation, not an interview."
In 656 podcasts, only one player, Bryce Harper (then of the Washington Nationals) asked me to take something out of a podcast.
We were doing Episode 54 of Sports with Friends when the subject of Dusty Baker came up. He had just been hired to manage the Nationals. I mentioned in passing that Dusty had given the eulogy at my best friend Darryl Hamilton's funeral.
Bryce was so intrigued that he recalled the comments I had made and asked if we could pause. We then spoke for a good 10 minutes about the kind of person Dusty was. Why Darryl held him in such regard. It was a really inciteful chat. Never was on the podcast.
Still, guests do relax when told that the editing option exists. They let their guard down. The host of a podcast can ask deeper questions.
"Who was the first person you called when you found out you were traded?"
"Have you seen a life for you after football?"
"How much do you hate a certain player?"
All questions, that if asked live, could seriously backfire. So not only does the guest have a guard up, but the interviewer also has to play it relatively safe, when they are not IDing the guest for the umpteenth time.
Time constraints also don't exist in a podcast where they are beholden on live radio. The guest is just about to tell you they did cocaine during the World Series, and you are up against the clock.
I have hosted shows over the years where the guest was phenomenal, but I screwed up the PPM clock. That was the takeaway.  The clock is important on a live medium that needs to get that quarter-hour.
I try to keep my podcasts short. You wouldn't see it from looking at the lengths of my episodes. Still, I feel that if someone wants to talk and dive into a topic and it goes a little long, I will never cut the guy off.
Ken Griffey Jr. spoke for 45 minutes with a cigar and his feet up on the phone by his pool. He was telling jokes and stories. I wouldn't have stopped that if a train was coming. When I hosted Mariner content at KJR in Seattle, our interviews usually last 5 minutes.
Jon Morosi broke down the future of clubhouse access and how he traveled during Covid. Then he told an amazing story of his wife working in the medical field and how that impacted all of his family. Shannon Drayer of 710 KIRO got so in-depth in her arduous journey from being a coffee barista to the Mariners on-field reporter. It was split into two episodes.
Former porn star Lisa Ann talked about her decision to quit the business. Even Jason Barrett himself was Episode 173 of Sports with Friends.
(When in the past has Jason Barrett been in the same paragraph as a porn star? Note to Demetri: please leave it in.)
The radio industry is seen to be cutting costs wherever it can. Mid-market stations are not doing night shows anymore, instead offering nationally syndicated programming. 
Weekends are another avenue that perplexes me. Talent that is not deemed good enough to be on during the week is often given weekend shifts. Also, some Monday-Friday hosts add a weekend shift to their duties. Here's a theory: play podcasts. Format them to hit your PPM time marks.
They don't have to be my podcasts, but in the crowded podcast space, surely there are sports talk podcasts that are intimate, deep, and fun. Since we live in a data-driven age, let's see how a radio station fares playing high-quality podcasts or portions of them, vs. weekend hosts.
Program directors often worry about the outdated nature of a podcast. That sells the podcaster short. As someone who has been in the podcast space since 2003, I know how to make them timeless, and companies make shows often enough, that rarely would they be outdated.
Quality shines through the speakers.  The spoken-word audio format is continually evolving. Opportunities that a podcast creates open doors to audio that is simply superior to live radio.
The podcast industry is continually evolving. Radio needs to evolve as well. Then, it can be a fair fight.