The Family Affairs Of Baseball Broadcasting
"There are several "family affairs" throughout baseball and some transcend just one sport. The common theme is, growing up with a dad that travels a lot leads to having to get to know him later in life."
Father's Day – a time to celebrate the dad's in our lives and give them a special day or as former Mets' broadcaster Ralph Kiner once said, "It's Father's Day today, so to all you father's out there, happy birthday!". Or something like that. We know what he meant. When you think of baseball, the fathers and sons that come to mind I'm sure are the Griffey's, Ken and Ken Jr, the Bonds', Bobby and Barry and the several generations of Boone's, Bob, Brett and Aaron.
My mind of course goes to father and son duos in the broadcast booth. Almost as rare as a father/son combo in the game, it's pretty rare off the field as well. There are several "family affairs" throughout baseball and some transcend just one sport. The common theme is, growing up with a dad that travels a lot leads to having to get to know him later in life. On rare occasions the duos get to work together, which leads to a relationship that wasn't known before. The focus here, will be on the three most popular father/son combinations in baseball broadcasting.
Jack and Joe Buck
Jack was the voice of the St. Louis Cardinals from 1954-2001 and did baseball and NFL national broadcasts. The elder Buck had a distinctive deep voice that was perfect for baseball on the radio. He was versatile, doing the NFL as well. I loved listening to Jack alongside Hank Stram on the CBS Radio coverage of Monday Night Football.
Joe is now one of those voices you hear and realize. It's probably a big game, or THE national game of the week. The younger Buck followed in his father's footsteps in doing both Major League Baseball and the NFL. Joe started with the Cardinals in 1991 before he went on to national acclaim as the lead play-by-play voice for Fox Sports' coverage of MLB and NFL games. The two were able to work together for many years in St. Louis, with Jack on Cardinals radio and Joe on Cardinals television.
For Joe being in his dad's shadow was something that he had a hard time with at first, but learned later on that there was no reason to feel that way. "I was broadcasting Cardinal baseball in the major leagues at the age of 21, and that only happened because my last name was Buck. At the time, I fought that," the younger Buck told NPR in 2016. He continued, "But there's also a little bit more of a sharp knife out there, as far as critics are concerned, that you better be as good as the old man, or in some cases better, to be considered a success."
Being modest, Joe continued to NPR, "I know I do a decent enough job to keep my job, but I will forever be known to some people as Jack Buck's son. And thank God he and I were best friends or that would drive me nuts. Instead, I consider it a high compliment."
The Bucks are the only father-son combination each to have called a Super Bowl.
Marty and Thom Brennaman
Hall of Famer Marty replaced Al Michaels as the Reds play-by-play announcer in 1974, a position he continued in until retiring at the end of last season. He spent his entire 46 year run behind the mic for the Reds. Marty is one of the nicest human beings you'll meet and was the last of a breed of announcers that were able to really "tell it like it is".
Marty broadcast games for the fans of Cincinnati and somehow still had the support of management over the years. His distinctive voice, a very "folksy" and "midwestern" delivery was an easy listen. Not many get to stay with one team for his entire career and go out on his own terms, still at the top of his game.
In 2006 it was announced that Marty's son Thom would be joining the Reds broadcast crew for the 2007 season. Marty was thrilled, "this is a dream fulfilled for me," said Brennaman in 2006. "I was always a little bit envious of the Buck's and the Caray's. Now I get to work with my son. Nothing's better than that."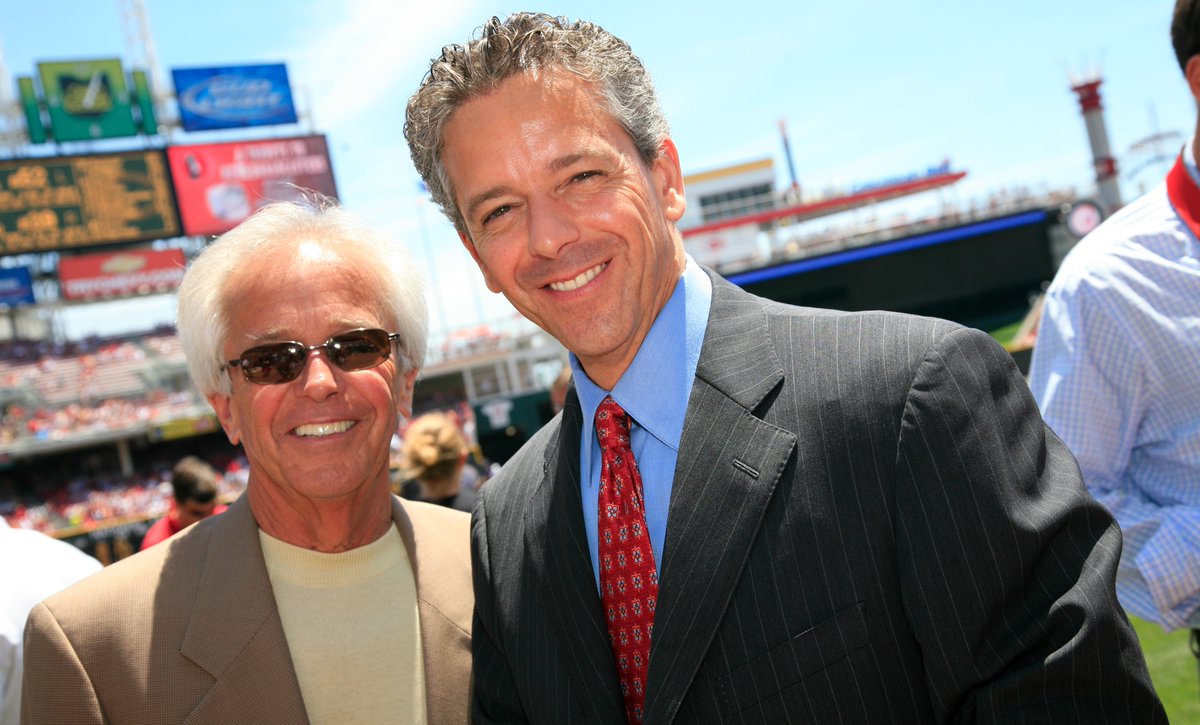 Thom began his career in the late '80s, working for the Cubs and Diamondbacks before returning to Cincinnati in 2006. Thom proved himself to be a top tier broadcaster with a very straight forward style. In some ways he took some of the best of his father and made it his own. Thom is not shy about voicing an opinion during a game, about a player or team or whatever. As mentioned, Marty was one of those "fans" in the booth back in the day, Thom has a knack for being able to do that as well.
Thom was fortunate to grow up in Cincinnati and tag along with Marty to the ballpark. He learned a lot about the game from some of the greatest Reds in history and of course his dad. As Thom rose through the ranks, dad was always there for him. "After games or the next day or as the years went by to Chicago or Arizona or even now, I can certainly and have, thousands of times, picked up the phone or sat down with him and say hey how would you have maybe handled this or what do you think about the way I handled that?" Brennaman said last September on a Reds' podcast. "Especially during football season. He's able to sit back and watch a lot of the games I'll do during the NFL season. He'll say 'hey what were you thinking about that?' or I'll say 'what did you think about that.' It's a pretty dog gone good coach to have around."
Thom spoke about his decision to leave Arizona and join his dad in Ohio on the Reds' Flagship Radio Station, WLW. "Having a chance to work with him (Marty) is sort of the cherry on top of the sundae. You know the sundae was built on a foundation of I've always been an Ohio guy. I just love Cincinnati," he said. "I loved growing up in this part of the country. I just thought it would be really great if our children could grow up here. I'm really just going to miss being around him."
The Brennamans are the only father-son combination each to have called a perfect game (Marty for Tom Browning in 1988; and Thom for Randy Johnson in 2004).
Harry, Skip and Chip Caray
Maybe the most popular broadcaster of all the duos (in this rare case a trio) was Harry Caray. The elder stateman of the trio held down gigs with the Cardinals, White Sox and Cubs (he also had a brief stint with the A's and St. Louis Browns). He teamed with Jack Buck in St. Louis to form a terrific broadcast team on Cardinals Radio. Harry was a showman though and that really came through when he went to the White Sox. The eldest Caray started the tradition of singing "Take Me Out to the Ballgame" on the PA, from the booth in the 7th inning (thank you Bill Veeck). He would swing his microphone encouraging the crowd to join him, to the delight of those in attendance and those watching at home. While it was big on the Southside of Chicago, it exploded on the Northside.
When Harry came to the Cubs, he was the attraction. The team was starting a rebuild under GM Dallas Greene and they weren't very good. Caray was the ultimate salesman for baseball, pointing out the great things about being at the game and also calling things out that needed it. Some of the things Harry got away with then, probably wouldn't fly in today's game or world. Lost in all of that though, was Harry in his early days and up until he suffered a stroke in 1987 was a tremendous broadcaster – clean, crisp and concise calls of some big moments in the game of baseball. Not that he wasn't good after 1987, he kind of steered into the skid and embraced his role as an entertainer and someone people wanted to watch. Harry passed just before the 1998 season, the year he was supposed to start working with his grandson, Chip. That duo never materialized. More on that in a moment.
Harry's son, Skip Caray was as much a part of Atlanta Braves lore as his father was with both Chicago baseball teams. Skip joined the Braves broadcasts in 1976 and stayed there until his untimely death in 2008. Skip and longtime partner Pete Van Wieren formed a widely popular duo on Superstation WTBS. They were seen all across the country (as were the Cubs during that time) growing a fan base in places not even near Atlanta.
Skip was widely popular and not for the same reasons his dad was. Skip's style was often imitated but never duplicated. He had a quick wit and a sarcastic sense of humor that really made him so endearing to most fans. Some didn't take his sarcasm to heart and weren't fond of his deprecation of some of the bad Braves teams in the 1980's. Skip would try to make light of horrible games, in fact with the Braves down big in a game he said, "It's OK to walk the dog now, folks, if you promise to support our sponsors." Priceless.
Chip Caray is the third member of the trio. Chip came into his own as the television voice of the Chicago Cubs from 1998 until 2004. Chip has an enthusiasm for the game that is hard to match. His home run calls during the '98 race between Sosa and McGwire were featured prominently during Long Gone Summer when it debuted last weekend.
"Swung on and belted…" is a signature call. Chip is a cerebral guy and really knows the history of the game of baseball. You can tell that he really loves what he does and really loves the game with his style.
Chip was hired by the Cubs to work with his grandfather Harry in the booth for the 1998 season. Unfortunately, Harry passed away in February of that year, and they never got to work together. "I never got to close the family book with Harry, I didn't know him well and had very little interaction with him, which is why '98 is still bittersweet in many respects.", Caray told me. "There is a ton of regret not getting to 'know' my grandfather on a personal level. Professionally, I mean, an entire history of baseball in our family was lost, I would have loved his advice on how to handle being a play-by-play guy in a big city like Chicago…all of that gone in a flash," said Chip.
When the Cubs chose not to renew his contract on the final day of the 2004 season, he announced he was headed to Atlanta to work with his father Skip on Braves' broadcasts. A man he didn't know very well. "My parents were divorced; I knew my dad loved me. I saw him two weeks a year. As he said one time, 'I left when you were five and all of the sudden, I see you and get to know you and you're 16 and 6 foot 4.' That was an eye opener for him and an eye opener for me too," said Chip.
"As bittersweet as it was to leave the Cubs, I was overjoyed getting a chance to work with my dad and be his son," said the youngest Caray. "Understand that while divorce is in one way a failure it doesn't make you a failure. We had a heart wrenching conversation one time. He said 'I feel so guilty about the things I wasn't able to do with you as a kid.' I stopped him and said 'do you like who I am as a person? Forget the broadcast, do like what you see of me as a person, a husband, a father?' He said 'yeah', and I told him that he needed to understand that all of these experiences and things that I went through have made me who I am.", he recalled. "So, celebrate that you did a lot of things right. It turned out ok. I think it gave him some peace and was sort of the basis of understanding for us and not looking back at what didn't happen or should have happened but think about what could be from that point on," Chip said with a smile in his voice.
"The moments and times I had with my dad were great, we had a lot of laughs. He left us far too soon. I miss him every day," Chip said.
He recalled how important it was to forge a relationship with his dad. "We were able, as adults, to reconnect the fibers of family that weren't frayed by any stretch, but had never really been put together.  My dad developed amazing relationships with my kids, my wife and it was so rewarding to see how proud he was of me being a husband, father, and yes, broadcaster too."
In May of 1991 all three Caray's were in the booth together, for the open of the broadcast when the Cubs hosted the Braves. Chip and Skip with Atlanta and of course Harry with the Cubs. 
It still amazes me how the game of baseball is such a family affair. Whether it be on the field, the broadcast booth or in the stands, it's generational. It's meant to be shared with father's and sons or father's and daughters. Let's hope those in charge of the game realize it and get the players back on the field soon.
Others include (not specific to baseball only):
Marv and Kenny Albert
Harry and Todd Kalas
Ian and Noah Eagle
Will and Sean McDonough
Don and Daron Sutton
Ken and Casey Coleman
Woody and Wes Durham
Dan, Dan Jr. and John Kelly
Andy Masur is a columnist for BSM and works for WGN Radio as an anchor and play-by-play announcer. He also teaches broadcasting at the Illinois Media School. During his career he has called games for the Chicago Cubs, San Diego Padres and Chicago White Sox. He can be found on Twitter @Andy_Masur1 or you can reach him by email at Andy@Andy-Masur.com.
Your Football Conversation Has To Be Different
I don't know why any host would go with B- or C-material just for the sake of providing variety. That's silly to me.
Rejoice! Ball is back, baby. Life is just better when football season is included; am I right? (That was a rhetorical question because I know I'm right in this case.) Like many people in this country, I'm all about the pigskin. Outside of my family and friends, there aren't many things in life that I love more than BALL.
With all of that being established, a simple question still exists: is there such a thing as talking too much football on a sports radio show?
I think it isn't as much what you're talking about; it's how you're talking about it. For instance, it isn't good enough to lazily say, "Ehh, we'll start off by talking about the game last night." Well, how are you going to talk about it? Do you have anything original, interesting or entertaining to say? Or are you just gonna start riffing like you're in a jam band hoping to accidentally stumble onto something cool after six minutes of nothing?
Talking about football is like opening a new burger joint. Hang with me on this one. There are so many options — Burger King, McDonald's, Five Guys, Wendy's, In-N-Out, etc. — that you can't expect to have great success if you open a run-of-the-mill burger joint of your own. Having an inferior product is going to produce an inferior result.
It comes down to whether a topic or angle will cause the show to stand out or blend in. Going knee-deep on a national show about the competition at left guard between two Buffalo Bills offensive lineman doesn't stand out. You'll get lost in the shuffle that way.
A show needs to constantly be entertaining and engaging. One way to check that box is with unique viewpoints. Don't say what other shows are saying. Your burger joint (aka football conversation) needs to be different than the competition. Otherwise, why are you special?
Another way to stand out is with personality. It's impossible to have unique angles with every single topic that's presented. A lot of hosts recently pointed out that the Dallas Cowboys committed 17 penalties in their first preseason game against the Denver Broncos. But Stephen A. Smith said it differently than everybody else. That's what it comes down to; either say things that other shows aren't saying, or say them differently.
New York Jets head coach Robert Saleh made a comment recently that too much of anything is a bad thing. So back to the original question, is there such a thing as too much football talk on a sports radio show?
Variety is the spice of life, but quality is the spice of sports radio. If a show provides quality, listeners will keep coming back. It's really that simple. Sure, hosts will hear "talk more this, talk more that" from time to time, but you know what's funny about that? It means the listeners haven't left. The show is providing enough quality for them to stick around. If the quality goes away, so will the audience.
It's smart for hosts and programmers to think, "What's our strongest stuff?" If that happens to be a bunch of football topics, great, roll with it. I don't know why any host would go with B- or C-material just for the sake of providing variety. That's silly to me.
Former NFL quarterback Michael Vick said something interesting last week while visiting Atlanta's training camp. Vick was asked which team's offense he'd like to run if he was still playing today. "The offense Tom Brady is running in Tampa," Vick said. "Pass first."
The answer stood out to me because throwing the ball isn't what made Vick special with the Falcons. He was a decent passer and a dynamic runner. The run/pass blend made Vick a problem. I totally understand wanting to prove doubters wrong, but there are a lot of athletes that get away from what they do best while relying on something else that isn't their specialty.
Los Angeles Lakers guard Russell Westbrook is not an outside shooter. He's brutal in that area. Yet Russ will keep firing threes at a 30% clip. Why? Attacking the rim and working the midrange is his game. You don't see Phoenix Suns guard Chris Paul bombing threes if they aren't going in. He kills opponents with his midrange skills all day.
It'll be interesting to see how Miami Dolphins quarterback Tua Tagovailoa approaches this season. He's received a steady diet of "can't throw the deep ball." Will he try to a fault to prove doubters wrong, or will he rely on what he does best? Beating defenders with timing and accuracy on shorter throws is where he finds the most success.
Working to improve your weaknesses makes sense, but it shouldn't come at the expense of going away from your strengths. How is it any different in sports radio? If a host isn't strong when it comes to talking basketball or baseball, it definitely makes sense to improve in those areas. But if that same host stands out by talking football, at some point it becomes like Westbrook jacking up threes if the host gets too far away from a bread-and-butter strength.
Former New York Yankees closer Mariano Rivera is the only player in the Baseball Hall of Fame that was unanimously elected. He relied on his cutter — a fastball that moved, a lot — about 85% of the time. Mo didn't say, "Man, my four-seam fastball and changeup aren't getting enough respect." He rode that cutter all the way to Cooperstown and legendary status.
Rivera is a great example of how playing to your strengths is the best approach. He also shows that quality trumps variety every time. Let's put it this way: if 85% of a sports radio show is football content, and the quality of that show is anywhere near Mo caliber, it's destined to be a hit.
One of my buddies, Mike Zanchelli, has always been a hit with the ladies. I think he came out of the womb with at least 10 girls in the nursery showing interest in him. He had a simple dating philosophy: "Always. Leave them. Wanting. More." That might work in dating, but I think it's the opposite in sports radio. Most listeners don't hear the entire show. If they're in and out, wouldn't you want them to hear your best stuff when they are tuned in?
That's why I say screw variety. That's why I wouldn't worry about overserving your audience an all-you-can-eat BALL buffet. I think it's much wiser to focus on producing a quality product regardless if it's well rounded or not.
Brian Noe is a columnist for BSM and an on-air host heard nationwide each weekend on FOX Sports Radio. Previous roles include stops in Portland, OR, Albany, NY and Fresno, CA. You can follow him on Twitter @TheNoeShow or email him at bnoe@premierenetworks.com.
ESPN Has Gone From Playing Checkers to Chess In Two Years
Those decisions make the future ones with the Pac-12, the Big 12, NBA and UFC fascinating to watch but what's clear is that this ESPN strategy is different.
In the days after the Big Ten news leaked regarding some of the details of their upcoming media deals, I was hankering for more information. I wanted more insight as to the "why". Why did the Big Ten leave such a long-lasting and prosperous relationship with ESPN. I just couldn't imagine it and it's why I wrote about it last week.
It was in that pursuit of knowledge that I tuned into a podcast favorite of mine, The Marchand and Ourand Sports Media Podcast. The show's hosts are deep into the weeds of sports media with John Ourand at the Sports Business Journal and Andrew Marchand at the New York Post. It was Ourand who was dropping dimes of news on the Big Ten deal last week. I wanted to hear him dive deeper, and he did on the podcast. But it was a throwaway line that got my wheels churning.
"This is about the third or fourth deal in a row that ESPN, the free-spending ESPN, to me has shown some financial discipline" Ourand said. "They are showing a bit of financial discipline that I hadn't seen certainly when John Skipper was there and pre-dating John Skipper."
I had to keep digging and folks, it's true. ESPN is essentially Jimmy Pitaro in the above quote, the Chairman of ESPN. Since taking the role in 2018, he was put into an interesting position of being in the middle of a lot of big money media rights deals that would be coming due for renegotiation soon. The rights fees for EVERYTHING were going to balloon wildly. But in the last two years, he has comfortably kept the astronomical rates somewhat within shouting distance.
The big one, the NFL media rights deal agreed to last March, saw ESPN pay a very strong 30% increase for the rights. However, other networks involved had to pay "double" as Ourand so succinctly put it. He also personally negotiated with FOX to bring in Troy Aikman and Joe Buck to make their Monday Night Football booth easily more recognizable and the best in the sport. ESPN in that deal, that did NOT include doubled rates, got more games, better games, and more schedule flexibility. ABC gets two Super Bowls in the deal too. Simply put, Jimmy Pitaro set up ESPN to get a Super Bowl itself, but for now his network will take full advantage of the ABC network broadcast when the time comes (2026, 2030).
The recent Big Ten deal was massive because the conference spent forty years with ESPN and decided to reward that loyalty with a massively overpriced mid-tier package. ESPN balked at the idea. In their back pocket lies a lot of college football media rights deals with a lot of conferences including one that will be a massively profitable venture, the SEC package. ESPN takes over the CBS package of the "top" conference game. Yes, it paid $3 billion for it, but it's a scant $300 million annually. Sure, that's over 5X what CBS was paying annually but CBS signed that deal in 1996! I need not tell you all of the advancements in our world since Bob Dole was a presidential nominee. ESPN now gets to cherry-pick the best game from the best conference and put the game anywhere they damn well please to maximize exposure.
The F1 media rights extension is massive because of two things: one, they got it cheap before the sport littered your timeline on weekend mornings and two, when they re-signed with F1 this summer they paid way less than other streaming networks were reportedly willing to pay. The brand, the savvy worked again. ESPN takes a small risk for a potentially exploding sport and much like CBS did with the SEC for 25 years, can make massive margins.
I can keep going, and I will with one more. Sports betting. The niche is growing like my lawn minutes after the summer rainstorm. Pitaro has said publicly that sports betting "has become a must-have" and he's full-frontal correct. ESPN is in an odd spot with their clear lineage to Disney, but it's obvious something massive is going to come soon with ESPN reportedly looking for a deal in the $3 billion neighborhood.
Pitaro has been positioning this company from a position of strength. He pays big money for big properties, but knows when he's getting taken advantage of and most importantly, isn't afraid to pull his brand's name out of the deep end.
ESPN may have an issue with dwindling subscribers, but that's an everyone problem. The difference is ESPN is constantly trying to get you from one network ship you think is sinking into another network life raft. If you want to leave cable or satellite and go streaming, you can. ESPN+ is there to pick up the pieces. Or Sling (with an ESPN bundle). Or YouTube TV (ESPN is there too). Or a myriad of other ways. They are positioned so well right now to be where you think you want to go. Jimmy Pitaro and ESPN have been amazing at doing whatever they can to keep you paying them monthly.
The network has been aggressive with media rights deals but these newer ones have been diligently maneuvered by Pitaro. It was a choice to essentially back the SEC for the next decade, and to put more money into the potential of F1. The effort was a conscious one to keep a tight-lipped mission to bolster Monday Night Football's booth. It was an understated strategy to reinvest in the NHL. Those decisions make the future ones with the Pac-12, the Big 12, NBA and UFC fascinating to watch but what's clear is that this ESPN strategy is different. The old adage of "pigs get fed, hogs get slaughtered" may have applied to the network under different leadership, but these aren't eating pigs. These are boars.
Arky Shea serves as BSM's evening editor, a daily news writer, and a weekly media columnist. He has previously worked for Outkick, 97.7 The Zone, 740 Sports Radio, and 730 The Ump where he held roles as the station's program director, afternoon host, and producer. To connect, find Arky on Twitter @ArkyShea.
The Producers Podcast – Big Baby Dave, Jomboy Media
Brady Farkas is a sports radio professional with 5+ years of experience as a Program Director, On-Air Personality, Assistant Program Director and Producer in Burlington, VT and Albany, NY. He's well versed in content creation, developing ideas to generate ratings and revenue, working in a team environment, and improving and growing digital content thru the use of social media, audio/video, and station websites. His primary goal is to host a daily sports talk program for a company/station that is dedicated to serving sports fans. You can find him on Twitter @WDEVRadioBrady and reach him by email at bradyfarkas@gmail.com.