Anatomy Of a Broadcaster: Jim Nantz
"Nantz keeps up his high-level play-by-play, despite being one of the busiest guys in network television."
"Hello friends."
It's a signature greeting from one of the top flight broadcasters in America, Jim Nantz. You've heard it coming from many different sports venues over the years, highlighting his versatility in sports broadcasting. Nantz's opening phrase is more than just a throwaway line, it has deep meaning to him, which we'll get into a little later in the column. Nantz is one of the busiest, "number ones" in the industry. Leading CBS' coverage basically every sport they have, with the exception of college football. Oh and he's hosted the Olympics as well.
Nantz's CBS career started on September 14, 1985 when the legendary Brent Musburger who was live (or looking live) at Michigan Stadium threw it back to the studio and introduced the baby faced 26-year-old Nantz who was live in the studio alongside Pat Haden. Nantz remembered: "My pulse was racing in high gear; I had never encountered such a flash of tongue-tying anxiety before — not even during Mr. Applegate's public-speaking class back in high school.", he told CBS publicists. 35 years later he's still going strong.
This is already shaping up to be an unusual year for Nantz. By now, he'd have already called the NCAA Championship Game and the Masters but the former was cancelled and the latter postponed. Will the Masters take precedent over the NFL? As Nantz told the Athletic, he knows already where he'll be come November, "I don't think there's any doubt that I will be anywhere other than Augusta National," Nantz said. "One of the great honors of my life is that I get reminded of The Masters virtually every day. That's not an embellishment. So, do I think about the Masters from November 12-15? Oh, my goodness, yes."
BEST KNOWN FOR:
This is going to be a very difficult "field" to narrow down. Nantz leads CBS' coverage of PGA Tour Golf, the NCAA's Final Four and the NFL, including Super Bowls. It's tough to narrow things down, but I'll give it a shot here.
AGUSTA NATIONAL
Let's start in the shadows of Butler Cabin at the famed Augusta National Golf Course. I can think of three separate moments that made Nantz a national sensation. Golf is a tough enough sport to call, because of the pacing, the energy, the silence and the exuberance.
In 1986, Nantz was working his very first Masters at the age of 26. He was assigned the 16th hole at the famed course. Little did he know that 46-year old Jack Nicklaus would be on track to win the tournament for the 6th and final time. Nantz was a part of watching the "Golden Bear" shoot a 6-under par back nine which included a birdie in the young broadcaster's view. This wasn't the final hole, but the call showed the wit and ability for Nantz to capture a moment. When Nicklaus birdied, Nantz waited a second or two so the crowd could swell and then uttered, "The Bear…has come out of hibernation.". He then laid out for a few seconds before the telecast cut to the next hole. While it wasn't his greatest Master's call ever, it showed viewers that were paying attention, that this guy gets what he's doing.
Eleven years later, Nantz would once again be witness to history. This time it wasn't a 46-year old mainstay winning the tournament, but a 21-year old by the name of Tiger Woods. The first major championship in the career of Woods was a thing of beauty. He won it by 12 strokes and set a record for the lowest score. It was capped off by a putt to end it, with Nantz uttering the now famous, "There it is, a win for the ages.", then 40 seconds of silence. Pictures telling the story. A young golfer in a red shirt, pumping both fists in the air, hugging his caddie and seeking out his parents. The beauty of television and the beauty of a broadcaster that understands that there are no words you can say that will match what people are seeing at home.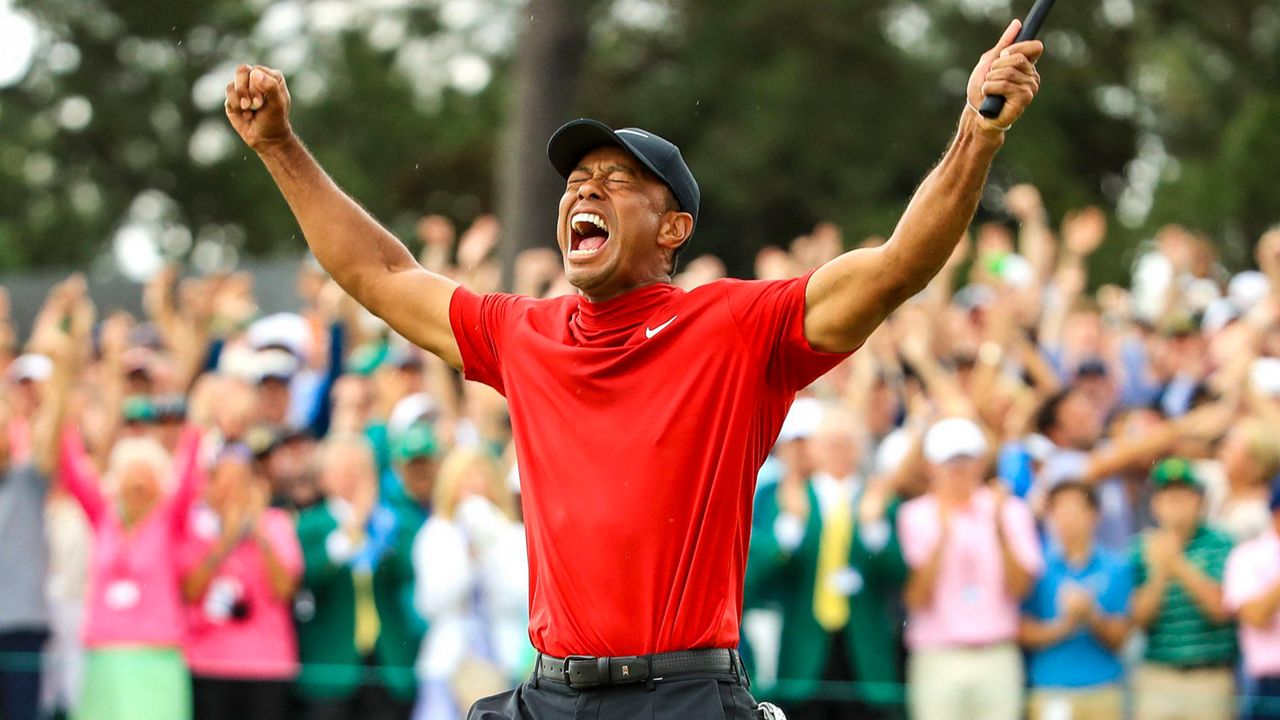 Nothing put that philosophy on display more than Nantz's work covering yet another Tiger Woods win. This was more improbable than the first one he witnessed 22 years prior. Woods had battled injuries and off the course issues and was starting to put things together, culminating in a 2019 Masters Championship. Nantz was right on in his commentary leading up to the final clinching putt, comparing the two events as basically night and day. Leading up to last putt, "this is the minute that millions around the world have waited for, waited for years, many doubted we'd ever see it, but here it is," said Nantz, then Woods completed the tap-in to win it all, with Nantz exclaiming , "The return to glory!", then nothing for 2 minutes and 42 seconds. That is a lifetime of silence for any broadcaster. The temptation to jump in, resisted by the professional Nantz let the moment speak for itself.
NFL
Nantz called his first Super Bowl in 2007, Super Bowl XLI with the Bears and Colts playing in the rain in Miami. This one was special not only because it was his first call of the big game in the booth, it started out in a historic way. Devin Hester became the first player in Super Bowl history to return the opening kick for a touchdown. "Gets past the first wave and here he goes, it's Hester inside the 30, Hester's going to take it all the way for a touchdown. No flags, 92 yards!" he described.
Not a bad way to start both of their Super Bowl careers huh?
The irony of it all, he was ready for it after talking to a broadcasting legend before the game. Nantz recalled, "Two things raced through my mind as Hester wove his way down the field. One of my broadcasting heroes, Jack Whitaker, had counseled me earlier in the week: 'Just be prepared for the opening kickoff, Jimmy.'", he remembered. Then another bit of irony, Nantz continued, "Then, I flashed back to the first NFL play I ever witnessed – my dad and I were standing in a smoky aisle in old Tulane Stadium in 1967, when John Gilliam ran back the opening kickoff of the first game in New Orleans Saints' franchise history. So, there was a sense of 'perfect symmetry' to my first Super Bowl play-by-play call." Nantz recalled the story to CBS.
With that broadcast Nantz joined Curt Gowdy, Kevin Harlan and Dick Enberg as the only play-by-play announcers to ever call both a Super Bowl and an NCAA Men's Basketball Championship Game.
NCAA Tournament
He's called so many memorable games in this tournament, but a few recent calls stuck out to me as I was compiling my list.
The 2016 NCAA Championship game won by Villanova on a buzzer beater. Building the drama was Nantz, "Villanova trying to go the length of the court, with Arcidiacono. Three seconds at midcourt! Gives it to Jenkins! [Jenkins shoots, time expires] For the championship… YES!" Nantz continued, "OHHHHHHHHHHHHHH! Villanova! Phenomenal! The national champions, with Jenkins hitting the winner at the buzzer!" It can be so tough with a three-man booth, but Nantz commanded the situation and made the call, nailing it just like Jenkins' buzzer beater.
Just last year, in the 2019 NCAA Championship game, Virginia avenged a first round loss the year before to UMBC, the first 16 seed to beat a number one in history. The Cavaliers were dribbling out the clock and Nantz exclaimed, "And Virginia, with the all-time turnaround title!" Pretty simple and pretty darn to the point.
There were so many more moments to choose from, I know I left a bunch out.
WHY IS HE SO GOOD?
The answer is variety. Nantz is like a chameleon with his ability to adapt to the many different sports he calls. His pacing, timing and energy are all based upon the moment and based upon what he's calling. You can't be energetic all the time in golf. You have to be energetic all the time in football and college hoops. Nantz knows when and how to use that energy, effectively and in the right spots.
I enjoy most everything he calls, but to me the golf is where Nantz really shines. His voice is soothing and relaxed. It's measured in its pacing, matching the pictures and emotions on screen. Some of his crowning moments as a broadcaster have come on the PGA Tour, having been around for the beginning of "Tiger Mania", watching the tail end of the "Golden Bear" era.
He's got that perfect tone for the tower on 18. Nantz has the ability to paint a picture with his words, even though you can see those pictures on your television. That's not easy to do. He sets scenes at the beginning of each day's golf coverage and it almost sounds like a song. It's on the melodious side and ear pleasing as well.
It doesn't matter who he's working with, Grant Hill, Bill Rafferty, Tony Romo or Nick Faldo, it's a seamless broadcast. Nantz has a way of bringing out the best in all of these guys, especially his newest partner Romo.
It's no accident that Romo is a star on the rise, you need to look no further than to his side and Nantz. It's an art form as a play-by-play announcer to make your analyst the star without even intending to do so. That's what you're seeing. It's Nantz's professionalism that is the underlying current.
Nantz keeps up his high-level play-by-play, despite being one of the busiest guys in network television. His schedule is going to be even more crazy as a result of the COVID-19 pandemic. Normally he's pretty busy with a little down time, but not this year. How's this for a workload?
2020 Masters — Nov. 12-15
NFL football — every Sunday through Jan. 24
Farmers Insurance Open — Jan. 28-31
Super Bowl — Feb. 7
PGA Tour golf — Feb. 14-21
NCAA Tournament — March – Early April
2021 Masters — April 5-11
PGA Tour golf — April 18-May 16
PGA Championship — May 20-23
As mentioned Nantz is known for a couple of signature lines, but one is unmistakable. "Hello friends," the iconic greeting you get at the start of each and every broadcast he does. If you've ever wondered why, the story surrounding the origin is a touching one.
Believe it or not, the tradition only began in 2002. At the time, Nantz's father had Alzheimer's and Jim wanted to do something under the radar to send his dad a special message during the PGA Championship.
Last year, Nantz explained the origin on "The Dan Patrick Show", "My father was deep in the throes of his battle that he would lose in '08 to Alzheimer's, and he had faint recognition of his son. The last thing I said to him earlier in the week in Houston was, 'I'm going to say a little cryptic message to you on the air this weekend, and it's 'Hello, friends." Because my dad had nothing but friends in his life," Nantz recalled.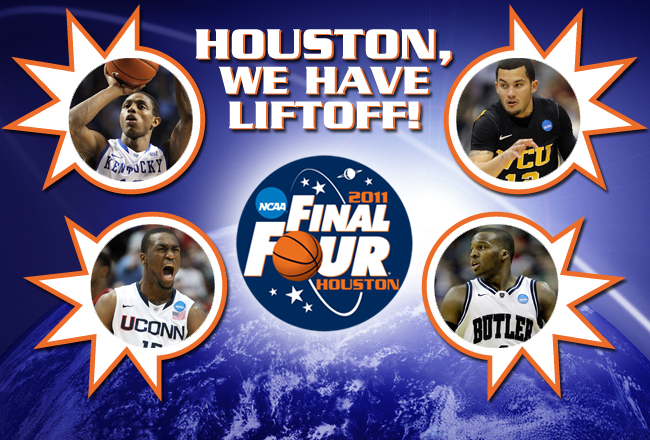 While it began as a one-time thing, one of Nantz's friends suggested that he repeat it during Sunday's final round. He did and has continued the tradition since. "I love it because for that little moment I connect with my dad and I feel like I'm talking to him," Nantz said. "It's a calming effect every time I come on the air."
Pretty cool tradition by any standard.
Anatomy of an Analyst: Ray Ferraro
"I did get some advice early on, it's not an accumulation of word count," Ferraro told the Hartford Courant. "If you don't have something to say where you can provide some context then there's no need to say it. If the audience thinks I'm talking too much, then I probably think I'm talking too much."
He was given the nickname, 'The Big Ball of Hate' by former New York Rangers teammate Glenn Healy, but Ray Ferraro is easy to like if you watch him work. Ferraro retired from the NHL just before the 2002 season after a rather successful 18-year run. Even before retiring he began talking hockey on television while still an active player. Working for ESPN as one of the more respected minds and voices of the game. 
Ferraro returned to ESPN/ABC for the 2021-22 season as the lead color commentator for their NHL coverage.
Ferraro was born in Trail, British Columbia.
HOCKEY CAREER
Ferraro scored 408 career goals and recorded a 898 career points in 1,258 games. His 18-year NHL career included stops in Hartford, New York, for both the Rangers and Islanders, Atlanta, Los Angeles and St. Louis.
He was a 40-goal scorer twice, once scoring 41 in Hartford in 1988-89 and an even-40 for the Islanders in 1991-92. He also tallied a career best in points that season with New York, scoring 80 total. For those efforts, he was named to the NHL All-Star game in 1992.
Ferraro had a memorable Stanley Cup playoff run for the Islanders in 1993. He scored two overtime goals against the Capitals. The Islanders would knock off Washington and defending champion Pittsburgh in that postseason. He assisted on the goal that won the game and series in overtime of Game 7 against the Penguins. That goal advanced the Islanders to the Wales Conference Finals, which they lost to the eventual champion Montreal Canadiens. Ferraro finished that playoff season with team-leading totals in goals (13) and points (20).
ROAD TO ESPN/ABC HOCKEY
When Ferraro officially retired from hockey in 2002, he had already been working on some ESPN hockey broadcasts. He appeared on NHL 2Night with John Buccigross and Barry Melrose, while still an active player.  
He later worked as a studio analyst for the NHL on NBC, was a color commentator on Edmonton Oilers broadcasts on Rogers Sportsnet and some other hockey programs on the network. 
Ferraro has also worked as a color commentator and studio analyst for the NHL on TSN. He provided commentary for CTV during the 2010 Winter Olympics as well. After Pierre McGuire left TSN for NBC, Ferraro became the lead color commentator for their hockey telecasts. When Rogers Media, the parent of TSN's rival Sportsnet, gained the national NHL rights in 2014-15, Ferraro became a color commentator for the network's regional NHL telecasts. 
When ESPN regained the rights to air NHL games, Ferraro rejoined the network and is a big part of their broadcasts now. Last year, Ferraro waxed poetic about his first foray with ESPN.
"I didn't know it was a career at the time, I was still playing. I got to work with John Buccigross and Barry Melrose," he told The Province in 2021. He was recalling his first foray into broadcasting alongside Buccigross on Melrose on ESPN2's NHL 2Night, a step he took while he was still an active player. "All these years later, I'm back."
AS AN ANALYST
Ferraro's credibility is unquestioned. Ferraro also understands his role, maybe more than a lot of analysts in other sports. Ferraro doesn't try to force things or try to show off his deep knowledge of the sport. His philosophy on the job is spot on.  
"My role is to provide some 'why' as to what's happening," Ferraro said to the Hartford Courant back in May of this year. "Everybody's got a television and they can see what's happening, my thought is to try to use my experience from playing and from being around the game to explain why it happened. I love the game and I've been around it a long time, and I hope that comes across."
Ferraro doesn't have any hokey catch phrases, he just delivers the commentary straight without gimmick or flash. Whether or not fans of either team playing want to believe it, he has absolutely no rooting interest in a particular game. The length Ferraro goes to make sure that's the case is interesting. 
"I make it point to not really get to know many of the managers or the players on a personal level other than those I just do know," he said to the Hartford Courant. "Because I don't want it to cloud how I analyze a play. You always hear from people who think you're biased one way or the other, but honestly, you'd have to go a long way to find somebody who cares less who wins than I do. My job is not to care."
Hockey is fast-paced and many things can happen between his comments, depending on stoppages in play. He's not jumping in and interrupting the flow of the game with nonsense. Others in his role have. Ferraro doesn't spew endless mundane facts, like where a guy played his junior hockey, or how small a player's town is. Ferraro picks his spots well and compliments the play-by-play announcer. 
"I did get some advice early on, it's not an accumulation of word count," Ferraro told the Hartford Courant. "If you don't have something to say where you can provide some context then there's no need to say it. If the audience thinks I'm talking too much, then I probably think I'm talking too much."
That's a very refreshing take. Too often analysts and even play-by-play announcers, just say something to say it. The result is usually awkward. Ferraro understands the nature of his sport as well. If you make a comment that lasts too long on something that just happened, chances are pretty good that something else, maybe more important will happen next. I enjoy the fact that he understands it.
Ferraro is such a great breath of fresh air, compared to some that have done it in the past. His commentary is even handed and succinct. It's bread from the experience of a long and successful NHL career and I think it means something to the viewer.
DID YOU KNOW?
Ferraro played for British Columbia in the 1976 Little League World Series. They finished with a 1-2 record.
On November 23, 2015, Ferraro became the first hockey broadcaster to call a game where his child also played in the same game. It happened with the Maple Leafs hosting the Bruins. Ferraro's son Landon was playing for Boston. Ray let it slip at the end of an interview, telling his son 'Don't be shy, go get another goal."
Ferraro remarried in 2004 to former U.S. women's ice hockey team captain Cammi Granato, who also worked as a women's hockey analyst during NBC's coverage of the 2006 and 2010 Winter Olympics. 
Anatomy Of A Broadcaster: Jason Benetti
"Benetti is entertaining to watch. Whether you're an old school follower of baseball and feel that batting average is still important, or a newer, metrics fan, he can appeal to you."
His voice is unmistakable, his humor makes his broadcasts entertaining and oh yeah, he's everywhere these days. Jason Benetti has stepped into the limelight as more than just a local baseball television announcer.
Benetti added a new feather in his cap a couple of weekends ago, picking up lead play-by-play duties for the new NBC-produced MLB Sunday Leadoff games seen on Peacock. He will be joined by a series of rotating analysts representing the teams in each game.
Benetti's main gig during the summer months is the White Sox. Since 2016, when he took over for Ken "Hawk" Harrelson, he's been the lead television voice for the team. For most people, the two fairly high-profile jobs would be enough, not for Benetti. 
He also fills on an occasional Chicago Bulls broadcast for NBC Sports Chicago during the fall and winter months. Benetti is also employed by ESPN. He joined the network as a play-by-play commentator for college basketball in 2011. Since then, he's also called college football, baseball and lacrosse games, high school football and Major League Baseball, as well as NFL, college football and MLB on ESPN Radio. Benetti serves as the play-by-play man for ESPN's MLB StatCast AI coverage of the Wild Card and Home Run Derby.
Benetti also called his first Olympics this past year. In 2021, he was named the play-by-play announcer for NBC's coverage of baseball at the Summer Olympic Games.  
Benetti graduated from Syracuse in 2005 with bachelor's degrees in broadcast journalism, economics and psychology. He then went on to earn his J.D. at Wake Forest School of Law in 2011.
The Illinois native gives back to his alma mater, as he is involved with the Burton Blatt Institute at Syracuse University's Communication Hope through Assistive Technology camp. He has previously taught sports broadcasting as an adjunct professor at S.I. Newhouse School of Public Communication.
ROAD TO WHITE SOX/ESPN/NBC
Benetti, like many of us that were fortunate enough to have a radio station at our high school, joined his school's radio station. At Homewood-Flossmoor High School in Flossmoor, Illinois, Benetti was a regular disc jockey on WHFH and also did play-by-play of various Vikings sporting events.
As mentioned, he attended Syracuse where he called lacrosse and women's hoops. Then upon graduation he enrolled at Wake Forest's school of law. While there, Benetti was the voice of High Point basketball games, Syracuse Chiefs baseball and he did high school sports for Time Warner Cable.
Benetti served as an intern for Chicago sports radio station 670 The Score. In 2011 Benetti joined ESPN, where his broadcasting career would move him into television, despite his childhood preference for radio-only broadcasting. Benetti would call select college basketball games for the ESPN3 online service, and then move on to ESPN2 and ESPNU. In 2013 Benetti called his first football game for ESPN's syndicated American Athletic Conference package.  
In 2020, Benetti signed a multi-year extension with ESPN.
WHY IS HE SO GOOD?
There is something inherently likable about the way Benetti calls a game.  He has the authoritative voice you like to hear from an announcer, yet he isn't monotone. When he gets excited during a game, he doesn't shout and scream, it's much more natural. It sounds just like it should in the flow of a game that has big moments. It's a good lesson for some young broadcasters that like to scream their way through those times.  
Benetti is entertaining to watch. Whether you're an old school follower of baseball and feel that batting average is still important, or a newer, metrics fan, he can appeal to you. He doesn't rely on the stats. Benetti will take those stats and make a story, or build an argument with them. It's a much cleaner way to get the point across rather than just the straight numbers. 
I like the underlying sarcasm that will find its way into his telecasts from time to time. Benetti is a smart guy and you can always tell when he doesn't completely agree with something. It's not delivered in a mean-spirited way, but the point is made, usually in a very entertaining way.
To me, the mark of a great play-by-play announcer is not just how he/she calls a game, it's how they make their analyst sound. Are they getting the best out of their partners? When you work with someone consistently, it's an easier process than when you are working with a rotating group. When Benetti is calling White Sox baseball games locally in Chicago, you can tell that he and Steve Stone are on the same page. They get the reps every day and by now, know each other extremely well and play off each other the same.
With NBC's MLB Sunday Leadoff games, he'll be working with a different analyst every week. One from each team's local broadcast. For some, this would be difficult to deal with. Not for Benetti. He already works with a number of different analysts during his college football and basketball duties on ESPN. His personality lends itself to making each telecast unique based on who he may be working with for that game. You might say he's really looking forward to the chance to do this.
"It feels like you're hosting a cocktail party every week," Benetti said on a recent NBC media conference call. "This one friend doesn't know this other friend, or they might, but the idea is to make sure that there's always conversation and to get to know people quickly. I have found I really have a love for that." he added. "When I heard about the different analysts rotating in, it was my favorite part of the whole thing. I just the love the idea that every telecast is different."
"There's a reason we picked Jason," NBC Sports executive producer Sam Flood said. "We did our homework. We know him. We love what he does, and we think he's the perfect person to be in that middle seat at the dinner party."
Benetti compared the experience to an episode of Curb Your Enthusiasm on the conference call.
"I watched a Curb Your Enthusiasm episode from either last season or the season before where they were having a dinner party, and there's this whole discussion about who's the best dinner party middle, who the best person is to sit in the middle of the table to keep the conversation going," said Benetti. "I think all of us aspire to be that at dinner parties if we're at all an extrovert, even a little bit.
"I think in my understanding of people, like I've done a lot of games with a person once, and the way I see it is when you sit down to do a game, the audience does not care at all if you're best friends with somebody or if you just met them for the first time. And so, it's on us, it's on me, it's on everybody in the booth, to understand each other and maybe have a meal before the game or talk on the phone or whatever."
He added that it's important that everyone in the booth has an opportunity to be at his/her best. Benetti realizes that the task of making that happen falls on him. 
DID YOU KNOW?
Benetti was born 10 weeks prematurely and hospitalized for three months. During the three months in the hospital, Benetti had a respiratory illness while in intensive care that deprived his blood of oxygen. It is believed that caused his cerebral palsy, which was diagnosed when Benetti was a toddler. He underwent years of physical therapy and two surgeries to improve his ability to walk.
Benetti's cerebral palsy prevented him from playing tuba during marching band season. As he told ESPN Front Row in 2014, "I wasn't balanced enough to carry it in marching band." Not wanting to exclude him, the band director asked him to serve as the halftime broadcaster for their marching events.
He helped to launch a Cerebral Palsy Foundation campaign called "Awkward Moments with Jason Benetti" in order to bring awareness through humor to the awkwardness that surrounds those with disabilities. The animated videos are voiced by Benetti. 
Benetti explains the reason he got involved. "There are moments and conversations in our society where people rely on accidental snap judgements or speak without forethought or understanding. That's ok. We all do it, and sometimes it is even funny." he said in a media release back in 2018. "But, if unaddressed, we don't know how to move past them. So, the goal of the campaign is to illuminate these moments when we might be on mental autopilot, and – by using humor – show people that they are having misperception about people – and learn to think differently."
CONCLUSION
Full disclosure, I've worked with Jason before and I find him to be not only a terrific broadcaster but also a really good guy. The thing that always struck me about Benetti is how comfortable in his own skin he really is. He is an inspiration to some, a mentor to others and an example for young broadcasters to follow. He is skilled, prepared, aware and a rising star in the industry. 
Anatomy of a Broadcaster: Joe Davis
"The sky is the absolute limit for this guy. I'm a little jealous, in fact, of the talent and poise that he possesses right now."
"Joe Davis back to throw, looks left, now over the middle, complete, touchdown!"
Before his meteoric rise in the world of play-by-play, Joe Davis was a four-year letter winner at Beloit College in Wisconsin. He was the quarterback for two seasons until a shoulder injury forced him to move to wide receiver. 
Perhaps the most important move for Davis in college was assuming play-by-play duties for the school's athletic department. When football was out of season, Davis called baseball and both men's and women's basketball on local radio and television. He served as the voice of Buccaneers spring sports for his final three years on campus before graduating in 2010. 
Now Davis holds two very high-profile jobs. He's the television voice of the Los Angeles Dodgers and has been named the number one baseball guy at Fox Sports. In both cases, he's replaced an announcer of legendary status, first Vin Scully and now Joe Buck. Big shoes to fill in both cases. If how Davis has handled the former is any indication, he'll be equally as accepted in the latter position. 
Davis is another in a long line of broadcasters that seemed to know what he wanted to do at an early age.
"If you had asked me when I was 10 what I wanted to do when I grew up, I would've told you 'Call the World Series.' So, when I say this is a dream-come-true, I really mean it," Davis said in a statement after Fox named him Buck's replacement. 
In a recent story in The Athletic, Richard Deitsch chronicled how the offer was made to Davis. He recalled meeting with Brad Zager, who is the executive producer of Fox Sports. Zager flew to Las Vegas where Davis was for the Pac 12 Tournament. It was about 4-hours from the tip and the two met at a hotel bar in the MGM Resort. The offer was made, and a very emotional Davis accepted.
"It took me a little while to get it together after the meeting," Davis told The Athletic. "And there were a number of times over the course of that week where I broke down because of the emotions of thinking it could happen and being so close to a dream coming true but not knowing."
ROAD TO FOX/DODGERS
Before his senior year of college, in 2009, Davis secured a summer job as the manager of broadcasting for the Schaumburg Flyers baseball team of the independent Northern League. He served as the team's play-by-play voice and media relations director. Also, during the fall, he filled in on men's and women's volleyball broadcasts at Loyola University Chicago. That year Davis was the voice of the State High School Volleyball Championships, for the Illinois High School Television Network.
From there Davis would go to work for the Montgomery Biscuits of the Southern League. The Biscuits were the Double-A affiliate of the Tampa Bay Rays. Davis called Biscuits games for three seasons and was named the Southern League Broadcaster of the Year in 2012. In the offseason, he also gained experience as a radio host for the Baylor Independent Sports Properties Network. While working that job, he also caught on at Comcast Sports Southeast, where he picked play-by-play duties for college football, basketball and baseball.
In July 2012, at the age of 24, he joined ESPN as a play-by-play announcer. He called college baseball, basketball, football, hockey and softball games. Davis also appeared in spot duty for Major League Baseball games that were broadcast on ESPN Radio. He made a little history in December of 2013, when he was assigned to call the Poinsettia Bowl between Utah and Northern Illinois. At the age of 25 he became the youngest person to ever announce a bowl game for ESPN. He was soon hired by Fox, and then a couple of years later by the Dodgers to call road games, and eventually succeeded the legendary Vin Scully for the team on TV. 
WHY IS HE SO GOOD?
There is a smoothness about Davis that is kind of hard to describe. He's calm at the right moments and he elevates to the big moments almost perfectly. Calling baseball can be a challenge at any age, but he seems a natural fit for the pacing of the sport. There are moments when the game is left to itself to breathe during his broadcasts. Now, there are also times when Davis shows off his ability for the big call.
The Dodgers have been in the pennant race, seemingly all the time. Huge moments demand a great call. Davis hasn't disappointed yet. 
Among his many moments with the Dodgers already were walk off home run calls, some miracle finishes, and a lot of victories.
In an article on MLB.com in August of 2020, Davis surprised a lot of folks, when saying a home run by pitcher Hyun-Jin Ryu was his favorite so far. It took place on Sept. 22, 2019, in a 7-4 win over the Rockies that provided the Dodgers with their 100th victory of the year.
"High fly ball, centerfield and deep, back goes Hanson at the wall…it's happened! It's happened! Babe Ryu!" Then nearly 40 seconds of crowd noise.
Davis provided the backstory in the article.
"The call is, whatever, not a spectacular call, but Orel [Hershiser, analyst and Davis' partner] and I had jokingly talked about it the entire season. You could go back to Opening Day [which Ryu started], and we were predicting he would hit one. Those of us who are around batting practice see how he swings, and we would joke every time he came up that this would be the time, and then it actually happened. It's the only time Orel and I both stood up and high-fived, just the incredible feeling it had actually happened."
It's just an example of how the moment is never too big for Davis. He can have fun and still keep his composure, so the fans know what is actually happening as well.
His runner-up call at that time, was a more obvious choice. It his "absolute madness" call of the Dodgers' 6-5 walk-off win over the Phillies in 2017. For more reasons than just the great call.
"It was my first month or so on the job after Vin," said Davis. "It was maybe the first time where the fanbase seemed to say, 'Hey, maybe this kid is not bad.' Because of that, it will always be special to me."
Also of importance, is the fact that Davis is able to play off of, and work well with, his analyst Orel Hershiser. The two have great chemistry. That's the hallmark of a good play-by-play announcer, get the most and more out of your color commentator. 
It speaks volumes as well, to have that kind of relationship with all the people he works with. That includes John Smoltz, his new partner for MLB on Fox games starting this season.
"Having worked with Joe before, finding our chemistry in the booth is already well underway and I'm looking forward to our partnership over the next several years," said Smoltz in a statement. "I had the opportunity to work with the very best at Fox Sports in Joe Buck, and I feel fortunate to get to continue with another exceptionally talented 'Joe' in Joe Davis."
For someone as young as he is, it's impressive that he had those skills early on and continues to hone what has worked for him. When he was just 24-years-old and had a crack at the national spotlight, he might have been overwhelmed. Well, if he was, it surely didn't sound like it, because he was able to advance in the business at a rapid rate.
DID YOU KNOW?
Davis named his third child, a boy, to honor his partner in the booth, Orel Hershiser. Theodore Orel Davis arrived in July of 2021. Hershiser was very touched by the gesture from the Davis'.
Did you realize that Davis' daughter Charlotte broke the news of her daddy getting the World Series assignment from Fox? Davis explained to The Athletic that he tried to see if his daughter would understand the significance of the moment. Charlotte didn't seem to grasp how important this was. After all, she is only 5 and a half. Davis wanted to make the point that the World Series was a big deal and that Charlotte, could achieve anything she wanted to. 
"I dropped her off at her school one day and her teacher said, 'Joe, congratulations!' Mind you there were like five people in the world that knew at this point." he told The Athletic. "I said, 'Oh boy, I guess you have an inside source.' She said, 'Yeah, the first thing Charlotte did yesterday when we got into the classroom was announce to everyone, my daddy got the World Series.' For whatever reason, that was another moment that just got me. I got in my car and broke down." he recalled. 
Eat your heart out Ken Rosenthal! 
CONCLUSION
The sky is the absolute limit for this guy. I'm a little jealous, in fact, of the talent and poise that he possesses right now. There are just a few people blessed with all of that, plus a kind nature.
It's hard not to cheer for a guy like this, he paid his dues, made some good choices and basically let his talent do the talking. It's pretty amazing and so well deserved. I'm pretty confident that the Fox MLB broadcasts are in very good hands.