To describe Dave Portnoy as despicable only skims the word choices. He's a hatemonger and a sicko, no other way to put it, and after taking five showers in stooping to write about him, I am tempted to hire a killer shark to devour his every body part, including a penis if he has one, recalling his career-propelling stunt of posting naked photos of Tom Brady's then-2-year-old son.
He has used the N-word liberally, approved of blackface costumes and said Colin Kaepernick bears a strong resemblance to Osama bin Laden, referring to the quarterback-turned-activist as "an ISIS guy … Throw a head wrap on this guy, he's a terrorist.'' These glimpses of sub-humanity were from 2016 videos that have resurfaced, one in which he belts out Ja Rule's "Livin' It Up'' thusly: "To all my n——-s I've been living it up.'' This is the nutbag who referred to ESPN's Sam Ponder as "a f—— slut'' and urged her to "sex it up and be slutty.'' You wonder what this creep does and says on an hourly basis, an experience from which I'm saved as someone who ignores his digital operation, Barstool Sports.
As always, Portnoy excuses his racism as comedy and satire, a copout Charles Manson could have tapped, I suppose. Like other megalomaniacs, he is too far gone for help. But what disturbs me is how media companies and sports leagues have embraced his brand of fungal disease without regard for the stench they're inheriting. Peter Chernin, a film producer and former Fox TV executive, enabled Portnoy by buying majority control of Barstool in 2016. ESPN, in another hazy stab during the John Skipper era, tried a late-night show called "Barstool Van Talk'' that lasted one episode following a Bristol revolt. Inevitably, a gambling company chased the same crude-dude demographic, with Penn National Gaming Inc. spending $163 million in January for a 36 percent stake.
Then there's hypocritical NASCAR, which spent millions last year on a Barstool marketing partnership and only bought itself a perception crisis at the worst possible time. The circuit took a historic step in separating from its racist past in the recent drivers' march that supported black racer Bubba Wallace, yet the relationship with Portnoyism continues, somehow, which is akin to tying a noose in Wallace's garage. Here was NASCAR's statement after the death of George Floyd: "While our sport has made progress over the years, there remains much work to be done and we fully embrace our responsibility to help bridge the racial divide that continues to exist in our country. We must do better, and our commitment to promoting equality and inclusion continues and will never waver.''
Except when keeping a business pact with a racist.
There is no more obvious conclusion, along with water being wet and the sun being warm, than this: Portnoy should be immediately removed from the company he founded before Barstool is tagged permanently as a racist shop. And while I sense he'll need to be strapped to a gurney and sedated while hauled away by 10 men in white suits, perhaps a company coup finally was set in motion Thursday against the man-child who claims he's "uncancellable.'' A Barstool host who calls himself PFT Commenter, from a show called "Pardon My Take,'' ripped Portnoy for not considering the company's minority employees when he refused to apologize this week  — "I'm not gonna bend the knee,'' he said — for his past comments.
"When I saw that clip of ignorant and racist comments from the 2016 Colin Kaepernick rundown, I, like a lot of my colleagues, was mad and embarrassed,'' wrote the PFT character about the videos, which included shameful behavior from Barstool hosts Dan Katz and Kevin Clancy. "To put it bluntly, it's especially f——- -up that our black coworkers have been unfairly put in the position of choosing to either a) accept racist remarks, or b) publicly fighting with their boss.''
This followed a podcast by some of those minority employees — led by former NFL lineman Willie Colon, host of Barstool's 2Biggs podcast — who lashed out at Portnoy. They titled the podcast N.I.G.G.E.R., short for "Now It's Gonna Get Extremely Real.'' Said Colon: "I said to Dave, for the people who work here and work for you, we're kind of offended by it, so when you throw your middle fingers up at the cancel culture, you're really throwing your middle fingers up at us. And he was like, `I hear you, but I have a bigger following than you, I write your checks, and the people who support me and Barstool help me write your checks, so f—— eat a dick.' ''
For a nanosecond, I thought they might be duping us in a scam for more Barstool attention. But I don't think so. Publicly, company executive Erika Nardini refuses to condemn Portnoy, her bread and butter, tweeting this week, "Change doesn't come from cancellation, and it will never come from everyone having f—— consensus all the time. It comes from difficult times and strong people who see new opportunities and take risks.'' But privately, if she's smart, she will feel the tempest in her house and find a bulldozer to remove the toxic waste. When the subject is race, amid this country's most heated year of racial tension in decades, no one is play-acting. This is all very real and all very dangerous.
"I don't know exactly how to fix this short of making Willie Dave's boss,'' wrote the PFT guy, "but I do know that what's happened over the last four days is not going to work in the long term.''
NASCAR isn't commenting. Nor is Penn National — my two email inquiries went unanswered. So, their silence will be interpreted as a tacit acceptance of All Things Portnoy, which means those companies aren't as committed to stamping out racism as they claim, such as Penn National's stated vow to "stand united against hate, racism, violence and intolerance of any sort and salute all the peaceful warriors and protesters on the front lines of social injustice making their voice heard.'' Where the company erred was allowing Portnoy to have all editorial control over content, thus nullifying supposed "guardrails'' prohibiting "language that encourages underage gambling, illegal bets, or comments that might be deemed as harassment or discrimination of women or minorities, for example."
They sold out to a madman, a compromise that should be known by people of all races when they visit Penn National's 41 gaming and racing properties in 19 states and live betting properties in six states — Barstool Sports book app included. One reason for the sellout: Portnoy has had such a hypnotic hold on his "Stoolies'' sheep — even as a pandemic day trader — that Penn National stock jumped 15 percent after he dropped the name on CNBC's "Mad Money'' last month. Never mind the workforce that Penn National could have salvaged without the Barstool investment; after furloughing 26,000 employees in April, the company filed notice it will lay off 233 people next month at its corporate offices. The executives sure love that stock bump … but for how much longer?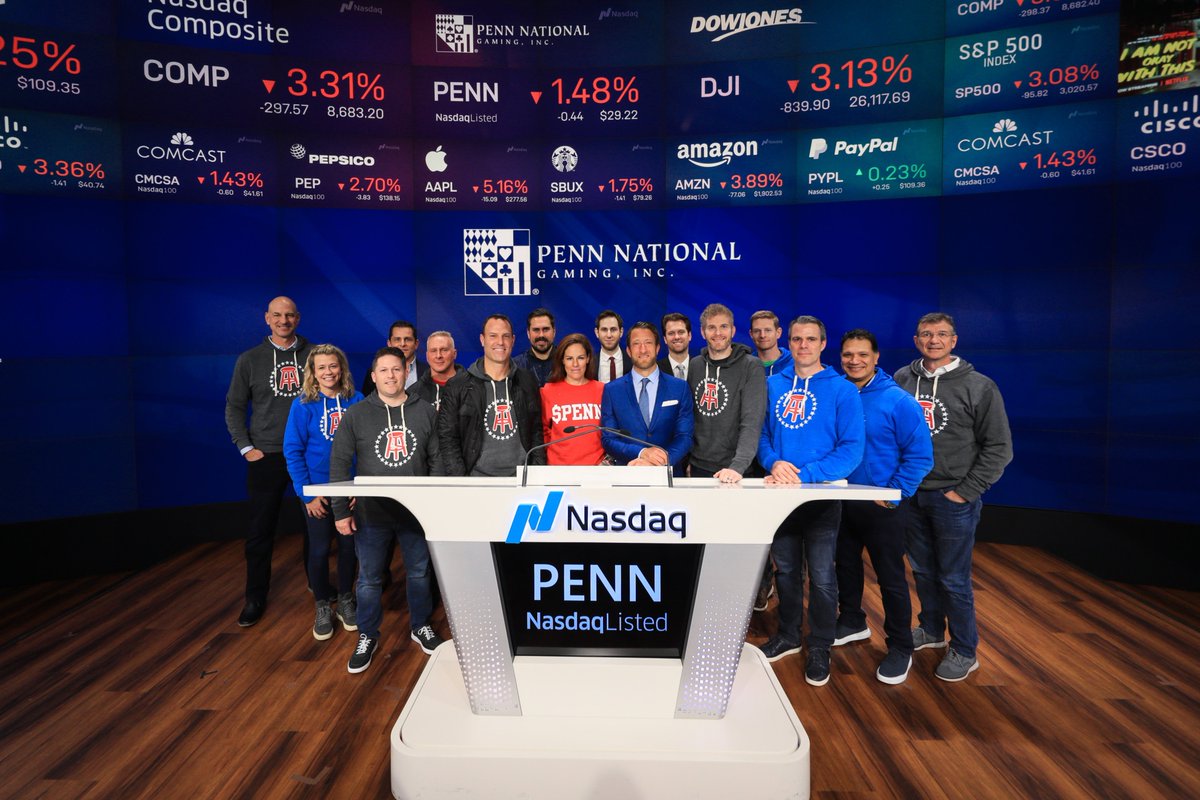 Who does Portnoy think he is, Warren Buffett?
"I'm better than he is. That's a fact,'' he said, even after being banned from E*Trade for a curious June 10 transaction.
I wonder what those aforementioned "peaceful warriors'' would do to Portnoy if he stepped into a Black Lives Matter protest. By comparison, the killer shark might look tame. When activist/commentator Jemele Hill drew attention to his past videos, he mocked "cancel culture'' and tried to justify his incendiary words by blaming societal shifts. "I've been doing this for two decades. I've made fun of every group of people, every race, every creed, every culture — you name it, we've made jokes about it," he said in a video. "So if the No Fun Club, if the cancel culture wants to go back blog by blog, video by video, day by day, week by week, month by month, year by year, decade by decade and comb through everything we've ever f—in' said and done, yeah, you're gonna find a few jokes that missed the mark, that things if they are said today, you'd be like, `How'd they f—in' say this? What are they, idiots?' But times change, sensitivities change, cultures change. When you've been doing it as long as we have, things f—in' change!"
That much is true. Societies do evolve for the better, the wiser and the fairer, leaving behind the cavemen. I just wonder, in a 2020 media context, why anyone interested in sports, regardless of demographic, would listen to this trash and not opt for a cooler, more enlightened host such as Jalen Rose or Colin Cowherd. Or even Pat McAfee, who has Barstool tendencies but was wise to cut the cord for more mainstream media pursuits.
Portnoy tends to retaliate via targeted harassment, meaning my social media sites might be bombarded by the same cretin followers who pelt other critics. But maybe not. If Stoolies must decide between Barstool and Portnoy in a coup situation, I think Van Halen wins. David Lee Roth always can be replaced by a tamer Sammy Hagar.
Besides, I am not the story. The story is why companies in position to cancel Portnoy prefer to keep feeding the monster. "Whenever you try to cancel us, and do these movements that pop up once every couple years, it only makes us stronger," he said. "Normal people only want an escape for a couple f—king seconds from this f—ked-up world, and that's all we're trying to do. And it just makes them like us more. … Keep trying to cancel us. We'll just keep growing stronger. And when you're miserable and dead and f—king off doing your own thing, in the next decade, we'll still be here, doing us, and you'll still be losing sleep about it. That's just how it goes. You see this mug? Ain't going anywhere."
The killer shark is thinking otherwise. So is Willie Colon.