Sports Must Ignore Trump, Continue To Purge Racism
"As the President tries to rally his white voting base amid America's racial upheaval, it's important that pig-headed team owners change insensitive nicknames and NASCAR reinforces its support for Bubba Wallace."
It always circles back to sports, doesn't it? Donald Trump dreamed of buying an NFL franchise, and if league owners had approved his 2014 bid for the Buffalo Bills, he'd be admonishing his fourth general manager and fifth head coach by now while ordering players to disregard COVID-19 and get their asses on the field.
He also wouldn't be President of the United States.
Damn, what were the owners thinking? Choose Trump, vote down Terry and Kim Pegula, and America is saved, right?
Six years later, Trump is trying to breathe oxygen into his gasping re-election hopes by turning to, yep, sports for ammunition. Rather than see empathy in the plight of Bubba Wallace, NASCAR's only African American driver, Trump claims the noose hanging in Wallace's garage at Talladega Superspeedway was "just another HOAX'' and bemoans the circuit's decision to ban the Confederate flag. "Has @BubbaWallace apologized to all of those great NASCAR drivers & officials who came to his aid, stood by his side, & were willing to sacrifice everything for him, only to find out that the whole thing was just another HOAX? That & Flag decision has caused lowest ratings EVER!" tweeted Trump, pulling another muscle in a typing finger that pounded the same message during Colin Kaepernick's kneeling protests.
No sooner did Wallace respond in kind on social media — "Love over hate every day. Love should come naturally as people are taught to hate. Even when it's HATE from the POTUS'' — than Trump had found another target: franchises that finally are changing racially insensitive nicknames. Landing a shot at a political rival, Sen. Elizabeth Warren, he wrote, "They name teams out of STRENGTH, not weakness, but now the Washington Redskins & Cleveland Indians, two fabled sports franchises, look like they are going to be changing their names in order to be politically correct. Indians, like Elizabeth Warren, must be very angry right now!''
All of which should be ignored, of course. Because if 2020 is the most disruptive and potentially devastating year of our lives — and a logistical disaster for sports, including the testing protocol screwups that threaten the restart of chronically inept Major League Baseball — this also is the year when sports attacked hatred with a purpose not previously evident.
Never usually means never, in particular when a boorish despot orders never to be used in capital letters. "We'll never change the name. It's that simple. NEVER — you can use caps,'' Daniel Snyder said seven years ago, referring to the nickname of his NFL team, the Redskins. But the outrage and flames of 2020 have melted away NEVER, even in the once-intractable domain of contentious sports names. As Trump continues to flout tensions that could make America explode again, Snyder represents a very unlikely source of — dare we suggest — hope?
The George Floyd horror itself might not have penetrated Snyder's closed mind. But it terrified millions who do business with FedEx, the title sponsor of the Redskins' stadium, and other prominent partners such as Nike and Pepsi. The shrinking of NEVER is a simple equation: consumers complain, CEOs react and pressure is applied on Snyder to either change the name or lose those companies as backers. And unlike 2013, when he made his flip comment to USA Today and prompted this response from then-President Barack Obama — "If I were the owner of the team and I knew that there was a name of my team, even if it had a storied history, that was offending a sizable group of people, I'd think about changing" — the new pressures aren't as political as they are financial. If Snyder wants to avoid a mass corporate boycott of his team, and if he wants a new stadium to have a lucrative sponsorship at the old RFK Stadium site in D.C., he finally must bury a nickname that is insulting to Native American culture and belongs nowhere near any respectful, 21st-century context.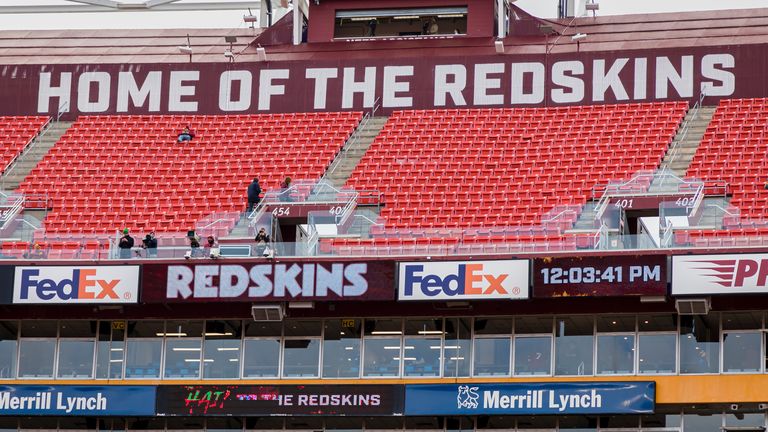 "We have communicated to the team in Washington our request that they change the team name,'' FedEx said in a statement.
Which, in turn, led to this: "In the last few weeks we have had ongoing discussions with Dan and we are supportive of this important step," said NFL commissioner Roger Goodell, who can't flip the switch to wokeness in a Black Lives Matter video and still allow Redskins as a nickname.
Which, in turn, will lead to a new name that will be offensive to no one, other than racists who aim to be offensive.
All walls won't be toppled. Still, eyes have been opened, monuments removed and, in sufficient time, slurs such as Redskins and Indians will be purged from the lexicon by owners who are not heroes but billionaire businessmen with clenched teeth. This always was a complex subject for me as a columnist in Chicago, where nicknames such as Blackhawks and Fighting Illini were hailed by the NHL franchise and University of Illinois as proud sobriquets that honored Native Americans — and most of their fans agreed. Now, maybe the same fans will put down their beers and think.
For decades, pro franchises with contentious names have looked the other way, impervious to heat and ultra-protective of valuations linked to tradition and market size. Much as Snyder is loathed, much as his team has been a bust through most of his 21 years as owner, the Redskins have been financial winners  — currently worth $3.1 billion, ranking 14th among the world's most valuable sports teams and fifth in NFL circles. But growth has flatlined as the Redskins struggle in their aging stadium, and Snyder needed a game-changer in his front office. I doubt he was shrewd enough to realize Ron Rivera might transform his life and his franchise's shaky standing in America when, in January, he hired Rivera as head coach. But even if he doesn't win much — and as long as Snyder is the owner, those fortunes likely won't improve — Rivera will be remembered as the pioneer who gave vision to a blind boss and urged him to sandblast the name.
Of Mexican and Puerto Rican descent, Rivera is the NFL's only Hispanic head coach and one of only four league head coaches of color. When the latest dump-Redskins avalanche came after Floyd's death, Snyder couldn't have had a better in-house ally than Rivera, the son of an Army officer who grew up on military bases. At his introductory news conference, he said the nickname issue "is of personal importance to me,'' adding that he looked forward to working with Snyder "to make sure we continue the mission of honoring and supporting Native Americans and our military.''
The breakthrough came Saturday, Independence Day, when Rivera told the Washington Post that he and Snyder have been hard at work on a new name. Ever think you'd read those words? "If we get it done in time for the season, it would be awesome,'' said Rivera, mentioning that he especially likes two possibilities.
Not that Snyder's house doesn't remain chaotic. Frederick Smith, the FedEx chairman who approved the letter demanding the name change, happens to be one of three minority Redskins owners who are tired of Snyder and trying to sell stakes. And why is Rivera, the coach, speaking to the media and collaborating with Snyder on a monumental reshaping of the team's image? Because the team doesn't have a football boss after the firing of president Bruce Allen. For all we know, Snyder will return from vacation — Bahamas and Europe, regardless of coronavirus — and have second thoughts about the nickname. But I doubt it, as even his friends are telling him it's time to evolve or devolve.
What's fascinating is how Rivera spent part of his formative years in the Washington metropolis and became a Redskins fan. He also loved the nickname. "It was hard to fathom that it was in any way a racist thing, to be honest with you," he told the Post. "Now, putting it in perspective, there's been a change. My eyes are wide open.''
Because the Indians are based in Cleveland and not immersed in the politics and media swarm of the nation's capital, their ownership group hasn't been scrutinized nationally like Snyder. Only last year did the team finally remove the stereotypical, cartoonish, red-faced Chief Wahoo from its uniforms and caps. Will the Indians, after 105 years, finally seek a new nickname? Or will they continue to bow to pressure from traditionalists and racists? This time, they sound real. "We are committed to engaging our community and appropriate stakeholders to determine the best path forward with regard to our team name,'' the team said in a statement.
Like Rivera, Cleveland manager Terry Francona is publicly lobbying for change from the people who pay his salary. When a fan of a team sees a popular skipper take a stand — and the team knows he's doing so — it sends a message that life is progressing at Progressive Field. "I think it's time to move forward,'' he said. "I know in the past when I've been asked, whether it's our name or the Chief Wahoo, I think I would usually answer and say I know that we're never trying to be disrespectful. And I still feel that way. But I don't think that's a good enough answer today.''
And like Rivera, who is 58, the 61-year-old Francona acknowledges his belief system needed a revision. "Even at my age, you don't want to be too old to learn or realize that maybe I've been ignorant of some things — and to be ashamed of it, and to try to be better,'' he said. "I'm glad we're going to be open to listening, because I think that's probably the most important thing right now, is being willing to listen, not necessarily just talk."
Just as Snyder says he has launched an "evaluation'' of the nickname and logo, the Indians say they are "examining'' the matter. Consider it an incremental pushing of a story to its inevitable, rightful end. Major League Baseball, mired in a diversity crisis on all levels, can't afford to dawdle. That also applies to the Atlanta Braves, who ditched their urban ballpark for white suburbia three years ago and still don't view their nickname and accompanying "tomahawk chop'' chant as offensive. Wasn't it just last October when Cardinals pitcher Ryan Helsley, a member of the Cherokee Nation, was critical of the chant? Before the next postseason game, the team didn't distribute the red foam tomahawks that fans have waved for decades in Georgia.
If they can take that step, the Braves certainly can embark on a more monumental social mission. For now, they say the team "honors, supports and values the Native American community. That will never change.''
So Braves and Blackhawks are still acceptable when Redskins and Indians are not? This is no time to prolong the justification game. When Dan Snyder can take a jackhammer to NEVER, anyone can. And should.
Asking The Right Questions Helps Create Interesting Content
Asking questions that can get a subject to talk about their feelings is a much better way to get an interesting answer.
When ESPN's Mike Greenberg interviewed Paolo Banchero in the lead-up to the NBA lottery on Tuesday, he asked what I've concluded is the single most maddening question that can be asked of any athlete preparing for any draft.
"Why do you believe you should be No. 1 pick in the NBA Draft?" Greenberg said.
Before I point out exactly why I have such a visceral reaction to such a harmless question, I want to point out the positives because Greenberg's question avoids some of the most common pitfalls:
1) It is an actual question. That's not as automatic as you think given the number of poor souls who are handed a microphone and say to their subject, "Talk about (whatever issue they want a quote or a sound bite on)." This is the mark of an amateur, creating the opening for an uncooperative subject to slam the door by saying, "What do you want me to say?"
2) Greenberg's question can not be answered with a yes or a no. Questions that start with the word "Can you …" or "Did you …" may sound like they're tough questions for the subject, but they're actually fairly easy if the subject wants to offer an answer. Now, most interview subjects won't take that one-word exit, but some will in a touchy situation.
The problem with Greenberg's question has to do with the result. Why do we ask questions of the athletes we cover? Seriously. That's not rhetorical. What's the goal? It's to get interesting answers. At least that's the hope whether it's for a quote that will be included in a story, a sound bite to be replayed later or — like in this situation — during an interview that is airing live. The question should be engineered to elicit interesting content, and there was very little chance that the question Greenberg asked Banchero was going to produce anything close to that.
I know that because I have heard some version of this question asked hundreds of times. That's not an exaggeration. I attended the NFL scouting combine annually for a number of years, and if a player wasn't asked why he should be the first overall pick, he'd get asked why he should be a first-round pick or why he should be one of the first players chosen at his position. Never — in all that time — have I ever heard what would be considered an interesting or informative answer. In my experience, players tend to talk in incredibly general terms about their own abilities and then seek to compliment their peers in an effort to avoid coming off as cocky.
Here's how Banchero answered Greenberg's question: "Yeah, thank you all for having me, first off., I feel like I'm the number one pick in the draft because I'm the best overall player. I feel like I check all the boxes whether it's being a great teammate, being the star player or doing whatever the coach needs. I've been a winner my whole life. Won everywhere I've went, and when I get to the NBA, that's going to be the same goal for me. So just combining all those things, and knowing what I have to work on to be better is a formula for me."
There's nothing wrong with answer just as there was nothing wrong with the question. It's just that both are really, really forgettable. ESPN did put a clip on YouTube with the headline "Paolo Banchero: I'm the best overall player in the NBA Draft | NBA Countdown" but I think I'm the only who will remember it and that's only because I'm flapping my arms and squawking not because there was anything bad per se, but because there was nothing really good, either.
First of all, I'm not sure why it matters if Banchero thinks he should be the number one overall pick. He's not going to be making that decision. The team that holds the top draft pick — in this case Orlando — is. Here's a much better question: "How important is it for you to be the number one overall pick?" This would actually give an idea of the stakes for Banchero. What does this actually mean to him? Asking him why he should go number one is asking Banchero to tell us how others should see him. Asking Banchero how important it would be go number one is asking him to tell us about his feelings, something that's much more likely to produce an interesting answer.
The point here isn't to question Greenberg's overall competence because I don't. He's as versatile a host as there is in the game, and anyone else in the industry has something to learn from the way he teases ahead to content. What I want to point out not just how we fail to maximize opportunities to generate interesting content, but why. Interviews are a staple of the sports-media industry. We rely on these interviews as both primary content that will be consumed directly, and as the genesis for our own opinions and reaction yet for all that importance we spend very little time thinking about the kind of answer this question is likely to produce.
The Client Just Said YES, Now What?
We should spend as much time on what we will do after the client says YES.
One of the most significant moments in radio sales is when the client agrees to your proposal and says YES. But, when they do say YES, do you know what's next? We better have an answer!
We spend a lot of time getting ready for clients with research, spec spots (thank you, radio sales trainer Chris Lytle-go to 22:30), proposals, and meetings. All of our focus is on getting the client to say YES. We should spend as much time on what we will do after the client says YES. For example, getting newer sales reps to sell annual advertising contracts would be ideal for building a list. They would have less pressure, more job security, and could spend more time making the advertising work for their clients. But, since most newer reps don't know the business yet, they don't bite off more than they can chew and sell a package of the month.
When a client says yes to the weight loss promotion, it's pretty clear how to write the ads, what the promos will say, etc. BUT, if a newer sales rep starts selling annual contracts to a direct local client who needs a resource, how will that work? Let's make sure we paint the picture right upfront. More experienced reps know that they need to assume the client will say YES to the weight loss promo and have a plan accordingly.
They have the next steps to building copy and promos, a credit app or credit card payment form, and any other detail the client must provide. But, when we ask a direct local client for an annual advertising contract, watch out! You have just made a partnership. Why not lay out, upfront, what that will look like. And I understand not every local client needs the same level of service.
A car dealer has the factories pushing quarterly promotions, agencies producing ads, and in-house marketing directors pulling it all together sometimes. Other clients need your help in promotions, copywriting, or idea generation. Make a plan upfront with your client about when you will meet to discuss the next quarter's ad program. Include your station's promotions or inventory for football and basketball season, a summer NTR event, digital testimonials with on-air talent, etc., in your annual proposal. Go out as far as you can and show what you have to offer to the client and how you can execute it. This exercise is good for you and, once mastered, guides the client on how you will take care of them after the sale. It also opens your eyes to what it takes to have a successful client partnership inside and outside the station.
This week, Demetri is joined by Ian Casselberry and Ryan Brown. Demetri talks about the NBA Draft getting an ABC simulcast, Ian talks about Patrick Beverley's breakout week on TV, and Ryan reminds us that Tom Brady may be the star, but Kevin Burkhardt is the story we shouldn't forget.
Podcast: Play in new window | Download
Subscribe: RSS