Mike Golic is without question a first ballot hall of famer in sports radio. To operate successfully on a national level for over two decades at an outlet like ESPN Radio, which serves hundreds of stations across the country and is constantly under the microscope, speaks to his ability to connect with listeners, advertisers, affiliates and corporate bosses. There are far too many on-air examples to highlight as reasons for his effectiveness, but when I look back on his career, a few key things stand out.
When I programmed 101 ESPN in St. Louis, I kept Greeny & Golic updated on the progress of their show. Some national hosts don't pay attention to their local markets but both guys would always respond with a 'Thanks for the update', 'Congrats' or 'Appreciate the support'. I'd send local liners to them often to keep them sounding connected to the city and they always turned things around quickly. When I brought them to town for MLB All-Star week broadcasts, they talked up their experience on camera for my station, even though the network kept access limited. The extra effort and interest in taking care of partners made it easy to want to stay in business with them.
It'll be different for sure next month when Mike Golic's voice is no longer heard across America in morning drive. His career speaks for itself, and he's been a true professional who's been easy to root for.
Mike and Mike used to embrace the slogan "What Makes Them Different, Makes Them Great," but in reality, what made Mike Golic special was that he never changed who he was. That worked out pretty great for 22 years, and now it's up to his son to keep the family name alive and well for the next two decades.
August 1 will be the first time in 22 years that Mike Golic is not part of ESPN Radio's morning show. His is a career that deserves celebration and tribute. That is why I asked the BSM staff to share their thoughts.
Some chose to share personal stories of the influence Golic had on them. Some chose to revel in what made Golic special. All of them acknowledge that this format owes Mike Golic a debt of gratitude. The strength of sports radio is a result, in no small way, of his success.
---
Mike Golic Jr. must love a challenge. He shares his dad's name, followed in his footsteps to play at Notre Dame, and then followed in his footsteps to ESPN Radio. That last stop will be the toughest place of all to live up to his namesake.
Golic Sr's history with the network goes back to 1998 in the days of The Bruno and Golic Morning Show. He had staying power through so many lineup changes because he embraced his role and played it perfectly no matter who was next to him. That level of comfort and self-awareness is a talent all it's own. Junior will definitely have his eyes on making his dad proud in afternoon drive. Senior has already set the example with a career that anyone that helped him get from point A to where he is 22 years later should be proud of. – Demetri Ravanos
Golic combined the expertise of a former player with the personality of the average Joe so successfully that he became the model for all former athletes turned radio hosts. His authenticity and willingness to be the butt of the joke endeared him to audiences for two decades, and made program directors scour the country to find their own Mike Golic. – Rob "Stats" Guerrera
The one thing that's stuck out to me, is the mass of people that have come out and either told a story, or commented on how great of a person Mike Golic is. That's awesome. Is he an unbelievable talent? Absolutely and it's not even a question. But what do your colleagues think of you? That's just as important to your legacy as how good you are at the craft. He's an A+ talent and it sounds like he's an A+ guy, as well. He has every reason to have an ego, but he doesn't. He won at this business. – Tyler McComas
When you think of ESPN Radio nationally, it's hard not to think of Mike Golic. For so many years the Mike and Mike was THE show on the network. The popularity continued to grow and he became such a familiar voice, it's hard to believe that his run has come to an end. Sometimes it isn't easy for former athletes to forge a new career after their playing days are over. Golic was the exception to that though. He made it look simple and like he'd been doing radio his entire life. Who knows what this change will do to ESPN Radio's listenership? One thing that is sure, the brand took a big hit with this news. – Andy Masur
Sports radio is a lot like music to me. It's common to hear bands and artists talk about their musical influences. Great guitarists like Carlos Santana and Jimi Hendrix help you understand how different sounds can be created. It also helps other guitarists find their own sound. It's the same concept with sports radio. Hearing Mike Golic in my early experiences with sports radio, it was like, "Oh wow, it's okay to joke around. You can laugh and have fun." Sports radio doesn't have to sound serious the whole time like you're wearing your jeans to bed. I appreciate Golic showing us that it's acceptable to eat a bunch of beignets instead of only dissecting stats. His combination of humor, substance, and style made Golic truly one of a kind. – Brian Noe
Mike Golic? You mean the younger brother of that guy who was on Saved By The Bell: The College Years? It took a lot for me to change the channel from TBS and Tiffani Amber Thiessen during my adolescence, but when I did, it was for Mike and Mike. That's a big compliment. Greeny was the relatable one, but even when Golic played the role of 'cool, tough, NFLer,' he did it with charm and humility. Eight years in the NFL is a great feat, even more impressive is making it a footnote after two remarkable decades on ESPN Radio. – Brandon Contes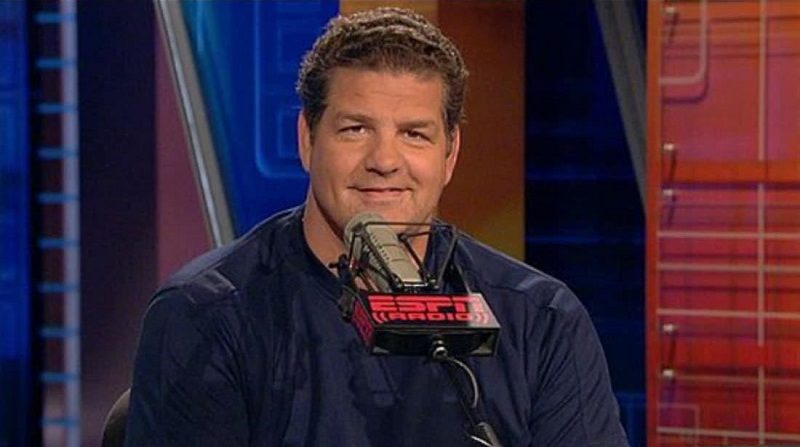 Mike Golic has been the one of most significant, influential voices in sports radio over the last two decades. Growing up in the Mike & Mike era, I learned the most valuable lessons from Mike Golic that I have carried with me throughout my career: radio should be fun, be willing to laugh at yourself, don't take yourself too seriously, and treat guests/listeners/fans the way you'd want to be treated. All of the values that Golic exemplifies have been used as a compass within the sports radio world over the last two decades. He is a Hall of Famer in all areas of his life. I am incredibly grateful to have had the pleasure to wake up with and opportunity to learn from a trailblazer who undoubtedly will continue to dominate in whatever he does next. – Chrissy Paradis