NBA Positioned To Win The Pandemic….And It Better
"The importance of completing a season in the celebrated Bubble can't be overstated, as Adam Silver knows his league faces massive challenges if the coronavirus prevails."
This is not about you, me or the millions who watch sports in America. At its core, the resumption of games is about powerful and wealthy men, accustomed to winning in life, knowing their legacies depend on how they manage the coronavirus. Nothing much is at stake, only the future survival of leagues and the scrutiny of history: which commissioners and owners pivoted successfully in a health crisis, and which lost the swab war.
In this athletic Game of Thrones, Adam Silver is best positioned to win the pandemic. And it should be said, here and now, that he'd better win, as a shutdown of the NBA's celebrated bio-Bubble would throw the league into financial chaos and bring more attention to its troubles in China. An ESPN investigation — shocker, I know, the broadcast partner reporting dirt on its business bedfellow — revealed human rights concerns at the NBA's China-based youth academies, raising questions about a league that rushed too quickly to tap the vast sports economy of a Communist country.
All of which adds even more urgency to the most audacious undertaking in league history, a controlled basketball environment at Walt Disney World. No sports organization has embraced the technical explosion and social complexity of the 21st century like the NBA, and if any commissioner has a chance of conquering a fraught mission — completing a season while keeping 1,500 human beings safe from COVID-19 — it is Silver.
"The world `anxious' would describe how I feel,'' he said.
Frightened would work, too.
As sure as Charles Barkley is round, the NBA restarts its season with only minimal talk about the virus. That's because Silver, in collaboration with Disney Company chief executive Bob Iger, hatched a grand design that made medical sense from its infancy: Protect 22 teams and more than 350 players from the world's infectious ravages by placing them in isolation, in a community of hotels and glammed-up gyms, and having them test for the virus daily with rapid results from a private laboratory. In basketball, an 0-for-344 percentage sounds like another bad week for the Knicks, but inside the Silverdome, it's the most recent sign that the experiment is working so far: zero positives among players for the second consecutive testing period.
Juxtaposed against the life-threatening chaos of Major League Baseball, which already is losing a Whack-a-mole game of outbreaks and frantic re-scheduling, the NBA again presents itself as a forward-thinking trailblazer. While MLB irresponsibly paints the Miami Marlins as a rogue, protocol-breaking team and refuses to stop its season amid virus hell, Silver was typically practical when asked on ABC's "Good Morning America'' how he'd respond if 17 members of an NBA franchise were infected like the Marlins.
"If we had any significant spread at all, we'd immediately stop — and what we'd try to do is track and determine where they're coming from,'' Silver said. "I would say, ultimately, we would cease completely if we saw this was spreading around the campus and something more than an isolated case was happening.''
As so-called MLB commissioner Rob Manfred is now painfully aware, a season is not sustainable in 2020 without an NBA-like Bubble. The almighty NFL and college football soon will reach that conclusion, with likely dire consequences, while the NHL, WNBA and Major League Soccer remain optimistic — all after adopting the NBA's isolationist lead. If Manfred is the predictable early misfit in the swab war, Silver looks like the visionary.
"From my standpoint, it's going very well, and I'm cautiously optimistic that we're on the right track," Silver told the New York Times this week. "But I also recognize what we're doing has not been done before, and the competition is just beginning. The real test will come when players are commingling, playing basketball without masks and without physical distancing."
Never lose sight of that: So much still could go wrong, even when so much has gone right — especially when COVID-19 remains out of control beyond the Bubble in Florida. We should avoid calling it a Bubble, Silver warns, because it isn't "hermetically sealed.'' It's his way of saying the controlled environment is neither fool-proof nor Lou-proof, as shown by the protocol violations of three players, including Lou Williams of the title-contending Clippers, who was excused by the league for a family funeral but also strayed to an Atlanta strip club for dinner. I don't care if Magic City is known for its chicken wings; did Williams ever think about the Magic Kingdom, the potential virus exposure throughout a league? He has been confined to quarantine — the new NBA term for jail — for 10 days, missing two games that could cost his team in the playoff seeding race. But in the bigger scope, Williams' pit stop is what keeps Silver up at night. It's the blueprint for disaster: players tiring of being confined to life with each other, in a season that won't end until October, and sneaking off to who-knows-where at the risk of contracting the virus and sabotaging the plan.
No doubt the attention to detail in this vast undertaking is staggering. But one fluky quest for chicken wings is exactly the foolishness that could burst the Bubble. "The league does such a good job of being hypercautious when they bring them back to the bubble, that I don't really feel like that's where our jeopardy is. I don't think we have any kind of real opportunity to sort of pop the bubble," said David Griffin, basketball operations boss of the Pelicans, on a Zoom call with reporters. "I think the real issue is going to be, as this goes along further and further: Is there more and more pull to sort of break rank and just walk off campus? That's when you're really going to see how well this is insulated."
A collapse of the Silverdome would be devastating to a league that has its own existential issues. The NBA is investing more than $180 million in Orlando with hopes of finishing a postseason and recouping lost broadcast revenues. If not? With no vaccine or cure in immediate sight, chances are slim of inviting fans into arenas during a 2020-21 season scheduled to tip off — ready? — on Dec. 1. With ticket sales and corporate sponsorships amounting to 40 percent of total revenues, the league is facing a financial crisis. Even the most well-heeled team owners, such as Golden State's Joe Lacob, are raising capital with a murky future in mind. Houston's Tilman Fertitta (restaurants), Miami's Micky Arison (cruise lines) and Indiana's Herb Simon (malls) have taken massive hits in accompanying businesses. Put it this way: The Timberwolves won't be the only franchise up for sale if fans can't return next season. Meaning, as National Basketball Players Association executive director Michele Roberts said, the NBA might be back in the Bubble mere weeks after a champion is crowned.
Unless, of course, the players don't want to return, which is possible.
Then, you have no NBA.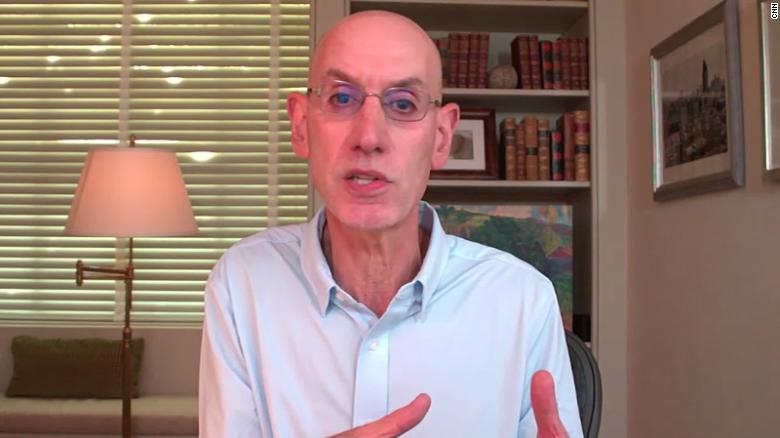 But for now, Silver can consider it a small victory that the virus is not front and center on Opening Night. We'll be watching to see how many, if not all players, decide to kneel during the national anthem, a gesture Silver will support despite a longstanding NBA rule requiring players to stand for "The Star-Spangled Banner.'' Said the commissioner: "I respect peaceful protest. … I understand these are unusual times.'' And unlike MLB, where an immature meathead such as Joe Kelly prioritized purpose-pitch revenge on the trash-can-beating Astros during a pandemic, the NBA is talking … story lines!
Will LeBron James win his fourth championship, the most daunting ever attempted by a superstar, while advancing his social justice platform like never before? Is it Giannis Antetokounmpo's turn to rule the sport and sign long-term in Milwaukee? Are the smallball Rockets a sleeper pick with a rested James Harden and Russell Westbrook? Are the Clippers deep enough to deal with a revolving door of players coming in and out of the Bubble?
Yes, the NBA has its own loons, such as Denver's Michael Porter Jr., who thinks COVID-19 is a conspiracy to control the global population. "I think the coronavirus is being used obviously for a bigger agenda," he said. "I mean, because of the virus, the whole world is being controlled. You're required to wear masks. And who knows what will happen when this vaccine comes out? You might have to have the vaccine in order to travel. Like, that would be crazy."
Like, shut up, dude. And wear a damned mask.
Adam Silver can't do anything about free speech, even the weird stuff, when he heartily endorses such liberties. What he can do is try to steer his basketball league through a raging, unprecedented storm without risking lives. None of this should be happening, of course, and sports should not have resumed in America until next year. But if you're going to try, at least be smart about it.
Rob Manfred is letting the coronavirus control him. Adam Silver, a wiser man, will try to control the coronavirus.
Until he can't.
Asking The Right Questions Helps Create Interesting Content
Asking questions that can get a subject to talk about their feelings is a much better way to get an interesting answer.
When ESPN's Mike Greenberg interviewed Paolo Banchero in the lead-up to the NBA lottery on Tuesday, he asked what I've concluded is the single most maddening question that can be asked of any athlete preparing for any draft.
"Why do you believe you should be No. 1 pick in the NBA Draft?" Greenberg said.
Before I point out exactly why I have such a visceral reaction to such a harmless question, I want to point out the positives because Greenberg's question avoids some of the most common pitfalls:
1) It is an actual question. That's not as automatic as you think given the number of poor souls who are handed a microphone and say to their subject, "Talk about (whatever issue they want a quote or a sound bite on)." This is the mark of an amateur, creating the opening for an uncooperative subject to slam the door by saying, "What do you want me to say?"
2) Greenberg's question can not be answered with a yes or a no. Questions that start with the word "Can you …" or "Did you …" may sound like they're tough questions for the subject, but they're actually fairly easy if the subject wants to offer an answer. Now, most interview subjects won't take that one-word exit, but some will in a touchy situation.
The problem with Greenberg's question has to do with the result. Why do we ask questions of the athletes we cover? Seriously. That's not rhetorical. What's the goal? It's to get interesting answers. At least that's the hope whether it's for a quote that will be included in a story, a sound bite to be replayed later or — like in this situation — during an interview that is airing live. The question should be engineered to elicit interesting content, and there was very little chance that the question Greenberg asked Banchero was going to produce anything close to that.
I know that because I have heard some version of this question asked hundreds of times. That's not an exaggeration. I attended the NFL scouting combine annually for a number of years, and if a player wasn't asked why he should be the first overall pick, he'd get asked why he should be a first-round pick or why he should be one of the first players chosen at his position. Never — in all that time — have I ever heard what would be considered an interesting or informative answer. In my experience, players tend to talk in incredibly general terms about their own abilities and then seek to compliment their peers in an effort to avoid coming off as cocky.
Here's how Banchero answered Greenberg's question: "Yeah, thank you all for having me, first off., I feel like I'm the number one pick in the draft because I'm the best overall player. I feel like I check all the boxes whether it's being a great teammate, being the star player or doing whatever the coach needs. I've been a winner my whole life. Won everywhere I've went, and when I get to the NBA, that's going to be the same goal for me. So just combining all those things, and knowing what I have to work on to be better is a formula for me."
There's nothing wrong with answer just as there was nothing wrong with the question. It's just that both are really, really forgettable. ESPN did put a clip on YouTube with the headline "Paolo Banchero: I'm the best overall player in the NBA Draft | NBA Countdown" but I think I'm the only who will remember it and that's only because I'm flapping my arms and squawking not because there was anything bad per se, but because there was nothing really good, either.
First of all, I'm not sure why it matters if Banchero thinks he should be the number one overall pick. He's not going to be making that decision. The team that holds the top draft pick — in this case Orlando — is. Here's a much better question: "How important is it for you to be the number one overall pick?" This would actually give an idea of the stakes for Banchero. What does this actually mean to him? Asking him why he should go number one is asking Banchero to tell us how others should see him. Asking Banchero how important it would be go number one is asking him to tell us about his feelings, something that's much more likely to produce an interesting answer.
The point here isn't to question Greenberg's overall competence because I don't. He's as versatile a host as there is in the game, and anyone else in the industry has something to learn from the way he teases ahead to content. What I want to point out not just how we fail to maximize opportunities to generate interesting content, but why. Interviews are a staple of the sports-media industry. We rely on these interviews as both primary content that will be consumed directly, and as the genesis for our own opinions and reaction yet for all that importance we spend very little time thinking about the kind of answer this question is likely to produce.
The Client Just Said YES, Now What?
We should spend as much time on what we will do after the client says YES.
One of the most significant moments in radio sales is when the client agrees to your proposal and says YES. But, when they do say YES, do you know what's next? We better have an answer!
We spend a lot of time getting ready for clients with research, spec spots (thank you, radio sales trainer Chris Lytle-go to 22:30), proposals, and meetings. All of our focus is on getting the client to say YES. We should spend as much time on what we will do after the client says YES. For example, getting newer sales reps to sell annual advertising contracts would be ideal for building a list. They would have less pressure, more job security, and could spend more time making the advertising work for their clients. But, since most newer reps don't know the business yet, they don't bite off more than they can chew and sell a package of the month.
When a client says yes to the weight loss promotion, it's pretty clear how to write the ads, what the promos will say, etc. BUT, if a newer sales rep starts selling annual contracts to a direct local client who needs a resource, how will that work? Let's make sure we paint the picture right upfront. More experienced reps know that they need to assume the client will say YES to the weight loss promo and have a plan accordingly.
They have the next steps to building copy and promos, a credit app or credit card payment form, and any other detail the client must provide. But, when we ask a direct local client for an annual advertising contract, watch out! You have just made a partnership. Why not lay out, upfront, what that will look like. And I understand not every local client needs the same level of service.
A car dealer has the factories pushing quarterly promotions, agencies producing ads, and in-house marketing directors pulling it all together sometimes. Other clients need your help in promotions, copywriting, or idea generation. Make a plan upfront with your client about when you will meet to discuss the next quarter's ad program. Include your station's promotions or inventory for football and basketball season, a summer NTR event, digital testimonials with on-air talent, etc., in your annual proposal. Go out as far as you can and show what you have to offer to the client and how you can execute it. This exercise is good for you and, once mastered, guides the client on how you will take care of them after the sale. It also opens your eyes to what it takes to have a successful client partnership inside and outside the station.
This week, Demetri is joined by Ian Casselberry and Ryan Brown. Demetri talks about the NBA Draft getting an ABC simulcast, Ian talks about Patrick Beverley's breakout week on TV, and Ryan reminds us that Tom Brady may be the star, but Kevin Burkhardt is the story we shouldn't forget.
Podcast: Play in new window | Download
Subscribe: RSS