Kayce Smith Has Never Had More Freedom
"A lot of times when people say they hate Barstool, I can guarantee they've never actually consumed what we do."
Barstool Sports star Kayce Smith signed an extension with the sports and entertainment media hub, announcing the news alongside Dave Portnoy early this year. The announcement of Smith's future with the online powerhouse has been met with excitement (of all ways, shapes, and forms) from Barstool's fanbase and crew, alike. 
Smith was an immediate favorite with fans and the innovative content creators, producers, directors and fellow hosts/analysts that she works with. The Stoolie team have become some of the best follows on social media and most relatable personalities in the industry as they follow the blueprint laid out by Dave Portnoy. That is transparency. 
She's also been one of the most dynamic and wonderful people I've had the pleasure of working with since her TexAgs days. The star that you hear daily on Clancy and Carribis with Kayce Smith shines just as brightly off the air which is a depreciating asset. 
I spoke with the Texas native and Barstool Babe for a Q&A about her experience in sports media, finding the perfect fit with her career and what she thinks about her Barstool colleagues.
Chrissy Paradis: With a résumé including ESPN/SEC Network, SB Nation, Gridiron Now, NBC Sports, now Barstool—Your journey has involved a lot of hard work in stakes environments in various capacities- what advice have you learned in your career that has been most helpful?
Kayce Smith: I think the best advice I can give is that when you're pursuing a job, the worst thing you can hear is "no." And more importantly, that doesn't mean you will always hear "no." This industry can be brutal to crack into and a lot of people give up if an opportunity doesn't come immediately or if it's not exactly what they envisioned doing.
If this is your dream, it's worth the grind. You may have to take a different job to get your foot in the door, but you never know where that door will lead you. And always be yourself. That's how you stand out. Nobody wants a clone of something that already exists.
CP: You also hosted a podcast with Johnny Manziel—what was it like working with a Heisman Trophy Winner from your alma mater?
KS: It was a total full circle moment for me. My first job out of college was covering A&M for TexAgs and it happened to be Johnny's Heisman year, which as you can imagine was WILD. Actually, my only ESPN audition was a live TV hit talking about covering him on the local level. He won the trophy, I got the job and then we did a podcast together and became friends. Very cool career storyline.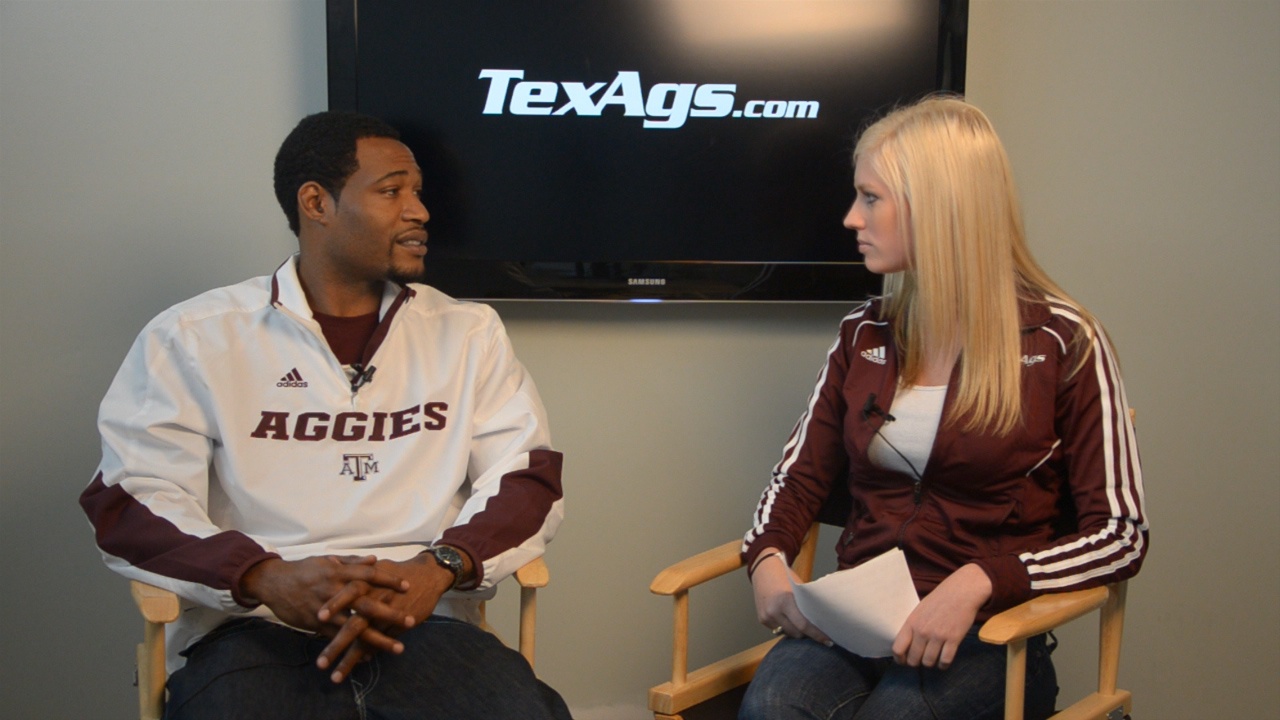 CP: Dave Portnoy said "Barstool is the best place in media at building stars and building personalities. If you are funny, interesting and opinionated we let you flourish. Kayce is all of the above." Which I couldn't agree more with, and in terms of highlighting talented men and women, Barstool truly offers a variety of shows/columns/podcasts including Chicks In The Office, and your shows, Clancy & Carrabis with Kayce Smith & Unnecessary Roughness. What do you want people to know about Barstool?
KS: If you can't find content that entertains you on our platforms, I'm convinced that you just can't be entertained. Between the blogs, the podcasts, video and radio shows…. there is something for EVERYBODY. A lot of times when people say they hate Barstool, I can guarantee they've never actually consumed what we do. Oh and also, as a woman in this company, I feel very safe and have never been treated better. So that whole "Barstool treats their women employees poorly" narrative is just flat out incorrect.
CP: What are some highlights from your time working with the team at Barstool Sports?
KS: By far my favorite moment is my first live College Football Show in 2018. We were on the road at Michigan for the Wisconsin game and when I walked up on stage and saw the gigantic crowd cheering for us, I realized I was exactly where I wanted to be.
Our fans are INSANE and honestly, those live shows give us life. Getting to sit next to Dave, Dan and Brandon every week – and be the one who gets to host the entire thing – is a dream come true. It mixes my TV background with the Barstool flavor covering my favorite sport… and maybe a beer or two thrown on us.
CP:I know that you're great friends with ESPN's Laura Rutledge outside of work—There is a stereotype about women not necessarily being supportive of other women, given the competition in the sports broadcasting industry. How has Laura been as an ally/resource in your career?
KS: Laura and I became FAST friends. Sure we were both trying to climb the same ladder at the time, but it's not like there's only ONE job for women in sports. There are plenty of jobs!! I've never understood why people play into that stereotype.
The way I see it is why wouldn't I want to become close to someone who loves the same things that I do and is in the same industry and understands what I go through on a day-to-day basis?? Fun fact that not many people know: when I left ESPN, Laura was my biggest cheerleader and it was actually her idea to start my own radio show which ended up landing me a job with NBC Sports in Boston. I'm forever thankful for her and she's absolutely KILLING it at ESPN. I'm so proud of her and vice versa.
CP: Who else has had a significant influence on your career, as a whole?
KS: Gabe Bock at TexAgs has been one of the most important people to me – not only for my career but in my personal life as well. He gave me my first shot on radio when I graduated college and has helped me create a brand that I never would've known I wanted. I always thought being a sideline reporter was my end goal, but Gabe helped me fall in love with radio and I've clearly never looked back. The show I did in Boston was three hours long, five days a week. Without my radio background, there's zero chance that I could've succeeded the way that I did. Radio is something I think everybody in sports should do at some point in your career. If you can talk for hours on air about sports and be interesting/entertaining, I think you can make it anywhere.
CP: With a beginning in college sports, was it difficult to make the choice to transition into covering all sports, especially in the middle of Patriots Nation?
KS: It actually wasn't because I took on the challenge head on and treated it like I was going back to school and studied like CRAZY. I fell in love with Boston immediately. I spent my days listening to local radio, reading every book I could and leaning on my coworkers. It's the best sports city in the world and it's not close. I just wish they liked college football a little more!
CP: Working in a predominantly male industry, in a predominately male demographic at Barstool, what's the biggest misconception(s) that you've seen/heard about Barstool that you would like to set straight?
KS: I mentioned it earlier, but anyone who thinks that Barstool treats women who work here poorly is just flat out wrong. I know we can't change everybody's minds – nor do we try to – but I promise being a woman at this company is not what the headlines tell you it is. I've never had more freedom to create content AND been treated with more respect than I have here.
Sure there are certain things that have been said in the past that I definitely don't agree with, but as far as how I'm treated, I have no complaints. I love these guys and I'll defend them until kingdom come, both as coworkers and friends. Erika Nardini has been an unbelievable piece of that as well. She's amazing to work for and is just flat out a boss at everything she does.
CP: What would people be most surprised to know about you?
KS: I grew up playing the harp! I started taking lessons in kindergarten and have played dozens of weddings and parties. Weird hidden talent of mine.
CP: Co-worker word association: one to four words, whatever comes to your mind first, about the following Barstool teammates…
CP:Big Cat?
KS: Best In The Game
CP: Dave Portnoy?
KS: Unapologetically authentic
CP: KFC / Kevin Clancy?
KS: A MISERABLE sports fan (but incredibly talented)
CP: Jared Carrabis?
KS: One of a kind
CP: Brandon Walker?
KS: A hilarious walking encyclopedia
CP: Feits?
KS:My idiot best friend (but really… a weird, super creative brain)
CP: What's your favorite thing about Barstool listeners/fans?
KS: How ridiculously diehard they are! We get recognized everywhere we go. It still seems weird when I'm walking on the streets of Manhattan and someone stops me. I've always said that Dave is a cult leader because of the following we have. We are basically a reality TV show at this point and that's not something we take for granted.
CP: What's your favorite thing about being a part of the Barstool team?
KS: The freedom to do and say whatever I want. Dave and Erika don't put rules on us as personalities. They also don't care if we publicly disagree with them, which is incredibly rare. Where else can you argue with the CEO or President of the company you work for without being worried about losing your job?? We are a gigantic, f***ed up family and I love being a part of it.
The NFL Hopes You're Lazy Enough to Pay Them $5
"This app reportedly doesn't even have any original content of it's own. NFL Films produces content for ESPN+, HBO Max, Peacock, Tubi, Epix, Paramount Plus, and Prime Video. It has also reportedly had discussions about producing content for Netflix. Unless they plan to bring all of those shows in-house, what kind of shows could NFL Films produce for NFL Plus that you couldn't already find on all of those other apps?"
Corporate goodwill is a hard thing to ask for. It's not something that is a requirement for any entity to engage in. But it can go a long way in establishing a deeper bond for the future. According to Sports Business Journal, NFL owners are contemplating launching a streaming service for the league.
The app would feature podcasts, content created by teams and radio content. It's unknown where the podcast content will come from but one can assume it'll include the various podcasts the NFL produces with iHeartRadio. Team content that is expected to be featured could come from videos and audio that is already posted on team websites and social media platforms such as YouTube.
Various organizations across the league have expanded their YouTube efforts over the last couple of years as the Google-owned site has slowly set itself apart as a leading source for viewership. My hometown team, the Baltimore Ravens, for example promotes a talk show with cornerback Marlon Humphrey where he interviews players and other key figures from the team about their lives and careers and how they got to where they are today.
The most important part of this app will be NFL games itself. On Sunday afternoons, whatever games are airing in the specific location you're in while using the app, those are the games you have access to watch. If you're in Baltimore and a Ravens game is airing on CBS while the Commanders are on Fox, those are the games the app will offer. If you're in Boston and a Patriots game is on CBS while a Giants game is on Fox – you won't have access to the Ravens game airing on CBS in Baltimore or the Commanders game on Fox in Baltimore even if that's where you normally live. These games used to be a part of a deal with Yahoo Sports and Verizon – who distributed them on their apps for free.
JohnWallStreet of Sportico notes, "longer term, the existence of a league-owned streaming platform should help ensure broadcast rights continue to climb." But at the end of the day, how does this help the fan? The increase of broadcast rights is going to end up costing viewers in the long run through their cable bill.
ESPN costs almost $10 per cable customer. The app, as of now, isn't offering anything special and is an aggregation of podcasts, games and videos that fans can already get for free. If you want to listen to an NFL podcast – you can go to Spotify, Apple Podcasts and various other podcast hosting platforms. If you want to watch content from your favorite teams, you can go to their website or their social media platforms. And if you want to watch games, you can authenticate your cable subscriptions and watch them for free through your cable company's app or CBS' app or the Fox Sports app.
It's nothing more than a money grab. Games are already expensive to go to as it is. Gas prices have reached astronomical highs. Watching content has become extremely costly and it's debatable whether buying streaming services is cheaper or more expensive than the cable bundle. And now the NFL wants to add more stress and more expenses to their viewers who just desire an escape from the hardships of life through their love of a beautiful game? It seems wrong and a bit cruel to me.
The beauty of paying for content apps is that you're going to gain access to something that is original and unique from everything else in the ecosystem. When House of Cards first premiered on Netflix, it was marketed as a political thriller of the likes we had never seen and it lived up to its expectations for the most part. The critically-acclaimed series led viewers to explore other shows on the app that were similarly a more explicit and unique journey from what had been seen on television before.
This app reportedly doesn't even have any original content of it's own. NFL Films produces content for ESPN+, HBO Max, Peacock, Tubi, Epix, Paramount Plus, and Prime Video. It has also reportedly had discussions about producing content for Netflix. Unless they plan to bring all of those shows in-house, what kind of shows could NFL Films produce for NFL Plus that you couldn't already find on all of those other apps? Even YouTube has partnered with NFL Films to produce behind the scenes footage of games that is available for FREE.
If you're going to force viewers to pay $5 to watch games on their phone, the least you could do is give fans access to speak with players and analysts before and after the games. Take NFL Network over the top so that we can wake up with Good Morning Football. Offer a way for fans to chat while games are being watched on the app. The ability to watch an All-22 feed of live games. A raw audio options of games. The ability to screencast. Even a live look at the highly paid booths who are calling the games.
Five bucks may seem small in the grand scheme of things but it is a rip-off especially when the content is available for free with a few extra searches. Goodwill and establishing a person to person online relationship with fans could go a long way for the NFL. It's not going to work using these tactics though. And after facing such a long pandemic, offering it up for free just seems like the right thing to do.
Sports Talkers Podcast – Danny Parkins
Danny Parkins opens up to Stephen Strom about why he is so passionate about defending Chicago. He also gives his best career advice and explains why a best friend is more important sometimes than an agent.
Marc Hochman is The Lebron James of Miami Sports Radio
The Hochman and Crowder Show with Solana isn't like anything you'll hear in most major markets. But they wear that distinction with a badge of honor. They're not interested in breaking down why the offensive line can't get a push on short-yardage situations, they want to make you laugh, regardless if it's sports content or not. They're perfectly Miami sports radio. 
There's 30 minutes to go until Marc Hochman's summer vacation and he's suddenly overcome with emotion. Instead of staring at the clock, he's staring at an article from The Miami New Times, which has just named him Best Talk Radio Personality in its "Best of 2022" awards issue. It's an incredible honor in a city that has several worthy candidates, including the man sitting right next to him, Channing Crowder.
But it's not just the honor that's catching Hochman's eye, it's also the paragraph where the newspaper compares him to Lebron James. No, seriously. Compliments are nothing new for the Miami radio veteran, but being compared to one of the best basketball players of all-time is new territory. Part of the paragraph reads like this:
"His current domination of the afternoon drive simulcast on both WQAM and 790 The Ticket (WAXY) is akin to Lebron playing for the Lakers and Clippers simultaneously. Could he do it? Probably. Does Hochman do this daily? Yes. Advantage, Hochman."
Talk about incredibly high praise for a sports radio host. Especially one in Miami where there's still a lot of hard feelings towards Lebron. But the praise is accurate, because the Hochman and Crowder Show with Solana airs on two different Audacy stations every day. It's an interesting dynamic, especially for a market the size of Miami/Fort Lauderdale.
"We have a joke that if you don't like what you're hearing on 560, feel free to tune in on 790," laughed Hochman. "But it's fun and I think in some strange way it's increased our audience. As crazy as it is to say in 2022, there are people who listen to a particular radio station and don't ever change it. I do think being on both stations has expanded our audience. We have fun with it. The show is on for four hours on 560 WQAM and three hours on 790 The Ticket."
It's cool to see Hochman get this type of honor during his 10th year of being an afternoon host on 560 WQAM. Especially since he's originally from Chicago, but has carved out an incredible career in a city he's called home since the late 80s. It's funny to think Hochman had no interest in sports radio in 2004 when his college friend Dan Le Batard offered him a job as an executive producer at a startup station in Miami. Now, 18 years later, he's being voted as the best to do it in the city.
"Everybody likes to be recognized for what they do," said Hochman. "We get recognized all the time by the listeners, but when someone out of your orbits writes their opinion of what you're doing, and it's that glowing of an opinion, it's great. I've been compared to Lebron before, but it's always been my hairline. It was nice to be compared to him for another reason. That was super cool."
The best part about all of this is how Hochman will use this as a funny bit on the show, because, above anything else, he's instantly identified as someone who's incredibly gifted at making people laugh on the air. There's no doubt it will become a theme on the show, both with him and his co-hosts, Crowder and Solana.
"The award came out about 30 minutes before I was leaving for my summer vacation, so I had about 30 minutes on the air to respond to it," Hochman said. "So I'm sure it will become a bit on the show, I certainly will refer to myself as the Lebron James of sports talk radio in Miami. Although, there's still some hard feelings here towards him.
That was the one part that jumped out, obviously, to me, Crowder and to Solana. I don't think I'm Lebron James but Crowder said on the air that sometimes you have to acknowledge when you're playing with greatness, and he said "I used to play defense with Jason Taylor and Junior Seau, now I'm doing radio and I will acknowledge greatness."
With or without this honor, it's pretty evident Hochman is the happiest he's ever been in sports radio. He's surrounded with two talented co-hosts, but the sentiment is that Hochman does an incredible job of putting both Solano and Crowder in situations to be the best versions of themselves on the air. However, Hochman sees it differently.
"I think that's more on the people around you," he said. "If you have great teammates, they're great. Crowder and Solana, those dudes, if you want to make a basketball comparison, we have ourselves a Big Three.
Solana is the best at what he does, Crowder is the absolute best radio partner I've had in my career. He's so aware of what it takes to entertain but also has broadcast sensibilities at the same time. I actually think he's the one that makes us sound better than what we really are. He has a really incredible knack for entertaining but also informing."
The Hochman and Crowder Show with Solana isn't like anything you'll hear in most major markets. But they wear that distinction with a badge of honor. They're not interested in breaking down why the offensive line can't get a push on short-yardage situations, they want to make you laugh, regardless if it's sports content or not. They're perfectly Miami sports radio. 
"I would say Miami is the strangest sports radio market in the country," said Hochman. "I grew up in Chicago so I'm intimately familiar with Chicago sports talk. Miami sports talk, which is Le Batard, who redefined what works. In Miami, that's what it needed. It's more guy talk than sports talk. We certainly can't break down a third inning in a Marlins game and why a runner should have been running when he wasn't, the way that New York, Philadelphia or Boston radio could."
"That doesn't work here. When Crowder and I go on the air everyday, we've always said, our goal is we want to laugh the majority of our four hours on the air. If we're laughing, we assume the audience is laughing, as well. That's our personality. We both like to laugh and have fun. I like to do it, no matter what is going on. That translates to the radio. Luckily, Miami is a sports radio market that embraces that, because I don't think we could do a show any other way."