College Football Crashes, Just As Sports Was Fun Again
"Without the game that serves as our national lifeblood from autumn into winter, it's time to concede, even after a memorable golf major and various Bubble triumphs, that the COVID-19 minefield is destroying the American soul."
God still might be bigger than the coronavirus, but college football and the American South are not. The sport that has been most delusional about the global pandemic, channeling President Trump's continuing view that it's merely a bug, finally is prioritizing the health of vulnerable young men over the wealth of TV billions. This is the week when a country grasps what I told Paul Finebaum a month ago on his program, a comment that subjected my otherwise tame Twitter feed to cultural warfare.
Football is the last game that should be played amid a COVID-19 storm, the sporting equivalent of 100 maskless morons dog-piling at a rave. ESPN tried its damndest to brainwash the masses and rescue the sport it literally owns and operates (and the billions it's about to lose), but commissioners and school presidents from Power 5 conferences are forced to concede that liabilities are trumping the lie. Dabo is devastated, Saban is gobsmacked, Harbaugh is being sized up for a straitjacket and boosters will have to find other people to pay off, but who really cares?
I'm concerned about our national condition.
Without the lifeblood of football — and the NFL can protect a $15-billion season only so long before pulling the same plug — is this where America's collective psyche turns to mush? Will the legions of COVID-iots who've tried to ignore the death toll and ongoing ravages now realize what an autumn without football represents? It means the carnage is staying for a while, with no departure date, leaving the economy in a shambles, our sense of freedom violated and our mental health like so much road barf as we await an absurdist election that will make us a bigger international mockery. With football in Tuscaloosa and Columbus, Happy Valley and Death Valley, and an accompanying pro season, there was a chance to maintain an equilibrium.
Now what?
There is pushback from Gen-Z types who don't know better, such as the current face of college football, Trevor Lawrence. Stunningly, with his sport teetering, the Clemson quarterback tweeted, "People are at just as much, if not more risk, if we don't play. Players will all be sent home to their own communities, where social distancing is highly unlikely and medical care and expenses will be placed on the families if they were to contract covid19. Not to mention the players coming from situations that are not good for them/their future and having to go back to that. Football is a safe haven for so many people. We are more likely to get the virus in everyday life than playing football.'' He makes fine points. What he doesn't mention is the lack of social distancing on a college campus.
Can I at least enjoy Collin Morikawa's exhilarating victory at the PGA Championship for a nanosecond or two?
Apparently not. College football's shutdown only reminds us that Major League Baseball is a sickening minefield, dangerously continuing a foolish season as the virus sidelines the Cardinals for a third week. Manager Mike Shildt said some of the infected nine players and seven staff members were hospitalized for brief periods, which should be the breaking point for so-called MLB commissioner Rob Manfred, who might want to look at college football and follow suit. Instead, he proceeds with this shameful stagger toward potential tragedy. At least MLB players are paid as they dodge virus droplets — including their own. Protocols still are being flouted even after the outbreaks of the Cardinals and Marlins, with the A's and cheatin' Astros engaging in just the kind of wild, dugouts-clearing brawl that spreads the virus. Oakland's Ramon Laureano, a former Astro, reportedly responded to a mother-related slur from Astros hitting coach Alex Cintron and attacked the Houston dugout.
"Get back to the dugout!'' umpires shouted, their cries echoing through the empty Coliseum.
They were ignored, just as the players ignore Manfred. He should have foreseen this might happen, considering A's pitcher Mike Fiers snitched on the Astros, his former team, in what launched the electronic sign-stealing scandal that tarnished Houston's 2017 World Series title. Look, I realize everyone is bitter about the Asterisks and wants payback. Joe Kelly already exacted it for the Dodgers. Enough. Finish the game before a brawl becomes a superspreader. What exactly does Manfred do again, anyway?
Then there was Cleveland pitcher Zach Plesac, who left the team hotel and went out in Chicago after beating the White Sox. The Indians made him drive back to Ohio in a rental car, this after Plesac said recently, "Any time you can maintain social distancing, it's going to be what we focus on. There are common sense situations, where you see things are packed, or going out to the bars and drinking — doing stuff that shouldn't be important to us right now.''
Will the Indians be the next team shelved by a virus outbreak? It's daffy to think a hollow crackdown — Manfred claims he'll ban offenders from the postseason — will compel all players to wear masks in dugouts and stop fighting, high-fiving, spitting, hugging, remaining in seats on planes and going out at night. Earlier in the Astros series, the A's mobbed hero Marcus Semien, with Austin Allen leaping high to join the scrum. If MLB somehow outlasts a shotgun regular season, there's no chance, without a Bubble, that an expanded postseason will survive when an infected team simply can't be shut down for a week.
"I don't know what our future looks like at this point,'' said Cardinals president John Mozeliak."For all of the optimism we had a couple days ago, it's frustrating for everyone involved.I haven't slept in days.'' Any wishful thinkers still left in sports? Still want to accuse me of negativity when realism is the word? It's a shame, because before Sunday's barrage of news, I felt something comforting, almost assuring, about having the remote control in my hand again all weekend. Sports wasn't "back.'' But it was there, after a long absence, as I remember it well.
Push a button and there's Big Boy Golf in San Francisco, where Dustin Johnson and Brooks Koepka should have been striking bodybuilding poses while Bryson DeChambeau was channeling his inner Mark McGwire. Weird as it was watching Hans and Franz on the links, it was weirder amid the unearthly silence of a municipal course, where leaders kept track of rivals' scores not by crowd roars but phone apps and video boards. Still, it was a major sports event, at long last.
And we were talking about it, especially the part about Koepka telling the world how his supposed friend, Johnson, gags with 54-hole leads in majors. Of course, Johnson did just that in a mad scramble that had seven players tied for the lead at one late point. But Koepka imploded himself. So, who broke out of the pack? Not Hans, not Franz, but 5-foot-9 Morikawa, more poised than all of the aforementioned, maybe because he has been working with a sports psychologist since he was eight. Abusive, perhaps?Not when you saw him chip in from 40 feet to take the lead on No. 14, then rip a monster drive to set up an eagle at No. 16. Behold the lowest final round by a PGA champion in 25 years, the youngest player to break 65 in the final round of a major victory — ever. Was a legend born at Harding Park, not far from where Morikawa starred at Cal? The last three players to win the PGA at age 23: Rory McIlroy, Tiger Woods and Jack Nicklaus.
Too bad there was no gallery to salute him. He was left to sit with his girlfriend, beside a lonely parking lot, waiting for the victory ceremony — where he dropped the lid off the trophy. What a shame that his glorious drive, which might become the launching point of a legacy, was greeted by just a few claps instead of a monstrous noise blast. "This is the one time I really wish there were crowds right there," Morikawa said. "I heard some claps but not a ton.''
Let's hope he'll hear many roars in the future.     
And that fans can deliver them.
Even if seasons are fleeting and the coronavirus ultimately shuts down ballparks and Bubbles throughout North America, sports had managed to keep us talking about … sports! Flip the channel to see Mike Trout hammer another home run, change another diaper and suffer another loss with a scandalous franchise that doesn't deserve him. Flip again to watch the transcendent Luka Doncic one-upping Giannis Antetokounmpo, prompting his lucky Mavericks coach, Rick Carlisle, to literally applaud, compare him to Larry Bird and say this after his 36-point, 19-assist, 14-rebound freak show: "Luka is not only a great basketball player, he's a great performer. I'd pay money to watch him play.'' He meant inside the NBA Bubble, where there is no paid admission, but you do have the Clippers trolling Damian Lillard, the Raptors thinking repeat and the greatness of T.J. Warren — T.J. Warren? — in tech-enhanced, pixelated visuals that look crystalline.
Oh, and are Western Conference teams actually plotting against the Lakers, trying to finagle the scary Trail Blazers into the No. 8 seed and put LeBron James out of his sequestered misery with a first-round postseason ouster. "I miss the hell out of my family,'' said James, whose team clearly has Bubble issues beyond homesickness. "My wife, my kids, my mother. And so on and so on. So, it's a huge challenge. You can't replicate actual presence when you're waking up and you're in the living room or you're in the kitchen or you're outside playing with your kids or playing with your daughter, playing video games with your boys or working out with your boys. I'm not there.''
On one end of the cable programming block, Tiger couldn't putt, which is tough when he's nearing 45 and still four major titles shy of Nicklaus. "It's getting tighter and getting harder to win events,'' said Woods, 21 years older than Morikawa. On the other end, Connor McDavid was losing in his home arena to the mediocre Blackhawks and costing the NHL a chance to market him. Cars and horses were racing elsewhere, commingling with UFC fighters. And is that a live shot of a 43-year-old wellness entrepreneur throwing a football in Tampa?
This would seem to be a sports fan's pleasure beach, a cornucopia of events power-blasted your way at all hours of the day and night, even if it requires an extra $5 for a "Spectrum TV Sports Pack'' in Los Angeles when zero refunds were issued during months of two-decades-old game reruns. Some of what we've seen is damned impressive, such as the quality and intensity of competition. I saw Devin Booker, on a weekday afternoon, drain a spinning, turnaround jumper while smothered by Paul George as the buzzer sounded and his rear end dusted the floor. He has been so good that Draymond Green, moonlighting for TNT, was fined $50,000 for tampering when he said, "Get my man out of Phoenix. It's not good for him. It's not good for his career.'' The NBA and NHL — along with golf, the ultimate in sports social distancing — are giving us content that sometimes seems as good as the norm. Is it because athletes have nothing else to do, no longer dealing with previous everyday demands? Is it because 20,000 people aren't booing and cursing their moms that NBA players are hitting higher percentages of free throws and corner three-pointers inside the Bubble?
"Seriously, it's a great stage to play,'' Rockets coach Mike D'Antoni marveled. "There's not a lot of distractions. It's the same court every night. You get your shooting, depth perception and all that. It's pure basketball. You see some of the talents these guys have, are coming out. I think it's only going to get better. The playoffs are going to be terrific.''
As for Trout, again the talk of baseball? "I was hoping now that Trout was a dad, the dad bod might have snuck up on him, but that isn't the case," Mariners manager Scott Servais cracked.
A jerking knee wants to ask, then: Is sports, miraculously, adapting to the coronavirus and positioned for a long haul of completing seasons and crowning champions?
Your conscience, balanced by a daily life fortunately not governed by that remote and the screen it controls, is quick to interrupt and beg the usual restraint. College football and baseball interrupted, too. It reminds the jerking knee: The resumption of games is still very funky and fraught, with TV ratings ebbing and flowing, and if you think otherwise, continue to imagine hundreds of 3 1/2-hour scrums where sweating, panting, spitting, bleeding and colliding football players are practicing the very antithesis of distancing.
The lords of college football are concluding the season is unplayable, with the Mid-American Conference becoming the first FBS league to postpone an entire season and Colorado State suspending the sport indefinitely amid reports of racism and verbal abuse. The NFL should be next, especially when Aaron Donald, among the league's most feared defenders, reveals himself as a raging COVID-iot so unfazed by the virus that he refuses to wear a league-recommended face shield. "Once you are out there grinding with the guys, you kind of block all that out and it's just football again,'' Donald said. "I need air when I'm out there running around and breathing with them, long drives and stuff. I feel like, we're out there, we're playing up close. There is nothing you can really do. If a guy got it and I tackle the guy, then I probably got it because he is going to be sweating and spitting and slobbering all in my face.''
If you don't believe me about the lunacy of it all, ask Tiger. Captured by a boom mike on the course, Woods and McIlroy sounded like talk hosts while discussing sports and the Big Corona. "Once one person has it in in (an NFL) locker room, they're all going to get it," Woods said.
"MLB is doing well,'' said McIlroy, who must be living in a cave.
"If they have one more outbreak, they're done," Woods shot back.
So, um, yeah, the biggest error one can make is getting used to Sports In A Pandemic. Enjoy and savor it, while you have it, but also know it's the very definition of temporary and makeshift, uneven and volatile, and that any of it could end at any time for any reason — even chicken wings at a strip club — in a catastrophic year on Planet Earth when the worst still could be ahead. I'm not even referring to the direct spread of COVID-19 possible in all corners and nooks of sports leagues. The danger is the accompanying weariness that comes with the oppressive, stifling, 24-7 challenge of playing hide-and-seek with an invisible monster that doesn't care about sports.
Fatigue is the lurking saboteur. The mental health of thousands of athletes and support personnel is at risk, which increases the chance of a protocol violation, intended or not, that could cause the one outbreak that bursts the NBA Bubble or melts an NHL Igloo or ends a baseball or football season. We're actually expecting athletes to remain isolated, some for months, with little more than wine shipments, video games, ESPN/TSN and league-organized activities for entertainment? Hasn't the chirping of a proximity sensor — when venturing within six feet of another human being for 10 seconds, the pandemic version of traveling — already gotten old?
We're barely a week into August. The NBA season ends in mid-October. And who's grumbling all the time? The one icon the league is depending on most in the Bubble. "It's a very weird dynamic. I haven't played in an empty gym in a very, very long time," James said. "I'm just trying to find that rhythm and lock in. It's very dark, extremely dark. You can literally hear a feather hit the ground.''
Funny how Doncic doesn't care about such issues.
It's the mental exhaustion, the limitations of humanity, that could bring down the grand sports plan. This is a marathon, and the participants are just passing the 3-mile mark of a 26.2-mile race. If I'm Manfred, I'm heeding every word uttered by Trout, who didn't have to return to the Angels after his wife delivered their first child but did anyway. Trout, who has wanted daily COVID-19 testing from the beginning, reiterated his thoughts that MLB could doom itself with every-other-day swabbing.
"I've said this from Day 1: If you don't have testing every day, it's going to be tough,'' he said. "You're always trying to catch up and trying to catch it. You know, if we get tested Friday, we have to wait two days to get the results back and you don't know what's going to happen in between. You've seen it with the Marlins. You've seen it with the Cardinals. It's definitely scary for baseball. I've been saying this the whole time, it only takes one person to screw this up.''
Say, Zach Plesac.
The racial injustice scenes have been proud and emotional throughout sports, even in unusual places such as hockey rinks and NASCAR tracks — and loaded with expected vitriol from the White House. Pulling out his playbook from the Colin Kaepernick years, President Trump used "Fox and Friends'' to rip the NBA for its emphasis on Black Lives Matter and sideline kneeling protests after he helped open doors for the league's restart.
"I think it's disgraceful,'' Trump said. "We work with (the NBA). We work very hard trying to get them open. I was pushing them to get open. And then I see everyone kneeling during the anthem. It's not acceptable to me. When I see them kneeling, I just turn off the game. I have no interest in the game. And the ratings for the basketball are way down, if you know. And I hear some others are way down, including baseball. Because all of a sudden, now baseball's is in the act (of kneeling). We have to stand up for our flag. We have to stand up for our country. We have to stand up for our anthem. And a lot of people agree with me. Hey, if I'm wrong, I'm going to lose an election. OK. And that's OK with me. But I will always stand for our country and for our flag."
You knew what was coming next. "The game will go on without his eyes on it," James said of Trump. "I can sit here and speak for all of us that love the game of basketball: We could care less." When told of Trump's remark that he has done more for Black people than any U.S. President "with the possible exception of Abraham Lincoln,'' James said, "You trying to make me laugh right now?'' Clippers coach Doc Rivers, too, responded in kind, referring to Trump's stance as "disgraceful.''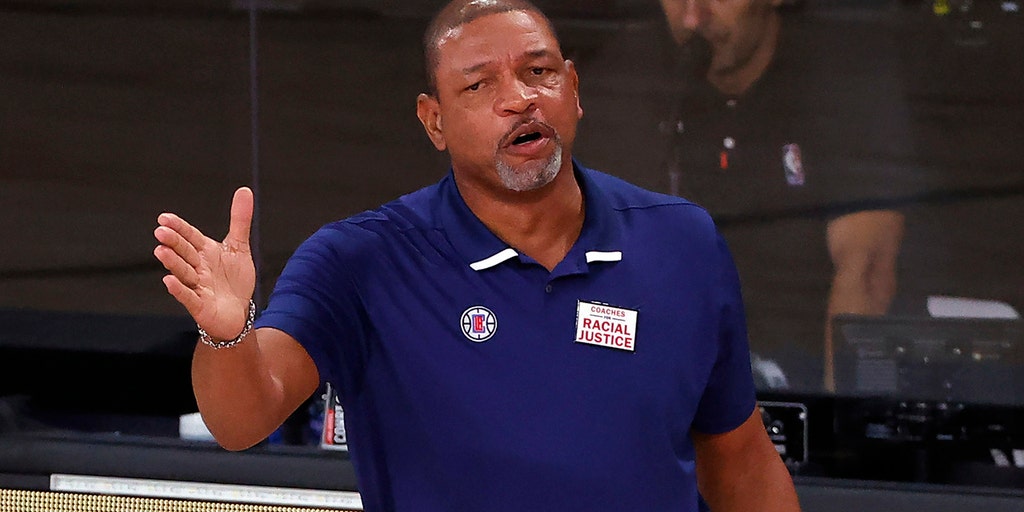 For the record, ratings for basketball aren't "way down,'' but they aren't what they were before the pandemic. Baseball ratings were in the crapper to begin with. That said, it's important that sports understands this about 2020: Now more than ever, people need games to escape the strife, not exacerbate it. That's what we've discovered this sinister summer. As the world burns, we still care about Collin Morikawa, the over-under on Aaron Judge's home runs and why an NBA Finals featuring Giannis and Luka — the world's two best players? — might be the most fun. The coronavirus can't bury sports conversations.
But it can bury sports.
Jay Mariotti, called "the most impacting Chicago sportswriter of the past quarter-century,'' writes a weekly media column for Barrett Sports Media and regular sports columns for Substack while appearing on some of the 1,678,498 podcasts in production today. He's an accomplished columnist, TV panelist and radio talk host. Living in Los Angeles, he gravitated by osmosis to film projects. Compensation for this column is donated to the Chicago Sun-Times Charity Trust.
Meet the Podcasters: Mina Kimes, ESPN
"I think fans are smarter than ever now. Because football is such a big tent, you can find pockets of the audience with every level of knowledge and preference for analysis."
As 2023 inches towards the finish line, so too does our Meet the Podcasters series. We have spoken with people that found success in the space after so many different journeys. Greg McElroy and Chris Jericho were championship-winning athletes. Mike Francesa and Adam the Bull dominated local radio. Bomani Jones made his name in the digital space. We end on a bonafide sports television superstar in Mina Kimes.
If you don't believe that, just look at the deal she signed earlier this year. She gets to stay at ESPN and carve out time to work with Meadowlark Media. Those aren't concessions given to someone their network thinks is easy to replace.
It can be tough to find time to chat as the holidays approach, so the conversation was short, but it covered a lot of ground. Why have analytics caught on with fans? Is it more fun to dissect success or to re-think failure? How do you watch a game when you have to not only understand what is happening, but figure out the best way to turn that explanation into analysis?
Obviously, I want to thank Mina and everyone else that made time to chat with me for this series. A big thank you goes to Point-to-Point Marketing as well for making these features possible. Last, but certainly not least, thanks to all of you that took the time to read even just one of these. I hope you learned a little something that you can take with you into 2024 to make your digital content more successful!
Demetri Ravanos: There is a big audience for what you do best and I sometimes wonder how much that surprises those of us that grew up in the media. Do you think the appetite for analytics and in-depth analysis is relatively new, or was the appetite always there without the right platform before the rise of digital media?
Mina Kimes: I think fans are smarter than ever now. Because football is such a big tent, you can find pockets of the audience with every level of knowledge and preference for analysis, but on the whole it really does seem to me that viewers and listeners are better informed than ever, which I'd attribute to the rise of fantasy football and the proliferation of websites and podcasts that talk about film, cap management, analytics, etc.
We see this trend playing out at NFL Live, where our nerdiest segments often capture a good deal of interest.
DR: What for you is more interesting – explaining why things aren't as bleak as the performance may suggest (i.e., Bryce Young not having time or protection to really see what he is as a QB) or highlighting what makes the greats so great (Mahomes' best throws, how Micah Parsons sheds blocks, etc.)?
MK: I love digging into great performances, but the first category is really compelling to me because it forces us to look beyond basic numbers and highlights (or lowlights!). That's where I think the intersection of film and statistics is so useful – it allows us to dig deeper into tendencies and trends to explain why things are happening.
DR: When you are doing your weekend previews, what information do you prioritize? Is it storylines or is there a number or category that you try to make a staple of your analysis for everything?
MK: Once I've settled on which games I want to discuss, there are two things I try to zero in on: The strengths and weaknesses of each team, and how they match up.
I also make note of things I've observed recently (for example, if a team is leaning on a certain personnel group or formation) and then consider how it might impact the game.
DR: What about in setting those topics and discussions up? How do you watch and re-watch games, plays and moments to best understand what it is you are seeing and find the point you want to bring to the audience?
MK: When I'm watching the weekend's games on Sunday, Monday, and Tuesday, I'm looking for interesting (good or bad!) plays, tendencies, and trends. For example, if I notice a QB is having success targeting a specific area of the field, I'll make note of a few plays, grab the numbers later, and then, when I'm podcasting, consider how that might play out next week.
DR: One of the big differences between podcasts and legacy media is that people listening to podcasts are actively choosing you and the topic you are talking about. Does that change the way you can discuss a game or a player versus on TV?
MK: I'd say the biggest difference isn't topic selection, but time. On TV we only have a segment or less to hit on a matchup, whereas on my podcast, I'm often talking about the same games and players, but I have 15 minutes instead of five (and I'm one of two people chatting instead of four or five).
I will add that the topic selection process at NFL Live is very collaborative, though. We know which games we need to focus on, but the way we approach discussion is driven by our interests and observations.
DR: I am always interested in the different views on this. Podcast listeners overwhelmingly say they like video now. Is that a preference you understand or does it not make sense to you?
MK: It makes sense! Because the production quality has improved so much (the kind folks at Omaha Productions have been working with me to improve the look of my show for YouTube), many podcasts really don't look very different from sports television.
If you're already a listener, why wouldn't you want to watch as well, especially since you have a convenient viewing device in your hand all day? I do think there will always be people who just listen, though, because their free time for consumption is relegated to commuting (or in my case, walking a dog!).
To learn more about Point-To-Point Marketing's Podcast and Broadcast Audience Development Marketing strategies, contact Tim Bronsil at [email protected] or 513-702-5072.
Demetri Ravanos is the Assistant Content Director for Barrett Sports Media. He hosts the Chewing Clock and Media Noise podcasts. He occasionally fills in on stations across the Carolinas. Previous stops include WAVH and WZEW in Mobile, AL, WBPT in Birmingham, AL and WBBB, WPTK and WDNC in Raleigh, NC. You can find him on Twitter @DemetriRavanos and reach him by email at [email protected].
Michelle Smallmon Didn't Stumble Into Mornings on ESPN Radio
"The humanity and the relatability is what's going to really bring people in."
It all started with an accident. While vacuuming her apartment just two days before the first episode of her new national ESPN Radio program, Michelle Smallmon tripped over an air purifier cord. As a result of the maladroit blunder, she fell face first into her coffee table and hit the inside of her eye on a drinking glass.
When Smallmon looked into the mirror, she immediately saw that her eye was bleeding and swelling up and was in a state of disbelief, although she was not surprised that this happened to her because of her inherent clumsiness. The black eye that came out of all of this turned out to be an advantageous opportunity for the program, which opened its first hour on the air with this circumstance.
Smallmon works alongside Evan Cohen and Chris Canty weekday mornings on UnSportsmanLike, the new ESPN Radio morning show that leads off a refreshed national programming lineup. Since the program is also simulcast on ESPN2, there are cameras on inside the radio studio at the Seaport District-based radio studio, granting viewers of the premiere episode an opportunity to see Smallmon's black eye for themselves. The incident, however, provided a means for the new hosting trio to introduce themselves and showcase their personalities in an atypical fashion by recalling a calamitous occurrence from the onset.
"We have to be ourselves," Smallmon said. "People are coming for the sports, and hopefully with our opinions and our information and the knowledge that we provide, they'll stick around, but they're going to remember us for who we are. The humanity and the relatability is what's going to really bring people in."
Once the hosts of UnSportsmanLike were finalized, Smallmon met with Canty and Cohen to determine their collective philosophy for the program. At the crux of their conversation was how sports is supposed to be an enjoyable part of people's days, making it important to be genuine with the audience and celebrate the festivities.
"I just think that audio provides a really great way for people to weave us throughout their day and it's something that they can come back to, and I just feel like the audio space continues to grow," Smallmon said. "So that is really exciting to me that there are so many different avenues for us to explore in the audio space."
Smallmon and her colleagues understand that their program that was once anchored by Mike Golic and Mike Greenberg in the mornings for 18 years, who created a show that proved to be an enduring facet to sports radio as a whole. Today, UnSportsmanLike is competing for mindshare and attention span in a dynamic media ecosystem where people can consume various types of content by equipping myriad methodologies. The mission to serve the sports fan anytime, anywhere requires the hosts engage in deft preparation and fealty towards the audio vertical, never taking their positions for granted and understanding the privilege in being able to communicate en masse on the air.
"Any time anybody elects to listen to you, they are giving you a vote," Smallmon said. "They're choosing you [and] they are saying, 'I want to spend a part of my precious time with you,' and particularly in the mornings because we're the first people that get the opportunity to talk about the games from the night before or to give our opinion on certain things."
While Smallmon may have stumbled into an enthralling storyline to open the program and captivate the audience, she did just the opposite in landing a spot within the coveted morning drive daypart. Through years of indefatigable persistence and calculated risk-taking, she positioned herself to garner such a chance when the network was in the midst of developing a new lineup.
Despite having a successful morning show in St. Louis, Mo. on 101 ESPN that was finishing with high ratings and bolstering streams of revenue, Smallmon found herself yearning to live in a sprawling metropolis. Because of this, she started visiting her friends in New York City once per month and gradually became enamored with the locale, prompting her to meet with co-host Randy Karraker, program director Tommy Mattern and Hubbard Radio market manager John Kijowski to express her intent to leave the station.
"They have always been my biggest champions [and] they encouraged me every step of the way," Smallmon said. "They were like, 'This is going to be a tough transition for us because the show's going so well, but we care about you as a person more than we do an employee, and if this is your dream and something you think you have to do, we've got your back.' I will always and forever be indebted to them for not only finding a way to help me do that, but for supporting me and checking in with me every step of the way."
When she was young, Smallmon frequently traveled to St. Louis with her father to attend sporting events, cherishing every chance she could to see a live game. Throughout her childhood, she watched football on television and remembers seeing sideline reporter Melissa Stark interview the players, prompting her to think about working in sports. Quotidian tasks were transformed into beacons of flourishing sports knowledge, catalyzed by her father's creativity with abecedarian activities such as sorting and folding laundry.
Yet Smallmon concentrated in premedical studies at the University of Illinois, matriculating to try and become a dermatologist. Early on, she realized that she was not dedicated enough to pursue a profession in the field, resulting in a meeting with her advisor about her future plans. Upon being asked her ideal career path, Smallmon demonstrated interest in covering the basketball team with the goal of appearing on College GameDay as a features reporter in the future.
Amid an economic crash, Smallmon was able to land a job as a production assistant at KSDK, a local television station with which she had interned as a college student. Smallmon worked on the outlet's morning show, Today in St. Louis, arriving at the studios around 3:30 a.m. every day to prepare and execute the broadcast.
Although her shift ended at 2 p.m., she would put in extra effort to stay later and interact with sportscaster Frank Cusamano and sports director Rene Knott, volunteering her time and trying to be productive. In displaying her aspiration to work in sports, she was eventually offered a position in the department, which first started with shooting and editing high school events.
"Most of the work that was done in sports was leading up to the 5 and 6 o'clock newscast until they took a big break before 10 p.m.," Smallmon said. "I would use that time to just absorb as much as I could, watch the guys at work and try to make myself useful."
Drawing inspiration from the aforementioned Stark, Smallmon had seen various women working and thriving in sports television; however, this was not the case in the sports radio format. Despite being familiar with the medium, she had never considered going on the air until Knott asked her to be a co-host of his new weekend show on 101 ESPN.
After some time, she received a note from an executive inquiring if she would be interested in applying for an open producer position available at the outlet. Even though she applied thinking she would not receive the job – a thought compounded when she discovered the producer role was for the program hosted by Bernie Miklasz – Smallmon made it to the final round of interviews. Speaking with Miklasz directly, he articulated that while he thought she was a good fit for the role, the other candidate had more qualifications and previous experience.
"I looked at him and I said, 'Well, if that person is as great as you say that they are and have this much experience, they will have no problem finding another job when you hire me to be your producer,'" Smallmon averred. "I left there and I was like, 'Man, I blew that.'"
Much to her surprise, Smallmon was hired and ended up working with Miklasz in the role for three years. In speaking with him and observing how he interacted with other people, she learned industry nuances and esoterica that made her even more adept at the role. Smallmon was eventually moved to The Fast Lane in the afternoons with Randy Karraker, D'Marco Farr and Brad Thompson, possessing a mentality of how to best position the show for sustained growth and success.
Smallmon took her skills to ESPN Radio in 2015 when she moved to Bristol, Conn. to work as a producer. The first stint with the network prepared her to excel on UnSportsmanLike, collaborating with hosts such as Ryen Russillo, Danny Kannel and Jorge Sedano, but she always felt a magnetic pull back towards St. Louis. Once Russillo was officially slated to leave ESPN, Smallmon was in talks with the company about different paths she could take and weighing her options. In the eleventh hour, Smallmon received a fortuitous call from Miklasz, who conveyed that he was thinking about changing up his show and wanted to know if she had any interest in co-hosting the program.
"It just felt like all of the cards were falling into place at the right time for me to make that move, and I'm a person that likes to take chances and challenge myself, and I don't ever want to live with regrets," Smallmon said. "I thought, 'Maybe hosting and being on the air is not going to be for me; maybe it's always going to be production, but I'd like to know.'"
Once she returned, Miklasz offered to change the name of the program to incorporate Smallmon, an entreaty that she declined because of fear that it would disrupt what was a known entity to listeners in the locale. Upon his exit from the station two years later, Smallmon started hosting with Randy Karraker, who implored her to add her name. Even though she never sought out to find the spotlight, she capitulated to the request once her co-host explained why it was important as not only an identifying factor, but also as the first female to be a full-time host on the station.
"I would hear from so many female sports fans across the area and parents whose daughters listened to the show and whose daughters paid attention to the show because someone who looked like them occupied that seat," Smallmon said. "I really realized how important it was for me to establish myself in that way."
As Smallmon made the move from St. Louis to New York City, her parents surmised she was recklessly upending her life. Subletting an apartment from a mutual friend in the city, she was working under a usages deal at ESPN Radio where she would deliver overnight updates and host SportsCenter All Night. Smallmon was grateful for the support of her parents and asked them to give her a year, during which she would work hard to land a full-time job in the city. Three hundred and sixty-six days later, Smallmon took to the air with a black eye to commence UnSportsmanLike, officially meeting her end of the bargain.
"It's hard to explain to people how strange our job is," Smallmon said. "The three of us sit in a windowless room and talk to one another for four-plus hours a day, so just by nature of spending that much intimate time with someone, you get to know them really well really fast."
The workday for the morning episode begins the day prior several hours after the conclusion of the previous broadcast, independently reading articles, following sports news and reviewing games. In the preceding afternoon, the program holds a content call where everyone pitches ideas before an early rundown is sent out and added to throughout the day.
While the game of the night is on, Smallmon is in constant communication with her thoughts before getting sleep and preparing for an early wake-up call. There is a pre-show meeting to review the rundown before the four-hour morning show begins at 6 a.m. As soon as the on-air light is extinguished, the process starts again so the hosts are ready for it to illuminate again in 20 hours.
"It's really a full-time commitment, especially during football season, to do a job like this," Smallmon said, "but when you're lucky enough to get the opportunity to host a show of this magnitude, you've kind of got to make it your life in a lot of ways."
When she takes her seat behind the microphone in the morning, Smallmon believes that two of the most talented people she has ever worked with are sitting by her side. In her view, she needs to be at the same level as them on the program and effectuates that through her preparation and by bringing different perspectives to the air.
"I have zigged and zagged and occupied different roles throughout my time," Smallmon said. "It's really just been surprising opportunities that I have emerged and that I've really been grateful to have and that I want to take advantage of, but I don't really think about the future and my motivation is not really driven by what's next; it's driven by the present.
For now, Smallmon is focused on attaining success in New York City and hopes to participate in the program for as long as possible. Down the road though, she knows that her career will entail a second return to St. Louis when she wants to be back in the community she loves and closer to her family. The gratitude she has in being able to regard the city as home is conspicuous and authentic, and those in the locale continue to listen to her on 101 ESPN for two hours each morning ahead of the station's local morning program.
"My only goal right now is to make UnSportsmanLike the best show that it possibly can be, and if that is the case, hopefully we have an amazing run with the show," Smallmon said. "That's the goal is to make it as amazing as it possibly can be and ride that wave for as long as we possibly can."
Smallmon never envisioned herself working in radio but now finds herself as a trusted voice in the mornings on a simulcast program within the network's on-air lineup. Through it all, she has remained true to herself while exhibiting an evident commitment and passion for the craft, valuing every chance she has to go on the air.
"People will always say things to me like, 'Oh, are you going to be the next Erin Andrews?,' or things of that nature," Smallmon explained. "And I say, 'No, I'm going to be the first and only Michelle Smallmon,' because the edge that I have over everybody else is that I'm me. There's nobody else that's me, and so if I can just be myself and be authentic every day and do that, anybody else can."
Derek Futterman is a contributing editor and sports media reporter for Barrett Sports Media. Additionally, he has worked in a broad array of roles in multimedia production – including on live game broadcasts and audiovisual platforms – and in digital content development and management. He previously interned for Paramount within Showtime Networks, wrote for the Long Island Herald and served as lead sports producer at NY2C. To get in touch, find him on Twitter @derekfutterman.
Desmond Howard Unnecessarily Threw Pete Thamel Under the Bus on College GameDay
College football fans can be a crazy bunch, most of them are crazy in the sense they are doing stupid things that give you a good laugh but, every fan base has a lunatic fringe. Each fan base is more than willing to point out the lunatic fringe in the fanbase of their rivals but often are slow to acknowledge their own offenders. That doesn't mean they don't exist in any program that has any significant fanbase. The lunatic fringe affected College GameDay Saturday, and Desmond Howard didn't help the situation.
As a fan, you can accept it as true or bury your head and assume you are the one singular program that has somehow avoided having a fringe lunacy.
Michigan is certainly a significant football program with a massive fanbase. Just the sheer number of Michigan fans tells you there is going to be a larger than normal number of fans that might fall into the category of "fringe lunatic", it is just how the odds work.
That suggestion was made by ESPN during Saturday's College GameDay which originated from Ann Arbor, Michigan. Just in case you are completely unaware of the biggest story in college football this season, during Saturday's Ohio State-Michigan game, Wolverines coach Jim Harbaugh was serving the final game of an agreed upon Big Ten Conference suspension. The game also happened to be the biggest game of the season so far, a virtual play-in game for the College Football Playoff.
The suspension of Harbaugh was the result of allegations that Michigan staffer Connor Stalions was running an "off the books" sign stealing operation and that Stalions was a little too closely connected with Harbaugh for the Big Ten's comfort.
Stories like these only become mainstream by reporting and ESPN's Pete Thamel was on the frontlines of that reporting. It should be said that, just because something is reported by ESPN, FOX, or CBS, doesn't automatically make it true. Likewise, just because something reported about your team may not paint them in the best possible light, it doesn't make it untrue. That was the gray area ESPN's College GameDay found themselves in Saturday; one of their top college football reporters in the very midst of the fans that are upset with his reporting.
Thamel joins GameDay on site every week, normally delivering the breaking news on injuries and coaching changes, fairly normal stuff. He delivers his reports, not on stage, but among the actual team fans who are gathered behind the set for all the cameras to see.
Except Saturday when Thamel was not among the masses but inside the more controlled confines of Michigan Stadium.
Honestly, Thamel being inside the stadium, rather than among the crowd, would not have seemed at all odd to me until Michigan's Heisman Trophy winner and GameDay analyst Desmond Howard made it awkward in this exchange:
Howard: "We've been doing this 12, 13 weeks and Pete's always been in the crowd giving his reports, I'm like, 'What the Hell's Pete in the stadium for?' That kind of just threw me all off, I'm like, 'Put your big boy pants on and do it in the crowd like you normally do it.'"
Rece Davis: "He's got some from the lunatic fringe, some 'friends'. We're just taking care of him."
Howard: "We've got security. We'll be ok. These guys are nice out here. These are nice fans. They're not going to do anything."
Davis: "It only takes one. That's all."
Howard: "He'll be ok. Put the big boy pants on."
I have no idea how many credible threats Thamel has received but there was, apparently, enough concern for ESPN to move him into an area that could be more easily secured.
Desmond Howard, though, seemed upset that ESPN doing that painted the fan base of his old school in a very negative light. I would make the case that even the most ardent GameDay viewers wouldn't think it odd that Thamel was inside the stadium rather than among the crowd. Howard's insistence on Pete not wearing his "big boy pants" only drew further attention to the fact Thamel was not in his normal spot.
Desmond Howard came off sounding like he was under some sort of pressure, personally created or applied from Michigan interests, to point out there was no reason Thamel should have any concern about Michigan fans. In doing so, Howard came off as something he's never been accused of being, a poor teammate. The best way to handle the situation for ESPN would be to completely ignore the fact there was a change in Thamel's location. In the event ESPN thinks anyone would notice, highly unlikely as it may be, just create a simple cover story.
To Thamel's credit, he seemed content to not be the focus of this addition to the story, it was only Howard's awkward interaction that brought it to light. It was completely unnecessary and only made everyone involved look a little worse.
In his NFL career, Desmond Howard averaged only one fumble per season, Saturday in Ann Arbor, he added another.
Ryan Brown is a columnist for Barrett Sports Media, and a co-host of the popular sports audio/video show 'The Next Round' formerly known as JOX Roundtable, which previously aired on WJOX in Birmingham. You can find him on Twitter @RyanBrownLive and follow his show @NextRoundLive.