Matt Barrie Used Small Towns To Cover Big Stories
"If I say one thing on Saturday during College Football Final with Jesse Palmer and Joey Galloway, I'll wake up to hate texts from one fan base. That passion is the beauty of it."
There isn't a major college football conference Matt Barrie isn't familiar with. From growing up in the Phoenix area and attending Arizona State in the Pac 12, to covering the Big 12 at a small TV station in Oklahoma, the SEC and ACC in South Carolina and the Big 10 in Wisconsin, Barrie has worked and seen college football from just about every corner of the country. Though most people would label Lawton, Oklahoma, Columbia, S.C and Wausau, Wisconsin, as less than desirable markets, they're what paved Barrie to be hosting SportsCenter and being at the center of ESPN's college football coverage. What's most impressive about Barrie is the versatility he's shown over his career. It's really hard to be great at three different sides of sports media, but Barrie's natural ability has made it happen at a young age. On the TV side, he's collected 11 Emmy awards, a true testament to his skills and journalistic integrity over the years. While doing a radio show in Columbia, the Matt and Tim Show on 1400 AM The Team was the highest rated in the market. Now, in the podcast space, the Matty and The Caddie podcast with ESPN is one of the more fun and entertaining golf podcasts you'll be able to find.
By now, it's become evident there's nothing in sports media Barrie can't do.
Tyler McComas: Seeing as college football coverage is your main gig with ESPN, how do you feel about all the news surrounding the sport?
Matt Barrie: Yeah it's sad to see what's going on here on August 10th. We're close to what would be training camp and week zero for actual games. It's been a difficult year for just life, outside of sports. Eventually you knew after March Madness was canceled, you hoped there was enough time between then and now to get something figured out for college football.
We still don't know what's going to happen. It certainly isn't trending in the right direction but I know how much that sport means to the players and I know how much it means to the small college towns that rely on football season as their economic engine. I don't want what I think is about to
happen, to happen, because there's going to be a ripple effect throughout the country and throughout these campuses and it's going to be a sad day if we do lose a fall football season.
TM: Seeing as you're with a major network, what's your strategy for talking about college football on Twitter?
MB: What I've learned is that it's a blessing and a curse of college football. I say that because it is the most passionate fan base you can come into. That's the beauty of it. If I say one thing on Saturday during College Football Final with Jesse Palmer and Joey Galloway, I'll wake up to hate texts from one fan base. That passion is the beauty of it.
I've been vocal the past couple of days about how canceling the college football season would impact these towns and there's a group of people out there that are calling for the safety of the players, which is of the utmost importance, but the same crew is saying we should play a spring season. That's just not feasible. If you're a safety person, if you punt on 2020, don't play football until 2021. It seems to me, that you can't win or you can't lose, sometimes, if you want to enter the fray, do it, and sometimes I'll just sit and watch it all develop around me. If you're going to enter the college football Twittersphere, understand that it can be a pretty feisty place.
TM: You started off in so many small markets so how did that pave the way to a job at ESPN?
MB: When I talk to colleges and speak to journalism students I tell them over and over again to go to local television. Experience local television. I love local television. It really gives you a good foundation for your career. Being in Lawton Oklahoma, some people will look and say, wow, how and why did you do Lawton? Well, I wanted to get a small market TV job to cover big-time college football. In the years that I was there, Jason White won the Heisman Trophy and the following year Adrian Peterson showed up at Oklahoma. I was at all their games on Saturday at home, we would travel to the Big 12 Championship and the BCS National Championship games against LSU and USC. It was such an invaluable experience to be near a program that Bob Stoops had built, and oh, by the way, Les Miles was at Oklahoma State. I got great, big-time college football experience in a small market.
A lot of times, that's the only way you're going to get that, is if you're in a small market in local TV. By the time I was able to move on with my career, from there, I went to Columbia, South Carolina, which is the home to the University of South Carolina, right when Steve Spurrier got the job. So I'm coming off Bob Stoops and seeing back-to-back National Championship game appearances and then I'm going right to the foundation of Steve Spurrier at South Carolina.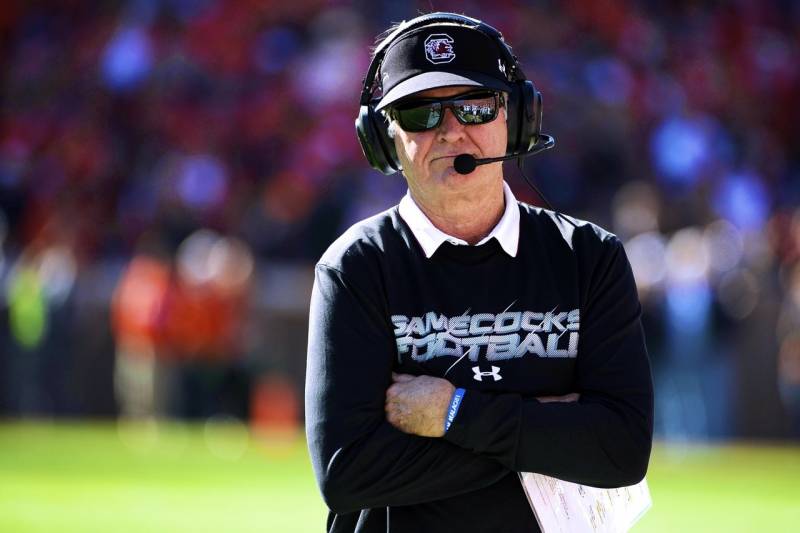 You get to touch all these programs and local TV, so by the time you get to a place like ESPN, you've covered big-time college football. From a media setting I covered just about every conference by the time I got to ESPN. The Big 10 in Wisconsin, the Big 12 in Oklahoma, the SEC in South Carolina, then I was in Dallas and watched TCU and Gary Patterson turn into a power in the Mountain West, so by the time I got to ESPN, with my roots to the PAC 12, there really hadn't been a conference that I hadn't touched. When I was at South Carolina, Tommy Bowden was at Clemson. So much college football early in my career helped pave the way for what I'm doing right now.
TM: How did you get your break?
MB: Well in our career, and I'm sure you're familiar with it, but you have an agent. I had an opportunity back in 2011 to audition for the Longhorn Network when I was in Dallas. I was at the NBC network there. I had the opportunity to come up to Bristol and audition and it went really
well. They ended up making some moves in and around the network to where, ultimately, the Longhorn Network job was filled by someone internally, which opened up a job in Bristol. I ended up getting a job offer in Bristol but my station didn't allow me out of my contract in 2011 to take the job.
Ultimately, after accepting the job, I had to tell ESPN no because my local television station in Dallas wouldn't let me out of my contract. I had to sit patiently and hope that in a couple years after my contract was up, ESPN would still be interested. I was fortunate enough that, a year and a half later, at the end of 2012, after the Dallas Cowboys season, to where my audition from a couple of years earlier held enough in their minds to still offer me a job. I started here at ESPN in the beginning of 2013.
TM: You not only had a radio show in Columbia but it was a really successful one. How much would you like to get back to radio some day?
MB: I miss radio every day. I love TV and that's obviously my chosen career, but back when I was doing that radio show with Tim Hill, who's still a good friend of mine, we had a lot of fun and the thing that I loved about radio is that a gave you the freedom and space to dissect topics with anything you wanted. TV is a very structured medium and radio, for lack of a better term, you can just let your hair down and have fun. Some of Tim and mine's best shows were in the middle of the summer when there was nothing going on. You kind of have your best conversations when there's nothing going on and I miss that.
I love radio and it was a great time in my life and I'll never forget everything that we accomplished with that radio show. Sometimes, I'll just look back and laugh, like, what did we do five days a week for three hours? I would love to, at some point, whatever my path takes me at ESPN, to hopefully get back in radio at some point.
TM: You were able to host the Spelling Bee on ESPN a couple of years ago. Does doing that give you the confidence, like, man, if I can do this I can do anything?
MB: I did it for two years, we obviously didn't have it this year because of COVID, But it is probably my most favorite event that I've done at ESPN that doesn't include the College Football Playoff or The Masters or some of the other major golf championships. It's so unique and it's so fun.
I look at it like this, you go in and it's a sports network but everyone within the walls of that network has their favorite sports, right? You go to ESPN to do SportsCenter but you major in a couple of sports. I'd like to think my major at ESPN is college football and golf. Those are the two sports that I really hone in on. But the spelling bee was just fun. Being around those kids and their passion for spelling was just fun. All the little quirks of being that age, being on stage, they don't care that there's cameras up there, they're just there to spell the word. The first time I was a little bit nervous, because I didn't want to take away from one of my favorite things to watch on TV. Once you get into the broadcast, you can't help but just have fun. You end up laughing, you end up being amazed, I know in 2019 we had the eight winners, which was one of the great moments in spelling bee history. I've said it to anybody that will listen, the spelling bee, to this day, has been one of my greater achievements in terms of things I've been able to host.
TM: What do you think about Elle Duncan?
MB: Elle is someone that I've been with now coming up on four years. When we used to do the morning show, we would have to be at the network, she'd get there around 4 AM and I would get there around 4:15 AM and I just wasn't awake yet. Those aren't normal hours.
The one thing that I love about her is her energy. I have a lot of energy when I'm on camera, and even in general, I'm just kind of a happy go lucky person. But at 3:30 AM she was already bouncing off the walls and it made it easier for the show group and everyone to just get into the flow of the show, because she was always up and ready to go. That kind of energy is contagious.
Having someone like her around, and having me, which, people that really know me well laugh at me being the mellow one, having someone like that around with the energy and the ability to just make you laugh with some of the things she says, it's just good to be around, because you want to work with people that have a contagious passion for the job. She certainly is one of those.
Don't Make Assumptions to Fit Your Sports Opinions
Curiosity leads to asking questions instead of making assumptions.
I also thought San Francisco 49ers offensive coordinator Mike McDaniel was white.
Maybe "assumed" is the better term, given the saying of what that does to you and me.
But I — like this guy Sean Beckwith — saw those videos from McDaniel's press conference last week on Twitter. I legit thought it was a comedy bit at first. When I realized he was, in fact, the offensive coordinator, I thought it made sense that the NFL's first flat-brimmer of a head coach would have a super-chill OC who sounded like a dude accustomed to microwaving burritos at 3 a.m.
I also learned McDaniel was childhood friends with Dan Soder, a comedian whom I enjoy on Billions. I was informed by people who know better than me that McDaniel is a well-regarded young coach in the league and that's about where my opinions on the phenomenon of Mike McDaniel stopped.
If only Sean Beckwith had done the same, he might have avoided a major embarrassment. He might still have a Twitter account. Instead, he took even less information than I had, shook vigorously, and poured it out into a story published on Deadspin that warned McDaniel was about to become the next white guy to jump the line.
Except McDaniel is not white. Yeah. This fact is painfully embarrassing for the author, the website that published it, the people who own that website, and just about everyone concerned with equity in the hiring practices of NFL coaches.
I'll include myself in that latter category, and I've cringed at how this story has been used as an example of the problems that come with including race in the discussion of sports, though. This is actually an example of the problems with including race in the discussion of sports when your head is firmly wedged in your hindparts as Beckwith's seems to have been.
That was the real issue here, and while mislabeling McDaniel as white is an inexcusable and unconscionable mistake, it wasn't the only problem with this particular story. Brandon Staley was included as one of the young white men hired to be a head coach because of his offensive pedigree. Staley is a defensive coach. Matt Rhule was cited as an example of a young white man hired to be a head coach because of his offensive pedigree. Rhule is not particularly young and as a former college head coach at Temple and Baylor, he certainly doesn't fit the hiring pattern Beckwith was describing.
The problem at the root of Beckwith's approach was that he wrote that story with a confidence both unearned and unwarranted, and while it's easy to write him off for being unbelievably careless, it should give anyone who talks or writes about sports for a living a moment's pause to consider the number of assumptions that are made in formulating content.
Here, in no particular order, is a list of things I try not to assume:
1. Whether a woman is — in fact — pregnant. A friend of mine said her rule was that she wouldn't mention pregnancy until she actually saw evidence of the baby, at which point the question of pregnancy would actually be moot.
2. Someone's mental health. But I covered that earlier this year with regard to Antonio Brown, who — by the way — said to Bryant Gumbel this week that he has "mental wealth."
Race should probably be on this list, too, but it's usually not. Most of us go off what we see, and I include myself in that category. Like I said, I thought McDaniel was white, and I initially didn't realize David Culley was Black when the Texans announced him as their next head coach. Of course, I didn't go out and formulate a story based on my assumptions, but like I said, Beckwith's error provided a reminder of the dangers in just assuming what I think is true.
Now, I'm not recommending that we go and ask each and every person we talk about to fill out a census form. I am stating that we should be very careful about taking what we see — or what we think we see — and then cramming it with both hands into a storyline that we've heard or even one we believe. Each person we talk about has their own unique story, their own personal background, and the more we assume to know about that without actually having done the research, the more liable we are to make a career-changing mistake like this one.
Be curious. The character Ted Lasso said that in one of the better scenes from the first season of that show, though I'm somewhat reluctant to mention it for fear I'll come off like one of those fans of this particular show who I've found just will not shut up about it. (For the record: I liked the show. Thoroughly enjoyed the first season. Haven't watched the second season and somehow I'm doing just fine, thanks.)
Curiosity leads to asking questions instead of making assumptions. Curiosity might lead you to look up more about the coach in particular or hiring trends in general. Curiosity is what keeps us searching for a more complete understanding of the sports figures we're writing about and the trends we're discussing instead of adopting a smarmy tone of the know-it-all, which is especially dangerous if you're not even a know-it-some.
In this case, being curious might have led Beckwith to search for more about McDaniel and find the story from Matt Maiocco — a great reporter for NBC Sports Bay Area — in which McDaniel discussed his background. Being curious would have led Beckwith to find out who Andrew Hawkins is instead of using ignorance of the former NFL wide receiver to dismiss his praise of McDaniel's coaching acumen as an example of Internet groupthink.
Now, I'm not sure if being curious would have kept Beckwith from believing he had a better handle than Hawkins on how race might impact the promotion and hiring of NFL coaches. Curiosity almost certainly wouldn't have prevented Beckwith from snidely referencing the quote regarding racial justice that is in Hawkins's Twitter profile.
But that gets back to the root of the problem in Beckwith's column, which is the confidence with which he presided over a subject of which he was regrettably ignorant.
Media Noise – Episode 59: Paul Finebaum
How much Alabama can we pack into one podcast? Demetri Ravanos talks to Paul Finebaum about Finebaum's rise in radio, how he feels about his callers being used for content by other hosts, and college football's year-round spot in the national sports conversation.
Podcast: Play in new window | Download
Subscribe: RSS
10 Ways to Make Sales Work From Home Productive
Create a home workspace that is pure business. Post quotes and keep track of your sales. Let this be your workplace and concentration zone.
Do you need the energy of others around you to work harder or smarter? Are you the type who struggles to contribute to Zoom meetings? Do you lose focus quickly? Then maybe you need a check=up from the neck up about how you work from home.
For me, the challenges of working from home mainly stem from interruptions from pets, spouses, delivery people, and home chores. I need more discipline to stay on track to hit sales goals and not get distracted.
Here are 10 ideas for radio sellers adapted from Dan Disney of LinkedIn fame.
1. To-Do List
You need a plan for your day, just as you would at work. But building in some household chores would be wise. Remember, you are trading in the morning rush out the door and afternoon drive home for a walk to your computer and then to the TV at the end of the day.
For most of us, that's at least an hour a day saved by staying home. Spend it as you wish but make sure you schedule it outside your prime selling hours.
2. Stay in Touch
This shouldn't be hard for most of us with a corporate CRM tracking our moves. But don't forget to plan social time with people from work who you enjoy.
3. Be Self-Employed
We are who we are when nobody is watching. This is your opportunity to have your own business and work independently. A promotion from work could be next if you conquer this stage.
4. Take a Break
You took them when you were AT work, so why change? Don't forget the internet surfing you did, the errands you ran, and the time you wasted hearing about your workmate's problems. Try to make those breaks more productive by cleaning, paying bills, or playing with the dog. It's good for your mental health.
5. Get Help
If you need help keeping things quiet for client calls, negotiate with anybody you have at home to help you. If you live alone and have a pet who interrupts things, consider taking your dog to daycare once a week so you can schedule your calls on that day and help guarantee you won't be distracted.
6. Create an Office
Create a home workspace that is pure business. Post quotes and keep track of your sales. Let this be your workplace and concentration zone. If you pick up a paper, book, or report, don't put it down in any other place but where it belongs! Please keep it clean each day you are done and all business.
7. Let Your Hair Down
If you have a good client who you have known for a long time but has never been to your home, here is your chance. Show 'em around! Take a Zoom call on the phone and show them your backyard, BBQ, or home theatre room. Let your dog bark at them or have your partner say hello.
8. Take Rewards
You are home and it will be easier than ever to achieve some personal goals by focusing on some self-care. Eat better. Exercise more. Be calmer. Maybe even consider the gas you are not buying as savings for a big night out.
9. Be Positive
Let positive quotes, blogging, and motivating YouTube hits be your distractions. You need positive reinforcement and will have to work at getting some.
10. Train
Study Zoom, social media, and other forms of prospecting. Dig into this new reality and see if you can make it work for you AT HOME.