Why Black Athletes Don't Trust The Owners
Baseball's latest debacle — an idea that two teams would stage a symbolic walkout, then return to play a game — is an ill-timed indictment of sports leagues and their cluelessness in fighting racial inequality.
We have two killer diseases in this country, one invisible and the other as blatant as seven gunshots fired toward a Black man's back. If COVID-19 is insidious, police brutality is the naked terror. Imagine life as an African-American basketball player right now, locked down in a science globe by a league and two broadcast networks, watching the savagery in Wisconsin and figuring America is the same slave nation that oppressed their parents, grandparents and ancestors.
They are being paid, yes. But they do not trust The Man, so to speak. They wonder why Adam Silver, the commissioner who convinced them to resume this disjointed season, hasn't been in the NBA Bubble and why the league's interest in amplifying social justice initiatives has waned during the playoffs. And they don't trust the owners, nearly all white men, even if sports has made many of the players wealthy and renowned. They want these billionaires to use their tentacles to influence politicians, regardless of party or persuasion, and stop the bloody massacre of Black people by white cops.
That message was just beginning to resonate Thursday throughout a $200-billion industry, allowing sports to avoid a devastating domino-effect stoppage, if only until the next shooting. But there to muck it up, as usual, were the socially ignorant klutzes of Major League Baseball, creating even more distrust a day after the NBA season was nearly shuttered by LeBron James, Kawhi Leonard and other players feeling helpless in fighting racial inequality from their Disney World confinement. The MLB lords have been stuck in self-sabotage for decades, undermining their sport with endless scandals, a sluggish on-field product and an existential disconnect with younger people. Their failures are as commonplace as another 450-foot pummeling of a juiced ball.
Still, it's beyond comprehension that this old-fart operation, long mired in a racial crisis with its scarcity of Black players and executives, not only would delay a unified response to the shooting of Jacob Blake but also turn a New York ceremony into a finger-pointing farce.
Jackie Robinson shattered racial barriers in Brooklyn, a few miles from what is now Citi Field. He would have been ashamed to see the dysfunction in the hours preceding what should have been a simple edict: postponing the Mets-Miami Marlins game, following the lead of all other major-league games on the day's schedule. I don't trust the entirety of MLB leadership, so I'm still not sure who's telling the truth and who might be in cover-up or throw-under-bus mode. But knowing the raw ineptitude of commissioner Rob Manfred, I'm not ready to assume Mets general manager Brodie Van Wagenen was mistaken when he accused Manfred of asking Mets and Marlins players to do the unthinkable: Walk off the field as a tribute to Blake, then return an hour later to … PLAY A BALLGAME?
The idea did come from someone's convoluted mind. Would Manfred be so crass to prioritize scheduling issues, an ongoing quagmire in baseball's nightmarish pandemic season, over the Black Lives Matter movement? It would be a fireable offense, another death knell for the sport, yet that is exactly what Van Wagenen suggested in the latest leaked video to burn a sports figure. Talking with two Mets colleagues in late afternoon as the fate of the game was being decided, Van Wagenen ripped Manfred as a leader who "doesn't get it'' while failing to understand that Mets players had zero interest in playing. What the loose-lipped GM didn't know is what everyone should know in the 21st century: His conversation, which referenced an earlier meeting with Mets chief operating officer Jeff Wilpon, was being streamed on MLB.com. Minutes later, the video was posted on the team site, where it was discovered by a 20-year-old New Yorker who naturally shipped the clip into the breaking news viralsphere.
Said Van Wagenen to the others: "Baseball's trying to come up with a solution, saying, `Oh, you know what would be super powerful' — the three of us here, this can't leave this room — `you know it'd be really great if you just have them all take the field and then they leave the field and then they come back and play at 8:10. And I was like, 'What?' I told Jeff … these guys aren't playing. They're not playing. But that's Rob's instinct.
"At a leadership level, he doesn't get it. He just doesn't get it.''
He's right. Manfred doesn't get it, period, about anything. But that isn't the point here. Three white men named Brodie, Rob and Jeff were making America Look Stupid Again. Had they already forgotten the powerful words of the previous night from Mets outfielder Dominic Smith? Weeping and choking up during an interview, Smith carved himself a place in history by saying this of the Blake shooting and racism in America: "The most difficult part is to see that people still don't care. For this to continually happen, it just shows the hate in people's hearts. That just sucks, you know. Being a black man in America is not easy.'' All you need to know about the Mets is that the goofish Alex Rodriguez, part of a group angling to buy the team, would be a marked boardroom improvement over Fred Wilpon and his son. So, of course, they botched the Smith moment.
What followed was pure tragicomedy. Van Wagenen, an ill-advised hire with no management experience after a career as a sports agent, released a statement, saying he had the story wrong. It was Jeff Wilpon's idea, he said — the most overt case of ratting out a boss in recent sports memory.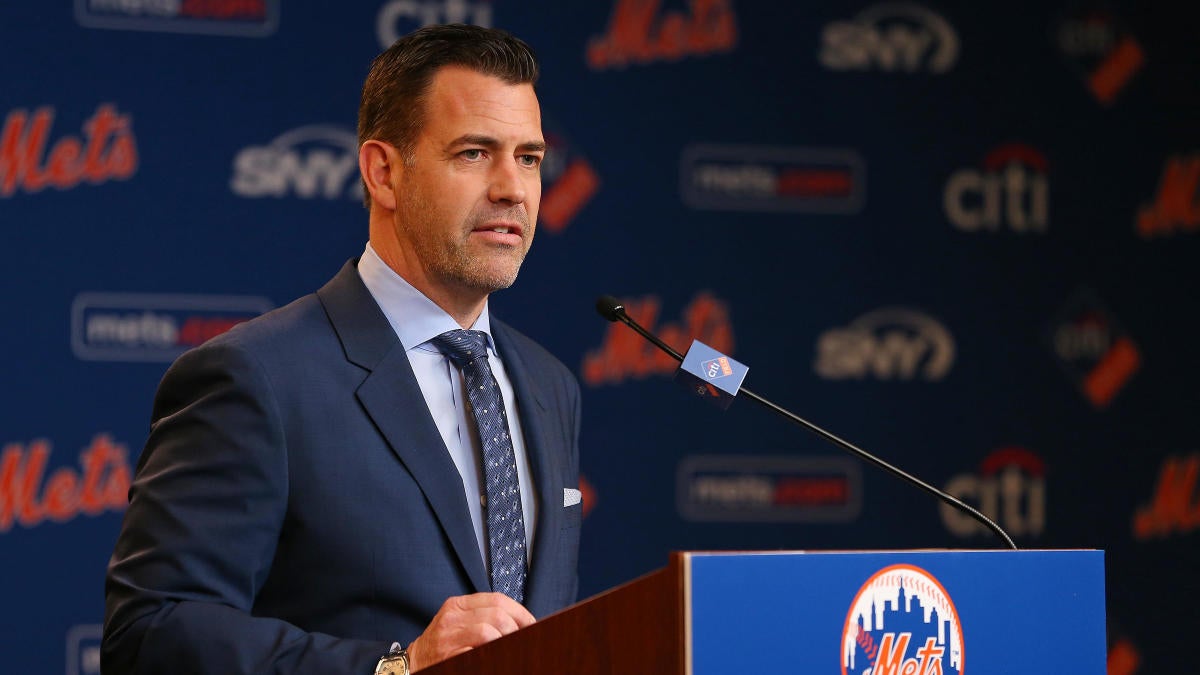 "Jeff Wilpon called Commissioner Manfred this afternoon to notify him that our players voted not to play," he said. "They discussed the challenges of rescheduling the game. Jeff proposed an idea of playing the game an hour later. I misunderstood that this was the Commissioner's idea. In actuality, this was Jeff's suggestion. The players had already made their decision so I felt the suggestion was not helpful. My frustration with the Commissioner was wrong and unfounded. I apologize to the Commissioner for my disrespectful comments and poor judgement in inaccurately describing the contents of his private conversation with Jeff Wilpon."
Later, in case everyone didn't hear him the first time, Van Wagenen reiterated his apology during a conference call. "I have put myself and this organization into this conversation in a way that takes away from the real point,'' he said. "I'm disappointed in myself."
Or, was he was dutifully covering Manfred's ass, with Wilpon's approval, so the commissioner could avoid epic humiliation and nationwide calls to replace him with whatever fool wants the gig?
If Wilpon did hatch the plan, as he claimed, just be happy the Mets are on the sales block, assuming anyone really wants them. "To clear up any misunderstandings, it was my suggestion to potentially look into playing the game later because of scheduling issues," Wilpon said. "Brody's misunderstanding of a private conversation was and is inexcusable.''
Somewhere on a Florida campus, LeBron was cringing. He had come close to taking down a league — and perhaps all of North American sports, by extension — when he walked out of a volatile players' meeting after both Los Angeles teams, James' Lakers and the Clippers, had voted to end the NBA postseason and go home. Now, here was living proof that executives and commissioners are clueless about social injustice. The players who questioned James in the ballroom might have said he was being selfish, that he could afford financially to pop the Bubble when they needed the paychecks. But if LeBron was thinking about himself, it was his legacy as an activist, which currently takes precedence over a fourth championship. After a night of sleep and a cooling of heads, the NBA playoffs carry on. But the games have lost their momentum, after a fun ride of basketball story lines, and any chatter about title contenders has been replaced by when the players next threaten to ditch the Bubble.
"You forget that being in the bubble is hard,'' said Clippers coach Doc Rivers, who thought the season was over when his team initially voted no. "I don't think it's coincidence that everyone in this bubble seems to be a little more emotional. I'm not kidding, it's true. I think part of the effect of being, like, jammed together every day, it has had that effect on everyone."     Besides, James is busy fighting the White House. "NBA players are very fortunate that they have the financial position where they're able to take a night off from work without having to have the consequences,'' said Jared Kushner, President Trump's senior adviser and son-in-law, as the league was postponing two days of games.
After James fired back a tweet — "Change doesn't happen with just talk!! It happens with action and needs to happen NOW! — Kushner offered to make peace. "Look, if LeBron James reached out to the White House or we could reach out to him, we're happy to talk with him and say, `Look, let's both agree on what we want to accomplish, and let's come up with a common pathway to get there,' '' he said.
Trump was too busy ignoring the coronavirus during his re-nomination speech to react specifically to James, which surely bugs LeBron. "I don't know much about the NBA protest," Trump said. "I know their ratings have been very bad because I think people are a little tired of the NBA. They've become like a political organization, and that's not a good thing."
At least NBA players have an ally in Silver, though a message was sent through ESPN reporter Marc Spears that the commissioner needs to get "a helicopter'' and invest more Bubble time with them. It could be worse: Their leader could be Manfred. That such a debacle could happen in such a sensitive time in history is another indictment of a man who shouldn't have his job. Manfred can't even control the buffoonery of a team across the East River from his midtown Manhattan office, much less guide baseball through an absurdist pandemic season interrupted by virus outbreaks and game shutdowns. He, too, issued a statement: "Over the past two days, players on a number of Clubs have decided not to play games. I have said both publicly and privately that I respect the decisions and support the need to address social injustice. I have not attempted in any way to prevent players from expressing themselves by not playing, nor have I suggested any alternative form of protest to any Club personnel or any player. Any suggestion to the contrary is wrong."
Do you see a denial in there about Manfred asking the Mets and Marlins to play an hour after a symbolic walkout? Me, neither.
Only the NHL, which finally postponed games after criticism for not doing so the previous night, has had a weaker response to Jacob Blake than MLB. The Mets and Marlins did share a tender moment, standing for a moment of silence and placing a Black Lives Matter t-shirt on home plate before leaving the park — without a ballgame. Smith led the Mets onto the field, his tears having inspired the sports world. "It's still overwhelming at this moment, just to see how moved my peers are — my teammates, my brothers, the front office, the coaching staff, everybody who talks to me on a daily basis,'' he said. "Just to see how moved they were, it made me feel really good inside. It made me feel like we are on the right path of change.''
The silence lasted 42 seconds. It came on the eve of Jackie Robinson Day, when every major-leaguer wears No. 42, even if a pandemic shifted the date from its usual April 15. The players and their tribute, it seemed, had saved the commissioner and Mets management from themselves.
But the reprieve was only temporary, as always. "It needs to be an ongoing thing,'' Miami's Lewis Brinson said of the Robinson tribute. "It can't just be one day out of the baseball year that we bring light to everything.''
"I think he would be amazed at the lack of progress in his eyes," said Milwaukee's Lorenzo Cain. "The fact we're talking about this in 2020, I don't see the progress in that. It's almost like we're going backwards."
If this is a time machine, it might take us to the point of no return.
What Can Programmers Learn From A Social Media Following?
"A large number of followers may be the result of using social media well, but if you think the size of someone's following is proof they'll be a good part of your lineup, that's a set-up for failure."
I first began using Twitter in 2009 when I was a reporter at The Seattle Times. Jim Mora was the Seattle Seahawks coach and I had a smart phone made by Palm. The Twitter app was so wonky I posted live updates from Seahawks press conferences via TwitPic, sending a picture of the person speaking with the news item included as a caption. We've all come a long way since then.
I like Twitter. Over the past 12-plus years, I've found that my sarcasm and sense of humor (if you can call it that) translated better on Twitter than it ever did in print or later as a radio host at 710 ESPN Seattle. I've made friends on Twitter, picked fights with other reporters and generally found it a good place to test out ideas and arguments and an increasingly terrible place to discuss anything important. I have more than 40,000 followers, which is not insignificant nor is it at all exceptional given the market I worked in. None of this gives you any idea about how well I've done my job in sports media, though.
Yet an individual's Twitter following has become part of our industry scoreboard. It's certainly not the final score and it definitely doesn't decide the outcome, but it is the best way I know to gain a quick assessment of someone's reach and/or significance. It's a data point that is readily accessible. It's the thing I check first when I encounter someone who's part of the sports-media industry.
But what does it really tell us? More specifically, how much does it tell us about that person's ability to do their actual job whether it is reporting news, writing stories or being part of a show? Because as important as Twitter has become in sports-media, no one is making money from Twitter and social media specialists are the only people who are really being paid to Tweet.
For most of us, Twitter is not a job, it is a tool. For a radio host, it's a way to interact with listeners outside the footprint and time slot of the show. It also is a powerful opportunity to deepen audience engagement through two-way, real-time communication. These things may help a host's job performance, but they should not be mistaken for the actual job itself. A radio host is not valuable because he or she was right on Twitter or because they were first on Twitter or because they had a viral Tweet. A radio host is valuable because of the ability to attract, entertain and retain an audience during a specific slot of time. Twitter may help you prepare to do that, but it does not actually accomplish the task.
Programmers need to understand this, too. A large number of followers may be the result of using social media well, but if you think the size of someone's following is proof they'll be a good part of your lineup, that's a set-up for failure. Just look at what book publishers have found.
An article last month in the New York Times showed how publishers have used social media followings as a weathervane of sorts for books sales. The number of followers an author has is influencing everything from what authors are paid to which books get published. This is especially true when it comes to non-fiction books. The rationale is pretty straightforward when you look under hood of that particular industry.
A publisher is the business that buys a certain book from the author, essentially making a bet that the sales of this book the author is writing or has written will more than cover the money paid to the author as well as the cost of publication and promotion of the book. A publisher wants as much assurance as possible that this book will sell sufficient copies to not just make its money back, but insure a profit. This is where the author's social media audience comes in. The follower count is being looked to as an indicator of just how many people can be expected to buy this book. After all, someone following the author is certainly a sign they're interested in what that author has to say. Some percentage of those followers can reasonably be expected to buy a book by this person. Except social media followings turn out to be a fairly terrible tool of forecasting book sales.
Billie Eilish has 99 million Instagram followers. Her book — released last year — sold 64,000 copies. If I was being catty, I would point out that is one book sold for every 1,546 Instagram followers.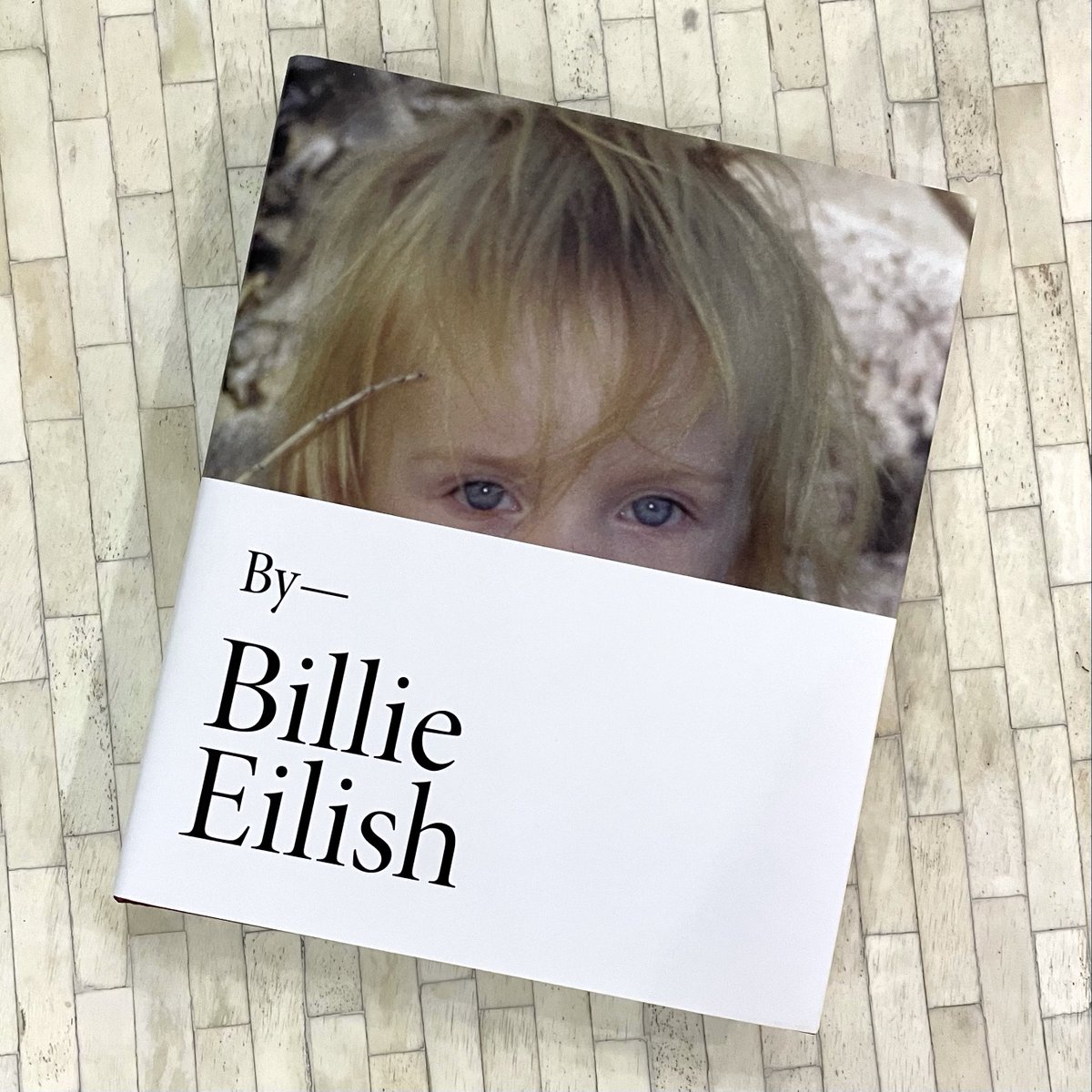 "Even having one of the biggest social media followings in the world is not a guarantee," wrote Elizabeth A. Harris.
So we should all just stop paying attention to Twitter followings, right? Hardly. First of all, it is a data point, and anyone waiting for social media followings to become LESS important probably thinks the Internet is just a fad. More importantly, having a following is certainly better than not having one as it does indicate the ability to attract an audience.
The issue isn't whether it's good to have a large following. Of course it is. The issue is how reliable that is in predicting an individual's interest or appeal outside of that specific social platform.
What programmers need to do is get smarter about how they evaluate social media followings by answering two questions:
Why are people following this particular talent? Content is the catch-all answer here. Go beyond that. What sort of content is this person providing that none of his or her peers are? Will that type of content be valuable as part of my lineup whether it's terrestrial radio, a podcast or other format? Someone who's funny on Twitter may be funny in other formats. They may also just be funny on Twitter. Are there examples of how this kind of content has worked in the past or reasons to think it will work in the future?
How likely is this talent's social media following to migrate to my medium? This is one of the trickier ones. One of the reasons for acquiring a talent with a large social media following is the hope that some of their followers will become your customers. While this is always possible, the more important question is whether it's likely.
Remember, that example of Eilish, who had 99 million Instagram followers and sold 64,000 books? Well, that number of books is actually not a bad result. In fact, it's absolutely solid for book sales. The problem was the publishing house didn't expect a solid sales performance. It expected incredibly strong sales because it paid a significant amount of money to Eilish in the form of an advance.
It's clear the publishing house made a bad bet, but the principal mistake was not about Eilish's ability — or lack thereof — to produce a book. She did produce one that was 336 pages long, loaded with family photos never seen before and while there wasn't as much text as you might expect, the sales were solid. The mistake the publishing house made was overestimating how many of Eilish's fans would become customers in an entirely different medium, and I think that's a lesson worth noting in this industry.
Unless you're hiring someone to do social media for your company, Twitter is not going to be their job. It's just a tool. An important tool, a useful one, but just a tool.
How Good Can iHeart's AdBuilder Solution Be?
"It was slick, I admit."
Do it yourself radio has come to a new client you will never meet. These clients are ready to do it themselves. All they want is to buy a radio campaign. And iHeart AdBuilder is all they need.
Let's figure this out.
In 2019, iHeart started beta testing a do-it-yourself online platform for small businesses to battle Facebook and Google.
I went to the website to see how it worked. It was slick, I admit. It would be a great topic to add to the BSM Summit.
The first piece of info. the site wants to establish is your campaign goal. The four choices were "Get website traffic", "Have listeners know my address", "Get phone calls", and "Announce an event". 
That's it.
When was the last time you wrote a new business order with any of those four goals as the single reason for the campaign? Wouldn't that be easier for the copywriter and the client to track results? TRY IT!
I inputted that I wanted to announce an event and proceeded to the following prompt. My business name, address, website, and industry were the following choices. So far, so good. The only tricky part were the industry choices.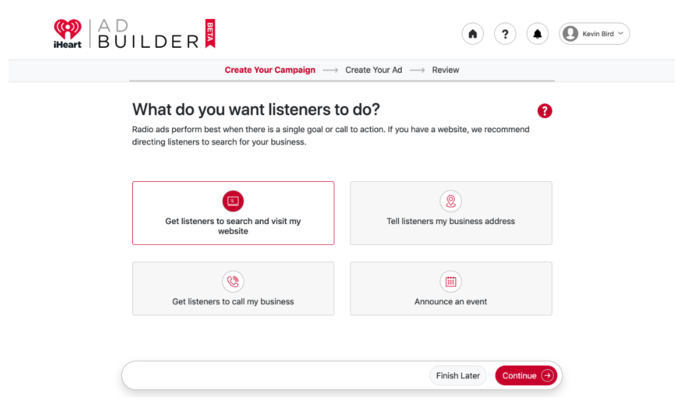 I can see how specific business categories are not precisely represented, like counter service restaurants. They are not fast food because there is no drive-through, but they aren't a full-service restaurant either due to no waiters being used and many other factors. It isn't confusing for me, but you know how clients can be!
Selecting the market I wanted my customers to come from was easy, and it allowed iHeart to choose the closest radio stations. Identifying the ONE type of customer I wanted was fantastic. I can see how it focuses the client on a primary target. Parents with young kids or teens, foodies, married couples, single adults, or an option to select my demo all seemed easy enough.
The demos offered weren't Men 18-34, but men, women or adults, young adults, seniors, adults, or the dreaded all ages. Next was selecting when I wanted to run and how much I wanted to spend. It wasn't a challenge because you choose your dates, and then you're given three choices for a weekly budget. In my case, it was $500, $750, or $1,000 per week. iHeart AdBuilder bills you less if the whole week isn't used.
Impressions, frequency, and reach were highlighted, and they showed the logos of the two stations my $500 was going to be spent on. I noticed there was no information on when the ads would air, how many times per day, or any of that! "You give us $500, and we will spend it over the week on these two stations when and where we want! And it will work!" 
The pages dedicated to creating copy are straight forward and, as salespeople, we have filled those types of forms out plenty of times. iHeart is highlighting that they are waiving the $100 production fee. Maybe, that will change in the future. After going to the checkout, your credit card is given a temporary authorization (which will be reversed), and you are told your ad will be emailed to you in a few days. You won't be billed until your ads air.
What are the odds this $500 campaign over two stations in a few days will work? Who knows, but I bet the automated emails and follow-up calls will be relentless. I think it's a great platform and can see a decent percentage of smaller new business deals go this direction. Some clients may even prefer to never "deal" with a salesperson again, kind of like most of our agency buyers. That leaves us with a whole lotta middle ground. For now.
Demetri welcomes Brandon Kravitz and Derek Futterman to the show this week. They talk about Hub Arkush, Aaron Rodgers, Michelle Tafoya, and Pete Thamel.
Podcast: Play in new window | Download
Subscribe: RSS