The Fall Sports Blitz: Might It Decide The Election?
"As if ignoring our national disarray, sports in general — and the start of the NFL season in particular — defiantly carry on, so vital to millions that President Trump thinks the good vibes should win him four more years."
Sports will do what sports wants to do. It's an unspoken prerogative of the American way, as shown through time by athletic entitlement and too many catch-me-if-you-can scandals, and the modus operandi is no different with summer turning to fall in the damndest year of our lives.
We are venturing into a new phase of the unknown — still vice-gripped by the pandemic, still one more George Floyd asphyxiation or Jacob Blake shooting from the possibility of mass violence. Yet sports carries on in its TV-revenue-sealed Bubble, figuratively and literally, floating above societal dishevelment and medical helplessness by dribbling, swinging, checking, racing, putting, punching, linesperson-whacking and, come Thursday night in Kansas City, tackling and spitting and bleeding and breathing in the face of all infectious disease logic.
The games and events come at us so quickly now — morning, afternoon and night — that we've almost grown used to the virtual big-headed fans, cardboard cutouts and canyon-esque echoes. And rather than talk about the weirdness, we're once again talking about sports. Why did Novak Djokovic lose his cool, blast a ball that inadvertently struck a line judge in the throat and perhaps botch his ultimate place in tennis history? Have we misjudged the pedigree of Giannis Antetokounmpo, who might just limp away from Milwaukee as another postseason charlatan? Is that what I think it is on Pico Boulevard: a large billboard featuring Tom Brady and Drew Brees, hailing the start of Fox Sports' live NFL coverage outside the network studios in Los Angeles? Are Bill Belichick and Cam Newton really having a lovefest in New England, and isn't it being done to tick off Brady? And did Washington's Mike Rizzo, maskless, become the first general manager ever to be ejected from a luxury suite for yelling at umpires?
"If it was Donald Trump, I'd eject him, too,'' veteran crew chief Joe West told the Associated Press. "But I'd still vote for him.''
Students can't attend classes. Employees can't report to workplaces. A big night is Netflix without the chill. Traveling beyond your street corner is all but verboten. Colossal cities have been ghosted. The coronavirus still sickens people of all ages, many on COVID-iot-infested college campuses, and still hospitalizes and kills in daily bulk. And Trump vs. Joe Biden? It reminds me of those gory MTV claymation brawls, where blood is copiously spilled and body parts are grossly ripped away — and neither one wins.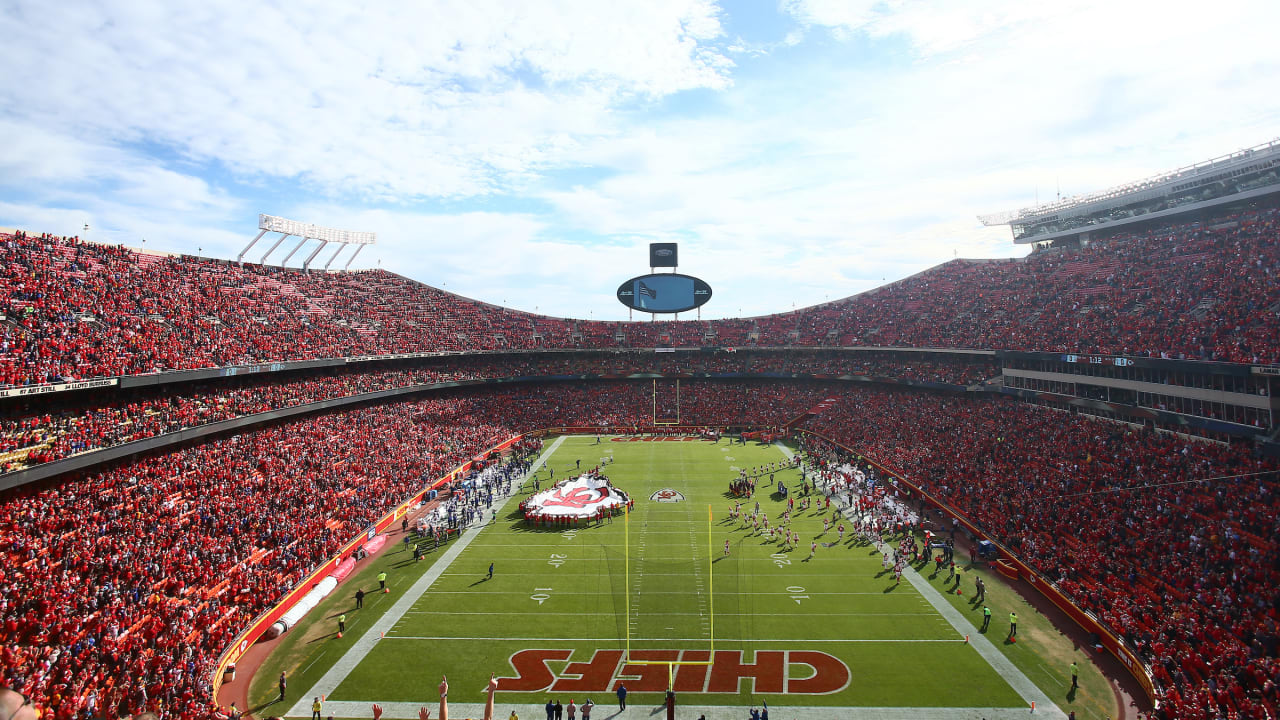 Yet inside Arrowhead Stadium, the Chiefs and Houston Texans will emerge like immune superheroes from the toxic haze — facial shields and masks optional — to entertain millions of NFL diehards, serious gamblers, fantasy players and casual onlookers while 16,000 spectators expectorate in the stands. This weekend, fans in three of college football's Power Five conferences are itching to do the same in larger numbers. The feeling is exactly what one expects from an alpha-dog sport of machismo and self-assumed invincibility: All associated parties think their seasons will be completed in full, regardless of racial unrest and COVID-19, regardless of the Election From Hell and regardless of how the virus has derailed much of the Major League Baseball season in a sport that plays — like football — outside a restrictive environment and relies on athletes to obey protocols at home and on road trips.
"We are confident we're going to be able to play, not just the start of our season but through the remainder of our season to the Super Bowl," NFL commissioner Roger Goodell said.
Does any of this make sense?
It does if you understand America, or what is left of it.
Unlike any other collective endeavor, football continues to move us, define us, unite us in big and small locales alike. It shouldn't be that way — too violent, too much brain trauma, too many old men in charge — and it certainly shouldn't be that way now, with the virus linked to heart issues and other health risks posing possible long-term consequences for young athletes. But if those who view football as a wholeness equation of religion, community and identity haven't let concussions interfere with their fun to date, why would the virus dent one's conscience? In their minds, the virus has yet to kill a prominent athlete or coach, which is more miraculous than any testament to the leagues outthinking science. So, they ask, why not play? Only the Big Ten and Pac-12, the two major football entities without footholds in the Deep South, chose health over wealth and safety over lifestyle. Which is why the sport, in a disturbing reflection about our nation, could have substantially more impact than merely providing appointment TV for homebound souls lacking the usual original programming options.
Football, and sports, might play a major role in who wins the election.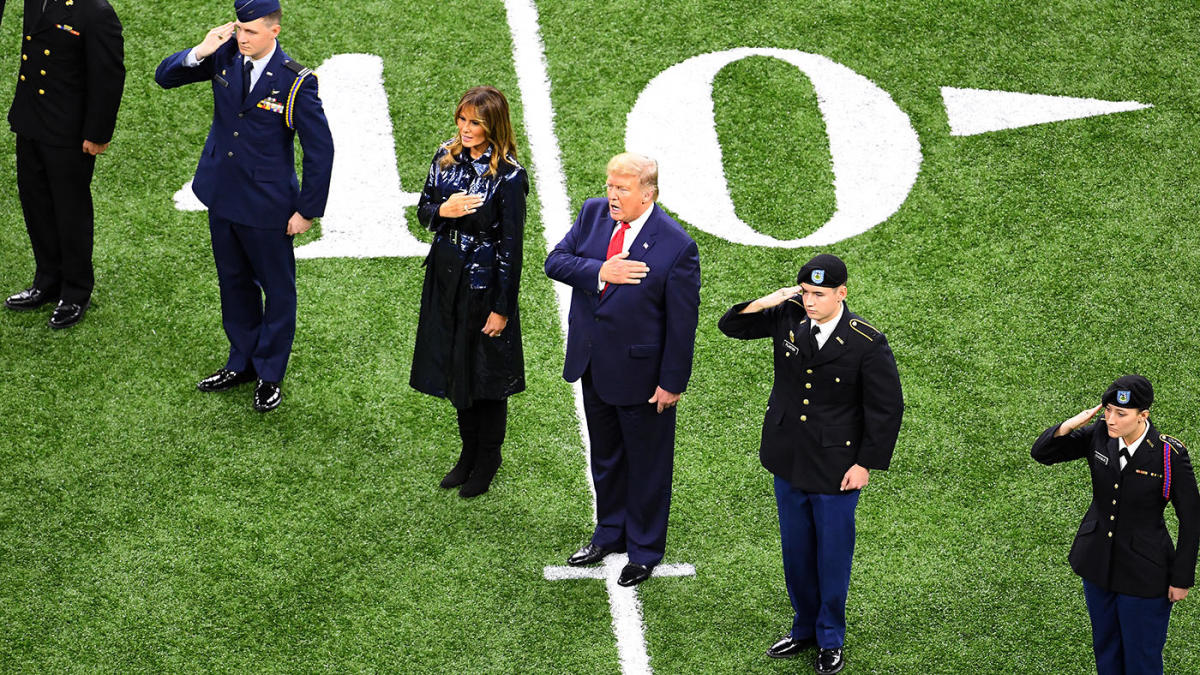 It was President Trump, remember, who arranged the conference call with the industry's power brokers and urged them to play their seasons. And with the country dialed into sports in surprising numbers, a recent trend about to be fortified by sizable NFL ratings, Trump now is positioned to tell the American people that he pushed hard for the games to return and created a happier vibe. Never mind that the virus is capable of outbreaks at any time in any sport, Bubble-ized or otherwise, with football and baseball still most vulnerable. Or that the game boycotts staged after the Blake shooting could happen again, namely in the NFL, where Jerry Jones and other owners might balk if hundreds of players kneel during the national anthem for the entire season. Does Jones sound like a man who wants to see Cowboys players protesting, even as quarterback Dak Prescott says they have the freedom to decide for themselves? Will he allow a kneeling display on Sunday in L.A., then return to his hard-line stance?
"We all do understand where I stand relative to the national anthem and the flag. On the other hand, I really do recognize the time we're in," Jones said on 105.3 The Fan. "I will assure you: Our players, they are sensitive to and can respect what America is as it relates to the flag. And I would hope that our fans, which I think that they will, will understand that our players have issues that they need help on. And they need help along with the majority of America. They need help.''
Countered Cowboys defensive lineman Tyrone Crawford: "We definitely have the green light on all that. But also just try to find something that is going to make a boom and not just something people look at one time and kinda just swipe by. We want to do something that makes a boom and people remember and actually create some change."
A boom. That's exactly what Colin Kaepernick created, a movement that Jones and the league eventually quashed. If the NFL tries again to subdue the protests, yes, players could boycott games, a shutdown that could lead to athletes in other leagues doing the same, as seen last month. All while dangerous political lines are being drawn by clashing social ideologies, creating an election pressure cooker unlike any seen in this country.
So much could go wrong in the coming weeks. But if sports maintains a savvy equilibrium and continues to handle the challenges of racial injustice and the pandemic, the country could hum to the unprecedented rhythm of major champions being crowned across the landscape from now through mid-November — COVID-19 permitting, of course. Already, Trump has curried the favor of key Midwestern swing states by pushing hard for Big Ten football to return.
"On the one-yard line!'' he tweeted after trying to petition Big Ten commissioner Kevin Warren.
So imagine when he pops up on Twitter after every mega-event and hypothetically congratulates, in chronological order: trainer Bob Baffert for winning his sixth Kentucky Derby, Serena Williams for winning her 24th tennis Grand Slam, Dustin Johnson for winning golf's U.S. Open, the Tampa Bay Lightning for winning a Stanley Cup, Jimmy Butler and the Miami Heat for winning the NBA title and the Los Angeles Dodgers for finally winning a World Series, while dropping the names of Brady and Dabo Swinney along the way. In Trump's mind, that's a recipe for re-election. And if that's how it shakes down, we all should look for a one-way ride to Mars, because sports should have no impact on the most important vote in this nation's history. Even more surreal: Many of the athletes the President would trumpet are urging Americans to vote — which is code for voting against Trump.
But with all previous normalcy seemingly gone forever, sports has been the one consistently familiar element of American life, even with no fans and canned noise. The NBA's ratings have caught fire in the Disney World Bubble during an engaging postseason, with LeBron James in attack mode again and the East about to produce a surprise finalist. The coronavirus hasn't been a factor so far, with family members joining players the past week, and there's a good chance a championship will be decided in a few weeks — a scientific leap in time for commissioner Adam Silver and Disney Company chief Bob Iger. The NHL, too, has had a virus-free tournament in two Canadian sites. It's the leagues not playing inside Bubbles, as the NFL and college football should note, that haven't fared well.
The baseball season has been waylaid by positive virus tests. The latest team to have games postponed, the Oakland A's, have no idea how pitcher Daniel Mengden contracted the coronavirus. "There was no breaking of protocols," general manager David Forst said. "That's frankly what's scary about this virus.'' At the chaotic U.S. Open in New York, the disqualification of Djokovic came after other players were sent home, having been exposed to COVID-19 during a card game at the players' hotel. UFC and its virus-ignorant frontman, Dana White, staged a program with only seven fights because of the virus, its skimpiest card since 2005. And in college football, the Tennessee Volunteers, who expect 25,000 fans in Neyland Stadium for their home opener, canceled a scrimmage because 44 players were out — many sidelined by positive tests and contract tracing.
"I'm really glad we're not playing today,'' coach Jeremy Pruitt said. "We'd have had a hard time beating anybody.''
Or, um, fielding a team.
Is anyone noticing the problems? Not really. In that vein, sports mirrors the attitude of Trump, who never has taken the virus seriously, botched America's medical response, encouraged untold millions not to wear masks and, thus, gave much hope to the Democrats. If this sounds hypocritical — a sports world that turns around and protests Trump when players kneel and boycott games, leagues that protest Trump when they support those players — well, the double standard shouldn't surprise you. Sports wants it both ways, ripping Trump when racial inequality is the issue and embracing Trump when he greases the political skids for sport's grand resumption of 2020. And when influential media companies hold major financial stakes in the pickup of the sports economy, they strategically downplay coverage of COVID-19's impact and emphasize regular sports coverage — whetting the appetites of fans and gamblers. ESPN was much more interested in the Eagles' move of Jason Peters back to left tackle than why Cubs outfielder Jason Heyward left a game feeling lightheaded and short of breath.
So what if 6.3 million Americans have contracted the virus and close to 200,000 have died from it? Just bury that COVID-19 stuff, say the bosses. It's not good for business or the bottom line. Tell them how the L.A. Rams are opening a $6 billion stadium and that Patrick Mahomes signed a $503 million contract.
Which also is known as lying to the readers. I must have missed the semester in journalism school when they taught Deception For Business Purposes 401.
In a supply-and-demand industry, the TV ratings show that people have missed live games. But if they're watching more basketball, less baseball, some hockey and golf and almost no tennis, they certainly will watch the NFL in droves. And the league will keep telling us that few players, if any, are testing positive for the coronavirus, which will lead to questions about transparency. The owners have 17 billion reasons to downplay COVID-19 outbreaks, while hiding behind privacy laws that protect infected parties, and when we saw a disproportionate number of injuries during secretive training camps, I was left to ask how many involved positive tests. The same suspicions surround college football, where Penn State's team doctor said one-third of Big Ten athletes who've contracted the virus have had symptoms associated with myocarditis, a heart condition that could endanger long-term health.
The games go on anyway, bulldozing through the American muck in a parallel universe, reminding us often that there have been no virus-related casualties. Those delusions mirror those of the President, meaning sports and Trump are bedfellows, dependent on each other as a country hunkers down for football. If we're sitting here on Nov. 1 — and sports somehow has staged seasons without tumult, as millions of entertained Americans whoop and holler — is it possible enough segments of our divided and battered republic will like the glow just enough to think about re-electing the incumbent? Just the same, if COVID-19 outbreaks and racial protests shut down sports, will it be the final avalanche that buries Trump and rewards Biden?
In a year when everything has happened, isn't anything still possible?
Mike Greenberg Asked a Fine Question, But He Can Do Better
Asking questions that can get a subject to talk about their feelings is a much better way to get an interesting answer.
When ESPN's Mike Greenberg interviewed Paolo Banchero in the lead-up to the NBA lottery on Tuesday, he asked what I've concluded is the single most maddening question that can be asked of any athlete preparing for any draft.
"Why do you believe you should be No. 1 pick in the NBA Draft?" Greenberg said.
Before I point out exactly why I have such a visceral reaction to such a harmless question, I want to point out the positives because Greenberg's question avoids some of the most common pitfalls:
1) It is an actual question. That's not as automatic as you think given the number of poor souls who are handed a microphone and say to their subject, "Talk about (whatever issue they want a quote or a sound bite on)." This is the mark of an amateur, creating the opening for an uncooperative subject to slam the door by saying, "What do you want me to say?"
2) Greenberg's question can not be answered with a yes or a no. Questions that start with the word "Can you …" or "Did you …" may sound like they're tough questions for the subject, but they're actually fairly easy if the subject wants to offer an answer. Now, most interview subjects won't take that one-word exit, but some will in a touchy situation.
The problem with Greenberg's question has to do with the result. Why do we ask questions of the athletes we cover? Seriously. That's not rhetorical. What's the goal? It's to get interesting answers. At least that's the hope whether it's for a quote that will be included in a story, a sound bite to be replayed later or — like in this situation — during an interview that is airing live. The question should be engineered to elicit interesting content, and there was very little chance that the question Greenberg asked Banchero was going to produce anything close to that.
I know that because I have heard some version of this question asked hundreds of times. That's not an exaggeration. I attended the NFL scouting combine annually for a number of years, and if a player wasn't asked why he should be the first overall pick, he'd get asked why he should be a first-round pick or why he should be one of the first players chosen at his position. Never — in all that time — have I ever heard what would be considered an interesting or informative answer. In my experience, players tend to talk in incredibly general terms about their own abilities and then seek to compliment their peers in an effort to avoid coming off as cocky.
Here's how Banchero answered Greenberg's question: "Yeah, thank you all for having me, first off., I feel like I'm the number one pick in the draft because I'm the best overall player. I feel like I check all the boxes whether it's being a great teammate, being the star player or doing whatever the coach needs. I've been a winner my whole life. Won everywhere I've went, and when I get to the NBA, that's going to be the same goal for me. So just combining all those things, and knowing what I have to work on to be better is a formula for me."
There's nothing wrong with answer just as there was nothing wrong with the question. It's just that both are really, really forgettable. ESPN did put a clip on YouTube with the headline "Paolo Banchero: I'm the best overall player in the NBA Draft | NBA Countdown" but I think I'm the only who will remember it and that's only because I'm flapping my arms and squawking not because there was anything bad per se, but because there was nothing really good, either.
First of all, I'm not sure why it matters if Banchero thinks he should be the number one overall pick. He's not going to be making that decision. The team that holds the top draft pick — in this case Orlando — is. Here's a much better question: "How important is it for you to be the number one overall pick?" This would actually give an idea of the stakes for Banchero. What does this actually mean to him? Asking him why he should go number one is asking Banchero to tell us how others should see him. Asking Banchero how important it would be go number one is asking him to tell us about his feelings, something that's much more likely to produce an interesting answer.
The point here isn't to question Greenberg's overall competence because I don't. He's as versatile a host as there is in the game, and anyone else in the industry has something to learn from the way he teases ahead to content. What I want to point out not just how we fail to maximize opportunities to generate interesting content, but why. Interviews are a staple of the sports-media industry. We rely on these interviews as both primary content that will be consumed directly, and as the genesis for our own opinions and reaction yet for all that importance we spend very little time thinking about the kind of answer this question is likely to produce.
This week, Demetri is joined by Ian Casselberry and Ryan Brown. Demetri talks about the NBA Draft getting an ABC simulcast, Ian talks about Patrick Beverley's breakout week on TV, and Ryan reminds us that Tom Brady may be the star, but Kevin Burkhardt is the story we shouldn't forget.
Podcast: Play in new window | Download
Subscribe: RSS
The Client Just Said YES, Now What?
We should spend as much time on what we will do after the client says YES.
One of the most significant moments in radio sales is when the client agrees to your proposal and says YES. But, when they do say YES, do you know what's next? We better have an answer!
We spend a lot of time getting ready for clients with research, spec spots (thank you, radio sales trainer Chris Lytle-go to 22:30), proposals, and meetings. All of our focus is on getting the client to say YES. We should spend as much time on what we will do after the client says YES. For example, getting newer sales reps to sell annual advertising contracts would be ideal for building a list. They would have less pressure, more job security, and could spend more time making the advertising work for their clients. But, since most newer reps don't know the business yet, they don't bite off more than they can chew and sell a package of the month.
When a client says yes to the weight loss promotion, it's pretty clear how to write the ads, what the promos will say, etc. BUT, if a newer sales rep starts selling annual contracts to a direct local client who needs a resource, how will that work? Let's make sure we paint the picture right upfront. More experienced reps know that they need to assume the client will say YES to the weight loss promo and have a plan accordingly.
They have the next steps to building copy and promos, a credit app or credit card payment form, and any other detail the client must provide. But, when we ask a direct local client for an annual advertising contract, watch out! You have just made a partnership. Why not lay out, upfront, what that will look like. And I understand not every local client needs the same level of service.
A car dealer has the factories pushing quarterly promotions, agencies producing ads, and in-house marketing directors pulling it all together sometimes. Other clients need your help in promotions, copywriting, or idea generation. Make a plan upfront with your client about when you will meet to discuss the next quarter's ad program. Include your station's promotions or inventory for football and basketball season, a summer NTR event, digital testimonials with on-air talent, etc., in your annual proposal. Go out as far as you can and show what you have to offer to the client and how you can execute it. This exercise is good for you and, once mastered, guides the client on how you will take care of them after the sale. It also opens your eyes to what it takes to have a successful client partnership inside and outside the station.