Back In The Saddle…For Now
"This business can be the greatest job that any of us has, but in a pandemic we have seen too many people sent to the unemployment line. How do you navigate these waters?"
Nineteen months.
Nineteen months wondering what is next. Nineteen months wondering if my job will ever be a full time radio host again.
It has been a whirlwind which has given me a lot of life perspective, and even more a stronger desire to be the best sports media personality I can be.
This business can be the greatest job that any of us has, but in a pandemic we have seen too many people sent to the unemployment line. How do you navigate these waters? What options do you have to continue employment in the business we love?
Unfortunately the pandemic forced changes at 680 the Fan in Atlanta, which caused several of my friends to lose their jobs. Steak Shapiro, John Kincaide and Mark Zinno were taken off the air late last week, which is tough because I have a personal relationship with all of them. Steak Shapiro gave me my 1st job in radio 16 years ago when he was an owner at 790 the Zone. Steak is one of the kindest people you could meet and also a very talented broadcaster who is on the Mount Rushmore of Atlanta sports broadcasters. He's a legend and a polarizing on air personality, but he always had ratings and listeners whether you liked him or not.
John Kincaide is similar to Shapiro, a northerner who came to Atlanta and spent 20 years on one station with the same partner. Buck & Kincaide has the longest running show with over 4700 shows together. Kincaide on the air was polarizing as well, but off the air John would give you the shirt off his back.
Zinno had only been in the Atlanta market for about seven years, but again is a super talented broadcaster who always brought strong opinions. Mark is ultra engaging on social media and is one to spark a debate and back up his strong opinions with facts.
What's next for all three remains to be seen, but I highly doubt any of them will be out of the sports radio game very long.
How does this tie into my journey you might ask?
Nineteen months ago I was let go from 92.9 the Game also in Atlanta, which left me in a precarious position. Nineteen months ago the world was pre-Covid and radio seemed to be thriving. Stations were hiring, so never did I think it would take that long to get back in the game. Choices were pretty simple, stay in Atlanta and attempt to get on with the only other sports station in town, which is 680 the Fan (and their properties) or find an interested station across the country.
Lucky for me SB Nation Nation Radio (now SPORTS MAP RADIO) gave me a national platform which I was able to be broadcast out of my home studio. My wife wasn't interested in packing up our family and moving so the interest I received from other stations across the country wasn't going to work. Multiple times I reached out, sent demos to the Sirius XM sports properties, but never gained any traction even looking for part time opportunities.
Whomever replaces Steak and John Kincaide will be replacing radio royalty in Atlanta which will present a challenge. Listeners are loyal by nature and typically won't change their listening patterns unless something like a host change at a station. The key for the new hosts is to bring high quality content and do enough to differentiate themselves from the guys that the audience became accustom to listening to.
I've filled in the week on The Front Row and due to a previous relationship with Brian Finneran and Sandra Golden the transition has been very smooth. The two of them have been very accommodating which has made this week fly by. It has to be tough for the two of them plus Buck Belue, who was John Kincaide's long time partner. Much like listeners fall into patterns, hosts learn to read their partners, and it makes the show sound like a conversation instead of something forced.
For programmers it is important to pair talent that can be simpatico on and off the air. Those become the best shows with the longest tenures.
There are few jobs available across the country because of COVID-19. Atlanta is now a location that is going through changes similar to many other markets. Radio is changing due to a major pandemic, but there is a chance with the right pairings for the industry to bounce back in a big way.
The Craig Carton/FanDuel Deal Is Undeniably A Good Thing
"Since returning to WFAN, Carton has been very upfront about who he is, what he has done and how he is trying to do better."
Craig Carton is destined to forever be a polarizing figure in the world of sports media. Long before he was arrested, he had plenty of detractors that considered him less of a talk show host and more of a shock jock. Add to it a conviction for his role in a Ponzi scheme that defrauded investors in order to pay back gambling debts, and it is clear that the guy's approval rating will never hit 100.
There are understandable reasons not to like a guy and then there are grudges. Grudges don't have to be personal. They don't have to spring from some sort of affront. They can easily be born out of feeling like someone has figured out a way to live a life above the rules and free of consequence for their awful actions.
Grudges can (and often do) blind us to reality. I think that is a big part of what is happening when people point to Craig Carton's new deal with FanDuel and say that there is something wrong with it.
If you missed the announcement last week, Carton is joining FanDuel as the company's first "responsible gaming ambassador." He will create content about gambling responsibly and also work with FanDuel engineers to create AI to spot problem gambling patterns. The deal gives Craig Carton a seat at the table with one of the biggest mobile sportsbooks in shaping their responsible gaming policy. Isn't that a good thing?
I probably cannot convince you to view the guy in any particular light. When it comes to former inmates being rehabilitated and getting a second chance, we tend to be very dug in with our opinions, whatever may influence them.
Undeniably, Carton did a bad thing. Swindling people out of huge chunks of money is always bad. In America, it somehow seems worse. As costs of living increase and wages remain flat, every dollar is accounted for and allotted to something for most of us. The guy should be ashamed of himself. And here's the thing: he clearly is.
Since returning to WFAN, Carton has been very upfront about who he is, what he has done and how he is trying to do better. Hell, what other station in America dedicates any time at all, even just a half hour on the weekend, to issues of addiction and recognizing problem habits? This deal with FanDuel seems perfectly in line with his previous attempts to atone.
You don't have to like Craig Carton, but you do need to acknowledge that everything he has done in terms of highlighting his problem with gambling and offering help to those that he sees a little bit of his own struggles in has been sincere. There is no reason to believe it isn't.
Under the terms of the deal, not only will Carton advise and create content for FanDuel, but the company will also make sure Hello, My Name is Craig finds a bigger platform. You can be cynical and say that this is just part of a bigger deal between FanDuel and WFAN parent company Audacy, but FanDuel's Chief Marketing Officer, Mike Raffensperger explained that it is good for the gaming industry to promote betting responsibly.
"I think what we recognize we needed is to add some humanity as to how we get this message across," he said when explaining why Carton was the perfect face for this campaign.
We see it every time we post a story about sports betting. Someone will comment that it is an evil practice and that the advertising has made sports radio disgusting. The reality is that it is no different from alcohol. For most people, it is harmless. Plenty though, cannot handle it. Still, you tell me the first time you hear an ad break on sports radio or see a commercial break during a game without a beer commercial.
If you really believe sports gambling is evil and want people to stay away from mobile or physical sportsbooks, who do you think the ideal person to be delivering that message is?
You can go with the puritan approach of tisk-tisking strangers and telling them they are flawed people that are going to Hell or you can have a guy that has literally lost it all because of his addiction out front telling you "I know I cannot place a bet and here is why. If that sounds familiar, maybe it is time for you to seek help." It seems pretty obvious to me that the latter approach is exactly what Raffensperger is talking about – using humanity to reach the people they need to.
Craig Carton committed a crime. A court of law said he had to pay for that both with restitution to his victims and with jail time. He served his time. Deals like this one with FanDuel make it possible for him to stay on schedule with the restitution payments. Even if you think he is unforgivable, that should make you happy, right?
It is admittedly strange to see a mobile sportsbook hire a "responsible gaming ambassador." I would argue though that it is only strange because it isn't something we have seen before. Be skeptical if you are the "I'll believe it when I see it" type, but I don't see why anyone wouldn't want to congratulate and celebrate both Craig Carton and FanDuel.
Covid Is A Convenient Excuse For Lowering Our Standards
"I am sick of hearing lag and noticeably different levels of soundproofing between two hosts on the same show."
I was probably four hours deep into my all-day football binge on Saturday when I started to think about the overall quality of what I was seeing. This isn't a column about whether college football is secretly better than the NFL. This is about our industry.
While you may not notice a difference in the presentation on CBS's top line SEC broadcast or on FOX's Big Noon Saturday game, it is clear how few resources are being allocated to some of the games further down the networks' priority list. ESPN doesn't even send live broadcasters to its Thursday night college football game for instance.
Covid-19 was the beginning of this. It forced every business in the broadcast industry to re-evaluate budgets and figure out how to do games when travel and the traditional set up of broadcast booths simply were not on the table.
This isn't a problem limited to game coverage either. Plenty of hosts still are not back in their radio studio. Plenty of guests on ESPN's and FS1's mid day debate shows are still appearing via Skype and Zoom connections. It is as if we have started counting on our audience not expecting quality any more.
I want to be perfectly clear. I get that this pandemic isn't over. I get that in many cases, networks and stations are trying to avoid overcrowding studios and in some cases, make accommodations for top-level talent that refuse to get vaccinated. "It's survival mode," is the answer from corporate.
Do we still need to be in survival mode though? We are 18 months into this pandemic. The majority of Americans are vaccinated. The ones who aren't are actively making a choice not to do what they need to in order to put on the best possible show they can.
I am sick of hearing lag and noticeably different levels of soundproofing between two hosts on the same show. I am sick of seeing hosts on crystal clear HD cameras in a high tech studio talk to someone on a dirty webcam that can't be bothered to even put in headphones so they don't sound like they are shouting down a hallway.
A good example is the late Highly Questionable. I really liked that show when it was done in studio. I liked a lot of the ESPN talent that popped up on the show even after Dan Le Batard left. I couldn't watch any more of the show than the two minute clips that would show up on Twitter. I didn't want to see Bomani Jones behind a giant podcast mic. The low res camera that turned Mina Kimes's house plant into a green blob gave me a headache. The complete disregard for quality made a decent show hard to watch.
There was a time when the accommodations we made for Covid-19 were totally necessary. Bosses and broadcasters did whatever they had to to get a show or a game on the air. At this point, I am starting to wonder how much of the concessions are necessary and how much are the result of executives that "good enough" is the new standard.
It is totally reasonable to argue that in an age where microphones and editing software are cheap, slick production doesn't carry the weight it once did. That is true for the podcasters and TikTokers that are creating content in spare bedrooms and home offices. If you're ESPN or FOX or SirusXM, that slick production is what sells the idea that your content is better than what people can make at home on their own.
It's soundproof studios, 4K cameras and futuristic graphics packages that make the standard setters in the industry special. Maybe your average Joe Six-Pack can't put it into words. He just knows that a lot of home-produced content sounds and looks like play time compared to what he sees or hears on a network.
Sure, the anchors are the signature of SportsCenter's heyday, but it was the stage managers, producers, and other behind-the-scenes staff doing their jobs that really made the show thrive. Those people cost money. The details they took care of may be something 90% of viewers will never notice. They will just know that they are watching a really good show. Those difference makers cannot do their jobs to the best of their abilities if everyone is being piped in from a different FaceTime feed.
In the early days of the Covid-19 pandemic we did whatever we had to. As broadcasters, we made compromises. As an audience, we accepted compromises. We were desperate for familiar entertainment and if Zoom is what it took to get it, that was just fine. There was no cure, no vaccine, things were scary and we were all anxious not knowing how long it would all last.
More than 18 months later, things may not be back to normal, but we are considerably less desperate. There are signs of normalcy in the world. Make the commitment to bring back the standard that won you so many fans in the first place.
If Netflix Wants Live Sports, F1 May Be Just The Beginning
"Netflix will shrewdly need to continue to rethink its strategy because its first-mover advantage and long-time industry leading dominance is no longer guaranteed."
In the past, Hollywood dealmakers and stockbrokers wondered whether another studio or streamer would catch Netflix.  Its dominance stemmed from being a first-mover and not having a serious competitor until Amazon and Disney ten or more years after their launch.  However, Netflix would eventually have to compete for content, original and licensed, other platforms that offered less expansive ad-based options, and additional content like live sports or a very popular series or movie premiere.  
Arguably, the pandemic accelerated the move to digital and it allowed competitors to gain subscribers because people were spending more time at home.  More subscribers and additional streaming options for consumers has not caused Netflix to faulter, but it has caused Netflix to rethink its sports strategy.  For years, Netflix was dead set again streaming live sports because of their cost and commercials—Netflix does not have advertisements on its platform currently.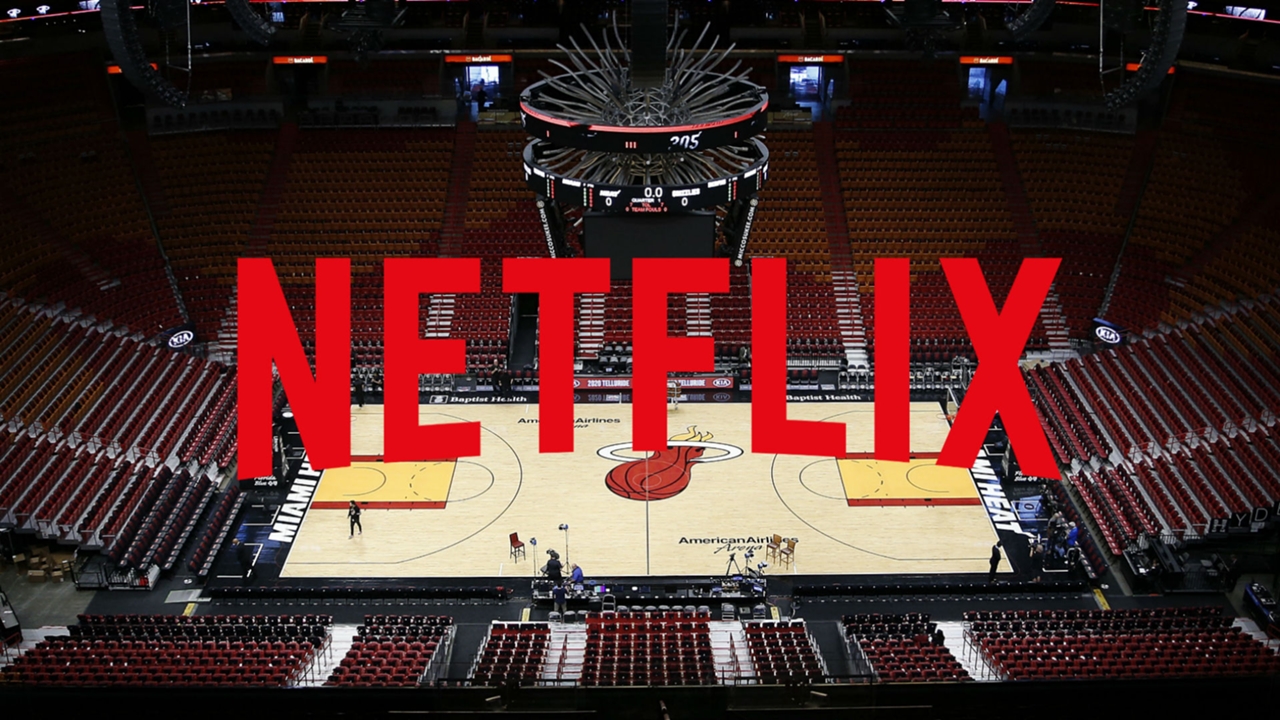 Netflix's popular Drive to Survive docuseries about the Formula 1 (or "F1") racing circuit, which was renewed for a fourth season, and the Michael Jordan/Chicago Bulls The Last Dance represents a golden era and renaissance of sports documentaries.  As much as fans of feature films and television series enjoy learning about actors during and off camera they similarly want to know about sports stars, their coaches, and franchises.  In other words, the business of sports is booming in valuation and behind-the-scenes content.  
Recently, Netflix CEO Reed Hastings stated that the popularity of Drive to Survive has caused the company to rethink its stance on purchasing live sports content.  The broadcast and streaming rights to Formula 1 will become available via ESPN and Sky Sports in 2022 and 2024.  Netflix, will have some competition to secure F1 rights, which will drive up the cost.  It was also reported by Front Office Sports that the Netflix CEO would require a level of exclusivity for sports rights that other platforms do not normally require.  The exclusivity is likely required because Netflix will want to justify the purchase price and to keep-in-line with what Netflix customers expect—exclusive content on the platform.  
With Premier League club Manchester United looking to secure a broadcast deal for selling its rights outside of the traditional league format, it might be the perfect acquisition for Netflix. An exclusive team vs. an entire league would also be less expensive and more targeted. One aspect of uncertainty for all streamers is their subscribers overseas, particularly in untapped China. The international market is far from settled or established. Netflix also has a large operation in India so possibly cricket via the Indian Premier League ("IPL") could be a rights purchase to consider.
In 2018, the original content on Netflix only accounted for 8%.  This means that 92% of the content on the platform just a few years ago was all owned (at least partially) by someone else.  That statistic has changed because Disney+, Paramount+, Peacock, HBO Max, Apple+, and many others have since been created and stocked or restocked with content.  Controlling interest in Hulu was even purchased from FOX by Disney.  Disney and Amazon now both rival Netflix in terms of subscribers.  Netflix will shrewdly need to continue to rethink its strategy because its first-mover advantage and long-time industry leading dominance is no longer guaranteed.  
As Comcast-owned NBCUniversal CEO Brian Roberts recently said, purchasing sports rights can be difficult.  Sports rights are expensive.  Exclusive sports rights are even more expensive.  Sports rights only become available every five to ten years.  Networks and streamers are highly competitive to secure those rights with the hope of landing viewers, subscribers, and advertising dollars.  
Will Netflix get into sports rights bidding?  In the past, the digital entertainment giant has been steadfast is its non-sports approach.  However, the market has changed and is flooded with more competitors now.  Netflix has to change to meet its customer and the market needs.  
Formula 1 presents an interesting scenario for Netflix as a buyer and partner.  F1 is a popular league internationally and growing in the United States.  Two new F1 races in Miami, Florida, and Austin, Texas, in addition to season four of the Drive to Survive Netflix series are sure to drive traffic, pun intended, and interest in the racing sport.  
Formula 1 is a sports league that will cost less to purchase streaming rights than a traditional American "Big 4" like the NBA, NFL, or MLB.  Formula 1's structure is also centered at the top so it would be easier to make an exclusive deal that Netflix seeks.  The remaining questions being, will Netflix pursue Formula 1 sports rights to increase its streaming platform subscribers and compete with others?  Second, will Netflix be the first to offer commercial free live sports programming—for a premium price—or offer in-screen ads and additional during-break inside looks, content, and analysis?  Or will Netflix act more like a traditional broadcaster and offer advertisements to pay down its purchase price?  One will know more after a few laps around the sun.