Eavesdropping: Nine 2 Noon With Kuhn
"Usually I advocate for callers, but I didn't find myself missing them on Nine 2 Noon."
Nine 2 Noon with Kuhn is a nuts and bolts sports radio show where listeners know what they're going to get on a daily basis. While some of the country's most successful shows try to modernize, there's certainly still room in the industry for a sports radio show that keeps its focus on sports.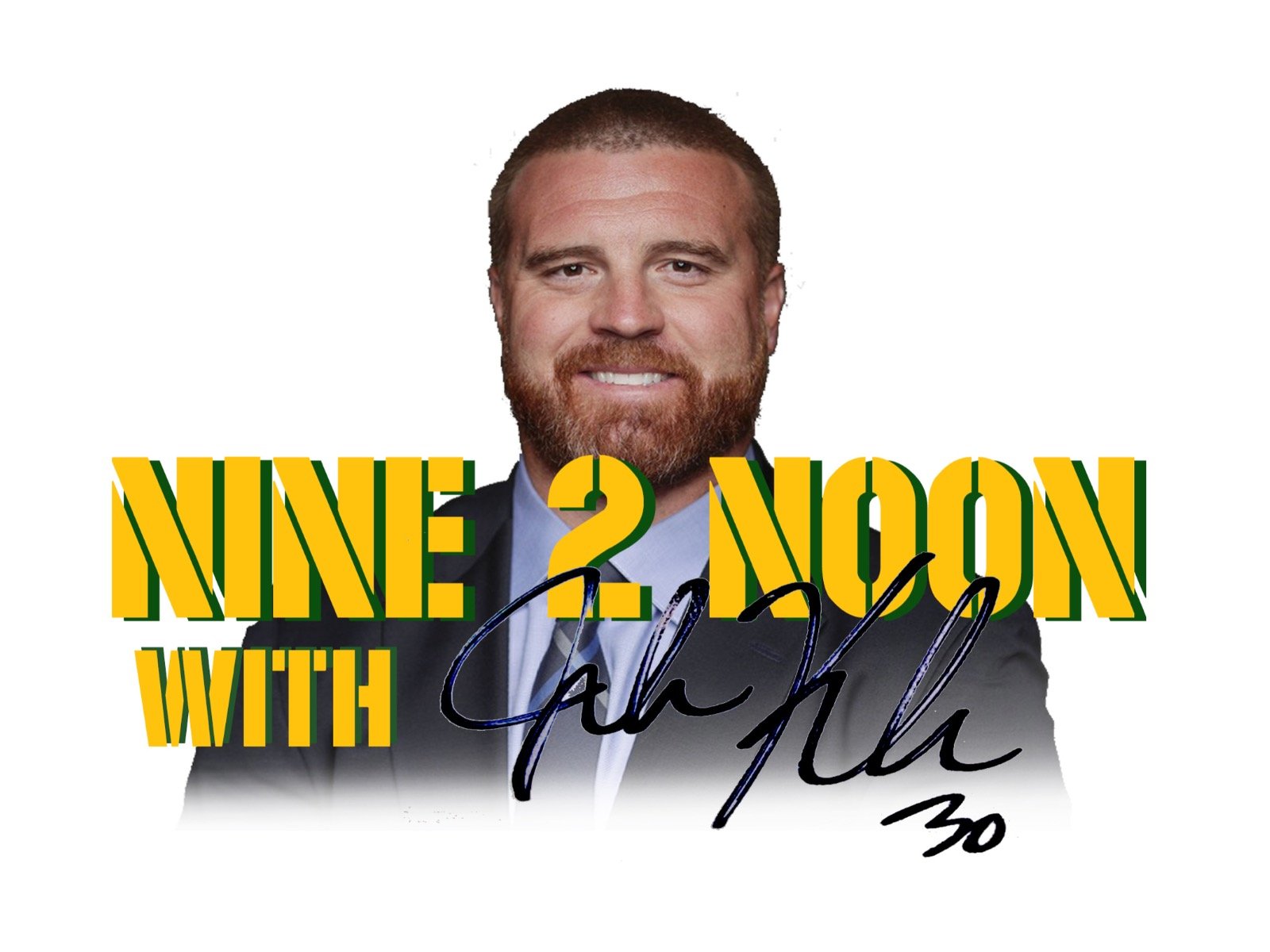 I was surprised and concerned during my first day of listening to the late morning show on Milwaukee's 97.3 The Game. With former Packers fullback John Kuhn being featured in the title, I expected his voice to dominate the show. But after being greeted by the voice of station program director Tim Scott, followed by former University of Wisconsin basketball player Brian Butch, listeners quickly realize this show is a collaboration and not a game plan designed on only handing the ball to Kuhn.
The concern came early on in my month of eavesdropping when Scott lauded Kuhn for coming up with the idea of creating a weekly fantasy sports segment during the previous commercial break. It might have been an innovative idea 15 years ago, but fantasy is not a new revelation for sports fans. If a fantasy sports segment is as creative as the show gets, then I'd be in for a long month of listening as a dude from New York lacking affection for the intricacies of the Milwaukee sports scene.
But the show provides plenty of entertainment value, finding the right amount of fluidity, organization and listener interaction. Scott brings the traditional radio voice and inflection while playing the role of moderator, with John Kuhn and Brian Butch delivering heavy opinions and debate. The lesser organized segments feature the most interaction, breaking away from the feel of a roundtable discussion to include opinions from each host. All three voices sound very different, making it easy for a new listener to distinguish who's talking.
The show itself might not feature diversity among its three hosts, but the content still includes diversity of thought. Personally, I'm a sucker for sports debates between one person focused on stats or analytics, and the other who prefers to let their eye be the judge. Butch and Kuhn regularly offered that dynamic in the last month, especially when it comes to judging Aaron Rodgers.
The crosstalk segments were solid, I enjoy the depiction of camaraderie between a station and its various shows. But if I had my own show, there would be days I'd prefer skipping the segment, not to risk having it take away from my opening monologue. An audience tunes into a show to hear opinion, with the best radio hosts containing appointment listening qualities. If Kuhn has a particularly hot sports take to share from last night's Packers game, does he want to risk softening his opening monologue by first broaching the topic with Steve Czaban?
In general, crosstalk can be entertaining on an average sports day. Czaban usually picked unique questions to ask and didn't demand the Nine 2 Noon hosts offer their thoughts on the day's biggest story. But as a listener, if a host is passionate about a particularly polarizing topic, I want it to fester and build into a great open, not be lessened by crosstalk banter.
There are a fair number of interviews on Nine 2 Noon. The concept of bringing an additional voice to the show wasn't overused, but the content of the interviews felt outdated, which is common in sports radio. Few fans learn anything from sports radio interviews in the age of instant information. 15 years ago they provided a service, but now every piece of information and even opinion from a sports journalist is shared on Twitter immediately. Going on the radio to rehash their previous 24 hours of tweets is mostly unnecessary, especially for a show that already has three hosts.
An interview with someone of a unique perspective or story-telling ability can still be of benefit to the listener. Personally, I prefer conversations, not interviews intending to be informative because it's rare that each host taking a turn to ask a journalist a question actually teaches anything, but good conversation and narration will always entertain.
While Nine 2 Noon is sports heavy, they still dive into outside topics and those never felt forced, a great sign for a less than six-month old show working to build chemistry. Whether it's discussing Butch's bad haircut (which I didn't think looked that bad in the pictures), apartment stories, or the Fullback Dive Bar Review, Nine 2 Noon sounded genuine whenever they pushed the sports crutch aside for a segment.
The Fullback Dive Bar Review began as a monthly segment, but Nine 2 Noon has since bumped it to a weekly spot based on listener popularity. A play off Guy Fieri's immensely successful Diners, Drive-Ins and Dives, the segment on Nine 2 Noon is great promotion for local bars, but it also helps the hosts to connect with the listeners. As the audience chimes in with their opinions of the dive bar being reviewed, or suggestions of other places to try, it's a small way of increasing the communal aspect to a new show.
Most listener interaction comes from the text half of their "talk and text line," but I know Milwaukee has plenty of radio callers, because I've heard them on rival station The Fan. Usually I advocate for callers, but I didn't find myself missing them on Nine 2 Noon. With three hosts, a producer, Armen Saryan who regularly chimes in, crosstalk and interviews – finding additional voices and contributors didn't seem necessary.
Using the iHeartRadio app for the Nine 2 Noon podcast and staring at a show labeled with a one-liner, followed by "127 min," the duration and commitment can seem daunting. But they do mix in at least one short podcast each day as downloadable content to highlight a particularly good conversation or segment. Credit to the producer for posting some of those shorts while Nine 2 Noon is still on-air which acted as a draw, because if the 15 minute podcast caught my eye and ear, I'd tune in to the live show.
My own preconceived notion of Milwaukee radio is that it's all Packers all the time. Add the show title featuring the name of a near 10-year Packers veteran and my expectation for this being a football dominant show only grew. And while the Packers are certainly topic 1 and 1A in September, the Milwaukee sports fan's appetite for the Bucks, Brewers and other local points of interest still gets served. With Kuhn's football knowledge, Butch having a great eye for basketball, and all three hosts featuring extensive radio experience, listeners receive a very balanced attack from Nine 2 Noon.
Broadcast Partnerships Can't Get In The Way Of Reporting
"The practice of broadcast partners not contradicting information directly from the team has been going on for years."
Morning sports anchors count on alarm clocks and, 99 times out of 100, that no sports news actually happens during a typical shift. Recap yesterday's action, find 3 or 4 ways to say that Team X edged Team Y in overtime or some facsimile of that.
The two and a half weeks of Olympics every couple of years could change things for morning sports anchors.  Tuesday morning's bombshell with US Olympic gymnastics champion Simone Biles was just the exception that proves many broadcasting rules.  Rightsholders have been beholden to the teams they are in business with, so the narrative is dictated by the team and not the network.
At 7 am eastern time on Tuesday, July 27th, I was anchoring morning sports when I saw on Twitter that Biles was pulling out of the overall team event.  Immediately, I went to NBC, the rightsholder for the Games, to see what the story was.  The Today Show was just starting.  Meanwhile, Peacock was airing the event live.
USA gymnastics immediately issued a statement that NBC followed diligently. They said that Biles "has withdrawn from the team final competition due to a medical issue." Meanwhile, Peacock was interviewing Biles' coach who said accurately that Biles had withdrawn due to a mental health situation.
Twitter jumped on the report that it was a mental health issue. Still, NBC was sticking to the medical issue. And they did what any rightsholder would do.
Could NBC have paid closer attention to their sister broadcast on Peacock? Perhaps, but anyone who has worked on a high-stakes broadcast knows that control rooms and anchors focus on their own product. Also, if any official outlet of the Olympics gives them data, why wouldn't they believe it.
I spoke off the record to two members of NFL broadcast crews. Both said, that if a star on a team left the game and the team gave the announcers an official statement, even if that statement is false, they wouldn't contradict it on air. "Team X has just given us this information," is how they would often phrase it.
Before NBC was corrected, they covered the story as if Biles had suffered some physical injury. They even spoke to Biles' former teammates Laurie Hernandez, who was commentating for NBC, and Aly Raisman, who joined via Zoom.
My role for iHeartMedia that morning was to do sports reports in Georgia, Virginia, Alabama, and a national report.  I usually feed my casts in the morning and head on my way. When the Biles news broke, I needed to get the facts right.  Many news outlets were reporting (accurately) what Peacock had revealed.  Good Morning America accurately reported on the story.
The difference between ABC and NBC is the billions that NBC pays for the rights. The real question is, what is NBC paying for?
The practice of broadcast partners not contradicting information directly from the team has been going on for years. It is probably why there are so many attempts at hiding information.
Over my 27 year career, there have been plenty of occasions where an athlete couldn't play for a personal reason. In one instance I saw a player find out his wife was cheating on him. Another situation was a player was dealing with a sick parent.  In both cases, the team issued statements with some vague injury.  The team statement has a lot of weight with the media, but to the rightsholder, it might as well be etched in stone.
That instinct to cover up is particularly disturbing. The coach had told the live Peacock broadcast the simple truth – that Biles was not mentally up to competing after she faulted on her previous attempt.
Perhaps the initial statement was not a cover-up, but rather a miscommunication. That simply cannot happen at this level.
The idea of a media cover-up has been used too often because institutions believe that they cannot sully the brand with less than positive information.  Memories of Penn State University and THE Ohio State University, come to mind. What is the mindset to cover up anything negative, whether it's as big as an assault or as small as skipping a game or match?  The truth always comes out.
This brings up Simone Biles. She does not owe the public an explanation, and her mental health is more important than any competition.
However, if the media scrutiny bothers her, it helps me understand those other players in wanting their truths to be hidden. Her withdrawal is a complicated issue, and while some of the takes I've heard this week have been outright disgusting, others have been rather profound.
The toxicity that surrounds social media in 2021 is perhaps unavoidable.  It's just sad that this debate got so ugly when the Olympics are designed to unite.
The Tokyo Olympics have been tough to watch already, because of the time zone issues. Losing star power like Simone Biles and Naomi Osaka has made it even harder.
It's only the first full week.
Barrett Sports Media's Next Big Thing Draft
"I asked 30 established stars in the sports media world to join me in determining who is next."
There was a time when draft night, no matter the sport, meant that we were gathering the sports media for a similar exercise here at Barrett Sports Media. Between the pandemic, a changing focus, and more work than we could have anticipated when this business was launched, that tradition fell unfortunately by the wayside.
Today though, I am bringing it back. I asked 30 established stars in the sports media world to join me in determining who is next. This is the Barrett Sports Media Next Big Thing Draft. Just like the NBA, we have an age limit. The difference is theirs is at the low end and ours is at the high end.
We have long discussed the 40s being the decade where most people in this business are established and make the bulk of their money. So, I set 40 as the top end.
Now, sure, there are plenty of names under 40 that are already established stars. They are fair game. They are already their networks' franchise players. They can be the same for the theoretical teams we are forming.
So, in order of their picks (which were drawn at random), here are the TV, radio, and digital stars that agreed to be a part of the draft.
Steve Levy (ESPN)
Paul Finebaum (ESPN/SEC Network)
Doug Gottlieb (FOX Sports)
Kirk Herbstreit (ESPN)
Gregg Giannotti (WFAN)
Tim Brando (FOX Sports)
Wes Durham (ACC Network)
Bomani Jones (ESPN/HBO)
Gary Parrish (CBS Sports)
Linda Cohn (ESPN)
Stugotz (Meadowlark Media)
Damon Bruce (95.7 The Game)
Chris Broussard (FOX Sports)
Freddie Coleman (ESPN Radio)
Ric Bucher (FOX Sports)
Petros Papadakis (FOX Sports)
Michael Eaves (ESPN)
Jason Smith (FOX Sports)
John Kincade (97.5 The Fanatic)
Rob Parker (FOX Sports)
Adnan Virk (DAZN/Meadowlark Media)
Damon Amendolara (CBS Sports Radio)
Danny Parkins (670 The Score)
Mike Florio (Pro Football Talk)
Chris Carlin (ESPN New York)
Carl Dukes (92.9 The Game)
Jason Fitz (ESPN)
Adam Schein (SiriusXM/CBS Sports)
Dave Dameshek (Extra Points)
Arash Markazi (WWENXT)
This took a lot of time and effort to put together, but we got it done. Here is how the draft went.
Here are a few observations from the 2021 Next Big Thing Draft.
THE FUTURE IS FEMALE – The first three picks were all women. Half of the top ten were women. Whether it is TV or podcasting, some of the brightest up and coming stars in our industry are women and that is a good thing.
BRAND LOYALTY – It probably shouldn't be a surprise, but look at how many people chose up-and-coming stars at their own networks. Is that about job security and being a company man? Maybe, but look at Paul Finebaum choosing Laura Rutledge or Kirk Herbstreit choosing Pat McAfee or even Stugotz choosing Billy Gill. These people get to see their choices face to face with some regularity. I think it speaks to being able to recognize talent when you see it.
DAMON BRUCE KNOWS THE GAME – Bruce asked me to call him so he could make his pick over the phone. He wanted it to be clear. It was a crime that Shams Charania and his 1.2 million social media followers were still on the board at number eleven. "I want everyone to know how much they f***ed things up," he told me.
A BIG IMPRESSION – I loved the story Jason Smith told me about why he took the versatile Morosi with the 18th pick. "When he comes on my show he likes to use Italian phrases (you know, him being Italian and all), so one time I challenged him that some time in the next week he had to do a media interview entirely in Italian and not explain why he was speaking Italian to the hosts. And he had to post it. Three days later he puts the interview on Twitter, and @'s me on it: It was a baseball interview he did with a TV station…wait for it…wait for it…in Italy. 3,000 miles and an early call time to win a dare. Well played, Jon-Paul."
THE FREE AGENT MARKET – These people all went undrafted: Jason Bennetti, Big Cat, Domonique Foxworth, Mike Golic Jr, Cassidy Hubbarth, Mina Kimes, Joel Klatt, Katie Nolan, Danny Parkins, PFT Commenter, Brady Quinn, Taylor Rooks, Marcus Spears, and Joy Taylor. Some network or digital platform could build a hell of a roster with this draft's leftovers. You could really see this playing out with the final picks. "I had 4 or 5 can't miss picks that are already off the board," Jason Fitz told me before he proceeded to waffle between three potential candidates for the 27th pick.
Demetri Ravanos is back to look at an interesting week in the sports media. He welcomes Seth Everett and Brian Noe to a show that touches on women in sports media, the Big 12's impending demise, the way NBC covered Simone Biles, and where tape delay stands in 2021.
Podcast: Play in new window | Download
Subscribe: RSS