Escapism From Debate Hell Found In Usual Places
"As the next moderator seeks a mute button, America can get away to a LeBron-dominant NBA Finals, the quick-out MLB playoffs and … oops, the NFL and college football are in a predictable Covid crisis."
As our hearts pound in horror, our stomachs tumble in nausea and our heads throb in disgust, we ask: What now, fellow Americans? In a nation lampooned wherever laughter exists on this planet, a country where the President is a cartoonish hooligan who won't condemn white supremacists while his Botox-ed rival stoops to name-calling and Elks Club-level taunting ("Will you shut up, man?''), no one is sure where we turn next, man.
The best answer is a permanent move to Croatia or Kyrgyzstan, but short of that, I suppose we escape again to sports. You might argue, of course, that Donald Trump and Joe Biden have become our only sport, a hybrid of Rock 'Em Sock 'Em Robots and the classic MTV hoot, "Celebrity Deathmatch,'' where two claymation figures batter each other in a ring. A hundred or so cable channels allow daily visits to the unflushed Trump-Biden toilet bowl if you so choose, until a first Tuesday in November that can't arrive soon enough, when the conversation shifts to tampering and fixing and whether a crane or bulldozer will be required to extract Trump from the White House.
Our President can't even claim his usual ratings victory — the debate numbers were down appreciably from 2016 — which suggests the next moderator have a mute button similar to the one on my old ESPN show, "Around The Horn.'' Clearly, people were tuning out. To quote Vladimir Putin, which is appropriate in the aftermath of the Cleveland disgrace:  "When people cross certain boundaries, boundaries of decency, they don't look strong. They look weak.''
Or, there is convenient solace in a barrage of meaningful sports events (courtesy of Trump) that, alas, come with the relentless medical risks of Covid-19 (also courtesy of Trump). In a dizzying week in American history, as the NFL is slammed by its first major coronavirus outbreak, escapism is available in the round-the-clock form of another LeBron-centric NBA Finals and the quick-out Major League Baseball postseason, among other options. Trump's fantasy of winning re-election via football is crumbling in a heap of positive coronavirus tests, including campus outbreaks that already have broken the college season. Anyone foolish enough to think the sport was immune to the pandemic — hello, American South — can stop writing me after I predicted a Covid crisis in August on Paul Finebaum's ESPN show. What NFL quack assumed the Tennessee Titans would be safe from a heap of infections — nine total, including four players — because they didn't allow their Covid-ridden outside linebackers coach, Shane Bowen, to travel with the team to Minnesota? And what NFL doofus continues to think the Titans can play the Steelers on Monday night in Nashville, which sounds like a blueprint for a coronavirus spread? Just as we saw MLB struggle outside a restrictive environment with a flouting of protocols, we're seeing NFL coaches refuse to wear masks and Raiders players not wearing facial coverings during a charity event in Las Vegas. You snooze, you lose.
You sneeze, you lose worse. And if the coaches don't follow the plan? The league is threatening to sock them with suspensions and lost draft picks, which sounds much like local governments that issue warnings of prosecution to maskless Covid-iots, only to stop short of enforcing the so-called policies. All of which feeds the political invective that has turned America into the hottest of messes — and one that put LeBron James at the intersection of sports and society one night after a debate that hopefully is a one-off, for the sake of our collective wellness.
It's much too simplistic to say James is en route to a fourth NBA title with a third team, the Lakers, or even that he's honoring the memory of the late Kobe Bryant. As witnessed in Game 1 against the refreshing but already battered and lost Miami Heat, this one will be easier to navigate than past roller-coaster rides, armed with a deadly accomplice in Anthony Davis. James' aim is to combine a 2020 championship — which would be the most unique and challenging ever won by a sports legend — with the demise of Trump, a mission he has plotted for years via his belief that the President is a racist. "PLEASE VOTE!!!!!'' he tweeted after the debate in his native northeast Ohio, where his 2016 comeback triumph with the Cavaliers was assumed to be his career touchstone … until this hellish year.
Suddenly, almost 36 and only a year after he looked ready for retirement and a Hollywood mogul's life, he is looking at an unprecedented survivalist takeover: overcoming three months in a depressing Bubble, a dissension-plagued franchise, the helicopter crash that killed Bryant before they ever had a chance to meet for dinner, his polarizing embrace of activism and Trump-bashing amid the police shooting deaths and Black Lives Matter protests, a geopolitical flap in which he was widely ripped for his pro-China view after Daryl Morey's pro-Hong Kong tweet, Giannis Antetokounmpo, James Harden, Luka Doncic and a faux Clippers team that splashed LeBron-mocking billboards throughout Los Angeles — remember "We Over Me'' — when James was the one who united a team. Oh, and he also made "Space Jam 2,'' though it won't open in theaters until theaters can be opened.
Do not make the mistake, as some have already, of declaring LeBron as the Greatest Basketball Player of All Time if he pulls it off. Michael Jordan is the G.O.A.T., no recall vote permitted. But Jordan, I dare say, could not have withstood the year's non-stop trauma and drama — never bearing the burden of activism during his playing career, for instance. James is about to slay not only the Heat, but opponents — attrition, mental and physical health, isolation, American misery — never tackled by his all-time brethren in sports.
"It's probably been the most challenging thing I've ever done as far as a professional, as far as committing to something and actually making it through," he said of central Florida confinement, which keeps him from his just-purchased $36 million Beverly Hills mansion. "I would be lying if I sat up here and knew that everything inside the Bubble, the toll that it would take on your mind and your body and everything else, because it's been extremely tough. But I'm here for one reason and one reason only, and that's to compete for a championship.
"That was my mindset once I entered the Bubble, once I entered the quarantine process the first two days. Then, right from my first practice, my mindset was to — if I'm going to be here, make the most of it and see what you can do and lock in on what the main thing is. The main thing was for us to finish the season and compete for a championship. So that's just been my mindset throughout these — I don't even know how many days it is. However many days it is, it feels like five years. I've been as locked in as I've ever been in my career."
The Lakers are far from perfect, which is why Heat leader Jimmy Butler said before Game 1, "Not going to say that we're any better than anybody else, but I just don't think that we're underdogs. I don't.'' LeBron's cast includes hotheads who go off for the wrong reasons and three-point shooters who often don't go off when needed. But after all the Miami injuries and all the obstacles he has overcome, LeBron isn't going to falter now? With emerging star Bam Adebayo nursing a shoulder strain after a collision with Dwight Howard and Goran Dragic finished with a tear in his left foot, the Heat could be swept. Plus, there's the Miami grudge factor. James is facing Heat patriarch Pat Riley, who brought him to South Beach, then seethed when he returned to Cleveland. And Erik Spoelstra, the coach he initially didn't accept in Miami, who since has become a strategic wizard and master developer of homegrown pieces Adebayo and Tyler Herro.
Losing to the Heat, before they are ready to win championships, would be devastating to LeBron's legacy. It would make him 3-7 in the Finals, this one against a team he was favored to beat. Only a catastrophe can stop James and Davis, by far the best two players in the series, from winning the Lakers' 17th NBA title. "To be back in the Finals against Miami, I think, means a lot more to him winning this than anyone else," said Davis, who dominated Game 1 with 34 points and backboard domination. "I think this championship is probably second behind Cleveland, being able to get this one for him."
All considering, this one would trump Cleveland.
Pun fully intended.
The baseball diehards have their dream playoff-o-rama, with whatever happened in a shotgun, Covid-dinged regular season rendered meaningless beyond seedings. Being a lower seed hasn't mattered yet to those cheatin' Houston Asterisks, who didn't have to steal signs to eliminate the Twins and give America a hating interest — especially in L.A., where the Dodgers won't be waiting but Dodgers fans know the team bus route. "I know a lot of people are mad. I know a lot of people don't want to see us here,'' Carlos Correa said. "But what are they going to say now?'' On the lovable side, admire the Marlins, who have the Cubs on choke alert again without benefit of Steve Bartman. And don't we love lower scores — the balls have been dejuiced! — such as Trevor Bauer and Max Fried in a scoreless duel in what became a 13-inning, 1-0 Atlanta victory. The networks desperately need the Yankees, who are slugging again — past 1 a.m. this morning in Cleveland — to advance to a monster divisional series against the Rays. TV also needs the Dodgers, who have no reason not to finally win the World Series, though that was said much of the last decade. Like L.A. neighbor James, manager Dave Roberts thinks winning in 2020 would mean more because of the whirlwind circumstances.
"It's kind of World Series-or-bust every year," Roberts said. "This year, I think, certainly would be more special. We've all gone through a lot. The whole industry has."
Imagine if the Rays win it all, giving Tampa Bay at least two champions in the Covid era — in a state, Florida, that doesn't take the virus seriously.
"For the most part, it's been a really cool experience,'' said Lightning coach Jon Cooper, who can state that as a champion when the experience sucked for also-rans who wasted weeks in Bubbles. In lieu of a traditional parade, players and coaches boarded trolleys for a ride to Amalie Arena, where a private team-only ceremony was held. If the NHL can be believed, more than 33,000 coronavirus tests in the two Canada igloos produced zero positive outcomes, furthering two 2020 sports truths: (1) The leagues with Bubbles avoided major Covid drama, and those with no Bubbles have been slammed; and (2) We all should move up north, where the virus has been controlled. Unlike the NBA, which is adamant about a 2020-21 season with fans in all 30 arenas, the NHL is exploring a season with four to six Bubbles in states that will allow spectators inside arenas. Could it by the embattled Gary Bettman will be remembered, along with the NBA's Adam Silver, as the commissioners who figured it out when others flopped? A big difference: The NBA's experiment has been fascinating; the NHL's was boring.
Certainly, college football's Power Five commissioners aren't showering themselves in glory. They're just grabbing whatever TV money falls their way, regardless of the rash of positive tests, as many top programs hide behind privacy laws that protect infected players. I applaud Missouri's new coach, Eli Drinkwitz, for calling out the SEC and its lack of transparency about test results. "It's kind of a free-for-all,'' he said. I also applaud Notre Dame for trying to explain how 18 players tested positive last week, which led to 39 players being isolated or quarantined.
"Throughout our entire time together, we had not had one meal where we sat down together. Everything was grab and go," coach Brian Kelly said. "We get into our game situation where we have pregame meal together, and that cost us. Big. We had somebody who was asymptomatic, and it spread like wildfire throughout our meeting area where we were eating and then it got guys in contact tracing."
Why that wasn't understood to begin with — do not eat team meals together — is beyond me. And when a player vomits on the sideline, don't assume he's dehydrated when, sure enough, he tested positive for the virus. "It becomes very tricky,'' Kelly said. "Just being vigilant and understanding this thing can hide in so many different areas make it a tricky proposition, even if you're doing all of the right things."
Or, everyone could just go home and wait until next season. Oops, here come those Southern trolls again.
It brings to mind a comment by Our President during the Great American Cluster Dump. "By the way, I brought back Big Ten football," he said. "It was me, and I'm very happy to do it, and the people of Ohio are very proud of me.'' The people of Ohio might be proud of LeBron James. But Trump?
Proud probably is the wrong word.
Keeping Premier League Games Shouldn't Be A Hard Call For NBC
"Beyond its massive global fanbase, the Premier League offers NBC/Peacock a unique modern 21st-century sport for the short attention span of fans."
NBC Sports is facing some tough, costly decisions that will define its sports brand for the rest of this decade.  A chance to connect with viewers in a changing climate and grow Peacock's audience as well.  However, making the right choice is paramount to not losing to apps like Paramount+ (pun intended).
NBC is currently in the business of negotiating to continue airing the Premier League as their current deal ends after this 2021-2022 season. NASCAR is contracted to NBC (and FOX) through the 2024 season.
NBC's tentpole sports are the NFL and the Olympics.
Negotiations for the EPL are expected to go down to the wire. Rather than re-up with NBC, the league is meeting with other networks to drive up the price. NBC has to then make a decision if the rights go north of $2 billion.
Should NBC spend that much on a sport that is not played in the United States? It's not my money, but that sport continues to grow in the US.
If NBC re-ups with the Premier League, will that leave any coins in the cupboard to re-up with NASCAR? Comcast CEO Brian Roberts hinted that there might be some penny pinching as the prices continue to soar. This may have been one of the reasons that NBC did not fight to keep the National Hockey League, whose rights will be with Disney and WarnerMedia through ESPN and TNT, respectively.
"These are really hard calls," Roberts said. "You don't always want to prevail, and sometimes you're right and sometimes you're wrong, but I think the sustainability of sports is a critical part of what our company does well."
Roberts was speaking virtually at the recent Goldman Sachs 30th Annual Communacopia Conference. He told the audience that between NBC and European network Sky, that Comcast has allocated approximately $20 billion towards these sports properties.
Comcast CFO Michael Cavanagh spoke virtually at the Bank of America Securities 2021 Media, Communications and Entertainment Conference and echoed that the company is in a good position to make some strong choices in the sports realm.
"The bar is really high for us to pursue outright acquisitions of any material size," Cavanagh added. "We got a great hand to play with what we have."
While the European investments involve a partnership with American rival Viacom, the US market seems to have apparent limits.
Last Saturday's NASCAR Cup Series at Bristol Motor Speedway was seen by around 2.19 million people. It was the most-watched motorsports event of the weekend. That same week eight different Premier League matches saw over 1 million viewers. More than half of those matches were on subscription-based Peacock. 
Beyond its massive global fanbase, the Premier League offers NBC/Peacock a unique modern 21st-century sport for the short attention span of fans. A game of typical soccer fan is used to a sport that is less than two hours long. The investment in a team is one or two games a week. 
My connection to the Premier League began before the pandemic. When I cut the cord in late 2017, I purchase Apple TV. Setting it up, it asks you to name your favorite teams. After clicking on the Syracuse Orange and the New Jersey Devils, I recalled that my wife has family based in London, England. They are season ticket holders for Arsenal, and that family redefined the word "die-hard" fans.
I've long been a believer that sports allegiances are best when handed down by family. I love hearing stories of people loving the New York Giants because their parents liked them, and they pass it down to their children.
I've successfully given my allegiance to the Devils to my young daughters.
By telling Apple TV that I liked Arsenal, I get alerts from three different apps when the "Gunners" are playing. The $4.99 is totally worth it to see Arsenal.
Whenever I told this story, I was amazed to see how many other American sports fans had a Premier League team. Students of mine at Seton Hall University rooted for Tottenham Hotspurs, while an old colleague cheers on Chelsea.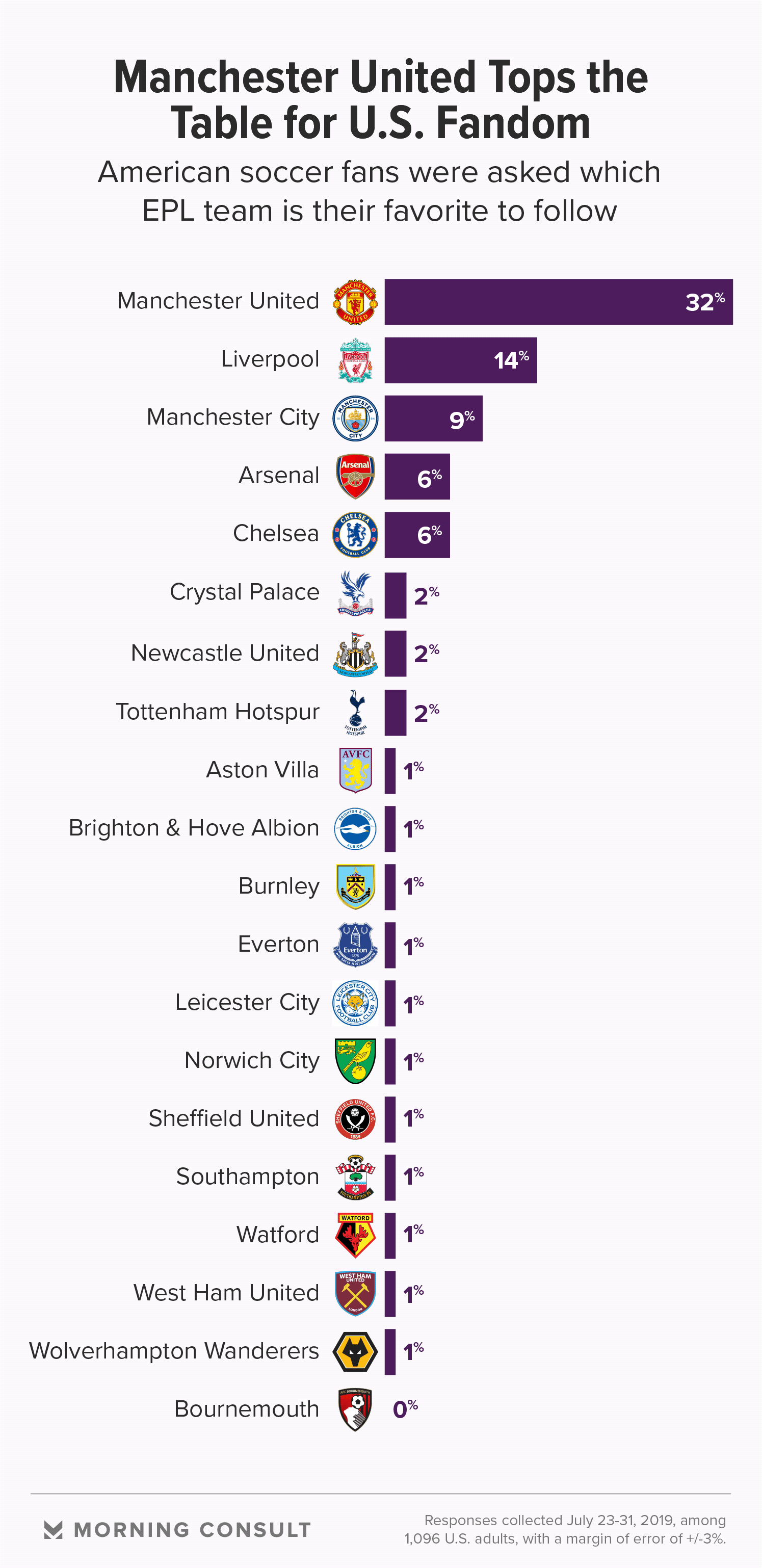 This is not meant to say that NBC should sign the EPL on my account. The key for any US-based soccer fan is that between Bundesliga, Serie A, and other leagues, there will be no shortage of soccer available on both linear television and streaming services.
Besides, Dani Rojas did say that "Football is life." NBC, originator of the Ted Lasso character, should make keeping its Premier League US connection a priority.
Today, Demetri is joined by Tyler McComas and Russ Heltman. Tyler pops on to talk about the big start to the college football season on TV. Russ talks about Barstool's upfront presentation and how the business community may not see any problems in working with the brand. Plus, Demetri is optimistic about FOX Sports Radio's new morning show.
Podcast: Play in new window | Download
Subscribe: RSS
6 Ad Categories Hotter Than Gambling For Sports Radio
"Using sports radio as a back page service for gambling will have a limited shelf life."
For years sports radio stations pushed sports gambling advertisers to early Saturday and Sunday morning. The 1-800 ads, shouting, and false claims were seedy, and some stations wouldn't even accept the business at 5 am on Sunday.
Now, with all but ten states ready to go all in on sports gambling, sports radio stations can't get enough of that green. Demetri Ravanos wrote about the money cannon that sports gambling has become for stations. Well, what if you are in one of those ten states where it isn't likely to ever be legal like California or Texas? Where is your pot of gold?
Or, let's face it, the more gambling ads you run, the more risk you take on that the ads will not all work as you cannibalize the audience and chase other listeners away who ARE NOT online gambling service users and never will be. So, what about you? Where is your pot of gold?
Well, let's go Digging for Gold. 
The RAB produces the MRI-Simmons Gold Digger PROSPECTING REPORT for several radio formats. In it, they index sports radio listeners' habits against an average of 18+ Adult. The Gold Digger report looks at areas where the index is higher than the norm – meaning the sports radio audience is more likely to use the product or service than an average 18+ Adult who doesn't listen to sports radio. The report, generated in 2020, indicates that sports radio listeners are 106% more likely to have used an online gambling site in the last thirty days. That's impressive because the report only lists 32 activities or purchases a sports radio listener indexes higher than an average adult. I looked at those 32 higher indexes, and I think we can start looking for some gold.
Using sports radio as a back page service for gambling will have a limited shelf life. The gambling companies who commit significant money to get results will continue advertising and chase the others away. So, the future of sports radio needs to include other cash cows.
If it is evident to online sports gambling services that sports radio stations are a must-buy, who else should feel that way?  I looked at the Top 32 and eliminated the media companies. ESPN, MLB/NHL/NFL networks, and others aren't spending cash on sports radio stations they don't own in general. But Joseph A Bank clothing, Fidelity, and Hotwire should! Here's your PICK-6 list I pulled together that's hotter than sports gambling:
Sportscard collectors, Dapper Labs, Open Sea- read about Sports NFT $.
Online brokerage firms-Fidelity, Charles Schwab, Robinhood, Webull, TD Ameritrade
Golf courses, resorts, equipment, etc.- we play golf at home and vacation
Hotwire.com, Booking.com, TripAdvisor, Airbnb, Carnival Corporation, and Priceline.com- we've used Hotwire in the last year.
FedEx, UPS, U.S. Postal Service, Venmo, PayPal, Zelle-we wired or overnighted $
Jos. A. Bank, shein.com, macys.com, nordstroms.com- we went to Jos. A. Bank in last three months
The sports card/NFT market is 32% hotter than the sports betting market for sports radio listeners. Everything on the PICK-6 is at least 100% more likely to purchase than an average 18+ Adult who doesn't listen to sports radio. All listed are at or above indexing strength compared to sports betting. The individual companies I added are industry leaders. Bet on it! Email me for details.