'This Is Our Year!' — For Dodgers, It Better Be
Another October crash would be especially painful for the L.A. bluebloods, who should not underestimate Tampa Bay, a modern baseball miracle that might make Dave Roberts eat his bold prediction.
If the comparison points are market size, finances, pedigree, ballpark charm and American magnetism, heh, this World Series would end in three games. The Los Angeles Dodgers are a cultural machine, a force in sports and life, the franchise of Jackie Robinson and Kirk Gibson's home run and legends from sea to sea, cradled by a timeless stadium dug from a canyon off Sunset Boulevard and Vin Scully Avenue that overlooks hills, palm trees and the southern California dream.
The Tampa Bay Rays? They are baseball orphans, stuck with the worst ballpark, lowest payroll, weakest attendance and flimsiest existence of any contending sports team in the 21st century. With local politics quashing a new home, the Rays were desperate enough to consider a split season in Montreal, except Canada can't even have them now due to COVID-19. And while there's no shortage of celebrities rooting for the Dodgers in their homes — Kim and Kanye, McConaughey, Snoop, J.Lo — the Rays have one lonely but robust voice echoing across Florida's west coast.
"Awesome, baby!" bellows their superfan, Dick Vitale.
Yet the mammoth disparities in status, lineage and sparkle are exactly what makes this Series watchable. Unlike the Rays, who already have won just by getting here, the Hollywood Dodgers can't lose now, certainly not to these humble dishrags from St. Petersburg, not when they've botched so many October chances that Clayton Kershaw — and his heavy-rotation tire commercials — are cringeworthy in L.A. Up there atop the ravine, which somehow looks down upon the skyline as if you're in Dodger Blue heaven, a toy owned by a cold, faceless investment firm called Guggenheim Partners still managed a prorated team payroll of almost $100 million for a 60-game shotgun season. The Rays came in at — ready? — a mere $29.3 million, trailing only Pittsburgh and Baltimore in the race to spend the least.
Which might explain why manager Dave Roberts, so often blamed (and deservedly so) for postseason strategic blunders, was prematurely giddy after Cody Bellinger won the National League pennant with a home run still flying past tumbleweeds in Amarillo. It certainly feels like circumstances are lining up for the Dodgers to win their first Fall Classic since GIbson's gimpy blast in 1988. Waving a finger for emphasis, Roberts stood on the field and told a scant crowd inside Major League Baseball's Texas Bubble, "I don't want to get too emotional, but I'm just so proud of these guys. It's been a crazy year — guys away from their families, social injustices — (but) our fans stuck together and these guys all stuck together. We have a lot of work to do, but … "
And then, as fans gasped from Thousand Oaks to Rancho Cucamonga, Boyle Heights to the beach, Roberts went THERE — to a dangerous place he never should go, a place that will devour him if he's wrong.
"This is our year! This is our year!" he shouted, louder than Dickie V, a few feet from where his boss, Andrew Friedman, was applauding furiously.
Well, guess what? This might not be their year, either. Despite built-in advantages that border on obscene, the Dodgers are capable of another crash, especially if Kershaw again forgets he's the pitching G.O.A.T. of his generation and keeps performing like an actual goat, as in farm animal. For sure, the series won't be a sweep as much as a potential seven-gamer that will please MLB and Fox, even if America is too brainwashed by pre-election madness to partake in even decent numbers. I'm picking L.A. in seven, but not without trepidation. With history as a witness, stuff happens to the Dodgers every October that reduces them from favorites to farces. Witness the dugout celebration after Bellinger's spectacular blast, when he traded forearm bashes with Kike Hernandez and dislocated his right shoulder. "I hit Kike's shoulder a little too hard and my shoulder popped out," he said. "They had to pop it back in so I could play defense. It kinda hurt. I'm going to maybe use my left arm (in the future). I've never dislocated that one."
Funny, but the Rays don't dabble in slapstick. They are too focused, too professional. For the uninitiated, they will keep the series close because they are an ongoing scientific miracle, prioritizing math mastery, high character and maximum efficiency when relatively paltry revenues give them little choice. The story line that hovers over the Series, of course, is Friedman. He started the Tampa Bay minimalist experiment 14 years ago, joining the Rays as a 28-year-old general manager after leaving Wall Street. Two years later, he was in the World Series, where the Rays lost to the Phillies, and by 2015, he was leaving the small-budget scrappers for the unlimited resources of Dodger Stadium. He already has his own industry tree of data-first geeks — including Erik Neander, his former intern and now the Rays' baseball operations boss. Meaning, the pressure on Friedman is even more intense than usual. Imagine if he loses to his former team when he has almost four times the payroll?
"Obviously, I have close personal relationships there, some of my closest friends," he said. "But my focus is what we're doing here. We're focused on four more wins."
The Guggenheim money men didn't blink upon acquiring Mookie Betts and showering him with a 12-year, $360 million extension — an addendum to a gold mine of homegrown talent including Bellinger, October storm Corey Seager, rotation ace Walker Buehler and emerging bullpen weapon Julio Urias. The Rays, meanwhile, are symbolized by wanky castoffs who happen to fit a data-and-brainpower system that must involve artificial intelligence on some level, in that this organization hatched revolutionary ideas such as the single-inning pitching opener, bullpenning and an all-lefty lineup. America simply doesn't know much about them, even if Blake Snell won the Cy Young Award, centerfielder Kevin Kiermaier is an consistent acrobatic presence on "Web Gems," and Charlie Morton is the most reliable starting pitcher in the ballpark.
"If they don't know the names by now, they'd better learn," Kiermaier said of the American people. "Because we've got some boys who can play."
One such find: Randy Arozarena, cut loose by the Cardinals only to morph into Mr. October, hitting .382 with seven homers and 10 RBI. If he keeps slamming bombs and clutch hits for a team built on a sturdy rotation and a fireballing bullpen, they should change the name of dismal Tropicana Field to The Arozarena. Not that he's taking himself too seriously, like the rest of the Rays. This is a man who escaped Cuba on a raft at 19, knowing his family needed money after his father's death. "You honestly just have to risk your life for your family," Arozarena told MLB.com. "When you're in the ocean, the only thing you're thinking about and hoping for is that you get there safely. There's been people that are out in the ocean for days and months, and there are others that don't make it because they die. But when you're in one of those fake boats in the middle of the Gulf of Mexico, the only thing you do is hope that you survive. I took the chance and, thankfully, I got here without any problems."
Similarly, you won't see manager Kevin Cash making any Roberts-like proclamations. How can he? "We're not a team built with superstar after superstar," he said. "We're a team that maximizes opportunities and tries to get matchups to help us win games. And we did that really, really well this year." What you will see is Cash inevitably make the correct pitching move, an element that should terrify Dodgers fans still leery of Roberts and his decisions, such as his befuddling loyalty to Kershaw in tight moments. In Game 7 of the American League championship series, Morton was sailing with a two-hit shutout, having thrown only 66 pitches against the flailing Astros. Admittedly relying on textbook algorithms, not human instinct, Cash pulled Morton for reliever Nick Anderson. Morton wasn't happy, nor was Snell the night before after an early hook. But Anderson and closer Pete Fairbanks, despite tense moments, retired the final 10 Houston hitters and eliminated the electronic sign-stealers. If you  pitch for the Rays, your feelings might get hurt.
"That's what we do," Cash said. "We believe in our process, and we're going to continue doing that."
Said 6-foot-8 ace Tyler Glasnow, who will start Game 1: "Cash made the right move again — shocker!"
Glasnow will be facing Kershaw. That quickly, the joy of Sunday night gave way to familiar anxiety in southern California. You'd think, after the manager and scuffling future Hall of Famer were bailed out of a 3-games-to-1 hole against Atlanta, that Roberts will stop overtrusting Kershaw in middle-inning jams and rely on his stable of young arms, including ferocious Brusdar Graterol. Friedman, the numbers guy, would be the first to know Kershaw has fared well this season the first two times he sees a lineup in a game, then craters the third time. In fact, Braves slugger Marcell Ozuna was convinced Graterol was coming into the game. "You know, I thought about it," Roberts said of making the change. Relieved to see Roberts stay the course, Ozuna ripped an RBI double that again made Kershaw the subject of amateur shrinks everywhere: What's with the double identity?
Here is where Friedman is vulnerable to criticism, if not another autumn failure. In the offseason, he allowed three key pitchers to get away — elite starter Hyun-Jin Ryu and veterans Rich Hill and Kenta Maeda — and traded another, Ross Stripling, in August. If even one was still around, Kershaw wouldn't have to start Game 1. Will he bounce back with a lights-out performance like the one against Milwaukee in the wild-card round? Or will he be Mystery Clayton, the one with the 5.72 ERA in his last two starts, the one with an 11-12 record and 4.31 ERA in 35 postseason appearances?
"I'm doing good, doing good," Kershaw said Monday. "Every year is different. Obviously, you have that experience to draw from. I'm trying to learn from that the best I can. I'm going to prepare like I always do, and I'm excited about another opportunity to get it done."
And the team? "We do feel good about our momentum and confidence about winning games at any point," Kershaw said. "We do feel confident going into the World Series, I do know that."
It would have been delicious, sure, had the Astros won the AL pennant, giving the Dodgers a chance to avenge the cheaters who beat them in the 2017 World Series. Those thoughts ended the minute Tampa Bay beat them. "You can't think like that," Kershaw said. "The Rays are a very formidable opponent. Winning a World Series is going to be special no matter who you play. 2017 is over. This World Series is what we're preparing for now."
The Rays are not trash-can-banging frauds, we know that. They're just the sneakiest little ballclub ever to reach late October. I live in L.A., by the beach, and I am feeling tremors.
It is not an earthquake.
Ronnie Lane's Career Evolved Right Along With His Market
"I was going to apply for the Kentucky State Police Academy and a buddy of mine came to me and said, 'Hey, how would you like to make more money and not get shot at?'. I said, 'OK, I'm listening.'"
Before it was Champa Bay, it was the punchline to a joke.
Before Tom Brady, before Jon Gruden and before both the Lightning and the Rays, it was a one-sport town that was only identifiable by the orange creamsicle uniforms the Bucs used to wear during seemingly endless losing seasons. Coincidently, that's also the time Ronnie "Night Train" Lane arrived in the city.
Tampa looks a lot different today than it did when Lane arrived in the mid-80's. There's a passion for the local teams that didn't exist until recently. That's to be expected when the city just enjoyed three championships in a 10-month span, after the Lightning went back-to-back with the Stanley Cup and the Bucs took down the Chiefs in last year's Super Bowl. But when locals think about sports talk in the city, Lane is one of the first hosts that come to mind. He's seen the bad times, the good times and everything in between.
"The city was nothing like it looks like today," said Lane. "It was primarily all about the Buccaneers, because the Rays and Lightning weren't here yet."
Lane isn't a lifetime Floridian. He's from a small town in Tennessee near his alma mater of Murray State University. In fact, even though he's the co-host of Ronnie and TKras at 95.3 WDAE in morning drive, some locals would be surprised to hear his career in radio actually started on the music side. 
That's where the infamous nickname of "Night Train" came from. Mason Dixon, a Tampa staple for decades at Q105, decided that Lane needed a nickname. When Lane was on the air at stations in Evansville, Indiana and Henderson, Kentucky, he had a nickname that sounded similar to Ronnie "The Dean of Rock N Roll" Lane. He can't remember exactly what the nickname was, but "Night Train" stuck as soon as Dixon gave it to him. The thought behind the name was as simple as the fact Lane was doing the night shift at Q105 in Tampa. The nickname has stuck ever since.
"Q105 was a monster station that did 12-plus shares," Lane said. "That's where things really started to take off for me."
Lane stayed at the station through both an ownership and a format change. CBS bought the station and switched the format from Top 40 to country. A lot of transformation was about to take place in Lane's career.
"When CBS bought Q105, they already had a country station, so they asked if I wanted to stay in music or try something else," Lane said. "I said, well, I've always been a crazy sports fan, so I'd love to try sports."
Fortunately, the company had a very similar idea. The broadcast rights to the Tampa Bay Buccaneers were owned by the same company, so they made him a nighttime DJ and gave him a job on the weekends with the Buccaneers Radio Network. Since then, he's become synonymous with sports radio in Tampa, alongside his long-time co-host Tom Krasniqi.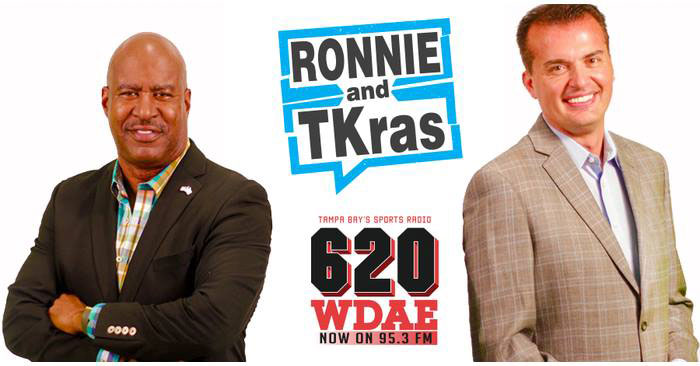 Today, he's living his best life. WDAE is seeing its best years as a station, the local interest is as high as it's ever been and the three local teams are all having success. Lane says it's, without a doubt, the best time he's ever had on sports radio.
"Oh it's at the top of the list and it's not close," Lane said. "When I was doing music radio, I rarely listened to sports talk radio. I think we had some stations and they had a hard time because none of the clubs were consistently good. It was mainly just people griping and bitching about how awful the teams were."
If you're looking for a city that's evolved as a sports town over the past decade, Tampa would be a strong contender. The doom and gloom that used to surround the sports fans in the city has been replaced with optimism and pride for the city, as well as the catchy nickname of Champa Bay.
"It's a completely different sports town and it's galvanized the community," Lane said. "There's a lot of support for the Lightning, tons of support for the Buccaneers and that's important.
When a city evolves as a sports town, that often means there's more attention placed on the sports talk radio stations. Lane says there's a mixture of feelings on if the listeners in Tampa have evolved over the years.
"Some would say they've evolved quite well and others would say, like my partner Tom Krasniqi, he's from the New York area, and he still thinks the fans here have a long way to go," Lane said. "He's probably correct in that assessment, as far as educating themselves about the particular sports. There are others that feel the fans are becoming more educated and more savvy when it comes to sports radio, because we're trying to educate them on our show and I think we do a good job on our show of giving people information but also being entertaining."
There's so much interest in the Bucs, both locally and nationally, that the team always seems to be in the headlines. That's great for Lane and his show on WDAE, seeing as the Bucs have been a constant stream of content that everyone is interested in. That was very evident when Antonio Brown walked off the field in the Bucs' Week 16 game at the New York Jets. It consumed all of the major networks and Lane's show was no different.
"Every moment of the show was Antonio Brown and how the Bucs were going to get through this, so much so to the point where some listeners were like, are you guys forgetting we also have a hockey and baseball team? But it was just because the football team has gotten so popular that everyone was fixated on how they were going to get past the Antonio Brown saga.
"We all gave our opinions because none of us on the show thought they should've signed Antonio Brown in the first place. We took a lot of heat from fans saying, 'well, do you not like the Bucs?'. How could someone even say that? Our company carries the Bucs games and the station supports the Bucs as much as we possibly can. We can't agree with everything they do."
Champa Bay is riding a sports heater that the city has never seen, and quite possibly, may never see again. Lane is enjoying the ride as much as he possibly can.
"I still run into people who are big sports fans that still remember me as a Top 40 DJ at Q105," laughed Lane. "I guess I credit my education at Murray State University and also the guy that really got me into radio, because I was thinking about going into law enforcement. I was going to apply for the Kentucky State Police Academy and a buddy of mine came to me and said, 'Hey, how would you like to make more money and not get shot at?'. I said, 'OK, I'm listening.'"
There's a lot to be proud of when Lane looks back at his career. He was successful in Top 40, he was successful in country music and now he's a huge success at sports radio. It takes a certain talent to thrive over multiple formats. Few have done it to the level of Lane.
"I'm proud of what I did on the music side, particularly with country," Lane said. "I'm just proud to be a communicator and someone that's a voice for the fans."
Sunday Night Baseball Is In The Right Hands With Karl Ravech
"In making the announcement of Ravech taking over, ESPN is saying that it trusts him to carry one of the network's flagship broadcasts."
Thank you, ESPN, for the revamp of the Sunday Night Baseball booth. The change excites me in a few ways. First, I'm a fan of whatever will get Alex Rodriguez off my television on Sunday nights. But truly that statement does a disservice to Karl Ravech. He was named the new play-by-play guy and is certainly not the lesser of the two evils. Ravech is a solid pro that's getting a great opportunity at the network he's served for almost 30 years. 
Ravech is the primary host of ESPN's MLB studio and pre-game show, Baseball Tonight and has been a regular part of the Monday Night Baseball team since the 2016 season. He has also been the voice of ESPN's Home Run Derby telecast since 2017. He even did play-by-play for the KBO coverage during the 2020 season, while Major League Baseball was shut down. 
In making the announcement of Ravech taking over, ESPN is saying that it trusts him to carry one of the network's flagship broadcasts. He's become the face of baseball at ESPN and was really the best choice to replace the outgoing Matt Vasgersian. Ravech has built up the name recognition and the association with the sport at ESPN. 
"Karl Ravech, who has been our 'Mr. Baseball' for three decades, will lead the booth with the command and credibility that he's displayed throughout his career." said Norby Williamson, ESPN executive VP and executive editor of production.
His style is much more laid back than others that have held the role of Sunday Night Baseball's main play-by-play guy. Listening to Karl Ravech call a game is nice because he isn't shouting at you, he's telling you what is going on. He also has the ability to make conversation about the game, which will be key in working with two former players in the same booth. 
Ravech is ready to get started. In a conference call with the media last week, he laid out why the combination of himself, Eduardo Perez and David Cone will work.
"Having watched Cone forever and now listening to him on a podcast, there's a conversational nature about him," said Ravech. "I basically have covered both of their careers, certainly Eddie's in its entirety and Cone for a long, long time, so I got to know them a little bit, but you get to know a different side of them broadcasting.
"To me baseball is a game that takes three hours to play, there's all sorts of opportunities to dive into topics that may not be related to the game, if it's 7-1 in the second inning, and these two guys are, in my mind, as good as any that I could have imagined sitting next to, to have that conversation, and whether it's about history, whether it's about the future, whether it's about analytics, sabermetrics, David Cone's pitching style, why Eduardo was a better hitter than he was a fielder, all these different subjects, these two guys are going to make it very, very easy and very compelling for the viewer to listen to."
Consider also, that Disney (the parent company of ESPN) and Major League Baseball reached an agreement on a seven-year rights deal. That made it very important for the sports network to get this selection right, and it did. 
That booth needed a fresh coat of paint. Vasgersian did his best to work with Alex Rodriguez, but the results were not always the best. Rodriguez seemed to drag Vasgersian down, along with the entire broadcast at times with some of the nonsense he would spew.
Hopefully Michael Kay will have a better go of it with A-Rod on the "Kay-Rod" Megacast planned for 8 games. I think Kay is a tremendous play-by-play guy. With his background as an accomplished sports talk host, he will be able to more easily reign in A-Rod and direct the flow of the broadcast better in that setting. 
Congrats to Karl Ravech and ESPN, for knocking this new booth out of the park. 
Radio Could Be The Backdoor To Sports Sponsorships
Not every business will have unlimited resources to be able to afford sponsorships directly with NFL, NBA, MLB or NHL teams themselves.
Sporting events have been entertainment for people since Roman times. Sports, especially in the USA, are closely linked to our society and American culture. As a business, sports are booming and growing at a rapid pace every year. 
Now, with the rise of online gambling and sportsbooks popping up in just about every state, sports sponsorships will continue to provide tremendous value for brands moving forward.  Don't miss out on your chance to affiliate your brand with some of the most passionate, dedicated and loyal consumers you will ever have a chance to earn business from.  Sports fans are also incredibly emotional and love supporting businesses that support the teams they love to cheer for; use that EMOTION to your advantage and help your business thrive!
Sports sponsorships will often include other key critical advantages that can help your business in many many ways: Access to team/station functions for networking, tickets to the game(s) for client and/or employee entertainment, ability to potentially use team logos and last but certainly not least, can often lead to a player or coach endorsement of your business.  
TOP 5 ADVANTAGES Sports Radio & Sports Sponsorships can offer:
#1 REACH & FREQUENCY – tags in daily/weekly promos
#2 Opportunity to grow the affiliation with a Player or Coach
#3 Little to NO duplication in the market for content and Sponsorships
#4 Endorsements/Brand Ambassadors for product/service
#5 Team Affiliation
Yes, many of these things are very hard to quantify or gage performance based on an ROI evaluation.  However, if done correctly, sports sponsorships can give your business a very unique and competitive edge over your competition in the marketplace because most are category-specific.  Find the right affiliation at the right price point for your budget and I promise you won't regret it.   
Not every business will have unlimited resources to be able to afford sponsorships directly with NFL, NBA, MLB or NHL teams themselves.  Sports radio partnerships with the team can often offer your business similar, if not more impactful, way to affiliate your company with a sports brand at a much better price point.  Take advantage of this unique opportunity, get creative and find something that works for you.  Trust me, if you don't your competition certainly will!