Two years after the Professional and Amateur Sports Protection Act of 1992 was repealed, the sports media landscape has shifted heavily towards gambling. If you are driving, there is a good chance you will hear an advertisement on the radio or see a billboard paid for by a sportsbook. Same thing goes for watching television, especially sports.
Along with that, there has been an influx of new gambling content and media members focusing on that space. And, thanks to the internet, media members don't need to rely on traditional TV to create and post content anymore. Twitter, Instagram and YouTube have changed the game.
Whether you are a fan of picks or just the gambling industry as a whole, here are six up and coming media members to follow on Twitter. I define up and coming, as someone who is not on a major television show talking about gambling. Full disclosure, I do not know any of the individuals listed in this piece. I just appreciate their grind.
I anticipate responses on Twitter saying that I've omitted someone interesting. Feel free to hit me up @docksquad33 for feedback.
Erin Kate Dolan
Dolan is currently the face of PointsBet for all digital sports betting content. At PointsBet, Erin creates and executes content plans. She previews & recaps national and international sporting events, discussing odds, futures markets, player props, promotions, bad beats, and more. She hosts digital segments with professional bettors and media personalities. She's also featured weekly on VSiN.
Segment to watch: "Fade Rovell", a promotion between PointsBet and The Action Network's Darren Rovell. Erin runs point and PointsBet gives bettors crazy odds to do what the title of the show says, fade Rovell's weekly picks. Anytime Rovell loses a pick, he has to do something over-the-top terrible. I think I've laughed and cringed while watching this segment, but it is entertaining nonetheless.
Follow Erin Dolan on Twitter @ErinKateDolan
Sam Panayotovich
Sam is currently a betting analyst for NBC Sports, Rotoworld and WGN Radio. He also hosts "Chicken Dinner", a daily sports betting podcast, five times a week.
Segment to Watch: "Chicken Dinner", a daily gambling show which was first started back in 2016 with Radio.com and 670 am host Joe Ostrowski. The podcast brings flair to the space and features various guests from the gambling landscape. Follow for the Bartender segment, you won't be disappointed.
Follow Sam Panayotovich on Twitter @spshoot
Minty Bets
Minty is a Vegas born sports betting analyst, and her work can be found at Yahoo Sports, Gaming Today and Wager Talk. Minty is featured on Yahoo's Mad Bets, posts her daily gambling picks on Twitter via fun videos, breaks down the NFL weekly at Wager Talk and talks ponies over at Gaming Today.
Segment to Watch: "The Mint", a segment where Minty talks about a relevant gambling topic of the week. She gives you strong, knowledgeable takes on hot button gambling topics in a quick amount of time.
Follow Minty Bets on Twitter @MintyBets
Nick Kostos
Kostos is one of the most entertaining voices in sports betting media. In fact, he has coined the term wagertainment. He used to work for Sports Illustrated and now is the main host of "You Better, You Bet" on Radio.com (owned by Entercom). You can also hear him on the flagship New York-based sports radio station WFAN.
Segment to Watch: "You Better, You Bet" airs nationally 9am-1pm on Sundays and features various guests from all over the gambling industry. If you listen to this show, you will pick up some great betting knowledge, but more importantly, understand what wagertainment means. It's a good thing, trust me.
Follow Nick Kostos on Twitter @TheKostos
Brandon Walker
Walker, who previously worked at SEC Country and MyBookie, has had a quick rise at Barstool Sports. Walker co-hosts Barstool's daily gambling show "Walk The Line" with Matt Cahill aka Marty Mush. He also hosts "Picks Central" on Barstool Radio's daily SiriusXM lineup. Walker also co-hosts "Unnecessary Roughness" with Kayce Smith.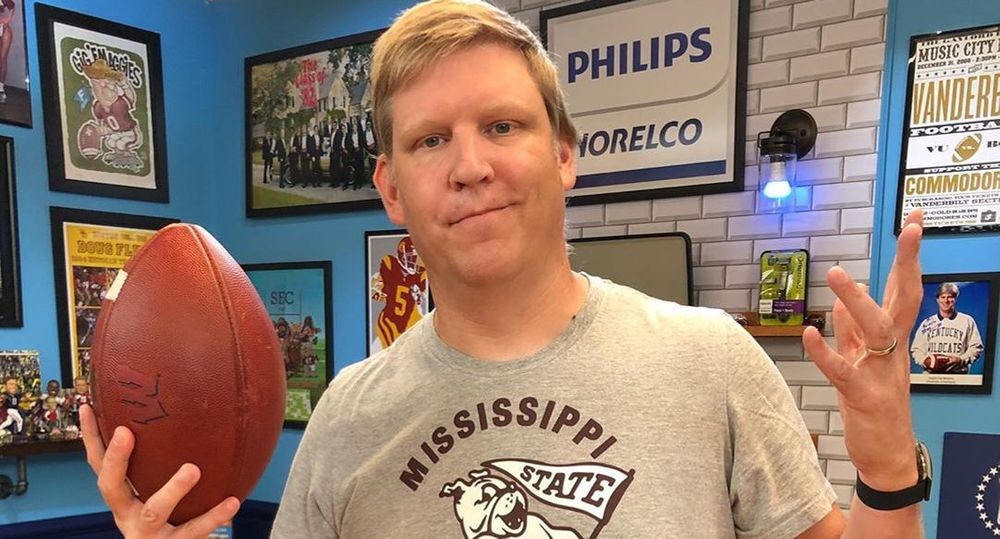 Segment to Watch: "Walk The Line", Walker and Cahill are an entertaining pairing. You can tell both love football and gambling, and play off of each other well in their own funny ways. There is a good chance you laugh at some point while listening to this show.
Follow Brandon Walker on Twitter @BWalkerSEC
Megan Nunez
Megan is currently doing multiple shows for FanDuel including her weekly "Makin Money with Megan" and "The Hurry up". She is also on 104.5 ESPN Baton Rouge with T-Bob Herbert and makes regular appearances on Fridays on Inside Access with Jason La Conforna and Ken Weinman on 105.7 the Fan in Baltimore. Megan also frequently guests on Sports Grid with Jared Smith and Ariel Epstien.
Segment to Watch: "Makin Money with Megan", an entertaining picks show starring, you guessed it, Megan herself. It's fun and quirky content built around her gambling picks.
Follow Megan Nunez on Twitter @MeganMakinMoney