No Matter Who Wins, America Won't Change
If a mangled country is beyond repair, and the candidates are as phony as the election itself, the best advice Tuesday is to watch a movie and try to stay safe in a volatile moment in U.S. history.
First there was a blue moon on Halloween, in freaky tandem with a red Mars. Now, on the first Tuesday of the rest of our frazzled lives, a President with orange hair will try to win re-election. He isn't to be trusted. His rival isn't to be trusted. The media, the vote-counting, the results, the inevitable waiting … all resemble a sham in progress. It would be an opportune time to flee, but few countries will have us, viewing Americans as coronavirus-coated zombies.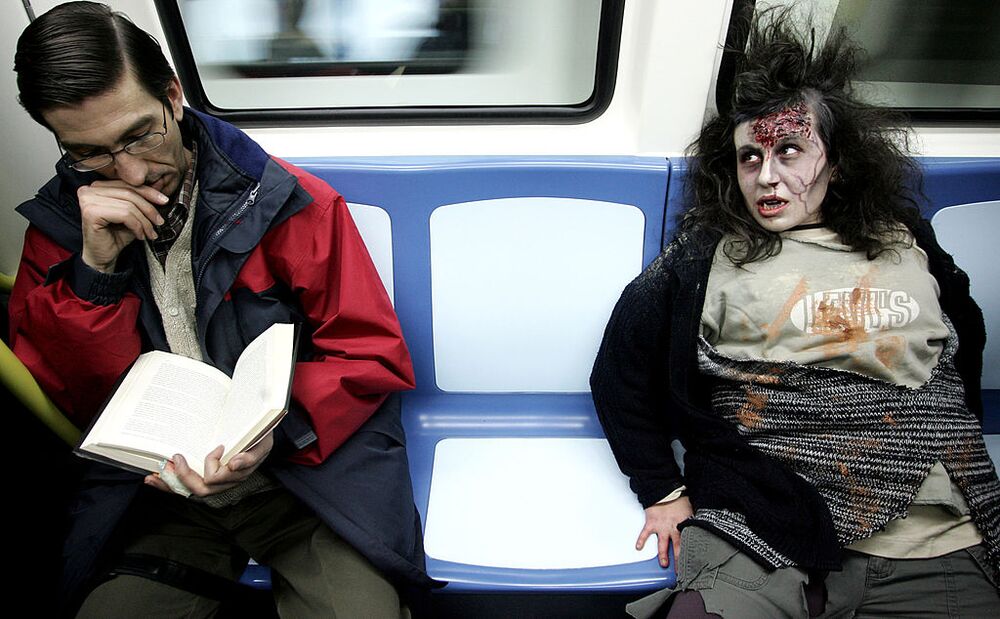 "Gonna be the Change, the Change, the Change!" comes the rally song of Joe Biden and Kamala Harris, as if new leadership can control the virus, quell the anger and bring a purposeful equilibrium to whatever this nation has become. The America of November 2020 likely will be the America of 2021 and far beyond, our lost past and mangled present bleeding into a dreary future no matter who wins. A hybrid of esteemed leaders could be resurrected and tasked, and nothing would Change, Change, Change. I still have "The Pledge of Allegiance" memorized from my schoolboy days, but some of the words are different. We are not one nation anymore, nor under a God that is recognizable — and we obviously are divisible, with liberty and justice still reserved for the privileged and moneyed.
Not far from the famed Santa Monica Pier, where millions used to flock to the iconic neon sign for a blast of California, stores and restaurants are boarded up. This seaside town I call home, once filled with vacationers and surfboarders, is prepared for the same rioting, looting and violence that left the city in ruins last spring. I came to Los Angeles for the hokey American dream. I'm left with a grotesque thought: An earthquake or a tsunami might be a better fate if protests explode into madness, the police fire back, and the city turns into a war zone.
I also might make a suggestion: Do you really want to torture yourself with hours of TV soul-sucking when Election Night would be better spent with wine, pizza, edibles and enough Netflix binge-watching to stretch into bedtime? Sports are shut down, except for European football and women's tennis from Japan, which is appropriate, as no U.S. sports event ever will match the magnitude and gathering bedlam of this indescribable chapter in ignominy. Donald Trump vs. The World is our sport in 2020 and has been for a while. If he loses, no bulldozer or crane may be large enough to dislodge him from the White House, though he has publicly maintained at least 39 times since February that COVID-19 was going away.
But I'm not sure he's going to lose, or whether the actual result will be known for days or weeks or months … or ever. If we've learned nothing else from 2020, it's to expect what is farthest from the norm. Four more years of Trump would be just that, a deeper venture into a tragicomical apocalypse. A Biden victory would be a shift toward a calmer America, but I don't think a better America. All I know is, I'm queasy, having just read a story about a nationwide spike in gun sales. We all want to be hopeful, but realism and shelter are the smarter plays when our faith has been completely shaken.
A mask? Hell, I'm looking for a bulletproof ensemble, head to toe. This country has been building toward a violent cultural explosion for years. Vegas, I suspect, is taking prop bets on it.
You may ask, "Why aren't you sticking to sports like they are at other sports sites?" Because sports never has been less relevant in my time on Planet Earth, which has included wars and terrorism and too many natural disasters to count. Do you really care right now that Bill Belichick is 2-5 and has lost the divorce to Tom Brady? That the Buccaneers are taking a dumb gamble on Antonio Brown, who is more likely to end up in a Tampa jail than a Super Bowl end zone at Raymond James Stadium? That the Steelers are 7-0 in a monstrous AFC, while Russell Wilson and the Seahawks are the NFC's best? That Tua Tagovailoa only has to manage the Dolphins' offense if their defense is that punishing? That Jerry Jones again looks like the world's richest football fool with his Mike McCarthy hire? That Crazy Jerry Reinsdorf hired 76-year-old Tony La Russa to manage the White Sox only because Kid Gleason wasn't available? If you need sports to escape from politics and stress, I sort of get it. If you need sports because it's all that interests you, well, that's why Kanye West is on the ballot.
I officially stopped caring about sports until further notice — or the end of the world, whichever comes first — the night Justin Turner decided his desire to celebrate a World Series title with his Dodgers teammates took precedence over his COVID-19 infection. Major League Baseball, hardly upstanding itself with a history of lies and scandals, predictably assailed Turner without taking questions about its own suspicious testing timeline in the 36 hours before Game 6. "It is clear that Turner chose to disregard the agreed-upon joint protocols and the instructions he was given regarding the safety and protection of the others," MLB said in a statement. "When MLB security raised the matter of being on the field with Turner, he emphatically refused to comply." Yet, almost a week later, we've yet to hear an apology from Turner or an explanation from commissioner Rob Manfred about why a system lag would allow Turner to play into the eighth inning Tuesday night when he originally tested Monday. I realize baseball dawdles about everything, including a pace-of-play crisis that ultimately will destroy the game, but Manfred is as culpable as Turner when a system out of a Utah lab — Utah? — is slow and negligent.
In 2020, I care about COVID and social justice protests. I don't care much about games. Yet leagues continue to plow on, through landmines, in their nauseating pursuit of TV revenue before a possible industry crash in 2021. What, you thought sports was immune from a virus shutdown just because it crammed in a few bastardized seasons this year? If you haven't noticed, the pandemic could be even more destructive next year. "We're in for a whole lot of hurt. It's not a good situation," said the infectious-disease rock star, Dr. Anthony Fauci, in a Washington Post story. "All the stars are aligned in the wrong place as you go into the fall and winter seasons, with people congregating at home indoors. You could not possibly be positioned more poorly."
Same goes for sports. If fans aren't returning to stadiums and arenas in more than a smattering, leagues might prefer to close shop than deal again with positive tests, team quarantines, mask politics and scheduling chess. Manfred pocketed the $1 billion TV payout for the cash-bleeding owners and scrammed from sight, with MLB uncertain to return next season until owners are assured sufficient numbers of fans in the seats. The NBA wants to start next month, with the usual five-game Christmas fare, to avoid $1 billion in losses if it started in January. The NFL, which now plays games regardless of positive tests inside team facilities, is just hoping to have 13,000 fans in attendance at the Super Bowl.
And college football? Wouldn't you know that Clemson megastar Trevor Lawrence, the COVID-iot who became an activist in demanding the season be played, tested positive and will miss the season's biggest game to date at Notre Dame? "I hate that I can't be there," he said, "but I'll be watching from isolation and pulling for our guys while I wait for the opportunity to rejoin the team." A better idea? Stay healthy, forget the Heisman Trophy and opt out for the NFL draft, whenever that might be. It's a disgrace to our educational system watching university presidents and wealthy coaches acting like loons, asking non-paid athletes to keep producing revenues by playing games on virus-stricken campuses. Sensing the football landscape will be ravaged by COVID victims by next month, I say they're better off shutting down the season. Of course, with the College Football Playoff windfall awaiting in January, that's not happening.
Said Notre Dame coach Brian Kelly, whose team has dealt with COVID issues but now stands to benefit: "He's the best player in college football. But the virus is indiscriminate. It doesn't care. The virus is going to do what the virus does."
Not exactly the "Win One for the Gipper" speech from Knute Rockne, but 2020 is not 1928. We have made it through baseball, basketball and hockey without anyone dying — though, if family or friends got sick, the leagues wouldn't tell us anyway. The most condensed stretch of sports in American history is pared down to the NFL and college seasons, both stumbling, and the Masters in two weeks, which still sounds bizarre without patrons or azaleas or a competitive Tiger Woods.
You do realize who made sports possible in a pandemic? That would be President Trump, who thinks the economy is better when rich friends who own sports teams aren't losing their asses. If not for Trump's urging to finish seasons, LeBron James, for instance, wouldn't have won his fourth NBA championship in the DIsney World Bubble. That hasn't stopped James from continuing his endless attacks on Trump via an Election Eve embrace of Barack Obama, who appeared on James' HBO program, "The Shop."
Said the 44th U.S. President: "We're trying to make sure that people understand the stakes in this upcoming election. We all drew inspiration from the protests and activism that sprung up as a consequence of George Floyd's murder and the awakening we started to see with the young people, including my daughters, who were saying to the American people and to their government, `We expect better.' "
Said James: "We love this country. It's the greatest country in the world. But we also want to see more love than hate. There are a lot of things going on in the community and in our country that is being affected by hate. We know it won't change overnight or next year, or a year after, but hopefully in 50 years, when my grandkids are walking around, they can say, `My papa was in that moment' when they see change."
As for the 45th U.S. President, he was thrilled to see a video of trucks, driven by pro-Trump drivers, surrounding a Biden campaign bus between Austin and San Antonio. The Biden staffers were so freaked, they called 911 and canceled two scheduled stops.
"I LOVE TEXAS!" Trump tweeted.
The ideal American President, if you believe cinema, was the character played years ago by Michael Douglas. The election to determine the next American President, in real life, is made for another Michael.
Michael Buffer.
I won't be watching the rumble.
Why Charles Barkley Is Sports Television's Most Valuable Personality
Barkley is a larger-than-life personality. His analysis is sometimes way out there, but it either makes you think, scratch your head or laugh.
Once the Western Conference Finals end, so will the season for Charles Barkley and his TNT crew. Inside The NBA has become 'must watch' television over the last few years. In my opinion, it is the best of its kind in any sport right now.
The chemistry displayed on the ITN set is unparalleled. Charles Barkley is one of the biggest reasons to tune in. He's unfiltered, he's real and he's always himself.
I'm not the only one that feels that way. Former ESPN boss and current Meadowlark Media front man, John Skipper, recently appeared on the Dan Patrick Show to sing the praises of Barkley. Skipper puts him among the greats in broadcasting.
"I think there are only three or four people in the history of broadcasting that you can
genuinely say people tune in to see them. The late, great John Madden, who just recently
passed, was one of those guys. Barkley is the guy right now in all of sports that you can say
people will tune in to see him." Skipper said.
John is on to something here. Barkley is a larger-than-life personality. His analysis is sometimes way out there, but it either makes you think, scratch your head or laugh.
Sometimes all of those things happen at the same time. Barkley's commentary is usually the stuff that floods the internet that night, and is the talk of your office, or friends the next day.
Seemingly if you miss it, you're a little behind the times. I mean, the man made a grand entrance to the set the other night in Dallas. He rode to the set on a horse just before Game 3 of the Western Conference Finals between the Mavericks and Warriors. Shaquille O'Neal joked that to carry Barkley's body, the horse had to have "a strong back" and he kept saying "please fall!" as Barkley had a little trouble with the dismount. Leading Barkley to exclaim, "I grew up in Alabama, brother, I know how to ride a horse."
This is one of the reasons I think Skipper believes what he does. Barkley is always up to
something, no matter how silly it may make him look or how outlandish it might be. This guy is confident in pretty much everything he does, with the possible exception of his golf game. He can dish it out for sure, but Barkley can take it as well, which usually results in something hilarious. He has personality and its genuine. That makes him likable whether you agree with him or not.
Barkley is also the best kind of humorous, the unintentional kind. It works.
While Skipper is dead on about Barkley, it does beg the question, would Charles be as popular
without his cohorts on Inside the NBA? It's like asking if the talented lead singer of a band, would be as popular as a solo artist. In this case, I wonder. You've heard of 'system
quarterbacks', right? I think the formula works for Barkley, in part because of the surrounding
cast. While people may tune in to see Barkley, they can't help but notice the other guys on set and understand why Charles can be Charles. It's because the entire dynamic works.
Take Barkley off the show, it's not as good. Take Kenny off the show, same. Take Shaq off, also same. Take Ernie off, well you get the picture here. They each have unique personalities and the ability to be themselves and work as a group. Each brings something to the table, but the key ingredient is not taking themselves too seriously. They all enjoy being there.
Skipper saw that part of the equation as well and knows why the show is what it is, a success.
"It's because they look like they're having fun. They know what they're talking about. They're
willing to be provocative, they're willing to mash it up, and it's great." said Skipper to the Dan Patrick Show.
The former players mesh like they are family. EJ is the patriarch that lets the guys be guys and jumps in when it looks like it may go off the rails. Fighting is all part of it. Heated arguments take place from time to time with strong, opinionated former players each thinking he is right. In the flow of the show, it's actually entertaining to watch. It helps that all of the panelists had successful and in a couple of cases, Hall of Fame careers. Even if they have an interesting way of explaining their points, they each bring a knowledge base to the show.
I think by their mere presence, the group makes Charles better. Not always agreeing with him, challenging him, or calling him out if you will, makes for much more entertaining television. You can tell that Barkley feels comfortable with the group he is on the set with. It really allows him to let more of his big personality out. But it is all about that comfort and everyone being comfortable with who that other person is and what their strengths are on the show. It works so well.
Think about the popularity of the show and how many other studio crews are taking elements of it and adapting it to their own shows. That includes TNT's NHL on TNT pre/post/intermission shows. The formula works, but you have to have the right people on the set. The NHL version is growing into something of its own, this being its first season.
Now, just to throw a wrench in here, if and when Barkley were to leave the show, it would be a big blow. Right now, he's the one guy they can least afford to lose. But, the Hall of Famer has hinted at calling it quits recently. TNT held a conference call just before the All-Star Game in February, in which Barkley and the Inside the NBA panel appeared. At the end of the call, Barkley was asked how much longer he'll continue to be a broadcaster.
Via the Dallas Morning News' Brad Townsend, Barkley said he has 2 years left on his contract
"and that's probably going to be it for me." Barkley continued, "It's been a great, great thing. I love Ernie, Kenny, Shaq and everybody we work with. But I just don't feel the need to work until the day I die. I don't, man. I'll be 61 years old if I finish out my contract. And I don't want to die on TV. I want to die on the golf course or somewhere fishing. I don't want to be sitting inside over [by] fat-ass Shaq [waiting] to drop dead."
Barkley is must see television, mainly because of the environment he's surrounds himself in.
There's a strength in the numbers, not just the stats these former players have amassed, but
the bond they've formed. It makes for terrific, not terrible (in Barkley voice), television.
Rob Parker is a Hall of Famer and a Pioneer
Rob Parker began his career by starting a sports-only newspaper at his high school and now he's a Hall of Famer.
On the outskirts of the borough of Queens in New York City, lies the neighborhood of Queens Village. Located about nine miles to southeast of Citi Field, the neighborhood was founded in the 1640s and is viewed as quiet and residential. Queens Village is the home to Martin Van Buren High School, which opened in 1955. In the year 1980, Rob Parker recognized a dream inside the walls of that school with an idea that was well before it's time. He wanted to start the first all-sports newspaper.
The idea came out of Parker's frustration with the school paper, The Beeline, for which he wrote. The 16-year-old Parker had an intense hunger for a future in journalism, but didn't love the fact he would write an article on the basketball team in the fall and it wouldn't be published until baseball season. He wanted to run a paper that was more timely and solely dedicated to sports. The idea was shot down before it even started.
"I went to the school principal and said I wanted to start an all-sports newspaper that came out on time every month," said Parker. "He was like, 'no, the kids are only going to throw it on the ground as trash'. That was the first response out of his mouth. Could you imagine that? An educator telling a kid that?"
The school principal also said there wasn't enough money to pay for another newspaper. But Parker wasn't going to just turn away. He then asked if the idea could be a go if he raised the money to pay for the printing. Reluctantly, the principal agreed.
Parker went home and grabbed his typewriter. He realized his idea was only going to happen if he made it happen, so he hustled to find a way to make it a reality. He wrote three letters to the three publishers of the three New York newspapers, in hopes of just one of them agreeing to help his new venture. The Daily News did not write him back, which was unfortunate because that was Parker's favorite paper. The New York Times wrote back, but sent a letter saying it was against their company policy to help other people start newspapers. 
"As if a 16-year-old kid was competition," laughed Parker. 'I was shocked somebody actually said that and wrote that letter."
Call it luck, call it fate, but the New York Post responded. 
"I opened up the envelope and there was a check for 50 dollars to start my newspaper," Parker said. "Rupert Murdoch was the publisher. That's really what catapulted my career and gave me the belief in journalism to get started. That was the start of it all."
That small gift by Murdoch and the New York Post sparked a Hall of Fame career for Parker. His all-sports newspaper, Sports Line was a huge success at Martin Van Buren High School. So much so, that even after he graduated, multiple editors carried on the legacy of the paper. It wasn't the turnout the school principal thought it would be. 
"This is 1980 and I think the first all-sports newspaper debuted in the United States in like 1989," Parker said. "I'm really proud of that Sports Line paper. That's my lasting memory of Van Buren High School."
This week, 42 years after his sports media career officially began, he's walking the same halls where he had a big idea and empty pockets. This time around, he's being honored by being inducted into the school's Hall of Fame.
"It's been like a year and a half because of Covid," said Paker. "But at the time, it came out of nowhere. I still pinch myself, I gotta be honest."
Parker has enjoyed an incredible 36-year career as an acclaimed writer and a national host on both radio and television at the biggest networks in the industry. He's a pro, but it still hit him in a way he didn't expect when his co-host Chris Broussard of The Odd Couple on Fox Sports Radio, which can be heard from 7-10 p.m. EST, referred to him by his latest honor in the opening segment of the show on Monday.
"When Chris said The Hall of Famer it was just awesome," Parker said. "I always remember calling the late Al Kaline in Detroit The Hall of Famer, so that's what I think about. The fact people are saying that to me is pretty special."
"Rob's induction into his high school Hall of Fame is absolutely well-deserved," said Broussard. "He's excelled in virtually every aspect of journalism – print, beat-writing, column writing, TV and radio. And he's also been a mentor and door-opener for dozens of young journalists. I couldn't be prouder for my radio partner."
It's been a week of reflection for Parker and the opportunity to be present for the induction has been humbling for him. But what would that 16-year-old version of Parker think about this?  
"No way, no how, would this be possible," Parker said. "Just a kid growing up with a dream of being a newspaper reporter, since I was nine-years-old. All I ever wanted to be is a sports writer. To be down this road and go from writing to national television and national radio it's very humbling and fulfilling. The one thing I will say is I don't feel like I've left any stone unturned and I was able to experience all the things I wanted to experience."
This isn't the first honor Parker has been given during his sports media career. Far from it, actually. Parker was named the National Association of Black Journalists' Sports Task Force Journalist of the Year in 2018. He was also the first Black sports columnist for the Detroit Free Press when he was hired in 1993 and the first Black sports columnist for Newsday in New York. He's broken barriers in his career and it's one of the many reasons why a plaque will be forever enshrined at Martin Van Buren High School. 
All of that started by one random act of kindness. It happened because the editor of a newspaper decided to send a check for 50 dollars to an unknown kid in the city. Parker has never forgotten what Murdoch did for his career. It's probably even a driving force as to why he's helped mentor more than 50 journalists.
"A couple of years ago I was on the set of Undisputed and I was able to tell Rupert that story," Parker said. "He was amazed by it. He was like, did that really happen? I said absolutely."
Meet The Market Managers: Ryan Hatch, Bonneville International Phoenix
"Our pitch is that these brands have a connection to the market. That works for us, and that works because it's emotional. It works because it's local. It works because of the creative messaging behind it."
For as long as I have known Ryan Hatch, he has been a good friend, encouraging me to take advantage of each opportunity put in front of me. When someone treats you that way, you cannot be anything but thrilled when you see them do the same thing.
Late last year, Ryan was elevated from a programming executive role with Bonneville to become Market Manager of the company's Phoenix cluster. He is now overseeing every aspect of a building that he has worked in for a long time.
I thought it would be fun to visit with him to see what has changed. The last time I profiled him, he was serving as PD of Arizona Sports 98.7. The last time we profiled Bonneville Phoenix for this series, it was Scott Sutherland in the Market Manager's chair. So, what has changed?
In this conversation, presented by Point to Point Marketing, Ryan and I discuss the changing nature of our business, retaining great talent, and supporting the person who's tasked with filling your former position and leading the programming team forward. When a company is ahead of the curve with its digital strategy and generating strong ratings and revenue, what's next?
---
Demetri Ravanos: So how has the transition gone moving from programming into the market manager's seat? We're a little over six months into the change. How steep has the learning curve been?
Ryan Hatch: You know what? It's been fantastic. And I have to give so much credit to Scott Sutherland, who was in the chair before me, and others within the company for really preparing me for this moment. But it's not just a transition from programming. I would think even if I came up through the sales, marketing or finance side there would be a curve.
I'm learning new things every single day and loving it. So whether it's six months or six years in this chair or more, I hope that I can always say that.
I love the job. I love the market. Obviously, you know, I've been here for such a long time and it's the best chair to be in. I'm thrilled.
DR: You mentioned Scott and I started thinking about this after you and I set a time to talk. There's this advantageous environment of education there, right? Because Scott is still in the area. He held your job before. You're obviously in the building and that's got to be advantageous for Sean Thompson. How much do those conversations take place day-to-day? There seems to be an opportunity for everybody to learn and build on the person that came before them because they can just walk down the hall and ask.
RH: Absolutely it can be advantageous because you've got institutional knowledge. Every person that's been in your chair before can certainly provide important information to help expedite the onboarding process.
The other side of it is making sure that there are clear boundaries. I can speak with Sean Thompson coming in on the programming side. My goal is to empower him and embolden Sean to take this brand to a different level with new ideas and thoughts.
I'd been in that chair for so long, we were certainly ready for somebody new to come in with a new perspective and new experiences, and Sean's done a wonderful job doing that. I think if you talk to Scott, he would probably say something similar. So when you ask the question, "is it advantageous?", the answer is unquestionable. Yes, it is. At the same time, you have to really be clear on where those boundaries are, how much you want to give and share, and how much you want to let that person learn and experience it on their own as they're creating their new environment, if that makes sense.
DR: So with those boundaries, are there things you see Sean putting into place that make you think, "Oh man, that's really cool. I kind of miss programing at this moment"?
RH: Well, the irony is in asking that question, I think today is actually his 90th day on the job. So we're still in the basic stages of him taking that chair.
He's full of ideas, full of energy. I can't wait to see so much of it come to fruition. But again, when you're only three months in, you're doing a lot of listening and a lot of learning before you dig in to start making change. I expect that to come, but he walked into a position with a great on-air staff, fantastic talent, an unbelievable digital team, with a great marketing and promotional support team behind him as well.
I'll tell you what I'm most excited about is what's going to happen this fall. After the listening and the learning is done, we'll be starting to really build some exciting plans into the NFL season around the Cardinals and the NFL. We're also hosting the Super Bowl in February of '23 as well. So we've got a great big build coming here in Arizona.
DR: So let's talk a little bit about the future and where things can go, not just for Phoenix, but for Bonneville overall. I told you this a million times. What has always impressed me about the company, even before you and I got to know each other, was that you guys were so ahead of the curve on recognizing the value of digital content. Arizona Sports is not a radio station, it is a brand.
I wonder now that you are in the market manager's chair, how you look at all of the money from these different companies being put into podcasts. I mean, the deals being made to turn podcasts into TV shows or movies, do you ever think about what is possible or maybe what the next evolution for the digital side of Bonneville could or should be?
RH: Well, I think as a company, and not to speak for Tanya Vea, who's in a new EVP position helping oversee a lot of our content initiatives, we're opening up a mechanism for local ideas to be funneled up to a team led by our VP of Podcasting, Sheryl Worsley. The idea is to be able to support a local that might scale on a national level and help it achieve that potential. I think that we're very aggressive. I think that we're also very strategic in the podcasting world.
There's a blessing and a curse there. The blessing is that that audience is expanding rapidly and the revenue's been following, you know, slowly, but still following in that direction. The downside is how much time and energy and creativity a lot of our best talent have.
Do we want to put our talk show hosts, who are spending 4 hours a day creating live broadcast content, at the forefront of that effort? How many more hours a day of creative juice do they have left for a podcast or a passion project? It could be something that might not be entirely complimentary to the brand.
I think you have to be smart and strategic and understand how big of a bed it is you want to make. I think we're being strategic about it and making the best decision for each individual circumstance.
DR: So what about from a broadcast angle? As podcasting continues to grow and becomes the kind of thing that sellers see as easier to get clients involved with, what are the things that terrestrial radio is going to have to do to secure its own future?
RH: Well, speaking on behalf of our properties here, where we're all local news and all local sports. Really, that's our business. I don't think that there's anything that can replicate the power of live, in the moment, information-based content. And that is the value proposition that broadcast has.
Now, will that traditional radio audience continue to decline and find other venues? Potentially. I mean, that's just natural, and I think that we've seen that accelerate through the pandemic. That doesn't take away from the importance though.
If you look at Bonneville Phoenix, whether it's Arizona Sports or KTAR, our streaming numbers are way, way up. Our monthly app users are way, way up. Our smart speaker usage is way, way up. And I think too many times we categorize one as digital and one as radio. I look at it more through the lens of what is a live broadcast and what is driven by more destination-based, story-based, topic-based choices. That's a different experience and you can serve both.
DR: What is your view of having that live content accessed by both radios and streaming devices? When you're a programmer, I think it is it is easier to say, "Look, people are coming to this content. This is good content. That is what matters." But now that you're the market manager, I know you are a real advocate for total line reporting, but now the ratings take on this whole different meaning to you than they did before. What is your view of the right path forward to paint that picture easily and accurately for advertisers about just how powerful these brands are, whether it's Arizona Sports or KTAR?
RH: Thank goodness we have fantastic sales management and account executives on the streets telling that story and big brands to back them up with that unique content that our stations are delivering. And as I've told you in different settings over the years Demetri, Nielsen is one of many tools that tell that story. When we're on the streets talking to a potential advertiser, and understand that our game is not as national or our market is not as regional, we are hyper-locally focused. In Phoenix, Arizona, that's a lot of small to medium-sized businesses. So when we can walk in and share a total audience report that gives a glimpse of Nielsen, which we know is antiquated and really, really needs to be reformed and updated. You've got to bring your Google Analytics and your Triton numbers. You have so many other tools to use to evaluate how our content is being delivered and consumed. You've got to paint that entire total audience story, and I will tell you that it's a story that is very well received in Phoenix with our products.
DR: Maybe this is more of a question for your sales staff, but is it a matter of walking potential advertisers and current advertisers through each individual number, or do you find a way to synthesize it down into a simple illustration of how many people are listening to your content every day?
RH: It's not a numbers game. It's not getting into detail about how many tens of thousands of listeners we have on one platform and how many on another and how many views or clicks on websites. Our pitch is that these brands have a connection to the market. That works for us, and that works because it's emotional. It works because it's local. It works because of the creative messaging behind it. When you have something that works for your advertisers, they're not going to be coming in and scrutinizing the numbers left and right.
Now, you have to deliver to the audience, and we have significant audiences. In fact, I'll tell you right now, combining everything together. And it's not apples to apples, because these are all different channels. But our audience is here in Phoenix between our websites, our apps, and our radio distribution. Our audiences have never been better. I mean, that's a wonderful and easy story to tell.
DR: Play-by-play is obviously a big part of what you do on Arizona Sports. You and I have talked before about the landscape of Phoenix sports, and I think you've described it as, because Phoenix is a transplant market, you find yourself talking about everyone's second favorite team.
So how does that play with advertisers? Do they buy into the idea that this is a unifying thing or is there some concern that it is too much of a transplant market for the value returned by play-by-play doesn't match the cost to advertise in that space?
RH: Our original franchise, the Phoenix Suns, while, they had a disappointing end of the season, it couldn't have been more galvanizing. That is the one team that has been here for 50-plus years. That orange blood does run deep. The Cardinals have had their moments. The Diamondbacks have the only championship in the major sports here, but that was back in 2001.
I'll answer that question in a couple of ways. Number one, we are catering to the fans and to the super fans, but we try to create content that is going to be accessible and interesting for those that would claim that any of the franchises are their second favorite team in a given league. When you move into a market and you head to the office or nowadays maybe it's a Zoom call, you still want to be able to have a conversation about something that's relevant. You want a shared experience with your coworker or a neighbor, somebody at school when you're hanging out waiting to up the kids. So often that conversation is sports.
We have a fantastic sports market. Now, where's the passion level? Is it as high as a Boston or Philadelphia? Of course not and we're not going to act like it is. But at the end of the day, what does an advertiser look for? They're looking for an audience and they're looking for something exclusive to put their message on. That's what we're able to offer with our play-by-play. On top of that, what's become more and more important to us in our model, especially on the digital side over the years, is the access to those decision-makers, to the coaches, the exclusive access to the general managers with weekly calls, and things like player shows.
There's so much more that you can offer beyond just the game itself that makes these partnerships great for our business and the advertising community.
DR: So coming out of what is being called The Great Resignation, what are you experiencing as a market manager and what are your other hiring managers experiencing? What are the new challenges of recruiting, whether it is sales or programing, any kind of talent in an environment like this?
RH: Well, let's add to that and talk about inflationary pressures as well. I mean, there are so many factors at play right now, and I think it's as tough as I can ever remember it.
What we're doing here at Bonneville Phoenix is really leaning into our culture and making sure that we're an employer of choice because we have a culture that people want to be a part of. It's a good team environment full of hungry people that want to succeed not just for themselves. So the more hungry, humble, and smart people we find, the better off we're going to be.
Now, that doesn't mean that we haven't lost. There's been a dramatic shuffle. Right now, I can say that we're close to a full boat, but that wasn't the case a month ago. There are so many different forces at play right now. It is a difficult environment. Our news side alone faces unique challenges. News itself has been under attack for multiple years. Don't you think that burns people out?
Absolutely I have concerns, but what can we control? Well, we can focus on executing the vision that Bonneville has provided. It's built on passionate people and innovation. It is about creating a culture people want to be a part of.
DR: We've heard a lot about burnout when people talk about why they leave a job in any industry. We hear about work-life balance. You're responsible for the entire building, so what are you telling your managers on the sales and programming side about creating an environment for employees that respects that those are real and valid concerns while still maintaining the level of expectation of quality for Arizona Sports and KTAR.
RH: We're still committed to the highest standards, and we always will be. And we found that certain parts of the business can work pretty effectively from home, while other parts of the business really can't. I will tell you, on the content side working from home, we did it when we had to. We did it, I would say fairly effectively for a few extended periods. But overall, in a local news and local sports environment that really is driven by the breaking news, the need to work together in a space is real. You just can't do things as quickly or as effectively or as creatively if you're separated. You just can't.
Now, on the sales side, we want them on the streets. We want them out of the office, but there is a balance. So what are we asking our great sales managers to do? We're asking them just to make sure that they are up to speed on where the activity is and that we're doing all the jobs that need to be done. Do I ever see us going back to five days a week in the office? I don't. I think that ship has sailed and I think that's just fine. I think there's some real benefit to that.
The way to make this all work is to empower our department heads to come up with a plan that's going to work best for them, for their people, and deliver on what our expectations are for the business. And then as leaders, we have to understand that the plan is going to be evolving. It really is. This is not going to be decided on a new policy set. I think that we're in a new world, probably for the rest of our lives.