Just What America Needs: The Riveting NFL Playoffs
As we wonder about Mahomes, marvel at Brady and bid adieu to Brees, this is a postseason where #HenneThingIsPossible, with Rodgers and the Bills Mafia ruling social media and America talking … football, like the old days.
Dare I say this country, just for a moment, felt normal again? That we were whisked away from the inauguration violence awaiting us, and the vaccines eluding us, by a dose of majestic postseason football? By a day that prompted shouts from the couch, texts to our sports friends and passionate analysis of play calls and penalties … the way life used to be?
Tom Brady's midlife crisis continues to thrive — not with a clandestine affair or a Lamborghini but a 14th trip to a conference title game. Drew Brees' career ends abruptly, with tears and blown kisses, amid dismal interceptions in the city he helped rebuild New Orleans after Hurricane Katrina. All after the disturbing sight of Patrick Mahomes, supposedly not human, wobbling cross-eyed into the arms of a teammate after his head had been smacked hard into the turf by Cleveland's Mack Wilson.
Was Mahomes also limping on an injured toe that must function, along with his brain, if he is to win another AFC title and Super Bowl? Ruled out with a concussion, was he setting an absurd stage for Chad Henne, a 35-year-old relic who represents the anthesis of All Things Mahomes, to save the season by scrambling like a rodeo bull and diving head-first for 13 yards on 3rd-and-14 … then playing a role in one of the ballsiest play calls in football history?
Dare I say the NFL playoffs feel … commonplace? Aaron Rodgers heaving the football into the Lambeau stands, through snow flurries, as Packers fans belted out their bang-on-the-drum-all-day anthem. Hearts breaking again in New Orleans, where Brees beat himself and Brady played a smart, mistake-free game in his ongoing defiance of age, health and Bill Belichick. The Bills welcoming the NFL commissioner and his wife to the game as their raging fans rattled Lamar Jackson, who suffered his own wooziness.
Nothing is normal in America. Nothing will be normal for a very long time, if ever. To even utter the word "normal" is to foolishly ignore the madness that awaits us — I'm surprised Dana White isn't in Washington promoting 25,000 National Guardsmen vs. Right-Wing Extremists — while expecting vaccines to be distributed equitably and efficiently. But at least the NFL is striving to make January as traditional as possible. And if it all seems force-fed and dangerous and still vulnerable to a Super Bowl virus outbreak, the league has succeeded like no other in deflecting our thoughts from COVID-19 to Championship 55.
"Take care," Brady said to Brees at midfield after a warm embrace as the Tampa Bay Buccaneers, not the New England Patriots, advanced.
Said Brees, mercifully off to the NBC studio, asked if playing at age 42 was worth it after breaking 11 ribs this season and losing the final game: "I would never regret it. Never. No complaints. No regrets. Man, I've always tried to play this game with a great respect and great reverence for it. I appreciate all that this game has given me. From the injury to all this COVID stuff, It was worth every moment, absolutely."
At one point, we thought Henne, a QB who succeeded Brady at Michigan, and Jameis Winston, the skittish QB who preceded Brady in Tampa Bay, were going to win as he lost. Lining up wide, then taking a pitch from Alvin Kamara, Winston came off the Saints bench and threw a 56-yard scoring pass against the team that dumped him. Turned out that was a desperation ploy by coach Sean Payton, who had lost faith in Brees. Brady marches on as a modern miracle in a show aired not on the History Channel, but Fox.
"We've got to go beat a great football team," he said of the next matchup against Rodgers and the Packers in frigid Green Bay. "Aaron is playing incredible. We're going to have to play great to beat him."
Our collective troubles vanished all day. Such as when Henne, after his right tackle slapped himself on the butt to signal the play, rolled right in the shotgun formation — on 4th-and-inches at his own 49-yard-line, 1:16 left in the fourth quarter, Chiefs leading 22-17, Baker Mayfield salivating on the Cleveland sideline — found Tyreek Hill open in the flat for the game-ending play. Wasn't this the moment that will define Andy Reid as the ultimate gambler in a high-rolling sport? Was Tony Romo screaming so madly in the CBS booth that we couldn't hear Jim Nantz — never a bad thing, actually?
"#HenneThingIsPossible," tweeted Mahomes, apparently coherent enough in the Kansas City locker room to locate an accompanying GIF of basketball great Kevin Garnett famously chanting the same message.
Cracked Henne, an 11-year journeyman with his third NFL team: "I don't think a #HenneGivenSunday or #HenneThingIsPossible hashtag is going to be on LinkedIn. … I'm always a competitor. All through the years, if it went my way or didn't, I've always loved the game. This is why I play: Prepare each week to be the best me."
As for the conspiracy theorists in Cleveland, who never will forget a killer fumble in 1988, why didn't officials see a violent hit to the head late in the first half, helmet to helmet, that should have resulted in first-and-goal instead of a Rashard Higgins fumble being ruled a touchback? If the Browns had scored there, might they be going to Buffalo for the title game?
Somehow, Reid would have found a way to win anyway. How prepared is this man? He made sure Henne played in Week 17 against the Chargers, sitting Mahomes and other starters. Saturday night, he went though every possible option with Mahomes — and Henne — in that scenario. "Fourth-and-1 to win the game? What do you want? And that play happened to be there," said Reid, the only coach in creation who would have taken a chance with a backup QB who'd just thrown a bad interception.
Did Reid even hesitate about the gamble? "No doubt. My coaches were on board," he said. "There's no tomorrow. Let's go."
And how is Mahomes doing? "He kinda got the wind knocked out of him and everything else with it. He's doing great now. So that's a positive," reported Reid, not noting the five-step concussion process this week. "He passed all of the deals he had to pass." Meaning, Bills Mafia can stop the Labatt's toasts for now. Mahomes won't be missing the game.
How fitting, in a country where older and younger factions rarely have been more divided, that two conference title games will be defined by a generational chasm. At the most important and glamorous position in sports, Gen Next is trying to shove aside Gen Legends in a transitional quarterbacking drama. The NFC will be represented in Tampa by either the incomparable Rodgers, who is 37 and wears black cleats that make him look older, or Brady, who would be trying to win his seventh Super Bowl. Countering for the AFC will be Mahomes — who continues to challenge another senior citizen in his world, LeBron James, as the Face Of American Sports — or Josh Allen, who, at 24, has become such a commanding presence and unifying force that he made people forget about those racist high-school tweets that surfaced on draft night.
Roger Goodell doesn't need Nickelodeon to engage young audiences when he has such a compelling story line, for all demographics. Seems everyone has a QB to root for in the Final Four, and seeing how Rodgers and Mahomes have mastered the art of throwing a touchdown pass and immediately starring in another State Farm ad, they will garner the most attention. They're also most likely to advance to Super Bowl LV — LV should be marketed as Live or Love — because the Packers and Chiefs are playing at home as No. 1 seeds who were the only teams allowed rest via bye weeks. It isn't a format the league should embrace beyond this year, because we'd see only top seeds winning titles, but it's a byproduct of Pandemic Ball that works.
After all, Rodgers and Mahomes rule the sport and should face each other as the reigning playmakers of their respective age classes. But here's what you need to know about their 12-year difference: Rodgers is trying to wipe it out and prove, like some sort of football Benjamin Button, that he's still the coolest kid. You'd think a hardened veteran who has seen it all wouldn't be fazed by 8,456 fans who, for the first time this season at the venerable Green Bay stadium, were allowed to socially distance and drink Wisconsin's finest Saturday. Rodgers grew teary-eyed and said the Packers were inspired by the small but raucous crowd that brought back, well, a sense of normalcy.
"Just thinking about what we've been through got me emotional with the crowd out there today," he said after the 32-18 victory. "Talk about just pure joy running out of that tunnel. It felt like 50,000 when we ran out of the tunnel, it really did. It was such a special moment. Forgot how much you truly, truly miss having a crowd there. It felt like 50,000, 60,000."
The fans used signs and snow boots to bang on Lambeau's steel foundation, not typically audible when 81,500 are in attendance. It created a home-field advantage that will continue Sunday in Rodgers' first NFC title game in Green Bay, against Brady and the warm-weather Bucs, with an afternoon forecast of snow showers and highs in the mid-20s. "Hopefully, it's a little colder," said Rodgers, aware of the narrative at work. As the Packers were riding a robust running game and Rodgers' quick strikes for 484 yards of offense against the Rams' top-rated defense, did you see the game's signature moment? Rodgers, looking 25, raced toward the end zone, pump-faked, deked Leonard Floyd out of his pants, then won the race to the pylon. He whipped the ball into the stands, then stared at the heavens and shouted something. This will sound Boomerish, probably, but Rodgers has been channeling the 2002 movie "Austin Powers In Goldmember" during end-zone celebrations as a tribute to Packers offensive coordinator Nathaniel Hackett, who likes the movie.
"I love gold!" he shouts.
The red zone, you see, has become known as the gold zone in the Packers' locker room, befitting a team that leads the league in scoring efficiency inside the 20-yard line. "One of my New Year's resolutions is definitely Mike Myers in a gold suit in Green Bay or Zoomed into Green Bay," Rodgers said.
As for Mahomes, Rodgers is growing weary, in a half-joking sense, about constant references to his no-look passes and similar on-field magic. "Late in the game, I had — they wouldn't show it because I play for the Packers — but I had a pretty sweet no-looker to Davante (Adams) in the last drive that kind of set up for a few plays," he said on a recent radio appearance.
"I'm so thankful Patrick Mahomes brought that into the NFL," said host Pat McAfee, oozing sarcasm.
"Yeah, I know," Rodgers said. "Since none of us have been doing it for a long time."
Damn right there's a friendly rivalry that should extend beyond their TV commercials, though Mahomes has enough problems with now to taunt a boomer. And damn right Rodgers doesn't want anyone telling him that he's culturally obsolete, just because he's 37. He can reclaim the world by beating Brady, then winning his second Super Bowl a full decade after winning his first and only. "It's been a long time," Rodgers said. "There's been a lot of ball between now and February 6, 2011, which was a beautiful day."
If a city has claimed the nation's allegiance this season, it's Buffalo. Who doesn't feel for a place that dealt with four consecutive Super Bowl losses in the 1990s, then sunk into NFL oblivion when the Bills are their identity and reason for being? A small market, characterized by a rowdy and surprisingly generous fan commune called Bills Mafia, is enraptured by Allen, a small-town kid from Firebaugh, Calif. — 45 miles west of Fresno, middle of nowhere — who played college ball at Wyoming and became a fireball in western New York. He could have been a quick NFL bust if those ugly tweets, which he dismissed as being "young and dumb," had been followed by more immaturity. But after struggling with on-field inconsistency in his first two seasons, Allen has emerged as a dual-threat badass who is such a central part of what the Bills do, they abandoned their running backs Saturday night in beating the Ravens.
He won't win the league MVP award this year. That's going to Rodgers, with Mahomes a close second. Nor will he go to Kansas City and beat the Chiefs, despite Mahomes' issues. But Allen, at 6-5 and 240 pounds, is a monster who will win trophies of all sorts the next decade. He has become a popular leader who dances with his teammates before practices and loves the fans. Noting how Bills Mafia members literally jump through tables, Allen vowed on a radio show to jump through several tables if the Bills win a Super Bowl.
"And light them on fire. Let's do it," he said.
The Mafia, meanwhile, continues donating to causes that wouldn't cross the minds of fans in other cities. It's understandable when they raised tens of thousands to a children's hospital — Allen's favorite charity — after the death of his grandmother. But now they're donating to a Jackson-related charity after the Baltimore quarterback suffered a concussion that forced him out of the game, assuring the Bills' first AFC title game appearance since 1994. This after 6,700 fans, after documenting negative tests for coronavirus, had tormened Jackson with noise that resulted in offsides flags on a wickedly windy night.
"What a great environment. I know all of our fans couldn't be in the building, but it was loud again. Great atmosphere," said head coach Sean McDermott said, who has changed the culture in four years when so many predecessors could not. "We came here with a vision, and seeing it move forward in the right direction feels good."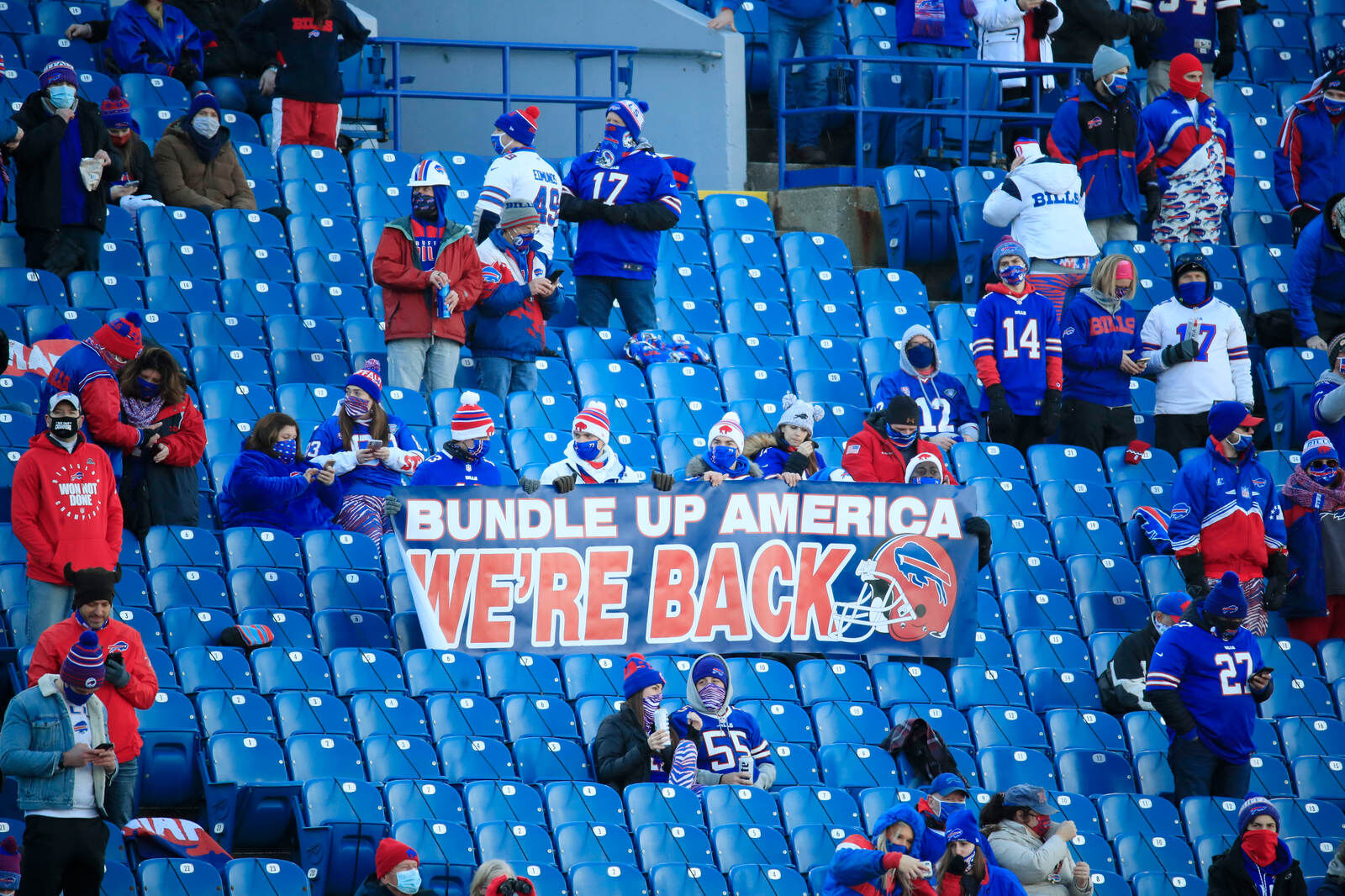 The Bills can't take the fans with them to Kansas City, where the Chiefs have their own unique home edge in a pandemic. But the matchup will be no less fascinating — Mahomes vs. a Bills defense trying to knock him out — as Brady tries to rekindle the New England blood on the frozen tundra. Chances are, we'll be seeing a three-hour State Farm ad in Raymond James Stadium, sandwiched around a Weeknd concert at halftime.
But the very fact we're discussing such football matters, when no one knows what this country resembles or whether it exists in a few days, is a throwback blast we needed. I would thank the NFL with a handshake, except, the league still might infect me.
Jay Mariotti, called "the most impacting Chicago sportswriter of the past quarter-century,'' writes a weekly media column for Barrett Sports Media and regular sports columns for Substack while appearing on some of the 1,678,498 podcasts in production today. He's an accomplished columnist, TV panelist and radio talk host. Living in Los Angeles, he gravitated by osmosis to film projects. Compensation for this column is donated to the Chicago Sun-Times Charity Trust.
John Mamola Didn't Overthink New WDAE Lineup
"I don't go book-to-book my talent, I just don't. I think the more and more you dive into ratings, the more and more you overthink things."
Just over one month ago, WDAE in Tampa Bay reshuffled its daily line-up. The iHeartMedia station, programmed by John Mamola, moved the Ronnie and TKras program from mornings to afternoons and moved the midday Pat and Aaron show into mornings, while creating a new midday show centered around Jay Recher and producer-turned-host Zac Blobner.
The station let previous host Ian Beckles go as part of the reshuffling.
Barrett Sports Media caught up with Mamola this week to talk about the new line-up, the Tampa Bay market, the importance of developing from within and much more.
(Some of the answers have been edited for brevity and clarity)
BSM: It's been just over a month since these changes took hold, what would you say is the overall response to them?
JM: Overall, really positive. We lost a really important piece and a pillar of the station in Ian Beckles, but with the moves that we did make, it was overall a pretty positive response from the listeners.
BSM: This wasn't just creating one new show and calling it a day, this was moving multiple shows into new dayparts. How do you as a programmer get multiple hosts on board with re-arranging their schedules in that manner?
JM: My morning show went into afternoons so they didn't have to wake up early, so they were very open and welcome to that. As for the original midday show, I knew they were early risers, so moving to mornings didn't really affect their sleep schedules. And then my midday show, which is the new one, putting those two together is just a combination of some very young, hungry guys that always want new opportunity and are always looking to capitalize on opportunity.
So I wouldn't say necessarily the convincing was the hard part because it just made a lot of sense for the people involved. The guys in the morning didn't have to wake up early. The guys in the mornings are early risers anyway, and you get two young, hungry guys to take care of that opportunity so the convincing part was quite easy.
BSM: I got to know Zac Blobner a little bit on the Producers Podcast. He was highlighted a few episodes back and I thought really highly of him. Why was this the right time to get him into a full-time on-air role?
JM: Zac's been doing some on-air stuff for on the weekends for a number of years. He had his own show and then we tried him out with a couple people on staff on Saturday mornings. That just didn't necessarily work out but he has hosted a fantasy football show, which we actually air Orlando and in Miami as well as Tampa, live for the last five years.
So his on-air persona – he was a huge part of the morning show and the success of the Ronnie and TKras Show for their run in mornings. So if we were to elevate someone from inside, it just seemed like he was the right guy to elevate, and to pair with Jay Recher. It's two young, hungry guys and they play well off each other. Some of the best highlights of my day are just sitting in their pre-show meetings with them and their producer Jon Dugas and just listening to how they collaborate together as a threesome on how to attack content, what sound to use, and what guests to book.
Really, it's three producers in one room all talking about how to collaborate and do a show. Zac has earned the opportunity, just like Pat Donovan who was a producer first. Aaron Jacobson was a producer at first. It was Zac's time and he's done a tremendous job with it so far, albeit it's only a month, but I totally expect it to be a very high ceiling for that show and for Zac in particular.
BSM: Some programmers believe on developing and promoting from within and some programmers believe in always looking for a splashy hire from the outside. Why is developing talent and promoting from within important to you and WDAE?
JM: I think it's vital for every brand to have a good bench and to continue to find different ways to utilize that bench. Maybe not on the Monday through Friday, but definitely on the weekends in some capacity. And if not there, then on the digital product. You bring in certain guys to push everyone else. Zac was one of those guys. Jay Recher was one of those guys. Pat Donovan was one of those guys. Ronnie and TKras were two of those guys. I like to bring in guys that have a goal and want to push everyone to be better, not just themselves, but push everyone to be better. We have a tremendous team atmosphere on WDAE and we've had it for a number of years.
And when you do a lot of change, like we did about a month ago, you don't want to keep it too foreign. You want to keep it with somebody that the audience knows and the audience has grown to know. Because the minute you start bringing in out of town people that nobody's ever heard of or you start going to syndication instead of staying live and local, you start to lose your cume, and you start to lose that branding.
We like to put out as much as we can with whatever we have and I think having good, driven people in the hiring process, albeit I've hired a little young over my time here, it's continued to push the narrative that we are continually growing from within and this was just the latest step of that. I don't think that's going to change anytime soon.
BSM: When you have new shows and shows in different dayparts, are you mentioning things like ratings and revenue to them? Or do you just tell them to build the shows and worry about it later?
JM: I don't go book-to-book my talent, I just don't. I think the more and more you dive into ratings, the more and more you overthink things. It's important, but it's not the biggest thing. For me, it's the sound of the show. If the show sounds like it's got energy, if it sounds like it's progressing, if it sounds like we're creating more attention by what we're saying and we're developing as talents and as a station, you feel it. You don't need to see the numbers. The numbers are the numbers.
The system is great when it's great but when it's terrible, it's still flawed. You know? I mean, Neilson ratings only get you so far but If I start seeing stream numbers go up, which I've seen, that's a positive.  If I see digital traffic or social media growth or something like that, that's a metric I can track. Today I went to the gas station and they had our sports station on. If I can hear that, that means we're doing something right. I don't look book-to-book. I think PDs that dive into numbers and analytics and, and clocks…. Look, if you put out entertaining stuff, they'll stick with you. And it starts with giving that confidence to your talent. And that's how I program.
Brady Farkas is a sports radio professional with 5+ years of experience as a Program Director, On-Air Personality, Assistant Program Director and Producer in Burlington, VT and Albany, NY. He's well versed in content creation, developing ideas to generate ratings and revenue, working in a team environment, and improving and growing digital content thru the use of social media, audio/video, and station websites. His primary goal is to host a daily sports talk program for a company/station that is dedicated to serving sports fans. You can find him on Twitter @WDEVRadioBrady and reach him by email at bradyfarkas@gmail.com.
Brock Huard Believes The Third Time's The Charm For Brock and Salk
"If I was a radio consultant, there's two muscles you have to build constantly. A is listening and B is curiosity."
It just felt right for Brock Huard when he stepped back behind the mic at Seattle Sports 710. On September 6th, he returned to the airwaves with longtime partner Mike Salk in morning drive. It's been almost three months since Huard returned to radio, but it still feels as right as it did that early September morning. That's because the business is in his blood.
"Once radio is in your blood, it doesn't leave," said Huard.
If you talk sports radio with Huard for any length of time, you won't question his love or intelligence about the industry. He truly loves and understands the business. When you have a former player that has an incredible amount of passion for sports radio, you really have something. Seattle Sports 710 really has something with Huard and his return to the airwaves made locals in the Pacific Northwest very happy.
Brock & Salk haven't had to deal with the challenges that new shows experience in the first few months. They're not trying to establish a chemistry and flow together. They've had it after doing a show together twice before, plus a podcast the two hosted together.
"He and I had still done the podcast together for the last couple of years, and had a number of conversations over that time about how fun that hour and a half was, each and every week," said Huard. "We never really missed a podcast and we both thoroughly enjoyed it. Had we not done that podcast for two years, I don't know if we would have come back for a third iteration. The third time has been the charm on this iteration."
What makes the show isn't just Huard being a former athlete or Salk being a very dynamic and experienced host. The two share an incredible chemistry that shines through on the air. However, Huard thinks there's one reason in particular that the two mesh so well on air.
"Because we listen," said Huard. "That's number one. I will listen to so many radio shows when I'm on the road and I'm like, this is bad radio. And you can tell hosts aren't listening to one another, they're just waiting for their time to talk and they fill and it's terrible.
"If I was a radio consultant, there's two muscles you have to build constantly. A is listening and B is curiosity. I think for 14 years he's still genuinely curious about me and how my mind works, world views, ideology and sports views. After 14 years, I'm equally interested in how he thinks and it's very different than me.
"It was hard to be able to listen and respect one another, because we come from two totally different world views, in many ways. But at the same time, when you do, and you're curious to listen to the other side and what they have to say, you create unique content.
"He and I used to have to build these big show sheets when we started and we still have structure and everyday there's still show sheets, but a consultant by the name of Rick Scott told me this early on, he said you know your show will be good, when you don't get to half of the stuff on your show sheet. And he was absolutely right 14 years ago."
Co-hosting morning drive at Seattle Sports 710 isn't the only gig Huard has in sports media. He's also a college football analyst for FOX. He'll be on the call Friday night for the Pac-12 Championship game between USC and Utah. But everything ties back to radio for Huard and a recent experience on an airplane made him realize it again.
"I was sitting next to this very smart gentleman the other day on my trip home from college football, and he was crushing crossword puzzles like I've never seen before," said Huard. "He's a very successful attorney and you could see for him, that was such a tool to keep his mind sharp. For me, radio is the same thing. It's been the best training ground for everything I do with media, especially television.
"If you can do live radio and equip your mind to listen and strengthen that listening muscle, while also creating content, it's a pretty good active tool. It keeps my mind sharp and plays to my mind's strengths, I think, with just how wackado I can be between my ears at times. If you have a tremendous partner that helps shape you, like Salk is to me, then it's just addictive and gets in your blood and doesn't leave."
As it relates to radio, being a college football analyst has its perks, because of the access it gives Huard. Every week before calling a game, he gets production meetings with head coaches, which gives him insight that others may not have. It also awards Huard the opportunity to create relationships with coaches. But how much of what's said does he feel like he can use on the game broadcast or his radio show?
"99.9 percent is used on the air, on the show and sometimes I gain insight and share it with coaches that I know to encourage them," said Huard. "It baffles me how many times I will hear from my peers, oh, I hate these coaches meetings. I don't get anything out of them. And I'm like, God bless you. I will have a career for the rest of my life if that's the way you approach it. It's the most valuable real estate we have. It's a forum that nobody else has.
"Yeah, they have press conferences, but if you build true trust and relationship and confidence, they want to tell you their story. They want to share their team. I can't tell you how many times content from those meetings comes to life in my sit downs with Pete Carroll or Jerry Dipoto, GM of the Mariners or Scott Servais, or on the air or off the air."
Huard has an insight to college football that few in the Pacific Northwest has, but that doesn't mean he and Salk will jam pack content from that sport into the show. The duo knows that Seattle cares about. Sure, there's an interest for college football, but not anywhere near the hunger from Seahawks and Mariners content.
For example, Huard called the TCU vs. Baylor game two weeks ago, which featured one of the best endings in college football this year, when the Horned Frogs nailed a field goal as time expired. The call of the moment was spectacular and could be the shining moment of the season for a TCU team that looks destined for the College Football Playoff. On the Monday after, Huard and Salk made it a part of the show, but never had the intention of making it the majority of the show.
"Our audience is dominated by the Seahawks and Mariners," said Huard. "That dominates 80 to 90 percent of our conversation. I would say lifestyle is probably the rest. For example, we played that highlight today four times over the course of the show. We rank things at the end of every show and it was my Top 5 games of my broadcast life in 14 years on the road and that was number 1.
"I often use conversations and things I learned from those games and players and relate them to the Seahawks and Mariners. Dave Aranda talked about living with expectations and how hard that is in our meeting on Friday. He said, you watch, TCU is going to have to live in an entirely different world, where you're on the mountain top instead of climbing it. And then you relate that toward the Seahawks or the Rams this year.
"Inevitably, yes, those moments create content, either emotionally or football 101. Radio is all encompassing in that way. I never understand radio hosts who try to play it straight. I just don't. I think it's bad radio. You have to be willing to live your life and put your life out there, whether it's good, bad or ugly. The more you do that, the more you attach yourself and connect with your audience."
It feels like the third time is truly the charm for Huard and Salk. They listen, they have chemistry and the content is a refreshing mix of sports and lifestyle.
"He and I are not comedians," said Huard. "We don't play fake laugh tracks like others do. He and I will land way more on the analytical information side than maybe a consultant would tell us what morning radio people want. But I think where it cuts through is he and I put our lives out there. Our parenting success and failures. Relationship struggles, kids, sports, youth sports, that's probably where we connect in a way that's more lifestyle. That's the word I would use."
Tyler McComas is a columnist for BSM and a sports radio talk show host in Norman, OK where he hosts afternoon drive for SportsTalk 1400. You can find him on Twitter @Tyler_McComas or you can email him at TylerMcComas08@yahoo.com.
Chuck Swirsky Embodies 'Always A Pleasure'
"I love working with Bill Wennington and each and every day I have the same enthusiasm of calling a Bulls game like I did as a five-year-old child calling games off a TV."
It's hard to imagine there are any more positive thinking people in the world than Chuck Swirsky. If you don't believe me, just check out his daily tweets. Swirsky has a lot to be upbeat about, he's doing what he's always wanted to, and now he's written a book.
"Always a Pleasure" is his creation, putting thoughts on paper, or iPad or whatever, about stories and people he's encountered over the more than 40-years he's been in the business.
The title is aptly accurate. Chuck is always a pleasure to be around and is one of the most supportive people I've ever met. He encourages those that need it. Swirsky always has time for people in the business and those trying to get into this crazy racket. I've seen and experienced it for myself, so trust me when I tell you, it's the truth.
There are those that have worked multiple decades in play-by-play, and I'll bet each and every one of them has been asked at some point, 'hey, why don't you write a book?'. Sounds easy enough, I'm sure. But when you really think about it, how can a person be expected to fit 40 plus years of work into a book that wouldn't be the size of a dictionary?
More on that in a moment. I was wondering what makes someone in Swirsky's position to write a book. So, I asked him. He outlined the main reason he decided to put pen to paper and tell some of his favorite stories and recall good memories.
"Over the past several years I was approached by several publishers and writers who were interested in detailing my journey in sports broadcasting, featuring my stops calling major college athletics and NBA basketball in addition to sports talk." Swirsky told me. "I was reluctant to do so but a year ago I had a change of heart knowing 2022-23 Bulls season would be my 25th in the NBA, including my 2-thousandth NBA play-by-play game."
Swirsky didn't use a sportswriter or an author to tell his tale. "For years I have saved notes and decided to write the book myself, in my own words. I love my job. I have no desire to retire. I want to continue broadcasting Bulls game for many more years as long as my health and clarity allow me to do so." he said.
"I love working with Bill Wennington and each and every day I have the same enthusiasm of calling a Bulls game like I did as a five-year-old child calling games off a TV. I have the utmost respect for the Reinsdorf  family and our entire organization.  I just felt this was the right time to write a book."
I have followed Swirsky's career closely and gotten to know him over the years. Growing up in Chicago, I was fortunate enough to hear him in his early days here, at the old WCFL (now ESPN 1000), where he became one of the pioneers of sports talk radio. He's called games on radio and television.
For DePaul, Michigan, select White Sox games, the Raptors and now over the last nearly 2 decades, the Bulls. That's a lot of experience and a lot of experiences for one person. It made 'editing' the book a little difficult.
"I could have easily written another 100 pages featuring additional sports personalities and stories." Swirsky said. "But I elected to highlight specifics of a timeline allowing the reader to understand that my quest to reach a childhood goal of broadcasting NBA basketball was met with challenges, setbacks and ultimately persevering through hard work, focus, passion and positivity."
Writing books can be a way to look back on a career. Swirsky if far from done. He never really reflected on things, because he was always looking forward. But the retrospective allowed him to realize a few things along the way.
"I would say this. I am my own worst critic. I very seldom look back on my career. While I was writing "Always A Pleasure" I had to stop and truly reflect how blessed I am to be in the position where I am today. I never take it for granted. Never have. Never will." Swirsky said. "Nothing is easy. It's hard. This business can be exhilarating yet so difficult. I never get too high nor too low although I'm very sensitive and my insecurities get the best of me which is probably not a good thing , especially in radio-television."
In looking back there's bound to be a few lessons learned from the past. Swirsky did find a few things in writing the book that he remembered, educated him along the way. "I learned that anyone who applies themselves, making  a commitment to work on their  skill set, and their weaknesses through hard work, dedication, passion and purpose, can be successful." he said. 
"For example, not every professional athlete is going to hit .330. Let's say another player is hitting .240. What is keeping him in the big leagues? Is it his  glove,  his ability to play multiple positions?  His  character in the locker-room? The same principle is in effect in our industry. Maximize your strengths and do it with a great attitude, humility and kindness."
Swirsky's book details his interactions with some very familiar people in the business and the sports world. "I have plenty of stories featuring some of the biggest names in sports ranging from Hall of Fame baseball star Willie Mays who many consider perhaps the greatest player of all time to Kobe Bryant who left our world way too soon." he says. "When you've been a professional broadcaster for 46 years, one  meets many, many players, coaches, executives, media and sports personalities along the way." 
The one thing you can say about Swrisky, is he is real. There's no pretense or facade. A genuine human being that is interested in what people have to say. Athletes, coaches, broadcasters and yes, even fans. His book has been reviewed by some of the greats. Mike Breen, Chris Bosh and even Steph Curry. Here's the 2-time NBA MVP's take on Swirsky and the book.
Having known Chuck since my days as a still-developing youth player in Toronto, where my dad was a member of the Raptors, I can attest to the fact that his passion for people and basketball is deep and sincere.
Chuck's unique desire to mentor young people, especially minorities and those of different cultures and backgrounds, will help inspire those who share the same dreams, dreams that enabled him to persevere to the top of his profession.
I'm proud of Chuck, and excited that others can become enlightened by his exciting broadcasting journey, which includes nearly 25 years in the NBA and, of course, a trio of Curry family members shooting from the stars, just like him.
A book written by someone as accomplished in this industry as Swirsky draws interest because of who he is. But the Bulls' play-by-play man is always thinking of others and trying to help where he can, just like Curry said. Along with stories, he lends his knowledge and relates it to those who are already in broadcasting and those trying to get in.
"I'm hoping those in our industry who read the book even those outside the radio-tv, new media field will come away knowing that perseverance is a powerful resource to help withstand the emotional heartache of rejection, disappointment and loneliness." said Swirsky. He adds, "I have experienced everything. The good. The bad. The ugly. I'm talking all levels. My message is to stay true to your core values. In this case, my foundation is built on respect, kindness, honesty, sincerity and selflessness."
Given the opportunity to beam about the finished product, Swirsky in typical fashion, deflected any praise. Simply saying, "I am very humbled and appreciative of  the professionalism of the book's publisher, Eckhartz Press. They allowed me to be me. That's all I wanted. Mission accomplished. I am grateful."
The entire industry should be grateful for people like Swirsky. There are so few in the business who are as kind and caring as he is. There are just as few people that take interest in others, and help mentor the next generation like Chuck. Inspiring stories, a career chronicle and life lessons, "Always a Pleasure" is going to be on my must-read list for the holidays. Congrats "Swirsk" keep up the great work.
Andy Masur is a columnist for BSM and works for WGN Radio as an anchor and play-by-play announcer. He also teaches broadcasting at the Illinois Media School. During his career he has called games for the Chicago Cubs, San Diego Padres and Chicago White Sox. He can be found on Twitter @Andy_Masur1 or you can reach him by email at Andy@Andy-Masur.com.