How Did MLB, Cubs Not Know About Porter's Lewd Texts?
A troubled sport faces a new crisis: Was a talented, young executive protected from his 2016 conduct by a network of cronies, including those in Chicago, who enabled a rising career that ended in disgrace?
Baseball once had an old-boy problem, a network of ownership cronies who ruled the sport's inner sanctum via backroom politics and finer cigars. Now, it has a bro-dude problem, a sabercreep problem, a new fraternal culture that somehow enabled Jared Porter to remain a coveted young executive for four years after texting a photo of his erect, naked penis to a female reporter.
It's highly improbable, given the loose lips in Major League Baseball, that someone in the Chicago Cubs' hierarchy didn't know about the 2016 sexting story involving Porter — then their 36-year-old director of professional scouting — until this week's ESPN expose. The time gap is disturbingly long, the length of Donald Trump's presidency, and Porter's career never should have been allowed to ascend to the high-profile point where the shamed New York Mets finally fired him Tuesday as general manager.
How could this happen? How could the Cubs and the rest of MLB not know? That's what the Cubs are claiming — and it should be underlined here that the savior-in-charge during the 2010s, Theo Epstein, resigned two months ago. In the story by Mina Kimes and Jeff Passan, ESPN reports "a baseball source" tipped them to Porter's conduct in December 2017, more than a year after his uninvited barrage of suggestive text messages and lewd photos to a woman who'd moved to the United States to cover baseball. That source was one of several people who reportedly knew about the texts — including, stunningly, a Cubs employee from her home country.
The reporter, fearing reprisal from Porter and unsympathetic people in her native land, said she was connected to the Cubs employee by a lawyer referred by her media bosses back home. According to ESPN, that employee contacted Porter, who said he wanted to apologize in person — a request she rejected. By this point, she also had alerted a major-league player from her native country, seeking further advice.
Come on. How did the Cubs not know? Are we supposed to believe that a team employee, acting independently, didn't tell anyone at Wrigley Field about the allegations other than Porter? That Epstein, who had groomed Porter as part of his bro-dude posse with the Boston Red Sox, didn't know a thing about the story? That current Cubs general manager Jed Hoyer, part of the same Boston posse, hadn't heard a word? How did team owner Tom Ricketts not know? How did the commissioner's office, with its expansive security and surveillance detail, not know?
Or did they know?
"This story came to our attention tonight and we are not aware of this incident ever being reported to the organization," the Cubs said in a Monday night statement to ESPN. "Had we been notified, we would have taken swift action as the alleged behavior is in violation of our code of conduct. While these two individuals are no longer with the organization, we take issues of sexual harassment seriously and plan to investigate the matter."
The investigation should extend to the MLB office, where Epstein was hired last week as a consultant to commissioner Rob Manfred. In any event, this is a troubling indictment of the industry's bro-dude culture, given Porter's career arc since the sexting-and-photos flurries. After apologizing to the woman via text and thinking he was home clear, he became assistant general manager of the Arizona Diamondbacks in the 2016 offseason, after Epstein and the Cubs had broken a 108-year drought and won the World Series in a festive Chicago. Last month, not vetted by the Mets, Porter was named GM in multibillionaire owner Steven Cohen's new regime — the same Steve Cohen whose investment firm was accused of harassment toward women in 2018.
"We have terminated Jared Porter this morning," Cohen wrote Tuesday on Twitter. "In my initial press conference I spoke about the importance of integrity and I meant it. There should be zero tolerance for this type of behavior."
Then why didn't Cohen spend more time investigating Porter before hiring him? Making phone calls? Asking around? The owner is new to the sport, but baseball operations boss Sandy Alderson is a baseball lifer — straight from the old-boy network, in fact — and he also whiffed badly here. After Porter's firing, Alderson delivered a wishy-washy response, suggesting extensive vetting isn't always possible. It's 2021, Sandy. Your boss is one of the richest people in America. Don't pass the buck.
"This is a wake-up call. It clearly suggests something like this can be out there in connection with almost anyone," said Alderson, back for another tour of Mets duty at 73. "We have do to our best to make sure we know about that information, but there are limits to what we can actually get. I don't think this reflects a fundamental flaw in the process. I think this is a very unfortunate circumstance that we wish we knew about, but didn't."
In covering his own tail, Alderson said the Cubs, Diamondbacks and Red Sox praised Porter during his discussions with team executives. Keep in mind that an Epstein link threads through all three franchises. "There really wasn't a dissenting voice, so from my standpoint, I was shocked. Eventually that gives away to disappointment and a little bit of anger," Alderson said. "There's always a risk associated with hiring. There was no disclosure of this conduct. I don't think we would have hired Jared if we had known about the conduct beforehand. Should we have known? We did a background check. We asked if there was anything else we need to know."
He didn't ask enough.
In a case of extreme sensitivity, credit ESPN for resisting any journalistic temptation to report what it knew and corroborated in late 2017. Realizing it could be accused of sitting on explosive information and protecting Porter and the network's high-priced partnership with MLB, ESPN rightfully ceded to the female reporter's request to not publish the story then when, according to Kimes and Passan, she had "concluded her career would be harmed if the story emerged." As the aggrieved party, her wishes took precedence.
Someone should explain journalism ethics to WFAN's Craig Carton and Evan Roberts, who accused ESPN of just that: sitting on the story for years. Passan responded in kind on ESPN Radio in New York.
"There's another radio station in New York that's been pretty damn irresponsible today about its coverage of this, and I hate giving them any shine because they don't deserve it," Passan said. "But the notion that ESPN has been sitting on this story since 2017 is the most giant load of irresponsible garbage that I've heard in a long time. We have duties as journalists to protect our sources and to look after the people who give us the stories that we get to tell. It is their story, it is not ours. And the idea that we have been sitting on this, because this woman, who went through a horrendous thing with somebody in a position of power and ended up having to move back to her country and get out of journalism because of it, the idea that she wasn't ready at that time is perfectly rational and normal and the type of response that I think any of us could go through. She wasn't ready.
"The story waits for when the person whose it is, is ready to tell it. And so, she waited, and she left the industry where she was worried she was going to have backlash and potentially have her job harmed. And she saw Jared Porter's rise to general manager of the New York Mets, putting him in a position of great power and great authority, and thought to herself, 'This man, who has his dream job, ended up facilitating me losing my dream job. And I didn't do anything … I didn't do anything.' And so the idea that this story, four-and-a-half years after this incident happened, has any less resonance, has any less importance, and has any less right to be told — anybody who thinks that needs to shut up."
And, no, ESPN was not obligated to alert MLB, the Cubs, the Diamondbacks or the Mets about what Kimes knew, though we're not stupid. Enough people knew about the story to circulate it around a gossipy industry.
Carton also didn't do his homework about Passan, accusing the baseball insider of knowing about Porter's texts when he praised his hiring last month. Passan said he only recently was assigned to report the story with Kimes — after Porter was hired. "The issue isn't about protecting the victim. Of course you do," Carton tweeted. "Issue is that Passan endorsed Porter said he had the perfect 'temperament' for NYC knowing he was a stalker and had harassed a woman."
ESPN sometimes flouts journalistic rules. Not this time.
When Porter was named Mets' GM, the woman decided to go public with her story, telling ESPN through an interpreter, "My number one motivation is I want to prevent this from happening to someone else. Obviously, he's in a much greater position of power. I want to prevent that from happening again. The other thing is, I never really got the notion that he was truly sorry."
Porter's "apology" came after she had asked the major-league player from her home country to help compose a response. She subsequently wrote Porter: "This is extremely inappropriate, very offensive, and getting out of line. Could you please stop sending offensive photos or msg."
"Oh I'm sorry," Porter responded.
"I will stop."
He stopped texting. But his career carried on, the perpetuation of which is the latest crisis in a sport that cannot get out of its own way. Here we thought Epstein might rescue MLB from its self-destructive plague the way he smashed curses in Chicago and Boston.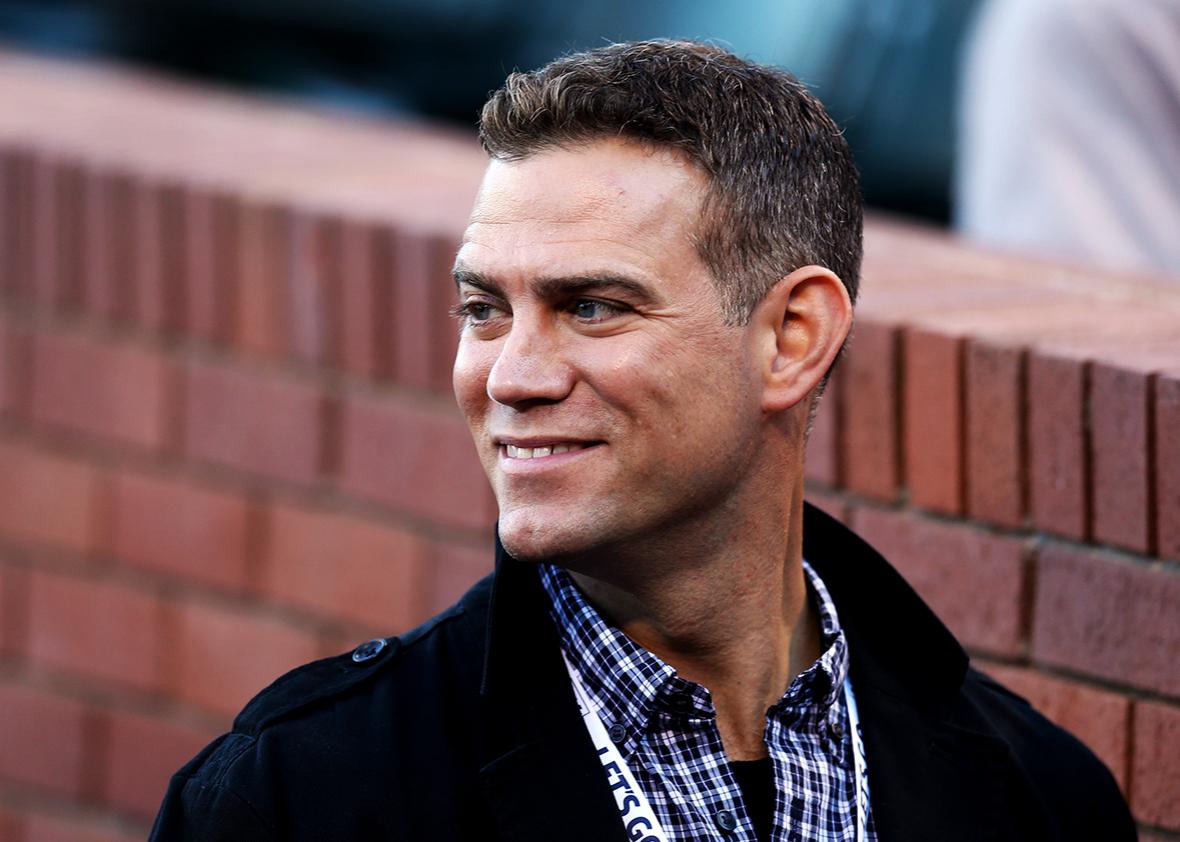 Now, he might be baseball's newest problem. Why didn't he know? And how couldn't he have known?
Jay Mariotti, called "the most impacting Chicago sportswriter of the past quarter-century,'' writes a weekly media column for Barrett Sports Media and regular sports columns for Substack while appearing on some of the 1,678,498 podcasts in production today. He's an accomplished columnist, TV panelist and radio talk host. Living in Los Angeles, he gravitated by osmosis to film projects. Compensation for this column is donated to the Chicago Sun-Times Charity Trust.
Who Handled the Tua Concussion Discussion Best?
Rex Ryan, Rodney Harrison, and Boomer Esiason stood out with their commentary on the Tagovailoa story.
The major story going into the bulk of Week 4's NFL action on Sunday was the concussion suffered by Miami Dolphins quarterback Tua Tagovailoa in Thursday's game versus the Cincinnati Bengals.
Amazon's Thursday Night Football telecast, particularly its halftime show, faced heavy criticism for neglecting to mention that Tagovailoa had been tested for a concussion in his previous game just four days earlier. Additionally, the NFL Players Association called for an investigation into whether or not the league's concussion protocols were followed properly in evaluating Tagovailoa.
In light of that, how would the Sunday NFL pregame shows address the Tagovailoa concussion situation? Would they better inform viewers by covering the full story, including the Week 3 controversy over whether or not proper protocols were followed?
We watched each of the four prominent pregame shows — ESPN's Sunday NFL Countdown, Fox NFL Sunday, CBS's The NFL Today, and NBC's Football Night in America — to compare how the Tagovailoa story was covered. With the benefit of two extra days to research and report, did the Sunday shows do a better job of informing and engaging viewers?
Here's how the pregame studio crews performed with what could be the most important NFL story of the year:
Sunday NFL Countdown – ESPN
ESPN's pregame show is the first to hit the air each Sunday, broadcasting at 10 a.m. ET. So the Sunday NFL Countdown crew had the opportunity to lead the conversation for the day. With a longer, three-hour show and more resources to utilize in covering a story like this, ESPN took full advantage of its position.
The show did not lead off with the Tagovailoa story, opting to lay out Sunday's schedule, which included an early game in London between the Minnesota Vikings and New Orleans Saints. But the Countdown crew eventually got to issue on everyone's minds approximately 28 minutes into the program.
Insider Adam Schefter provided the latest on the NFL and NFLPA's investigation into the matter, particularly the "gross motor instability" Tagovailoa displayed in stumbling on the field and how the Dolphins initially announced that the quarterback had suffered a head injury, but later changed his condition to a back injury.
Schefter added that the NFL and NFLPA were expected to interview Tagovailoa and pass new guidelines for concussion protocols, including that no player displaying "gross motor instability" will be allowed to play. Those new rules could go into effect as early as Week 5.
"This is an epic fail by the NFL," said Matt Hasselbeck to begin the commentary. "This is an epic fail by the medical staff, epic fail by everybody! Let's learn from it!"
Perhaps the strongest remarks came from Rex Ryan, who said coaches sometimes need to protect players from themselves.
"I had a simple philosophy as a coach: I treated every player like my son," Ryan said. "Would you put your son back in that game after you saw that?
"Forget this 'back and ankle' BS that we heard about! This is clearly from head trauma! That's it. I know what it looks like. We all know what it looks like."
Where Sunday NFL Countdown's coverage may have stood out the most was by bringing injury analyst Stephania Bell into the discussion. Bell took a wider view of the story, explaining that concussions had to be treated in the long-term and short-term. Science needs to advance; a definitive diagnostic tool for brain injury doesn't currently exist. Until then, a more conservative approach has to be taken, holding players out of action more often.
Grade: A. Countdown covered the story thoroughly. But to be fair, it had the most time.
The NFL Today – CBS
CBS's pregame show led off with the Tagovailoa story, going right to insider Jonathan Jones to report. He cited the key phrase "gross motor instability" as a significant indication of a concussion.
Jones also clarified that the unaffiliated neurotrauma consultant who helped evaluate Tagovailoa made "several mistakes" in consulting with the Dolphins' team doctor, leading to his dismissal by the NFL and NFLPA.
The most pointed remarks came from Boomer Esiason, who said any insinuation that the Dolphins, head coach Mike McDaniel, or the team medical staff put Tagovailoa back in the game in order to win was "off-base." Phil Simms added that the concussion experts he spoke with indicated that Tagovailoa could miss four to six weeks with this injury.
Grade: B-. The opinions from the analysts were largely bland. Jones's reporting stood out.
Fox NFL Sunday
The Fox NFL pregame show also led off with the Tagovailoa story, reviewing the questions surrounding how the quarterback was treated in Week 3 before recapping his injury during Week 4's game.
Jay Glazer reported on the NFL's investigation, focusing on whether or not Tagovailoa suffered a concussion in Week 3. And if he did, why was he allowed to play in Week 4? Glazer noted that Tagovailoa could seek a second, maybe a third medical opinion on his injury.
Jimmy Johnson provided the most compelling commentary, sharing his perspective from the coaching side of the situation. He pointed out that when an injured player comes off the field, the coach has no contact with him. The medical team provides an update on whether or not the player can return. In Johnson's view, Mike McDaniel did nothing wrong in his handling of the matter. He has to trust his medical staff.
Grade: B. Each of the analysts shared stronger opinions, particularly in saying a player failing "the eyeball test" with concussion symptoms should be treated seriously.
Football Night in America – NBC
Sunday Night Football was in a different setting than the other pregame shows, with Maria Taylor, Tony Dungy, and Rodney Harrison broadcasting on-site from Tampa Bay. With that, the show led off by covering the aftermath of Hurricane Ian, its effects on the Tampa area, and how the Buccaneers dealt with the situation during the week.
But after 20 minutes, the show got into the Tagovailoa story with Mike Florio reporting what his peers told viewers earlier in the day regarding pending changes to the NFL's concussion protocol and "gross motor instability" being used as a major indicator.
Florio emphasized that the NFLPA would ask how Tagovailoa was examined and treated. Was he actually examined for a back injury in Week 3? And if he indeed suffered a back injury, why was he still allowed to play?
When the conversation went back to the on-site crew, Dungy admitted that playing Thursday night games always concerned him when he was a coach. He disclosed that teams playing a Thursday game needed to have a bye the previous week so they didn't have to deal with a quick, four-day turnaround. That scheduling needs to be addressed for player safety.
But Harrison had the most engaging reaction to the story, coming from his experience as a player. He admitted telling doctors that he was fine when suffering concussion symptoms because he wanted to get back in the game. Knowing that was wrong, Harrison pleaded with current players to stay on the sidelines when hurt because "CTE takes you to a dark place."
"It's not worth it. Please take care of yourself," said Harrison. "Don't depend on the NFL. Don't depend on anybody. If something's wrong with your head, report it."
Grade: B+. Dungy and Harrison's views of the matter from their perspective as a coach and player were very compelling.
Ian Casselberry is a sports media columnist for BSM. He has previously written and edited for Awful Announcing, The Comeback, Sports Illustrated, Yahoo Sports, MLive, Bleacher Report, and SB Nation. You can find him on Twitter @iancass or reach him by email at iancass@gmail.com.
Jason Barrett Podcast – Terry Dugan & Adam Delevitt, BetRivers
Jason Barrett is the owner and operator of Barrett Sports Media. Prior to launching BSM he served as a sports radio programmer, launching brands such as 95.7 The Game in San Francisco and 101 ESPN in St. Louis. He has also produced national shows for ESPN Radio including GameNight and the Dan Patrick Show. You can find him on Twitter @SportsRadioPD or reach him by email at JBarrett@sportsradiopd.com.
Joe Rogan Betting Admission Reveals Gray Area
Rogan's admission raises a question as to just how ethical it is to place bets with insider information, and whether it should be legal or not.
For nearly a decade, I've been fortunate enough to cover the football and basketball programs for the University of Kentucky in some form or fashion. Whether writing for blogs or working with ESPN Louisville as co-host of the post-game show, I've gotten to know people around the program I grew up supporting, and other individuals in the media doing the same. I've made some terrific friendships and cultivated quite a few relationships that provide me with "inside information" about the teams.
As an avid sports bettor, that information has sometimes put me into some difficult personal situations. There have been times when I've been alerted to player news that wasn't public, such as a player dealing with an injury or suspension. It's often been told to me off-the-record, and I've never put that information out publicly or given it to others.
I wish I could also say I've never placed a wager based on that information, but that would be a lie. While it's been a long time since I've done so, I've ventured into that ethical gray area of betting on a team that I'm covering. I've long felt uncomfortable doing so, and I'd say it's been a few years since I last did it.
At least I know I'm not alone. On his latest episode of The Joe Rogan Experience, Rogan told guest Bert Kreischer that earlier in his UFC broadcasting career he regularly bet on fights. He claims to have won nearly 85% of the time (which I highly doubt but that's another discussion for another time), either via bets he made or ones he gave to a business partner to place on his behalf.
From his comments, Rogan doesn't seem to have been using sensitive information to gain an edge with the books, but he also didn't state that he didn't. He indicates that much of his success stemmed from knowing quite a bit more about fighters coming from overseas, and he said he "knew who they were and I would gamble on them."
But Rogan undoubtedly has long been in a position where he knows which fighters might be dealing with a slight injury, or who are struggling in camp with a specific fighting style. It's unavoidable for someone whose job puts him into contact with individuals who tell him things off-the-record and divulge details without perhaps even realizing it.
But let's say Rogan did get that information, and did use it, and was still doing so today. The fact is…there's nothing illegal about it, not in the United States at least. While it's against the rules of some entities — the NFL, for example, has stated they could suspend or ban for life individuals who use inside information or provide it to others — it's not against any established legal doctrine. Unlike playing the stock market, insider betting is not regulated by any central body or by the government.
However, Rogan's admission raises a question as to just how ethical it is to place bets with insider information, and whether it should be legal or not. Many of the after-the-fact actions that have been taken in the realm of legalized sports betting in this country, or those being discussed currently (such as advertising limitations), fall in line with changes made in Great Britain following their legalization.
One of their big changes was making it illegal to utilize insider information, with very specific definitions about the "misuse of information" and what steps the Gambling Commission may take. It lays out what information can be used, the punishments that may be levied, and at what point it might venture into criminality.
Sportsbooks do have recourse in some instances to recoup money on insider betting, but not many. If they can prove that a wage was influenced, they can cancel the bet or sue for the money. The most well-known instance is the individual who bet $50,000 at +750 odds that someone would streak on the field during Super Bowl LV –which he did– and then was denied the payout when he bragged about his exploits. But unless someone foolishly tells the books that they've taken them with information that the public wasn't privy to, they have little to no chance of doing anything about it.
There are ramifications to insider betting that raise truly ethical dilemmas. Just like stock trading, information can be immeasurably valuable to those with stakes large enough to change prices. If I'm placing a $20 prop bet with the knowledge that a team's starting running back might be out for a game, or dealing with an ankle injury, I'm not going to harm anybody else playing that line. But if I give that information to a shark, who places a $20,000 wager on that same line, I've now enabled someone to move a line and impact other bettors.
Online sports betting in this country continues to grow, and every day we are reminded that there are still aspects of the space that can feel like the wild west. As individuals in the media, we have to decide personally what our ethical stances are in situations like this. We also have to keep in mind the impact that betting can have on our biases–especially if we've bet using inside information. A prime example is Kirk Herbstreit, who won't even make a pick on College Gameday for games he is going to be doing color commentary for lest he possibly appears biased on the call.
At one end of the spectrum, you have someone like Herbstreit, and on the other end, you have folks like Rogan who, while he no longer does so, was more than happy to not only wager on fights himself but gave the information to others. And in the middle, you have hundreds of people in similar situations, who might lean one way or another or who, like me, may have found themselves on either side of that ethical line.
There is no black or white answer here, nor am I saying there's necessarily a right or wrong stance for anybody in the sports media industry to take. I would say that each person has to take stock of what they're comfortable doing, and how they feel about insider information being used. Rogan didn't break any rules or laws by gambling on the UFC, but his admission to doing so might be the catalyst towards it no longer being accepted.
Jason Ence resides in Louisville, KY and is fully invested in the sports betting space. Additionally, he covers Premier League and Serie A soccer, college football, and college basketball for ESPN Louisville 680 including serving as the station's University of Kentucky correspondent, and co-host of the UK football and basketball post-game shows. He can be found on Twitter @JasonUK17 and reached by email at jason.ence17@gmail.com.