Rodgers, Watson And The QB Drama Inferno
Franchise-hopscotching that first boomed with NBA superstars, and continued with Tom Brady, is now the NFL's hottest and most divisive story — and we can thank 21st-century athlete entitlement for that.
From the day he slings his first touchdown pass in Pop Warner ball, the quarterback is a pampered, fussed-over golden child. The path leads him to high school, where college coaches bribe him, classmates worship him, girls slide into his DMs and analysts project him as a pro prospect before he learns to drive. This 24/7 stroking eventually brings riches, fame, power … and, too often, an ego bordering on megalomania.
And when that ego is insulted and bruised, while the TV pundits scream that he's underachieving and not worth his money, the golden child summons all the clout in his life portfolio to demand a trade and protect his legacy.
Only now, the NFL's escape hatch is more crowded than a rogue vaccine site, thanks to an unprecedented barrage of get-me-out-of-here-ism that isn't a good look for some of football's biggest names. At the front of the line is Aaron Rodgers, whose considerable self-esteem again has regressed into pouty finger-pointing after dropping to 1-4 in NFC championship games. In itself, this is a stunning and potentially historic development, the idea that Rodgers, going on 38, would demand a trade and seek bigger success in San Francisco, Los Angeles or Las Vegas. But it's even more astonishing when he's joined on the upward-mobility train by two quarterbacks, Deshaun Watson and Matthew Stafford, who also are likely to wear gold Hall of Fame jackets someday.
At the most important and glamorous position in team sports, never has the possible activity been more volatile. Already, numerous franchises are plotting deals, which is catnip for commentators and columnists who won't be spending Super Bowl week in Tampa during this pandemic postseason and need fodder extending beyond Tom Brady and Patrick Mahomes. Nothing tantalizes sports fans more than trade rumors involving superstars. Thus, with so many QB situations in flux throughout the league, the blast furnace is burning about Rodgers maneuvering his way to the 49ers or Rams or Raiders, or Watson forcing a trade to the Jets or Patriots or Saints. Hell, think of all the other teams that need QB upgrades now or in the near future: Colts, Bears, Steelers, Broncos, Panthers, Washington, Falcons. Do the Eagles really think a head coaching change, Doug Pederson to the obscure Nick Sirianni, can fix Carson Wentz? And what about the Packers, Texans and Lions if Rodgers, Watson and Stafford are gone?
Suddenly, no one cares about the NBA, the NHL, college basketball, the endangered start of baseball spring training or, at least until late next week, Super Bowl LV. It's all about who gets Rodgers and Watson, and, to a lesser extent, where the less-demonstrative Stafford lands along with other QBs on the move. Oh, the fake news soon to be disseminated by agents and front offices alike — hold your nose, America.
Rodgers becomes more polarizing by the minute. The man is never happy, even after a presumptive MVP season when he seemed to forge a relationship with coach Matt LaFleur. Ten maddening seasons since his only Super Bowl victory, he was going to be distraught if the ending didn't include a cigar and the Vince Lombardi Trophy. So when his offensive line broke down against Tampa Bay's fearsome rush and some of his weapons were shrinking violets, sure, he was going to be upset — especially when losing to Brady, who, in his first NFC season, has as many conference titles as Rodgers.
But where Rodgers lost me was in his post-game Zoom conference. Rather than accepting defeat like a dignified grown man, he spilled more of the whine that sometimes makes him unlikable. Yes, LaFleur blew it Sunday — as pointed out here and pretty much everywhere — when he snubbed Rodgers on 4th-and-goal at the enemy 8-yard-line, preferring a field goal with 2:09 left instead of trying to tie the score with the MVP. Brady ran out the clock on a 31-26 victory, and next thing you knew, Rodgers was all but singing about his native state, "California dreamin'. On such a winter's day …"
"It's a good question," he said when asked what was next. "I don't know, I really don't. There's a lot of unknowns going into this offseason now. I'm going to have to take some time away, for sure, and clear my head and just kind of see what's going on with everything. But it's pretty tough right now, especially thinking about the guys that may or may not be here next year. There's always change. That's the only constant in this business. It's a grind just to get to this point. And that makes the finality of it all kind of hit you like a ton of bricks. That's why it's a gutting feeling in your stomach."
He soon shifted the tone from frustration to sadness. "(The Packers have) a lot of guys' futures that are uncertain — myself included. That's what's sad about it most, getting this far," Rodgers said. "Obviously, it's going to be an end at some point, whether we make it past this one or not, but just the uncertainty's tough and finality of it all."
Does this sound like a man who wants to finish his career with LaFleur and Brian Gutekunst, the general manager who drafted a quarterback, Jordan Love, in the first round last spring? Or a man who soon was on the phone with his agent, discussing immediate possibilities beyond Green Bay? Rodgers feels he doesn't get proper love from management — meaning, he wants more control over the roster and his offensive weapons. The bosses think his $134-million extension, which he signed in 2018 and extends through 2023, is ample respect. They dealt with his moods last year, when he voiced resentment about Love. It's safe to assume they don't want another offseason of misery, though, at this point, they only can kiss his ring … his only ring.
When asked if Rodgers will return next season, LaFleur said, "I sure as hell hope so. I mean, the guy's the MVP of this league. He's the heart and soul of our football team. So, hell yeah, he better be back here. He's our leader, and you know, just so appreciative of him buying into what we're trying to get done around here and leading that group. His voice carries a lot of weight in that locker room and just, you know, I feel for him. Him being in this situation and for us not to get it done, man, it hurts."
Also, it's not as simple as the Packers striking a quick deal. They could send Rodgers to the 49ers for some combination of draft picks and Jimmy Garoppolo; or to the Rams, who have soured on Jared Goff; or to the Saints, who must replace the retiring Drew Brees. But if Rodgers leaves now, Green Bay is stuck with $31.5 million in salary-cap dead money. If he demands a trade with a retirement threat, they'd have to cede to his wishes and eat the money. In cities throughout the league, fans are urging their teams to acquire Rodgers. "Hasn't he always been a Hollywood QB? With the Malibu house? And the actresses and Danica Patrick?" they're asking in L.A. "Shouldn't he come home for his final years?" they're asking in northern California, where he grew up in Chico and played at Cal.
The excitement about Watson might be more palpable. Only 25, he has a good decade ahead of him as a dual-threat machine. And unlike Rodgers, his complaints in Houston are greeted with more sympathy. No pro franchise in American sports is more chaotic than the Texans, and Watson has left zero doubt: He wants out. He's disgusted that owner Cal McNair views him as the help and has allowed the mysterious Jack Easterby to wreak organizational havoc, such as blocking Watson from voicing his opinion about the general manager vacancy, filled by Bill Belichick-disciple Nick Caserio. Even if the Texans do the right thing with their head coaching vacancy and hire Chiefs offensive coordinator Eric Bieniemy — a Mahomes whisperer who'd mesh ideally with Watson — reports say Watson wants no part of a Houston future regardless of the coaching hire.
The New York media, devastated when the Jets won just enough games to lose presumptive top draft pick Trevor Lawrence, are pushing the Jets to land their first superstar QB since Joe Namath (the 2008 Brett Favre experiment was ill-fated). A better trade partner for the Texans might be Miami, which could offer Tua Tagovailoa and picks. Or the 49ers, who have eyed Stafford, he of the eight 4,000-yard passing seasons, but know how Watson could thrive in a Kyle Shanahan system.
"You can't say anything with certainty," Shanahan said when asked about his QB outlook. "You don't sit here and make promises on anything."
It could be Watson ends up in New York, Stafford in Indianapolis and Rodgers in Vegas, where Jon Gruden could ship Derek Carr to Green Bay while Love develops. Or, maybe Rodgers makes amends with the Packers and tries again. Or, knowing his whims, maybe he retires as a big-game loser who is mocked in memes. The Cheeseheads have had the good fortune of watching Rodgers for 13 starting seasons after watching Favre for 16 seasons, yet they've also suffered as both wobbled through drama in their late 30s. So far, Rodgers' problems haven't approach the spectacle level of Favre. But if he keeps losing in the playoffs, who knows how ugly this becomes?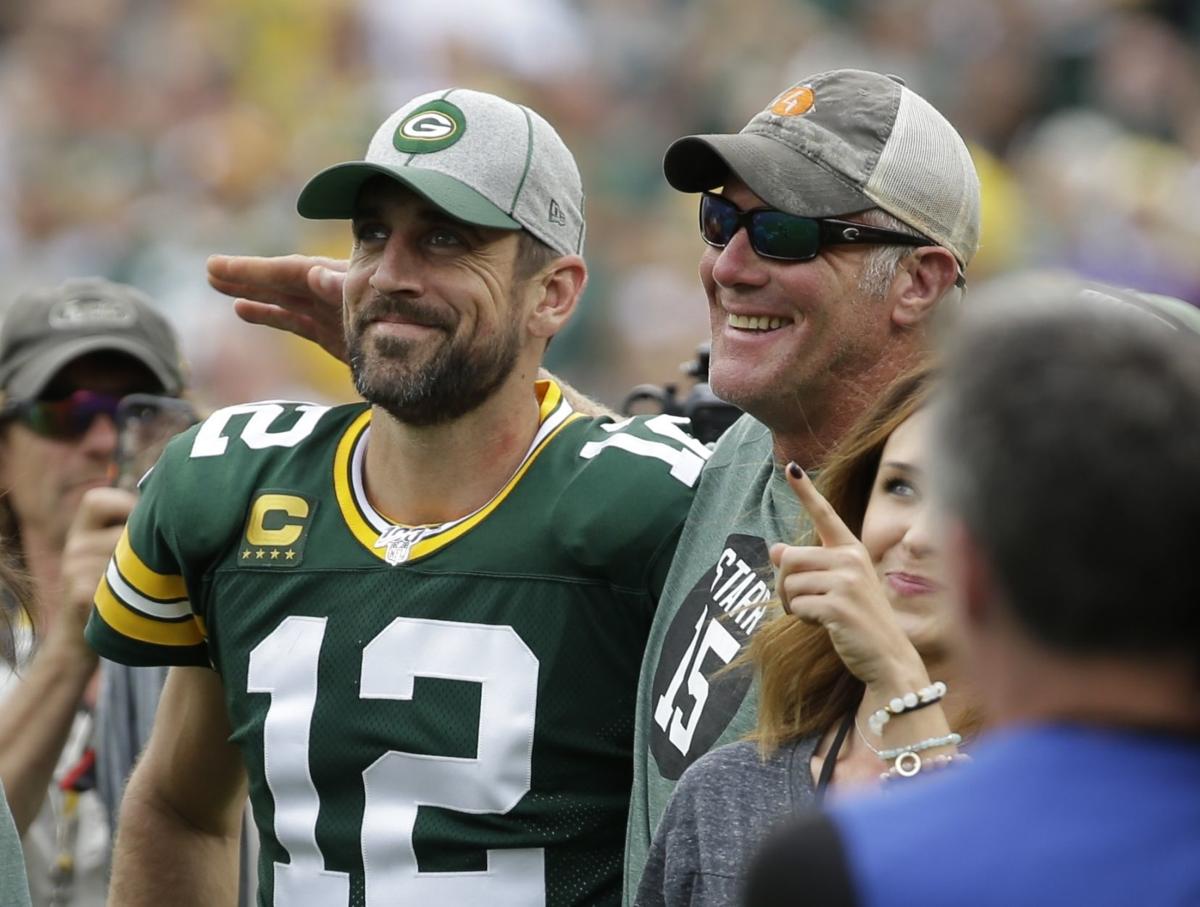 Of course, Brady launched the Great Quarterback Exodus when he waited out Belichick and left New England, seeing a better life with the Buccaneers. Now that he has proved his point, Rodgers and Watson are right behind him. In the bigger picture, this is the latest installment of the ongoing 21st-century series, "The Business Entitlement Of The Corporate Athlete." If LeBron James and Kevin Durant could bounce around to better situations, for their careers and lives, why not elite NFL quarterbacks?
Sometimes, you wonder if this rampant get-me-out-of-here-ism has become a bigger deal than the championship seasons themselves. I would say none of it is good for football or sports, but would the blinking banks of talk-show callers on hold agree with me?
Probably not.
Jay Mariotti, called "the most impacting Chicago sportswriter of the past quarter-century,'' writes a weekly media column for Barrett Sports Media and regular sports columns for Substack while appearing on some of the 1,678,498 podcasts in production today. He's an accomplished columnist, TV panelist and radio talk host. Living in Los Angeles, he gravitated by osmosis to film projects. Compensation for this column is donated to the Chicago Sun-Times Charity Trust.
Steve Levy Has Asked The Right Questions During Nearly 30 Year ESPN Career
"Whatever sport it is, I'm sitting next to experts on the subject. I think better than me giving my explanation of why something might have happened, why not ask the Hall of Famer who's lived it?"
In the summer of 1993, the price of a movie ticket was a mere $6. Over the preceding half a decade, Steve Levy lived in a high-rise apartment in New York, working in television and radio, launching his career in sports media.
In the "city that doesn't sleep," seeing a movie at 11 p.m. and grabbing a meal afterwards was not uncommon; it was the distinct culture of the area, and still is today. Native New Yorkers, while they are characterized by some outsiders as insolent, combative and egocentric, have their own unique ways of demonstrating the innate affability and tenderness.
It was a Tuesday night and Levy had just been honored with a goodbye party held by his family, friends and colleagues. He had recently left New York, something unimaginable for many young 27-year-old broadcasters looking to move up in the business, and relocated to Bristol, Conn.
Six months earlier, Levy's agent Steve Lefkowitz received a call from the "Kingmaker" and then-soon to be ESPN Vice President of Talent Al Jaffe looking to recruit Levy to join ESPN, located nearly two-and-a-half hours north. While the network had made Levy a substantial offer, he declined, opting to remain at home working with WCBS-TV as a sports reporter and WFAN doing updates on Mike and the Mad Dog and hosting its Sunday NFL whiparound coverage. Today, Levy is on the verge of celebrating his third decade working at ESPN.
The second time around, ESPN had significantly increased their offer to Levy, and he was told by his agent that the network would not likely give him a third opportunity to join. Feeling an attachment to the New York marketplace, Levy pleaded with television executives at WCBS-TV to promote him to the lead sports anchor; however, he was told that having a 27-year-old in that role would never work in the marketplace.
As he weighed his future and what would be a prudential decision for his career, Levy decided to officially put pen to paper and became a national broadcaster with ESPN, ending his time in New York, N.Y.
During his first week in Bristol, Levy was living in long-term housing provided by the network as he sought to become acclimated with the area and adopt a new lifestyle. On that particular Tuesday night, Levy was feeling apprehensive and lonely and decided to go out to see a movie at 9 p.m. Much to his surprise, he was the only one in the entire theater and thought the show would be canceled because of the meager turnout.
Instead, an employee of the theater knocked on the projection glass behind Levy and asked him if he was ready for the movie, to which Levy replied '"Yeah, alright, game on.'" Although he cannot remember the title of the movie he saw, that kind gesture began his assimilation to covering sports nationally, a role that has substantially expanded since his debut on Saturday, Aug. 7, 1993.
Merrick, N.Y. is just a short train ride away from "The Big Apple," the number one media market in the world, and is where Levy was raised. From the time he was young, he was conscious of the sports landscape of the area, closely following the NFL and NHL with hopes of one day playing professionally.
Just as many aspiring athletes eventually discover, Levy recognized he was "remarkably average" at everything, and while he was enamored with playing the game, knew it was not a viable career path for him. By instead pursuing a career in sports media, he could remain around the games with which he was enamored while significantly diminishing the risk of suffering formidable physical injuries.
"I had a chance for a long career without getting beaten up on a regular basis and it's really worked out," Levy said. "Honestly, I still sort of can't believe it. I know my parents can't believe it."
From the time he was 17 years old and approaching his graduation from John F. Kennedy High School in Bellmore, N.Y., Levy aimed to position himself to attain a sustainable career in sports media. When he was applying for college, he desired to attend Syracuse University, as it was known for its excellence in media studies and vast alumni network.
However, his parents only had enough money to send one of their two children to a private college. Since his sister was a better student than he, the State University of New York Oswego was where he would earn his degree in communications, concentrated in broadcasting. It ended up being the second-best professional decision he ever made, coming after joining ESPN; yet the latter may not have been as feasible without the former.
"Because they have all this great equipment and all these things for broadcasters to do, it was my understanding that freshmen, sophomores [and] sometimes even juniors don't get to do any of that because they're in such demand for all their great opportunities at Syracuse; you had to be maybe a senior even to be able to get near any of that stuff," Levy recalled. "At Oswego with lesser studios and lesser equipment, there were more opportunities to do it right away."
Indeed in his freshman year, Levy became a member of various student-run media outlets, including WTOP-TV, WOCR Radio, and The Oswegonian newspaper (where he began writing his own weekly column called "Levy's Lines"). By the time he was a junior, he was named the sports director of the television station and became sports editor of the newspaper in his senior year. Simultaneously, Levy worked with WABC-AM as a part-time reporter while in college, giving him early professional experience and exposure in the industry.
Once he graduated, Levy went to Hofstra University in Hempstead, N.Y. – not as a student, but to work in his first professional job compiling the "Jets Report" for WNBC-AM. Beginning in 1968, Levy's childhood team, the New York Jets, practiced on the school's north campus – sometimes in front of fans – until 2008. In this role, he worked at the radio station behind current Seattle Mariners play-by-play announcer Dave Sims and New York Knicks and NBA on ESPN play-by-play announcer Mike Breen, primarily assembling the "Jets Report" and filling in for them on the SportsNight program.
A couple of years later, Levy joined WFAN during its first year on the air as the host of The NFL in Action and a contributor on some of the station's radio shows, including Imus in the Morning and the aforementioned Mike and the Mad Dog. Rather than solely working in radio, Levy also joined the Madison Square Garden Network as a host of MSG SportsDesk and intermission updates for both the New York Knicks and the New York Rangers.
Being on the air professionally in New York City is no easy task for most broadcasters, especially recent college graduates; therefore it helps to have a keen awareness of industry trends and a wide array of connections to effectively get started. Luckily for Levy, his father was friends with a prominent broadcast agent who agreed to look at Levy's demo reel coming out of college. It was through this connection that Levy was introduced to Lefkowitz, and ultimately how he landed his first professional job with WNBC-AM.
Starting in 1992, Levy joined WCBS-TV, the local New York station, as a sports anchor and reporter, giving him the chance to cover the sports teams he grew up watching. Levy primarily worked on weekends, doing sports on Friday and Saturday nights alongside lead news anchor Brian Williams. At the same time, Levy remained at WFAN working four days a week on radio and was satisfied with his career. In short, ESPN was never the goal.
"I was not one of those people watching ESPN growing up and in college," Levy said. "I was strictly a local guy; I wanted nothing more than New York City."
Nonetheless, Levy signed a deal with the national network and found himself anchoring the 2 a.m. edition of SportsCenter with now-Sunday Night Baseball play-by-play announcer Karl Ravech – which was subsequently replayed 12 times through the morning hours. The half-hour program brought fans all of the scores and news around sports both at the professional and collegiate levels, covering every game despite there being commercial breaks.
"I recognize the power of that show and being national," Levy said. "I still love to go to games and I found myself still going to games as a fan. I'd go around and I'd see Charles Barkley at a game and he knew my name. Ken Griffey Jr. knew my name – and that was really weird to me…. That really made me think about the power of the show [and] the real responsibility of the show to get [it] right."
Levy, along with all of the network's young anchors, came in trying to emulate the styles of Keith Olbermann or Dan Patrick, the two lead hosts of SportsCenter at the time. That is, all but one.
"We all came in trying to be Dan or Keith and then you realize you can't be either of them because that's how great they are and then you eventually settle into who you are," Levy said. "Stuart Scott was special. He immediately knew who he was [and] he wasn't trying to be anybody else."
Over the years, Levy has gained a deep understanding of what players go through on a daily basis through his research and interactions with them. He is cognizant of the reach of the platform and how it has shifted, requiring the flagship show of the network to do more than just read scores to attract and enthrall audiences on a daily basis.
"It's real easy at 2 in the morning [when] you're wearing makeup sitting in Bristol to do bloopers [and] to make wise cracks," Levy said. "'Look at this guy. He can't catch that! Come on, man.' That kind of thing and then you go into the locker room and you see these guys the next day and all of a sudden, [it's] 'Wait a second, this is real.' If I make that same joke in New York about Ken Griffey Jr., there's no way he's seeing it but if I say that on ESPN; he, his family, the manager, the coaches, the general manager [and] all the fans [are] seeing it."
Beginning in 1994, Levy started his foray into national play-by-play announcing across many different sports. At the time, ESPN held national broadcast rights for the National Hockey League and found himself working with Bill Clement at a sold-out Madison Square Garden for a Wednesday night matchup between the New York Rangers and the Calgary Flames.
Once the Rangers advanced to the Stanley Cup Finals against the Vancouver Canucks, he worked with former NHL defenseman and head coach Barry Melrose bringing fans unparalleled coverage of the action.
Once ESPN reacquired part of the NHL's national broadcast rights in a seven-year agreement, the iconic theme song was re-recorded and the coverage was revamped in an effort to grow the game of hockey and reimagine the ways in which it is covered.
Before the start of last season, ESPN named Levy as the lead studio host for its NHL coverage and was tabbed to work with new analysts and members of the Hockey Hall of Fame, Mark Messier and Chris Chelios.
"I knew both of them personally prior to working with them," Levy said of his new colleagues. "I've really enjoyed the relationship we've had; I just wish we were able to do it on a regular basis…. In the second half, we'll get into a regular rhythm. I thought we were really clicking on all cylinders last year in the postseason and in the Stanley Cup Finals when I got to work with those guys on a regular basis."
Messier and Chelios had some previous experience entering their new roles as studio analysts, working with local and national sports networks and occasionally appearing as guest commentators.
In spite of that, Levy treated them like rookies last season, as it was their first substantial experience working regularly with a national platform, and is excited to continue their partnership and enhance the coverage of the sport.
"I can't throw them a curveball; they know everything," Levy expressed. "It's just [if you] can say it in 20 seconds and make it informative and be entertaining at the same time. That's kind of the trick. They've made great strides and I think come this postseason, we'll be really excellent, entertaining and a fun show to watch."
Levy continues to work as a play-by-play announcer on NHL coverage, and holds the distinction of calling two of the three longest overtime games in Stanley Cup Playoffs history – both of which took five extra periods to decide.
Additionally, he has been behind the microphone for the network's football coverage working with Brian Griese and Todd McShay calling weekly college football games on ESPN and ABC beginning in 2016. It is a role he worked earlier in his career on Friday nights from 1999 until 2002, and something that prepared him when he was named as the new voice of Monday Night Football in 2019.
As both a host and a play-by-play announcer, Levy describes his style as minimalistic, trying to make sure to read sponsorships and set his analyst up to effectively translate esoteric knowledge into concise, comprehensible points.
"I really feel that I know what I don't know and I'm never trying to fool anyone with all of my knowledge," Levy said. "I think that's a strength of mine because in whatever sport it is, I'm sitting next to experts on the subject. I think better than me giving my explanation of why something might have happened, why not ask the Hall of Famer who's lived it?"
Levy worked on Monday nights with Griese and Louis Riddick before the network reassigned him in a multiplatform role prior to this season, coinciding with the additions of Joe Buck and Troy Aikman to the lead television broadcast booth.
Throughout this NFL season, Levy called a Week 2 matchup between the Tennessee Titans and Buffalo Bills and a Week 8 international game from Wembley Stadium in London, England between the Denver Broncos and Jacksonville Jaguars. Additionally, he has called multiple NFL games on ESPN Radio, a challenge that has elevated his skills as an all-around broadcaster.
"All this stuff that I don't have to say on television where most of my career has been spent – I have to say all of that so that's really hard on the radio analyst," Levy said. "….The radio analyst has very, very little time to get in a story, an anecdote and be funny – all those kinds of things – and analyze the play. I really find radio difficult, [but it] it is really enjoyable."
Calling NFL games nationally requires a shift in preparation, as the broadcasters are not usually around the teams every week and, once on the air, are speaking to a broader audience. It demands extensive research, notetaking and interviewing in advance of each matchup to bring consumers a product they use to effectively follow the game and return to later for future matchups.
"You spend the majority of that week really drilling down – it's a ton of reading; it's a ton of talking to people; it's a lot of meetings but it's really enjoyable," Levy said. "I enjoy the process of preparing for an NFL game the way the week breaks down."
From the start of his career, Levy's talent as a broadcaster, combined with knowing the right people and taking chances on new opportunities, has propelled him into a stellar national television personality. Over the years, he has made cameos in various movies, including Million Dollar Arm, Tooth Fairy and Fever Pitch, and also hosts the annual U.S. Hockey Hall of Fame Induction Celebration.
At his alma mater, Levy was the recipient of the inaugural G.O.L.D. Award honoring distinguished graduates who have achieved success in their careers and also had the press box at the Marano Campus Center Arena named in his honor. He also maintains the Steve Levy '87 Broadcasting Summer Internship Fund which is given to a broadcasting student looking to gain professional experience and compensates their cost of tuition and housing expenses that may otherwise prevent them from doing so.
As he gives back to his community and makes time for aspiring professionals looking to enter the field, he compels them to seize any opportunity given to them and build relationships.
When he was working with WABC-AM, the station provided him a chance to cover the PGA Tour Westchester Classic in Rye, N.Y., and although he was not interested in golf, he learned about it and served as a stringer from the tournament. It helped him broaden his skill set and move up in the industry, as he knew that if he turned it down, somebody else would be ready to take the chance and therefore have a leg up on him.
Opportunities to stand out extend far beyond what one may see media professionals doing on the silver screen – and in such a competitive industry, they have the power to rapidly determine a career trajectory and overall potential.
"When you're coming out of college, nothing is beneath you in the business within reason," Levy expressed. "What I mean by that is if you're interning someplace and somebody asks you, 'Hey, can you get me a cup of coffee?,' go get the cup of coffee for that person…. Don't come in with an attitude. Don't come in with, 'I have a degree. This is beyond me; this is beneath me. I didn't go to Syracuse to go get people coffee.' Just go get the cup of coffee; I promise you it will work out."
Without doing the small things to advance his career, it would have been much more difficult, if not near impossible, for Steve Levy to establish himself as a versatile broadcaster at ESPN. By staying ready to take on anything thrown in his direction and carrying himself with alacrity and enthusiasm for the profession, he has become a venerable staple of sports coverage who has had the chance to cover many enduring moments over the last three decades.
"It's a relationship business, and all those things of 'Have your eyes open'; 'Have your ears open'; 'Listen more than you talk'; all those things you've heard; all the clichés," Levy said. "They're all very true and have all been very successful and really helped me out to achieve whatever success I have to this point."
Derek Futterman is a features reporter for Barrett Sports Media. In addition, he serves as the production manager for the New York Islanders Radio Network and lead sports producer at NY2C. He has also worked on live game broadcasts for the Long Island Nets and New York Riptide. He previously interned for Paramount within Showtime Networks and wrote for The Long Island Herald. To get in touch, find him on Twitter @derekfutterman.
How Stephen A. Smith Used Sports Radio to Continue His Pay-Raise Crusade
t Stephen A. knows how to stay relevant, and migrating his influence to radio hits on several stations keeps him relevant, it keeps First Take relevant, and more importantly, it keeps ESPN relevant.
There's a saying in the entertainment industry: "The devil works hard, but Kris Jenner works harder". ESPN's Stephen A. Smith is the sports world's embodiment of Kris Jenner's "always find a spot in the limelight" approach.
Smith has been adamant for a few weeks now that he is underpaid at ESPN, going as far to claim he takes less money so others can get paid more than they should. There have been many who have taken stances against that insinuation from the First Take panelist, but that's not what this column is going to be about.
Stephen A. is the king of staying relevant and constantly being in the conversation. ESPN is the king of creating an echo chamber to amplify outlandish opinions. It's truly a match made in heaven.
And yet, I couldn't help but notice Stephen A. broadening his hot-take horizons this week by poking the bear of local sports radio hosts. Honestly, it was a brilliant play.
Smith picked a fight with 105.3 The Fan morning hosts Shan Shariff and RJ Choppy this week during his comments centered on the Dallas Cowboys. Shan and RJ played right into Smith's hands by spending significant portions of their show discussing his comments, and then welcoming him onto their program for more than 20 minutes.
Later in the same day, Smith created headlines by being in a slight contentious interview with Steiny & Guru on 95.7 The Game in San Francisco where he called the hosts "ridiculously clueless" for their opinions that the Warriors dynasty is over.
Give the man credit, he's not dumb. He knows what does and doesn't work, what does and doesn't create content, and what does and doesn't create ratings. I've seen many decry the ratings of First Take as the reason Stephen A. Smith isn't underpaid. My rebuttal would be what would the show's ratings be without him. I think we all get into the mindset that ESPN pulls a couple million viewers for each show simply because we turn the TV on, we flip it to ESPN, and it stays there while you scroll through — apparently dying — Twitter. ESPN is constantly on at sports bars and doctors offices, therefore Stephen A. Smith's influence is exaggerated, is generally the consensus by many.
But Stephen A. knows how to stay relevant, and migrating his influence to radio hits on several stations keeps him relevant, it keeps First Take relevant, and more importantly, it keeps ESPN relevant. It seems to be a sort of sports network playbook to have someone that can go on radio shows and spit a little hot-takery.
Think about it. ESPN has Stephen A. Smith, coupled with Dan Orlovsky for the NFL and Paul Finebaum for college football. FOX has Nick Wright, and NBC has Chris Simms and Mike Florio. These guests appearances all come back around to "listen to my (network produced) podcast" or "watch my (network produced) television show" where they say those same things. It's promotion plain and simple, but it rarely turns into "because I'm on your show, think about me and how much money I should be paid", but credit to Stephen A., the man is pulling it off.
Sports radio offers an expanded reach that First Take alone doesn't provide. I don't know that that's an opinion as much as it is a fact. On a recent episode of The Sports Talkers Podcast, Pro Football Talk's Mike Florio told Stephen Strom he has never spent one dollar on advertising his website. He did, however, accept any and every opportunity to appear on sports radio shows to serve as a quasi-insider for the show, and push people to his website.
Now, why would Florio do that? Because sports radio works. It's a great promotion tool. And Stephen A. would know that as well as anyone.
In a crusade to point out you should be paid more, spouting it from the rooftops of your mid-morning television program alone isn't going to get it done. You have to take your message to the people. And that's exactly what Stephen A. Smith has done.
Garrett Searight is the Editor of Barrett Sports Media and Barrett News Media. He previously was the Program Director and Afternoon Co-Host on 93.1 The Fan in Lima, OH. He is also a play-by-play announcer for TV and Radio broadcasts in Western Ohio.
Seller to Seller: Larry Rosin, Edison Research
Jeff Caves is a sales columnist for BSM working in radio, digital, hyper-local magazine, and sports sponsorship sales in DFW. He is credited with helping launch, build, and develop SPORTS RADIO The Ticket in Boise, Idaho, into the market's top sports radio station. During his 26 year stay at KTIK, Caves hosted drive time, programmed the station, and excelled as a top seller. You can reach him by email at jeffcaves54@gmail.com or find him on Twitter @jeffcaves.