Brady Teaches Us The Deeper Meaning Of Life
At a time when the human soul craves joy and fun, the legend delivered heavy doses, furthering his incomparable legacy with a seventh Super Bowl title that trumps the laws of age and genetics.
Before he told Tyrann Mathieu to kiss his 43-year-old ass, before he gave America an inspirational catharsis, before he gifted Rob Gronkowski twice and changed Antonio Brown's life, before the latest stupid Kansas City penalty and sideline squabble, and before Andy Reid struck the sad image of a man whose son is in deep trouble, Tom Brady looked around the stadium — as Planet Earth looked at him — and cracked a smile.
He knew.
He never does this, not until four zeroes are divided by a colon on a Super Bowl clock. But with the Chiefs undisciplined and unraveling, as a report was surfacing that Patrick Mahomes needed offseason toe surgery, Brady realized early in the night that he was successfully puncturing the cocoon of the supernatural — and walking into a heavenly place no athlete had gone before. If he'd come this far in what only can be viewed as an eternal science experiment — defying the laws of age and genetics, removing himself from the Bill Belichick grinder, resisting those who are tired of his mug, moving to Florida as older people do to keep on living — then why wouldn't he keep beaming until the inevitable was official? Why wouldn't he later feel this victory in the third quarter, thrusting an index finger in his adopted town so his wife, kids and parents could see it?
I won't be the knee-jerker who now anoints Brady as the Greatest Athlete Of All Time. Having covered Michael Jordan throughout the '90s, I cannot go there in another raging, unresolvable sports debate. But what Brady has done amid the horror of a pandemic and in the square of his own midlife — instantly transforming the wayward culture of the friggin' Tampa Bay Buccaneers with his seventh championship and fifth Super Bowl MVP trophy — has to rank as the Most Inconceivable And Mind-Blowing Sports Achievement Of My Lifetime. Sorry if it doesn't have a cute acronym like G.O.A.T., which he already had claimed by NFL standards, but if Sunday was an unnecessary defense of his legacy, he only enhanced it with a message we all should heed right now.
Appreciate and embrace what you have.
Then, squeeze the living hell out of it and maximize it.
"You get this far and you wanna get the job done, and we did it," Brady said. "We just believed. I'm so proud of the guys."
And his self-assessment, after a championship run that has spanned six presidential terms and too many Apple products to count? "Just blessed," he said without adding much, allowing his actions and visuals to speak for him.
In a Super Bowl that will be remembered for fun right down to the comedic TV commercials, in a world that desperately needs to smile and laugh, Brady rediscovered the joy of life. That's what he has taught us in some of the worst times of our lives. If you thought it was strange seeing Vince Lombardi brought to life digitally on the pregame video board, we're left to wonder if Brady, too, is a tech-created cyborg. That he finalized the miracle in his new stadium, a few miles from the mansion he rents from Derek Jeter, makes it all the wilder. He's the face of a virtue that more of us should adopt — never letting anyone tell us when we're finished — as he extends new boundaries of longevity not only for quarterbacks but all workforce members longer in the tooth. So much for the Next-Gen wave of dual-threat QB wizards, symbolized by Mahomes, who want his rings and glory and were supposed to push his old-man dropback into oblivion. He still isn't budging, and that much was clear when Brady, hearing Mathieu's trash-talk while the Chiefs were falling behind, chased down the Honey Badger and got in his grill with choice language.
"I never really saw that side of Tom Brady, to be honest," Mathieu said later. "But whatever. No comment. It's over with. … It's football."
No, it's foolishness. And it's the latest chapter in a Brady axiom book they'll be discussing decades from now. You don't make him the 199th pick in the draft. You don't call him a product of Belichick's system. And you don't try to rattle him when he's embarrassing you and becoming the first player to win Super Bowls in three different decades. Brady now says he'll consider playing past 45, and while I pondered suggesting he complete a perfect script and go out on top, I won't be caught in that idiot's trap again after saying it two years ago. Besides, he already has answered the question.
"Yeah, we're coming back. You already knew that," Brady said on the podium before walking the confetti-covered field with Gisele and the kids, never happier.
So this one doesn't mean more than the six titles in New England? "I think they're all special," he said. "I'm not making any comparisons. Experiencing it with this group of guys is amazing."
And why can't he keep winning? We can doubt his TB12 wellness plan, ask if his reverse-aging involves something sinister in a lab. We can ridicule his plant-based diet and doubt the legitimacy of personal trainer abd business partner Alex Guerrero, who comes off as a mesmeric Svengali. But no matter how healthy he is and how good he looks, no matter if he has no wrinkles on his face and his teeth are whiter than the NFL ownership ranks, he still must go out and play ball with a team in sync with his dedication, ideals and grand plan. That he could instill those qualities in less than a year is why he's the MIMBSAOML. I repeat: He is performing at a higher level at a more advanced age than any athlete ever.
In generational terms, he has struck a heretofore impossible blow for every person in his mid-40s who has been insulted or marginalized by a Millennial or Gen-Zer, staring down Mahomes — the NFL's present and future — and then beating him with his mind, experience, guile and health. In sporting terms, he has proved there can be such a thing as a Brady System, improving everyone in a franchise with his presence and reimagining an owner, coach and general manager as his partners, not his superiors. Brady didn't execute this 31-9 rout by himself. Todd Bowles' defense punished and staggered Mahomes, who didn't have his two starting tackles and was running around gingerly and aimlessly, throwing prayers that weren't caught and winding up dazed in a Buccaneer sandwich that couldn't be helped by his beloved ketchup. Leonard Fournette and the running game established a prelude to the aerial game.
And when Brady did pass the football, he was as efficient and deadly as he was in his 20s, 30s and earlier 40s. With a wealth of weapons he never had in Foxboro, he easily picked holes in a disoriented defense to find his old buddy, Gronk, with two touchdown passes that might have had a certain grump in Nantucket heaving his TV remote. He also found an end-zone recipient in Brown, whose career was left for dead after countless legal issues, only to be rescued by the humanitarian in Brady — who saw a chance to help a troubled soul and, of course, add a receiver who could help win a championship.
Recalling how he wound up in Tampa after a brief retirement, Gronkowski said it wasn't an immediate given he'd join Brady. "A series of conversations," he said. "It wasn't, `Hey, Rob. I want you to come to Tampa.' Free agency hit, and I was sitting there. He hit me up and said, `Would you come down?' I said, `I've been waiting for you, waiting for you to make a move.' To come here and have a situation like this, with an organization that was ready to win, it's just unreal. Surreal, man."
When Brady was on his postgame Zoom interview, he had nothing to say about his legacy. "You know, man, we've been grinding pretty hard. I haven't had time to think about things like that," he said. "I'm just grateful for my teammates, all the people who have supported us." But he did brighten when he spotted Gronk in the back of the room.
"Robby G! Congrats, baby!" he said, grinning while thrusting a triumphant fist. "I'll see you later."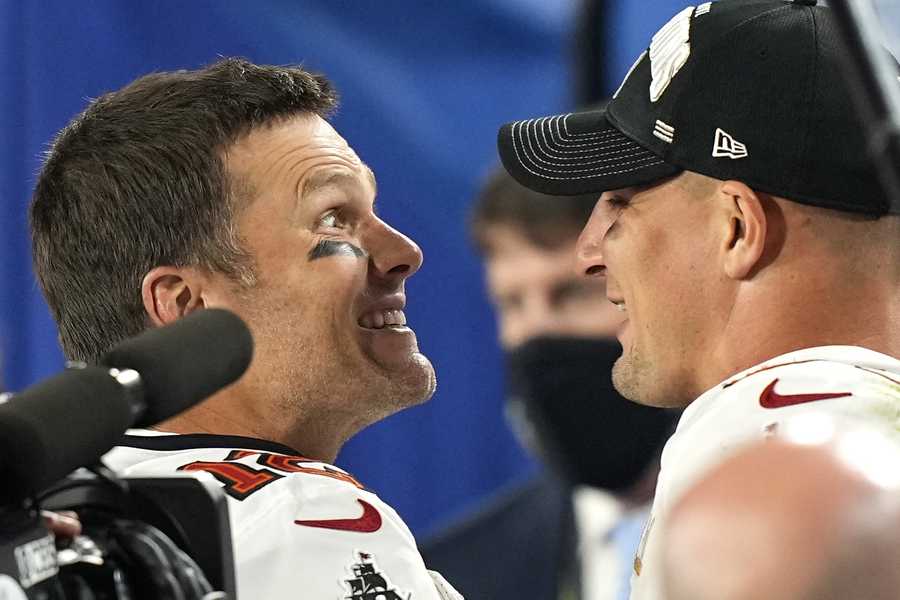 In frozen New England, Patriots fans were aghast and asking if he was poking fun at Belichick. In Tampa Bay, where a fourth-quarter streaker slid into the end zone in a hot-pink onesie, the folks are celebrating the championships of the Bucs and NHL Lightning and the World Series appearance of the Rays. Tompa Bay?
Try Champa Bay.
If fun was the watchword, the Chiefs weren't having any. They may have lost this game Thursday night, in a three-car crash near the team's practice facility, where Reid's family tragedies continued to spill into public view. His son, Britt, the team's outside linebackers coach, was driving a white Dodge Ram around 9 p.m. when he struck a Chevrolet Traverse that was pulled off the side of an Interstate 435 on-ramp. A five-year-old girl in the car was rushed to the hospital, where she reportedly is fighting for her life as photos circulate of her hooked to medical tubes. Britt Reid, according to Kansas City police, said he had consumed two or three drinks and taken Adderall. One officer said his "eyes were bloodshot."
This was the return of a father's worst nightmare. In 2007, while Andy Reid coached the Philadelphia Eagles, Britt Reid spent time in prison after pleading guilty to flashing a gun at another motorist in a road-rage incident. Months later, he was arrested again and charged with DUI and drug possession. In 2012, Britt's younger brother, Garrett, died from an accidental drug overdose at Eagles training camp after years of abusing heroin and prescription pills. A judge referred to the Reids as "a family in crisis" living in a home, on the city's affluent Main Line, that he described as "a drug emporium." When Andy Reid headed to Kansas City, it symbolized the rebirth of his family and his career, and his first Super Bowl title last year seemed to signal a Chiefs dynasty.
Now, you wonder how much longer Reid can go on in a small market whose beloved football franchise has been tortured through time by continuous tragedy. Did a feel-good story just go dark?
"My heart goes out to all those who were involved in the accident, in particular the family with the little girl who's fighting for her life," Reid said after the game. "I can't comment on it any more than what I am here. So the questions you have, I'm going to have to turn those down; but just from a human standpoint, my heart bleeds for everybody involved in that."
His players weren't prepared for the Super Bowl, the chance to become the first NFL team to repeat in 16 years. "I didn't see it coming at all. I could have done a lot better job to put these guys in position to make plays," Reid said. "Our guys busted their tails. It didn't work out."
Said Mahomes, weary and battered in his return to Earth: "They beat us pretty good, worse than I've been beaten in a long time."
As the Chiefs escaped Tampa as quickly as possible, Brady soaked in a satisfaction that apparently never gets old. His best comments were in his hype video, posted before the game, when he channeled a Liam Neeson film and said, "In this journey, there's no final destination. There's only the next one. In the pursuit of perfection, the only thing that counts is the journey itself, the pursuit itself and those who give their lives to it; this moment and the focus required to seize it; this fight and the commitment required to face it. Because there's no such thing as perfect, there's only the relentless pursuit of perfection. That is our cause. That is what makes us a team, and that is why we're still here.
"So, once more into the fray, to live and die on this day."
If anyone else was speaking, we'd bash them for too many cliches.
But this was Thomas Edward Patrick Brady, Jr. So we'll treat it as gospel, forevermore.
Imagine If Sports Media Had To Justify Its Own Tucker Carlson
"Of course Tucker Carlson lies. Even his most dedicated fans think he lies."
Last week, our partners in the news media department posted a story about Tucker Carlson. It was about a recent interview the FOX News host did with some guy on YouTube. In the interview, Carlson admits that there are times he blatantly lies on his show – the most popular show that is broadcast by what is ostensibly a news channel.
"I guess I would ask myself, like, I mean I lie if I'm really cornered or something. I lie," Carlson told Dave Rubin. "I really try not to. I try never to lie on TV. I just don't – I don't like lying. I certainly do it, you know, out of weakness or whatever."
When I first read this story, I just dismissed it. Of course this jackass lies. Even his most dedicated fans think he lies. There is just no way he is actually as stupid as he pretends to be when he makes that "I am shocked by what I just heard" face. You know the one. It looks like he just discovered there's a Batman movie where the suit has nipples.
I tried to dismiss it, but then later in the week came his impassioned plea to Nicki Minaj's cousin's friend to come on TV to discuss his balls after the rapper tweeted a story about how the Covid vaccine made this guy's testicles swell and thus ruined his potential wedding.
It is a clip that was passed around Twitter thousands of times. It showed up in my feed over and over with comments like "This is THE NEWS in 2021" and "I never want this man to stop talking about Nicki Minaj's cousin's friend's balls."
Can you imagine if Carlson's bullshit was acceptable in sports media? I could write the same thing about FOX News in general, but let's keep this focused on Tucker, because this past week he crossed the rubicon into a special category of absurd.
There are plenty of people in sports media that will go on TV and explain to you why a loss is actually good for a team or why undeniable greatness is actually unimpressive. This is someone going on TV and telling you that it doesn't matter what you saw with your own two eyes on Thursday night, the Giants actually beat Washington or that the Brooklyn Nets can be dismissed as title contenders because there is no proof that anyone on their roster has even been to the All-Star Game.
I have written in the past that news commenters, be they on radio or television, do not impress me. Those people are not original or interesting at all. They aren't even talented. I'm only bringing up that opinion to be completely transparent.
Sports Tucker Carlson would be a totally different animal. In fact, such a thing would be unacceptable.
Now, I am sure some of you are out there shouting that sports media does have a Tucker Carlson. In fact, the sports Tucker Carlson works for the same company that the real Tucker Carlson does. His name is Skip Bayless.
Look, I hear you. Skip brings no sincerity to anything, but I also don't think Skip has any values he is trying to push. His takes are ridiculous for the sake of being ridiculous. ALL HAIL THEM CLICKS!
Besides, the great thing about sports broadcasting in general is that the stakes of what we are talking about are pretty low. Creativity and absurdity are welcome. None of this is important, nor is there any illusion that it may be. No one is showing up at the Capital with zip ties and bear mace demanding the Chiefs be re-instated as Super Bowl champions or screaming at doctors that the Covid vaccine is a scheme to return Miami to relevance in the college football world.
Putting on my programmer hat for a second, I just cannot imagine how to justify a Tucker Carlson. Then again, my programmer hat was not made and fitted by people trying to pass performance art off as news. So, maybe me not getting it is the strategy.
Either way, this, to me, feels like very good information to take to advertisers next time they question the desirability of a sports radio audience versus a news audience. Our listeners are passionate, intelligent people looking to be entertained and engaged by conversations about their favorite teams and they're willing to support the people that do that for them. The most popular name in news talk admits that he lies when the facts don't match up to the story he wants to tell. The reaction from the public is "well of course he does." Which one would you rather have your brand associated with?
Back To Basics: Teases
"If we think about this from a very basic level, we need listeners to hold onto our signal as long as we can possibly keep them."
I think one of the things I love about radio is how theoretical a lot of our strategies can be. We assume a lot in this business, and its largely because we have to. We assume we know what topics our listeners want to hear, we assume they know things that might actually need more explanation, and sometimes we assume they're just going to stick around because they like us. Sure, there are metrics that you can follow, trends you can keep track of, and social growth that helps gauge your impact, but largely a lot of the content we put out, and specifically the way we put it out, we're just hoping it lands.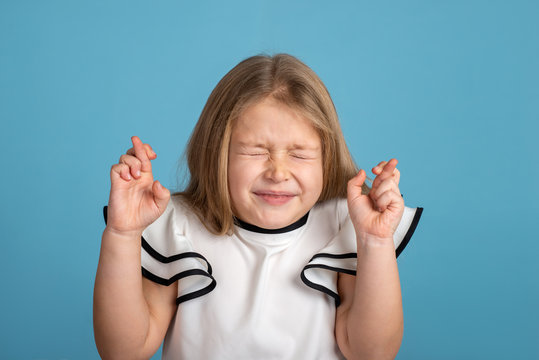 I think one of the easy tactics to lose sight of when you're going through the daily gauntlet of hours of talk time, is the good old fashioned radio tease. In an ever-increasing world of digital tracking and analytics, the value of a tease going into a commercial break can be difficult to track. And because we don't know its true impact it can easily be forgotten or just ignored altogether. To me, this is a massive mistake and a big opportunity lost. Sometimes, we just need to let common sense prevail when determining what is and is not worth our time.
If we think about this from a very basic level, we need listeners to hold onto our signal as long as we can possibly keep them. How do we do that? Compelling conversations, debates, interesting interviews, and personality they can't find anywhere else. All of that is great, but at some point you'll need to go to commercial break, and no matter how likable or entertaining you think you might be, 6 minutes of commercials is likely going to take your average listener across the dial to a new location. So, how do you keep them or at least ensure they'll find their way back? Give them something they need to know the answer to. Again, I'll ask you to think about this logically: Which one of the examples below is more likely to keep a listener engaged through a commercial break?
Example 1: "More football talk, next!"
Example 2: "Up next, the one move that will guarantee Brady another ring, right after this!"
We all know the answer. Example 2 gives the listener something to think about. You've provided just enough information that you have them thinking, while creating a gap of information that they will hopefully want filled. Yet, we opt for Example 1 way more than we should. Myself included. It's lazy and more than anything it's a lost opportunity to keep a listener.
The most loyal/die-hard members of your audience aren't going anywhere, so it doesn't matter how you go to break for those individuals. The least loyal, who maybe like your show, but they are just jumping around every day in their car or online, they aren't sticking around no matter what you say. It's those in the middle, the one's who are looking for, usually subconsciously, a reason to stay or comeback. That's the audience you're providing this tease for.
Teases are not for your most loyal listeners, teases are for people that are stopping by to see what you have going on, which is the majority of your overall CUME. If you can hook those casual listeners, even just a few, to stay through a commercial break and listen to a fertility clinic commercial, then you've done your job as a host.
I find the best radio tease is direct, a good description that leaves the audience hanging for an answer or your opinion on the issue. Nebulous or nondescript teases don't give the audience enough to sink their teeth into, you want to leave them guessing but if they guessing too much they'll probably lose interest. You want to make them think, you don't want them to have to solve a puzzle.
Example 1: "Could Aaron Rodgers be subtly hinting where he wants to play next?"
Example 2: "A player makes it known he wants out, but where does he want to go?"
Both examples above are fine, it's certainly a step up from the "more football, next" tease but Example 1 provides the listener with something specific enough for them to start thinking of answers in their own mind, thus creating that desire to see if their idea matches up with what you are about to tell them. Giving the listener a player or team that you know most of them care about, plus a level of mystery, equals a good/solid tease that is more likely to keep them hanging on through the break. Example 2 is good but the problem I find with those is that they're so nebulous that you aren't sure you care as a listener. You might want to know the answer, but without a solid description, you give the audience a chance to decide that they don't care or you just simply miss the opportunity to elicit a response by not drawing attention to an item that they are passionate about.
The next step in all of this is making sure you follow up on what you tease. You might only get a couple opportunities to mislead a listener before your teases mean nothing to them in the future. If you say you are going to talk about Alabama's dominance in the SEC around the corner, make sure you do it, and if you aren't able to, I think its only fair to draw attention to the fact that you couldn't follow up on it. Apologize and move on. It's live radio, things happen, and I think people listening understand that but you also have to be respectful of the time they are giving you.
Bottom line is, teasing is a radio parlor trick and it's an easy one to lose sight of. We don't prioritize them as much as we go along in this business, whether that be for egotistical reasons, laziness, or just not prioritizing them as part of the show prep process. Treat your teases with seriousness and a level of priority, the same way you do with the topics and content you create. We all know we're not reinventing the wheel, there's nothing that we can say that hasn't been said 100 times in the sports talk sphere, but portraying that to your audience is doing them and yourself a big disservice.
Athletes Are Making Their Money In Content
"Jordan's example has led to the next generations' emergence in entertainment, media, and sports. It is an emergence that is beyond in some ways what Jordan has accomplished."
In many ways, the voice of athletes started its exponential growth with the introduction of social media, where every human being has access to a personal broadcast channel to express themselves, their passions, stories, and ideas.  The athlete as an artist immediately expanded from highlight reel to Hollywood film and television reel as a content producer.  However, it was The Players' Tribune, founded by Derek Jeter in 2014, that jumpstarted the athlete-driven voice of content, first in writing, and later in video, polls, and podcasts.  
Michael Jordan was the first international athlete that made millions in sponsorship money—selling his name or attaching his name to products for the purpose of endorsing them for a profit.  He also starred in the Warner Bros. live-action/animated film Space Jam.  Jordan turned those partnerships into ownership of an NBA basketball team and a partner and focus of one of the most iconic athletic brands in the world, Jordan/Jumpman (Nike).  More recently, Jordan was the focus of the Emmy award-winning The Last Dance docuseries about the NBA Chicago Bulls six championships and more specifically the sixth and final trophy for Air Jordan his Bulls team.  He also co-owns a NASCAR team with Joe Gibbs.  
Jordan's example has led to the next generations' emergence in entertainment, media, and sports. It is an emergence that is beyond in some ways what Jordan has accomplished.  However, that is the point—the mentee should always outperform the mentor with proper, training, guidance, and a little luck too.  Where many athletes have pursued broadcasting work as color analysts during and after their professional careers in sports, Jordan did not pursue these avenues or seek to open a television or film production studio to develop entertainment, media, and sports content.  
The direct-to-consumer approach of Hollywood and sports networks through streaming platforms, combined with the introduction of athlete voices through social media and podcasts has led to more opportunities.  Los Angeles Laker LeBron James launched his SpringHill Company in 2020 not long after joining showtime in Tinseltown.  SpringHill is a content studio that develops and looks to other studios for major production and distribution.  LeBron has the sponsorship advertising prowess, but can also add documentaries and feature film content to his resume.  
Kevin Durant launched a podcast titled "The Boardroom" through his company, Thirty-Five Ventures.  With YouTube on par with Netflix in revenue (minus the paywall), it provides another direct-to-consumer platform for everyone and more opportunities.  Steph Curry launched Unanimous Media in 2018 as a content and production studio, originally in partnership with Sony Entertainment, now the studio is partnered with Comcast owned NBCUniversal in the $10 million dollar range.  
The media has deemed the Curry deal a first, which is noteworthy, but so is the faith and family focus of Curry's programming that will span many brands in the NBCUniversal entertainment family. Curry will join the NBC broadcast for the Ryder Cup as an analyst and host and interview guests for an educational series, which does not include film projects and the second $200 million dollar basketball contract Curry signed in 2021. Chris Paul, Kyrie Irving, and Dwayne Wade have been involved with film projects of their own. Tim Tebow is a nationwide celebrity and motivational speaker, not to mention a world-renown athlete and person with a big heart towards faith and philanthropy.
Peyton and Eli Manning also have their own broadcast for Monday Night Football.  Peyton also starred in the very successful "Peyton's Places" that will have season two launched soon on ESPN+.  Both are produced by Peyton's Omaha Productions.
Speaking of Disney brands, the company's 30 for 30 is still one of the main catalysts for highlighting the struggles and triumphs of athletes.  Hard Knocks, Ballers, and Jerry Maguire also gave insight into the world of sports beyond the field, statistics, and championships.   
The growth of entertainment, media, and sports has been and continues to be exponential.  Some additional areas to watch include development of series and docuseries in baseball, hockey, soccer, and in other popular, but not the big five sports in America (e.g., lacrosse, cricket, etc.).  With women's sports receiving more attention on television, there are tremendous opportunities for growth in entertainment production particularly in women's soccer. 
To date, NBA players have dominated the entertainment, media, and sports landscape for Hollywood production.  However, to each their own, because some stars love developing content, others love speaking about content, and still others love to own content (particularly in the form of brands and franchises) (see Michael Jordan and Derek Jeter).  Indeed, the era of athlete as Hollywood producer is upon us.