Somewhere out there, someone has heard the audio. Technology, after all, is the enemy of the cover-up conspiracy. There were too many boom mikes on the field in Tampa not to pick up whatever Tom Brady said to Tyrann Mathieu, a comment sensitive enough that Brady texted an elaborate apology to Mathieu after Super Bowl LV.
"I've never really seen that side of Tom Brady, to be honest," Mathieu said in a postgame interview.
Later, in a since-deleted tweet, Mathieu added, "He called me something I won't repeat, but yeah, I'll let all the media throw me under the bus as if I did something or said something to him."
Which prompted Brady, in a text that was read "out loud" to an ESPN reporter so it would be on public record, to write he was sorry for losing his poise and angrily confronting him, calling Mathieu "the ultimate competitor" and claiming he screamed at him in an attempt to match his intensity. Brady also said he wants to apologize in person to Mathieu, a mea culpa that was unusually detailed if he simply participated in typical football trash talk, such as "a—hole" or "f—wad" or even mother references.
This is where the NFL wants the story to end, of course, in the interest of preserving Brady's ageless, god-like, G.O.A.T.-ish legacy and maintaining the league's upbeat vibes after completing a pandemic-tangled season with zero canceled games.
Attention sports media: We cannot let it end there, not in 2021 America.
In the more important interest of truth and transparency, the media should demand that the NFL and its Sunday broadcast partner, CBS, publicly release the entirety of exchanges between Brady and Mathieu. Because if the league and network continue to sit on the audio in this racially divided country, many people will be inclined to think the worst and wonder if Brady used a racial slur. Fair or not, Brady kept a MAGA cap in his New England locker five years ago as an acquaintance, if not good friend, of Donald Trump. So Brady should be the first one demanding the tape be posted online to clarify any wandering imaginations, in that he's among the most prominent White men on the planet — and Mathieu is Black.
Unless, I don't know, Brady did say something that would severely damage his legacy. Which might explain the eerie silence.
Has there ever been such commotion over a comment when we have no idea what was said? Mathieu could do America a favor by simply telling us, but it's clear he has been muzzled by the Kansas City Chiefs and/or the league, as evidenced by the deleted tweet. In addition to a miserable defeat to Brady and the Tampa Bay Buccaneers, the Chiefs are dealing with a disastrous public-relations issue. A five-year-old girl continues to battle life-threatening injuries after Britt Reid, the team's outside linebackers coach and son of head coach Andy Reid, drove his white Dodge Ram into a parked car in which the girl was a passenger. According to Kansas City police, Britt Reid said he had consumed "two or three drinks" and taken Adderall, his latest problem in a long battle with substances.
Think the Chiefs want Mathieu adding to their issues by revealing what Brady said or didn't say? They just want him to shut up. So, unorthodox as it sounds, the league and Brady should collaborate on a statement and explain what was said, audio included. If the media are participants in the glorification of Brady — which, in turn, bolsters a triumphant NFL narrative that its health success was accompanied by a historic Super Bowl storyline — we deserve the complete, unvarnished story about the saucy exchange. That way, the public decides whether Brady deserves the worship he's receiving after winning his seventh championship and fifth Super Bowl MVP award at age 43.
The legacy business can be cruel. Ask Patrick Mahomes, whose face — which symbolized the league only days ago — is now droopy. "It was a bad feeling in that locker room after the game. You don't want to have that feeling again," he said a day after the 31-9 loss. "It's not the end of something. It's going to be another chapter where we're going to have to continue to drive to make ourselves better so we're back in that game."
Humiliating as the night was, Mahomes also had to deal with his mother's embarrassing tweets. If it's understandable why she was upset about the rash of penalties called against the Chiefs, Randi Mahomes didn't shower the family in glory when she sniped at Brady's wife, Gisele Bundchen. "If you really have the ref on your team is that really winning!!! @giseleofficial lol," she wrote, adding crying and laughing emojis. What's amazing, in our astonishment over Brady's age-reversal story, is that Randi wasn't yet a year old when he was born in 1977. Too bad she's acting half her age. Randi then fired at ESPN, the network she admonished earlier in the season for referring to her son as "Pat" during a Monday night broadcast. "Love our chiefs!! Heartbroken to see how @espn @SportsCenter tried making fun of my son," she tweeted. "But i know his heart and love for his team and chiefs nation! Thank you chiefs fans.. don't forget these are someone's sons." Somehow, I don't think we'll forget that Patrick Mahomes is Randi's son.
America isn't in the mood right now to protect sports legacies. If Tom Brady just lost his cool and fired a playground term, fine. If he lathered Mathieu with a slur, yes, the public should know, as a country addresses social injustice of all forms. This story is not dead, by any means.
As they say, go to the tape. And if CBS says no, it can't hear anything, ask why it was so easy to hear Brady screaming to his coaches, "No! No! Same! Same!" — and "Gronkowski!" — with 13 seconds left in the first half, just before he hit Antonio Brown for a devastating third scoring pass.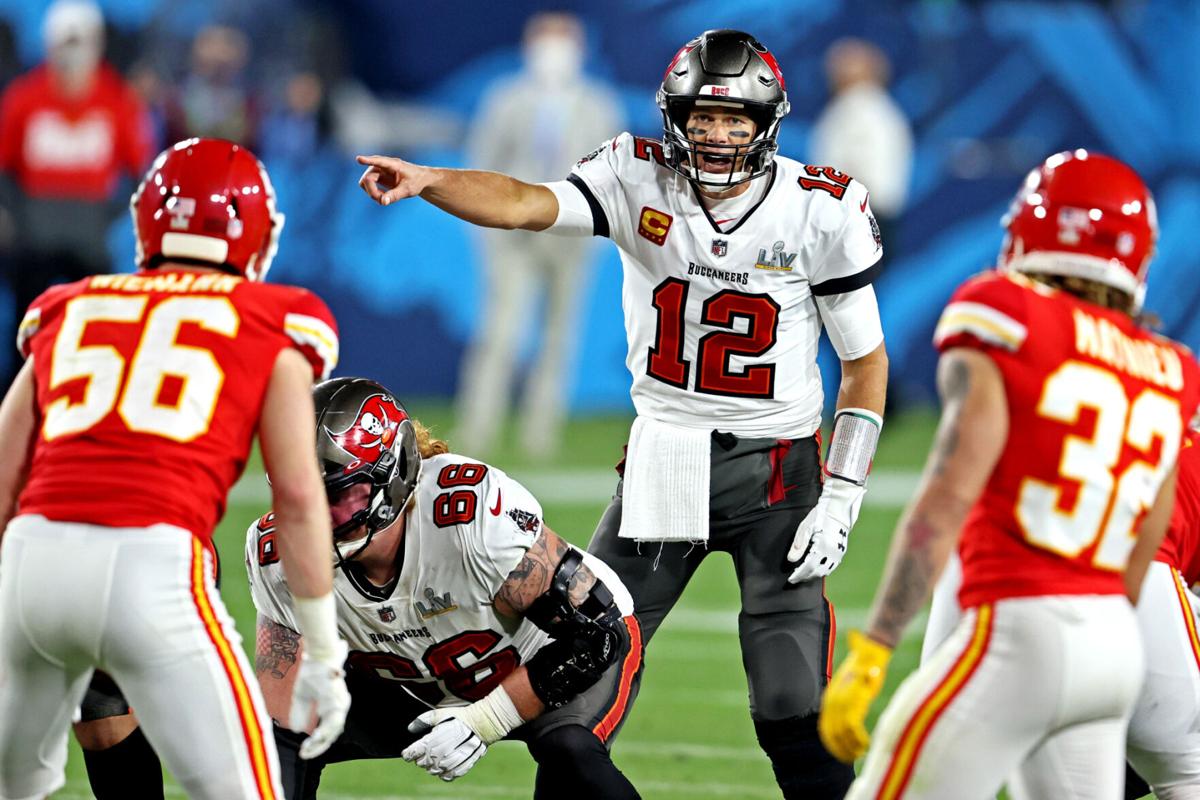 The leagues can lie. The legends can lie. The networks can lie.
The boom mikes don't lie.