Sam Ravech's debut appearance on ESPN likely came during the 2004 World Series. His dad, Karl Ravech, was hosting Baseball Tonight from the right field bleachers at Fenway Park and nine-year-old Sam pleaded to tag along for the night. His wish was granted but a cold Fall evening in Boston meant young Sam was underneath the set of Baseball Tonight, lying by his father's feet and hugging a space heater to stay warm. Unbeknownst to both Sam and Karl, his right shoe was sticking out of the bottom of the set while the show was live.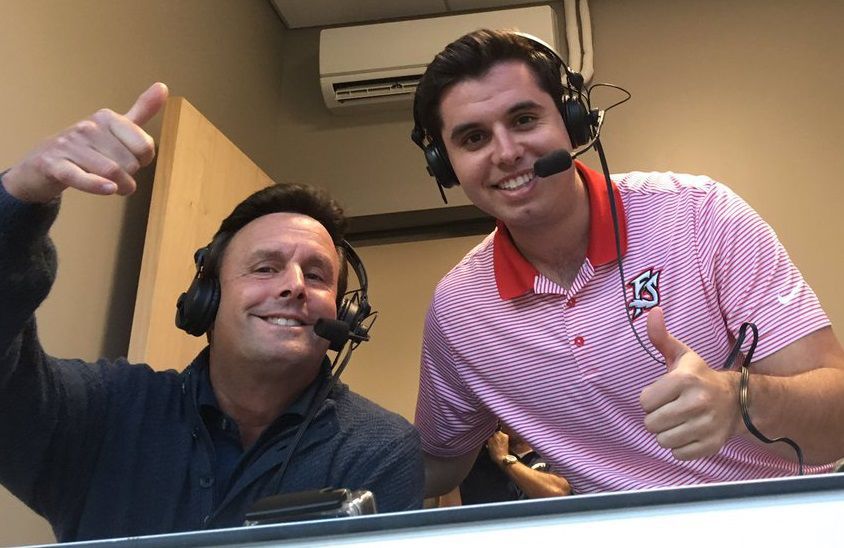 "I'm sure the producer or director was losing their mind," laughed Sam. "Whenever I wanted his attention, I wouldn't do it when he was live, when he was at commercial, I would tug on the little ISB earpiece that goes into his ear and he would look down."
Karl is one of the longest tenured broadcasters at ESPN, starting back in 1993, but one of his favorite days with the network came last Saturday when both he and his son were calling college basketball games at the same time on different ESPN channels. Sam was broadcasting the Manhattan vs. Saint Peter's women's game on ESPNU, while Karl was calling Alabama vs. Missouri on ESPN.
It's unknown if a father-son duo has ever called different games at the same time on different ESPN platforms, but there's a good chance the Ravechs accomplished something this past weekend that's never happened during the illustrious history of the Worldwide Leader.
"I think it's fascinating and unique," said Karl. "First, thankfully, ESPN has multiple channels and platforms so the possibility exists. It was my producer from my basketball games, Scott Matthews, another Ithaca guy, that said I think I saw that your son is doing the game opposite you. I said, he usually does games on Sunday, are you sure? I went and looked and said, 'Oh my gosh, he is!' The greatest part for Sam and myself is that his grandparents get a chance to watch their son, and more importantly, their grandson. It'll be a really neat thing for them."
"When I found out we were doing a game at the same time I thought it was interesting," said Sam. "The question is who's going to get more viewers (laughs)."
Regardless of who got more viewers, Saturday was a proud moment for the entire Ravech family. For Sam, there had to be a level of validation, seeing he was broadcasting a game on ESPNU at just 25 years old, opposite of the man he respects the most. For Karl, there had to be an overwhelming sense of joy to see his son follow in his footsteps and make a name for himself in the business so quickly.
"Saturday was interesting for sure," said Karl. "Technical challenges prevented me from actually being on for the start of my game but they were quickly rectified."
"I got a text from Pat Lowry, our Coordinating Producer for basketball, saying my dad's camera wasn't working so Jimmy Dykes had to broadcast the first half," said Sam. "I found it funny but I'm sure pops didn't."
"We did speak after the game," said Sam. "There was definitely a mutual understanding that what we just did was rare and could likely only happen once, but hopefully many more times."
"It was incredibly gratifying to see him recognized for his abilities and not his last name," said Karl. "He was asked to call a game with an analyst who was making her debut. He was trusted to make the analyst comfortable and successful. That faith was rewarded with a broadcaster who was confident, clear and conversational. It was a great day to be a Ravech and even better to be a dad."
Sam is a rapid up-and-coming broadcaster at ESPN with a ton of success in his future. But unfortunately he has to constantly battle doubters that claim he's only in this position because of his father's success at the network. It's not exactly fair, given Sam's excellent work calling Double A baseball games for the Richmond Flying Squirrels, but he also knew that by getting into the business it meant putting himself into these type of situations. 
"I deal with that every day, man," said Sam. "That's nothing new. It sucks. But I asked for it and it's something you have to expect and deal with. What I always tell people is that if it was really because of that, I wouldn't have re-signed and gotten more games with ESPN. If you're good, you're good. ESPN is not in the business of making bad deals. But I deal with it. My wife is supportive and she's right there with me when something really crazy happens. It's part of Noah Eagle's life, the son of Ian Eagle, who's doing the same thing. I'm sure it's part of Golic's life, but it's worth it because we love to do it."
"The unfairness exists for sure," said Karl. "But I don't think that's just because your last name is Ravech or if it was Levy or Van Pelt or Buccigross, that they're going to give you a free pass. It doesn't work that way when you get to this level. The one thing I learned a long time ago when I got to ESPN in 1993, if you don't know what you're talking about, and if you don't have credibility, the great part about the sports audience is, they more than likely know just as much as you. That means you can get exposed. To his credit, he hasn't had to experience a lot of that in the games I've listened to. He's extremely well prepared."
Though Saturday was a monumental day, this likely won't be the last time both Karl and Sam are calling games on different ESPN networks at the same time. Perhaps, they'll even call a game together. But until then, Sam will continue to use his father as his biggest mentor in the business. That's smart, considering half of Karl's life has been spent working at ESPN.
"There's nobody better," said Sam. "He's the best. Besides talking to my wife after a game, he's the next person I talk to. When I first started he would say, don't talk too much, slow down, stop talking so fast, let it breathe, those were all common phrases he would use. Now, it feels like we're more on the same level, not that I'm there, because he's one of the best in the game, but it feels like we're more on the same plane."
"When I give feedback to one of his games, it's usually more encouraging," said Karl. "Such as, here's an opportunity where you can ask your analyst a question. You're trying to elicit conversation and you're trying to have them share their experience and sometimes that's the role that you have to do as a play-by-play guy, along with describing the action. You have to make them better. I hope when I'm done with my career, people will say that I always made my analyst better."
A Ravech has been at ESPN since 1993. With Sam's potential on full display, a smart man would bet on a Ravech being at ESPN for many more years to come. Karl is proud of his son, not because he chose this particular career path, but because he worked extremely hard and developed his own style the right way. Sure, Sam has taken several things from his dad's arsenal, such as how to have fun, tell stories and let the analyst shine, but just because they share a last name doesn't mean they're mirror images of each other on a broadcast. Sam knows that he's the youngest broadcaster at ESPN, but he wants to use that to his advantage, rather than view it as a detriment. 
"One difference may be obvious, but he's old," laughed Sam. "I try to incorporate some of the younger things, especially in interviews. I might bring up who has the most followers on TikTok, just fun stuff that he may not understand. I'm 25 years old but not much older than these kids so I like to think I can relate a little bit better, but he is still a cool guy."