Anatomy of an Analyst: Chris Webber
"Webber has the "it" factor when it comes to being an analyst. Knowledge of the game, personality and the ability to articulate what he sees in a concise manner."
He's most famously known for being a part of the Michigan "Fab Five" teams of the early 1990's. Chris Webber, Jalen Rose, Juwan Howard, Ray Jackson and Jimmy King all became Wolverines at the same time. The group went to 2 NCAA Finals, but lost both times. Webber took a lot of heat for the second of those losses. Facing North Carolina and down 2, he attempted to call a timeout, while the Wolverines had none, a technical foul was called and the Tarheels went on to the win. Webber would declare for the NBA Draft the next season.
Webber grew up in Detroit. He played High School basketball at Detroit Country Day School and was the most recruited Michigan high school player since Magic Johnson. Webber led his school to 3 state championships, averaging nearly 30 points a game along with 13 rebounds. Then of course he went to Michigan for two years and was taken by the Orlando Magic with the first pick of the 2008 NBA Draft, he was immediately dealt to Golden State for Penny Hardaway and three future 1st round picks. He would later play for the Wizards, Kings, 76ers, Pistons and then back to Golden State where he would retire. Webber scored just over 17-thousand points and had over 8-thousand rebounds. He was a 5-time all-star. 
THE ROAD TO TNT/NBA ANALYST LIFE
After a 15-year NBA career, Webber began his new career, when he joined the Inside the NBA crew in 2008. Webber had an initiation ceremony upon joining the show. The established crew asked him a series of questions, including, "In college basketball how many timeouts do you get in a game?". Webber responded, "I still don't know the answer!". With that he embarked on his broadcasting career that has seen him in the studio and courtside at games as an analyst for the NBA and the NCAA Tournament. 
Webber along with Reggie Miller are the main color commentators, working Thursday night games on the network. In 2015, he added NCAA basketball analysis to his resume, when Turner Sports became involved with CBS in the telecast of March Madness.
WHY IS HE GOOD?
Webber, from all the games I've seen him do, is pretty smooth on the microphone. He articulates a point within the flow of a game and seems to work well with whomever he's paired. I enjoy his candor when it comes to carefully calling out NBA players from time to time. He never makes it a personal attack; it's about what a player may be doing within the framework of a game. I think he understands that because of course he played in the league. For example, he and Marv Albert were doing a game between the Rockets and Clippers just before the pandemic shut down in March of 2020. Houston frustrated Webber with its shot selection. 
"That's the frustration with this Rockets team, you've got a step back three by House Jr, who should not be taking that shot, then on the other end you get a 3, that's a six-point swing. Just because someone on paper says to take it, you need to understand your shooting percentage and how much realistically you can make it.", said Webber. 
Makes sense to me and judging from the comments accrued on the YouTube page I watched the play on, Rockets fans agreed with the assessment. It seemed like Webber was channeling the frustration of a team's fan base, articulating the point and having them all agree to an extent in this particular case. Some former players turned analyst are not as outright with their criticisms for fear of blowback. Webber straddles the line and doesn't really cross it, especially in this instance.
Webber seems to be a polarizing figure though overall. While some really enjoy his work, there are those that are not as enamored shall we say. It seems people have strong feelings, both ways, for the work he does on TNT. So much so there is an online petition started by a basketball fan "to ban Chris Webber from all TNT broadcasts moving forward." The comments I read on the page range from "he has a total lack of care in regards to the fan experience…he is constantly off target in his analysis…" to the less thought out "Chris Webber sucks. That's all".
As we've mentioned in this column before, not everyone is going to be a fan of your work. This is not surprising at all. If you really look at it though, are they watching? They are compelled to react to what he's saying, right? To me that makes him effective. Webber is stoking emotion in these fans and creating conversations. 
WHY HE'D BE FUN TO WORK WITH
To me it's his sense of humor. Webber seems like he's having a great time and isn't afraid to poke a little fun at himself. Take this back and forth between Webber and Albert during Game 5 of the Eastern Conference Semifinals in 2015, between the Bulls and Cavaliers. In Game 4, Cleveland head coach David Blatt tried to call a time out, without any left, luckily an assistant coach stopped him and the refs didn't see it. TNT flashed back with Albert describing the actions and what the consequences might have been.
"Marv, I was going to interrupt you, I hope you aren't explaining what happens when you call a time out to me, was that for everybody else?", asked Webber. "Yes, for everybody else.", said Ablert. Then Marv asked the obvious question, "What went through your mind when you saw David Blatt call for the time out when he was out of time outs?" Webber responded, "I wish had time to undo my wrong for my team 20 years ago. That's exactly what went through my mind." Later TNT showed a graphic with the rule about calling a TO without one, to which Webber deadpanned, "I don't need to see it.".
That is a dynamite exchange. A sense of humor must run in the Webber family. Did you know his dad Mayce Sr. has a license plate that reads "TIMEOUT", referring to his son's famous miscue in the 1993 NCAA Finals. Great stuff.
SOCIALLY AWARE
It's not always fun and games though. Webber isn't just a former basketball player and current television analyst. He's a man in tune with the social issues facing not just the NBA but the country and world.
Webber was front and center on the night the NBA players staged a walk off, August 26, 2020, to protest the shooting of an African-American man Jacob Blake, in Kenosha, Wisconsin. The Milwaukee Bucks refused to take the court for a playoff game against the Magic in the Orlando bubble to protest the incident. The walkoff forced the postponement of all NBA games that night. The WNBA postponed 3 scheduled games that night and 3 MLB games were also called off. 
With no games to call, TNT used the airtime to discuss the civil unrest and shooting of Blake. Kenny Smith walked off the set in solidarity. Ernie Johnson, Shaquille O'Neal and Charles Barkley remained to further talk about what it all meant. Webber was in Orlando, getting ready to call a game, so they brought him into the show to get his thoughts. Webber was visibly shaken and was choking back tears. But he managed to make some very powerful statements.
"I have a godson who has autism," Webber said. "I just had to explain to him why we aren't playing. I have young nephews who I've had to talk to about death before they've ever seen it in the movies. If not now, when? If not during the pandemic and countless lives being lost? If not now, when?"
"I keep hearing the question 'What's next?, What's next?'. Well, you gotta plan what's next. You have to figure out what's next," Webber continued. "Very proud of the players. I don't know the next steps. Don't really care what the next steps are, because the first steps are to garner attention, and they have everybody's attention around the world right now. Then leadership and others will get together and decide the next steps."
"Don't listen to these people telling you don't do anything because it's not going to end right away," Webber said. "You are starting something for the next generation and the next generation to take over."
Pretty powerful stuff.
CONCLUSION
Webber has the "it" factor when it comes to being an analyst. Knowledge of the game, personality and the ability to articulate what he sees in a concise manner. He works well with those that he's paired with and you can tell they enjoy working with him. If all else fails for Webber, he could rely solely on his sense of humor. Don't ever lose that Chris!
Anatomy Of a Broadcaster: Matt Vasgersian
"Did I mention he was a busy guy?"
"Santa Maria!", when you hear it, you know you're tuned into an MLB game with Matt Vasgersian on the mic. More on the catchphrase in a moment. Vasgersian is one of those guys that you seemingly see everywhere. Why? Because he's pretty much everywhere. Turn on MLB Network, there he is. Tune into Sunday Night Baseball on ESPN, yep, he's there. Now, catch an Angels baseball game on TV and he'll be there too. 
Vasgersian has been around the baseball block since the early 90's. He spent six-seasons as a Minor League broadcaster before being hired for his first MLB gig. Vasgersian was only 29 when he became the play-by-play voice of the Milwaukee Brewers. He worked in that booth from 1997-2001. Matt then took his skills to San Diego, being named the TV voice of the Padres in 2002. He stayed in America's Finest City until 2008, leaving for the MLB Network after the season.
Along the way, the very busy Vasgersian held down several other positions in prominent broadcast locations. He joined Fox Sports in 2006, working NFL telecasts, MLB Game of the Week games and playoffs and some College Football BCS games. He joined ESPN in 2018 to take over the Sunday Night Baseball lead role, while continuing his role at MLB Network.
Did I mention he was a busy guy?
This year he took on more of a workload and became the new play-by-play man for the Los Angeles Angels' telecasts succeeding Victor Rojas. Vasgersian will work remotely and will do as many Angels games as his national schedule allows.
He told the Angels media via Zoom the reasoning for taking on this job. "I kind of missed getting my skin in the game with a team," Vasgersian said. "There's a fine line between a national presentation of a product, when you're doing a game for a fan base that knows more about their teams than you do, and doing a game as a team broadcaster where you are much more intimately informed as to what happened last night, and the night before and the personalities behind the game. I kind of missed that and kind of missed being involved with a team and rooting a little bit. The hope is that you appeal to the fan base as a friendly voice."
When will this guy sleep?
BEST KNOWN FOR
Vasgersian first burst onto the national scene doing play-by-play for the original version of the XFL back in 2001. The league was new and Vince McMahon was in charge and wanted things done a certain way. Vasgersian's time with the league was tenuous; during the first broadcast he said, "I feel uncomfortable" after a suggestive shot of the cheerleaders. McMahon didn't like that very much and immediately demoted Vasgersian from the top telecast. NBC wanted Vasgersian back on the first team broadcast and he returned about halfway through the season.
He made a good impression on the higher ups at NBC which ultimately led to five Olympic assignments. Vasgersian called baseball and softball from the 2004 Summer Games in Athens, ski jumping from the 2006 and 2010 Winter Games and freestyle skiing from the 2014 games in Sochi, Russia.
Now, about that catchphrase, "Santa Maria!". It's not a copy, it's an original. Oh, and it has nothing to do with one of the ships that sailed to find America in 1492. Vasgersian explained the origin to MLB.com in 2018. 
"Man, I wish there was a better story to this. [Laughing]. My family — and my sister, in particular, has one of her oldest friends — [from an] Italian family. My sister's friend's mother is a wonderfully animated Italian woman, who says "Santa Maria!" at a drop of a hat. For example, she goes to the grocery store and sees tomatoes are on sale. She will say, "Santa Maria, what a deal!" he explained. "I spent enough time around this wonderful lady for her to rub off on me a little bit. And I started saying "Santa Maria!" when there would be some kind of superlative moment on a baseball field. When I was in the Minors, you never want to sound gimmicky, but I try to keep it in my pocket for the right time. It's kind of a sanctioned way of saying "Holy Blank."
So, there you go, the explanation right from Vasgersian himself.
WHY IS HE SO GOOD?
Vasgersian has a way about him. Not too many broadcasters are able to showcase immense talent in describing action and adding personality, wit and a sense of humor in with it. He can do it. The style isn't for everyone, but to me in watching a baseball game, I want to be entertained, I want to laugh a little too. All of this of course shouldn't interfere with the game itself and for Vasgersian he makes that a priority.
He's been known to get excitable on a broadcast, but not to the point where it's out of bounds in a broadcast sense. Big plays happen and Vasgersian's voice goes to a different level. He's excited and you can sense it pretty easily. There's a "smile" in his vocal range during a big moment, key homer, or great defensive play. In some announcers it seems forced, that's not the case with Vasgersian at all. 
Vasgersian clearly enjoys what he does for a living. It's pretty obvious by the way he comes across in each broadcast. You could forgive a guy with as busy a schedule as his to sometimes sound less than interested, but that isn't the case for Vasgersian. The more games, the merrier to him.
Along those lines, it can't be easy to prep for so many games in a week. He does have the advantage of being very dialed into the baseball scene with his work on MLB Network. But still, its impressive the amount of information he's able to work into a game without a ton of time to prepare.
It seems that everyone he works with enjoys being on a broadcast with him. Vasgersian keeps an analyst on his/her toes. He seemingly is able to work with anyone they throw at him. He works with Alex Rodriguez and that isn't easy to do. Still, he's able to navigate Baseball Road when A-Rod continuously wants to take him down A-Rod Avenue.
DID YOU KNOW?
Vasgersian started his career as a child actor? I didn't know that and I worked with him for a couple of years in San Diego.  Vasgersian appeared in an episode of "The Streets of San Francisco" and the movie "The Candidate" starring Robert Redford. 
CONCLUSION
Vasgersian is a very talented guy, they just don't give out high profile jobs to anyone. His success has been earned because he's a hard-working person that constantly is honing his craft. His combination of pop culture, humor, sarcasm and wit are well balanced within his broadcasts, making them not only entertaining but informative. Isn't that what it's supposed to be all about anyway?
Anatomy of an Analyst: Bill Raftery
"There's just an aura about this man. There is a passion and love for the sport of college basketball is evident every time he speaks, or shouts, or any combination of the two."
"Send it in!" "Big Fella!" "A little kiss!" Just some of the catch phrases shouted out by the silver haired basketball analyst Bill Raftery who has become entrenched as a voice of March Madness. His bookend "man-to-man" at the start of a broadcast and an "onions" at the end of one have become as beloved as that 15 seed who upsets a 2 seed in the tournament. 
Raftery was a star high school basketball player at Saint Cecilia in Kearny, New Jersey, winning a state championship in his senior year. He left as the school's all-time leading scorer with 2,192 points, a record that held up for 35 years. Raftery played collegiately at La Salle University, scoring a freshman record 370 points, followed by a team best 17.8 points per game his sophomore year. The Explorers made the NIT in his senior year. Raftery was selected in the 14th round of the 1963 NBA draft by the Knicks, but never played in the league.
Raftery began his coaching career in 1963 at Fairleigh Dickinson University, where he was the head basketball coach until 1968. He also coached golf and served as the associate athletic director. In 1970 he took over the Seton Hall program coaching them to a 154-141 record in his 11 seasons there. He took his team to the NIT in 1974 and 1977.
HIS ROAD TO THE FINAL FOUR BROADCASTS
Before the 1981-82 season, Big East commissioner Dave Gavitt told Raftery there was an opportunity to call league games at ESPN. It was already late October, and Raftery had two days to decide. He gave up his coaching job with the Pirates and started broadcasting. Raftery stayed at ESPN doing games through the 2012 season. Also, in that span he started to emerge as an analyst on CBS's college hoops. In 1991 he started working as an analyst for Westwood One/CBS Radio's coverage of the Final Four.
He also served as an analyst for the NBA's New Jersey Nets. Since 1981, Raftery has announced several events, including the Big Ten Championship, the ACC Championship, the Big East Championship, the SEC Championship, the McDonald's High School All-Star game and the NIT pre-season and championship games.
In 2015 Raftery was moved to the top announcing team, joining Grant Hill and Jim Nantz.  That was the first time he was able to call the Final Four on television and that team has been together ever since. 
WHY IS HE SO GOOD?
There's just an aura about this man. There is a passion and love for the sport of college basketball is evident every time he speaks, or shouts, or any combination of the two. Raftery is great because of how conversational he is, very easy going and he seemingly can adapt to any play-by-play guy he's paired with. There is something inherently likeable about how easy going he is during a broadcast. Don't mistake that nature for a lack of excitement in his calls. If you did, you'd be wrong. He sounds like that older guy who's experienced a lot in the game, but still is a kid at heart when calling a game. 
Yes, the man has catchphrases and sometimes he gets excitable when yelling them out, but he's not over the top. He knows when to interject and when to lay back. In other words, he's got some substance with his shtick. If you really listen, it's not hard to tell that Raftery prepares for each and every broadcast. He knows what teams like to do in certain game situations, whether it be an inbounds play to get a good look, or a late-game situation or play. That's only gleaned by attending practices or shootarounds and talking to the head coach and assistant coaches. He'll keep a notepad near him with actual diagrams of those plays for better explaining purposes. 
With very little to zero ego, Raftery doesn't set out to be the star of the show. He's worked well with a two-man crew and a three-man booth.
WHY HE'D BE FUN TO WORK WITH
His praises are sung by everyone he's ever worked with.  "What you see on TV is what you get if you're fortunate enough to be orbiting around Bill Raftery's life," Jim Nantz, who will call the Final Four and title game with Raftery and Grant Hill told the Athletic. "He exudes that love of life, that kindheartedness, that faith in people. It comes across on the air. You can't fake that." 
Ian Eagle also spoke to the Athletic about Raftery, whom he worked with on Nets broadcasts and from time to time on NCAA game. "He's a fountain of creativity," Eagle says. "He also has an excellent sense of timing. Lots of people have tried to imitate his style, but nobody has matched it in all these years." Eagle said.
When guys of the stature of Nantz and Eagle are touting a guy like that, it's completely credible. Because truthfully, Raftery has every right to think very highly of himself but doesn't. He seems incredibly easy to work with. The kind of partner that would say something like, "whatever you want, I'll just follow your lead, but I'd like to take us to break from time to time." By the way, I love when Raftery takes the lead on sending the broadcast to commercial. The "roll-out" as it's called, features some highlights just before they hit the ads, he's like a kid in a candy store when he's able to do it.
He's knowledgeable, easy going, vivacious and just seems to be having a great time – all the time. He is the kind of guy people like to talk to and meet. 
CONCLUSION
It wouldn't be March Madness without Raftery. The transition he made from working with Verne Lundquist and with the Nets, to the top team with CBS has been seamless. That's because of his personality and sense of timing. The phrases he uses are entertaining and fun to hear, due to the way he uses them.  Raftery is that guy sitting at the end of the bar, talking alongside the game, while making sure everybody's glasses are filled and stay that way. 
Here's to you Mr. Raftery, keep on doing what you do!
Anatomy of a Broadcaster: Gus Johnson
"The man has a way with words when describing big plays during the course of a game."
On his Wikipedia page, Gus Johnson "is well-known for his enthusiastic play calling". That's kind of like saying Michael Jordan was a pretty good basketball player. Enthusiastic when it comes to Johnson may be the understatement of the century. Johnson is sometimes known as "Screaming Gus" because that "enthusiasm" gets multiplied by 10 even in situations that may not call for it. That's his style, that's his calling card and it has served him well over the years. 
Johnson is currently the lead play-by-play voice of college football and basketball on Fox. Before that, he was one of CBS's top college basketball play-by-play voices from 1996 to 2011. He made watching the NCAA Tournament extremely interesting, especially games that were decided by a big play or in the final seconds. He's all over YouTube with those calls and made him a sensation on the social video platform. While at CBS he also did NFL games and college football for the network. 
He did pay some dues along the way, working in local television in Waco, Texas, Huntsville, Alabama, Winston-Salem, N.C., and Washington, D.C. Along the way Johnson was the play-by-play voice for the Minnesota Timberwolves for a year. He did games on the Big East Network calling basketball and college hockey. Johnson also did boxing events for Showtime, the Knicks on MSG and Canadian Football League games on ESPN2.
BEST KNOWN FOR
Catchphrases. Seriously. The man has a way with words when describing big plays during the course of a game. Here are just a few of the many usually uttered at some point by Johnson during a telecast.
"Hurt My Feelings!"
"Oh my goodness!"
"Rise and fire… Count it!"
"From the parking lot!"
"And the Runner….Bang!"
"Pure!"
"BAM!"
"Hot Sauce!"
"Cold-Blooded!"
"HA-HAAA".
Seeing these in print doesn't do them justice. To hear them is to appreciate them. 
As mentioned, Johnson is well known for his work on CBS and the NCAA Tournament. It always seemed that he was assigned games that were going to have exciting endings. Here are some of his best calls:
1999 – Gonzaga v. Florida: Gonzaga was trying to establish itself into the program it became. They faced Florida in the Sweet 16 and the hero was Casey Calvary with a tip in with just over 5 seconds left. The final seconds sounded like this: 
"Shannon from the corner (buzzer sounds and ball falls short) and it's over, GONZAGA: the slipper still fits! They win it 73-72."
2006 – Gonzaga v UCLA: Gonzaga at one point had a 17-point lead in the game only to watch it slip away in the final seconds. With Gonzaga trying to protect a lead with 10 seconds left:
"And a steal! Farmar! Inside! The freshman! Up, oh, and they go in front! Raivio! Last chance to dance! Oh, what a game! What! A! Game! U-C-L-A! UN-BELIEVABLE! After being down by 17. Heart! Break! City!!!" What followed were the iconic shots of Adam Morrison hunched over on the floor weeping. 
2005 – Vermont v. Syracuse: First round game. One of the bigger upsets in the NCAA Tournament, as Vermont took down Syracuse on a big shot in OT by guard T.J. Sorrentine:
"Ohhhhhh! My goodness!!! Sorrentine! Hit that one from the parking lot!"
He's had some memorable calls in College Football as well:
2017 – Johnson was the play-by-play announcer for the Week 1 matchup between Texas A&M and UCLA. The Bruins came back from a 34-point deficit to win 45–44, capped off by a fake spike touchdown from Josh Rosen with 43 seconds left to go. Johnson's play of the call:
"Rosen fakes the spike… in the endzone, TOUCHDOWN! WOAH! Jordan Lasley! The legend of Josh Rosen… in full bloom! Dan Marino would be proud!"
2017 – Johnson on the call of a college football game between Ohio State and Maryland. After Ohio State cornerback Denzel Ward laid a vicious hit on Maryland receiver Taivon Jacobs. Though the play ultimately resulted in Ward's ejection from the game, Johnson had a field day: 
"Second down after the 7-yard gain… [Maryland QB] Bortenschlager to the sideline, caught, first down. [Ward levels Jacobs, causing a fumble] Whoo! What a hit! Denzel Ward! You've got barbecue back there, and you didn't invite me? Hurt! My! Feelings!".
WHY IS HE SO GOOD?
Johnson's style is unique, that's something that separates him from a lot of other quality broadcasters. The energy level he brings to the games he calls is unmatched. It's hard to think of how exhausted he must be after a broadcast, exerting that much exuberance and not really taking too many plays off. That peak is tough to achieve and prolong for the entirety of a basketball or football game. Impressive.
Even those that may not exactly like the over-the-top style, stay to hear what he may say in certain situations. There are few announcers around with the ability to keep you watching a game even if you have no rooting interest in it. The words, the emphasis and enthusiasm keep you glued to that particular game. He is a fan and draws you in with his passion and excitement.
The style isn't everything. When it comes down to it, Johnson is a solid play-by-play guy. While the flash may get the headlines and YouTube hits, the man knows what he's doing. All the basic principles are there. You know the score, the time left, where the ball is and everything that is necessary to view the game. You just get it at a high energy level that is pretty much unmatched. While he does come right at you with catch phrases and rapid-fire words, he knows how to let a moment speak for itself too.
He will "lay out" to let the pictures tell, the rest of the story, if you will. Sometimes those that give you over-the-top broadcasts do it because they don't have the basics mastered and try to get by with flash. Johnson is a rare case where the substance and the flash are both executed flawlessly.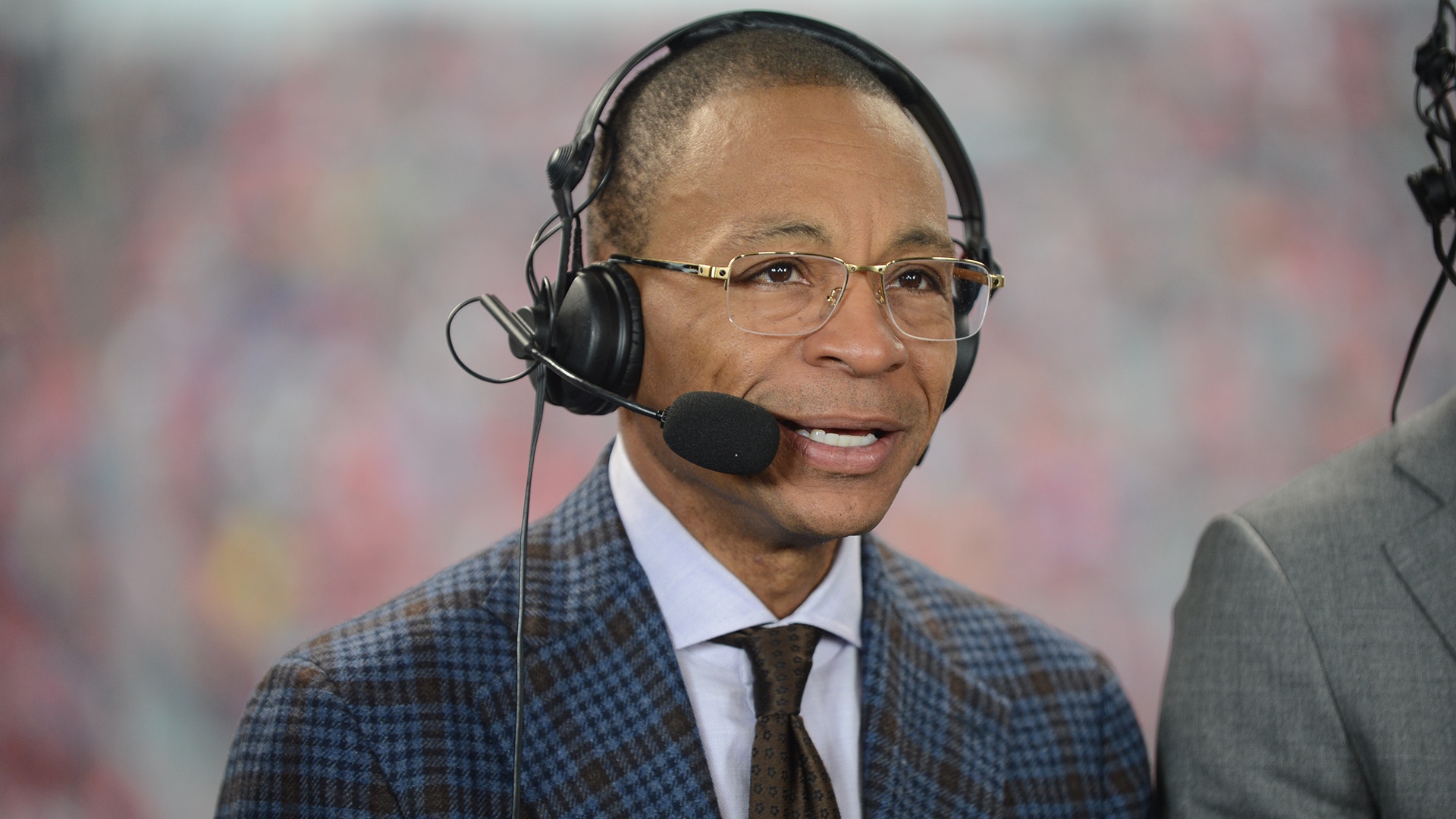 CONCLUSION
While he may not be for everyone, Gus Johnson certainly provides an entertaining call no matter the sport. The amazing thing to me is that with all the hoopla and catchphrases he never overshadows his analyst. The respect for his partner and the game itself is evident and those in the know, realize how important both of those elements are as a play-by-play announcer. Keep "rising and firing" Gus Johnson.