A Simpler Solution: No One Should Be In NBA Logo
A league embroiled in numerous racial issues — Jazz, Timberwolves, LeBron vs. Zlatan, Masai Ujiri, Jeremy Lin, vaccines — is better served by a generic silhouette than a Kobe Bryant/Jerry West debate.
Yep, this is absolutely what America needs right now, a political argument about a logo. This is where we are in 2021: A truther who has said the world is flat, Kyrie Irving, lobbying to replace the old, white dude in the NBA silhouette — presumably Jerry West, though the league never has confirmed it — with an image of Kobe Bryant, whose memory is widely revered even if he hurled an anti-gay slur and was accused of rape by a teenager who wasn't his wife.
And we're actually supposed to hunker down and take sides on this matter, igniting a race inferno that has been reasonably tame since Donald J. Trump returned to his previous life as a golfing liar.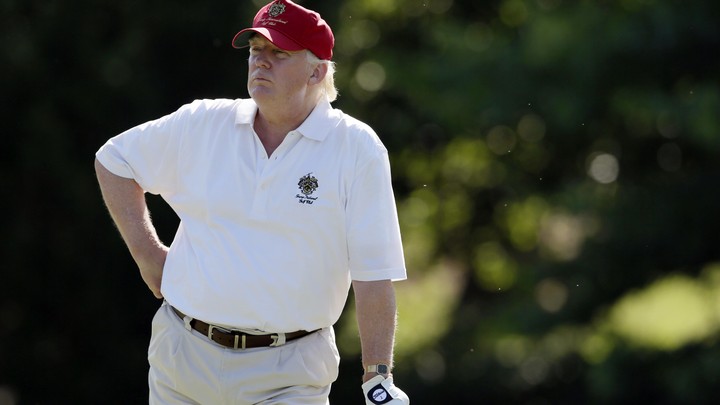 "Gotta happen, idc what anyone says. BLACK KINGS BUILT THE LEAGUE," Irving posted on Instagram, launching a campaign with a next-day addendum: "As a native Black man, a native Black king, it's part of my responsibility to continue to push our culture forward. I know that it probably was met with some people who love the idea and some people that don't like it. My thing is paying homage to the example that has been set by that man."
Normally, my debating reflex would counter with my pick, LeBron James. In the league's most turbulent era, he has melded all-time basketball greatness with an unprecedented double whammy: a social conscience potent enough to help dislodge Trump from the White House and a leadership presence resilient enough to guide the Lakers to a pandemic championship amid 95-day isolation. James has avoided scandal. James has remained a family man. James hasn't driven an SUV while gacked out on opioids. James should be The New Logo.
Until, I wondered: Why does anyone specifically have to be in a new logo?
Can't we just have something generic and inoffensive, exhausted as we are from activism fatigue?
The NFL logo is a red, white and blue shield with a football and eight stars. The Major League Baseball logo, with the same American flag colors, shows an indistinguishable batter preparing to hit a pitched ball that surely is juiced. The Olympics logo was designed with five rings from the participating continents at the time. The NHL logo is duller than commissioner Gary Bettman himself, a silver crest with diagonal lines. College football logos pay tribute to the cash-machine conferences, including the Big Ten's optical illusion. Major League Soccer's logo is half-empty (look it up). The only other sports logo that might depict a particular player is the WNBA's, an orange silhouette resembling the elegance of West's image, though the league won't say if it's Diana Taurasi.
So why exacerbate what remains a volatile era in the NBA when the logo simply can be redesigned without a person in mind? Or is that too easy?
What could be a fun discussion in another time and place — which historic figure best symbolizes what is fondly called the association? — is an attempt by Irving to use the logo as a power play. Understandably, he and other Kobe proponents think a Black legend should represent a league in which three-fourths of players are Black yet only one majority owner — Michael Jordan, also a prime logo contender — is African American. "I think he deserves it," Irving said. "I think his family deserves it. I think we deserve it (after) seeing greatness personified as Mamba. And anyone that's coming into the league should know that's the example that was set."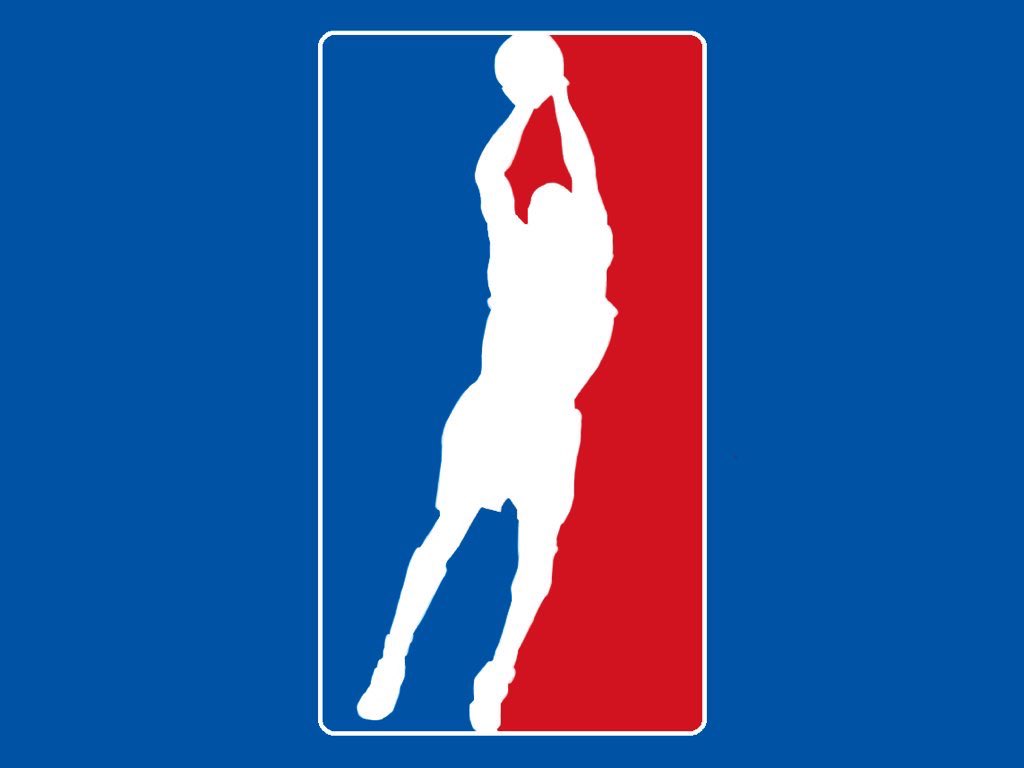 I am not opposed. I just don't understand why — right here, right now. The Black Lives Matter movement inside the Disney World Bubble, which included commanding signage and powerful game boycotts, didn't end the tension that roils the league today. We don't need a logo squabble poisoning the pot. Some Black players are reluctant to heed commissioner Adam Silver's hope that they take coronavirus vaccines, knowing a history of racism in the U.S. health care system has fueled a fear of injections within African-American communities. It reflects a continuing unease in the ranks about the virus, which hasn't stopped the league from conducting an All-Star Game next weekend despite opposition from James and other prominent players.
The league also is investigating a tweeted allegation by ex-Jazz forward Elijah Millsap that Utah executive Dennis Lindsey, who has helped build one of the league's leading contenders, told him this in a 2015 exit interview: "If u say one more word, I'll cut your Black ass and send you back to Louisiana." Lindsey denies making the comment and is backed by Jazz coach Quin Snyder, who was present during the conversation, but in a smallish market with a predominantly White population, the story has disrupted the team's rise and forced a busy Silver to state, "We take allegations of discrimination seriously, so do we also take the due process rights of those who are being accused, which is why we do full investigations. And in this case, the investigation is being conducted in partnership and in coordination with the Utah Jazz."
Meanwhile, Silver was voicing remorse about comments he made in 2019. In an HBO interview, he said Toronto Raptors president Masai Ujiri, one of only four Black executives running basketball operations in NBA franchises, was partly to blame for his altercation with an Alameda County sheriff's deputy after the Raptors won the NBA title at Oracle Arena. Video footage revealed that the deputy, Alan Strickland, initiated physical contact with Ujiri, and both parties dropped lawsuits last month. Said Silver at the time: "It's part and parcel of what comes with someone who is living on the edge a bit and is hard-wired to sort of march forward with incredible energy. And I think lessons learned for him — without assigning culpability or blame to anyone — as a leader, those are the kinds of situations he needs to learn to avoid."
After Ujiri's recent declaration that he was "completely vindicated," Silver told Canadian network Sportsnet, "I apologize to Masai for what I said in that interview. … Believe me, when I look at that now, I cringe when I watch it," adding that he regrets not checking "my own built-in implicit biases around a particular situation."
This as the NBA deals with its version of a Rooney Rule violation. The NFL has made a mockery of that rule, of course, with White team owners largely giving lip service to league requirements that Black candidates be seriously considered for head-coaching and executive positions. So explain why the Minnesota Timberwolves, after firing coach Ryan Saunders, were so quick to name a White replacement, Toronto assistant Chris Finch, without conducting interviews with numerous worthy Black candidates, including their own lead assistant coach, David Vanterpool? Finch is an offensive innovator and disciple of Raptors coach Nick Nurse, who has won an NBA title with Ujiri. Still, why the mad rush? With the league's worst record, it's not as if the Wolves are going anywhere.
The swirl of racial conflicts continued Friday night when James, shirtless, went on the attack in his post-victory Zoom interview. Soccer star Zlatan Ibrahimovic had been critical of James' activism, saying in an interview with a Swedish network, "I don't like when people have some kind of status, they go and do politics at the same time. Do what you're good at. Do the category you do. I play football because I'm the best at playing football. I don't do politics. If I would be a political politician, I would do politics. That is the first mistake people do when they become famous and they become in a certain status. Stay out of it. Just do what you do best because it doesn't look good."
Responded James: "I would never shut up about things that are wrong. I preach about my people, and I preach about equality. Social injustice. Racism. Systematic voter suppression. Things that go on in our community. Because I was a part of my community at one point and saw the things that was going on, and I know what's going on still because I have a group of 300-plus kids at my school that are going through the same thing, and they need a voice. And I'm their voice. I'm their voice, and I use my platform to continue to shed light on everything that may be going on, not only in my community, but around this country and around the world. So there's no way I'd ever just stick to sports, because I understand how this platform and how powerful my voice is."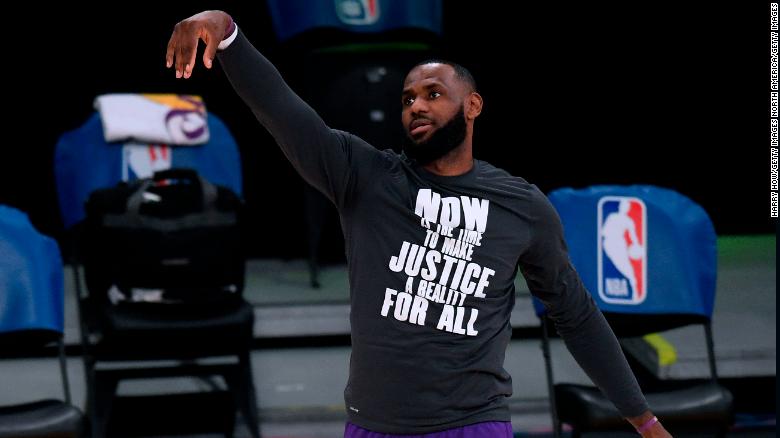 LeBron also made Zlatan look bad, recalling how Ibrahimovic had spoken in 2018 about "undercover racism" he'd encountered from media in his native Sweden. "I am not Andersson or Svensson. If I would be that, trust me, they would defend me even if I would rob a bank. They would defend me, I tell you," he said then.
Said James: "He was the same guy who said when he was in Sweden … because his last name wasn't a certain last name, that he felt there was some racism going on when he was on the pitch. I speak from a very educated mind, so I'm kind of the wrong guy to actually go at because I do my homework."
On the same night, the NBA's official minor league, the G League, was looking into claims by former NBA guard Jeremy Lin that he is subjected to racism. Now with the Santa Cruz Warriors, Lin wrote in a Facebook post, "Being a 9 year NBA veteran doesn't protect me from being called `coronavirus' on the court." Over the weekend, Lin tweeted he wouldn't be "naming or shaming anyone" in the probe. Wrote Lin, who briefly rocked the sport with scoring flurries as the first American-born NBA player of Chinese descent: "What good does it do in this situation for someone to be torn down? It doesn't make my community safer or solve any of our long-term problems with racism."
So, with considerable angst bubbling in the National Basketball Association, we're going to approach a revamped All-Star Sunday — and the outsized media attention accompanying it — with furious sparring sessions about the logo? As Bryant's widow was weighing in with her approval ("love this @KyrieIrving"), she also was learning for the first time that actress Evan Rachel Wood had called her late husband "a rapist" the day of his fatal helicopter crash.
Vanessa fired back at Wood. "Your false, insensitive, defamatory and slanderous tweet on 1/26/20 is vile and disturbing to say the least," she wrote. "Behavior like this is part of the reason why innocent black men go to jail for crimes they didn't commit. An accusation doesn't make someone guilty. YOU DON'T KNOW THE FACTS OF THE CASE."
You know what's crazy? Jerry West never wanted to be the man in the logo. It just happened that way as a league-commissioned consultant poured over various images in 1969 and came up with what appears to be West. Thus, The Logo was born. Four years ago, West seemed agonized about the topic when appearing on ESPN's "The Jump" program. "Again, it's flattering. But it's also, I think — if I were the NBA, I would be embarrassed about it," he said. "I don't like to do anything to call attention to myself, and when people (call him The Logo), that's just not who I am. If they would want to change it, I wish they would. In many ways, I wish they would."
The NBA can change the logo, sure.
To the simple image of a basketball, round and pebbled and not at all flat, unlike Kyrie Irving's complicated world.
Being Wrong On-Air Isn't A Bad Thing
…if you feel yourself getting uncomfortable over the fact that you were wrong, stop to realize that's your pride talking. Your ego. And if people call you out for being wrong, it's actually a good sign.
In the press conference after the Warriors won their fourth NBA title in eight years, Steph Curry referenced a very specific gesture from a very specific episode of Get Up that aired in August 2021.
"Clearly remember some experts and talking heads putting up the big zero," Curry said, then holding up a hollowed fist to one eye, looking through it as if it were a telescope.
"How many championships we would have going forward because of everything we went through."
Yep, Kendrick Perkins and Domonique Foxworth each predicted the Warriors wouldn't win a single title over the course of the four-year extension Curry had just signed. The Warriors won the NBA title and guess what? Curry gets to gloat.
The funny part to me was the people who felt Perkins or Foxworth should be mad or embarrassed. Why? Because they were wrong?
That's part of the game. If you're a host or analyst who is never wrong in a prediction, it's more likely that you're excruciatingly boring than exceedingly smart. Being wrong is not necessarily fun, but it's not a bad thing in this business.
You shouldn't try to be wrong, but you shouldn't be afraid of it, either. And if you are wrong, own it. Hold your L as I've heard the kids say. Don't try to minimize it or explain it or try to point out how many other people are wrong, too. Do what Kendrick Perkins did on Get Up the day after the Warriors won the title.
"When they go on to win it, guess what?" He said, sitting next to Mike Greenberg. "You have to eat that."
Do not do what Perkins did later that morning on First Take.
Perkins: "I come on here and it's cool, right? Y'all can pull up Perk receipts and things to that nature. And then you give other people a pass like J-Will."
Jason Williams: "I don't get passes on this show."
Perkins: "You had to, you had a receipt, too, because me and you both picked the Memphis Grizzlies to beat the Golden State Warriors, but I'm OK with that. I'm OK with that. Go ahead Stephen A. I know you're about to have fun and do your thing. Go ahead."
Stephen A. Smith: "First of all, I'm going to get serious for a second with the both of you, especially you, Perk, and I want to tell you something right now. Let me throw myself on Front Street, we can sit up there and make fun of me. You know how many damn Finals predictions I got wrong? I don't give a damn. I mean, I got a whole bunch of them wrong. Ain't no reason to come on the air and defend yourself. Perk, listen man. You were wrong. And we making fun, and Steph Curry making fun of you. You laugh at that my brother. He got you today. That's all. He got you today."
It's absolutely great advice, and if you feel yourself getting uncomfortable over the fact that you were wrong, stop to realize that's your pride talking. Your ego. And if people call you out for being wrong, it's actually a good sign. It means they're not just listening, but holding on to what you say. You matter. Don't ruin that by getting defensive and testy.
WORTH EVERY PENNY
I did a double-take when I saw Chris Russo's list of the greatest QB-TE combinations ever on Wednesday and this was before I ever got to Tom Brady-to-Rob Gronkowski listed at No. 5. It was actually No. 4 that stopped me cold: Starr-Kramer.
My first thought: Jerry Kramer didn't play tight end.
My second thought: I must be unaware of this really good tight end from the Lombardi-era Packers.
After further review, I don't think that's necessarily true, either. Ron Kramer did play for the Lombardi-era Packers, and he was a good player. He caught 14 scoring passes in a three-year stretch where he really mattered, but he failed to catch a single touchdown pass in six of the 10 NFL seasons he played. He was named first-team All-Pro once and finished his career with 229 receptions.
Now this is not the only reason that this is an absolutely terrible list. It is the most egregious, however. Bart Starr and Kramer are not among the 25 top QB-TE combinations in NFL history let alone the top five. And if you're to believe Russo's list, eighty percent of the top tandems played in the NFL in the 30-year window from 1958 to 1987 with only one tandem from the past 30 years meriting inclusion when this is the era in which tight end production has steadily climbed.
Then I found out that Russo is making $10,000 per appearance on "First Take."
My first thought: You don't have to pay that much to get a 60-something white guy to grossly exaggerate how great stuff used to be.
My second thought: That might be the best $10,000 ESPN has ever spent.
Once a week, Russo comes on and draws a reaction out of a younger demographic by playing a good-natured version of Dana Carvey's Grumpy Old Man. Russo groans to JJ Redick about the lack of fundamental basketball skills in today's game or he proclaims the majesty of a tight end-quarterback pairing that was among the top five in its decade, but doesn't sniff the top five of all-time.
And guess what? It works. Redick rolls his eyes, asks Russo which game he's watching, and on Wednesday he got me to spend a good 25 minutes looking up statistics for some Packers tight end I'd never heard of. Not satisfied with that, I then moved on to determine Russo's biggest omission from the list, which I've concluded is Philip Rivers and Antonio Gates, who connected for 89 touchdowns over 15 seasons, which is only 73 more touchdowns than Kramer scored in his career. John Elway and Shannon Sharpe should be on there, too.
Money Isn't The Key Reason Why Sellers Sell Sports Radio
I started selling sports radio because I enjoyed working with clients who loved sports, our station, and wanted to reach fans with our commercials and promotions.
A radio salesperson's value being purely tied to money is overrated to me. Our managers all believe that our main motivation for selling radio is to make more money. They see no problem in asking us to sell more in various ways because it increases our paycheck. We are offered more money to sell digital, NTR, to sell another station in the cluster, weekend remotes, new direct business, or via the phone in 8 hours.
But is that why you sell sports radio?
In 2022, the Top 10 highest paying sales jobs are all in technology. Not a media company among them. You could argue that if it were all about making money, we should quit and work in tech. Famous bank robber Willie Sutton was asked why he robbed twenty banks over twenty years. He reportedly said," that's where the money is". Sutton is the classic example of a person who wanted what money could provide and was willing to do whatever it took to get it, BUT he also admitted he liked robbing banks and felt alive. So, Sutton didn't do it just for the money.
A salesperson's relationship with money and prestige is also at the center of the play Death of a Salesman. Willy Loman is an aging and failing salesman who decides he is worth more dead than alive and kills himself in an auto accident giving his family the death benefit from his life insurance policy. Loman wasn't working for the money. He wanted the prestige of what money could buy for himself and his family. 
Recently, I met a woman who spent twelve years selling radio from 1999-2011. I asked her why she left her senior sales job. She said she didn't like the changes in the industry. Consolidation was at its peak, and most salespeople were asked to do more with less help. She described her radio sales job as one with "golden handcuffs". The station paid her too much money to quit even though she hated the job. She finally quit. The job wasn't worth the money to her.
I started selling sports radio because I enjoyed working with clients who loved sports, our station, and wanted to reach fans with our commercials and promotions. I never wanted to sell anything else and specifically enjoyed selling programming centered around reaching fans of Boise State University football. That's it. Very similar to what Mark Glynn and his KJR staff experience when selling Kraken hockey and Huskies football.
I never thought selling sports radio was the best way to make money. I just enjoyed the way I could make money. I focused on the process and what I enjoyed about the position—the freedom to come and go and set my schedule for the most part. I concentrated on annual contracts and clients who wanted to run radio commercials over the air to get more traffic and build their brand.
Most of my clients were local direct and listened to the station. Some other sales initiatives had steep learning curves, were one-day events or contracted out shaky support staff. In other words, the money didn't motivate me enough. How I spent my time was more important.
So, if you are in management, maybe consider why your sales staff is working at the station. Because to me, they'd be robbing banks if it were all about making lots of money.
Media Noise: BSM Podcast Network Round Table
Demetri Ravanos welcomes the two newest members of the BSM Podcast Network to the show. Brady Farkas and Stephen Strom join for a roundtable discussion that includes the new media, Sage Steele and Roger Goodell telling Congress that Dave Portnoy isn't banned from NFL events.
Podcast: Play in new window | Download
Subscribe: RSS