When I choose a new show to eavesdrop on for a month, I start by reminding myself I'm not the target audience. I have to prepare to listen to the context of the content more than the content itself because let's face it, I don't care much about Ryan Saunders getting fired by the Minnesota Timberwolves.
But every so often I stumble on a show in a local market that can attract listeners from anywhere. And KFAN's The Power Trip does just that. They talk sports on a macro level, if at all. As much as this show serves their local audience in the Twin Cities, it also has the ability to break market lines.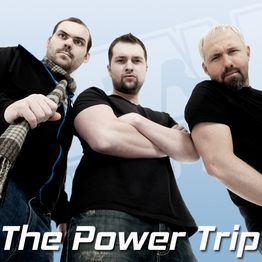 Many sports radio executives preach the "topic tree," but even when sports is the foundation of a segment for The Power Trip, prepare for unique turns. A conversation about frequent KFAN guest and former Vikings linebacker Chad Greenway can seamlessly, and quickly transition to a detailed breakdown of where to eat your drive thru fast food and who can watch.
It's not a show that fits the future mold of sports radio as the industry breeds hosts to follow format. The Power Trip prioritizes entertainment over sports, and creativity over construct. It's not a style that can be taught or even built, this type of chemistry has to be organic.
It's similar to the chemistry heard from The Junkies on 106.7 The Fan in D.C., but they've been friends since grade school! How do you build a mix of talent that can sound cohesive and organic without battling for mic time?
That's the impossible part for hosts to figure out, but here's the hardest part for listeners. KFAN's morning show has so many moving parts, it took me a while as a newcomer to recognize who the guests were and who the core hosts are. One month might not be a long enough time to fully grasp The Power Trip.
Chris Hawkey is the quarterback, with Cory Cove and Paul "Meatsauce" Lambert as the full-time co-hosts. Producers Zach Halverson and Brianne Burdette keep open mics while A.J. Mansour, Mark Parrish, Carly Zucker, John Kriesel and many others are frequent contributors. Every day there's another personality joining the show, which is not uncommon in sports radio where interviews are prevalent. But guests of The Power Trip are not there for traditional Q&A segments.
There is no room for interviews on this show. Unless it's a blatant needle mover who can contribute to a unique conversation, squeezing in a 10-minute traditional sports talk Q&A only derails what KFAN's morning show offers.
When I listen to The Power Trip, I envision myself as part of the show. If it were a sitcom, I would be sitting with them at a roundtable having breakfast every morning. And when regulars like Mark Rosen or Tommy Olson walk in, they're friends of the group. But if Adam Schefter or Ian Rapoport unexpectedly show up, my first reaction will be 'who invited this guy, and why wasn't I asked about it first?'
The Power Trip makes their audience feel like contributors. Other hosts might be exceptionally talented sports talkers, and their listeners might be entertained, but there's a difference between being made a spectator vs a contributor.
Power Trip listener's know the hosts and guests, they're in on the bits and play along with the games. And they did a great job hosting their in-show game shows, Hawkey with In The Box and Cove on Initials. It's something Howard Stern would respect, after he recently ranted about the need for TV game shows to hire radio people as their hosts. The Power Trip doesn't hide its love for Stern, and it shows in their ability to build a community.
I don't want to say sports is a detriment to The Power Trip, but they're certainly better off having the freedom of an open forum. Unlike most sports radio shows, February is when The Power Trip is at its best. It does pose the question, how important is the sports part of sports radio?
I grew up knowing sports played a minimal role in WFAN's morning show when Don Imus was at the helm, but that didn't stop him from anchoring the format's first radio station. Much of sports radio struggled when leagues were on hold during the pandemic, but it was because of industry limitations, not a reluctance from the audience to hear something different.
I didn't listen, but The Power Trip must have thrived during the pandemic peak. No need to invent a bracket as a way of digging deep for content, KFAN's morning show was able to do what they always do, have a conversation and make people laugh. And I got a taste of how they would sound broadcasting from different locations when Cove was stuck in the KFAN building elevator to begin a Friday show.
This was also the second time I've listened to a sports radio show where one host was stuck in an elevator at the station. The previous being Joe Benigno on WFAN, who was stuck on his way back from a commercial break cigarette which may or may not be the reason you could later catch traces of smoke in the newsroom when Steve Somers was in the building for his overnight.
I wish they broke down their podcasts more. Deciding whether or not to dive into a 150-minute-long podcast can be daunting. But a 15-minute option is less of an initial commitment and it can be used as a jumping off point for the full show. One benefit to being less sports-focused, it creates more podcastable content. You can listen to an episode of The Power Trip from last week or month and forget the date it was recorded because it's not sports reactionary. I'll stare at the 150-minute-long podcast knowing 80% of it is timeless content, but I still need a better roadmap or highlights nudging me to listen.
I enjoyed the show's literal sound, and the obvious emphasis on selecting their rejoin music is a reason why. Using audio to please a radio audience seems like an elementary tip, but plenty of shows choose cheesy synth that fell out of a '90s porno over good bumper music. Audioslave, Rage Against The Machine, anytime you come back from break with a Tom Morello riff it's a wakeup call, the commercials are over and the tone is set for the incoming segment.
Similarly, kicking off the show by playing a couple of quick stand-up bits takes the role of a hype man. It's also pretty bold to use successful comedians like Tom Green or Jim Gaffigan as your lead-in, not everyone can follow elite performers each morning.
And for a show that sets out to be funny, a laugh track is necessary. It's the benefit of having so many people in studio every day. Three hosts, two producers and a cast of characters stopping by, mics are filled with laughter, led by Brianne Burdette to let the listener know you're never laughing in the car alone.