The Biggest Pandemic Lesson: Fans Have The Power Now
Many remained doggedly loyal as sports struggled to survive the last 365 days — now, an industry known for greed and corruption must pay back the people with a responsible, fan-friendly future.
Bet you didn't know it before March 11, 2020. But YOU, the fans, are the stars of sports. Yes, YOU — the diehards, the gamblers, the casual followers, the season-ticket holders, the sabergeeks, the tavern revelers, the bracket pickers, the jersey buyers, the trading-card hoarders, the website readers, the radio-show listeners, the Stephen A. Smith devotees, the social-media loons, the kids who still want bobbleheads.
Not Tom Brady and Patrick Mahomes. Not Fernando Tatis Jr. and Mike Trout. Not LeBron James and Steph Curry. Not the Dodgers and Nets and Lightning. Not Nick Saban. Not Gonzaga. Not Russell Wilson, Deshaun Watson and the mobility of quarterbacking nobility. Not Tiger Woods in his hospital bed. Not Trevor Bauer and his Twitter trollery. Not Novak Djokovic and his reluctance to take a vaccine.
YOU.
And if professional leagues, college conferences and broadcast networks have learned nothing else these last 365 days and nights, it's that the people who support their industry and collective livelihoods never, ever should be undersold, mistreated or ripped off again. When team owners, star athletes and coaches used to cite the standard tribute, "I want to thank the greatest fans in the world," they didn't really believe it.
Now, they must not only embrace it as sport's new existential mantra, they should be prepared to worship at your feet. The old script — taking the fans for granted — has been flipped by a profound appreciation for your mass interest, your in-venue energy and, of course, your annual multi-billion-dollar financial infusion. It took a global pandemic, the most disruptive health catastrophe in more than 100 years, for the sports behemoth to finally realize who holds the power and operates the on-off switch.
Because if YOU wanted to shut down sports, you could have these last 12 months. You could have stopped watching, stopped betting, stopped paying attention — and the beast would have fallen. Instead, with limited or no access to stadiums and arenas, millions still kept an eyeball on the games while trying to survive life. Never mind that a lack of crowd noise, the fluctuating roars and groans, made for awkward and often dull viewing experiences. Never mind that cardboard cutouts and canned sound created insulting TV caricatures. Never mind that some events, especially in the NBA and Major League Baseball and college sports, were unwatchable. Many folks kept tuning in anyway, and if the ratings were low and in some cases rock-bottom, having a game on was better for the industry than a test pattern. It was the American fan who prevented the American sports foundation from crumbling. Got it?
Notice how Curry — a man with seemingly everything, from immense wealth and family grounding to worldwide popularity — spoke reverently of the 2,000 or so folks allowed into Madison Square Garden for a recent Warriors-Knicks game. "There were some fans heckling, which was awesome," he said. "Me and Draymond (Green) were talking about it. There's no better feeling, I don't care if it's 19,000 or 2,500 or whatever it is: You love silencing a road crowd."
See the newfound power YOU'VE accrued in COVID-19 absentia? Let's hope this understanding will lead to a host of healthy lessons moving forward in sports. The operative word is perspective. Meaning, rather than transforming the games that people love into a perpetual money grab, it's time the industry considers the fans first when making landmark business decisions.
Start with vaccinations. As I write this, only 9.9 percent of Americans are fully vaccinated, but that hasn't stopped leagues from ramping up their latest mad money rush: recklessly filling empty seats to generate ticket, concession, merchandise and parking revenues. I want to hurl. Let's not advance the folly that sports events can resume in stadiums and arenas, with packed houses, while taking a half-assed approach to coronavirus vaccines — not requiring athletes and spectators to be inoculated. Otherwise, the virus will continue to endanger people and disrupt schedules, and the pandemic still will be with us. While understanding personal concerns about vaccines, particularly among Blacks and Hispanics, the thought of a locker room divided by vaxxers and anti-vaxxers only invites more infections, more quarantine periods, more missed games — and the possibility of internal dissension, if not a crippling postseason outbreak. As for the fans, a hopelessly split America means spectators in wide-open, mask-off states — such as Texas, which is whipping doors open to a potential 40,500 bodies for the Rangers' home opener on April 5 — could be walking into superspreader events for months ahead.
Why would MLB allow this? Are the owners, most billionaires, so hard up for ballpark revenues after a dry 2020 that they're prematurely risking the health of human beings? While 25 of the 30 teams have been approved to welcome fans, including five in California, most are being responsible, such as the 20 percent capacity allowed by Chicago Mayor Lori Lightfoot for the Cubs and White Sox. "As a diehard sports fan myself," Lightfoot said, "I'm personally excited to have Chicago take its first, cautious steps toward safely reopening our beloved baseball stadiums to fans this season."
That's the proper approach. Same with California, which works off a tier system based on COVID-19 spread. If rates continue to decline, San Diego's Petco Park might host 10,000 fans for Opening Day while Dodger Stadium, in Los Angeles, might have 11,000. The Rangers are being grossly irresponsible. "We're very confident we won't be a super-spreader event," said team CEO Neil Leibman, referencing Texas Gov. Greg Abbott's decision to fully open the state. "With all the protocols that we're following, we'll be extremely responsible and provide a very comfortable environment for somebody to enjoy a game without worrying we're going to be a spreader event." Excuse me, but where's the so-called MLB commissioner, Rob Manfred? Oh, he's monitoring the outcry in hopes it won't be too robust, so other franchises can invite capacity crowds and owners can begin to recoup $3.1 billion in lost revenues. The Baltimore Orioles received state approval to allow 50 percent capacity, or about 23,000 fans, at Camden Yards. The Colorado Rockies can have 21,000 at Coors Field.
Not safe.
Not yet.
But then, no one is forcing a fan to go. Remember, YOU'VE got the power. Watch it on TV. Save the money. Avoid the hassle. Elude the superspread.
Just as it's uncertain how many MLB players will be inoculated, even as vaccines become readily available to all groups later this year, the NBA has a bigger problem. Some of the sport's elite stars aren't committed to taking vaccines, which could influence large percentages of players to follow suit. That would leave an indefinite pandemic cloud over the league.
"That's a conversation that my family and I will have," James said. "Pretty much keep that to a private thing."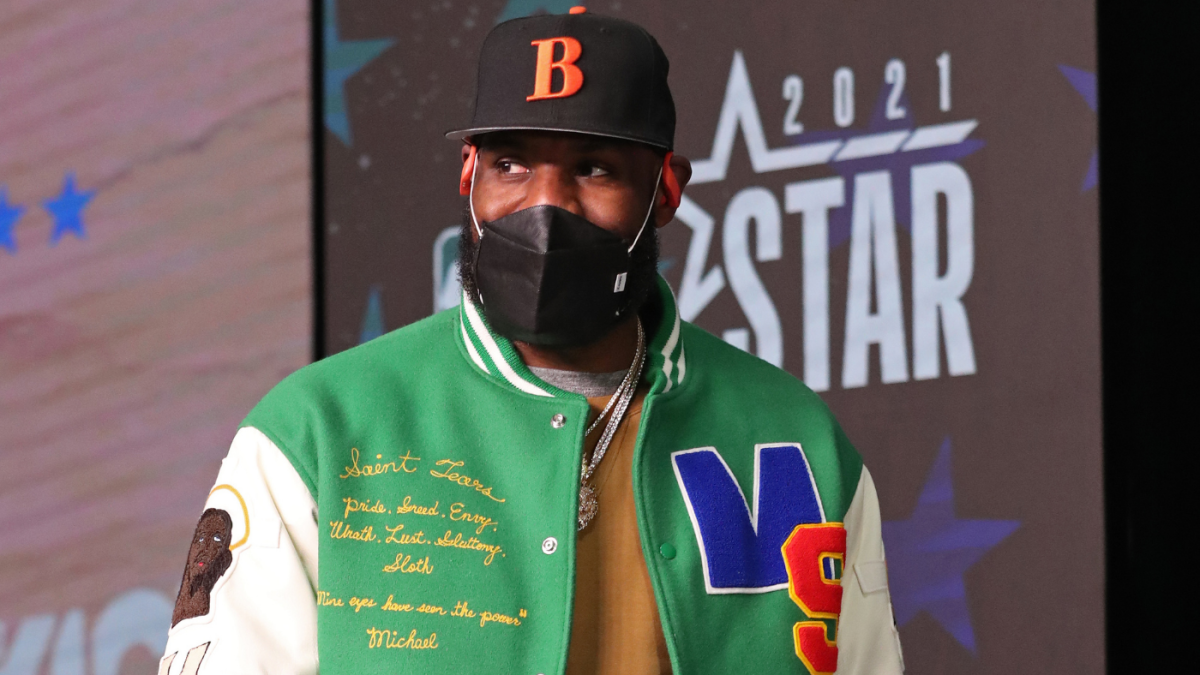 "That's something that I am still thinking about, and I think every individual player, they're their own person so they can decide if they're going to get the vaccination or not," James Harden said.
"I haven't come to a decision yet," Donovan Mitchell said. "I'm just trying to learn as much as I can about this vaccine first before I go ahead and make this decision."
While family comes first, the fans aren't far behind in the vaccine equation, either. For the NBA to keep producing an optimum product, COVID-19 infections must subside. That won't happen if non-vaxxers are prevalent on rosters. Have the players considered who made them rich and famous — the fans — and that the league would be best served if they all were vaccinated and basketball life can carry on safely? Commissioner Adam Silver, coming off an ill-advised All-Star Game with dreadful ratings, knows a lingering virus could bury his league. "My hunch is that most players ultimately will choose to get vaccinated," he said, wishfully. "They have to make personal decisions at the end of the day — and I take that very seriously; I take concerns very seriously. But my sense is most players will, ultimately, decide it is in their interest to get vaccinated."
If they don't, look no further than March Madness, where a team hit by an outbreak must forfeit and go home — Gonzaga, Baylor, any team — if it doesn't have five healthy players for an NCAA tournament game. The NBA postseason, which was peculiar enough last year in the Disney World Bubble, doesn't need more virus unpredictability.
Then there's the abominable concept of tanking. When the fans stood by sports amid a crisis, how can any franchise have the gall to quit and impugn competitive integrity?
Or raise ticket prices?
Or, worse, how can a league become so preoccupied by a labor fight that it leads to a work stoppage? Can you imagine MLB, with maybe 10 of its 30 clubs interested in October success this season, asking fans to care anyway — then shutting down the sport in 2022?
I was on a radio show when Rudy Gobert tested positive, put the NBA on pause and changed sports forever. That was one year ago tonight. Since then, sports simply hasn't mattered as much as it once did, and rightly so. Maybe it never will matter as much again. What does it all mean when you're trying to get your arm jabbed while staying employed, keeping your family together and making sure your kids are schooled?
The sports industry is challenged, then, to stop thinking it's all about them — athletes and owners and executives — and realize the mission is completely about the fans and how to respectfully turn them into paying customers again. They did sports an extraordinary favor by not drifting away when their lives were disrupted. It was a gesture of good faith that a corrupt, greedy industry didn't fully deserve.
And if sports screws up again?
It's your ball now. Take it and go home.
Being Wrong On-Air Isn't A Bad Thing
…if you feel yourself getting uncomfortable over the fact that you were wrong, stop to realize that's your pride talking. Your ego. And if people call you out for being wrong, it's actually a good sign.
In the press conference after the Warriors won their fourth NBA title in eight years, Steph Curry referenced a very specific gesture from a very specific episode of Get Up that aired in August 2021.
"Clearly remember some experts and talking heads putting up the big zero," Curry said, then holding up a hollowed fist to one eye, looking through it as if it were a telescope.
"How many championships we would have going forward because of everything we went through."
Yep, Kendrick Perkins and Domonique Foxworth each predicted the Warriors wouldn't win a single title over the course of the four-year extension Curry had just signed. The Warriors won the NBA title and guess what? Curry gets to gloat.
The funny part to me was the people who felt Perkins or Foxworth should be mad or embarrassed. Why? Because they were wrong?
That's part of the game. If you're a host or analyst who is never wrong in a prediction, it's more likely that you're excruciatingly boring than exceedingly smart. Being wrong is not necessarily fun, but it's not a bad thing in this business.
You shouldn't try to be wrong, but you shouldn't be afraid of it, either. And if you are wrong, own it. Hold your L as I've heard the kids say. Don't try to minimize it or explain it or try to point out how many other people are wrong, too. Do what Kendrick Perkins did on Get Up the day after the Warriors won the title.
"When they go on to win it, guess what?" He said, sitting next to Mike Greenberg. "You have to eat that."
Do not do what Perkins did later that morning on First Take.
Perkins: "I come on here and it's cool, right? Y'all can pull up Perk receipts and things to that nature. And then you give other people a pass like J-Will."
Jason Williams: "I don't get passes on this show."
Perkins: "You had to, you had a receipt, too, because me and you both picked the Memphis Grizzlies to beat the Golden State Warriors, but I'm OK with that. I'm OK with that. Go ahead Stephen A. I know you're about to have fun and do your thing. Go ahead."
Stephen A. Smith: "First of all, I'm going to get serious for a second with the both of you, especially you, Perk, and I want to tell you something right now. Let me throw myself on Front Street, we can sit up there and make fun of me. You know how many damn Finals predictions I got wrong? I don't give a damn. I mean, I got a whole bunch of them wrong. Ain't no reason to come on the air and defend yourself. Perk, listen man. You were wrong. And we making fun, and Steph Curry making fun of you. You laugh at that my brother. He got you today. That's all. He got you today."
It's absolutely great advice, and if you feel yourself getting uncomfortable over the fact that you were wrong, stop to realize that's your pride talking. Your ego. And if people call you out for being wrong, it's actually a good sign. It means they're not just listening, but holding on to what you say. You matter. Don't ruin that by getting defensive and testy.
WORTH EVERY PENNY
I did a double-take when I saw Chris Russo's list of the greatest QB-TE combinations ever on Wednesday and this was before I ever got to Tom Brady-to-Rob Gronkowski listed at No. 5. It was actually No. 4 that stopped me cold: Starr-Kramer.
My first thought: Jerry Kramer didn't play tight end.
My second thought: I must be unaware of this really good tight end from the Lombardi-era Packers.
After further review, I don't think that's necessarily true, either. Ron Kramer did play for the Lombardi-era Packers, and he was a good player. He caught 14 scoring passes in a three-year stretch where he really mattered, but he failed to catch a single touchdown pass in six of the 10 NFL seasons he played. He was named first-team All-Pro once and finished his career with 229 receptions.
Now this is not the only reason that this is an absolutely terrible list. It is the most egregious, however. Bart Starr and Kramer are not among the 25 top QB-TE combinations in NFL history let alone the top five. And if you're to believe Russo's list, eighty percent of the top tandems played in the NFL in the 30-year window from 1958 to 1987 with only one tandem from the past 30 years meriting inclusion when this is the era in which tight end production has steadily climbed.
Then I found out that Russo is making $10,000 per appearance on "First Take."
My first thought: You don't have to pay that much to get a 60-something white guy to grossly exaggerate how great stuff used to be.
My second thought: That might be the best $10,000 ESPN has ever spent.
Once a week, Russo comes on and draws a reaction out of a younger demographic by playing a good-natured version of Dana Carvey's Grumpy Old Man. Russo groans to JJ Redick about the lack of fundamental basketball skills in today's game or he proclaims the majesty of a tight end-quarterback pairing that was among the top five in its decade, but doesn't sniff the top five of all-time.
And guess what? It works. Redick rolls his eyes, asks Russo which game he's watching, and on Wednesday he got me to spend a good 25 minutes looking up statistics for some Packers tight end I'd never heard of. Not satisfied with that, I then moved on to determine Russo's biggest omission from the list, which I've concluded is Philip Rivers and Antonio Gates, who connected for 89 touchdowns over 15 seasons, which is only 73 more touchdowns than Kramer scored in his career. John Elway and Shannon Sharpe should be on there, too.
Money Isn't The Key Reason Why Sellers Sell Sports Radio
I started selling sports radio because I enjoyed working with clients who loved sports, our station, and wanted to reach fans with our commercials and promotions.
A radio salesperson's value being purely tied to money is overrated to me. Our managers all believe that our main motivation for selling radio is to make more money. They see no problem in asking us to sell more in various ways because it increases our paycheck. We are offered more money to sell digital, NTR, to sell another station in the cluster, weekend remotes, new direct business, or via the phone in 8 hours.
But is that why you sell sports radio?
In 2022, the Top 10 highest paying sales jobs are all in technology. Not a media company among them. You could argue that if it were all about making money, we should quit and work in tech. Famous bank robber Willie Sutton was asked why he robbed twenty banks over twenty years. He reportedly said," that's where the money is". Sutton is the classic example of a person who wanted what money could provide and was willing to do whatever it took to get it, BUT he also admitted he liked robbing banks and felt alive. So, Sutton didn't do it just for the money.
A salesperson's relationship with money and prestige is also at the center of the play Death of a Salesman. Willy Loman is an aging and failing salesman who decides he is worth more dead than alive and kills himself in an auto accident giving his family the death benefit from his life insurance policy. Loman wasn't working for the money. He wanted the prestige of what money could buy for himself and his family. 
Recently, I met a woman who spent twelve years selling radio from 1999-2011. I asked her why she left her senior sales job. She said she didn't like the changes in the industry. Consolidation was at its peak, and most salespeople were asked to do more with less help. She described her radio sales job as one with "golden handcuffs". The station paid her too much money to quit even though she hated the job. She finally quit. The job wasn't worth the money to her.
I started selling sports radio because I enjoyed working with clients who loved sports, our station, and wanted to reach fans with our commercials and promotions. I never wanted to sell anything else and specifically enjoyed selling programming centered around reaching fans of Boise State University football. That's it. Very similar to what Mark Glynn and his KJR staff experience when selling Kraken hockey and Huskies football.
I never thought selling sports radio was the best way to make money. I just enjoyed the way I could make money. I focused on the process and what I enjoyed about the position—the freedom to come and go and set my schedule for the most part. I concentrated on annual contracts and clients who wanted to run radio commercials over the air to get more traffic and build their brand.
Most of my clients were local direct and listened to the station. Some other sales initiatives had steep learning curves, were one-day events or contracted out shaky support staff. In other words, the money didn't motivate me enough. How I spent my time was more important.
So, if you are in management, maybe consider why your sales staff is working at the station. Because to me, they'd be robbing banks if it were all about making lots of money.
Media Noise: BSM Podcast Network Round Table
Demetri Ravanos welcomes the two newest members of the BSM Podcast Network to the show. Brady Farkas and Stephen Strom join for a roundtable discussion that includes the new media, Sage Steele and Roger Goodell telling Congress that Dave Portnoy isn't banned from NFL events.
Podcast: Play in new window | Download
Subscribe: RSS