Chris 'Mad Dog' Russo Has No Plans of Slowing Down
"19 years for Mike and the Mad Dog and around 13 with Sirius. It's hard to believe. I knew I would be at Sirius a long time and I wasn't going back to FAN, but it's definitely surprising."
Pick one voice to hear repeatedly for 30 years, you'll probably select a sound more soothing than Christopher "Mad Dog" Russo.
But here we are after 30 years, and there aren't many voices I've listened to more than his. And if you're reading this interview, it either means you similarly spent thousands of hours listening to Russo, or he helped pave a career path for you in some way.
His show intro takes close to two minutes, his greeting alone takes about eight seconds, "Annnndddd good afternoon everybody!" Sports radio and its program directors are built to demand instant content, Russo opens his show doing the exact opposite, but that's the benefit a host has when he IS the format.
With Mike Francesa, Russo helped build the concept of sports radio. Creating a successful format that suits your talent is enough of a career success, but Russo still had a Part Two left.
Taking a character from one successful show and attempting to build something new doesn't always work. Following Cheers with Frasier is rare. But after nearly two decades with Francesa, Russo is still going strong with his own show, his own channel and his own audience 13 years later.
Brandon Contes: You've been with SiriusXM for 12 and a half years now, it's going on almost 13 years since you last hosted an afternoon show with Mike Francesa on WFAN. Is that jarring?
Chris Russo: It sure is. It's almost like you forget you did Mike and The Mad Dog for such a long period of time. 19 years for Mike and the Mad Dog and around 13 with Sirius. It's hard to believe. I knew I would be at Sirius a long time and I wasn't going back to FAN, but it's definitely surprising. And Mike retiring while I'm still working is odd too. You do your talk show every day, but when you think about it – yes, strange.
BC: Has one portion of your career been more fulfilling than the other? Helping to create the sports radio format with Mike, or launching your own brand and channel with Sirius?
CR: It would be hard to ever top 19 years of Mike and the Mad Dog, especially considering we were the first to do a two-person, five-hour afternoon show in the format. There were individual shows in different cities, but there weren't 24-hour sports stations. The fact that Mike and I started afternoon drive on an all-sports station, hard to top that.
SiriusXM is a different accomplishment, but when you're the first to do something in a genre, that's hard to beat. It was New York City, it was the first radio station to do all sports, it was 1:00 – 6:30pm, 50,000 watts. That sticks. Going to Sirius was more about me trying to do a national show, find a new audience, and put a station on the map. But with Mike, we created the format.
BC: Was there a point during the summer of 2008, that Mike, Chernoff or anyone at WFAN could have said something to get you to stay?
CR: [Long Pause] I don't know. I think I was probably looking for a break after 19 years at the same place. SiriusXM gave me a channel, I wanted something different, I liked the flexibility of getting away from the New York teams. Probably not. I think Mike and I wore each other out a bit. Money wasn't going to do it, there was a limited number of that. It was time to make a change, Mel Karmazin wanted me and he offered me my own channel with Sirius. At 48-years-old, I wasn't getting that offer again.
They already had Howard and he set the precedent for a person to leave a big New York station for Sirius. You had confidence in the company, and we had a lot of trouble those first six or eight months during the economic crisis, but I trusted Mel that we would figure out a way and he did. So I don't know if there's anything Mark or Mike could have said in June of 2008. I think I was going to go.
BC: When Imus left in 2007, how serious were you about wanting the morning show?
CR: It was something I thought about. It was a new challenge, I liked the idea of getting home at 11 in the morning. I don't know if I would consider it serious but thank God it didn't happen because I would have done mostly all sports talk and that might not have fit morning radio. There was a thought about putting both of us in mornings, although I don't think Mike wanted to get up. And there was a thought about splitting us up, but it never got that serious. It's nice to get home at 11am, especially in the summer, having nice weather and the whole day, and I think I liked it from that aspect more than the actual dynamic of hosting a morning sports show. As it turns out, it was the best thing for me not to get that show.
BC: Do you miss the competition of terrestrial radio and the ratings battle? Did it ever bother you to see Francesa and Michael Kay on the back page of the newspaper?
CR: No. What I do miss is the give and take I had with Mike. The discourse between the two of us couldn't be topped because Mike knew every sport. Most hosts know one or two, but Mike and I knew something about all of them.
I also miss the hometown teams. On a slow day, you could always rely on the local teams to get through a show. On Sirius, from February through August, there are days where you might not have a topic to grab everyone. A local station can always turn to the home teams, I don't have that with Sirius. I can't break down Julius Randle for 45 minutes because a listener in Phoenix might not even know who he is. You have to find something that grabs everyone.
BC: How long did you do your Saturday show on FAN?
CR: For about 19 years. I did Saturdays and Sundays in the late-80s before they put me and Mike together. I gravitated to Saturdays around '90 and did it for about nine months every year. I loved it. Just like Mike loved his Sunday NFL show, it was a break in the routine for us.
BC: That show was my introduction to sports radio. I would sometimes go to work with my dad on Saturday mornings and FAN would play on the way home. And as a seven- or eight-year-old, the voice and laugh caught my attention and once I realized you were talking about the Knicks and Mets, I was hooked. Did you feel a different connection with the Saturday audience?
CR: Definitely. The Saturday audience is different. Even if it's the same group of people, it had a different feel. There was more give and take with the calls because you have more time as a solo host, and it had more of a wide-open tableau. You could talk about anything because Friday night isn't a big sports night so I was able to keep it different from the topics during the week or from Mike on Sunday.
BC: Were you a Stern listener at any point before going to Sirius?
CR: No, I definitely was not. I drove to work about 10:30, 11:00 o'clock so he was already off-air. And if I was focused on anything in the morning, it would have been Imus. I usually don't listen to the radio too much. I always wanted my own fresh opinions, I didn't want to be influenced by anyone else. But based on my life at that point, it just didn't fit into my schedule. So I really didn't listen to Stern until I got to Sirius.
BC: Have you enjoyed your interactions with him and going on his show occasionally?
CR: Absolutely. Five times total. I've been totally into it. But it's almost like when he gets Mike from Mahopac (Sour Shoes), he feels like he had Chris Russo on, so it's been awhile, but I love going in there. He makes a sanitation worker sound interesting, a jewelry salesman sound interesting, he could make my father sound interesting! No matter who he's talking to, he has the ability to be engaged. He used to like talking about anything going on with Mike and me, I also loved talking about Imus with him. I haven't been on in a couple years, but I really enjoy it.
BC: What about going on Letterman? How many times did you do that?
CR: I think it was 37 times. The first was February of '91 and the last time was about two weeks before he retired in 2015. I loved doing that show. And I'll give you one story. They used to put me on in the third segment, 12:20am. Twice within a month in 2003, I was bumped. Once for Demi Moore and the other for Courtney Love. A week later, I'm driving into work and he calls my cell to apologize. I said, 'Dave what are you doing calling me? This is ridiculous, don't worry about it.' He told me 'it won't happen again, if you'll give us a break we'll have you on again.' Since then, every time I was on, I was the second guest and they gave me two segments.
BC: Did you enjoy the live audience aspect with Letterman? Because you were always good at feeding off the energy at remotes.
CR: I did, absolutely. There's more pressure. You have to make them laugh, you have to be funny. The reason Dave liked having me on is because he knew I could carry the segment for nine or ten minutes. He could set me up and I could talk, it wasn't pulling teeth. He put me on the first time because he heard me on-air and was making fun of the way I spoke, but it ended up being a long-lasting relationship.
BC: Francesa was complimentary of Pat McAfee when he got started in radio, it's interesting now to see him on your channel. He's very different from your brand of radio, but he generates interest.
CR: The sports talk genre has changed. Most hosts, anywhere you look, TV or radio, it's 80% football even in the offseason and then they sprinkle in other topics. I never did football 12 months a year and in New York you don't have to, but hosts today don't do baseball, golf or tennis, they're not even breaking down the NCAA Tournament. They spend most of their time on the NFL and they'll mix in the NBA.
Pat is the new breed. He's a big personality, but he uses the NFL to get his point across, a little wrestling too of course because he's a wrestler. Now do I love the cursing? Probably not. But I appreciate that the genre has changed from what it was in 1989 when Mike and I started. The NFL is bigger and baseball is not as big. A lot of the younger people on-air didn't grow up on baseball. It's really an NFL dominated genre right now and Pat does a superb job of appealing to the younger audience who are into fantasy football and DraftKings, while that's not where I grew up. There's going to be a time where my show won't be able to survive, but for the moment, I can still hang in there without doing 12 months of football.
BC: What about Morning Men, you're an old school sports historian and then you have a polar opposite in Mike Babchik on your channel, but the rabid following of FALs he and Evan Cohen built is incredible.
CR: Babchik does a wonderful job. I love Babchik, and Evan's a great sports talk host. Morning Men I look at a little differently because you can't do a ton of sports in the morning and they have to compete with Stern on the same platform, that's not easy. It's a tricky spot, but they've done a tremendous job of finding a niche for themselves, and that's not easy to do on Sirius where you can get lost with a million shows and channels. But Babchik and Evan haven't, and they deserve a lot of credit for that.
BC: Why do you think you're okay with Morning Men bits and more willing to play along, be the butt of a joke, but you weren't as forgiving when it was Craig Carton doing it at WFAN back in 2007?
CR: That's a good point. I think it has something to do with Imus because we were loyal to him and Craig was his replacement. I know the Carton and Mike relationship never warmed up, Carton and I have warmed up some. But you're right. I don't know what the reason was, we gave Carton a much harder time than I've ever given Babchik. Maybe in hindsight, I regret that.
Maybe I should've let it go, not say anything, just let them do their show and get established. I don't think it was as bad as everybody makes it out to be. But there is a feeling that Mike and I didn't give Boomer and Carton any support when they started. If they feel that strongly about it, there must be some truth to it, and I have to own that.
BC: Last year you were very critical of WFAN and what the station became, what about today with Craig and Evan Roberts in afternoons, is it more stable?
CR: I don't listen much, but they've done pretty well in the ratings and now they have a simulcast with SNY coming, so give them credit for that. But I'm not up to date with what they're doing on a day-to-day basis. Evan's had to change his role and I think he's done that, and Carton's had to change a little because there's more sports in afternoons than mornings. Gio has done a good job with Boomer in mornings. Give Malusis and Maggie credit for hanging in there. I just don't know exactly where FAN is as a channel and a station if I'm being honest. I don't know enough. One thing I will say is, Evan's done a good job of letting Craig get his feet wet and reestablished.
BC: Are you surprised Mark Chernoff is retiring?
CR: Yea, he loves to work, radio is his life and he's a routine guy. He gets up in the morning, goes on a run, has a catch with his kid when he gets to see him. But coming into the radio station at 6am, he's always had that routine and he doesn't have a ton of hobbies. He doesn't play golf or tennis, so I am a little surprised to see him leave.
BC: Did you program Mad Dog Radio at the beginning?
CR: I did. I had a lot of help, but I programmed it. With Sirius, there's a big chain of command, so I couldn't just pick anyone I wanted and hire them. We've evolved a million different ways over the last 13 years. They still try to run things by me, sometimes they do, sometimes they don't, but I'm busy with the TV show, my radio show and now podcasts, there's a lot going on. I know what's happening with the channel, but I'm not involved in the decision-making process.
BC: Did you enjoy being part of the decision-making process?
CR: I did, but I learned I'm better on-air than off-air. It's not easy to hire people, fire people, get approval, listen to tapes. There was a period in '08 and '09, I was doing a five-hour show, with no commercials. To juggle all that work was very tricky. They kind of put me out of my misery five years in and it's been a plus.
BC: 61 years old and you're not subtracting at all from your career, you have a daily TV show, a daily radio show and now you've even recently added a podcast series, Digging Up The Past. Why enter that medium?
CR: SiriusXM owns some podcast companies and they need content, that's the biggest reason. In my last deal I said I would do it and I didn't quite realize the involvement with it. I did one in the fall about Thanksgiving Day football, and now I have a four-part NCAA podcast that we did 22 interviews for. It's the kind of stuff I like, it's historical and most of the young talk-show hosts today, they're grasp of history goes back to the mid '90s. They don't go back to 1961, they don't know who Jerry Lucas is. You can't give me a normal podcast to do with an interview that I already do on the radio, so that's where this idea came from where we have long-form episodes and it's fun. It's time consuming, 22 interviews plus narration takes time, but it's good quality and I'll always make sure my audience knows it's worth the time to listen.
BC: What does the podcast allow you to do that your radio show doesn't?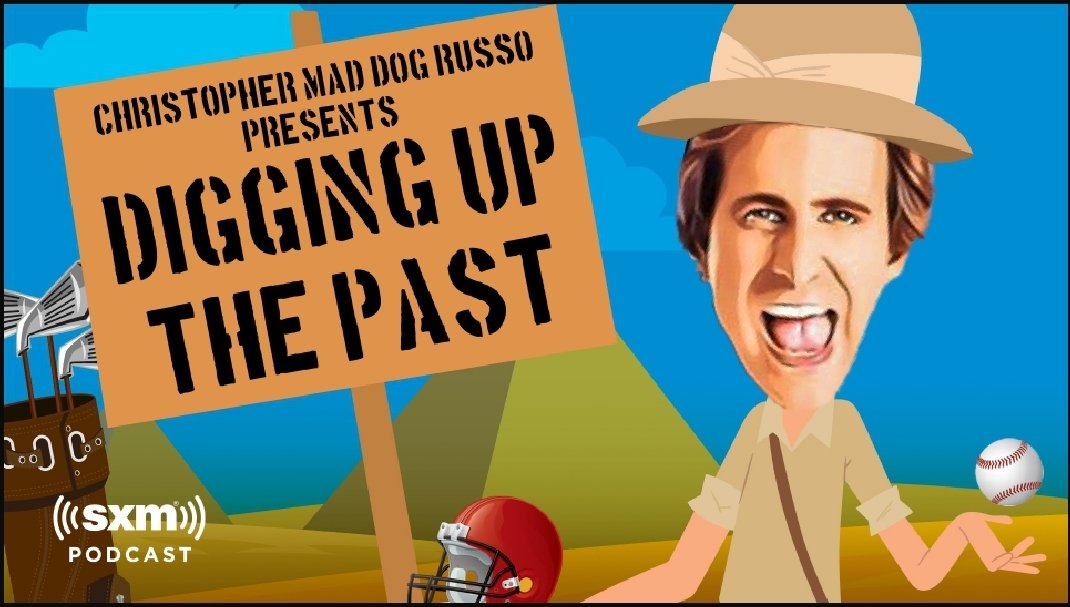 CR: I can get any one of these guests on my radio show, but you can't get 22 of them together on one show because their schedules will never line up. But for a podcast, you can schedule it around them and piece it together, so it helps to complete a story.
BC: I think Francesa was 62 when he announced his first retirement, when does Chris Russo start to think about it?
CR: Not until my youngest gets out of high school and he's a sophomore. What am I going to do if I retire and he's still in school in Connecticut? I can't go anywhere, I can't move to Florida and play golf, so until he finishes high school there's nothing to think about. When he goes off to college and it's just my wife and I left in the house, then I could see taking a step back, but not for another couple years, minimum.
BC: Would you cut TV or radio first?
CR: I think I'll always do radio in some capacity. Some sort of radio format.
BC: Is the flexible schedule that podcasting offers enticing as a post-retirement option?
CR: Yea, that's appealing, it gets you out of the daily grind. Doing a show everyday for 49 or 50 weeks a year, it's a lot. There will be a time that I won't want to do that, but we're not there yet.
BC: Last thing, because this made the rounds on social media in the last couple weeks. Were you made aware that there is a Tom Izzo who works at WFAN? It was not the basketball coach commenting on you blowing your nose.
CR: What happened was, my son who's a senior at Tampa texted me and said, 'look at this dad, Tom Izzo's wondering if you farted.' He thought it was the Michigan State Tom Izzo, so I did too. He wasn't aware there was a Tom Izzo at WFAN, nor was I. And after I said it on-air, that's when we found out it was a different Tom Izzo at FAN.
But that day I was just blowing my nose all day for whatever reason. That's another adjustment we've had to make in the last year, TV at home, radio at home, you don't get a break in-between where you're in the city and feel the energy. I'm doing one show in the basement, the other on the third floor. It's strange.
BC: Are you going back to the studio?
CR: Undetermined, but I would think so. It depends on SiriusXM and MLB opening their studios. Maybe by the summertime, but who knows.
BC: Is the ability to work from home a benefit to prolonging your career?
CR: You hit it right on the head. I do like the city, but it's 17 hours a week that I spend commuting on a train, walking and driving. It's a lot. Especially in the summer when you want to be home by six every night. You work harder at home, 17 hours of commuting is now 17 hours working, but overall, not commuting is a big plus.
Domonique Foxworth Is ESPN's Most Interesting Talent
"Foxworth has that certain star it quality that can be hard to name. Even if you can't identify what it is, if you identify someone that has it, you have to do all you can to hold on to them as tight as you can."
There are a lot of companies in the sports media world where you can say that a podcast is the most entertaining product they offer. It is rare though that a breakthrough podcast can be subdivided by days of the week and one individual day's offering stands above not just the rest of the podcast, but everything else under the company's umbrella.
Enter The Right Time with Bomani Jones. The ESPN podcast enjoyed tremendous growth during the Covid-19 pandemic and as a result, the network asked Jones to expand his offerings from two days per week to three. That gave birth to the best thing ESPN does on any platform – Foxworth Fridays.
Of course Domonique Foxworth makes The Right Time better. He has had a habit of making everything he touches with the ESPN brand on it better since joining the company in 2016.
Rarely does any network find a talent that has the ability to hang in every conversation and be relatable to everyone on whatever set he is on. Foxworth has that certain star it quality that can be hard to name. Even if you can't identify what it is, if you identify someone that has it, you have to do all you can to hold on to them as tight as you can.
Domonique Foxworth has a unique background. He was an All-ACC defensive back at Maryland before being taken in the third round of the 2005 NFL Draft by the Denver Broncos. He then spent seven seasons in the NFL, playing in Denver, Atlanta, and Baltimore. He was the youngest player to become vice president of the NFL Players Association Executive Committee, and in 2012 became one of the youngest players to be elected president of the NFL Players Association.
When his playing days were done, Foxworth went to Harvard to get an MBA. Then he became COO of the NBA Players Association.
Everything he says comes from a place of knowledge and conviction. He also has a wicked sense of humor. That means Domonique Foxworth can make ESPN's talking head shows smarter and he can make its smart shows and prestige platforms more fun.
I always enjoy seeing Domonique show up on Get Up. That show is loaded with ex-NFL players. Foxworth keeps the proceedings from turning into an echo chamber though. He is the only one that is on the show regularly that can speak to what it is like to walk into camp not knowing if or when his name was going to be called to come to the coach's office and turn in his playbook. He is the only one that can talk with experience and intelligence about collective bargaining agreements and what the realities are when labor disputes happen.
As of this writing, these are the places you will see, hear or read Domonique Foxworth regularly on ESPN: The Undefeated, Get Up, The Right Time with Bomani Jones, SportsCenter, Around the Horn and Highly Questionable. He also shows up on other podcasts when needed.
That is a lot of work. ESPN doesn't seem to be in the habit of paying talented people more to do more these days. So if the network wants to see Foxworth's profile continue to grow, what more can they do with him?
My gut instinct is radio. On his Foxworth Friday appearances with Jones, he has proven to have a casual delivery and a quick wit. He is also a great storyteller. I am skeptical though that ESPN and Foxworth could find the right formula to get the dynamite product he delivers for just 40 minutes one day per week when the demand is two-to-three hours per day, five days per week.
Are you putting Bomani back on the radio with Foxworth and giving them the same producers to recreate the environment they already thrive in as much as possible? Even that is no guarantee burnout doesn't set in. Do you pair him with someone like Mike Golic Jr? I think they would make an interesting duo, but GoJo and Bo are two very different personalities. That could mean you get a very different version of Foxworth.
Maybe we have to consider that as ESPN and other linear TV networks value talking heads less and live play-by-play rights more, Foxworth will have to look elsewhere to fully blossom into a media star. Certainly there are more employment options than ever before for a guy like him.
I remain hopeful that a guy as talented as Domonique Foxworth finds a way to continue to thrive with a promotion machine like ESPN behind him. People with unique perspectives need to be on the biggest platforms available. It is not just good for their brand, it is good for sports media in general. It keeps the business from becoming a echo chamber of takes.
ESPN Deserves Praise For Handling Of Christian Eriksen Collapse
"Raw but professional. That is how I would describe what I saw."
We have seen crazy moments happen at sporting events. We have seen wilder, more inexplicable moments. It is hard to think of something more frightening than what happened on the pitch in Copenhagen on Saturday afternoon.
During the 43rd minute of Denmark's opening match of the Euro 2020 tournament, the national team's star midfielder Christian Eriksen collapsed on the field. It wasn't a contact injury. It wasn't one of soccer's theatrical ploys to get a penalty called. He just staggered forward and collapsed on the field. The referees were called over to check on Eriksen. They then called out the medical staff and for the next twenty plus minutes, we held our breaths.
You can search out the video of the collapse for yourself. It is strange at first glance. It is disturbing when you know what the next few minutes held.
The match was eventually suspended and that put ESPN in an inconvenient situation. The network had to fill more than an hour with studio programming it hadn't planned for and really couldn't look to any road map to follow. The end product wasn't perfect, but it was perfect for the moment, striking the right balance of human emotion and reaction to what Eriksen's predicament meant in both the present moment and moving forward for the tournament.
ESPN's coverage was divided into two teams. Sebastian Salazar lead the team of former Austrian defender Christian Fuchs and former Scottish midfielder Craig Burley at the desk. There was also a less formal set where host Kelly Cates was joined by English soccer legend Steve McManaman, American forward Taylor Twellman and referee Mark Clattenburg gathered in recliners to discuss the action. Both groups did an excellent job of not only reacting, but holding my attention. It was the desk crew, led bu Burley's utter disbelief at what was happening, that was the real standout though.
Craig Burley absolutely earned my respect as a broadcaster and analyst. He was the antithesis of the stereotype of a "Scottish soccer hooligan," giving detailed and emotional explanations of how the moment effected him. He said plainly that this was the most disturbing thing he had ever seen happen at the Euro tournament. He openly struggled with how to make sense of Christian Eriksen, laying motionless and receiving CPR and hits from defibrillator paddles while all his girlfriend could do was stand on the Danish sideline and watch.
Probably his most skilled and astute moment came when he was asked what UEFA, European soccer's governing body, should do about the match between Russia and Belgium that was supposed to start after the conclusion of Denmark vs. Finland. There wasn't an ounce of doubt in Burley's response. The only correct answer in his opinion was to cancel that match. After all, five players scheduled to take the pitch in that match were current or former teammates of Eriksen's in his club career.
"It's difficult around here," he said, making it clear that the thought of starting a second match was absolutely absurd. "Human beings are involved. People are not robots."
McManaman said something similar from his recliner. He also could not believe we were talking about trying to play another match today. Instead of speaking on the emotions of the players involved, "Maca" tried to give the viewers an idea of the difficulty this situation puts on managers and UEFA officials. He found the balance of human emotion and explanation of the strategy involved in trying to get a team ready for action in an emotional atmosphere like this one.
Raw but professional. That is how I would describe what I saw. Twellman, a rising star at ESPN beyond just the network's soccer coverage, came under fire from some fans for what they perceived as Twellman speculating about Eriksen's diagnosis. Twellman made it clear that he was telling the audience what he heard from a doctor watching the events unfold. In my mind, that isn't very different from any network turning to their medical correspondent or injury expert. The only difference is the information was being filtered through a third party.
He also caught heat for what some thought was criticizing the reaction of the paramedic staff on hand, taking nearly two minutes to begin administering CPR. That one is a little harder to defend, but my argument would be that we were all scared for Christian Eriksen and trying to make sense of what we had just witnessed. Taylor Twellman just had the misfortune of going through those emotions and reacting on live television. Can't he and ESPN be forgiven for a misstep in the moment?
Over at the desk, Sebastian Salazar did a masterful job of leading the conversation and making sure the viewers that were flipping over to ESPN after learning about what happened to Christian Eriksen had all of the most up to date information. He was the one that first revealed the photo of Eriksen sitting up, seemingly responsive as paramedics took him off the field. His state had initially been in question, because medical professionals and Eriksen's Danish teammates formed a barricade and used curtains to keep cameras from seeing everything that was going on.
Salazar was also the first to read the statement from UEFA that told fans Christian Eriksen was at the hospital. The Danish star had been stabilized. It was no longer the life or death situation that had us all on the edge of our seats.
"That is the best outcome we could have seen today," Burley said. He was talking about Eriksen's healthy. Surely, that deserves all of the focus and excitement here, but it is also fair to say that "the best outcome we could have seen today" is the only fair description for ESPN's effort in difficult and upsetting circumstances.
T-Bone Found His Groove And Has Been Going Ever Since
"I think, obviously, you have to have some level of talent to do what we do, but I think there are far more talented people than me that for whatever reason, life's circumstances prevented them from sticking around."
The hate mail was consistent. Sometimes intense.
It kept coming and coming…for six months, according to Jonathan "T-Bone" Smith, who had the unenviable task of replacing a popular sports host in Columbus, Ohio, named Scott Torgerson, after he was fired for a controversial tweet involving Desmond Howard in October 2012.
Fast forward to the soon-to-be summer of 2021; no more hate mail (at least on that subject), and it's eight and a half years of success (the ratings back it up) for "Common Man and T-Bone," the afternoon show that anchors the successful (the ratings back that up, too) 97.1 The Fan.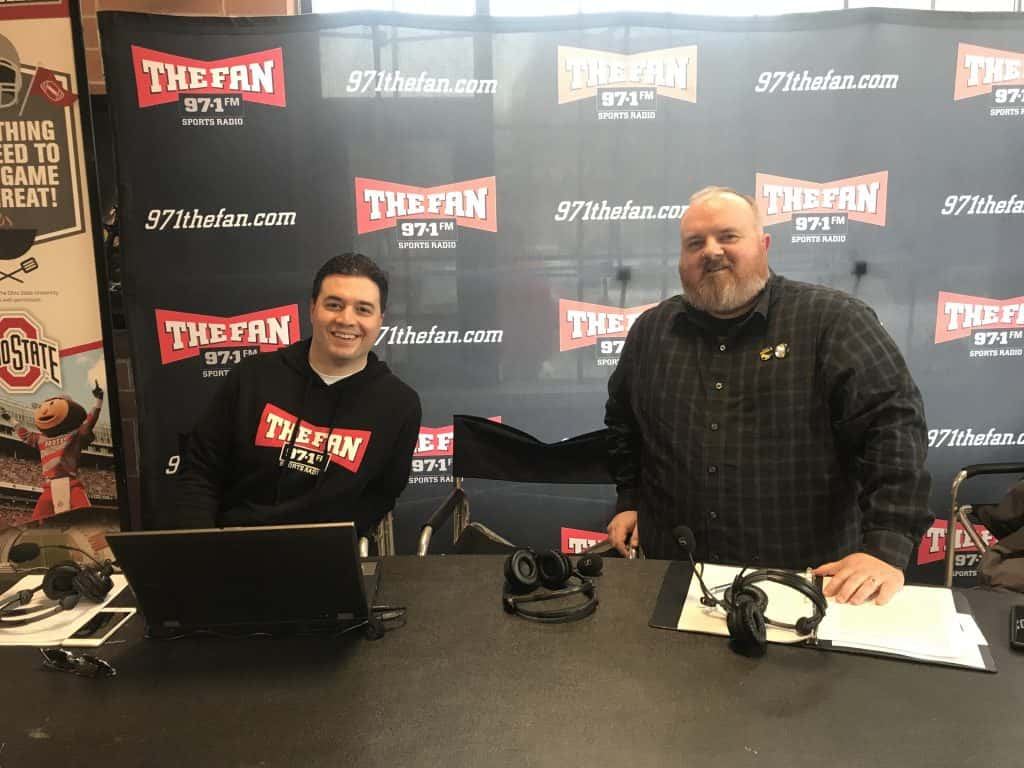 Barrett Sports Media scored an interview with "T-Bone," the "round mound" of Columbus sports radio. It soon became clear that the path to afternoon show stardom was one-third talent, one-third hard work, and one-third "good fortune" for T-Bone.
Jonathan "T-Bone" Smith is a Columbus kid, born-and-raised, who would play basketball outside, then come inside and turn on the radio to hear the Fabulous Sports Babe, Paul Harvey and Dan Patrick, among other radio stars.
"I had always been interested by the idea that you could talk in the microphone and have a bunch of people hear what you had to say," T-Bone said. He said by the age of 10, he knew he wanted to be on the radio, "some way, somehow."
In the seventh grade, he listened attentively as a twelfth-grader at his small Liberty Christian Academy school read the morning announcements. That twelfth-grader eventually got a job working at Columbus radio station WUFM 88.7, a Christian rock station. T-Bone followed in the same footsteps. T-Bone started reading the morning announcements as an eleventh-grader, and after high school, he knocked on WUFM's doors to volunteer on the street team. But the receptionist there had other ideas.
"She said, 'Do you want to be on air or do you want to do the street team?'" he remembered. "It's OK, we'll train you," she said, after the 19-year-old radio rookie said he wanted to be on-air but had no experience.
By December 2001, six months after donning the high school cap and gown, T-Bone was on the air. During his six years at the station, he did afternoons, nights, and had a stint as the promotions director, too. He had been attending Ohio State, but exited the school to focus on his on-air work full time at WUFM.
Feeling that the religious format was no longer a good fit, coupled with his desire to do more of a talk-based show, he left WUFM in 2008. With no college degree, T-Bone took a customer service job with BMW (yes, that BMW) Financial Services. He was on the phone, a lot, but he liked to talk, a lot, so…it worked out. Plus, it made him more money than what he was making at WUFM. Still, he yearned for that talk-show style program. So T-Bone started a podcast that focused on his love of soccer. His studio? A spare bedroom in his Columbus-area home.
Turns out, Ivan Lee of 1010 WINS in New York City heard his podcast, and offered to air it on a little-known streaming entity called Chat About It, which no longer exists.
Slowly, T-Bone's name was getting out there.
He swears he got his next radio job, as an afternoon show producer for Sports WONE-AM (980) in Dayton, Ohio, because he had that Big Apple reference on his resume. T-Bone would drive, each day, from Columbus to Dayton (60 miles) to produce and then later host a sports show. After a year of racking up thousands of frequent driver miles, he left Dayton for good in 2011. And he almost gave up his dream of having a long on-air career in radio for good.
"I told my wife, give me a year to get something better (in radio) and (if not), I'll get a degree, get a better job, give up on the radio thing," T-Bone told BSM.
Thankfully, the radio gods didn't make him wait that long. In September 2011, he heard that WBNS-FM, 97.1 The Fan in Columbus, was looking to hire an afternoon show producer for "Common Man and The Torg," Mike Ricordati and Scott Torgerson. T-Bone applied, and got the job. He told BSM that he could feel the chemistry between the three sports-crazed men, and that made it all the more difficult for T-Bone when, just five or six months into producing the afternoon show, T-Bone thought about applying to become the host of "The Buckeye Show," which aired after "Common Man and The Torg."
"I remember, clear as day," T-Bone said of his walk with Torgerson to get lunch at Chipotle in the spring of 2012, "I said to Torg, 'I'm thinking of applying to that because I would like to do on-air stuff, but I wouldn't do it unless you guys are cool with it because I came here to be your producer.'…He said, 'Ah, dude, you should definitely do it.' He was very supportive. Mike was very supportive. Torg even said, 'Hey, you may not get it, but at least it shows them that you're interested.'"
T-Bone ended up getting the position. He hosted The Buckeye Show from the summer of 2012 until December of that year, when Ricordati hinted to T-Bone that he wanted T-Bone to become the permanent co-host on the afternoon show, after Torgerson's dismissal from the station.
January to June of 2013 was a true test of resiliency for T-Bone. He was in the more prominent time slot, paired with the more established host (Ricordati), replacing the popular guy known by one syllable — "Torg."
"Scott (Torgerson) is a really interesting guy. I had a different kind of personality that I think took some getting used to for some people and that's totally understandable," T-Bone, who considers "Torg" a friend to this day, told BSM. "After six months or so, things settled down…and I was able to find a groove and we've been going ever since."
"Common Man and T-Bone" are a consistent top-three in the Men 25-54 demographic. The two fellers have an all-comers appeal — not too old, not too young…they can get serious about the Buckeyes and then laugh about Nick Castellanos' antics on the baseball field…the show isn't fast-paced and cutthroat like many shows in the Northeast, but never puts you to sleep, either. To steal a line from Adult Contemporary Radio, "Common Man and T-Bone" is that show that "everyone at work can agree on."
"We're going to pay more attention to the culture and the conversation around the games as opposed to the actual in-game everyday (nuts and bolts)," T-Bone told BSM.
And the conversation that's created by Ricordati and T-Bone gives the two a chance to show off their similar senses of humor, as T-Bone described it.
The Columbus market has a little bit of everybody. While the Buckeyes are the No. 1 draw, people come from all areas of Ohio and beyond to call Columbus home. T-Bone said after Ohio State, NFL talk is what interests most sports fans in Columbus. It doesn't have to be just about the Browns or Bengals, though Browns fans are more dominant in Columbus. T-Bone believes the Indians have more fans in Columbus than the Reds these days, though it wasn't like that in the late '80s and early '90s, according to T-Bone, when the Reds were busy going wire-to-wire and winning the 1990 World Series. Columbus sports fans also like to discuss what's happening with the Blue Jackets and Crew.
Sometimes, Jonathan "T-Bone" Smith walks into the 97.1 The Fan studio and may have to pinch himself. At age 38, he's living out his dream, hosting a sports radio show, on one of the highest-rated sports stations in the country, in his hometown.
"I think, obviously, you have to have some level of talent to do what we do," T-Bone told BSM, "but I think there are far more talented people than me that for whatever reason, life's circumstances prevented them from sticking around. Talent is very important, but I think availability is extremely important. An ability to shake off your bad days is really important because I've had a ton of them. Talent matters, but the ability to stick with it is what matters more."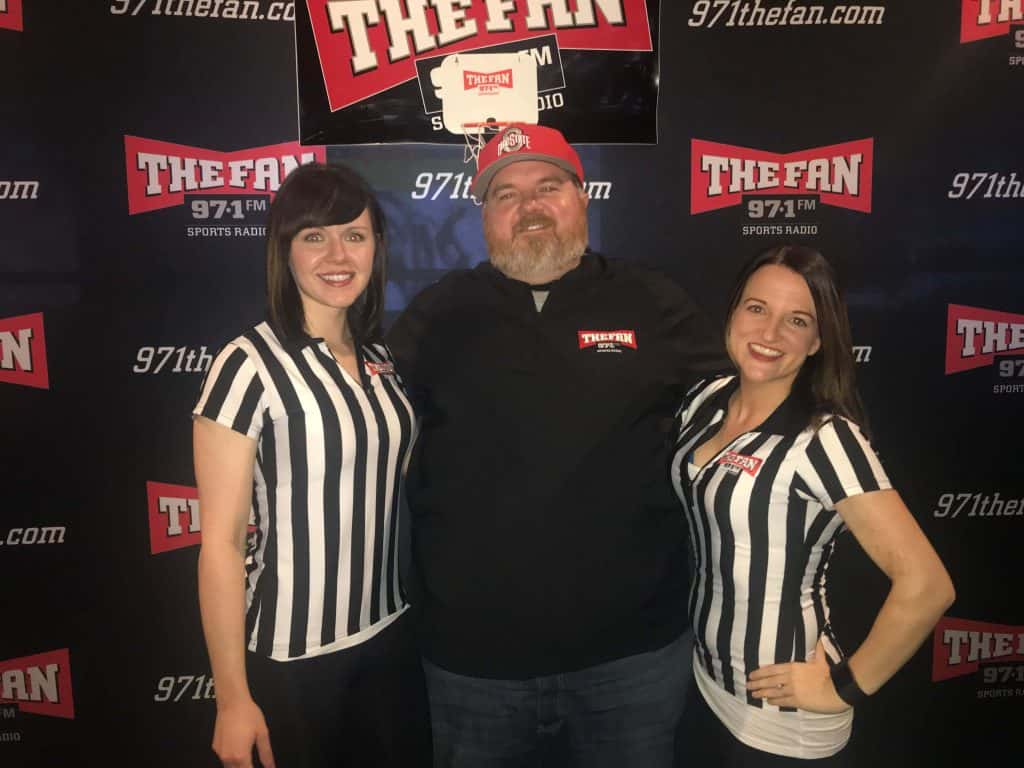 T-Bone added this note to aspiring on-air talents: "When an opportunity presents itself, if you've done the work, if you've prepared, if you have talent, then you can step in and hopefully hit a home run; or a single, if that's what they're asking for…just don't strike out."