Gonzaga Is The Dominant Story — And The Smart Pick
When circumstances suggest anything is possible in this NCAA tournament, including COVID-19 forfeitures, it's wise to go with the chalk — the Zags and their quest for perfection.
It wasn't long ago, remember, when America was clanking both free throws. Was the upstart pronounced Gon-ZAH-ga or Gon-ZAG-uh? From Spo-KANE or Spo-KAN? And who were these interlopers, not far removed from sharing a practice court with intramural leagues and volleyball teams while renting a band to play at games?
Could they really escape a mid-major existence somewhere in the Great Northwest, where the team bus used to break down on the same hill at the start of road trips? Hell, didn't the Gonzaga administration almost downsize the program in the late-1990s, recommending a Division III reset amid severe enrollment declines and near-bankruptcy? When Mark Few was promoted from assistant to head coach, didn't the school president at the time, Father Robert Spitzer, ask athletic director Mike Roth, "OK, good … which one is he?"
Looking back, as the university's resources and reputation thrive amid new national prestige and Nike fortunes, it's not a stretch to draw two conclusions in 2021: Just as big-time college basketball saved Gonzaga, Gonzaga might save big-time college basketball. This inspiring tale, a made-for-Rinaldi epic if there ever was one, cannot be told enough. In a sport where bluebloods have lorded like an organized crime family, Gonzaga — firm emphasis on the ZAG, as in Zags — gradually blazed a Lewis-and-Clark trail through privileged hoops territories. While behemoth programs cheated and cut deals with corruption snakes, Gonzaga was assembling a culture rooted in values and methods. While broadcast networks embraced traditional power conferences, Gonzaga was comfortable growing its brand in relative obscurity, mixing non-league litmus tests with West Coast Conference games in Moraga and Malibu, where cozy gyms have brick walls behind the baskets.
And the one-and-done NBA hopscotchers? They generally weren't all that welcome in Spokane, as in CAN.
What began as a charming oddity just in time for a new millennium, with the Zags' first NCAA tournament berth and a shocking Elite Eight run, became an annual March Madness storyline. Familiarity led to expectations, the same that accompany Duke, Kansas, Kentucky and North Carolina. Suddenly, Gonzaga was a self-made, tried-and-true blueblood. And now, two decades after the program's introduction to the sporting masses, Few has taken his masterpiece to a place few have reached — as only the fifth team in 45 years to enter the tournament with an unbeaten record, six wins from the first perfect national championship season since 1976.
Some coaches would run from the hype, especially when continued spring failure will begin to hinder everything that has been accomplished. Few, after a title game loss in 2017 and other near-misses, is only happy to embrace the commotion ahead, six years after an unbeaten Kentucky team departed March a loser. "We just talked about it in there. We finally, finally acknowledged, like, look, this is a big deal," Few said after Gonzaga clinched its 23rd consecutive NCAA berth. "It puts us in some incredible company. That Kentucky team … it's a heck of an accomplishment. And it's really a heck of accomplishment in lieu of these atmospheres that have been so stale."
I'm glad he pointed that out. At 26-0, Gonzaga not only is the best team and predominant story but the wisest pick to win, in a pandemic scenario fraught with unpredictability and potential bracket chaos. The champion will be the team that navigates COVID-19 responsibly, meaning we all should be taking notes on which groups have avoided disruptions this season and which have succumbed to COVID-iocy. Duke, for all its royalty, will be remembered for the positive test that ended the Blue Devils' season, proving Mike Krzyzewski is no Dr. K. Kansas and Virginia had to bow out of conference tournaments because of positive tests. Baylor, once considered prime championship material, hasn't been the same since a February outbreak that infected nine players. Who knows which programs are next in the coming days and weeks?
Gonzaga learned quickly from a late November issue — a player and staff member testing positive — and, remarkably, zagged through the landmines in an unlikely march toward perfection. Never has a flawless run been so quiet, without cheering worshippers at home and hostile crowds on the road; yet, the lack of hullabaloo didn't slow the mission or blunt the joy. Internally, the team's performance director kept close watch on the mental health of young men in their early 20s and teens. With the 34-member travel party ensconsed in the tournament's Indiana bubble, after producing a required seven negative tests over seven straight days, it's possible the most vulnerable period will pass quickly for a mature team that has been conscientious and focused for months. The Zags know the lowdown, as do anxious gamblers and bracket holders: Once the tournament starts, any team hit by an outbreak will forfeit and go home if at least five players can't suit up. If RPI once was a quantity used in the selection and seed process, now it stands for Responsible Pandemic Index.
And as we gather for this new form of Madness, we must weigh RPI savvy and accountability within a bubble environment — young people isolated for weeks until a winner is declared April 5 — as much as basketball skill and coaching acumen. Illinois is primed for a lengthy run and possible title game showdown with Gonzaga, behind Ayo Dosunmu and 7-footer Kofi Cockburn, but this must be asked: With campus an easy drive from Indianapolis, will players be conveniently tempted to meet on the sly with family and friends? Gonzaga doesn't have those issues, setting up shop 2,000 miles from home. Everyone is raving about Cade Cunningham, the world's next great playmaker, but is he really ready to bunker down and contend with Oklahoma State when NBA franchises already are playing Fade For Cade and multiple millions await him?
Also, look at the competition in the West Regional. See any? Creighton might have been a chore, but the program is embroiled in a racial scandal involving coach Greg McDermott, he of the "plantation" references, and the players looked weary in their weekend no-show against Georgetown. Virginia, the last national champion, has its COVID issues and might not survive the Ohio University Bobcats and Jason Preston. Kansas has its COVID issues and might not survive USC and 7-footer Evan Mobley. The likely opponent in the regional final is Iowa, featuring the nation's top player, Luka Garza.
Unfortunately for the Hawkeyes, Gonzaga is the first team ever to have four players named as Naismith Award finalists.
Then consider the chaos, non-COVID-related, that is sure to clog all logic. Please explain how Georgetown — after coach Patrick Ewing was hassled by security in the building he trademarked, Madison Square Garden — won the Big East tournament. And how Oregon State won the Pac-12. And how Georgia Tech won the ACC. And how 68-year-old Rick Pitino, left for dead in a European pro league after too many scandals to count, made Iona the fifth team he's led to the tournament in an unimaginably madcap career. Call him what you'd like — he has heard it all — but do not say he can't coach. For that reason, Iona's matchup against Alabama is among the best of the first round.
"If we don't go to a Final Four, I'm quitting, and I'll be very disappointed and going back to Greece," Pitino cracked.
Now more than ever, we're looking for sensibility. Chalk, in this case, works two ways. Gonzaga is the smartest basketball prediction. And Gonzaga is the smartest pandemic prediction. If the Zags pass two additional PCR testing rounds before resuming practice in the heartland, America safely can begin to ask if we're watching one of the special stories in college sports history. Few took note of Duke's situation and paused in dread, telling radio host Dan Patrick after hearing the news that the unknown still scares him.
"That's what we all fear," Few said. "The tough thing is, we're all doing our protocols and sitting away from each other and spacing in meetings. Literally, we've been doing it all year. It's tough when one player tests positive and that the whole group goes out. That's our worst nightmare. I just wait to get the text from the trainer that everybody is OK and we passed the tests.
"We're doing everything that we possibly can."
Unlike Duke. Krzyzewski handled matters poorly last week, preferring to endure 100-mile round-trip commutes to the ACC tournament so his team could stay overnight on campus when — gulp — the student population was having an outbreak uptick. Not that the Blue Devils were worthy of a bid, having gone 11-11 in the regular season, but had we envisioned leaders who might be airtight in a crisis, Coach K would have come to mind. "We are disappointed we cannot keep fighting together," he said. "This season was a challenge for every team across the country and as we have seen over and over, this global pandemic is very cruel — and is not yet over. As many safeguards as we implemented, no one is immune to this terrible virus."
All of which feels like a sea change, a passing of the standard-bearer torch. If Krzyzewski once kickstarted a dead-horse program and created a dynasty, now that visionary is Few. All he lacks is the first championship. The son of a Presbyterian pastor from a small Oregon town, he's the poised antithesis of the bully coach who once owned the state where Gonzaga is attempting to make history — the scowling, chair-throwing, player-choking Bob Knight, who led 32-0 Indiana to the last unbeaten championship season. Sports fans don't know much about Few, but corporate CEOs do, venturing to the private Jesuit school to poke his brain for success secrets.
If the evolution of Gonzaga basketball was fascinating, the finished product is no miracle. This is a powerhouse that only can be described as progressive and state-of-the-art, a double-digit-victory machine featuring an NBA-style offense that averages 92 points a game and shoots 55 percent from the field. If Jalen Suggs can find Spokane, any five-star recruit can. Now, everybody knows who Gonzaga is, where Gonzaga is and what Gonzaga is. And there's no reason one title, if it finally happens, can't becomes two or three. Think about it. While elite programs beat up each other in the Big Ten, Big 12, ACC and SEC, the Zags can keep cruising through a breezy WCC, polishing their annual pedigree for March while most of their starters stick around for three, even four years. College basketball, if you haven't noticed, is in some deep doo-doo, with one-and-done mania soon to be crushed by a monumental NBA policy change — the best high school players will be allowed to jump directly to the league as teens. The likes of Krzyzewski and Kentucky's John Calipari, who just finished a miserable season, will have to consider The Gonzaga Way.
A perfect season would only magnify what already is clear.
"It's hard not to think about it," Suggs said. "But I think we've all done a good job of staying focused. At some point, you kind of have to acknowledge how special of a thing and how special of a ride we're on right now. I think the best part about it is that we're all excited. We're all excited to keep it going."
Some think this is the year when a newbie emerges from the periphery to reach the Final Four while throwing an elbow at COVID. Alabama or Texas, anyone? Houston or Arkansas? "Regardless of what you're doing, you've got to be a little lucky," Florida State coach Leonard Hamilton said. "Regardless of how much you're washing your hands, wearing masks, practicing all the safety measures and regulations that we've been practicing all year long — and then you come up here at the end and something unfortunately happens. You really don't even know where it came from and how it happened. That's just the nature of what we're dealing with."
This is what I know: The pandemic champions of sports have a common component. Seasoned by years of obstacles, they've had a better idea of how to approach an unprecedented challenge. LeBron James, Tom Brady, Nick Saban, the Dodgers, the Lightning, Dustin Johnson and Bryson DeChambeau, Naomi Osaka and Novak Djokovic — the best prevailed.
So why deny the obvious now?
"It's time," said guard Andrew Nembhard, per Sports Illustrated.
Besides, wasn't Aloysius Gonzaga known as the patron saint who helped Romans through the plagues of the late 1500s? In a global pandemic, we're really going to pick against a team named for a saint honored by a Spokane statue — of Aloysius carrying a sick man to a hospital? If we consider how the students have made a connection to modern-day basketball prominence — they call him "Alo-swish-us" — well, this is more than symbolism.
It's chalk.
Domonique Foxworth Is ESPN's Most Interesting Talent
"Foxworth has that certain star it quality that can be hard to name. Even if you can't identify what it is, if you identify someone that has it, you have to do all you can to hold on to them as tight as you can."
There are a lot of companies in the sports media world where you can say that a podcast is the most entertaining product they offer. It is rare though that a breakthrough podcast can be subdivided by days of the week and one individual day's offering stands above not just the rest of the podcast, but everything else under the company's umbrella.
Enter The Right Time with Bomani Jones. The ESPN podcast enjoyed tremendous growth during the Covid-19 pandemic and as a result, the network asked Jones to expand his offerings from two days per week to three. That gave birth to the best thing ESPN does on any platform – Foxworth Fridays.
Of course Domonique Foxworth makes The Right Time better. He has had a habit of making everything he touches with the ESPN brand on it better since joining the company in 2016.
Rarely does any network find a talent that has the ability to hang in every conversation and be relatable to everyone on whatever set he is on. Foxworth has that certain star it quality that can be hard to name. Even if you can't identify what it is, if you identify someone that has it, you have to do all you can to hold on to them as tight as you can.
Domonique Foxworth has a unique background. He was an All-ACC defensive back at Maryland before being taken in the third round of the 2005 NFL Draft by the Denver Broncos. He then spent seven seasons in the NFL, playing in Denver, Atlanta, and Baltimore. He was the youngest player to become vice president of the NFL Players Association Executive Committee, and in 2012 became one of the youngest players to be elected president of the NFL Players Association.
When his playing days were done, Foxworth went to Harvard to get an MBA. Then he became COO of the NBA Players Association.
Everything he says comes from a place of knowledge and conviction. He also has a wicked sense of humor. That means Domonique Foxworth can make ESPN's talking head shows smarter and he can make its smart shows and prestige platforms more fun.
I always enjoy seeing Domonique show up on Get Up. That show is loaded with ex-NFL players. Foxworth keeps the proceedings from turning into an echo chamber though. He is the only one that is on the show regularly that can speak to what it is like to walk into camp not knowing if or when his name was going to be called to come to the coach's office and turn in his playbook. He is the only one that can talk with experience and intelligence about collective bargaining agreements and what the realities are when labor disputes happen.
As of this writing, these are the places you will see, hear or read Domonique Foxworth regularly on ESPN: The Undefeated, Get Up, The Right Time with Bomani Jones, SportsCenter, Around the Horn and Highly Questionable. He also shows up on other podcasts when needed.
That is a lot of work. ESPN doesn't seem to be in the habit of paying talented people more to do more these days. So if the network wants to see Foxworth's profile continue to grow, what more can they do with him?
My gut instinct is radio. On his Foxworth Friday appearances with Jones, he has proven to have a casual delivery and a quick wit. He is also a great storyteller. I am skeptical though that ESPN and Foxworth could find the right formula to get the dynamite product he delivers for just 40 minutes one day per week when the demand is two-to-three hours per day, five days per week.
Are you putting Bomani back on the radio with Foxworth and giving them the same producers to recreate the environment they already thrive in as much as possible? Even that is no guarantee burnout doesn't set in. Do you pair him with someone like Mike Golic Jr? I think they would make an interesting duo, but GoJo and Bo are two very different personalities. That could mean you get a very different version of Foxworth.
Maybe we have to consider that as ESPN and other linear TV networks value talking heads less and live play-by-play rights more, Foxworth will have to look elsewhere to fully blossom into a media star. Certainly there are more employment options than ever before for a guy like him.
I remain hopeful that a guy as talented as Domonique Foxworth finds a way to continue to thrive with a promotion machine like ESPN behind him. People with unique perspectives need to be on the biggest platforms available. It is not just good for their brand, it is good for sports media in general. It keeps the business from becoming a echo chamber of takes.
ESPN Deserves Praise For Handling Of Christian Eriksen Collapse
"Raw but professional. That is how I would describe what I saw."
We have seen crazy moments happen at sporting events. We have seen wilder, more inexplicable moments. It is hard to think of something more frightening than what happened on the pitch in Copenhagen on Saturday afternoon.
During the 43rd minute of Denmark's opening match of the Euro 2020 tournament, the national team's star midfielder Christian Eriksen collapsed on the field. It wasn't a contact injury. It wasn't one of soccer's theatrical ploys to get a penalty called. He just staggered forward and collapsed on the field. The referees were called over to check on Eriksen. They then called out the medical staff and for the next twenty plus minutes, we held our breaths.
You can search out the video of the collapse for yourself. It is strange at first glance. It is disturbing when you know what the next few minutes held.
The match was eventually suspended and that put ESPN in an inconvenient situation. The network had to fill more than an hour with studio programming it hadn't planned for and really couldn't look to any road map to follow. The end product wasn't perfect, but it was perfect for the moment, striking the right balance of human emotion and reaction to what Eriksen's predicament meant in both the present moment and moving forward for the tournament.
ESPN's coverage was divided into two teams. Sebastian Salazar lead the team of former Austrian defender Christian Fuchs and former Scottish midfielder Craig Burley at the desk. There was also a less formal set where host Kelly Cates was joined by English soccer legend Steve McManaman, American forward Taylor Twellman and referee Mark Clattenburg gathered in recliners to discuss the action. Both groups did an excellent job of not only reacting, but holding my attention. It was the desk crew, led bu Burley's utter disbelief at what was happening, that was the real standout though.
Craig Burley absolutely earned my respect as a broadcaster and analyst. He was the antithesis of the stereotype of a "Scottish soccer hooligan," giving detailed and emotional explanations of how the moment effected him. He said plainly that this was the most disturbing thing he had ever seen happen at the Euro tournament. He openly struggled with how to make sense of Christian Eriksen, laying motionless and receiving CPR and hits from defibrillator paddles while all his girlfriend could do was stand on the Danish sideline and watch.
Probably his most skilled and astute moment came when he was asked what UEFA, European soccer's governing body, should do about the match between Russia and Belgium that was supposed to start after the conclusion of Denmark vs. Finland. There wasn't an ounce of doubt in Burley's response. The only correct answer in his opinion was to cancel that match. After all, five players scheduled to take the pitch in that match were current or former teammates of Eriksen's in his club career.
"It's difficult around here," he said, making it clear that the thought of starting a second match was absolutely absurd. "Human beings are involved. People are not robots."
McManaman said something similar from his recliner. He also could not believe we were talking about trying to play another match today. Instead of speaking on the emotions of the players involved, "Maca" tried to give the viewers an idea of the difficulty this situation puts on managers and UEFA officials. He found the balance of human emotion and explanation of the strategy involved in trying to get a team ready for action in an emotional atmosphere like this one.
Raw but professional. That is how I would describe what I saw. Twellman, a rising star at ESPN beyond just the network's soccer coverage, came under fire from some fans for what they perceived as Twellman speculating about Eriksen's diagnosis. Twellman made it clear that he was telling the audience what he heard from a doctor watching the events unfold. In my mind, that isn't very different from any network turning to their medical correspondent or injury expert. The only difference is the information was being filtered through a third party.
He also caught heat for what some thought was criticizing the reaction of the paramedic staff on hand, taking nearly two minutes to begin administering CPR. That one is a little harder to defend, but my argument would be that we were all scared for Christian Eriksen and trying to make sense of what we had just witnessed. Taylor Twellman just had the misfortune of going through those emotions and reacting on live television. Can't he and ESPN be forgiven for a misstep in the moment?
Over at the desk, Sebastian Salazar did a masterful job of leading the conversation and making sure the viewers that were flipping over to ESPN after learning about what happened to Christian Eriksen had all of the most up to date information. He was the one that first revealed the photo of Eriksen sitting up, seemingly responsive as paramedics took him off the field. His state had initially been in question, because medical professionals and Eriksen's Danish teammates formed a barricade and used curtains to keep cameras from seeing everything that was going on.
Salazar was also the first to read the statement from UEFA that told fans Christian Eriksen was at the hospital. The Danish star had been stabilized. It was no longer the life or death situation that had us all on the edge of our seats.
"That is the best outcome we could have seen today," Burley said. He was talking about Eriksen's healthy. Surely, that deserves all of the focus and excitement here, but it is also fair to say that "the best outcome we could have seen today" is the only fair description for ESPN's effort in difficult and upsetting circumstances.
T-Bone Found His Groove And Has Been Going Ever Since
"I think, obviously, you have to have some level of talent to do what we do, but I think there are far more talented people than me that for whatever reason, life's circumstances prevented them from sticking around."
The hate mail was consistent. Sometimes intense.
It kept coming and coming…for six months, according to Jonathan "T-Bone" Smith, who had the unenviable task of replacing a popular sports host in Columbus, Ohio, named Scott Torgerson, after he was fired for a controversial tweet involving Desmond Howard in October 2012.
Fast forward to the soon-to-be summer of 2021; no more hate mail (at least on that subject), and it's eight and a half years of success (the ratings back it up) for "Common Man and T-Bone," the afternoon show that anchors the successful (the ratings back that up, too) 97.1 The Fan.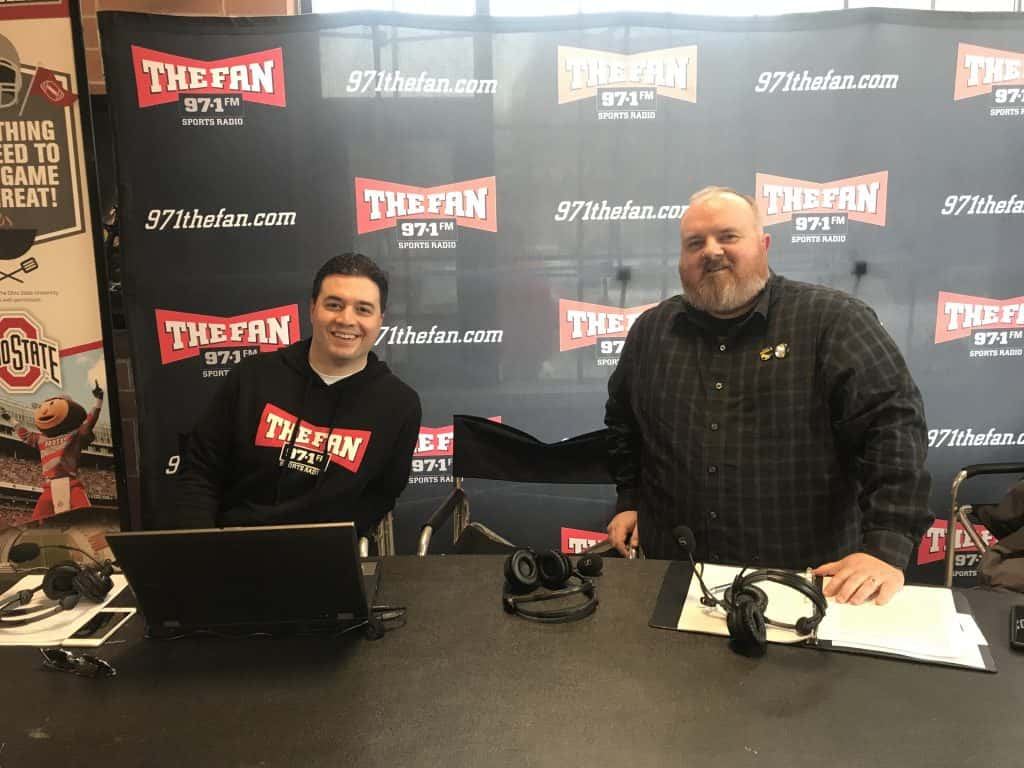 Barrett Sports Media scored an interview with "T-Bone," the "round mound" of Columbus sports radio. It soon became clear that the path to afternoon show stardom was one-third talent, one-third hard work, and one-third "good fortune" for T-Bone.
Jonathan "T-Bone" Smith is a Columbus kid, born-and-raised, who would play basketball outside, then come inside and turn on the radio to hear the Fabulous Sports Babe, Paul Harvey and Dan Patrick, among other radio stars.
"I had always been interested by the idea that you could talk in the microphone and have a bunch of people hear what you had to say," T-Bone said. He said by the age of 10, he knew he wanted to be on the radio, "some way, somehow."
In the seventh grade, he listened attentively as a twelfth-grader at his small Liberty Christian Academy school read the morning announcements. That twelfth-grader eventually got a job working at Columbus radio station WUFM 88.7, a Christian rock station. T-Bone followed in the same footsteps. T-Bone started reading the morning announcements as an eleventh-grader, and after high school, he knocked on WUFM's doors to volunteer on the street team. But the receptionist there had other ideas.
"She said, 'Do you want to be on air or do you want to do the street team?'" he remembered. "It's OK, we'll train you," she said, after the 19-year-old radio rookie said he wanted to be on-air but had no experience.
By December 2001, six months after donning the high school cap and gown, T-Bone was on the air. During his six years at the station, he did afternoons, nights, and had a stint as the promotions director, too. He had been attending Ohio State, but exited the school to focus on his on-air work full time at WUFM.
Feeling that the religious format was no longer a good fit, coupled with his desire to do more of a talk-based show, he left WUFM in 2008. With no college degree, T-Bone took a customer service job with BMW (yes, that BMW) Financial Services. He was on the phone, a lot, but he liked to talk, a lot, so…it worked out. Plus, it made him more money than what he was making at WUFM. Still, he yearned for that talk-show style program. So T-Bone started a podcast that focused on his love of soccer. His studio? A spare bedroom in his Columbus-area home.
Turns out, Ivan Lee of 1010 WINS in New York City heard his podcast, and offered to air it on a little-known streaming entity called Chat About It, which no longer exists.
Slowly, T-Bone's name was getting out there.
He swears he got his next radio job, as an afternoon show producer for Sports WONE-AM (980) in Dayton, Ohio, because he had that Big Apple reference on his resume. T-Bone would drive, each day, from Columbus to Dayton (60 miles) to produce and then later host a sports show. After a year of racking up thousands of frequent driver miles, he left Dayton for good in 2011. And he almost gave up his dream of having a long on-air career in radio for good.
"I told my wife, give me a year to get something better (in radio) and (if not), I'll get a degree, get a better job, give up on the radio thing," T-Bone told BSM.
Thankfully, the radio gods didn't make him wait that long. In September 2011, he heard that WBNS-FM, 97.1 The Fan in Columbus, was looking to hire an afternoon show producer for "Common Man and The Torg," Mike Ricordati and Scott Torgerson. T-Bone applied, and got the job. He told BSM that he could feel the chemistry between the three sports-crazed men, and that made it all the more difficult for T-Bone when, just five or six months into producing the afternoon show, T-Bone thought about applying to become the host of "The Buckeye Show," which aired after "Common Man and The Torg."
"I remember, clear as day," T-Bone said of his walk with Torgerson to get lunch at Chipotle in the spring of 2012, "I said to Torg, 'I'm thinking of applying to that because I would like to do on-air stuff, but I wouldn't do it unless you guys are cool with it because I came here to be your producer.'…He said, 'Ah, dude, you should definitely do it.' He was very supportive. Mike was very supportive. Torg even said, 'Hey, you may not get it, but at least it shows them that you're interested.'"
T-Bone ended up getting the position. He hosted The Buckeye Show from the summer of 2012 until December of that year, when Ricordati hinted to T-Bone that he wanted T-Bone to become the permanent co-host on the afternoon show, after Torgerson's dismissal from the station.
January to June of 2013 was a true test of resiliency for T-Bone. He was in the more prominent time slot, paired with the more established host (Ricordati), replacing the popular guy known by one syllable — "Torg."
"Scott (Torgerson) is a really interesting guy. I had a different kind of personality that I think took some getting used to for some people and that's totally understandable," T-Bone, who considers "Torg" a friend to this day, told BSM. "After six months or so, things settled down…and I was able to find a groove and we've been going ever since."
"Common Man and T-Bone" are a consistent top-three in the Men 25-54 demographic. The two fellers have an all-comers appeal — not too old, not too young…they can get serious about the Buckeyes and then laugh about Nick Castellanos' antics on the baseball field…the show isn't fast-paced and cutthroat like many shows in the Northeast, but never puts you to sleep, either. To steal a line from Adult Contemporary Radio, "Common Man and T-Bone" is that show that "everyone at work can agree on."
"We're going to pay more attention to the culture and the conversation around the games as opposed to the actual in-game everyday (nuts and bolts)," T-Bone told BSM.
And the conversation that's created by Ricordati and T-Bone gives the two a chance to show off their similar senses of humor, as T-Bone described it.
The Columbus market has a little bit of everybody. While the Buckeyes are the No. 1 draw, people come from all areas of Ohio and beyond to call Columbus home. T-Bone said after Ohio State, NFL talk is what interests most sports fans in Columbus. It doesn't have to be just about the Browns or Bengals, though Browns fans are more dominant in Columbus. T-Bone believes the Indians have more fans in Columbus than the Reds these days, though it wasn't like that in the late '80s and early '90s, according to T-Bone, when the Reds were busy going wire-to-wire and winning the 1990 World Series. Columbus sports fans also like to discuss what's happening with the Blue Jackets and Crew.
Sometimes, Jonathan "T-Bone" Smith walks into the 97.1 The Fan studio and may have to pinch himself. At age 38, he's living out his dream, hosting a sports radio show, on one of the highest-rated sports stations in the country, in his hometown.
"I think, obviously, you have to have some level of talent to do what we do," T-Bone told BSM, "but I think there are far more talented people than me that for whatever reason, life's circumstances prevented them from sticking around. Talent is very important, but I think availability is extremely important. An ability to shake off your bad days is really important because I've had a ton of them. Talent matters, but the ability to stick with it is what matters more."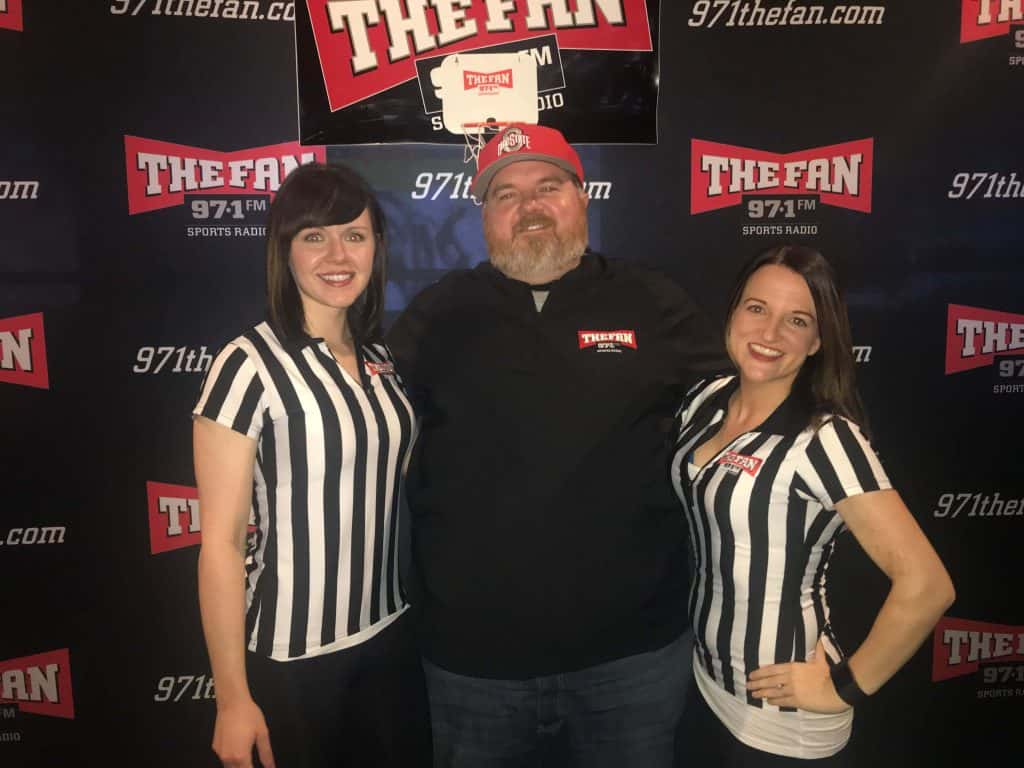 T-Bone added this note to aspiring on-air talents: "When an opportunity presents itself, if you've done the work, if you've prepared, if you have talent, then you can step in and hopefully hit a home run; or a single, if that's what they're asking for…just don't strike out."