Meet The Market Managers: Scott Sutherland, Bonneville Phoenix
"There isn't any company that I can imagine working for that would just say, "Sure, you can blow up one of the most successful music stations in our company because we want to go all in on spoken word."
When we talk about powerhouse brands in the sports talk format, we tend to gravitate towards names like WFAN, 98.5 The Sports Hub, 97.1 The Ticket, 670 The Score and Sports Radio WIP. Some of that's a testament to their success, but it's fair to suggest a little bit of East Coast bias may come into play. Look, it makes sense. Most of the country's population is in the East. So too are most media corporations, money and power. Notable brands and high profile individuals are connected to business and politics in this region, an area where radio stations begin with the letter W.
But just because the attention in our industry shifts first to the east coast, doesn't mean Arizona Sports 98.7 doesn't belong in the same category of the aforementioned stations. Go to Phoenix, and you'll find the market's sports leader routinely delivering revenue far beyond what the general anonymity of the city's teams may lead you to believe is possible.
The man responsible for guiding Bonneville Phoenix's building which houses two of the nation's top sports (Arizona Sports 98.7) and news/talk brands (KTAR) is Scott Sutherland. The longtime Phoenix market manager joined me for a conversation which covered a number of topics including how his two dominant spoken word stations were once a single "super brand," the changing demographics and dynamics of his market, and how he sets a value for his product and never wavers from it.
---
Demetri Ravanos: Let's start with Arizona Sports being on the FM dial under the 98.7 frequency. I know that happened with the guidance from Nielsen and seeing greater potential to expand your audience, but at the time, the music station that you had on that frequency was previously successful. What did you uncover during that process that gave you the confidence to shift away from music and move your sports talk product on to FM?
Scott Sutherland: That was a whopper. It was the end of 2013 and the AM radio market in Phoenix was compromised. Our music station was called The Peak. It was adult hits and very successful. We were billing a lot of money, but we had already moved KTAR to FM in 2006 and subsequently at the same time launched KTAR Sports, rebranding it later in 2011 to Arizona Sports.
We were doing so well on the sports and the news side that I think we looked at the format of adult hits and not to speak ill of the music format, but it was sort of an amorphous format where we didn't really have a position, we were just billing. And you could just see the results that we could deliver on the on the news and sports side with KTAR. There just wasn't that that same sense with The Peak.
We then looked at the landscape and said, "You know, we've done some damage to the AM band by pulling KTAR off of it. Two iHeart stations were the only real AM stations at that time. We looked at it like Arizona Sports is a great store, but in a mall in a compromised area. So we thought that putting all of our chips on the table and going all in on sports alleviated some of the play-by-play issues because at that time we had everybody, Suns, Coyotes, DBacks, Cardinals, ASU. We saw it as a chance to go all in on FM and 620 is the best signal in the state, so that allowed us to put ESPN Radio there. We could put a lot of the games that run prior to 7:00 pm on 620, so it enabled us to stay in format longer.
I think, if we weren't a small company like Bonneville, I don't think it would happen because I remember going up to the board and saying, "We're basically going to be financing this deal through ourselves instead of taking whatever a stick would cost. We're just going to have less cash flow in our operations for a time," but it's been the best decision we've ever made. I think it's been a game changer for our format. That and I would also say rebranding in 2011 from KTAR Sports.
Ryan Hatch and I took a trip to ESPN in 2011, and met with John Kosner, who ran ESPN Digital. This was at the time when ESPN was launching all of their digital sites, ESPN, Chicago, Boston, etc.. We made our case to be the first non-O-and-O and build ESPN Phoenix. That initiative obviously didn't gain any traction, but that was sort of the impetus for us to say, "Alright, let's rebrand it as Arizona Sports. Let's take that model, a digital and an audio strategy to own Arizona, not just have Phoenix call letters. So I would say that was was a game changer for us in 2011. And then moving to FM at the beginning of 2014 has also been huge for us. 
DR: My understanding is that the move to FM didn't immediately pay off for the station the way you were told it might. I've heard a story that Ryan Hatch put on a Celine Dion song to show a Nielsen rep what was showing up as the top station in Phoenix with Men 25-54.
SS: When we launched in January of 2014, the first few books, according to Nielsen, we had less audience than we did when we were AM only. We had added FM and Nielsen said our ratings declined. We went from like 5th to 12th. I remember Rick Scott saying it was statistically impossible. Nielsen told us our cume had dropped exponentially.
Here we are landing vehicles on Mars and we're still stuck with 1980s beeper technology. It's unbelievable and somehow they are convinced that sampling methodology is the best that we can do. Now we're going to have wearables where we move to, the same technology as Fitbit. Well, I don't see people wearing Fitbit anymore.         
It's tough in Phoenix when essentially you have 200 meters that comprise basically all of our sports listening. We're just saying nothing makes sense. We literally have millions of people on our website. We have hundreds of thousands of people on our stream. We have hundreds of thousands of downloads monthly, even in the millions on audio downloads, and Nielsen says we have a cume of below 75,000. It's just maddening and it makes no sense. 
DR: Now that KTAR and Arizona Sports are two separate brands, what differences have you noticed between the dedicated sports audience and the dedicated news/talk audience?
SS: Well, I would say a lot of similarities. We obviously have high income and high education in both audiences. I think I can make a case in Phoenix that maybe there's a correlation with a lack of people wearing meters.
The goal is to be number one and number two in billing. It's just a high qualitative audience and from an advertiser perspective, it just works. 
DR: During the 2020 election cycle, there were a lot of news stories about Arizona as a state largely going blue because the population got younger and Browner. I wonder what you think the implications of that might be for broadcast radio.
SS: I think it's good, frankly, and again, whether this appears in Nielsen, I think last year was a really good year for us, even in a pandemic. We stepped back, especially on the news side, and just said "Is Arizona a swing state?". I've lived here for a long time, and to see that was interesting. The political money was obscene last year.
But I think, again, for our brands, it's a couple of things, not only more diversity. We have a ton of people coming in from California with obvious tax implications, so Phoenix is booming. House prices are at record levels. We have more and more people moving here. It's considered one of the best places to be right now. The tax situation is good. We think with all these folks moving in, it's wonderful for our brands. We're fortunate to work for a company where at Bonneville whether it rains or shines, we market. We're very bullish on our brands.
DR: It's interesting to talk about the population shift. Going back to a conversation we had before I started recording, I see a lot of people pointing this out when it comes to college football recruiting. All of the sudden, Arizona has become a destination to find a quarterback because families are moving out of California and Phoenix and Las Vegas seem to be the top two beneficiaries of it. 
SS: You see, obviously, Spencer Rattler at Oklahoma. You've got Jack Miller at Ohio State, whether he gets the nod or not. But this was never the case before. The issue for us, frankly, it's how can we keep some of these kids? For the top kids, there's obviously more of an allure going to an SEC school or Big Ten school, and that's been problematic here in the state for a while. However, seeing what its done for local kids has been fantastic. 
DR: You guys have three pro teams and Arizona State on your station. You mentioned earlier that when the Suns or Diamondbacks are on the East Coast and airing in what would be afternoon drive in Arizona, those games go to 620 and regular programming remains on 98.7. Is there a part of those negotiations or an aspect of massaging those relationships to make it possible to do that? Something maybe folks that have only ever worked in the Eastern or Central time zones wouldn't be familiar with?
SS: I think so. Our proposition is that we want our afternoon show to not be interrupted. At times we've had all four teams and ASU. We also carry the Phoenix Rising, which is the soccer league that we have here. When you're dealing with local teams, everyone wants to be the highest priority. We just say to them on conflict games, the earlier game always goes to 620. That way we can put our afternoon drive in content and make sure that on the revenue side, there's better implications for us because we're not giving up afternoon drive revenue.
The play by play world has changed immeasurably. What makes for a good play by play deal? I always say it depends. All of our partnerships are different. I think the models are changing. There's revenue shares out there. There's teams which carry inventory. There's stations that own some inventory. I think the technology has changed the right fees and the streaming implications. Hopefully the leagues are moving back to giving stations the right to stream the games. I know MLB is moving that way. It's becoming more complicated, and I think the station's perspective is we're unwilling to lose one dime. The days of coughing up a big rights fee to try to take on third party sales and not break even? It's a thing of the past.
DR: So I want to explore the idea of everybody wanting top priority. Tell me a little bit about the conversations that are had when you have the Diamondbacks playing on a Sunday afternoon as the NFL season is kicking off and one game is going to the AM dial and the other to FM. How do you make sure everybody feels like they're getting your best?
SS: I would say the most important thing is communicating that up front to take it off the table. We write in our contracts, sort of who has precedent. The NFL obviously is king, so they regardless, would always go to the FM band.
I think the other teams appreciate all that we bring to the table. We like to talk about that it's not just an audio rights fee, especially with our digital assets that we have, with the audience that we're generating off of our website. So I think you have to take that question or disagreement off the table upfront or else it could be a nightmare. I think every team would like to be first priority, but I think we do a pretty good job of conveying the benefit as to why the structure we decided on is important.
I think they get it. We've been doing this for a long time, so I think it's a no surprises strategy which has worked well. 
DR: Is there an established priority or hierarchy among Phoenix sports fans or is it the NFL and then depending on which one is hot: Suns or Diamondback?
SS: Phoenix is tough, and it's getting more native, if you will. It's embarrassing. If you go to any of the teams, Diamondbacks are playing the Dodgers? There's a lot of blue. With all the Midwest transplants, if the Cardinals are playing the Packers, there's certainly a lot of yellow and green. But I think it's coming around.
The Cardinals now have been here since 1988. So I think the kids now have teams to root on. The Diamondbacks since 1998. So it definitely is changing, but I think the NFL is the NFL like it is in all the markets.
The one original team that we do have are the Suns. So when the Suns are winning, and obviously this is the first year in quite some time they're doing that, the bandwagon is very, very quick to come back as it relates to the Suns. The D-Backs, when they're winning and doing well, then it's hot too. It's just when the teams records start to go south, that's where all of the implications begin for all the teams in a way that you may not see in the other markets. It definitely is growing into a little more native and tribal as it relates to fandom. 
DR: Arizona had a real rollercoaster ride with Covid-19. The state tried to reopen very quickly and become a hub for Major League Baseball. Then all of the sudden, it was one of the hottest spots in the country for outbreaks. Did that disrupt things for you just in terms of day to day operation of the station?
SS: Timing, of course, was terrible. But for a sports station, when Spring Training was rolling, it was very difficult. With Bonneville, it's very people oriented. We told our folks to go.
Arizona was probably slower than some other states where the governor never had a mask ordinance. We did have the two stop downs. Our numbers at one time in August were the worst Covid rates in the world per cases and deaths. It was rough.
We hadn't concluded selling our Diamondback inventory, so that was tough. Then of course, you're going into the Cardinals season so it was a rough summer. On the content side, God bless Ryan Hatch and Rod Lakin for trying to come up with any kind of content. They did a wonderful job. I think the creativity that our guys showed was phenomenal and they just kept fighting the good fight and reminding people that sports is a good place to be in. I think that's one thing that's lingered probably for all the stations. Because there aren't any fans at an NBA game, that doesn't mean there isn't a lot to talk about. I will say, I think we weathered the storm better than most.
I was on one of our meetings with our corporate officers two months or so into the pandemic. They asked "what's the biggest lesson that you learned?". And I said, "For us, it was that it's validated our business model". I think when you're based in local, original content, all about ubiquitous distribution, your sales structure is based on local solution-based sales, and four years ago we moved to a sort of account executive, account manager, a sort of hunter/farmer sales structure, those are the areas where it just validated all the work that we put in for our business model to work. We surprisingly, had a great year last year for both news and sports.
DR: How much of that do you think can be attributed to the fact that, air staff-wise, you guys haven't had a lot of turnover? There have been years, if not decades, for many of your hosts to develop relationships with listeners and clients, and for your clients to be able to trust that they know who it is that is delivering live endorsements that connect with the audience. 
SS: No question. The relationship that all of our folks have from Ryan and Rod, to the talent, to the sales team matters. At Bonneville, we talk a lot about trusted voices. Having Doug and Wolf, Bickley and Marotta, Burns and Gambo, all of our bellcow hosts, they're trusted voices in the market. I think we we stayed away from politics as the summer went on on Arizona Sports. It wasn't the Covid hotline. Our news station took care of that. We really focused on the community. We focused on what's to come with sports. And I think, to your point, the trusted voices that we talk about so much, were a huge part of helping us get through until training camp opened up. That's when the game changed for us, the third week of July. 
DR: You call them bellcows, which I think is a great way to describe the nature of the lineup, because every single day, somebody been there to serve your audience and partners. But I do want to take this back to our earlier discussion of the way Arizona is diversifying. I wonder maybe not in the way that somebody ends up losing a job, but do you see a way that the station's lineup will have to diversify at some point?
SS: For sure. There's no question. As we work on succession planning, we've brought in female voices. We've brought in younger voices. We're trying to bring people from Max Starks to Lorenzo Alexander, who can bring a different perspective. It's a huge priority for us without a question.
DR: So I want to ask you about working for Bonneville. You are working for a group owned by the Mormon Church. How is that different than working for a group owned by shareholders and investors?
SS: I've worked for both. I came from the AMFM, Chancellor and CBS prior to when I joined here. I will tell you that I can't imagine working elsewhere after living through different companies and the Wall Street world, not that that's a good or bad thing, but our company is all about people. It's about making a difference in the communities that we serve and delivering a profit. From Darrell Brown to our executive team, I think there's more strategy from some of my experience in the Wall Street-owned world. Everything is not about re-forecasting for next week. I don't get calls on Friday asking why do we have 16 morning drive units next Thursday? There isn't this myopic, incessant looking at stock prices. Again, there isn't any company that I can imagine working for that would just say, "Sure, you can blow up one of the most successful music stations we own because we want to go all in on spoken word" and they hold us accountable. The focus is always how do we recruit and retain and grow great people like the Rod Lakin's and the Ryan Hatch's and how do we make them feel valued?
With Bonneville, what they want us to do is make sure that we're improving the community. Our give-a-thon for Phoenix Children's Hospital, our two stations raised almost two million dollars, which is the largest fundraiser for a children's hospital in the nation. That's one where I always speak to, "Nielsen says our audience is X? Great. You know, in a day and a half, we're raising two million dollars with almost three thousand phone calls and people donating. It's engagement!" Engagement is what we talk about.
DR: The values of the company are always going to be important to the way you're able to do business. One issue the Church has been pretty clear about is its stance on sports gambling. Has that affected your ability to do business with those companies? As we're talking, Arizona is pushing a bill that would legalize sports betting in the state.
SS: That will be a category obviously, that we would not be able to participate in.
DR: As you know Scott, that is a category where revenue is rapidly growing, especially in the sports space. Do you worry that not being able to accept that type of business could have an affect on your sales staff?
SS: No, because I think there's so many other things. Obviously, we're not going to get that money. I get it. There's a lot of categories here that we are penetrating though and I think it's more important to look at the categories that we can have success in instead of the ones that we can't touch. If we can't get that money, it is what it is. If that's the worst thing in my job, that we're not going to participate in sports gambling, then life is pretty dang good.
DR: I was told a great story about the naming rights to your studio. Legend has it that years ago, you had a big client who was spending high six figures but had to move on. When big deals like that go away, pressure increases to get something back on the books to make up for the loss. Another client then made an offer for the studio rights which was significantly less. Their brand name wasn't exactly the best fit either. Rather than run to the dollars, you passed on the deal. The way I was told the story was that Scott really understands the value of his product and cares about the integrity of his brands.
I wonder how you got to that point, believing in brands like KTAR and Arizona Sports so much that you were willing to accept nothing for a sponsorship opportunity rather than take a deal that didn't meet your expectations. Do you ever consider what it might cost you to give up a quick and easy sale to maintain your standard? 
SS: We wouldn't even sell a studio sponsorship for news. Frankly, it wouldn't be something we'd ever consider. We did do it on the sports studio. We had University of Phoenix, which was the Cardinals' stadium, which is now State Farm Stadium. We had a huge sponsorship we took to them that we thought would would make sense. That was maybe a four or five year deal, and then typical in that world it went away. We established a value for it, and probably went three years before even consider doing another deal. For a lot of the music stations, it's more of an added value play. For us, I think it's important that it's treated properly. It's the Ak-Chin Community Studios. It's one of our Native American partners that's with us on this now.
We know the value of our studio. We had offers for 80 percent of what we set the price at, and just felt like we'd worked so hard to establish these brands that accepting less felt wrong. I was here when we launched it in 2007, and then got shipped up to Seattle for 2 years. There's so much sweat equity that we put into building these brands, and we're proud of the work that we've done. We refuse to offer key associations with our brands at discounted prices. It's the same thing with where we are on the sales side with the pandemic, average unit rates, and sell out percentages. I think people would be shocked to learn the implications of how it can hurt you. We held very, very strong, which is why I think we had a really, really good year last year.
Sam Mayes Got A Raw Deal But Tyler Media Made The Right Call
"You are being naive if you think a company should stand behind an employee that has put themselves in this situation."
I do not envy whoever at Tyler Media had to make a decision about Sam Mayes's future with the company after audio of a private conversation in 2016 was leaked to the media. Mayes and now-former co-worker Cara Rice made a few racist jokes at the expense of Native Americans.
The recording, according to Mayes, was made without his knowledge and leaked illegally. He says in a recorded statement that he should have been given the opportunity to address the recording on air and make amends.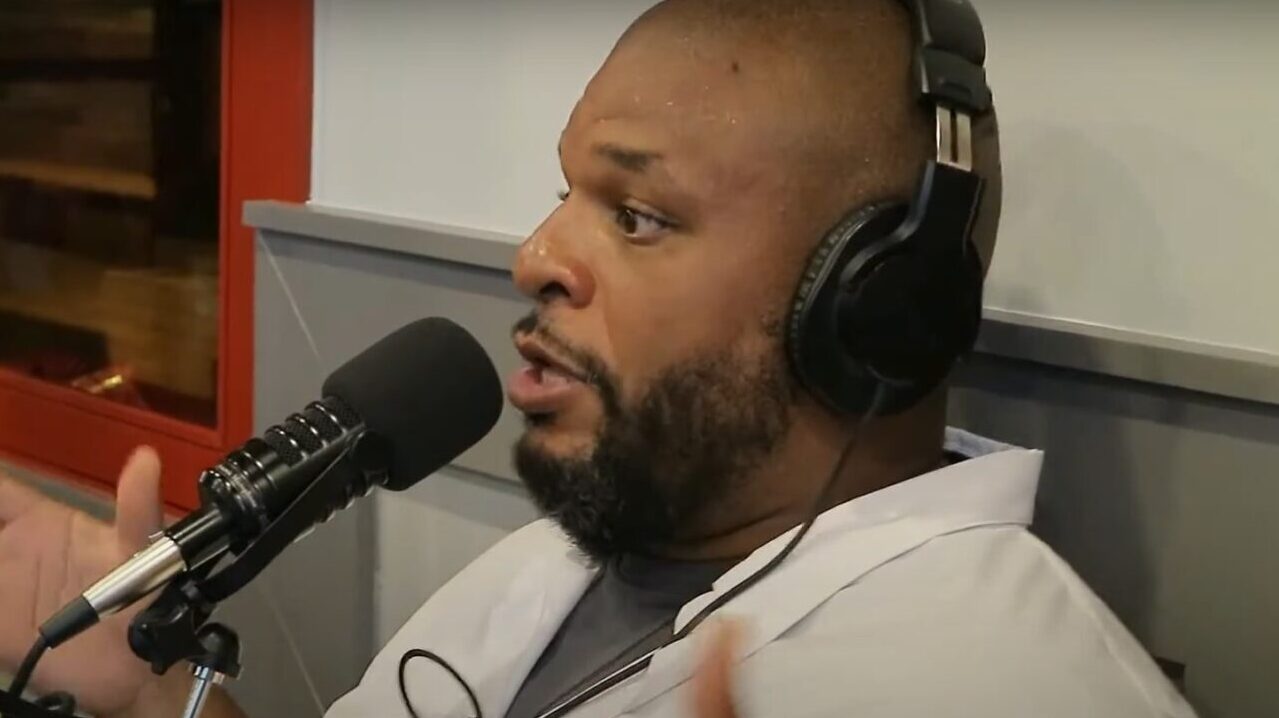 Maybe that is true, maybe it isn't. I hate for Sam to lose his job as the result of an illegal recording of a private conversation, but the fact is, that conversation isn't private anymore. Tyler Media didn't really have an option here. Sam Mayes had to go.
Someone had an illegal recording of the conversation and created an anonymous email account to send it to people in the Oklahoma City media. I was shown a copy of the email. The author states clearly that their goal is to see Mayes and Rice out of a job. There is nothing fair or just about that person getting exactly what they want. It feels slimy. I can't say that it feels like it wasn't the right call though.
We have debated whether or not someone should lose their job over comments made in a private conversation many times before. It happens in every field. It wasn't long ago at all that we were having this same debate about Jon Gruden. His emails to Bruce Allen and others were sent in private. Is it fair he had to go when they were made public? No matter what horrible things were in there, they were said with the understanding that it would stay between friends.
I am going to say the same thing about Sam Mayes that I did about Gruden when that story first broke. You are being naive if you think a company should stand behind an employee that has put themselves in this situation.
You read that right. The circumstances of how the conversations in these examples came to light are absolutely unfair, but the conversations came to light. How it happened is irrelevant. Any sponsor or boss that stands behind Sam Mayes or Jon Gruden would be endorsing the language they used, either inadvertently or very much on purpose. Try explaining that to a sponsor.
People at Tyler Media may know Sam Mayes's heart. He doesn't seem like a bad guy. The fact of the matter is, once the audio became public, their hands were tied. There is no mistaking what was said or who said it.
How can any seller or manager take Mayes to advertisers now? How can they put him in front of the Lucky Star Casino, one of the station's biggest advertisers? They can ask for an audience to let Sam explain himself and try to make amends. The Cheyenne and Arapahoe Tribes, who own the casino, are under no obligation to forgive or even listen.
Maybe the day will come where Sam Mayes bounces back. I hope it does. I hope he gets the chance to address his comments with members of Oklahoma's Native American community and listen to what they have to say in response. I do think it sucks that this is how his time at The Franchise comes to an end, but I get it.
If I have to explain to you why not to say dumb, racist shit, then I don't think we have much to talk about. But, it is worth noting that the recording of Mayes and Rice's conversation is proof that privacy is always an assumption, not always a fact.
In his audio statement, Mayes admits it is his voice on the recording. He also says that he was uncomfortable with Rice's comments and he tried to end their conversation. I'll take him at his word, but I will also point out that before he tried to end the conversation, he joined in on the jokes. Maybe when someone says that Native Americans are "too drunk to organize" it isn't a great idea to respond. All it leads to is proof of you saying something dumb and racist.
Again, I'll reiterate that how these comments came to light is unfair, but they did come to light. That is Sam Mayes's voice on the recording. He is joining in on the jokes about Native Americans being drunks and addicts. At the end of the day, the only thing that was done to him was the audio being released. He fully and willingly committed the firable offense.
What is the response to a client or potential client when they bring that up? All Tyler Media can do is try to recover and move forward. The company cannot do that with Mayes on the payroll.
Stop Prospecting, Start Strategizing!
"You cannot put a price tag on authenticity. It's very rare and hard to find these days."
Struggling to get new business appointments? Dreading making prospecting calls? Having trouble writing creative emails that seemingly never get a response?
Generating responses to new business outreach is easier than you think. Just make sure you do your homework first and keep it "Simple Stupid".
To do that, start with asking yourself these (3) simple questions:
#1: Did I do my home work on the business itself, their competition and those I plan on reaching out to?
#2: If I were on the other end of the phone and/or email with myself would I want to engage in conversation and/or reply to that email?
#3: Am I prepared to make a one call close given the opportunity to?
If the answer to any of these is "No"… do NOT pick up the phone and by all means do NOT hit the send button on that initial outreach email! Doing so will all but ensure you fall flat on your face. On the off chance you do happen to get the decision maker on the phone you won't make that great first impression that sometimes can be so crucial. First impressions are always important… ALWAYS!
Skipping over these critical steps is a sure-fire way to ensure your email is completely ignored and will not generate the engagement from the prospect you'd hope for. Successful prospecting is all about the front end digging and research. Do your homework first then strategize a plan of attack for your call and/or email. Taking these extra measures on the front end is absolutely "Mission Critical" and will set you up for much more success with your prospecting endeavors.
Now once you've answered "Yes" to all of the above, you're ready to attack with the knowledge and confidence that should set you a part from your competition. It's all about the Game Plan, and if you don't have one, you're destined for failure time and time again. Incorporate these (5) things into your prospecting Game Plan for your next call/email and watch your results dramatically improve:
#1: MAKE IT PERSONAL & CASUAL – Be informal, find out something interesting about them.
#2: MAKE IT SHORT & CONCISE – Be straight forward and to the point, people are busy.
#3: MAKE IT TIMELY & RELEVANT TO THEM AND/OR THEIR BUSINESS – Give them a good Valid Business Reason.
#4: MAKE IT INTERESTING, COMPELLING & INFORMATIVE – Be the expert they're missing.
#5: MAKE IT FUN – Fun people are easy to do business with and make it less like "work".
Lastly, and most importantly, Be Yourself! You cannot put a price tag on authenticity. It's very rare and hard to find these days. When clients do find it trust me, they value it and appreciate it way more than you'll ever know!
Good Producers Can Teach The World A Lot About Christmas
"A lot has to be accomplished in the lead-up to Christmas. So much of it happens in the background without much recognition."
Who is Carl Christmas in your house? Who is the one that makes sure everyone that needs to get a card does? Who comes up with the plan for the lights? Who takes the reins on the shopping?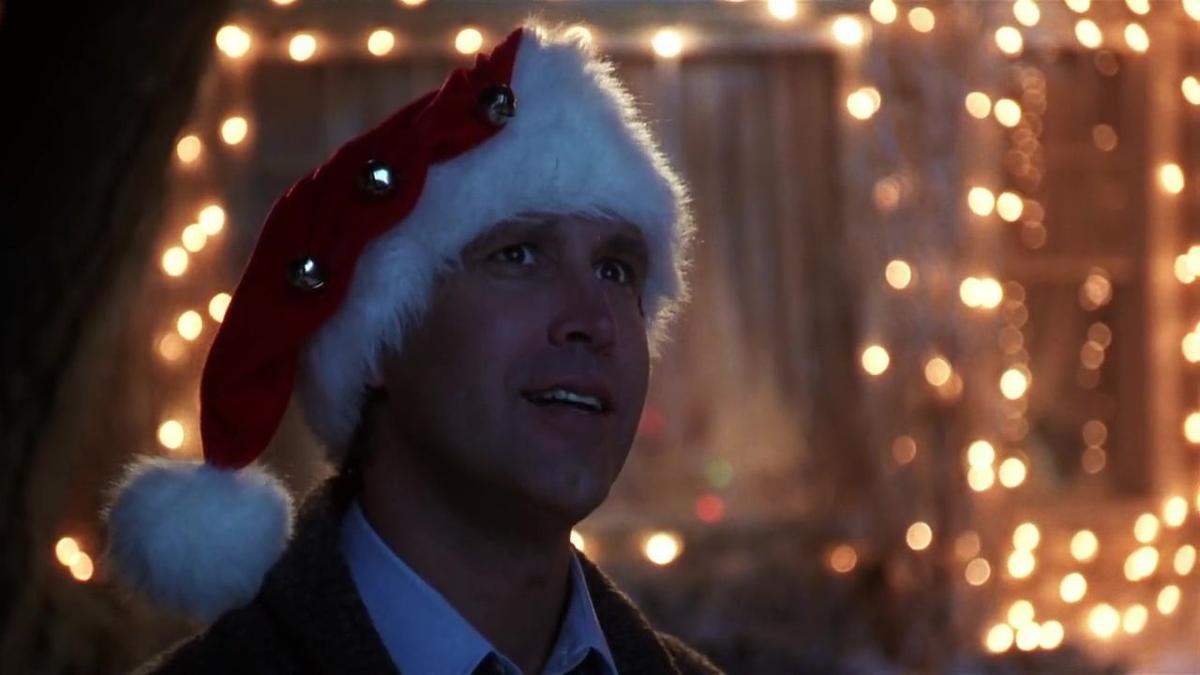 Every home needs one and in my house, that's me. December (including the last week of November) is my time to shine, baby!
One thing I have tried to impress upon my mom and wife this year is that shipping and supply chain delays are real. So, if you are planning on procrastinating on your online shopping this year (you know, like usual) someone (me) is going to have no presents under the tree.
Veteran producers are used to operate this way. Young producers, listen up. Your job involves the most delicate balance of any in sports radio. You have to help bring your host's and PD's visions to life. That means you have to be able to take their direction. But you also have to keep the host on target. That means you cannot be afraid to be forceful and lead when the moment demands it.
There's no value to being an unrepentant asshole to people, but you do have to hold them accountable. Look at that Christmas shopping example again. If you want to get what you want, you need to keep on task the people you know aren't paying attention to the potential roadblocks. It isn't selfish. It is making sure everyone gets the holiday W they are expecting. Sure, you would be disappointed if your gift doesn't arrive on time, but so will the gift giver.
Being a stickler for the clock or moving a host off of a topic that has no value is the same thing. Of course there is something in it for you, but you are also helping the host do his or her job better. They may get annoyed with you now, but if you save them from an ass-chewing from the bosses or slipping ratings, then they have reaped the benefits.
I guess the unfortunate difference here is that there may be no acknowledgment of what you did or helped them to avoid. Oh well. Every producer has to expect a certain level of thanklessness.
Producers have to take on that Carl Christmas role in dealing with sales too. Remember, just because the producer's name isn't on the show doesn't mean that isn't every bit his or her show that it is the hosts'.
It's like decorating your house for the holidays. You may have a certain design in mind. Maybe you have a traditional look you stick to every year. If your spouse or your kid comes home with a giant, inflatable Santa Claus in a military helicopter that they want on the lawn, you have a decision to make. Are you going to say no and suggest an alternative that aligns more with your goal or are you going to let your plan get run over?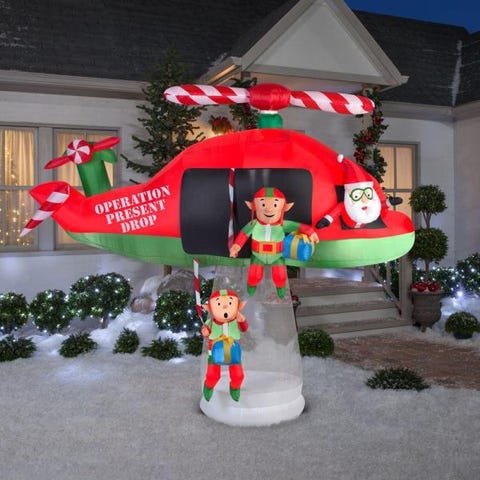 Sales has a job to do. It is to make sure their clients' messages are heard and to make money for the station. Both can be accomplished without sacrificing your show's quality.
If a seller comes to you and says he wants his client to come in for five minutes and talk about now being the time to book an appointment to have your garage floors redone, you have to speak up. You have an obligation to make sure that the seller knows that even five minutes of that will hurt the show and have listeners diving for the preset buttons on their car stereo. That isn't good for the station or his client.
Instead, offer to work with the seller and the client to come up with a piece of content that the client can put his name on and a 20-second ad read behind. Will the audience stick around to listen to some dude named Jerry talk about garage floors or will more people listen to you talk about the NFL playoff picture in a creative way and then still be there to hear Jerry's message about garage floors? The answer seems obvious.
A lot has to be accomplished in the lead-up to Christmas. So much of it happens in the background without much recognition. If the background work wasn't done though, the problems would be right out on the front lawn for everyone to see.
"Gatekeeper" is a term I really hate. It implies that someone is telling others what they are and are not allowed to enjoy. It is a necessary term though to properly describe what it is that a great producer and a great Carl Christmas do.
We don't shut people out from being able to enjoy or be a part of what it is we are creating. We set or are handed down expectations and we block anything that can get in the way of achieving them. Sometimes, that is more thankless work than it should be. It is necessary though.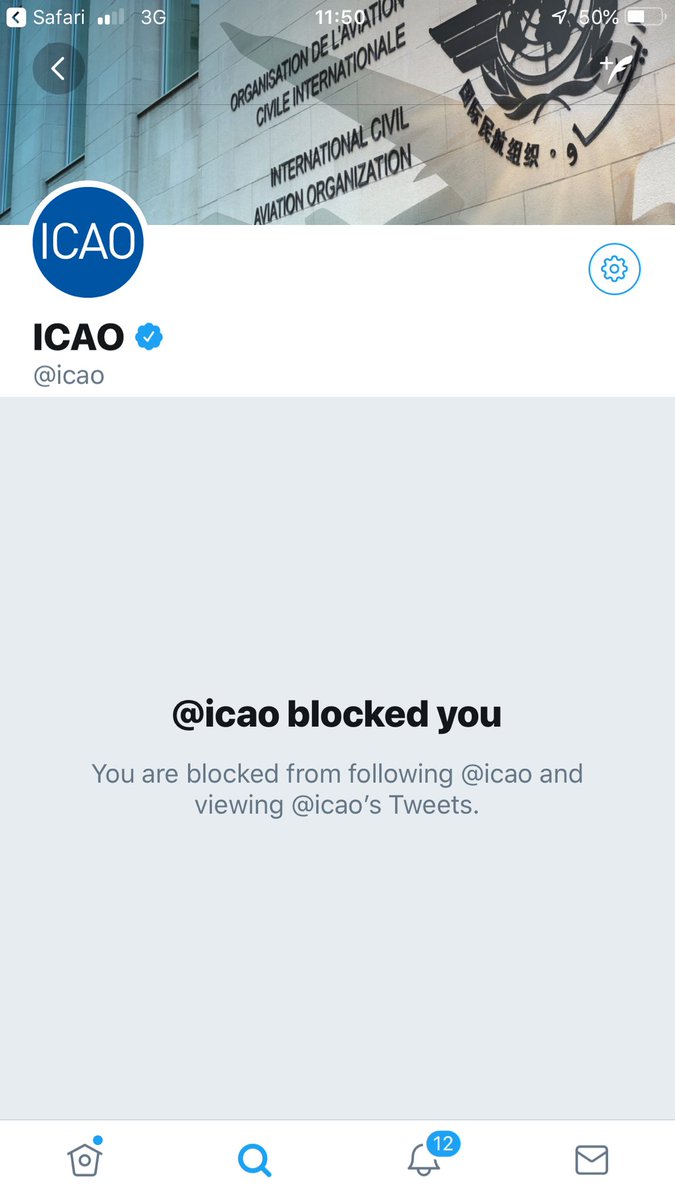 As my home's self-appointed Carl Christmas and a former producer, let me give my countrymen the thanks others forget. We are the ones that make it possible for everyone else to be mindless. Wear it as a badge of honor. We may not get the kind of recognition we deserve everyday, but when plans go off without a hitch, we are usually the first to be recognized for making it happen.