Sampson, Baylor, The Drew Manchu — Have Mercy
As Gonzaga's perfect season looms inevitably, the best human stories of the NCAA tournament — like them or not — have been the redemption of Baylor and Kelvin Sampson … and one bad mustache.
When Drew Timme is allowed to wear his Drew Manchu in public view — a handlebar mustache so hideous and 1981-ish that even his mother hates it — you know the NCAA tournament has become forgiving. Normally, the gods of March are punitive, known for forcing cheaters to vacate victories and remove banners. But this year, even in its vulnerable, Supreme Court-threatened state, March Madness has opened the Final Four doors to redemption.
Kelvin Sampson made impermissible phone calls not once but twice as a coach, a double-jeopardy disgrace that led him to college basketball's gates of hell. Thirteen years later in Indiana, the state where he committed his second set of transgressions, he's two victories from a national title with Houston, a program he willingly inherited in tatters.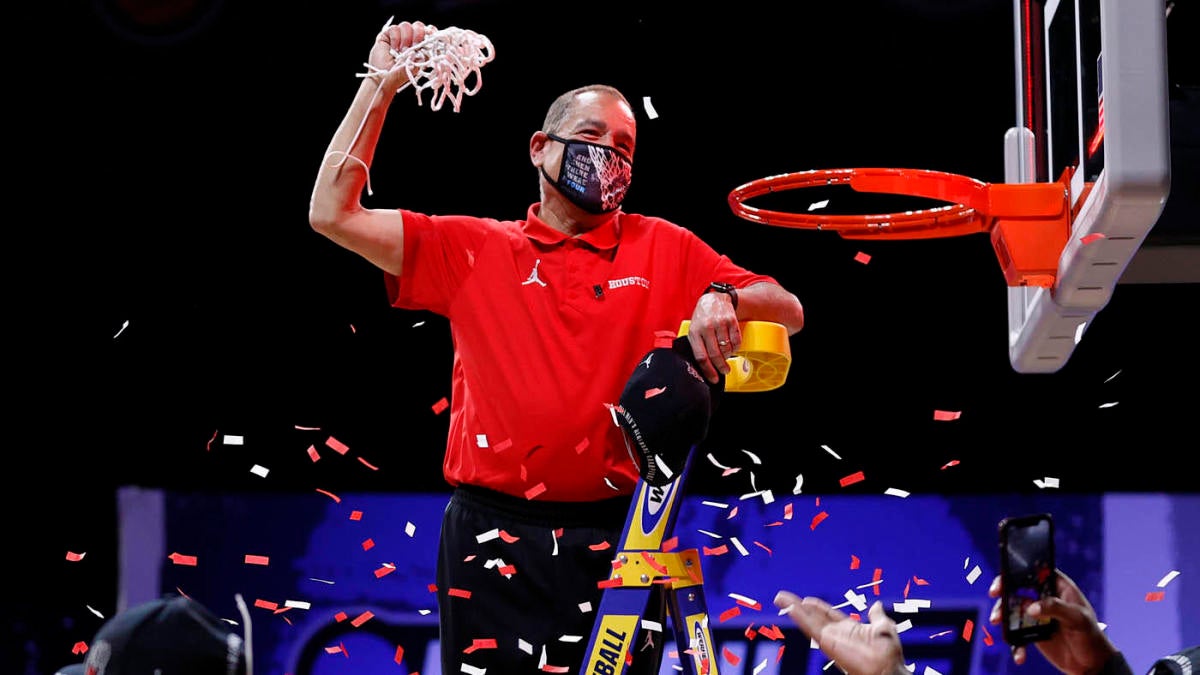 Have mercy on Sampson, says the tournament.
"You're not a loser in anything until you quit. Don't quit," he once said of his exile. "Get up. Regardless of how it happened or why it happened, you get up — and you fight."
The Baylor program was guilty of sins far uglier than recruiting violations. Patrick Dennehy was murdered by teammate Carlton Dotson in 2003, all while coach Dave Bliss was trying to cover up the homicide with a lie that Dennehy was a drug dealer. Enter Scott Drew, a coach of deep faith and ample patience amid substantial probation penalties. Eighteen years later, he has completed a historic sports resurrection by leading the Bears in their first Final Four since 1950, with the team best equipped to spoil the unbeaten championship season of Timme and Gonzaga.
"I felt led to come here," said Drew, a spiritual presence amid all the sports-related wrongdoing in Waco, which should be spelled Wacko.
Have mercy on Baylor, says the tournament.
In the most imperfect season the sport has known, how preposterous that these two stories would emerge as the final potential disruptors to perfection. Houston and Baylor will meet Saturday not in the heart of Texas but in Lucas Oil Stadium in downtown Indianapolis, for the likely right to play the Zags in the national title game. It's startling to see Sampson, looking every bit his 65 years, climbing a ladder and cutting down nets. He hasn't spoken much about the broken rules that led to his purge from Indiana and the college game in general, opening up most memorably when he told the Washington Post, "I was angry after Indiana. I was angry at myself. I blamed myself. I was mad about how it all went down. I had a lot of emotions, but I also had a wife and a family. I had to take care of my family. That was my No. 1 goal."
He has shared hugs with his wife and grown children after the Cougars' four tournament victories. They've been with him every tortured step since 2008, when he was banned by the NCAA for five years and banished to assistant coaching roles on NBA benches. Working in Houston with the Rockets, he kept an eye on the campus crosstown, wondering if he might kickstart a sleeping giant that hadn't won a March Madness game in 30 years and toiled in worse facilities than some YMCA leagues.
"I knew how bad it was," Sampson said. "There was no guarantee this thing was going to get turned around, it was so bad. The thing that drove me back then — and I appreciate everybody on the wagon with us now — was the apathy. It doesn't take much to motivate me. It doesn't take much to activate this chip I have on my shoulder. You're either with us or against us. If you want to be against us, we're still going to do it anyway."
Channeling his chip without bitterness, he recruited players who would adopt his toughness. He made a lunch date with Tilman Fertitta, the Rockets owner and avid Cougars booster, and said a national title was winnable with better facilities. Fertitta wrote a check for $20 million. Phi Slama Jamma, the brand name of those long-ago explosive teams that never won a title, was now Phi Swarma Jama — built on defense and snarl. Every bit of that swagger will be needed to beat Baylor, blessed with the country's best guards and two-way dominance recently on display. The concern is that Houston hasn't faced top competition, having played only one top-30 team all season — Texas Tech — and sliding through the NCAA brackets against 15th-seeded Cleveland State, 10th-seeded Rutgers, 11th-seeded Syracuse and 12th-seeded Oregon State.
"We may not have the brightest lights, but our lights shine as bright as anybody else's because it's all about team," Sampson said. "We've taken a group of kids to get them to believe, and they've accomplished something nobody can take from them. They'll always be known as a Final Four participant. They earned it too. I mean, they earned it."
Like Gonzaga, Baylor has ascended into the ranks of the new bluebloods as the almighty likes of Kentucky and Duke wobble in uncertainty. The American sports mainstream is just getting to know Davion Mitchell, Jared Butler and MaCio Teague, but they all share a common denominator — they fit Drew's vision, which prioritizes team over NBA lottery dreams. "I think it all comes back to one thing, and that is knowing your team and knowing your culture: who's going to fit in and represent your program how you want it represented, if you bring in people that add to that," Drew said. "No matter which avenue you look to bring in someone, do they meet what you're really looking for?"
From the tragic stench of the Bliss era to the sexual assault crisis in the football program, Baylor has been a sickening example of how not to run big-time athletics. This team is hoping to change the national perception, with a championship perhaps easing the pain of what could happen June 15: Dotson, serving a 35-year prison sentence, is eligible for parole.
For a time, it seemed Waco could host champions in men's and women's basketball. But the officials didn't blow their whistles when Baylor's DiJonai Carrington was fouled in the final seconds, preserving a Connecticut win in a women's regional final more compelling than anything the men have produced. The social media mobs erupted, including LeBron James. "It doesn't matter," Baylor coach Kim Mulkey said. "It doesn't matter what you write. It doesn't matter what I say. It doesn't matter what we saw. It doesn't matter what we think. Life goes on."
Life might not go on if Mulkey was put in charge of the infectious disease initiative in America. In a bizarre comment, she demanded the NCAA stop testing the Final Four teams for COVID-19 at the women's and men's sites. "They need to dump the COVID testing. Wouldn't it be a shame to keep COVID testing and then you got kids that test positive or something and they don't get to play in the Final Four?" she said. "So you just need to forget the COVID tests and get the four teams playing in each Final Four and go battle it out."
The NCAA is damned fortunate only one outbreak has impacted the tournaments — when Virginia Commonwealth's men's team reported several positive tests and forfeited a first-round game to Oregon. And the referee who collapsed in the first half of the Gonzaga-USC regional final — might Bert Smith have been dealing with symptoms? No one needs Kim Mulkey acting like a COVID-iot, flip-flopping from her January comments after she contracted the virus. Said Mulkey at the time: "The answer is this: The season will continue on. It's called the almighty dollar. The NCAA has to have the almighty dollar from the men's tournament. The almighty dollar is more important than the health and welfare of me, the players or anybody else. One conference does this, one conference does that. The CDC says this. Everybody is confused. I'm confused. I'm uncomfortable coaching. I understand, COVID is real. I've had it — come talk to me sometime."
Maybe it's a good thing the refs swallowed their whistles. We don't have to hear her 180-degree ramblings this weekend in San Antonio.
The biggest college basketball story of this and other year begins today, when the Supreme Court considers whether "student-athletes" — currently treated like slave labor as the NCAA accepts another $1 billion payout from CBS and Turner — should be paid. This while Gonzaga tries to complete the first perfect season in 45 years, an apparent fait accompli after a rout of seemingly formidable USC.
Baylor, Kelvin Sampson, the First-Four-to-Final-Four UCLA Bruins … can anyone give the Zags a game? Or coax Timme, the best player of March, to shave his 'stache, which is accompanied by a Will Ferrell headband? Did he actually pretend he was slicking down the 'stache after a two-handed dunk Tuesday night?
"It's something that really can't be tamed," Timme said. "I can't even control it. I'm just glad everybody is having fun with it. That was the whole point of it."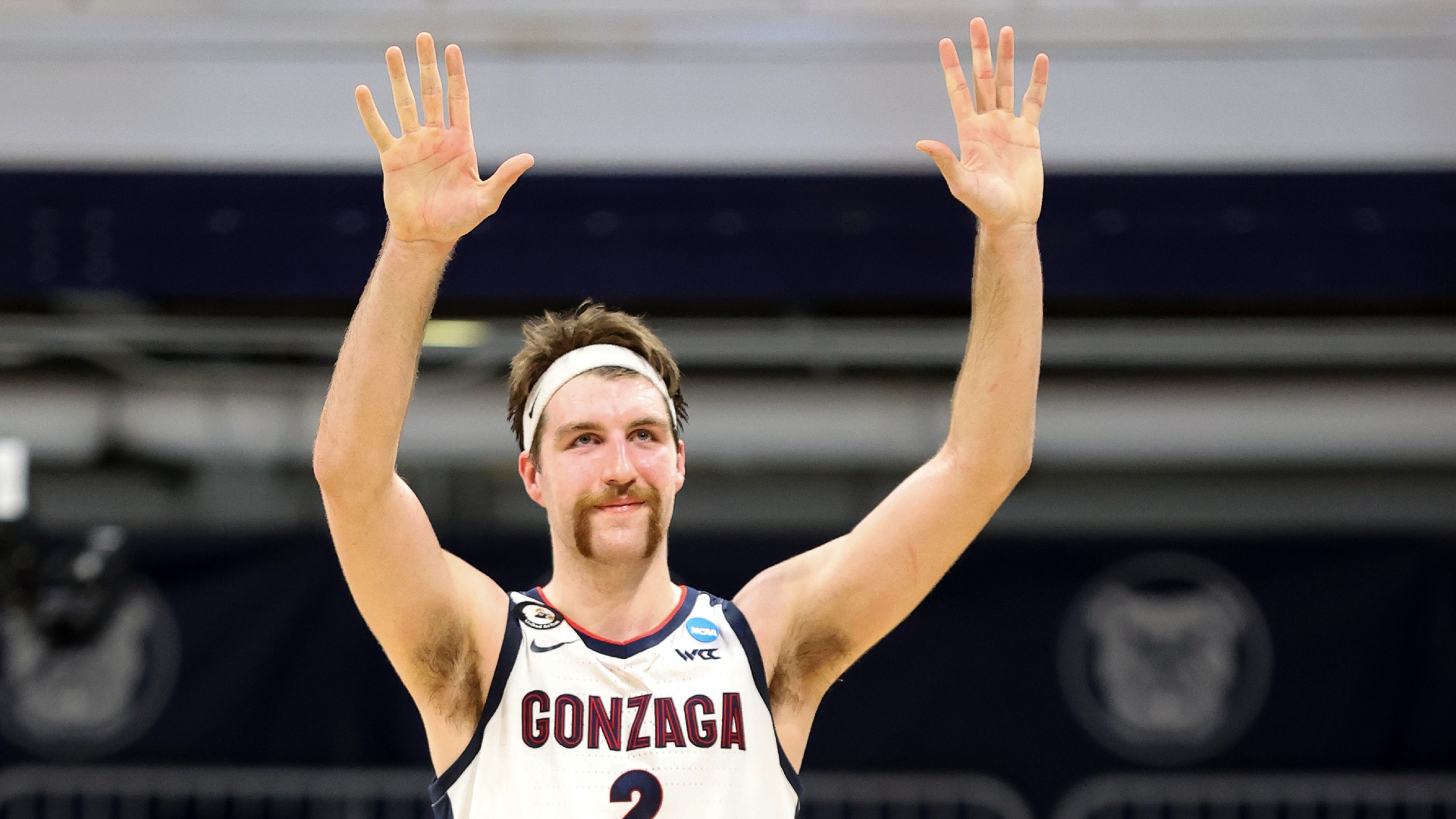 "Every time he has that 'stache, he's been playing well," teammate Andrew Nembhard said. "I'm all for the 'stache, honestly. He's that type of person with that type of personality. It fits, and we're all for it at this point."
Have mercy on the Drew Manchu, says the tournament.
Being Wrong On-Air Isn't A Bad Thing
…if you feel yourself getting uncomfortable over the fact that you were wrong, stop to realize that's your pride talking. Your ego. And if people call you out for being wrong, it's actually a good sign.
In the press conference after the Warriors won their fourth NBA title in eight years, Steph Curry referenced a very specific gesture from a very specific episode of Get Up that aired in August 2021.
"Clearly remember some experts and talking heads putting up the big zero," Curry said, then holding up a hollowed fist to one eye, looking through it as if it were a telescope.
"How many championships we would have going forward because of everything we went through."
Yep, Kendrick Perkins and Domonique Foxworth each predicted the Warriors wouldn't win a single title over the course of the four-year extension Curry had just signed. The Warriors won the NBA title and guess what? Curry gets to gloat.
The funny part to me was the people who felt Perkins or Foxworth should be mad or embarrassed. Why? Because they were wrong?
That's part of the game. If you're a host or analyst who is never wrong in a prediction, it's more likely that you're excruciatingly boring than exceedingly smart. Being wrong is not necessarily fun, but it's not a bad thing in this business.
You shouldn't try to be wrong, but you shouldn't be afraid of it, either. And if you are wrong, own it. Hold your L as I've heard the kids say. Don't try to minimize it or explain it or try to point out how many other people are wrong, too. Do what Kendrick Perkins did on Get Up the day after the Warriors won the title.
"When they go on to win it, guess what?" He said, sitting next to Mike Greenberg. "You have to eat that."
Do not do what Perkins did later that morning on First Take.
Perkins: "I come on here and it's cool, right? Y'all can pull up Perk receipts and things to that nature. And then you give other people a pass like J-Will."
Jason Williams: "I don't get passes on this show."
Perkins: "You had to, you had a receipt, too, because me and you both picked the Memphis Grizzlies to beat the Golden State Warriors, but I'm OK with that. I'm OK with that. Go ahead Stephen A. I know you're about to have fun and do your thing. Go ahead."
Stephen A. Smith: "First of all, I'm going to get serious for a second with the both of you, especially you, Perk, and I want to tell you something right now. Let me throw myself on Front Street, we can sit up there and make fun of me. You know how many damn Finals predictions I got wrong? I don't give a damn. I mean, I got a whole bunch of them wrong. Ain't no reason to come on the air and defend yourself. Perk, listen man. You were wrong. And we making fun, and Steph Curry making fun of you. You laugh at that my brother. He got you today. That's all. He got you today."
It's absolutely great advice, and if you feel yourself getting uncomfortable over the fact that you were wrong, stop to realize that's your pride talking. Your ego. And if people call you out for being wrong, it's actually a good sign. It means they're not just listening, but holding on to what you say. You matter. Don't ruin that by getting defensive and testy.
WORTH EVERY PENNY
I did a double-take when I saw Chris Russo's list of the greatest QB-TE combinations ever on Wednesday and this was before I ever got to Tom Brady-to-Rob Gronkowski listed at No. 5. It was actually No. 4 that stopped me cold: Starr-Kramer.
My first thought: Jerry Kramer didn't play tight end.
My second thought: I must be unaware of this really good tight end from the Lombardi-era Packers.
After further review, I don't think that's necessarily true, either. Ron Kramer did play for the Lombardi-era Packers, and he was a good player. He caught 14 scoring passes in a three-year stretch where he really mattered, but he failed to catch a single touchdown pass in six of the 10 NFL seasons he played. He was named first-team All-Pro once and finished his career with 229 receptions.
Now this is not the only reason that this is an absolutely terrible list. It is the most egregious, however. Bart Starr and Kramer are not among the 25 top QB-TE combinations in NFL history let alone the top five. And if you're to believe Russo's list, eighty percent of the top tandems played in the NFL in the 30-year window from 1958 to 1987 with only one tandem from the past 30 years meriting inclusion when this is the era in which tight end production has steadily climbed.
Then I found out that Russo is making $10,000 per appearance on "First Take."
My first thought: You don't have to pay that much to get a 60-something white guy to grossly exaggerate how great stuff used to be.
My second thought: That might be the best $10,000 ESPN has ever spent.
Once a week, Russo comes on and draws a reaction out of a younger demographic by playing a good-natured version of Dana Carvey's Grumpy Old Man. Russo groans to JJ Redick about the lack of fundamental basketball skills in today's game or he proclaims the majesty of a tight end-quarterback pairing that was among the top five in its decade, but doesn't sniff the top five of all-time.
And guess what? It works. Redick rolls his eyes, asks Russo which game he's watching, and on Wednesday he got me to spend a good 25 minutes looking up statistics for some Packers tight end I'd never heard of. Not satisfied with that, I then moved on to determine Russo's biggest omission from the list, which I've concluded is Philip Rivers and Antonio Gates, who connected for 89 touchdowns over 15 seasons, which is only 73 more touchdowns than Kramer scored in his career. John Elway and Shannon Sharpe should be on there, too.
Money Isn't The Key Reason Why Sellers Sell Sports Radio
I started selling sports radio because I enjoyed working with clients who loved sports, our station, and wanted to reach fans with our commercials and promotions.
A radio salesperson's value being purely tied to money is overrated to me. Our managers all believe that our main motivation for selling radio is to make more money. They see no problem in asking us to sell more in various ways because it increases our paycheck. We are offered more money to sell digital, NTR, to sell another station in the cluster, weekend remotes, new direct business, or via the phone in 8 hours.
But is that why you sell sports radio?
In 2022, the Top 10 highest paying sales jobs are all in technology. Not a media company among them. You could argue that if it were all about making money, we should quit and work in tech. Famous bank robber Willie Sutton was asked why he robbed twenty banks over twenty years. He reportedly said," that's where the money is". Sutton is the classic example of a person who wanted what money could provide and was willing to do whatever it took to get it, BUT he also admitted he liked robbing banks and felt alive. So, Sutton didn't do it just for the money.
A salesperson's relationship with money and prestige is also at the center of the play Death of a Salesman. Willy Loman is an aging and failing salesman who decides he is worth more dead than alive and kills himself in an auto accident giving his family the death benefit from his life insurance policy. Loman wasn't working for the money. He wanted the prestige of what money could buy for himself and his family. 
Recently, I met a woman who spent twelve years selling radio from 1999-2011. I asked her why she left her senior sales job. She said she didn't like the changes in the industry. Consolidation was at its peak, and most salespeople were asked to do more with less help. She described her radio sales job as one with "golden handcuffs". The station paid her too much money to quit even though she hated the job. She finally quit. The job wasn't worth the money to her.
I started selling sports radio because I enjoyed working with clients who loved sports, our station, and wanted to reach fans with our commercials and promotions. I never wanted to sell anything else and specifically enjoyed selling programming centered around reaching fans of Boise State University football. That's it. Very similar to what Mark Glynn and his KJR staff experience when selling Kraken hockey and Huskies football.
I never thought selling sports radio was the best way to make money. I just enjoyed the way I could make money. I focused on the process and what I enjoyed about the position—the freedom to come and go and set my schedule for the most part. I concentrated on annual contracts and clients who wanted to run radio commercials over the air to get more traffic and build their brand.
Most of my clients were local direct and listened to the station. Some other sales initiatives had steep learning curves, were one-day events or contracted out shaky support staff. In other words, the money didn't motivate me enough. How I spent my time was more important.
So, if you are in management, maybe consider why your sales staff is working at the station. Because to me, they'd be robbing banks if it were all about making lots of money.
Media Noise: BSM Podcast Network Round Table
Demetri Ravanos welcomes the two newest members of the BSM Podcast Network to the show. Brady Farkas and Stephen Strom join for a roundtable discussion that includes the new media, Sage Steele and Roger Goodell telling Congress that Dave Portnoy isn't banned from NFL events.
Podcast: Play in new window | Download
Subscribe: RSS