Anatomy of an Analyst: Bill Raftery
"There's just an aura about this man. There is a passion and love for the sport of college basketball is evident every time he speaks, or shouts, or any combination of the two."
"Send it in!" "Big Fella!" "A little kiss!" Just some of the catch phrases shouted out by the silver haired basketball analyst Bill Raftery who has become entrenched as a voice of March Madness. His bookend "man-to-man" at the start of a broadcast and an "onions" at the end of one have become as beloved as that 15 seed who upsets a 2 seed in the tournament. 
Raftery was a star high school basketball player at Saint Cecilia in Kearny, New Jersey, winning a state championship in his senior year. He left as the school's all-time leading scorer with 2,192 points, a record that held up for 35 years. Raftery played collegiately at La Salle University, scoring a freshman record 370 points, followed by a team best 17.8 points per game his sophomore year. The Explorers made the NIT in his senior year. Raftery was selected in the 14th round of the 1963 NBA draft by the Knicks, but never played in the league.
Raftery began his coaching career in 1963 at Fairleigh Dickinson University, where he was the head basketball coach until 1968. He also coached golf and served as the associate athletic director. In 1970 he took over the Seton Hall program coaching them to a 154-141 record in his 11 seasons there. He took his team to the NIT in 1974 and 1977.
HIS ROAD TO THE FINAL FOUR BROADCASTS
Before the 1981-82 season, Big East commissioner Dave Gavitt told Raftery there was an opportunity to call league games at ESPN. It was already late October, and Raftery had two days to decide. He gave up his coaching job with the Pirates and started broadcasting. Raftery stayed at ESPN doing games through the 2012 season. Also, in that span he started to emerge as an analyst on CBS's college hoops. In 1991 he started working as an analyst for Westwood One/CBS Radio's coverage of the Final Four.
He also served as an analyst for the NBA's New Jersey Nets. Since 1981, Raftery has announced several events, including the Big Ten Championship, the ACC Championship, the Big East Championship, the SEC Championship, the McDonald's High School All-Star game and the NIT pre-season and championship games.
In 2015 Raftery was moved to the top announcing team, joining Grant Hill and Jim Nantz.  That was the first time he was able to call the Final Four on television and that team has been together ever since. 
WHY IS HE SO GOOD?
There's just an aura about this man. There is a passion and love for the sport of college basketball is evident every time he speaks, or shouts, or any combination of the two. Raftery is great because of how conversational he is, very easy going and he seemingly can adapt to any play-by-play guy he's paired with. There is something inherently likeable about how easy going he is during a broadcast. Don't mistake that nature for a lack of excitement in his calls. If you did, you'd be wrong. He sounds like that older guy who's experienced a lot in the game, but still is a kid at heart when calling a game. 
Yes, the man has catchphrases and sometimes he gets excitable when yelling them out, but he's not over the top. He knows when to interject and when to lay back. In other words, he's got some substance with his shtick. If you really listen, it's not hard to tell that Raftery prepares for each and every broadcast. He knows what teams like to do in certain game situations, whether it be an inbounds play to get a good look, or a late-game situation or play. That's only gleaned by attending practices or shootarounds and talking to the head coach and assistant coaches. He'll keep a notepad near him with actual diagrams of those plays for better explaining purposes. 
With very little to zero ego, Raftery doesn't set out to be the star of the show. He's worked well with a two-man crew and a three-man booth.
WHY HE'D BE FUN TO WORK WITH
His praises are sung by everyone he's ever worked with.  "What you see on TV is what you get if you're fortunate enough to be orbiting around Bill Raftery's life," Jim Nantz, who will call the Final Four and title game with Raftery and Grant Hill told the Athletic. "He exudes that love of life, that kindheartedness, that faith in people. It comes across on the air. You can't fake that." 
Ian Eagle also spoke to the Athletic about Raftery, whom he worked with on Nets broadcasts and from time to time on NCAA game. "He's a fountain of creativity," Eagle says. "He also has an excellent sense of timing. Lots of people have tried to imitate his style, but nobody has matched it in all these years." Eagle said.
When guys of the stature of Nantz and Eagle are touting a guy like that, it's completely credible. Because truthfully, Raftery has every right to think very highly of himself but doesn't. He seems incredibly easy to work with. The kind of partner that would say something like, "whatever you want, I'll just follow your lead, but I'd like to take us to break from time to time." By the way, I love when Raftery takes the lead on sending the broadcast to commercial. The "roll-out" as it's called, features some highlights just before they hit the ads, he's like a kid in a candy store when he's able to do it.
He's knowledgeable, easy going, vivacious and just seems to be having a great time – all the time. He is the kind of guy people like to talk to and meet. 
CONCLUSION
It wouldn't be March Madness without Raftery. The transition he made from working with Verne Lundquist and with the Nets, to the top team with CBS has been seamless. That's because of his personality and sense of timing. The phrases he uses are entertaining and fun to hear, due to the way he uses them.  Raftery is that guy sitting at the end of the bar, talking alongside the game, while making sure everybody's glasses are filled and stay that way. 
Here's to you Mr. Raftery, keep on doing what you do!
Anatomy of a Broadcaster: Mike Tirico
"There aren't too many broadcasters than can be at the top of their game, either in the booth or in the studio. The worlds are so different. The preparation is different."
Don't be fooled by his boyish looks, Mike Tirico has been around the block in the world of sports broadcasting. Tirico has done it all in the industry and at a high level. He's been a play-by-play announcer on TV, radio play-by-play man and studio host. Tirico's career spans many sports as well, including football, basketball, golf, the Olympics and even the NHL.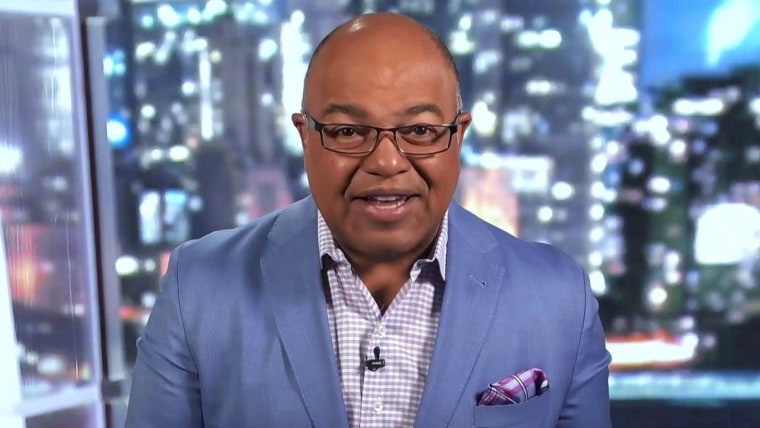 Tirico grew up in Queens, New York, going to high school there, before attending Syracuse and the Newhouse School of Public Communications. He was never the most athletic kid in his neighborhood. Like a lot of us (me included), he loved sports but knew he'd never make a career playing anything. The only way to be involved? Broadcasting.
Tirico during an interview on "Talks at GS" said even his mom had a better arm than him and perhaps it was the best arm of any mom in the neighborhood. "She'd go out and play catch with me during my Little League days, which didn't advance very far," Tirico said.
During the same interview he revealed his first "microphone" was actually a spoon, which he could usually be found holding in his younger days.
"As a kid, for whatever reason, I took a liking for sports on TV. My mom will tell you, as a little kid I would run around with a spoon and pretend to be an announcer instead of being a ballplayer or an athlete. I guess 50 years later, I'm still living my childhood dream of being a TV sportscaster. I still love the job every second of the day."
Pretty cool story.
ROAD TO NBC
Tirico got his start as an undergrad at Syracuse, working for the CBS affiliate, WTVH-TV from 1987 through 1991. He was the sports director and served as the play-by-play voice for Syracuse basketball, football, volleyball and lacrosse.
From Syracuse it was on to Bristol and ESPN. He joined the network in 1991 and was given a variety of assignments. Tirico handled stints on SportsCenter and was actually the first face seen on ESPN News when it debuted.
While at ESPN Tirico did some play-by-play as well. He was the voice of ESPN's Thursday night college football package, college basketball coverage, NBA coverage, and golf coverage for ESPN/ABC. Tirico did some games on ESPN Radio as well, including the call of the NBA Finals. 
Tirico also hosted studio coverage of various ESPN and ABC covered events, including a stint on ESPN's Monday Night Countdown and ABC's NBA studio shows. He anchored the 2009 US Open (tennis) and co-anchored the 2010 FIFA World Cup, the 2014 FIFA World Cup, and UEFA Euro 2016. The latter was his last assignment at ESPN, before leaving after 25 years, for NBC Sports.
NBC SPORTS
In May of 2016 Tirico moved over to NBC. His first appearance was during the network's coverage of the 2016 Open Championship on NBC's the Golf Channel. Tirico called the action for the first few hours of the 2nd round. He then transitioned into the host role for the Open coverage on NBC itself for the weekend.
Tirico has served in a myriad of roles on the network. He was a studio host for the 2016 Summer Olympics. Tirico has done both Thursday Night and Sunday Night Football play-by-play. He has been tabbed to take over the booth for SNF, when Al Michaels retires. Tirico was also named the host of Football Night in America, the Sunday night pre and postgame show for Sunday night Football.
College football and the NHL are also on his resume at NBC, having done games for Notre Dame as part of the network's television package with the school. In February of 2019, Tirico called his first ever NHL game, a Wednesday Night Hockey broadcast between the Chicago Blackhawks and Detroit Red Wings.
OLYMPICS
When it was announced Bob Costas was stepping away from his role as the primetime host of the Olympic Games on NBC, Tirico got the call. He will take over the chair from fellow Syracuse grad Costas when the games get going later this month in Tokyo, Japan. Tirico Costas had been the host for 11 Olympic games. 
Tirico helped anchor the Rio Olympics as host of daytime programming and later hosted coverage of the Pyeongchang Winter Olympics, so he does have some experience in the chair.
He recently told the Times Union in Albany, "I grew up watching Jim McKay and Bob Costas do this," Tirico said. "The opportunity in Pyeongchang was exciting. Now, I feel like an old veteran; I've got a couple Olympics under my belt. I've prepared for Tokyo for about three years. We are ready to get this thing on the road."
The irony in the "passing of the torch" is that Tirico was the first student at Syracuse to receive the Bob Costas Scholarship at Syracuse, back in 1987 during Tirico's junior year. 
Tirico recently told People Magazine, "We've (Tirico and Costas) gotten to know each other through Syracuse. That's left such an impression upon me. It led me to be involved at Syracuse and to try to follow that the example that Bob set," he says. "To be the person who gets to the front of all of that is something that is a great responsibility and one that I'm honored to share and to carry on after Bob did it so well for so long."
WHY IS HE SO GOOD?
I think the biggest thing making Tirico so good, is his versatility. There aren't too many broadcasters than can be at the top of their game, either in the booth or in the studio. The worlds are so different. The preparation is different. The expectations are certainly not the same when it comes to performance, but Tirico is able to excel in both roles and makes it look easy. The ability to differentiate what information needs to be relayed during a broadcast and what is vital to a studio show is critical. Tirico handles that with no trouble at all.
Tirico's sense of humor works during a broadcast as well. He always seems to have a smile in his voice, it's noticeable while he's on the air. That's not just during a stint as a play-by-play guy, it also applies to his studio work. The audience can pick up on this smile and it makes for a pleasant listen/view.
He has the ability to work with pretty much anyone. Because he understands whatever role he is in at that given moment. Tirico is a traffic cop in both of his main assignments. Setting up his analyst during a game broadcast is something he's not afraid to do. Making the person that played the game at a high level the star and the one to disseminate analysis is what he does best. I know Tirico knows the answer to most of the questions he poses, but it speaks to his understanding of the credibility of those he's working with. This also applies to his studio work.
I think that Tirico sometimes gets a bum rap. He is described at times as milquetoast or bland. I don't necessarily feel like that is a bad thing.
Tirico is solid, not flashy, not gimmicky. He's just a terrific broadcaster. This style of his allows him to be as versatile as he is, not painting him with a specific brush. It makes Tirico a man for all, and I mean all seasons. 
CONCLUSION
Give me a solid, professional broadcast every single time and I'd never be disappointed. That's what you're getting in Mike Tirico. His passion comes through in every broadcast, from the booth and studio alike. He is a rare talent with the ability to handle multiple high-profile roles.
Anatomy of a Broadcaster: Joe Buck
"Buck finds a way to make games exciting. Whether it be a great call in a huge moment or his ability to set the scene for a game that has a lot on the line."
He's been the guy calling pretty much every big event on Fox since the late 1990's. Joe Buck has become a regular part of many people's Sundays, Mondays, Tuesdays, well you get it. Buck calls the NFL and Major League Baseball for the network, covering the biggest events on the biggest stages. The Super Bowl and of course the World Series.
Busy should be his middle name. During the baseball playoffs, he's still working his Fox NFL gig, which can also include a Thursday night game. A couple of times in the last decade he's called his own "doubleheader". On October 14, 2012, Buck called an NFL game between the Giants and 49'ers in San Francisco, which started at 4:25pm Eastern Time. He then made the 7-mile journey across town via trolley for Game 1 of the NLCS between the Cardinals and Giants.
Buck has also become one of the most polarizing national announcers in recent memory. He is opinionated, sometimes sarcastic and is usually accused of having a bias against, well, pretty much every fanbase in sports. He's been called a jinx to whatever team it is that a viewer follows. That's a power many of us in the industry wish we had. Of course, it's not true.
ROAD TO THE NETWORKS
Buck called play-by-play for the then Louisville Redbirds, a minor league affiliate of the Cardinals. He was a reporter for ESPN's coverage of the Triple-A All-Star Game in 1989. Buck became a reporter for St. Louis' CBS station KMOV in 1991, the same year he began broadcasting Cardinals games on local television and on KMOX radio. He would fill in for his father Jack Buck, while the elder Buck was working on CBS telecasts.
Buck continued to call Cardinals games after being hired by Fox Sports in 1994. Though as he got busier and busier with the network job, his local duties shrank. Prior to the 2008 season he announced that he would no longer be calling Cardinals games. It marked the first time since 1960 that a member of the Buck family was not part of the team's broadcasting crew.
LIFE AT FOX
Buck has been the face and voice of Fox Sports since 1994. He was hired to work the NFL in the inaugural season on the network at age 25. Buck became the youngest person ever to announce a regular schedule of NFL games in network TV history.
He took over as the top play-by-play man in 2002 replacing the legendary Pat Summerall. Buck is only the third announcer to handle a television network's lead MLB and NFL coverage in the same year. He joins NBC's Curt Gowdy and ABC's Al Michaels.
Buck, as mentioned, is also the top guy at Fox on the network's coverage of Major League Baseball. In 1996, he was named Fox's lead play-by-play voice teaming with Tim McCarver.
On September 8, 1998, Buck called Mark McGwire's 62nd home run that broke the single-season record. The game was nationally televised live in prime time on Fox. Not a normal circumstance at all, but the record, at the time, was of huge national interest.
One of the other well-known broadcasts by Buck, included a tribute to his late father Jack. It came during the broadcast of the 2002 World Series. Game 6 between the Angels and Giants came down to an Anaheim comeback in the bottom of the 8th to take a lead on San Francisco. The Angels needed to win to stave off elimination. When the final out of the Angels victory was recorded, Buck said, "We'll see you tomorrow night." Buck's father Jack had passed away only a few months earlier and it was a perfect hat tip to his dad, because Jack said the exact same phrase in 1991. Jack Buck made the original famous call when Minnesota's Kirby Puckett hit a home run off of Atlanta's Charlie Leibrandt to end Game 6 of the 1991 World Series.
Through 2020, Buck has called 22 World Series and 21 All-Star Games for Fox, the most of any play-by-play announcer on network television.
WHY IS HE SO GOOD?
For some, being the son of a Hall of Fame announcer would be enough for them to think, I can do this broadcasting thing, my dad did it so why not me? Yes, some get jobs based on their name. But just a few last as long as Joe has, because of one thing. No, not his name. Talent. He's not his dad, he's his own guy. As I wrote last summer.
Joe had a difficult time dealing with his dad's shadow, but learned later that there was no reason to feel that way.
"I was broadcasting Cardinal baseball in the major leagues at the age of 21, and that only happened because my last name was Buck. At the time, I fought that.", the younger Buck told NPR in 2016. He continued, "But there's also a little bit more of a sharp knife out there, as far as critics are concerned, that you better be as good as the old man, or in some cases better, to be considered a success.". Being modest, Joe continued to NPR, "I know I do a decent enough job to keep my job, but I will forever be known to some people as Jack Buck's son. And thank God he and I were best friends or that would drive me nuts. Instead, I consider it a high compliment."
To me this is why the younger Buck is so polarizing. Some feel that since he's not his old man, how can he do this job? Some may feel he's just on the air because his name is Buck and dismiss him? There are those that don't like his wit or sarcasm, saying he seems to come off as a know it all or aloof. Whatever the reason, it is a thing, Buck hating is real. There are Twitter accounts dedicated to the practice. Petitions online call for his job routinely. This is broadcasting in a new era of social media. Thick skin is required. Buck proves he's above it, because here he is, a couple of decades later, still going strong. To know all of that is out there and still be able to do your job at a high level is an extraordinary thing. It's a testament to his talent.
Buck finds a way to make games exciting. Whether it be a great call in a huge moment or his ability to set the scene for a game that has a lot on the line. It is such a compliment to a broadcaster when you achieve the level of "you know it's a big game when you hear that voice" and Buck has.
I appreciate the enormity of the job he has, in being expected to get everything right. It's an awesome responsibility.
CONTROVERSY
Buck has had to deal with some controversy over the course of his career. Several of them have popped up over the last few years, about things he said on air, and things picked up while not on the air.
There was the famous "mocking" of a flyover in Tampa. Before the game started, someone recorded the duo of Buck and Troy Aikman making comments about the planes overhead.
"That's a lot of jet fuel just to do a little flyover," Aikman is heard saying in the video.
"That's your hard-earned money and your tax dollars at work!" Buck replied in a mocking tone.
Buck told the St. Louis Dispatch that he was a fan of military flyovers before sporting events. He also says that what sounded like he and partner Aikman mocking them that weekend was in fact an inside joke and sarcasm that was taken entirely out of context.
"The perception that we're not supporting the military is crazy," Buck told the paper. "We were being completely sarcastic. I've seen some of the most chilling flyovers you'd ever see. It's like a communal experience. Flyovers are great." Buck suspects that someone who isn't with Fox clipped the audio, packaged it with video that wasn't Fox's and then sold it.
Buck, in another recent controversy told Colin Cowherd on his podcast that he and Aikman used to sip tequila mixed drinks on occasion in the broadcast booth during games, and that he liked to nurse "the biggest beer" in the stadium to call baseball.
"I'll say this. We have had that glass of bourbon in the booth. Although it's not bourbon, it's tequila, splash of Grand Marnier and grapefruit juice," Buck replied. "I went through a couple years where, in the first inning of every postseason baseball game, I had the runner go get the biggest beer that the stadium sold. And I had it sitting there and I would sip it from time to time to remind myself to relax and have fun. I'm just doing a game."
Buck says the remarks were just a tiny segment in a long conversation. He is not happy about the way it is playing out, leading some people to perceive that he slams drinks during the game — something that never was said.
"It is just another reminder that journalism is indeed dying and clickbait rules the day," Buck tweeted. "… I am 51, not 15. I believe I am old enough to understand what a drink is."
He said the drinks were just one of the tricks he has used over the years to calm his mind.
He puts notes to himself on his spotting boards to remind him to put things into perspective.
"The notes on my board 'have fun' 'relax' are examples from every Super Bowl," he said. "Texts from friends pop the bubble and are needed during the game. The coffee machine and almost fake trips to it to leave the front of the booth are necessary for me.
HALL OF FAME
For his work over the years in the NFL, Buck is headed to Canton. He will receive the Pro Football Hall of Fame's prestigious Pete Rozelle Award, given for "longtime exceptional contributions to radio and television in professional football." Buck joins his father, Jack Buck, in receiving the award, the first father-son duo to do it.
Hall of Fame president David Baker surprised Buck with the news on a Thursday Night Football broadcast between the Bengals and Browns. Buck will be officially recognized during next summer's enshrinement week in August, during the enshrinement of the Centennial Class of 2020.
The announcement left him speechless for a moment during the broadcast. "I don't even know what to say. I feel like – what? That's unbelievable."
JEOPARDY!
TV Sports Announcers for $400 please…
This NFL announcer for Fox TV shares a name with a male deer and will also be the host of Jeopardy.
Who is Joe Buck? Correct.
So, Joe Buck is going to appear on Jeopardy! as a guest host. His episodes are set to air in early August. Buck joins a long list of those that are interested in replacing the late Alex Trebek who passed away last year. He joins Aaron Rodgers, former Jeopardy! champion Ken Jennings, Anderson Cooper and Mayim Bialik on the roster of potential new hosts for the show.
CONCLUSION
I understand that Buck isn't for everyone. People seem to enjoy picking him apart for every word, every nuance and every call. Seriously though, the guy has enjoyed a long and successful career, so he's doing something right. You don't stick around and perform at a high-level just because you have the same last name as a legendary broadcaster. I enjoy how Buck seems to play off the negativity and turn it into something to laugh about. Deep down, nobody likes to hear bad things about their broadcasts. At the same time, you can't cave to the trolls and haters, they're always going to be there, but seemingly so will Buck.
SUMMARY:
Joe Buck is the voice of the NFL and Major League Baseball on Fox and has been at it for a long time. The son of the late Jack Buck, he has carved out his own niche in the industry. Joe Buck has become the soundtrack for some of the biggest sporting events in the last 20+ years. Buck has dealt with controversy and detractors, but it hasn't affected his longtime grip on the top job at Fox.
Anatomy of an Analyst: John Smoltz
"Smoltz has the rare ability of parlaying a fantastic Major League career into an ability to analyze what he's seeing. He's good at being able explain it in terms the audience can understand. There are few former athletes that "get it" the way he does."
Hall of Famer John Smoltz was one of the dominant pitchers of his era. Smoltz joined forces with Greg Maddux and Tom Glavine to lead the Atlanta Braves to an incredible run from the early 1990's to the mid 2000's. His Braves teams amassed, 14 consecutive NL East titles, won 5 National League pennants and in 1995, won a World Series Championship.
Amazingly, during the run, Smoltz proved to be one of, if not, the most versatile pitcher of the day. From 1992-2005, Smoltz was 135-86, with a 3.10 ERA. He had 34 complete games and 13 shutouts. Ok, those are numbers you'd expect from a guy in the Hall of Fame. What you might not expect? Smoltz recorded 154 saves during that period as well. Oh, and he missed the entire 2000 season following Tommy John surgery. That injury forced him to pitch out of the bullpen for a time and Smoltz became the first player in baseball history to record 200+ wins and 150+ saves during a career. He is one of four pitchers ever to have a 20-win season and a 30-save season (Dennis Eckersley, Derek Lowe and Ian Kennedy). Smoltz and Eckersley are the only two pitchers with a 20-win and 50-save season.
Not bad for a Tigers' prospect, who was drafted in the 22nd round of the 1985 draft, right? Smoltz ended up making Doyle Alexander the answer to a trivia question. Who was the guy Atlanta sent to Detroit for John Smoltz? Yup, Alexander. The first ballot Hall of Famer, 8-time All-Star and NL Cy Young Award winner, pitched 21 seasons in the Majors, with of course, Atlanta, also briefly for both Boston and St. Louis. Smoltz retired after the 2009 season.
ROAD TO THE BOOTH
One of Smoltz's first forays into the world of broadcasting came in 2010, the year after he left the game as a player. He joined the Braves broadcast alongside Joe Simpson on Peachtree TV. Also that year, he did some games on MLB Network and also called some postseason games for TBS. In 2014 he was first hired by Fox. The network paired him with Matt Vasgersian in Fox's number two booth. He also joined Fox Sports South to call select Braves games that season.
Just after the 2015 season ended, Fox bumped Smoltz up to the top booth alongside Joe Buck. Smoltz worked his first World Series in 2016, when the Cubs ended the longest drought in professional sports by winning the title. Smoltz and Buck have called the Fall Classic together ever since.
Smoltz also serves as a game and studio analyst for MLB Network.
WHY IS HE GOOD?
Just because you were a good player, or even a great player, it doesn't automatically translate into an equally great broadcasting career. Isiah Thomas, Magic Johnson and recently Jason Witten come to mind as tremendous players that weren't good analysts. These guys may have been good interviews for reporters in their playing days. However, talking about a game you actually played in, seems easier to do than one you aren't a part of on the field. Many have tried to varying degrees of success.
Smoltz has the rare ability of parlaying a fantastic Major League career into an ability to analyze what he's seeing. He's good at being able explain it in terms the audience can understand. There are few former athletes that "get it" the way he does. He combines knowledge, wit and candor into a broadcast like few baseball analysts can. His baseball resume gives him the credibility to make some of the statements he does. Whether they be about the game itself or a player or team.
Now, having played the game at a high level, sets you up for being criticized yourself. Meaning, Smoltz gets pegged for being a curmudgeon at times, lamenting today's game and its stats and analytics. To me, it sounds at times like he's frustrated with the way those numbers have affected managing styles and some players' ability levels. In other words, he didn't seem to care about his spin rate, he just knew how to get batters out, even the third time through the order. Smoltz didn't care about his pitch count, he completed over 50 games in his career. I get it, that can grate on some, because the game is being played today under these rules and not being played "back in my day".
It's led many fans and some members of the media to wonder if Smoltz even likes baseball. The answer to that question is no, he LOVES baseball. How else do you explain his career? A competitor that had to reinvent himself several times as a pitcher due to injury. A prolific starter that was thrust into a bullpen role not by choice but out of necessity. Anything to help his team win, no arguments, no excuses and no regrets.
He's good because when he and Joe Buck call a game, fans of both teams think he hates their team. It's almost a badge of honor to achieve that level of success in the booth. During last year's NLCS between the Dodgers and Braves, Atlanta fans were calling for his number to be "unretired". They were upset because he was criticizing the team he used to play for. Dodger fans were equally perturbed because they perceived he was favoring the Braves in his commentary.
DID YOU KNOW?
Smoltz is good friends with Tiger Woods. The two have played golf together many times including once at Augusta National, during Spring Training. His manager at the time Bobby Cox allowed Smoltz to fly to the course and play a round with Woods.
"Tiger (Woods) offered to fly me up to Augusta like two or three weeks before the Masters," Smoltz told PGATour.com. "There was a Sunday during Spring Training and he said, 'I'll have you back by 3 o'clock.' And my manager let me do it. Nobody found out. I flew up there with Tiger and, of course, had the time of my life playing the Sunday (hole locations). All the pins that would have literally been in the tournament on Sunday. And watching that man play that golf course was ridiculous. I think I shot 76 (from the back tees) and he shot 66."
Smoltz actually threw batting practice to Woods one time. When Smoltz was still pitching for the Atlanta Braves, Tiger wanted to take some swings off of Smoltz. During an appearance recently on "Golf Today", Smoltz recounted the story of the day it actually happened.
"I just happened to have a rehab situation where everybody was gone from the park," recalled Smoltz. "I said, 'Alright Tiger, you can come and take four swings, pretend like it's in a game, I'm going to be throwing like it's a game." And he took the batting practice.
"I was concerned back then about, not me hitting Tiger, I wasn't going to hit him, it was just jamming his thumb or catching one, you know? With golfers, I was like, 'Are you sure you want to do this?' and obviously he's so competitive, we play ping-pong, it doesn't matter what the sport, he wants to compete, and it was a competitive swing. You know, when you think about trying to face a 95 mile an hour fastball or a 90 mile an hour slider." Tiger claims he was 1-for-4 with a walk, according to Smoltz.
For his part, Woods believes that John Smoltz could play on the Champions Tour. Smoltz actually qualified for the U.S. Senior Open in 2018, but didn't make the cut. Woods has been impressed by Smoltz's game telling Golf Digest, "(I've) never played with an amateur who shot the types of scores that Smoltz did."
CONCLUSION
While Smoltz may be a polarizing figure to fan bases and media folks, there is no doubting his abilities as an analyst. The fact that people have strong opinions one way or the other about Smoltz means he's doing it right. It means they are watching and listening with enjoyment or scrutiny. They are locked into what he's saying and why he's saying it. I'd say that means he's doing his job and doing it well.
SUMMARY:
Former Atlanta Braves pitcher John Smoltz is making his mark on the sport he played in the TV booth. He's opinionated, witty, humorous and a teacher of the game. His work and commentary have made him a rather polarizing figure among fans and media members. That means he's doing his job and doing it well.