Thank You, Jalen Suggs, For Letting Us Shriek Again
His epic bank shot, which saved Gonzaga's perfect season, transcended team and gambling allegiances and reintroduced our bedraggled nation to the thrill of an iconic sports moment.
This is what we've needed as much as oxygen and water, a sports tremor to thrill and unite us, a rush of joy that reminds America of its functioning pulse and heartbeat. Haven't we had our fill of the pandemic, politics and pap? Just keep rewinding Jalen Suggs' soul-stirring moment in time — dribble, dribble, dribble, stop, soar, pop, lean, bank off the glass, stand atop the sideline table as Bill Raftery shrieks, "Major onions!" — and let it whisk you into a Monday night that must be reserved for your pleasure wherever you are.
Watching Gonzaga plunder through college basketball, without a challenge, was no fun. Watching UCLA engage in ass-backwards role reversal — an 11-time national champion nearly executing an epic upset over what is still, at its core, a modest Jesuit program from Spokane, Wash. — was the universal ripple not felt in sports during our year in COVID captivity. Tom Brady, LeBron James, the Dodgers, Dustin Johnson, Naomi Osaka — all produced inspirational but predictable triumphs amid unprecedented challenges that should favor the proven and privileged. Those victories didn't move us as one.
When Suggs finished a dazzling personal showcase with his buzzer-beater from 40 feet, the meaning extended far beyond another Gonzaga victory and a place beside Baylor in a richly compelling title game. It gave 2021 an all-time story to replay for decades, arguably the sport's greatest finish ever, a viral visual to rip through the mutating variants and gift us something glorious to discuss beyond racial hatred and continuing exposure risks. Yes, it kept alive the Zags' bid for the first perfect season in 45 years. Yes, it validated Suggs' hype as a top-three NBA draft pick and all the recent stories about his close friendship with UConn's Paige Bueckers, perhaps the best women's player of her generation. Yes, it showed Gonzaga could survive an overtime minefield against the street-brawling Bruins, as created by Mick Cronin, a feisty S.O.B. by way of Cincinnati and a coach even Bill Walton can love.
But, tell me, when was the last time any of us sat by a technological device, linear or streaming, and went "AHHHHHHHHHHHHHHHHHH!!!" And funny how the outburst didn't have to involve an allegiance to a team or a wager placed before the game. This was sports at its iconic purest, in an era when leagues and broadcast networks want to stench it up with gambling overload, at a time when the NCAA continues to argue in the country's highest court that players such as Suggs — who perpetuate the tournament's memory-factory charm and keep putting $1 billion a year into the bank accounts of the NCAA and college programs — aren't paid a penny.
Think Suggs cared about any of that dissonance? Watch the video. He was so convinced the shot was going in, he began to wander toward the sideline table, by some karmatic pull, before the ball bounced off the backboard and through the cylinder. This was his childhood dream taking shape, the one that had him leaping on a platform and celebrating such a shot just as Kobe Bryant and Dwyane Wade had done. Lucas Oil Stadium still was populated by more cardboard cutouts than human beings, but Suggs knew tens of millions were watching. He was introducing himself to a sports world that only knew him vaguely, as the combo guard from Minnesota who rejected a chance to play quarterback at Ohio State to devote his one and only collegiate season to Gonzaga, the upstart-turned-blueblood.
"I've always wanted to run up on the table like Kobe and D-Wade and go like that, and that's the first thing I did," Suggs said. "Man, that is something that you practice on your mini-hoop as a kid or in the gym just messing around. And to be able to do that, it's crazy.
"I mean, it was nuts. And I still can't speak. I have so many things going on in my head. I just can't believe that happened. I don't think it's really going to hit me until I wake up tomorrow."
He woke up. The shot really did happen, which surprised no one in the triumphant bob-and-weave of teammates celebrating with Suggs. "I knew it was going in. He's got that magical aura," said his coach, Mark Few. "Jalen makes those in practice all the time, last-second shots. I felt pretty good. I was staring right at it. And I said, `It's in.' And it was."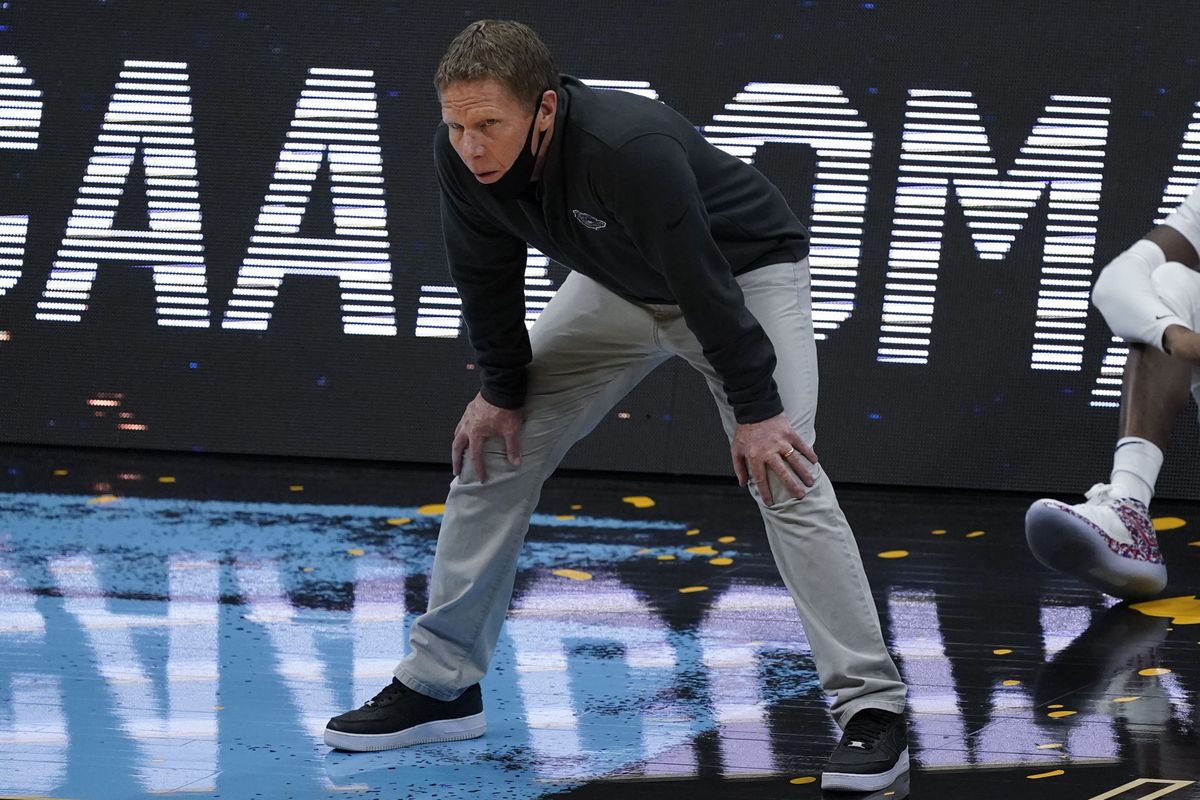 If you're wondering why Few has ascended to the top of his craft, as Roy Williams retires and Mike Krzyzewski contemplates the same path, observe how he handled a second-half sequence when Suggs was in foul trouble and not playing well. Few removed him from the game, then instantly put him back in. It was a strategic jolt to a 19-year-old's system, a reminder that his best was needed for the Zags to avoid another big-game setback. His immediate response was almost as breathtaking as the buzzer-beater. As UCLA was threatening to pull away, Suggs saw 6-7 Cody Riley with an open path for an easy dunk. In an intrusion that screamed next-level, Suggs rotated and blocked the shot, then gathered the ball and threw a long bounce pass through various bodies to Drew Timme, who turned a would-be deficit into a two-point lead. "I couldn't just give him a free bucket," Suggs said. "Either I was going to find him at the line or make a play on the ball. It was tough to get it. I got it."
"An amazing, amazing play," Few said. "The beauty of Jalen is that he does make plays like that, where he comes down and blocks bigs because he's so athletic and he's so tough and he's not afraid. He's not afraid to try."
Fun as it is in the aftermath to debate the shot's place in college lore, the exercise is premature until Gonzaga seals the document forever and completes only the eighth perfect season. Christian Laettner's miracle was followed by a Duke title in 1992. Villanova's Kris Jenkins won the championship with his three-pointer five years ago. Michael Jordan's jumper in 1982, though not a buzzer-beater, won a title for North Carolina. Lorenzo Charles' putback that propelled Jimmy Valvano to seek a hug — it won the title for North Carolina State a year later. Suggs' prayer won't remain in the pantheon if Baylor wins, a possibility if the Zags don't play a crisper overall game and struggle to defend Jared Butler, Davion Mitchell and MaCio Teague, the guard triumverate that has awakened offensively with exquisite timing. The defense already is elite, with the Bears forcing turnovers on 25 percent of opponents' possessions this season. They are rested and deep. Gonzaga is neither.
"We didn't come all this way not to win it all," Butler said. "We came here to win it all through the culture of joy."
Culture of joy? It's the mantra of coach Scott Drew, who arrived 18 years ago in Waco amid the ashes of the ultimate scandal — Patrick Dennehy was murdered by teammate Carlton Dotson, while coach Dave Bliss tried to cover up the homicide with lies. For those tired of money-bloated bluebloods, the Jesuits vs. the Baptists is a different twist. But as basketball cognoscenti know, the magnitude is much larger. Gonzaga and Baylor have ruled as the dominant programs of the college game and likely would have met for a title last year, pandemic permitting. They were supposed to play Dec. 5, but COVID won that matchup, too. Not since 2005 have the top two overall seeds met for the national championship.
"God blessed us," Drew said. "The strength of our team is that we play with joy. Everyone tries to find the open man, play together and feel good for your fellow teammate."
Will Gonzaga be strengthened by a rare test and finish the mission? Or have the Zags been exposed by Cronin, Johnny Juzang and UCLA's culture of grit? It was easy sequestering in the Indianapolis bubble when the victories were in double digits. Now? Disappointed so often in the biggest moments, Gonzaga has used its Hail Mary quota. Even Suggs knows that.
"When dreams start to become realities and you're able to experience those things, it's special. And those are things you've got to cherish," he said. You're never going to get another moment like this. You'll never be able to relive this."
Regardless of how this delectable tale ends, America thanks him. Because of Jalen Suggs, we can scream in a living room again. That is history in itself.
Jay Mariotti, called "the most impacting Chicago sportswriter of the past quarter-century,'' writes a weekly media column for Barrett Sports Media and regular sports columns for Substack while appearing on some of the 1,678,498 podcasts in production today. He's an accomplished columnist, TV panelist and radio talk host. Living in Los Angeles, he gravitated by osmosis to film projects. Compensation for this column is donated to the Chicago Sun-Times Charity Trust.
What Tom Brady Needs To Know Before His First Fox Broadcast
"Our panel includes a fellow player-turned-analyst, a legendary play-by-play man, and a broadcasting coach."
Stop me if you've heard this one before. Tom Brady announced he is retiring from the NFL today. It happened literally a year to the day since the last time he retired.
The last retirement lasted just 40 days. Before the end of March of last year, Tom Brady had decided he was done pretending to be happy about embracing life off of the field and announced he was returning to the Tampa Bay Buccaneers for a third season.
I guess we cannot rule out that that will happen again. The difference this time around, at least for Tom Brady's professional life, is that he has a plan for his future. Now that his playing days are over, it is time for him to start his ten-year deal with FOX to be the analyst in the network's top NFL booth.
Audiences do not know what to expect. No one can deny that Brady brings star power. He is the GOAT after all, but we cannot say for sure if he will be any good.
The pressure is tremendous too. Not only is Tom Brady embarking on a new career, but football fans seem to have taken a liking to the guy he is about to unseat. Whether Greg Olsen gets kicked back down to the number two booth or he is forced to share the spotlight in a three-man booth, plenty of people will look at Brady as the reason we hear less from the guy regarded by many as the best analyst on TV right now.
Brady does not have much room for error here. Since that is the case, I thought I would get some perspectives from people that can help him out. I asked three people to give me their best advice for Tom Brady.
Our panel includes a fellow player-turned-analyst, a legendary play-by-play man, and a broadcasting coach.
THE PLAYER TURNED ANALYST: ANTHONY BECHT
In 2000, the New York Jets used the 27th pick of the NFL Draft to select Anthony Becht. He played for five different teams during his twelve NFL seasons.
His broadcasting career began in 2013. Becht worked on ESPN for eight years as an analyst on the network's college football games. He has since abandoned the booth to return to the sidelines. He will be the head coach of the St. Louis Battlehawks when the XFL starts its third first season this month.
I texted and asked him to look back on his broadcasting career. What does he wish he knew before he started? Here are the three pieces of advice that he had for Tom Brady.
1. Less is more. Folks want to watch the game and just know the "why". Providing tangible information in a five or six second window is key.

2. Fans want to know about your personal experiences as a player – information and stories they can't get or wouldn't even know about because they never did it at the level we did. Share those when the time comes in a game.

3. Have a strong opinion about what you agree or disagree with, but be able to voice it without being demeaning towards players and coaches. It's an art form and takes time to articulate that in a way that's done right. I never bash any player or coach because a lot of work goes into be a professional athlete and coach. That needs to be respected but critiqued appropriately.

Anthony Becht via text message
THE PLAY-BY-PLAY LEGEND: TIM BRANDO
Tim Brando has worked with a lot of people. That happens when you have been calling football and basketball action on TV for as long as he has. When I called him on Wednesday to discuss what is ahead for Tom Brady, he drew on his experience with another Brady.
Brando was working with Jole Klatt in his early days at FOX, but he and Klatt were not going to be an exclusive team. He remembers Brady Quinn coming in to their booth shortly after his NFL career had eneded. Quinn was about to make his debut for FOX. Before they were ready to turn him loose, the network wanted the former quarterback to get a feel for the pace and atmosphere of a broadcast booth.
I do think it's important that you have a new talent understand what that workplace is like in the booth – the choreography that takes place, because there is choreography. If the ball is deflected, your spotter's hands are coming together like a bad clap. If there's a hit, who caused the hit? Who stripped it? So there's a hand signal for stripping the ball and then recovering the ball with the arms closing together. So who got the recovery? Who caused the fumble? Those things are always helpful.

There are things that are going on frantically in the booth, but you as a broadcaster have to remain calm, understand it, and sound succinct and confident. That just takes time and it takes reps.

That's one of the great things I think that Greg (Olsen) probably had an advantage in, as do a lot of analysts that get better over time. They do games of lesser importance that maybe the whole world is not watching.

Tim Brando via Telephone
Tom Brady won't have the luxury of time or of reps under the radar. He may get to do a few practice games, but the first time he will be calling a game on live television, it will be one of the biggest of the week.
Brando says in that case, it is really important that Brady use his instincts to his advantage in the booth the way he did on the field.
I don't know Tom well, but I know him well enough to know that he prides himself on preparation. I don't doubt for one minute that he will be prepared. He's obviously an incredible competitor. You know, this is a this is a business of competition too.

If you're a great player, just like a coach, you love the ecstasy of victory. You don't want to admit it, but you love the agony of the defeat as well. That feeling of defeat is something we feed on to motivate you for your next performance. In television and sports television, you don't get that in terms of winning and losing, but you do get it if you look at it as a great performance,

I believe that all great broadcasters are performers at heart. It takes a certain level of of a theater. It's live. It's not scripted.

I think some players that get in the booth that are looking to have that same, you know, euphoria that they have after playing and winning a game. Some of them get that and understand that in broadcasting and get out of that the same thing and others don't.

Tim Brando via Telephone
THE BROADCASTING COACH: GUS RAMSEY
Plenty of broadcasters turn to Gus Ramsey for critiques and advice. The Program Director for the Dan Patrick School of Sportscasting at Full Sail University is also a broadcasting coach working with clients at all levels of the business. They trust his opinion because of his professional experience.
In a prior life, Ramsey was the producer of SportsCenter on ESPN. He has worked with a number of incredibly talented people and been tasked with taking newbies to new heights, so I asked him what he would be thinking if it were his job to get Tom Brady ready for his first FOX broadcast.
Sometimes great athletes forget that most humans don't know what the athletes know. Things that are basic or simple or even mundane to the athlete are incredible pieces of wisdom or insight to the average fan.

When I was at ESPN we had Tony Gwynn in for an episode of Baseball Tonight. In our show meeting, Tony was explaining why a hitter was slumping because we was cupping his wrist. He went on explaining it for 30 seconds or so. The room was in total silence, eating up every word. The greatest hitter of our generation was doing a deep-dive on hitting. It was amazing.

Tony suddenly got a little self-conscious, stopped explaining and apologized for "going on too long" and we were all like "No!! Keep going!" Tony thought is was boring. It was just the opposite.

Athletes can think things they've learned and repeated their whole lives are common knowledge so sometimes they don't share that info because they think "everyone knows this."

I want to walk away from a broadcast feeling like I learned something. Sometimes the ex-athlete doesn't realize how much educating they can do in a broadcast.

The other thing I always encourage former athletes or coaches to do is to take the viewer where they've never been; on the field, in the locker room, in a contract negotiation, etc. If you can get that viewer to fully appreciate the feelings and emotions of what goes on in those places, you enhance the experience for us.

Terrell Davis was an analyst on NFL Network for a bit after his career. He once described Champ Bailey running back an interception 100 yards by saying as Bailey got to the 50 yard line "right here it feels like someone put sandbags on your ankles." I've never run 100 yards in a football uniform in Denver's altitude, but Terrell's line helped me better understand what it feels like.

Gus ramsey via text message
Demetri Ravanos is the Assistant Content Director for Barrett Sports Media. He hosts the Chewing Clock and Media Noise podcasts. He occasionally fills in on stations across the Carolinas. Previous stops include WAVH and WZEW in Mobile, AL, WBPT in Birmingham, AL and WBBB, WPTK and WDNC in Raleigh, NC. You can find him on Twitter @DemetriRavanos and reach him by email at DemetriTheGreek@gmail.com.
Mark Packer Loves Reading Your Memories & Tributes to Billy Packer
"I've heard from all kinds of coaches. I've been blown away. It's just another reminder of the impact Billy had on so many different people, not just the world of sports."
It still stands today as one of the most iconic moments in the storied history of Arizona basketball. Three simple words said it all as the Wildcats celebrated an overtime win over Duke to win the 1997 national championship. "Simon says championship." Those were the words of legendary broadcaster Billy Packer as Miles Simon fell to the floor with the ball in his hands. It's one of many lines his son, Mark Packer, has been reminded of recently.
It was the perfect three words after the country just watched Simon carry Arizona to college basketball glory. Packer captured the moment perfectly, just like he did during every Final Four for 34 years.
Packer passed away last Thursday at the age of 82 but his legacy and impact in sports broadcasting will never perish. He was heard during every NCAA Tournament from 1975 to 2008 and was on the call for some of college basketball's most iconic moments, including Michael Jordan's shot to win the 1982 National Championship, Bird vs Magic in 1979, and even Kansas completing an improbable comeback to win the 2008 championship in his last broadcast. And the best part of it all was that Packer did it his own way, with his own unique style.
"It has really been remarkable," said Mark Packer. "When Billy passed Thursday night we put it out on Twitter and it took off but I didn't really know what to expect on Friday and Saturday as far as reaction. But the tributes have been fantastic and our family has loved it.
"I have heard from just about everybody and their brother. Folks I never thought I'd hear from, I've heard from them, such as commissioners, whether it be the NBA, whether it be other Power 5 leagues, I've heard from all kinds of coaches. I've been blown away. It's just another reminder of the impact Billy had on so many different people, not just the world of sports. To me, that's been comforting to all of us. It just reinforced all the stuff we knew he was about and brings back special memories."
Packer's style of broadcasting has been well-documented over the years. He was honest about what he saw and always spoke his mind. Granted, that didn't always sit well with college basketball fans, but Packer wasn't concerned about that. He was honest because he cared.
"He wanted the game of college basketball to be the best it possibly could be," said Mark. "When he saw things he did not like, the one thing he always did was speak his mind. He ruffled feathers and he didn't care. His intent was to make the game the No. 1 priority. You realize now he didn't have it out for your team, he was just speaking his mind."
That style meant fans would often yell at games, 'You hate Duke! You hate North Carolina!' Packer's honesty was often taken by fans as he hated their favorite team. He used to laugh at that, just as Mark does know when he thinks about those moments. That's because Mark can remember feeling the same way as other fanbases as a kid growing up rooting for NC State.
"When he was calling an NC State game I thought he was always out to get my team," laughed Mark. "He'd be doing a game in Raleigh — we grew up in Winston-Salem — and the next morning after the game I would be eating breakfast before school and I would say 'Man, Billy, you really got on so-and-so last night, what's your problem with NC State?'
"He used to just laugh, because I thought he had an agenda against my team. Of course the funny thing is, we'd go on trips with him to other games and you'd hear fans say, 'Billy Packer hates my team!' It almost became a laughing joke, even amongst the family members, that Billy Packer was out to ruin your team's day when he does a ballgame."
Mark has always referred to his dad the same his television partners did. That goes for his two other siblings, as well. "Dad" was rarely, if ever, said in the Packer household. Instead, the legendary broadcaster was called by his first name.
"The fact they called him Billy on television, we never called him dad," said Mark. "We just called him Billy."
As you can imagine, 'Billy' had a lot of stories. That's normally the case when you're around the game's greatest players and broadcast the legendary games we still talk about today. Packer was always quick to share those stories with his family, which made for an entertaining childhood.
Out of the hundreds of messages Mark has received since his dad's passing, he says he hasn't heard any stories he's never heard before. But that doesn't mean people haven't been telling him stories about his father.
"We've heard them all, quite frankly," laughed Mark. "Maybe the thing that was so funny about it was that it reinforced some that we thought were total BS when we heard them the first time."
Packer will always be synonymous with college basketball and the NCAA Tournament. He was the voice of the sport during its golden era and helped bring the magic to TV sets across the world. If Mark had to guess what his dad is most proud of regarding his broadcasting career, he says it would be just that.
"From a broadcasting standpoint, probably the Final Fours," said Mark. "When you, I think the number was 34 I heard, and he did so many of them, for us, we kind of took it for granted. It was just something he did. It was March and Billy is about to go do March Madness. It was just fabric for not only him personally, but also the family. He just loved the sport and wanted it to be good."
Mark has carved out an incredible broadcasting career of his own. He's hosted both radio and TV shows with outlets such as the ACC Network, WFNZ in Charlotte, and ESPNU. Having a front row seat to one of the most iconic careers in broadcasting, undoubtedly helped shape his career. Mark is very forthcoming as to what lesson he took from his dad the most.
"Oh, that's easy," Mark said. "That's prep. He always studied. He was always coming up with notes and angles and facts. I have always done that with the radio and TV shows, that you constantly prep, you constantly read and make notes. You may not use but 10 percent of whatever you've been studying, but somewhere down the road you'll use it again.
"When we were cleaning out his closet I ran into an entire box of old notes that he had from games from yesteryear. I kept every one of them and I can't wait to look at them and relive those games and see his prep work and point of detail for all those games."
Tyler McComas is a columnist for BSM and a sports radio talk show host in Norman, OK where he hosts afternoon drive for SportsTalk 1400. You can find him on Twitter @Tyler_McComas or you can email him at TylerMcComas08@yahoo.com.
Anatomy of an Analyst: Doris Burke
"Doris Burke has an ease about her. A quiet confidence if you will."
Basketball and Doris Burke have been synonymous for many years. At the age of 7, she started to play the game that would eventually get her to the top of her profession. Along the way she's recorded many firsts for women in this field which I'll detail later. Burke has also become an inspiration to other women already in broadcasting and those thinking about a career in media. Pretty impressive.
Burke was raised in Manasquan, New Jersey. She was the youngest of eight children, and started playing basketball in the second grade. She starred at Providence, where she was the team's point guard all four of her years there and made an impact immediately.
During her freshman year, Doris Burke led the Big East in assists. She was a second-team All-Big East player once and twice made the all-tourney team of the Big East Women's basketball tournament. Burke held seven records upon graduation, including finishing her career as the school and conference's all-time assists leader, a record that has since been broken. She served as an assistant coach for her alma mater for two years from 1988-90.
From there it was time to embark on a Hall of Fame career.
ROAD TO ESPN/ABC
Burke began her broadcasting career in 1990 as an analyst for women's games for Providence on radio. That same year, she began working in the same role on Big East Women's games on television, and in 1996 she began working Big East men's games.
Doris Burke has been working for ESPN covering basketball in different roles since 1991. It has also allowed her to do other things along the way that were unchartered for women in the business. In 2000, Burke became the first woman to be a commentator for a New York Knicks game on radio and on television; she is also the first woman to be a commentator for a Big East men's game, and the first woman to be the primary commentator on a men's college basketball conference package. In 2017, Burke became a regular NBA game analyst for ESPN, becoming the first woman at the national level to be assigned a full regular-season role.
If that wasn't enough, from 2009 to 2019 she served as the sideline reporter for the NBA Finals on ABC. I mentioned it was a Hall of Fame career and it was officially deemed as such in 2018. Burke was selected to enter the Basketball Hall of Fame as the Curt Gowdy Media Award winner.
AS AN ANALYST
"Doris Burke has an ease about her. A quiet confidence if you will." Relying on her past experiences in the game as a player and coach, the information she brings her audience is relatable. Some analysts struggle to bring home a point in a way that a casual fan will understand. Burke has no trouble with this. Her ability to spell it out, concisely and conversationally sets her apart from most analysts, male or female. 
Burke attacks her job, knowing that some will question her authority when it comes to commentary on the NBA. She doesn't mind steering into the skid.
"I am mindful of the fact that I have not played or coached in the NBA," Burke said to Sportscasting.com last year. "It doesn't mean that I can't do a very competent job. I think I try to do that every single night, and I'm never afraid to ask questions."
It's all about the information to Burke, and has nothing to do with the fact she's a woman covering the NBA.
"If you enhance a viewer's experience, it doesn't matter what your gender is," she said. "As long as you are competent and put in the work … you're going to be accepted."
Doris Burke learned the ropes so to speak from several women that came before her. In an NBA.com piece from January of last year, she outlined how much she enjoyed watching former ESPN SportsCenter anchor Gayle Gardner. Early on in her career at ESPN, Burke got to work with Robin Roberts on WNBA and women's college basketball broadcasts along with Ann Meyers Drysdale and Nancy Lieberman. Roberts was Burke's inspiration as she started her career path. She admired the professionalism that each displayed.
"Working alongside Robin Roberts … the one thing I would tell you is the most powerful means to change or impact somebody is by your actions," Burke said. "She was the epitome of professionalism and competency and garnered the respect of the people around her because of the work habits she had. Watching Robin early on let me know that the basis for everything is the work you put into something."
While Roberts may have been influential to Burke, Burke has been a beacon for other woman that are getting opportunities in broadcasting. When asked about their role model, YES Network analyst Sarah Kustok, 76ers play-by-play broadcaster Kate Scott and former WNBA player and current Miami Heat studio analyst Ruth Riley Hunter all mentioned Burke by name.
"Burke is the best example for anyone — male or female," Hunter told NBA.com. "I love the way she describes the game. She adds so much to every broadcast, and when I was playing in the WNBA I was always really inspired by her work."
Burke is popular amongst her colleagues at ESPN/ABC, thanks to a tireless work ethic an ability to adapt to whichever sport she may be calling that day. Count Jeff Van Gundy among her biggest fans.
"She's the best, most-versatile analyst and commentator at ESPN," Van Gundy said of Doris Burke in 2017 via Deadspin. "She does it all—great interviewer, commentator, studio analyst—everything. And she is an expert at it all—women's and men's college basketball, the NBA and the WNBA. She's the LeBron James of sportscasters. There's no better broadcaster out there right now."
Burke is equally a big fan of Van Gundy and the top broadcast crew for ESPN/ABC's NBA coverage. That includes Mike Breen and Mark Jackson as well.
"We are talking about three of the best to ever do it. Mark, Jeff and Mike have held down the NBA Finals for over a decade with commentary that is the best of the best. Hubie Brown is a living legend. All of those men have been nothing but gracious and supportive of me," Burke told the Athletic.
Doris Burke is considered one of the best NBA analysts around. Her bosses at ESPN made sure to re-sign her to a multi-year deal and promised she will be involved in "high profile" NBA games in both the regular season and playoffs. Burke will also call finals games on ESPN Radio and appear on the NBA Sunday Showcase program on ABC.
Good for her and good for fans of the NBA on ESPN/ABC.
DID YOU KNOW?
In 2010, she was featured as the new sideline reporter for 2K Sports 'NBA 2K11' video game. She has appeared in every version since, including the latest 'NBA 2K23'.
As a senior at Providence in 1987 she was the school's Co-Female Athlete of the Year.
Her basketball idols growing up were Kyle Macy, Kelly Tripucka and Tom Heinsohn.
Andy Masur is a columnist for BSM and works for WGN Radio as an anchor and play-by-play announcer. He also teaches broadcasting at the Illinois Media School. During his career he has called games for the Chicago Cubs, San Diego Padres and Chicago White Sox. He can be found on Twitter @Andy_Masur1 or you can reach him by email at Andy@Andy-Masur.com.