This is what we've needed as much as oxygen and water, a sports tremor to thrill and unite us, a rush of joy that reminds America of its functioning pulse and heartbeat. Haven't we had our fill of the pandemic, politics and pap? Just keep rewinding Jalen Suggs' soul-stirring moment in time — dribble, dribble, dribble, stop, soar, pop, lean, bank off the glass, stand atop the sideline table as Bill Raftery shrieks, "Major onions!" — and let it whisk you into a Monday night that must be reserved for your pleasure wherever you are.
Watching Gonzaga plunder through college basketball, without a challenge, was no fun. Watching UCLA engage in ass-backwards role reversal — an 11-time national champion nearly executing an epic upset over what is still, at its core, a modest Jesuit program from Spokane, Wash. — was the universal ripple not felt in sports during our year in COVID captivity. Tom Brady, LeBron James, the Dodgers, Dustin Johnson, Naomi Osaka — all produced inspirational but predictable triumphs amid unprecedented challenges that should favor the proven and privileged. Those victories didn't move us as one.
When Suggs finished a dazzling personal showcase with his buzzer-beater from 40 feet, the meaning extended far beyond another Gonzaga victory and a place beside Baylor in a richly compelling title game. It gave 2021 an all-time story to replay for decades, arguably the sport's greatest finish ever, a viral visual to rip through the mutating variants and gift us something glorious to discuss beyond racial hatred and continuing exposure risks. Yes, it kept alive the Zags' bid for the first perfect season in 45 years. Yes, it validated Suggs' hype as a top-three NBA draft pick and all the recent stories about his close friendship with UConn's Paige Bueckers, perhaps the best women's player of her generation. Yes, it showed Gonzaga could survive an overtime minefield against the street-brawling Bruins, as created by Mick Cronin, a feisty S.O.B. by way of Cincinnati and a coach even Bill Walton can love.
But, tell me, when was the last time any of us sat by a technological device, linear or streaming, and went "AHHHHHHHHHHHHHHHHHH!!!" And funny how the outburst didn't have to involve an allegiance to a team or a wager placed before the game. This was sports at its iconic purest, in an era when leagues and broadcast networks want to stench it up with gambling overload, at a time when the NCAA continues to argue in the country's highest court that players such as Suggs — who perpetuate the tournament's memory-factory charm and keep putting $1 billion a year into the bank accounts of the NCAA and college programs — aren't paid a penny.
Think Suggs cared about any of that dissonance? Watch the video. He was so convinced the shot was going in, he began to wander toward the sideline table, by some karmatic pull, before the ball bounced off the backboard and through the cylinder. This was his childhood dream taking shape, the one that had him leaping on a platform and celebrating such a shot just as Kobe Bryant and Dwyane Wade had done. Lucas Oil Stadium still was populated by more cardboard cutouts than human beings, but Suggs knew tens of millions were watching. He was introducing himself to a sports world that only knew him vaguely, as the combo guard from Minnesota who rejected a chance to play quarterback at Ohio State to devote his one and only collegiate season to Gonzaga, the upstart-turned-blueblood.
"I've always wanted to run up on the table like Kobe and D-Wade and go like that, and that's the first thing I did," Suggs said. "Man, that is something that you practice on your mini-hoop as a kid or in the gym just messing around. And to be able to do that, it's crazy.
"I mean, it was nuts. And I still can't speak. I have so many things going on in my head. I just can't believe that happened. I don't think it's really going to hit me until I wake up tomorrow."
He woke up. The shot really did happen, which surprised no one in the triumphant bob-and-weave of teammates celebrating with Suggs. "I knew it was going in. He's got that magical aura," said his coach, Mark Few. "Jalen makes those in practice all the time, last-second shots. I felt pretty good. I was staring right at it. And I said, `It's in.' And it was."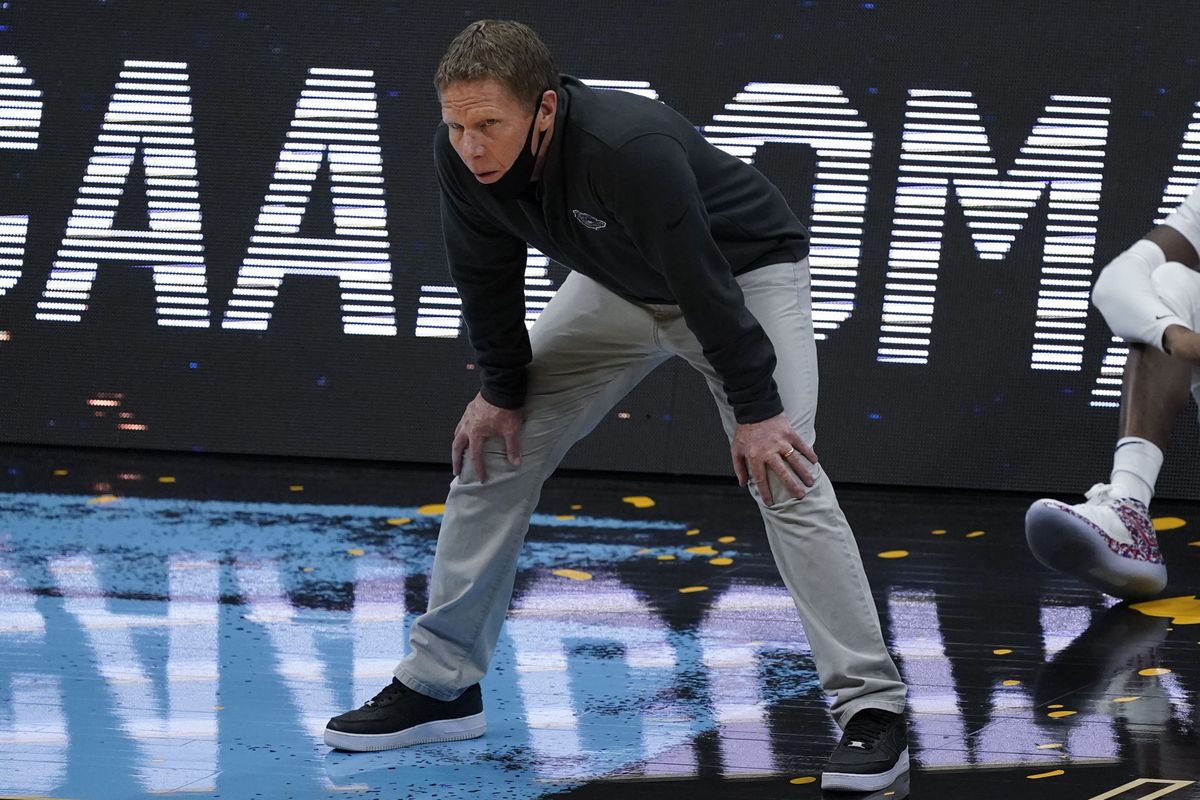 If you're wondering why Few has ascended to the top of his craft, as Roy Williams retires and Mike Krzyzewski contemplates the same path, observe how he handled a second-half sequence when Suggs was in foul trouble and not playing well. Few removed him from the game, then instantly put him back in. It was a strategic jolt to a 19-year-old's system, a reminder that his best was needed for the Zags to avoid another big-game setback. His immediate response was almost as breathtaking as the buzzer-beater. As UCLA was threatening to pull away, Suggs saw 6-7 Cody Riley with an open path for an easy dunk. In an intrusion that screamed next-level, Suggs rotated and blocked the shot, then gathered the ball and threw a long bounce pass through various bodies to Drew Timme, who turned a would-be deficit into a two-point lead. "I couldn't just give him a free bucket," Suggs said. "Either I was going to find him at the line or make a play on the ball. It was tough to get it. I got it."
"An amazing, amazing play," Few said. "The beauty of Jalen is that he does make plays like that, where he comes down and blocks bigs because he's so athletic and he's so tough and he's not afraid. He's not afraid to try."
Fun as it is in the aftermath to debate the shot's place in college lore, the exercise is premature until Gonzaga seals the document forever and completes only the eighth perfect season. Christian Laettner's miracle was followed by a Duke title in 1992. Villanova's Kris Jenkins won the championship with his three-pointer five years ago. Michael Jordan's jumper in 1982, though not a buzzer-beater, won a title for North Carolina. Lorenzo Charles' putback that propelled Jimmy Valvano to seek a hug — it won the title for North Carolina State a year later. Suggs' prayer won't remain in the pantheon if Baylor wins, a possibility if the Zags don't play a crisper overall game and struggle to defend Jared Butler, Davion Mitchell and MaCio Teague, the guard triumverate that has awakened offensively with exquisite timing. The defense already is elite, with the Bears forcing turnovers on 25 percent of opponents' possessions this season. They are rested and deep. Gonzaga is neither.
"We didn't come all this way not to win it all," Butler said. "We came here to win it all through the culture of joy."
Culture of joy? It's the mantra of coach Scott Drew, who arrived 18 years ago in Waco amid the ashes of the ultimate scandal — Patrick Dennehy was murdered by teammate Carlton Dotson, while coach Dave Bliss tried to cover up the homicide with lies. For those tired of money-bloated bluebloods, the Jesuits vs. the Baptists is a different twist. But as basketball cognoscenti know, the magnitude is much larger. Gonzaga and Baylor have ruled as the dominant programs of the college game and likely would have met for a title last year, pandemic permitting. They were supposed to play Dec. 5, but COVID won that matchup, too. Not since 2005 have the top two overall seeds met for the national championship.
"God blessed us," Drew said. "The strength of our team is that we play with joy. Everyone tries to find the open man, play together and feel good for your fellow teammate."
Will Gonzaga be strengthened by a rare test and finish the mission? Or have the Zags been exposed by Cronin, Johnny Juzang and UCLA's culture of grit? It was easy sequestering in the Indianapolis bubble when the victories were in double digits. Now? Disappointed so often in the biggest moments, Gonzaga has used its Hail Mary quota. Even Suggs knows that.
"When dreams start to become realities and you're able to experience those things, it's special. And those are things you've got to cherish," he said. You're never going to get another moment like this. You'll never be able to relive this."
Regardless of how this delectable tale ends, America thanks him. Because of Jalen Suggs, we can scream in a living room again. That is history in itself.